Ouray
Ute Apache
" The Arrow "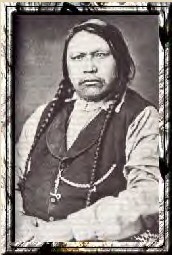 1833-1880
Chief Ouray
Historical Ute Leader
A man of peace....
Chief Ouray of the Tabeguache band led the Southern Ute Tribe during the mid 1800's - a time of great social and political change, a time when a proud people were uprooted and forced to accept resettlement.

Yet, he is revered today as one of the Ute's greatest leaders - patient, diplomatic and unwavering in his friendship toward the whites.

Ouray, perhaps one of the greatest chiefs of the Uncompahgre band of Utes, was born in Taos, New Mexico, in 1833. His mother was a member of the Uncompahgre band and his father, Guera Murah, was half Jicarilla Apache. While a youngster near Taos pueblo, he learned to speak both Spanish and English, but preferred Spanish as it was dominant in that area. Only later did he learn Ute and Apache.

At the age of 18 he gave up his work as a sheepherder and came to Colorado to become a full-fledged member of the Tabeguache band of Utes in which his father, in spite of his Apache blood, had become a leader. From then until 1860 he lived like all Utes, hunting, fighting the Plains Indians, and visiting with other Ute bands.

Ouray lived until August 24, 1880, and was considered an eminently great leader. He directed his powers and energies to the task of solving the many problems arising from the coming of the white men. Illness overcame him on a visit to the Southern Utes and he died on the east bank of the Pine River near the present agency. He was secretly buried in the rocks two miles south of the town of Ignacio. Forty-five years later, most of his bones were recovered and re-interred in the cemetery southeast of the agency and the grave appropriately marked.

Ouray is noted mostly for his unwavering friendship for the whites with whom he always kept faith and whose interests he protected even on trying occasions. When he visited Washington. D.C. in 1880, President Hayes called him "the most intellectual man I've ever conversed with.

" He was about five feet seven inches tall, and as he grew older he became quite portly. His manner was refined and polished, his face stern and dignified in repose but lighting up pleasantly when he talked. He ordinarily wore the white man's broadcloth and boots, but he never cut off his long hair which he wore in two braids that hung on his chest in the Ute fashion.