THE MAGNETIC FIELD
A CROP CIRCLE OF JULY, 2000 UNDER SCRUTINY FOR MEANING
JULY 22, 2000
(This page is graphics intensive)
VIEW IN FULL SCREEN
updated - 9-27-08
MAGNETIC POLE SHIFT UNDERWAY
BILL DEAGLE REPORTS - AUDIO
• Dr Bill Deagle (24 September 2008) From Project Avalon
Click here to download
NOTE: I discovered this first dream in my journal, after this page was already published: Surprise! Surprise! Surprise!

Subj: DID THEY CALL THAT CROP CIRCLE A 'MOIRE'?

Date: 08/01/2000

From: Dee777

5-28-00 - DREAM - This dream left me feeling disturbed somewhat because I don't understand it.

I was on 12th St. in Milwaukee. The High School I went to was on the east side of the street. On the West side, some farmer or someone was plowing up the entire area and the soil was turning to yellow powder. It seemed like he was plowing it into useless nothing....???

I went to an outdoor bathroom and changed clothes. I put on a man's pair of black and white checked shorts with straps to hold them up. They also had a series of large black buttons down the front which seems superfluous but they all had to be buttoned. I had to step into these shorts from behind, through the straps. It was kind of confusing but once they were on and I buttoned them, they fit pretty good.

I then went to a shopping mall where women were dressed like women in suits and high heeled shoes and for some reason I was angry or something and was throwing low heeled shoes at them like I was angry.

I woke up feeling rather this way also.

I then had a vision which was the word 'moire' which I've looked up. It seems to be a pattern of black and white which shifts as you look at it. Seems to kind of match the black and white shorts I was wearing.

End of Dream

In July, there was a crop circle about the magnetic field of the earth. What did they call it? a MOIRE pattern, and I was upset because they were WRONG. heheheh

Dee

~~~~~~~~~~~~~~~
July 24, 2000
As I was waking up, I began to see a series of visions which didn't seem to be related to anything I was doing. They seemed to be related to a dream I had earlier in the night about Extraterrestrial messages I was seeing on a computer screen.

The following visions are possibly messages I needed to deal with.

I saw three 'band' names which I can't remember, but the songs they sang were like, "Everything comes in puzzle form", and "We don't answer questions." or something like that. I can't recall the third one. One of the band names I think was Hubbard ... The band names and songs faded so fast I almost couldn't remember them at all. I feel lucky I remember what I do. It seemed like the band names were short and should have been easy to remember, but I was thinking the messages were more important than the names. At this time I was thinking it was music related.

I then saw a light blue check with the money amount as ' m.mmm ' I didn't see that it was made out to anyone and not signed either.

I then saw a bright sheet of paper like a brochure. The name Hubbard was on it twice and it seems that Hubbard was also one of the band names I had forgotten. This was one of the lines ... ' 78 words'.

After I woke up, as usual I went to the computer to type up my dreams and visions in my journal. I decided to pick up my email, and one of them consisted of this url:

CROP CIRCLE CONNECTOR - AVEBURY - JULY 22, 2000

Please note that the location is SU07827004 (note the 78 series of numbers)

I went to look at it since we study crop circles and was pleased to see such a great glyph.

Then I decided to do a web search for Hubbard and band and was quite surprised to come up with this one:

ELECTRONICS STRUCTURE OF CONDENSED MATTER

I then quickly became aware that Hubbard was well known in the field of magnetic fields and that was exactly what the crop glyph was about. What a coincidence ... my visions were actually telling me that 'music' of the spheres were connected to the 'magnetics' of condense matter structures. Music/sound/vibration/frequency is the creative force What a thrill to discover the connection ... from the puzzle of the visions to the crop glyph that just appeared two days ago.

HUBBARD PHYSICS RELATED INFORMATION

This is the list of words in Thelema meaning 78:

78 = I AM The Life, Be Silent, Hathoor, Etz Chayin,
RA Agiosel, Manhushi, Salamander, Flammus, Triangle, South,
Adytum, Mansion, Elemental, Colour, Mnemonic, Sunday,
Burning, Gnarled Oak, Crucify, Fallen Angel, Scapegoat,
Savior, Squared, Like a Son, Heptagon, Sevens, Infinite,
Cosmos, Templar, Tophet, Panthera, Satyr, Eleusian,
Electrical, Fusion, Molecule, Fylot, Atavism, Motto, Jesuit,
11th Path, Maya Kosa, The OD and OB

It doesn't take much guessing to see that some of those words fit the topic as well.

Element 78 is Platinum
Here are platinum crystals, resolved to single atom size:
THE PACS NUMERICAL NUMBERING SCHEME: CONDENSED MATTER: ELECTRONIC STRUCTURE, ELECTRICAL, MAGNETIC, AND OPTICAL PROPERTIES - (Starting at 70) (PACS - Physics and Astronomy Classification Scheme) (American Institute of Physics)
Avebury Trusloe, nr Avebury, Wiltshire.
Reported 22nd July.
GPS Reference SU07827004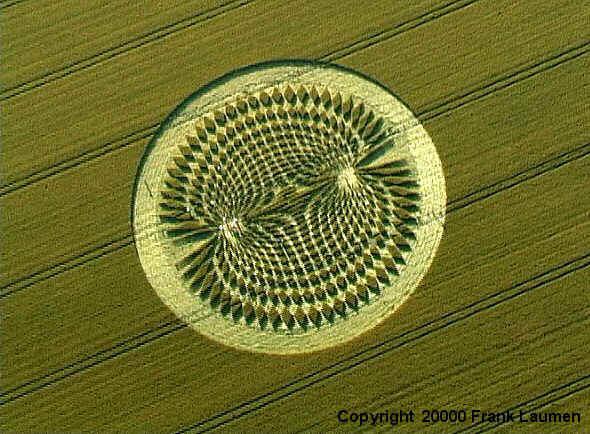 Image Copyright Frank Laumen, 2000
Another link for this same Crop Circle with interesting diagrams:
http://www.cropcircleresearch.com/cgi-bin/CCR.cgi?a-guk00co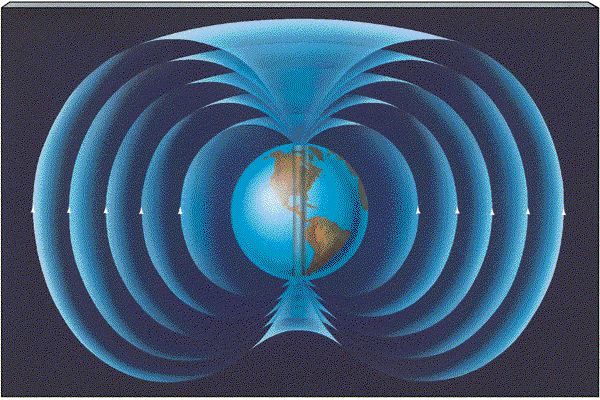 EARTH'S MAGNETIC FIELD EXPLAINED
TRACKING THE NORTH POLE - MONITOR AND CHARTS
~~~~~~~~~~~~~~~
The crop circle people in England have made a decision that this a Moire pattern,
but they show an example which has a resemblance, but I don't agree that
this is what was intended by the makers of the crop glyph.
Examples of Moire patterns are shown below.
An example of a Moire pattern
from a computer program

A photo of a pond of water showing
overlapping ripples from raindrops
Since were have been studying earthchanges for several years, and have
read the hundreds of predictions made by prophets, well known and
unknown through dreams and visions, we have reason to believe that
the magnetic field of the earth is changing and will change even more
drastically. We also know that biomagnetism is a field of study we need to
work on even more than we do. I feel that the crop makers are giving us a
way to understand that the changes are coming quickly and this was clue to
that change.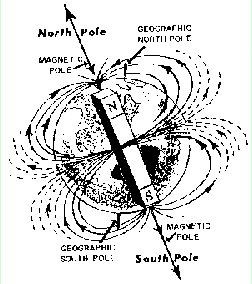 From: THE SCOPE OF BIOMAGNETISM
The world is a giant magnet and from the day you are born
until the day you physically die you are constantly under the
influence of the earth's magnetic forces. While the magnetic
fields that surround the earth protect you from many harmful
radiations from the sun and other harmful emissions from
outer space, they also affect your mental functions and your
health and welfare each and every day of your life. Plants
and lower animals are also affected by this invisible energy
that passes through all material and immaterial matter.
The science of how magnetism affects biological systems is
called biomagnetism or biomagnetics.
We can harness nature's greatest energy and use it for the
benefit of all mankind. In fact, many nations of the world are
racing to determine to what extent man can utilize the new
and important discoveries of biomagnetism. The scope of
biomagnetism is unlimited. In over 40 years of applying our
basic discoveries we have not found any field of human
knowledge that is not affected. In many years past, and
through the work of dedicated scientists for over 4,000
years, magnetism was considered a child of electricity.

Unlike in physics with inanimate objects, experiments
could not be reproduced on biological systems with the
same expected results. In 1936, we made our basic
discovery that there are two distinct magnetic poles that
affect animal systems in two distinct and opposite manners.
From developments since then, it is now definite that
magnetism is the father of electricity, rather than the child.
.
Magnetic Anomalies

*What are magnetic fields doing in the middle of nowhere?

The next time you visit deep space, don't forget to pack a compass. It might
not be much use for navigation, but it will be one of the few ways you can
take in one of space's sublimities, the magnetic fields. The lines of magnetic
force twist and wind through the interstellar miasma and arch over millions
of light-years of intergalactic wilderness. They are, astronomers have
gradually realized, one of the great shaping forces of the universe. Now it
seems that even the outermost of outer space-the chasms between clusters
of galaxies-is pervaded by magnetic fields of unforeseen power and unknown origin. "These magnetic fields are the dominant free energy of the universe," says astrophysicist Stirling A. Colgate of Los Alamos National Laboratory.

Magnetism had long been considered a side attraction in astronomy-hard to measure, hard to master, seemingly easy to neglect. The basic trouble is that
the fields are invisible. To infer their presence, astronomers must make do
with such compasses and filings as nature has haphazardly provided, including dust grains and charged particles. By aligning dust grains or diverting the paths
of electrons, for example, a magnetic field can effect the emission of polarized radio waves or skew the polarization of light passing through a region of space, rather like a weak pair of polarizing sunglasses.

Gradually astronomers have deduced that the Milky Way has a magnetic field
of roughly five microgauss, generally directed along the galaxy's spiral arms.
(By comparison, the earth's north-pointing magnetic field is about 500,000 microgauss.) If you had a compass sensitive to this field, in our corner of the galaxy it would point toward the constellation Cygnus. Other galaxies have similar fields.

When researchers began to look for fields in between galaxies in the late 1980s, their expectations were low. After all, cosmic magnetic fields are embedded in plasmas, which are much thinner in intergalactic than in interstellar space. According to x-ray telescopes, even the thickest intergalactic plasmas-found in the cores of galaxy clusters-are a hundredth as dense as interstellar plasmas.
So it came as a surprise in 1990 when Philipp P. Kronberg and Kwang-Tae Kim, both then at the University of Toronto, announced the first magnetic readings
of the interstices of the Coma cluster. The cluster's field is nearly as strong as
the Milky Way's.

Puzzled theorists took refuge in the thought that Coma was a fluke. But that escape hatch slammed shut when Kronberg, Tracy Clarke of Toronto and Hans Böhringer of the Max Planck Institute for Extraterrestrial Physics in Garching, Germany, reported their latest findings at a meeting of the American Physical Society this past April. The 24 other clusters they probed all have galactic - strength fields, too. Such fields are as potent as other cosmic forces, so they
can no longer be ignored in models of galaxy formation and other celestial goings-on.

Kronberg also unveiled new measurements of the space beyond clusters of galaxies, made with a special low-frequency radio receiver installed two years
ago on the Very Large Array telescope in Socorro, N.M. Kronberg and the rest
of his team-Torsten A. Ensslin of the Max Planck Institute for Astrophysics in Garching, Richard A. Perley of the National Radio Astronomy Observatory and Namir E. Kassim of the Naval Research Laboratory-found that magnetic fields just outside the Coma cluster are 0.01 to 0.1 microgauss, also too strong for
many theorists' comfort.

Explaining cosmic magnetism has never been easy, and now the task is even
more daunting. A galactic field must somehow be generated from scratch, amplified to the strength now observed, ejected into intergalactic space and further amplified there. Each stage poses problems. And some worry that ordinary galaxies simply lack the oomph to magnetize the huge space between them. Colgate and his colleague Hui Li think it is a job for the biggest guns in astronomy, the black holes at the heart of so-called active galaxies. "The only place where you have that much energy is a supermassive black hole," Colgate says.

For all the questions they raise, the intergalactic fields might resolve a
separate mystery: the origin of ultrahigh-energy cosmic rays. None of these superparticles has come from the direction of a plausible source, such as the nearby active galaxy M87. But, as Glennys Farrar of New York University
and Tsvi Piran of Hebrew University of Jerusalem argued in Physical Review Letters in April, sufficiently strong intergalactic fields would deflect the
particles' paths. If so, M87 can't be ruled out after all.

Alas, the proposal immediately ran into controversy. The Milky Way is not
part of a cluster, and magnetic fields in its vicinity have yet to be measured. Arnon Dar of the Technion in Haifa, Israel, argued that the fields cannot have
the requisite strength, as that scenario would contradict other observations. Kronberg thinks the same process that amplifies the intergalactic fields might
also be responsible for the particles. In any event, it looks like cosmic magnetic fields will retain their lure for some time to come.

--George Musser
.
Opening the Amenti Light-Code Seals

All manifest forms are built upon unseen templates of light and sound called morphogenetic fields. Morphogenetic fields of light and sound composed of set
of electro-tonal standing wave patterns called scalar waves. The planetary morphogenetic field is a scalar grid, divided into sections called Planetary
Shields. Certain portions of the Planetary Shields control inter-dimensional Star-Gates that have been dormant for thousands of years, due to Geomantic Light-Code Seals (electro-magnetic frequency seals) placed on them by the Ancient Priests of Ur and visiting Stellar Races. The Star Gate Seals could be opened only after the opening of the Arc of the Covenant, which occurred on
June 26, 1998 at 3:46 p.m. It is now time to begin releasing the Star Gate
Seals of the Giza Complex, which will set in motion the opening of the Halls
of Amenti and Halls of Records. When a Seal releases, its dormant standing
scalar wave patterns come to life in the Planetary Shields. The 1st Star Gate
Seal is the 8th dimensional Seal of Orion. Releasing the Seal of Orion
"awakens" the corresponding dormant standing scalar wave patterns, the
"Flame of Orion", within the Planetary Shields, activating the Orion Star
Gate of Giza. The Seal of Orion also exists within the human body.
Awakening the Flame of Orion within the human body begins activation of
the higher chakra centers (8-15), the KA and dormant DNA codes.
Awakening the planetary and personal Flame of Orion is a process called Keylontic Morphogenetic Science. An ancient Soul group called the Keepers
of the Eternal Flame was appointed by the Priests of Ur as Guardians of the Amenti star Gate Seals. This soul group reincarnates on earth during time
periods when the Star Gates can be opened. The period of 2000-2017 is the
first time the Star Gates can fully open in over 200,000 years. During this
journey we will use Advanced Ascension Mechanics as taught in the ancient Egyptian, sumerian and Essene mystical schools, to awaken the Flame of
Orion within the Giza complex and within the bio-energetic fields of those attending.

by Anna Hayes
.
Making our Magnetic Fields and Earth Grid Fractal
to Our Gravitational "Neighborhood" Will Not Only
Stabilize Tectonics, It Will Nourish the Evolution of
Consciousness Itself!
FRACTALITY/ AS RECURSION PRODUCES GRAVITY
AND CONSCIOUSNESS (SELF-AWARENESS):
THE WAVE MECHANIC AND ENERGETIC RELATIONSHIP
OF GRAVITY TO ELECTROMAGNETISM
OUR Civilization stands much to gain by developing a wave model predicting how our electromagnetic grid affects our gravity field stability. Additionally, energy source devices such as the POD MOD, Neuman, Trombley devices tap the gravity grid directly as civilization changing energy sources. Consciousness/recursion evolves potently only when our relationship to the recursive field effect we call gravity is understood and optimized. We must understand how our gravity grid's stability is limited by how fractal we make our magnetic grid, in order then to use this knowledge to optimize the way in which conscious/self-awareness evolves. (A Recursive-nest.)

In certain ways, I have humbly tried to address these issues in the second article in our new catalog: Gravity as Fractal. I would much appreciate dialog/conversation/info swap to evolve the clarity of this notion. The idea of the scalar wave as a caddeuceus braid of magnetic vs. electric wave fronts braided self-cancelling into each other to produce magnetic monopole (which Einstein knew was gravity's doorway), ONLY works when the 3 dimensional array of those wave fronts IS fractal.

Our research on the harmonic content of the heart EKG, when loving compassion is achieved, suggests an important connection to the 'Zero Point' energy. I'd like to suggest a specific mechanism which permits the harmonic series in the EKG spectra to access the 'Zero Point Energy' (reference literature by Henry Moray, and Moray King). Specifically this mechanism is fractality.

Our wave model of emotion predicted that we would find coherence in the EKG during loving. We did. Our wave model predicted we would find increased braiding in DNA during EKG coherence. We did. Our wave model predicted that when the heart became a 'sonic laser' we could measure phase lock between the heart and major biomagnetics in the environment (example: a tree).

We did. We have even measured the EKG phase lock or entrainment which occurs between people specifically at the moment they hold hands!

3D wave modeling clearly indicates that fractality is the specific mechanism which creates center of gravity as well as self-awareness in a waveform. The lo-frequency phi pent array (dodeca nest) permits/optimizes the densest possible recursion/fractality/self- embeddedness in 3D. Hence the Immune identity in the electrical waveforms around the heart must therefore arise when the geometry of focus called emotion learns to create fractal nesting among many incident pressures. The resultant self-embeddedness permits the context-richness in harmonic series accounting for what has been called 'multiply connectedness' in holography. This must also describe the information physics for the onset of intuition.

In summary, our wave model must therefore predict several important and testable principles, all having to do with understanding how to describe and measure fractality/recursion/self-similarity/self-embeddedness.

1. That the gravitational force, and mass of an object is specifically proportionate to it's fractality as a waveform. For example, the amount of self-similarity or fractality between an electron shell wave series and its nucleus should MEASURE it's mass! This would also account for the approximate 1.4 ounce weight loss in the body at death. Consciousness is recursion. Symmetry loss = Loss of Recursion = Loss of self-awareness = Loss of Fractality = Loss of Mass!

2. That the leverage the heart gains on matter (and the immune system) is proportionate to its achieving fractally as a waveform/harmonic series. Teach fractality with feedback, and you teach immune health.

3. Properly quantizing fractality/self-embeddedness, will enable us to better teach it with feedback and other modalities. This will require properly modeling the multiple spin geometries made possible by toroidal fields of the wavelengths found in the EKG (AND non-linear energy device) power spectra. Idealizing these in multiple axes of spin will always result in the Golden-Mean dodeca nest. This possibility of inclusivity of foldedness is the topological image through which radiates human love.

Thus, the hearts access to the hyperbolic spin/information densities of the 'Zero-Point' energy is specifically derived from its whip cracking harmonic series, translating vorticity contiguously up the caddeuceus harmonic scale. Notice the harmonic content in the EKG cascade going hyperbolic right at the approach to 0 hz. Only the completed fractal of this cascade means spin can reach out from the still point, without interference.

The challenge facing the human gene pool to information embed itself in its galactic ecosystem is directly related to understanding how fractality works.

Dan Winter, Crystal Hill MultiMedia, winter@primeline.com
MAGNETISM FROM A GEOLOGICAL POINT OF VIEW
AN INTRODUCTION INTO PLATE TECTONICS - CONTINENTS ADRIFT
CONTINENTAL DRIFT AND PLATE TECTONICS
THE MAYAN PROPHECIES - (Book ad)
Shift in the Earth's Magnetic Field Cause Of Extreme Weather?
THE HIGHLY ELECTROMAGNETIC HIDEOUT
THE PYRAMID AT GIZA AND THE MAGNETIC NULL ZONE
SCALAR PHYSICS - ALTERNATIVE ENERGY
EFFECTS OF LOW FREQUENCY MAGNETIC FIELDS ON DNA SYNTHESIS
syn*the*sis (noun), plural -the*ses -[Greek, from syntithenai to put together, from syn- + tithenai to put, place -- more at DO]First appeared 1589
1 a : the composition or combination of parts or elements so as to form a whole
b : the production of a substance by the union of chemical elements, groups, or simpler compounds or by the degradation of a complex compound
c : the combining of often diverse conceptions into a coherent whole; also : the complex so formed
2 a : deductive reasoning
b : the dialectic combination of thesis and antithesis into a higher stage of truth
If anyone would like make a comment on this information,
please e-mail Dee777@aol.com.
I will publish appropriate comments with permission.
CROP CIRCLES,
THEIR MEANING AND CONNECTIONS TO DREAMS
GREATDREAMS MAIN INDEX