Dee Finney's blog
start date July 20. 2011
todays date August 19. 2012
updated as it goes
PAGE 266
TOPIC: CURISOITY ROVER BY NASA - AND AMERICAN ENGINEERS AND WORKERS
WHO CONTRIBUTED TO EVERY PART THAT MADE THIS A SUCCESSFUL MISSION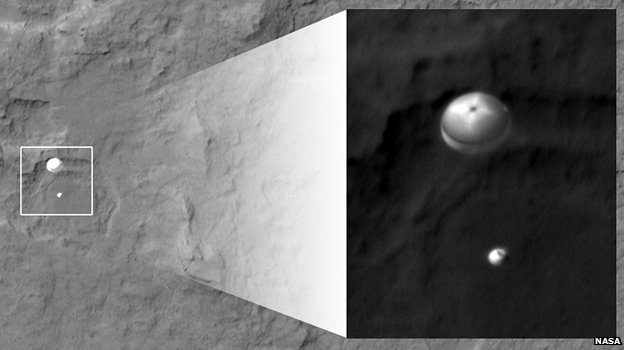 Mars Landing: NASA's Curiosity Rover Safely Touches Down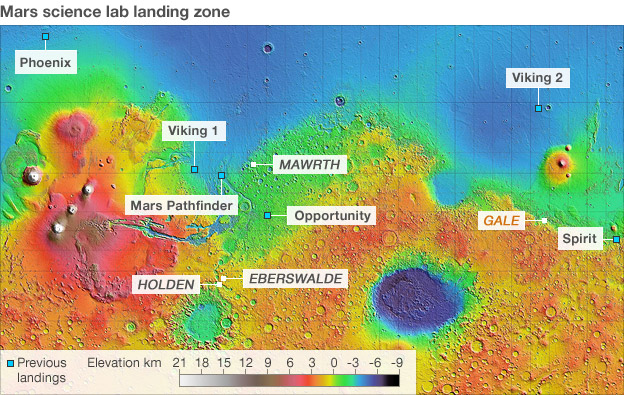 The Skycrane will lower MSL-Curiosity on to the relatively

flat valley floor on the end of tethers before blasting away

to a safe distance. The robot will then drive up to the base

of the central mountain.
In front of it, the rover should should find abundant quantities

of clay minerals that will give fresh insight into the very wet


early epoch of the Red Planet. Above the clays, the deposits

change to sulphates, which relate to a period in time when

Mars was still wet but was beginning to dry out.


In addition, there is evidence water flowed down the mountain

at some point in the past, cutting a deep gully and depositing

sediments out on the plain.
The rover will get to investigate all of this.
"The suite of things that we can see at Gale represents a diverse

number of environments over a long period of time, possibly tens



to hundreds of millions of years, plus the modern environment,"

said Dawn Sumner, a geologist at the University of California Davis, US.
"It's also going to be just an incredibly beautiful place - it will be a

lot like the southwest of the US, areas like Monument Valley where

you have steep-sided cliffs with the rover going in the shallower

valleys between them," the co-chair of the landing site working group

explained.
Drop-down mock-up
Gale was selected after a rigorous investigation of some 60 competing

sites. The selection process took five years and involved about 150

researchers.
High-resolution imagery was acquired of the best sites, and Nasa even

built models of some of the site surfaces and dropped a simulation rover

on to them to assess their suitability.
Michael Watkins, the mission's project engineer, said the expected

precision of the new entry, descent and landing system meant that

the space agency could have chosen any of the top contenders.
"We can control the lift of the vehicle a little bit during entry and we can

cancel out some unexpected differences in atmospheric drag that would

cause the landing zone to be large," he told reporters.
"Previous missions have had landing zones that have been up to 10 times

larger than MSL. MSL is going to land in a 20km-across spot."
MSL-Curiosity has been funded for an initial surface mission of two years.

But the fact that Nasa's Opportunity rover continues to roll across the Red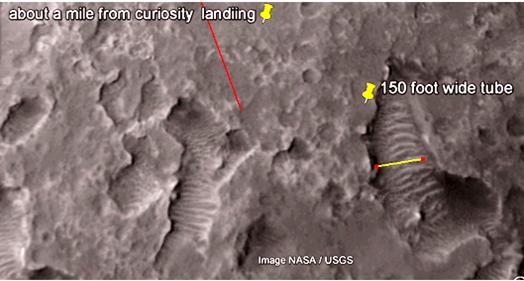 Subject: Dr. Richard Buchli D.V.M. Ph.D. write, "An 150 foot wide tube -less than a mile from Curiosity Land Rover."
The $2.5 billion robotic explorer, the centerpiece of the Mars Science Laboratory mission, landed on the Red Planet August 5, beginning a two-year trek around Mars' Gale Crater. Curiosity probably doesn't have smarts to find Mars signs of life. Curiosity could find organics, but a new set of instruments are likely needed to find 'biomarkers'. Fortunately macrobiotic life was found by both Viking Landers in 1976.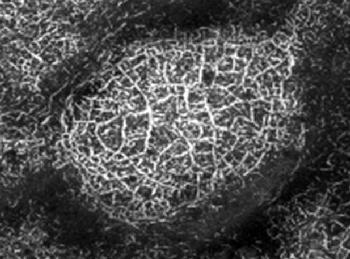 ROADS?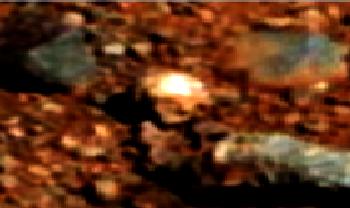 PEOPLE ARE SAYING THIS IS A HUMAN SKULL



Planet today, seven years after landing, suggests the new vehicle may

have a very long life ahead of it. What is more, the new vehicle carries a

nuclear battery that will provide ample power on a planet where dust

storms can blight the operation of solar panels.
MSL-Curiosity is currently being prepared for its November launch at

Nasa's Kennedy Space Center.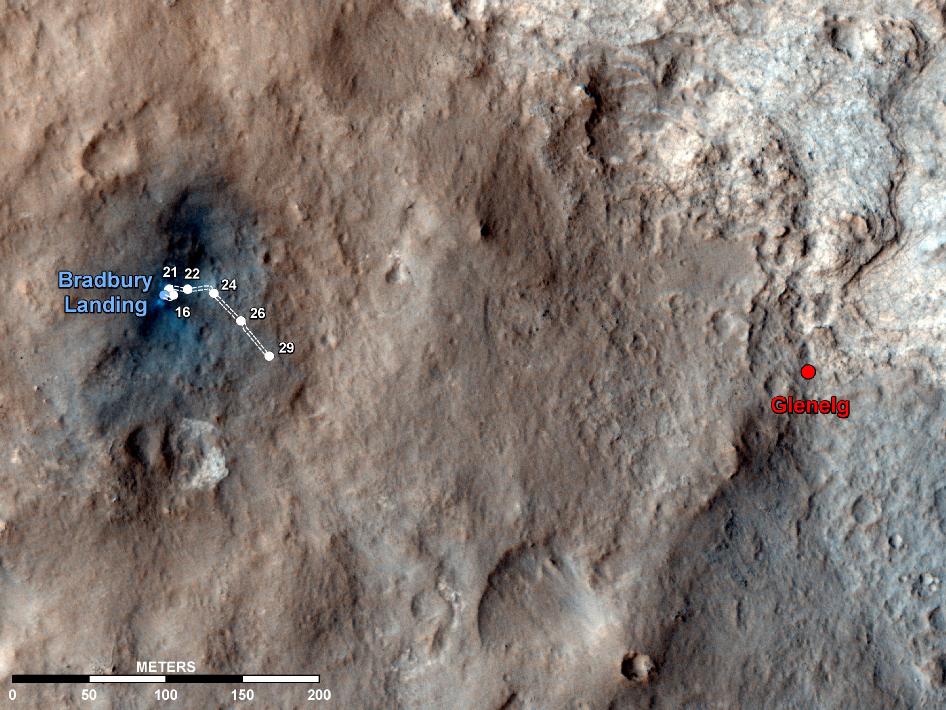 RELEASE : 12-315

NASA Orbiter Observations Point to 'Dry Ice' Snowfall on Mars

PASADENA, Calif. -- NASA's Mars Reconnaissance Orbiter (MRO) data have given scientists the clearest evidence yet of carbon dioxide snowfalls on Mars. This reveals the only known example of carbon dioxide snow falling anywhere in our solar system.

Frozen carbon dioxide, better known as "dry ice," requires temperatures of about minus 193 degrees Fahrenheit (minus 125 Celsius), which is much colder than needed for freezing water. Carbon dioxide snow reminds scientists that although some parts of Mars may look quite Earth-like, the Red Planet is very different. The report is being published in the Journal of Geophysical Research.

"These are the first definitive detections of carbon dioxide snow clouds," said the report's lead author Paul Hayne of NASA's Jet Propulsion Laboratory (JPL) in Pasadena, Calif. "We firmly establish the clouds are composed of carbon dioxide -- flakes of Martian air -- and they are thick enough to result in snowfall accumulation at the surface."

The snow falls occurred from clouds around the Red Planet's south pole in winter. The presence of carbon dioxide ice in Mars' seasonal and residual southern polar caps has been known for decades. Also, NASA's Phoenix Lander mission in 2008 observed falling water-ice snow on northern Mars.

Hayne and six co-authors analyzed data gained by looking at clouds straight overhead and sideways with the Mars Climate Sounder, one of six instruments on MRO. This instrument records brightness in nine wavebands of visible and infrared light as a way to examine particles and gases in the Martian atmosphere.

The data provide information about temperatures, particle sizes and their concentrations. The new analysis is based on data from observations in the south polar region during southern Mars winter in 2006-2007, identifying a tall carbon dioxide cloud about 300 miles (500 kilometers) in diameter persisting over the pole and smaller, shorter-lived, lower-altitude carbon dioxide ice clouds at latitudes from 70 to 80 degrees south.

"One line of evidence for snow is that the carbon dioxide ice particles in the clouds are large enough to fall to the ground during the lifespan of the clouds," co-author David Kass of JPL said. "Another comes from observations when the instrument is pointed toward the horizon, instead of down at the surface. The infrared spectra signature of the clouds viewed from this angle is clearly carbon dioxide ice particles and they extend to the surface. By observing this way, the Mars Climate Sounder is able to distinguish the particles in the atmosphere from the dry ice on the surface."

Mars' south polar residual ice cap is the only place on Mars where frozen carbon dioxide persists on the surface year-round. Just how the carbon dioxide from Mars' atmosphere gets deposited has been in question. It is unclear whether it occurs as snow or by freezing out at ground level as frost. These results show snowfall is especially vigorous on top of the residual cap.

"The finding of snowfall could mean that the type of deposition -- snow or frost -- is somehow linked to the year-to-year preservation of the residual cap," Hayne said.

JPL provided the Mars Climate Sounder instrument and manages the MRO Project for NASA's Science Mission Directorate in Washington.

For more information about MRO, visit:



RELEASE : 12-332

NASA Mars Rover Targets Unusual Rock En Route to First Destination

PASADENA, Calif. -- NASA's Mars rover Curiosity has driven up to a football-size rock that will be the first for the rover's arm to examine.

Curiosity is about 8 feet (2.5 meters) from the rock. It lies about halfway from Curiosity's landing site, Bradbury Landing, to a location called Glenelg. In coming days, the team plans to touch the rock with a spectrometer to determine its elemental composition and use an arm-mounted camera to take close-up photographs.

Both the arm-mounted Alpha Particle X-Ray Spectrometer and the mast-mounted, laser-zapping Chemistry and Camera Instrument will be used for identifying elements in the rock. This will allow cross-checking of the two instruments.

The rock has been named "Jake Matijevic." Jacob Matijevic (mah-TEE-uh-vik) was the surface operations systems chief engineer for Mars Science Laboratory (MSL) and the project's Curiosity rover. He passed away Aug. 20, at age 64. Matijevic also was a leading engineer for all of the previous NASA Mars rovers: Sojourner, Spirit and Opportunity.

Curiosity now has driven six days in a row. Daily distances range from 72 feet to 121 feet (22 meters to 37 meters).

"This robot was built to rove, and the team is really getting a good rhythm of driving day after day when that's the priority," said MSL Project Manager Richard Cook of NASA's Jet Propulsion Laboratory in Pasadena, Calif.

The team plans to choose a rock in the Glenelg area for the rover's first use of its capability to analyze powder drilled from interiors of rocks. Three types of terrain intersect in the Glenelg area -- one lighter- toned and another more cratered than the terrain Curiosity currently is crossing. The light-toned area is of special interest because it retains daytime heat long into the night, suggesting an unusual composition.

"As we're getting closer to the light-toned area, we see thin, dark bands of unknown origin," said Mars Science Laboratory Project Scientist John Grotzinger of the California Institute of Technology, Pasadena. "The smaller-scale diversity is becoming more evident as we get closer, providing more potential targets for investigation."

Researchers are using Curiosity's Mast Camera (Mastcam) to find potential targets on the ground. Recent new images from the rover's camera reveal dark streaks on rocks in the Glenelg area that have increased researchers' interest in the area. In addition to taking ground images, the camera also has been busy looking upward.

On two recent days, Curiosity pointed the Mastcam at the sun and recorded images of Mars' two moons, Phobos and Deimos, passing in front of the sun from the rover's point of view. Results of these transit observations are part of a long-term study of changes in the moons' orbits. NASA's twin Mars Exploration Rovers, Spirit and Opportunity, which arrived at Mars in 2004, also have observed solar transits by Mars' moons. Opportunity is doing so again this week.

"Phobos is in an orbit very slowly getting closer to Mars, and Deimos is in an orbit very slowly getting farther from Mars," said Curiosity's science team co-investigator Mark Lemmon of Texas A&M University. "These observations help us reduce uncertainty in calculations of the changes."

In Curiosity's observations of Phobos this week, the time when the edge of the moon began overlapping the disc of the sun was predictable to within a few seconds. Uncertainty in timing is because Mars' interior structure isn't fully understood.

Phobos causes small changes to the shape of Mars in the same way Earth's moon raises tides. The changes to Mars' shape depend on the Martian interior which, in turn, cause Phobos' orbit to decay. Timing the orbital change more precisely provides information about Mars' interior structure.

During Curiosity's two-year prime mission, researchers will use the rover's 10 science instruments to assess whether the selected field site inside Gale Crater ever has offered environmental conditions favorable for microbial life.

For more about Curiosity, visit:




and



You can follow the mission on Facebook and Twitter at:



http://www.facebook.com/marscuriosity




and




http://www.twitter.com/marscuriosity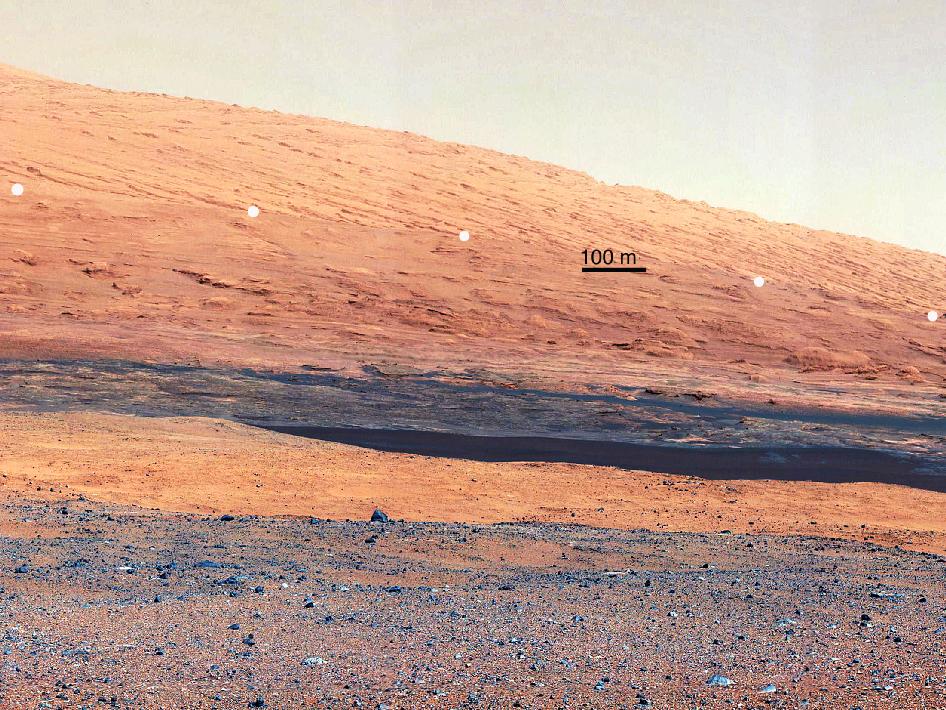 MARS MOUNT SHARP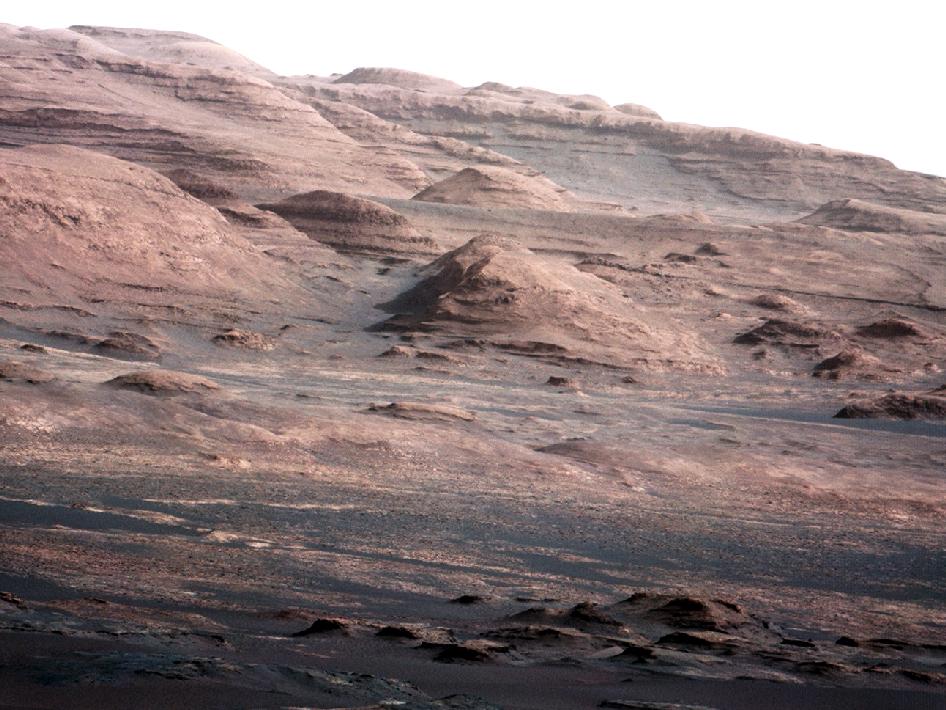 BASE LAYERS OF MOUNT SHARP
MARS WEATHER REPORT AT CURIOSITY SITE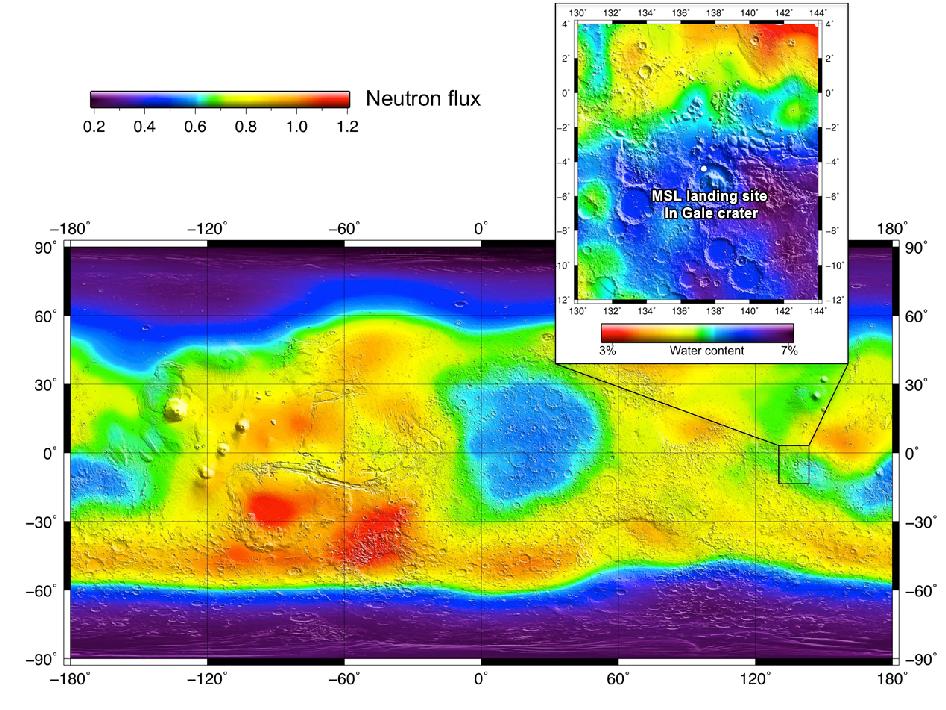 Laying the Groundwork for Curiosity's DAN
The heritage for investigations with the Dynamic Albedo of Neutrons instrument on NASA's Curiosity rover comes from NASA's Odyssey orbiter. The orbiter has performed global mapping of neutrons, showing varying degrees of hydrogen in the Martian soil as indicated on this chart. The hydrogen is an indicator of the presence of water.

Now, Curiosity will continue this research on the ground at Gale Crater. In addition to using neutrons that are produced by galactic cosmic rays, as was the case with Odyssey, the DAN can generate pulses of neutrons on its own. This will contribute to more efficient studies of water-bearing minerals along Curiosity's path through Gale Crater.

Image credit: NASA/JPL-Caltech/Russian Space Research Institute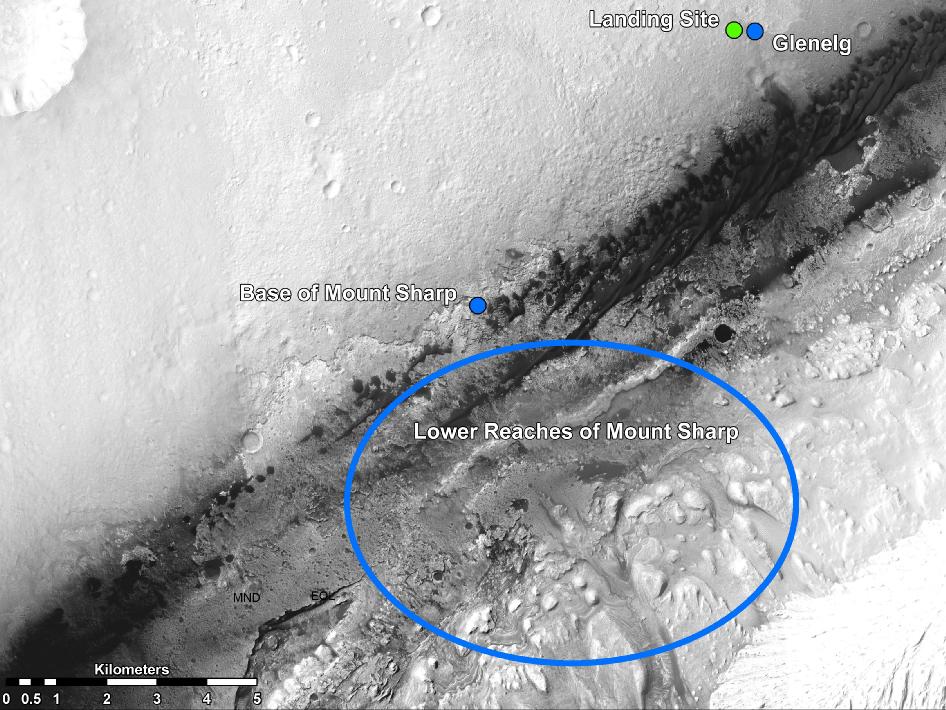 MARS - CURIOSITY LANDING SITE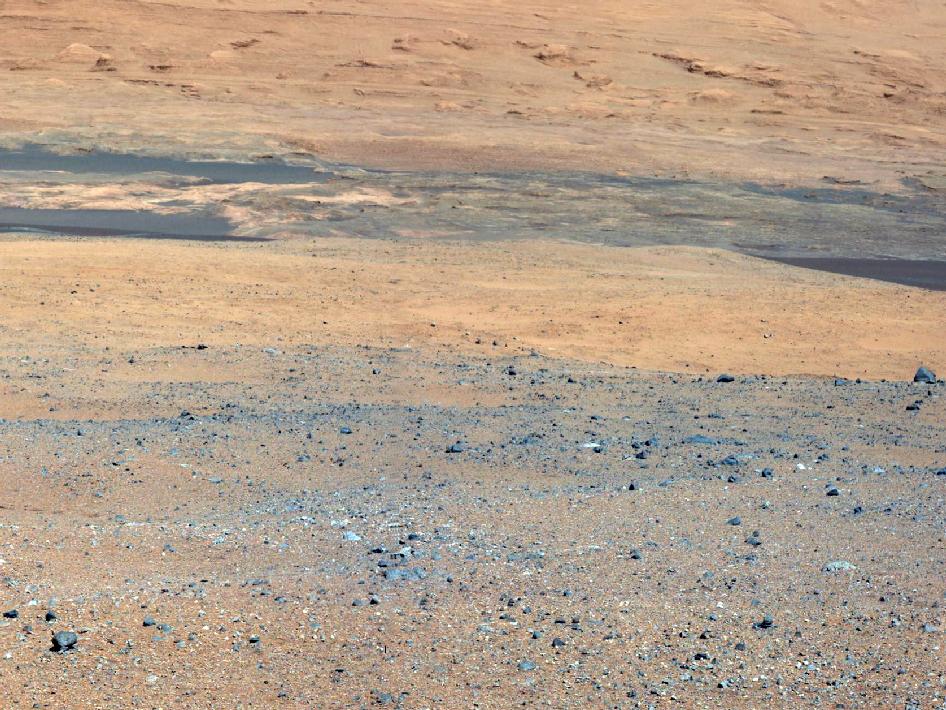 MARS - MOUNT SHARP HIGHER RESOLUTION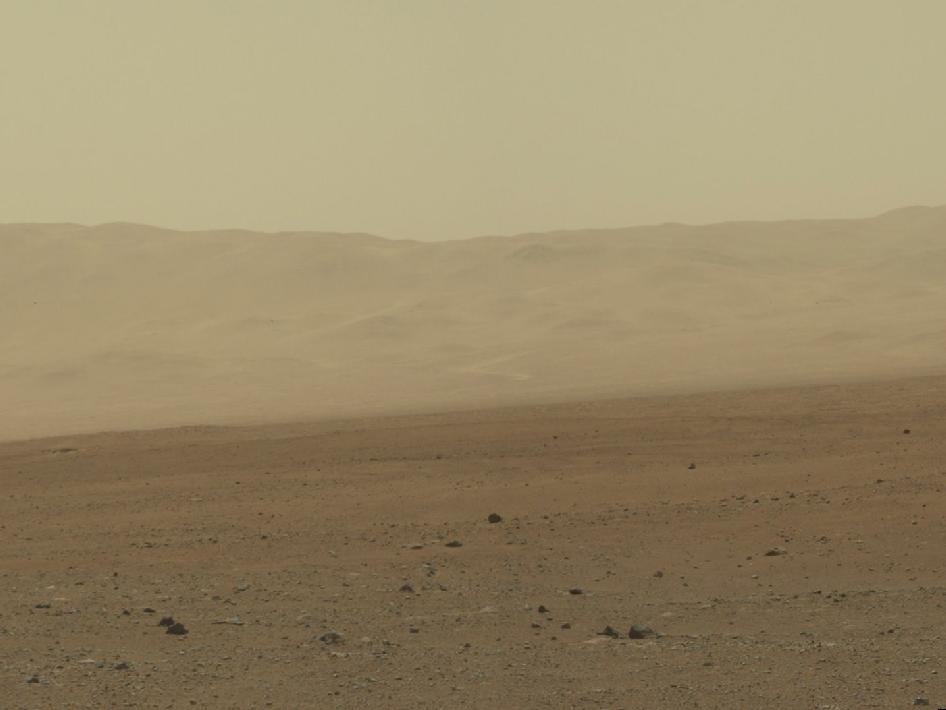 MARS-GALE CRATER WALL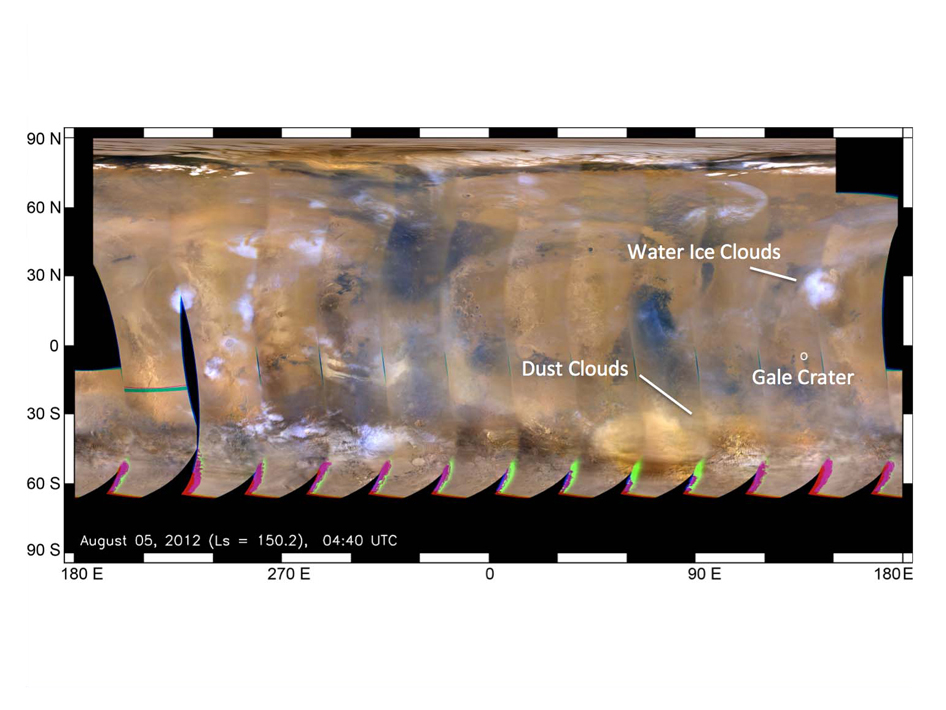 MARS WEATHER MAP - AUGUST 5, 2012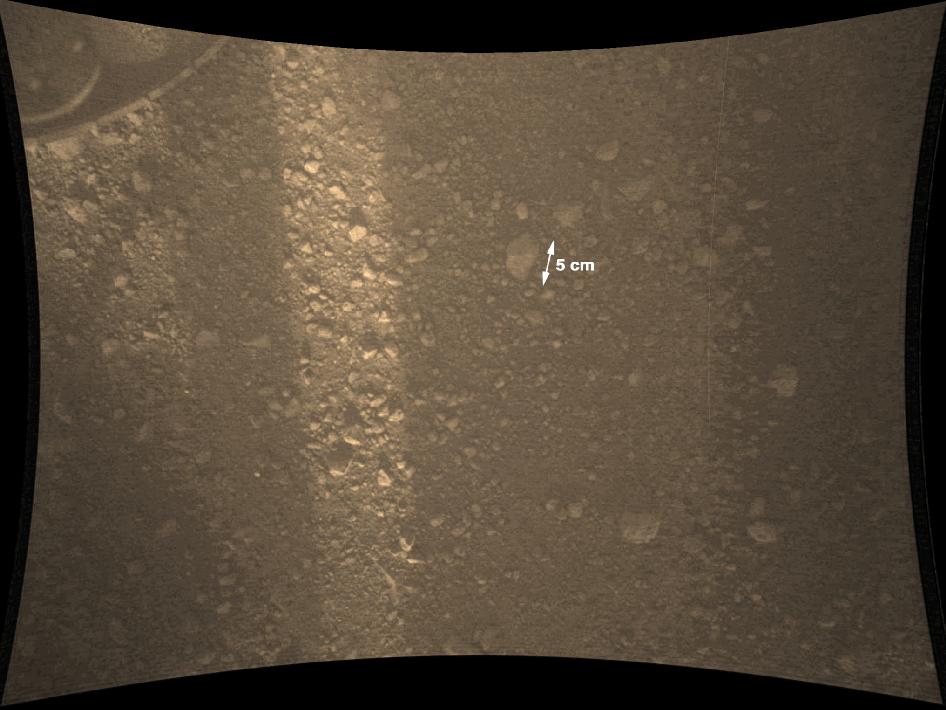 MARS GRAVEL SURFACE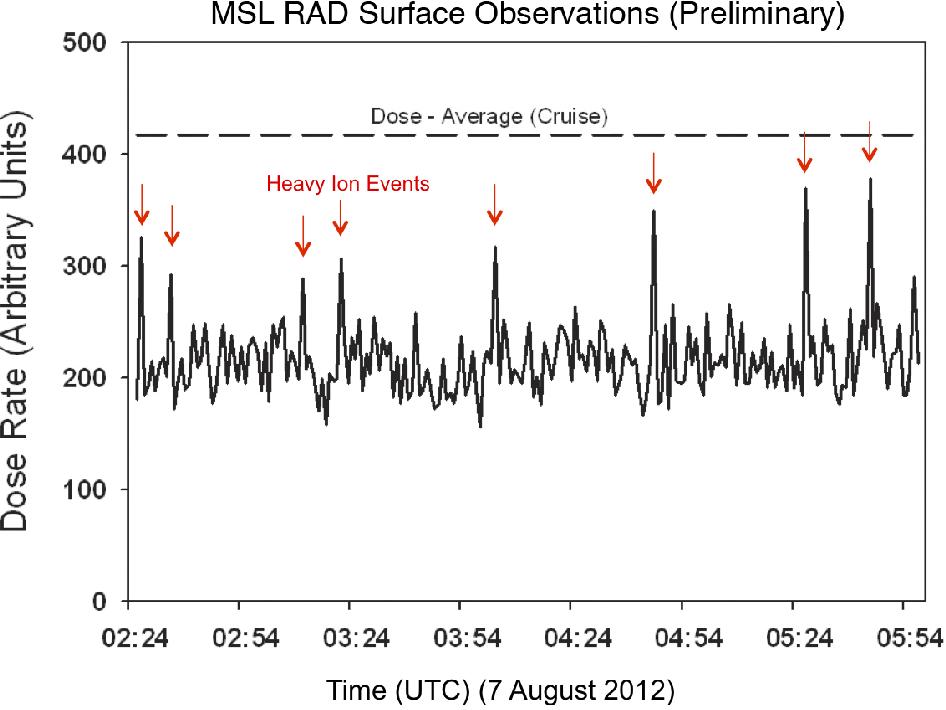 MARS RADIATION MEASUREMENTS
MARS ANOMALY
DO YOU SEE A DOOR IN THE RED AREA?
Mars Rover Finds 'Bright Object'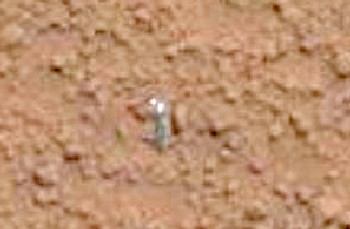 NASA's Curiosity rover has uncovered a "bright object" in the red soil of Mars that might be a part of the robotic explorer that broke off, NASA said Monday in a statement.
"Curiosity is acquiring additional imaging of the object to aid the team in identifying the object and assessing possible impact, if any, to sampling activities."
The rover had parked at a sand pit late last week, where it was to scoop up soil in order to clean and test its geological sampling hardware.
The $2.5 billion craft landed in Gale Crater on August 6, opening a new chapter in the history of interplanetary exploration. Thanks to NASA
Mars Rock Touched By NASA Curiosity Rover Offers Surprises
10-11-12
PASADENA, Calif. -- The first Martian rock NASA's Curiosity rover has reached out to touch presents a more varied composition than expected from previous missions. The rock also resembles some unusual rocks from Earth's interior.

The rover team used two instruments on Curiosity to study the chemical makeup of the football-size rock called "Jake Matijevic." The results support some surprising recent measurements and provide an example of why identifying rocks' composition is such a major emphasis of the mission. Rock compositions tell stories about unseen environments and planetary processes.

"This rock is a close match in chemical composition to an unusual but well-known type of igneous rock found in many volcanic provinces on Earth," said Edward Stolper of the California Institute of Technology in Pasadena, Calif., who is a Curiosity co-investigator. "With only one Martian rock of this type, it is difficult to know whether the same processes were involved, but it is a reasonable place to start thinking about its origin."
On Earth, rocks with composition like the Jake rock typically come from processes in the planet's mantle beneath the crust, from crystallization of relatively water-rich magma at elevated pressure.

Jake was the first rock analyzed by the rover's arm-mounted Alpha Particle X-Ray Spectrometer (APXS) instrument and about the thirtieth rock examined by the Chemistry and Camera (ChemCam) instrument. Two penny-size spots on Jake were analyzed Sept. 22 by the rover's improved and faster version of earlier APXS devices on all previous Mars rovers, which have examined hundreds of rocks. That information has provided scientists a library of comparisons for what Curiosity sees.

"Jake is kind of an odd Martian rock," said APXS Principal Investigator Ralf Gellert of the University of Guelph in Ontario, Canada. "It's high in elements consistent with the mineral feldspar, and low in magnesium and iron."

ChemCam found unique compositions at each of 14 target points on the rock, hitting different mineral grains within it.
"ChemCam had been seeing compositions suggestive of feldspar since August, and we're getting closer to confirming that now with APXS data, although there are additional tests to be done," said ChemCam Principal Investigator Roger Wiens of Los Alamos National Laboratory in New Mexico.

Examination of Jake included the first comparison on Mars between APXS results and results from checking the same rock with ChemCam, which shoots laser pulses from the top of the rover's mast.

The wealth of information from the two instruments checking chemical elements in the same rock is just a preview. Curiosity also carries analytical laboratories inside the rover to provide other composition information about powder samples from rocks and soil. The mission is progressing toward getting the first soil sample into those analytical instruments during a "sol" or Martian day.

"Yestersol, we used Curiosity's first perfectly scooped sample for cleaning the interior surfaces of our 150-micron sample-processing chambers. It's our version of a Martian carwash," said Chris Roumeliotis, lead turret rover planner at NASA's Jet Propulsion Laboratory (JPL) in Pasadena, Calif.

Before proceeding, the team carefully studied the material for scooping at a sandy patch called "Rocknest," where Curiosity is spending about three weeks.

"That first sample was perfect, just the right particle-size distribution," said JPL's Luther Beegle, Curiosity sampling-system scientist. "We had a lot of steps to be sure it was safe to go through with the scooping and cleaning."

Following the work at Rocknest, the rover team plans to drive Curiosity about 100 yards eastward and select a rock in that area as the first target for using the drill.

During a two-year prime mission, researchers will use Curiosity's 10 instruments to assess whether the study area ever has offered environmental conditions favorable for microbial life. JPL, a division of Caltech, manages the project and built Curiosity. For more about the Mars Science Laboratory Curiosity rover mission, visit:


10-12-12
RELEASE : 12-359
Mars Rock Touched By NASA Curiosity Rover Offers Surprises
PASADENA, Calif. -- The first Martian rock NASA's Curiosity rover has reached out to touch presents a more varied composition than expected from previous missions. The rock also resembles some unusual rocks from Earth's interior.

The rover team used two instruments on Curiosity to study the chemical makeup of the football-size rock called "Jake Matijevic." The results support some surprising recent measurements and provide an example of why identifying rocks' composition is such a major emphasis of the mission. Rock compositions tell stories about unseen environments and planetary processes.

"This rock is a close match in chemical composition to an unusual but well-known type of igneous rock found in many volcanic provinces on Earth," said Edward Stolper of the California Institute of Technology in Pasadena, Calif., who is a Curiosity co-investigator. "With only one Martian rock of this type, it is difficult to know whether the same processes were involved, but it is a reasonable place to start thinking about its origin."
On Earth, rocks with composition like the Jake rock typically come from processes in the planet's mantle beneath the crust, from crystallization of relatively water-rich magma at elevated pressure.

Jake was the first rock analyzed by the rover's arm-mounted Alpha Particle X-Ray Spectrometer (APXS) instrument and about the thirtieth rock examined by the Chemistry and Camera (ChemCam) instrument. Two penny-size spots on Jake were analyzed Sept. 22 by the rover's improved and faster version of earlier APXS devices on all previous Mars rovers, which have examined hundreds of rocks. That information has provided scientists a library of comparisons for what Curiosity sees.

"Jake is kind of an odd Martian rock," said APXS Principal Investigator Ralf Gellert of the University of Guelph in Ontario, Canada. "It's high in elements consistent with the mineral feldspar, and low in magnesium and iron."

ChemCam found unique compositions at each of 14 target points on the rock, hitting different mineral grains within it.
"ChemCam had been seeing compositions suggestive of feldspar since August, and we're getting closer to confirming that now with APXS data, although there are additional tests to be done," said ChemCam Principal Investigator Roger Wiens of Los Alamos National Laboratory in New Mexico.

Examination of Jake included the first comparison on Mars between APXS results and results from checking the same rock with ChemCam, which shoots laser pulses from the top of the rover's mast.

The wealth of information from the two instruments checking chemical elements in the same rock is just a preview. Curiosity also carries analytical laboratories inside the rover to provide other composition information about powder samples from rocks and soil. The mission is progressing toward getting the first soil sample into those analytical instruments during a "sol" or Martian day.

"Yestersol, we used Curiosity's first perfectly scooped sample for cleaning the interior surfaces of our 150-micron sample-processing chambers. It's our version of a Martian carwash," said Chris Roumeliotis, lead turret rover planner at NASA's Jet Propulsion Laboratory (JPL) in Pasadena, Calif.

Before proceeding, the team carefully studied the material for scooping at a sandy patch called "Rocknest," where Curiosity is spending about three weeks.

"That first sample was perfect, just the right particle-size distribution," said JPL's Luther Beegle, Curiosity sampling-system scientist. "We had a lot of steps to be sure it was safe to go through with the scooping and cleaning."

Following the work at Rocknest, the rover team plans to drive Curiosity about 100 yards eastward and select a rock in that area as the first target for using the drill.

During a two-year prime mission, researchers will use Curiosity's 10 instruments to assess whether the study area ever has offered environmental conditions favorable for microbial life. JPL, a division of Caltech, manages the project and built Curiosity. For more about the Mars Science Laboratory Curiosity rover mission, visit:


VIDEO - DOCTORED PHOTOS? http://www.youtube.com/watch?v=bpkKY3DAtiY&feature=em-unknown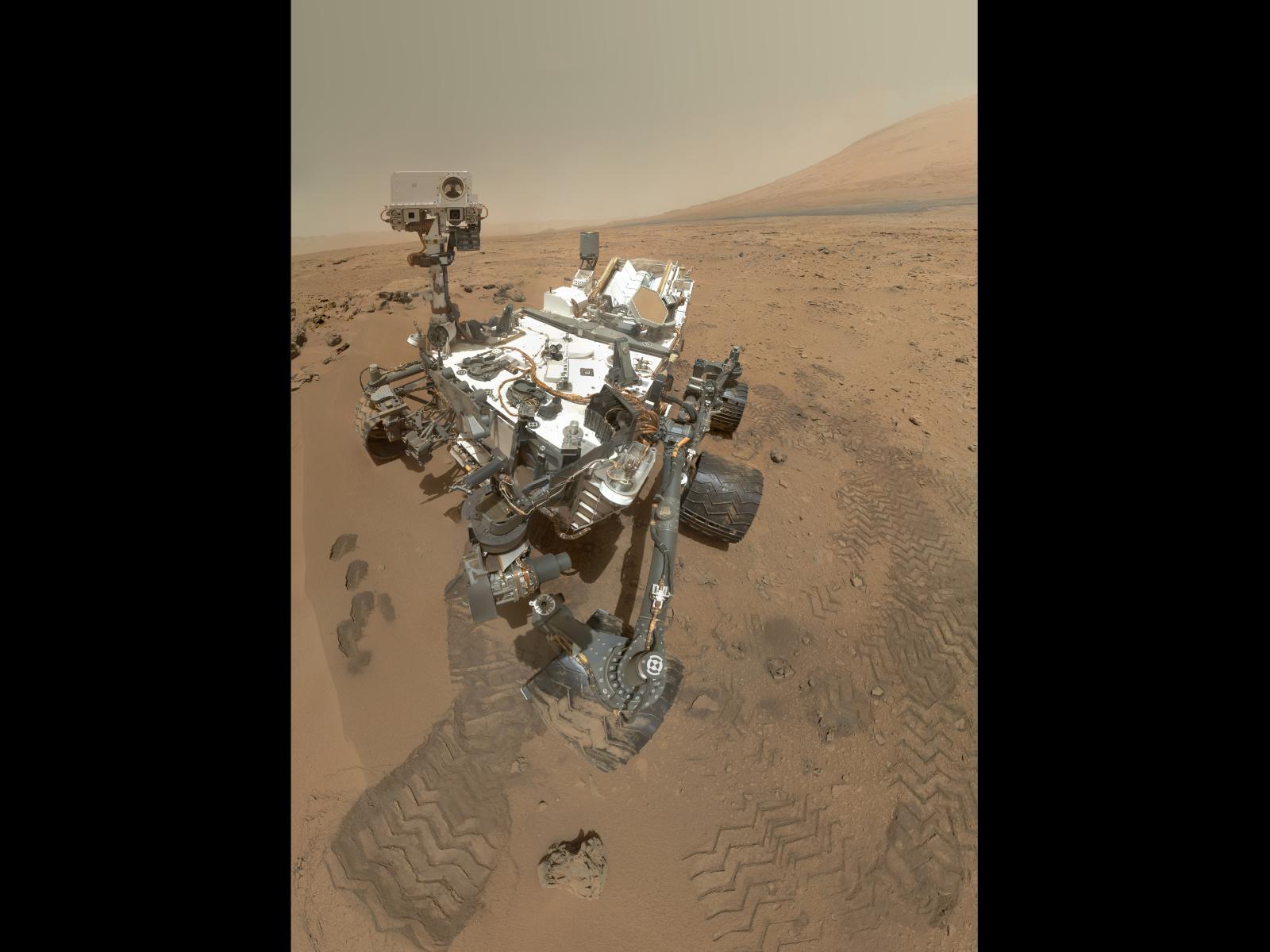 ARE THOSE ALIEN FOOTPRINTS IN FRONT OF THE ROVER?

WHO TOOK THE PHOTO?


You can follow the mission on Facebook and Twitter at:



http://www.facebook.com/marscuriosity