Israel's attack underlines helplessness, hopelessness of Gaza Palestinians
by Diana Buttu
Ramallah, West Bank — The Globe and Mail
Published
It is with horror that I watch the latest events in Gaza unfold. As a Canadian based in the West Bank who once lived in Gaza, I know the fear that is currently running through the veins of each man, woman and especially child as they face Israel's unrelenting aerial and naval bombardment. My time in Gaza was marked by long periods of aerial bombings and sonic booms. I still– 6 years later – live with those horrible memories and the sheer sense of helplessness and hopelessness that ensued.

Today, the Gaza Strip is a much different place. The people have not changed – they are just as vibrant, funny and full of life as they were when I lived there – but their living conditions, and prospects for a bright future, have grown dim.


Today, the people of Gaza suffer from a brutal blockade that has lasted for more than 6 years and isolation that has lasted for more than 20 years. Israel strictly controls imports into Gaza and exports are virtually non-existent. Palestinian life is so controlled by Israel that the Israeli government even sets policies on the minimum number of calories needed to prevent malnutrition. Access to the sea – one of their main sources of livelihood – is strictly curtailed and the water of the Gaza Strip is barely drinkable, with less than 5 per cent of their water supply fit for human consumption. Today, Gaza is an open-air prison and it comes as little surprise that UN agencies recently concluded that, in a few years, Gaza will become unlivable.


But these facts have to be put in their proper light by looking at the population of Gaza. Today, 90 per cent of Gaza's population is descended from the over 750,000 Palestinians ethnically cleansed in 1947-1949 from their homes in what is today Israel. More than 50 per cent of the population of Gaza is under the age of 18 and 20 per cent are under the age of 5.


They live in one of the most densely populated places on Earth, without reasonable prospects for survival. All of these measures – the blockade, isolation, siege, and damaged water supply – will have a tremendously detrimental impact on the lives of these young individuals. These are not natural disasters, but man-made ones.


Now, heaped on top, is Israel's latest bombing campaign, one that does not distinguish civilian from combatant, adult from child – notwithstanding false Israeli claims otherwise.


Israeli Army officials have taken to Twitter and other social media to belittle death. In the aftermath of one assassination, the Israeli army participated in the hashtag #HamasBumperStickers with one Israeli army official tweeting, "My car is a stairway to heaven with a little help from Israel."
The effects are sadly on display: In the past few days alone, Israel has dropped more than 250 bombs on this densely populated land. These attacks are supplemented by naval and tank shelling. Among the 22 Palestinian victims are two school children playing soccer, an 11-month-old infant, a pregnant mother and three other children.


Israel has repeatedly asserted that any "democratic country" such as Canada would do the same and that it was left with "no choice." These are patently false assertions. What Israel fails to explain is that other democracies have not maintained a brutal 45-year military occupation over another people; that other countries have not denied freedom to another people for decades; that other countries do not routinely expropriate land for Jewish-only housing and roads and that democratic countries do not control virtually every aspect of the lives of another people (including caloric consumption).

Yes, there are other options: Israel can easily end its military rule over Palestinians – in both the West Bank and the Gaza Strip – and allow Palestinians to live in the freedom and dignity that is their right, and that of others around the world. Continuing to maintain control over the lives of others is only a recipe for disaster.


History has demonstrated that no subjugated people will willingly live under oppressive rule. The Palestinians are no different. The time has come for Israel to end its oppressive rule and allow the Palestinians to live in freedom.


Bombing a civilian, stateless, refugee population is not the answer.


Diana Buttu is a Canadian lawyer based in the West Bank. In 2000-2006 she served as an adviser and negotiator for the Palestinian Liberation Organization and to Palestinian president Mahmoud Abbas.
Israeli soldiers ride on top of an armored personnel carrier close to the Israel-Gaza border,in southern Israel. …The White House on Thursday threw its full support behind Israel's military response to a barrage of rockets fired by the Islamist Palestinian movement Hamas that rules the Gaza Strip. Deputy National Security Adviser for Strategic Communications Ben Rhodes said it would be "up to the Israeli government" whether to follow up punishing airstrikes with a ground assault.

"Our view is that the Israelis have the right of self-defense when their citizens are faced with the threat ofindiscriminate rocket fire from within Gaza," Rhodes told reporters on a conference call.

Asked whether the Obama administration would have any issues with an Israeli ground assault, Rhodes replied that "ultimately, it's up to the Israeli government to make determinations about how they're going to carry out their military objectives."

The Associated Press has reportedthat Hamas fired more than 200 rockets on Thursday, killing three people, and that Israel seemed to be gearing up for a groundinvasion of Gaza. The escalating conflict amounted to President Barack Obama's first major foreign policy test since winning re-election Nov. 6.Rhodes said American officials werein close consultation with their Israeli counterparts "to have an understanding of their plans going forward." The Obama administration has beenin discussions with Turkey, Egypt and "some of our European partners," he said, thought to have sway over Hamasin order to get them to urge the militant organization to halt its rocket attacks.

"At the United Nations, where this is being discussed, we've sought to keep the focus where it should be—which is on Hamas's rocket fire as the precipitating cause here," Rhodes explained.

"What we've also said is that the best course of action would be for there to be a general de-escalation of the violence, but that the onus is on Hamas—and those withinfluence over Hamas—to help bring about that de-escalation, so that we don't see a widening conflict," he told reporters. "So we certainly want to see a de-escalation, we certainly want to see a broader conflict avoided."

The official noted that the White House has urged Israelto take "all steps ... to avoid civilian casualties." He added, "And we deeply regret the loss of life on the Israeli and Palestinian side."

Israeli Ambassador to the United States Michael Oren briefed key senators on the operation. The lawmakers—Democrats and Republicans—released a joint statementexpressing "solidarity" with Israel while warning that "escalation will only lead to further suffering on both sides."
Rockets, airstrikes reignite Mideast conflict
updated 10:42 AM EST, Thu November 15, 2012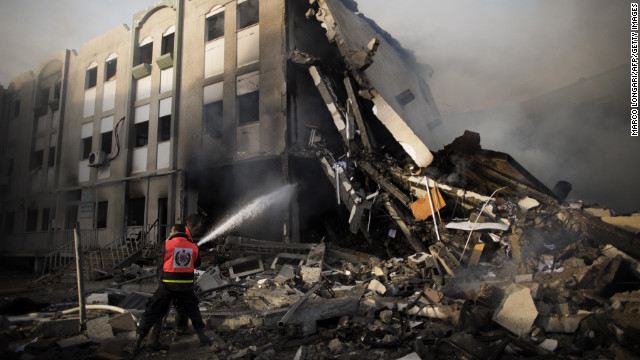 PALESTINIAN FIREFIGHTERS IN GAZA AFTER ISRAEL ATTACKS BACK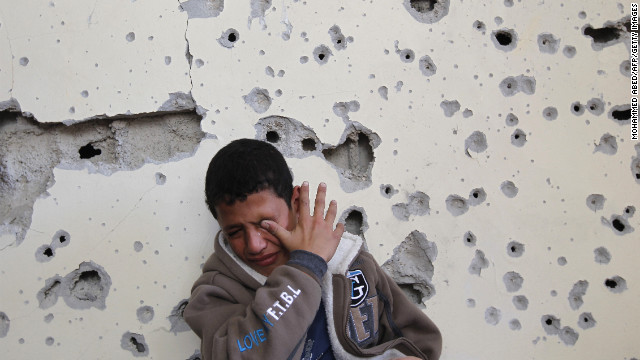 GAZA BOY FIGHTING BACK TEARS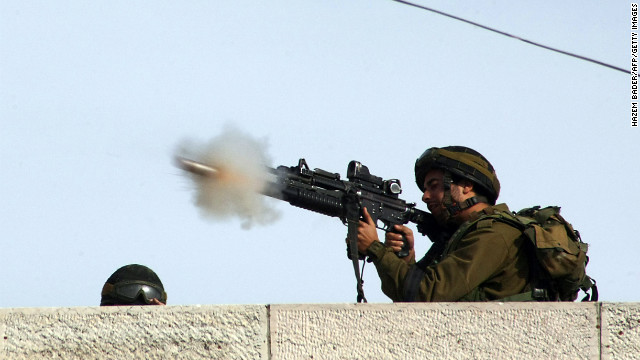 ISREAL SOLDER FIRES TEAR GAS AT PALESTINIAN STONE THROWERS
PALESTINIAN YOUTH INSPECTS DESTROYED MOSQUE IN
NORTHERN GAZA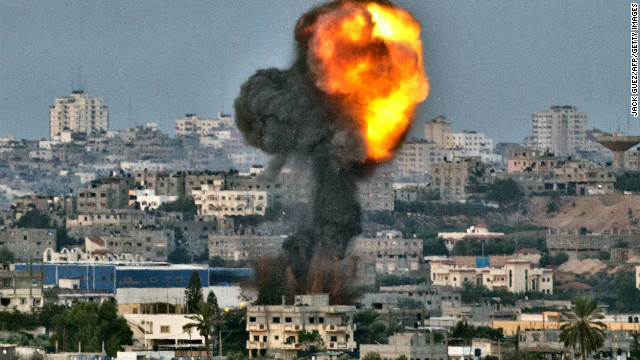 MISSLE BOMBING IN GAZA 11-15-12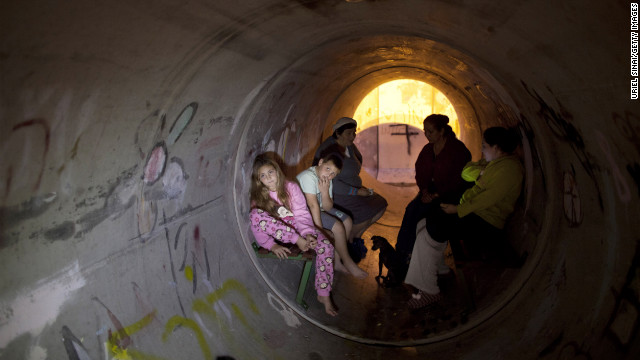 Israelis take cover in a pipe used as a bomb shelter, after a rocket was launched from the Gaza Strip on Thursday, November 15 in Kiryat Malachi, Israel. Rockets and shells crisscrossed between Israel and Gaza on Thursday as Palestinian militants continued rocket attacks on Israeli civilians and Israel pounded what it called terror sites.
CNN) -- Israel launched a series of blistering airstrikes Wednesday on what it says are terrorist targets in Gaza, killing the chief of Hamas' military wing and at least eight others, Israeli and Palestinian officials said.


As the tensions ratcheted up, the U.N. Security Council held an emergency meeting Wednesday evening.

Palestinian leaders immediately condemned the attacks as an escalation, with President Mahmoud Abbas calling for an emergency session of the Council of the League of Arab States to discuss what he called Israeli "aggression," the Egyptian state news agency MENA reported.

Hamas' military wing warned that Israelis had opened "the gates of hell on themselves" with the move.

A report on the Israel Defense Forces website said Brig. Gen. Yoav Moredechai would not rule out a ground attack.

"Infantry brigades have been shifted in preparation for the operation," he said, according to the website.


Israeli military spokeswoman Lt. Colonel Avital Leibovich said: "There are some reserve units that are preparing but nothing more than that at this point."
There were at least 70 strikes by warplanes and ships Wednesday, officials from Palestinian militant groups said. As night fell, more airstrikes could be heard, and Hamas security officials said four more attacks hit empty swaths of farmland in Gaza late Wednesday. The IDF said at least 128 rockets had been fired from Gaza since Saturday.


Q&A on Israeli-Palestinian conflict
Israel's Iron Dome air defense system intercepted 28 rockets launched at Israel on Wednesday, the IDF said on its Twitter feed, which it was updating almost hourly with new details as well as links to photos.


One of the posters on the IDF's feed was Al-Qassam, the military wing of Hamas, which has the Twitter ID of Alqassam Brigades..

It wrote: "@idfspokesperson Our blessed hands will reach your leaders and soldiers wherever they are (You Opened Hell Gates on Yourselves)."/p>
PPalestinian medical sources said at least eight people died in the Israeli airstrikes, including two young girls, and 84 others were wounded, 10 in serious condition. However, the health minister in Gaza, Mufid al-Mukhalalati, put the death toll at seven.


The dead included Ahmed al-Ja'abari, the popular and influential head of the Hamas military wing, and his son, the group said on its website./p>
TThe Israeli operation -- which the military calls "Operation Pillar of Defense" -- came after Prime Minister Benjamin Netanyahu warned this week of pending retaliation by Israel for increased rocket attacks from Gaza.


"I would ask you, I'd ask any person around the planet: What would you do if your population was targeted day after day?" Israeli government spokesman Mark Regev said, later adding that "you have to see our operation as fundamentally defensive."


Egypt recalled its ambassador to Israel on Wednesday, the Israeli Foreign Ministry said. A senior Israeli official said its ambassador to Egypt returned home, but that move wasn't related to the ongoing violence. The official wouldn't comment on whether Israel had pulled its entire diplomatic staff from Egypt.


The United States said Israel has the right to defend itself, according to a statement from the State Department.


"We strongly condemn the barrage of rocket fire from Gaza into southern Israel, and we regret the death and injury of innocent Israeli and Palestinian civilians caused by the ensuing violence," the statement said. "There is no justification for the violence that Hamas and other terrorist organizations are employing against the people of Israel. We call on those responsible to stop these cowardly acts immediately."


The White House said in a news release that President Obama spoke with Netanyahu by phone, reiterating the United States support for Israel. Obama also spoke with Egyptian President Mohamed Morsy and the two agreed it was important to help de-escalate the situation quickly, the White House statement said.


Read more: Hamas justice system 'reeks of injustice,' rights group says

A spokesman for Hamas, Osama Hamdan, claimed that Hamas has been defending itself from Israeli attacks.


"I think the ones who declared war was Israel, and I think the Palestinians are in the position of defending themselves and nothing more than this," he said. Hamas will resist as long as the Israeli offensive lasts, Hamdan said.


Israeli navy ships could be seen firing into Gaza from the Mediterranean. The navy struck "terror sites" there, the IDF said via Twitter.


The Israeli military said in a statement Wednesday it targeted "a significant number of long-range rockets sites" to deliver "a significant blow" to Hamas' underground rocket-launching capabilities and munitions warehouses.


Some of the munitions warehouses were in civilian residential buildings, which showed that Hamas uses a strategy of human shields, Israeli military sources said.


"The aim of targeting these sites is to hamper their rocket-launching weapons build up capabilities," the IDF statement said, adding that the Gaza strip had become "a frontal base for Iran firing rockets and carrying out terrorist attacks against Israeli citizens."


Read more: Can rival Palestinian factions reach unity deal?

Angry crowds gathered at the heavily damaged vehicle that contained the bodies of al-Ja'abari and his bodyguard.


Saeb Erakat, the chief Palestinian negotiator, condemned "in the strongest possible terms" what he called the Israeli assassination of al-Ja'abari.

In an interview with CNN, Erakat labeled the attack the beginning of a "major, major Israeli escalation," and he called on the international community to pressure Israel to halt its operation.


Al-Mukhalalati, the Gaza health minister, also called on "the free world to stop this massacre committed by Israel."


Asked about assassinating al-Ja'abari, Regev said the Hamas military leader headed a "terror military machine."


"This is the man with blood on his hands. This man is a known and wanted terrorist," he said. "In taking him out, Israel was acting legitimately."


The latest escalation in violence is part of a cycle of attacks between periods of relative stability between Israel and the Palestinians.


"This was both inevitable and predictable," said Aaron David Miller, a Middle East expert and vice president at the Woodrow Wilson Center.


There is no long-term basis for both sides to find a lasting peace, he said.


Israel and the Palestinians have "completely different political and strategic goals," Miller explained. The focus should be on how to bring security until a basis for long-term stability arises, he added.


CNN's Ashley Fantz, Elise Labott and Tom Cohen contributed to this report.

&
G

a

z

a

crisis: Isr

a

el intensifies

a

eri

a

l

a

tt

a

ck
Israel's aerial bombardment of Gaza has intensified after it authorised the call-up of 30,000 army reservists, amid reports of a possible ground offensive.
Israel said it fired at more than 130 targets in Gaza overnight, saying militants fired 11 rockets from Gaza.

On Thursday rockets were fired 70km (45 miles) north of Gaza towards Tel Aviv.

Fighting has intensified since Israel killed Ahmed Jabari, the military leader of the Islamist group that controls the territory, on Wednesday.

At least 18 Palestinians in Gaza have been killed in Israeli airstrikes, including children, and three Israelis have been killed by Palestinian rocket fire into southern Israel.

Egyptian PM Hisham Qandil is to travel to Gaza later in a show of support. Israeli Prime Minister Benjamin Netanyahu has said his country's offensive action would be suspended during the three-hour visit, as long as no rockets were fired from Gaza.

'Un

a

ccept

a

ble

a

ggressi

on

'

Explosions continued in Gaza throughout Thursday night as Israel stepped up its air bombardment, with huge blasts rocking Gaza City as dawn broke on Friday.

Palestinian militants have continued to fire rockets at Israeli cities: by Thursday night, Hamas said it had fired more than 350 rockets from Gaza, of which Israel said 130 had been intercepted by its Iron Dome missile defence system.

In Tel Aviv on Thursday, residents took cover after air raid sirens alerted them to a missile threat for the first time since Iraq targeted the city with Scud missiles during the Gulf War in 1991. One missile landed in an uninhabited area while another is thought to have landed in the sea.

The armed wing of Islamic Jihad said it had fired an Iranian-built, Fajr-5 rocket - which has an estimated range of 75km.
The focus of the Israeli night-time television news was the possible widening of this conflict to affect the country's biggest city and main commercial centre, Tel Aviv, where alarms sounded earlier.

There were no reported injuries but two rockets, apparently with a longer-than-usual range, landed nearby.

With national media also reporting the movement of Israeli troops towards Gaza and the authorisation of the call-up of reservists, there are growing signs of a further escalation in fighting.

Israeli Defence Minister Ehud Barak said targeting Tel Aviv would "exact a price that the other side will have to pay".

Early on Friday, Israel's army saidleaflets had been dropped over several locations in the Gaza Strip on Thursday, warning residents "to stay away from Hamas, and other terror organizations".

"Before action, the IDF disperses warning leaflets calling all civilians to evacuate the area. This happened [on Thursday]," the army tweeted.

There were reports of buses of Israeli troops - and trucks loaded with tanks and armoured personnel carriers - heading towards the coastal enclave.

Israeli television stations said the build-up suggested an incursion was planned, but military officials said no decision had been made.

The Hamas Prime Minister in Gaza, Ismail Haniyeh, condemned what he called Israel's "ferocious assault" against the territory.
Rockets from Gaza fired on Tel Aviv and Jerusalem
By NBC News staff and wire reports


Updated at 2:15 p.m. ET: On the third day of escalating violence between Israel and Gaza, air raid sirens cried out in Israel's two largest cities, Jerusalem and Tel Aviv, as residents moved into underground shelters, NBC reporters on the scene said.


At least one rocket fired from Gaza toward Jerusalem landed outside the city, which is more than 60 miles from the Gaza Strip, according to NBC's Martin Fletcher. There were no injuries or damage. This was the first Palestinian rocket to reach the vicinity of Jerusalem since 1970.


Earlier, at least one rocket fired toward coastal Tel Aviv fell into the sea.
Wake-up call for Israel's city that never sleeps

"The rocket landed off the shores of Tel Aviv," a police spokesman told Reuters. This was the second attack on Tel Aviv in as many days, with rockets nearly hitting the city on Thursday.

The attacks, which Israel considers to be a major escalation, could lead to an Israeli ground invasion of Gaza.

Israel's military is considering waging a ground campaign. It started drafting 16,000 reserve troops on Friday, as Israel's cabinet authorized the mobilization of up to 75,000 reservists. Troops are massing on the border, and witnesses said they could see Israeli ships off Gaza's coast, NBC News' Ayman Mohyeldin reported.
The rocket attacks came just hours after Egypt's prime minister visited the Gaza Strip to show support for Palestinians amid a cross-border conflict with Hamas militants that risks spiraling into an all-out war.

"Egypt will spare no effort ... to stop the aggression and to achieve a truce," Prime Minister Hesham Kandil said.

"Palestine is the heart of the Arab and Muslim world and the body is not healthy while the heart is sick," he added.
As part of operation #PillarOfDefense, the #IDF will begin recruiting 16,000 reservists. #Gaza
Kandil held the bloodied body of a child at a hospital before leaving the Gaza Strip.

But even as Kandil made his three-hour visit to the coastal enclave, a temporary cease-fire declared by Israel at Egypt's request collapsed, with both sides accusing the other of violating it.

NBC's Ayman Mohyeldin answers questions about the Israel-Gaza conflict

At least 19 Palestinians, including seven militants and 12 civilians, among them six children and a pregnant woman, have been killed in Israeli airstrikes. A Hamas rocket killed three Israelis in the town of Kiryat Malachi on Thursday
ISRAEL TROOPS
Israeli Prime Minister Benjamin Netanyahu has said he is prepared to "take whatever action is necessary," but Israel has also expressed a strong desire to preserve its peace with the new Egyptian leadership.

Overnight, the military said it targeted about 150 of the sites Gaza gunmen use to fire rockets at Israel, as well as ammunition warehouses, bringing to 450 the number of sites struck since the operation began Wednesday.

The new propaganda: Israel, Hamas take war to Twitter in Gaza conflict

Hamas chief killed

The latest upsurge of violence in the long-running conflict began Wednesday when Israel killed Hamas' military mastermind, Ahmed Jabari, in a precision airstrike on his car. Israel then began shelling Gaza from land, air and sea.
Israel says its offensive was in response to increasing missile salvos from Gaza. Its bombing has not yet reached the saturation level seen before it last invaded Gaza in 2008, but Israeli officials have said a ground assault remains possible.

"We are going to continue hitting Hamas hard and we will continue to strike hard at the missiles targeted at Central and South Israel," Netanyahu wrote Friday on Twitter.

An Israeli ground offensive could be costly to both sides. In the last Gaza war, Israel devastated parts of the territory, setting back Hamas' fighting capabilities. But Israel also payed the price of increasing diplomatic isolation because of a civilian death toll numbering in the hundreds.
This week's fighting has widened the instability gripping the region, further straining Israel-Egypt relations.
As Battlefield Changes, Israel Takes Tougher Approach
Published: November 16, 2012
TEL AVIV — With rockets landing on the outskirts of Tel Aviv and Jerusalem on Friday and the Egyptian prime minister making a solidarity visit to Gaza, the accelerating conflict between Israel and Hamas — reminiscent in many ways of so many previous battles — has the makings of a new kind of Israeli-Palestinian face-off.
Uriel Sinai/Getty Images
An Israeli soldier kissed his girlfriend in Tel Aviv on Friday as other soldiers waited on a bus. The military has been allowed to call up 75,000 reservists if needed.
The combination of longer-range and far deadlier rockets in the hands of more radicalized Palestinians, the arrival in Gaza and Sinai from North Africa of other militants pressuring Hamas to fight more, and the growing tide of anti-Israel fury in a region where authoritarian rulers have been replaced by Islamists means that Israel is engaging in this conflict with a different set of challenges.
The Middle East of 2012 is not what it was in late 2008, the last time Israel mounted a military invasion to reduce the rocket threat from Gaza. Many analysts and diplomats outside Israel say the country today needs a different approach to Hamas and the Palestinians based more on acknowledging historic grievances and shifting alliances.


"As long as the crime of dispossession and refugeehood that was committed against the Palestinian people in 1947-48 is not redressed through a peaceful and just negotiation that satisfies the legitimate rights of both sides, we will continue to see enhancements in both the determination and the capabilities of Palestinian fighters — as has been the case since the 1930s, in fact," Rami G. Khouri, a professor at the American University of Beirut, wrote in an online column. "Only stupid or ideologically maniacal Zionists fail to come to terms with this fact."


But the government in Israel and the vast majority of its people have drawn a very different conclusion. Their dangerous neighborhood is growing still more dangerous, they agree. That means not concessions, but being tougher in pursuit of deterrence, and abandoning illusions that a Jewish state will ever be broadly accepted here.


"There is a theory, which I believe, that Hamas doesn't want a peaceful solution and only wants to keep the conflict going forever until somehow in their dream they will have all of Israel," Eitan Ben Eliyahu, a former leader of the Israeli Air Force, said in a telephone briefing. "There is a good chance we will go into Gaza on the ground again."


What is striking in listening to the Israelis discuss their predicament is how similar the debate sounds to so many previous ones, despite the changed geopolitical circumstances. In most minds here, the changes do not demand a new strategy, simply a redoubled old one.


The operative metaphor is often described as "cutting the grass," meaning a task that must be performed regularly and has no end. There is no solution to security challenges, officials here say, only delays and deterrence. That is why the idea of one day attacking Iranian nuclear facilities, even though such an attack would set the nuclear program back only two years, is widely discussed as a reasonable option. That is why frequent raids in the West Bank and surveillance flights over Lebanon never stop.


And that is why this week's operation in Gaza is widely viewed as having been inevitable, another painful but necessary maintenance operation that, officials here say, will doubtless not be the last.


There are also those who believe that the regional upheavals are improving Israel's ability to carry out deterrence. One retired general who remains close to the military and who spoke on the condition of anonymity said that with Syria torn apart by civil war, Hezbollah in Lebanon discredited because of its support for the Syrian government, and Egypt so weakened economically, Israel should not worry about anything but protecting its civilians.


"Should we let our civilians be bombed because the Arab world is in trouble?" he asked.


So much was happening elsewhere in the region — the Egyptian and Libyan revolutions, the Syrian civil war, dramatic changes in Yemen and elections in Tunisia — that a few rockets a day that sent tens of thousands of Israeli civilians into bomb shelters drew little attention. But in the Israeli view, the necessity of a Gaza operation has been growing steadily throughout the Arab Spring turmoil.


In 2009, after the Israeli invasion pushed Hamas back and killed about 1,400 people in Gaza, 200 rockets hit Israel. The same was true in 2010. But last year the number rose to 600, and before this week the number this year was 700, according to the Israeli military. The problem went beyond rockets to mines planted near the border aimed at Israeli military jeeps and the digging of explosive-filled tunnels.


"In 2008 we managed to minimize rocket fire from Gaza significantly," said Lt. Col. Avital Leibovich, a military spokeswoman. "We started that year with 100 rockets a week and ended it with two a week. We were able to give people in our south two to three years. But the grass has grown, and other things have as well. Different jihadist ideologies have found their way into Gaza, including quite a few terrorist organizations. More weapons have come in, including the Fajr-5, which is Iranian made and can hit Tel Aviv. That puts nearly our entire population in range. So we reached a point where we cannot act with restraint any longer."


Gazans see events in a very different light. The problem, they say, comes from Israel: Israeli drones fill the Gazan skies, Israeli gunboats strafe their waters, Palestinian militants are shot at from the air, and the Gaza border areas are declared off limits by Israel with the risk of death from Israeli gunfire.


But there is little dissent in Israel about the Gaza policy. This week leaders of the leftist opposition praised the assassination of Ahmed al-Jabari, the Hamas military commander, on Wednesday. He is viewed here as the equivalent of Osama bin Laden. The operation could go on for many days before there is any real dissent.


The question here, nonetheless, is whether the changed regional circumstances will make it harder to "cut the grass" in Gaza this time and get out. A former top official who was actively involved in the last Gaza war and who spoke on the condition of anonymity said it looked to him as if Hamas would not back down as easily this time.


"They will not stop until enough Israelis are killed or injured to create a sense of equality or balance," he said. "If a rocket falls in the middle of Tel Aviv, that will be a major success. But this government will go back at them hard. I don't see this ending in the next day or two."