he hypothesis of this diary is that fracking and/or fracking injection wells cause shallow earthquakes which cause more damage to structures than deeper quakes. The Keystone XL Pipeline's proposed path runs over and near fracking drilling and fracking injection wells. Therefore, the pipeline risks being damaged by an earthquake. For example, on November 11, 2011 there was a 5.6 earthquake in Oklahoma within a mile of at least two fracking sites. The is a huge production area to the east and northeast of Oklahoma City, where this quake happened is.
Before you check out the maps and information below, I want you to listen to a very short audio clip. Click on this link and listen:
Oil Executive: Military-Style 'Psy Ops' Experience Applied

November 8, 2011 - Last week's oil industry conference at the Hyatt Regency Hotel in Houston was supposed to be an industry confab just like any other — a series of panel discussions, light refreshments and an exchange of ideas.

CNBC has obtained audiotapes of the event, on which one presenter can be heard recommending that his colleagues download a copy of the Army and Marine Corps counterinsurgency manual. (Click below to hear the audio.) That's because, he said, the opposition facing the industry is an "insurgency."
The oil and gas industries have not been great partners for the US. If an airline ran their business the way the Oil and Gas Industries do, no one would fly. This is from the following article:
ONSHORE: From 2000 – 2009, pipeline accidents accounted for 2,554 significant incidents, 161 fatalities, and 576 injuries in the United States.
Here's a map of showing the PETROLEUM INDUSTRY ACCIDENTS for the last decade. It's jaw dropping.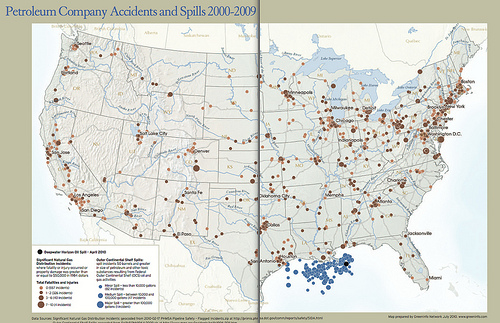 This Oil and Gas Disaster map was found in this report from the National Wildlife Federation:
ASSAULT ON AMERICA: A Decade of Petroleum Company Disaster, Pollution, and Profit
Here is a time lapse map of oil and gas production for the entire USA for the years 1900 - 2005. As we know from the Boom Times reporting, recently production levels have sky rocketed in Eastern Montana and Western North Dakota. A time lapse of Montana and North Dakota from 1986 - 2010 is also included.
Compare the production areas with the accident, which are pollution events.
If this history is any indication, Keystone XL may produce some jobs during construction, maybe a few thereafter. However, many jobs will be created cleaning up disasters and MANY LIVES CAN BE LOST as well.
Worse, our water, air, land and health are at stake.
And in TransCanada's own words:
TransCanada also predicted that one of their existing pipelines would produce one spill every seven years, but it has produced 12 spills in less than one year. Even with one spill, over 1,000 rivers will be adversely impacted as well as the Ogallala Aquifer that supplies drinking water to 2 million Americans and is the primary source of groundwater for 20% of America's agriculture production.
For those of you in a rush, I think you can get a pretty good picture of the dangers the Keystone XL Pipeline, as presently proposed, poses for the States it will run through and the country at large.
Let's start with a map of the proposed Keystone XL Pipeline route. I watched the Congressional hearings last week, and learned that the final route isn't actually finalized, which is WHY THE STATE DEPARTMENT VOTED AGAINST THE PIPELINE RECENTLY. A point the Republicans are loathe to include in their discussion with their constituents.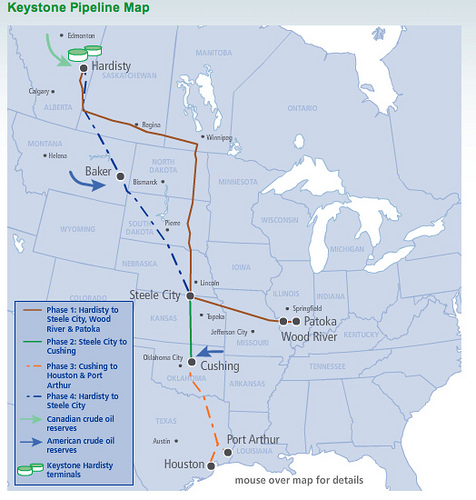 It is important to note that the Keystone XL Pipeline will cross Oil Shale territories, gas fracking areas, and be near fracking injection wells that cause earthquakes. Here's is a map of areas that are or will be fracked:
Oddly, the Niobrara Oil Shale area that will be fracked looks a lot larger on this map: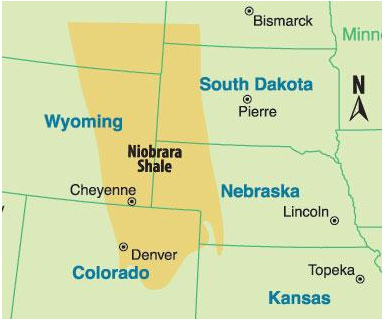 At a glance, the areas the pipline will traverse, the areas that have had oil/gas disasters, and the areas that are or will be drilled/fracked.
Not surprisingly, the first fracking well was drilled by Halliburton in 1947. Can we guess that fracking was discussed during Cheney's secret Energy Meeting? Btw, click the link and read the list of who attended leaked to the Washington Post. Oh yes, Duke Energy and TransCanada Pipeline were there!
Speaking of fracking, there's something that isn't being discussed in the Keystone XL pipeline reporting.
I doubt this will get a huge amount of attention in the Keystone Environmental Impact Study either. There's just too much money to be made, in my opinion.
Who in Congress is discussing the connection between fracking, the fracking and earthquakes and the impact this could have on the safety of the pipeline? There are now many reports and science is agreeing that there is a correlation. There is a lot of fracking in operation and/or planned to go into operation in the areas the Keystone XL Pipeline will cross.
Speaking of earthquakes, the first stage of the Keystone XL Pipeline will end adjacent and possibly within one of the highest seismic areas of the country: Patoka, Illinois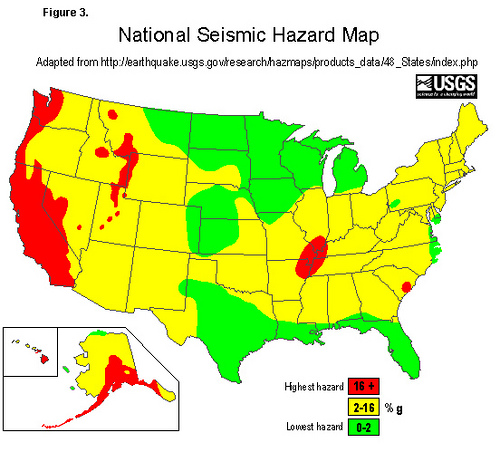 It is really, really important to not that the earthquakes caused by aspects of fracking are shallow earthquakes which cause more damage than deep quakes.
AN EARTHQUAKE IS CONSIDERED SHALLOW WHEN IT OCCURS AT DEPTHS LESS THAT 7 KM.
How Fracking Causes Earthquakes
According to geologists, it isn't the fracking itself that is linked to earthquakes, but the re-injection of waste salt water (as much as 3 million gallons per well) deep into rock beds.

Braxton County West Virginia (160 miles from Mineral) has experienced a rash of freak earthquakes (eight in 2010) since fracking operations started there several years ago.

According to geologists fracking also caused an outbreak of thousands of minor earthquakes in Arkansas (as many as two dozen in a single day).

It's also linked to freak earthquakes in Texas, western New York, Oklahoma and Blackpool, England (which had never recorded an earthquake before).
What could possibly go wrong? Lots of little things like this. The contractor was just following the plans, which were outdated and wrong.
I know you are busy, so I think the maps in the Introduction pretty much tell a compelling story about the risks the Keystone XL Pipeline presents.
Sadly, I think this is going to get jammed through even though so many can see the huge potential for damage and even death for some.
Perhaps this information can at least provide some essential information to push Congress and the pipeline developers to me more responsible. Dare we dream?
I would also like to add that it has become apparent to me that the pipeline is just as much about getting the oil from US states as it is from Canada which raises this question:
Will Montana, North Dakota, South Dakota, Nebraska, Kansas, and Oklahoma oil producers also hook into the Keystone XL? If so, is this being discussed? And, if so, this will increase the risk for accidents won't it?
Now that you have a clearer picture of the areas involved, from the maps above, of the Keystone XL Pipeline and some potential hazards, I will go into some more detail to demonstrate that fracking earthquakes and earthquakes in general are already occuring in the path of the Keystone XL Pipeline and other concerns.
This might be too far into the weeds for some, but I think it is vital information for decision makers to have on hand so, if you know any, please pass this along. Thank you.
FRACKING AND EARTHQUAKES
Here's some information confirming a correlation between fracking and earthquakes. It is important to note that most of the fracking quakes, to date, are SHALLOW EARTHQUAKES.
The more shallow an earthquake is, the greater its potential for damage to structures, like pipelines, becomes.
Youngstown Rocks: Is Fracking Causing Earthquakes in Ohio?
Until 2011, Youngstown had never recorded an earthquake. Now it has registered 11. Is fracking changing the facts in the ground?
Confirmed: Fracking caused Ohio earthquakes
Ohio lawmakers have put a temporary ban on fracking after experts say it is certain that recent fracking in the Buckeye State caused an outbreak of earthquakes.

According to some seismologists, hydraulic fracturing, or fracking, is to blame for a string of tremors in Ohio, including a 4.0-magnitude quake on New Year's Eve. It has long been suggested that fracking, which involves deep-earth drilling to extract gas for natural resource reserves, has been culpable for quakes. In the fracking process, wastewater collected during the deep drilling is injected back into the Earth for disposal.

Thought to be safe by some, other experts insist that the brine water could find its way into subterranean faults and force parts of the planet to separate. The Youngstown, OH area has seen 11 small quakes since last spring, and now a moratorium has been instated in the area to keep future fracking from occurring while seismologists reinvestigate the quakes.

Even with a stay in place, however, experts say the quakes won't be stopping anytime soon.
That last sentence is a bit disconcerting. There are two nuclear plants in Ohio.
UK Fracking Firm Admits They Are Causing Earthquakes
Following seismic tremors in North-West England this Spring, the firm exploring for natural shale gas in the region has admitted that the disturbances were caused by the controversial exploration process of fracking.

Fracking involves cracking or fracturing rock, containing trapped shale gas, by using pressurized liquid. Shale gas is an increasingly important energy resource though there have been claims that it is worse for the environment than coal, largely due to the fracking process.

So, we have an industry that is fraught with deadly and environmentally damaging "accidents" and we have a proposal for an Oil Pipeline that will run through states with lots of Fracking wells either in operation or proposed that can cause structual damage.
WHAT COULD POSSIBLY GO WRONG? Little things like this. There were two oil spills within months of each other in Salt Lake Utah. Oil pipeline
Again, here's a map of the proposed Keystone XL Pipeline route. I watched the Congressional hearings last week, so I guess the route isn't actually finalized, which is WHY THE STATE DEPARTMENT VOTED AGAINST THE PIPELINE RECENTLY.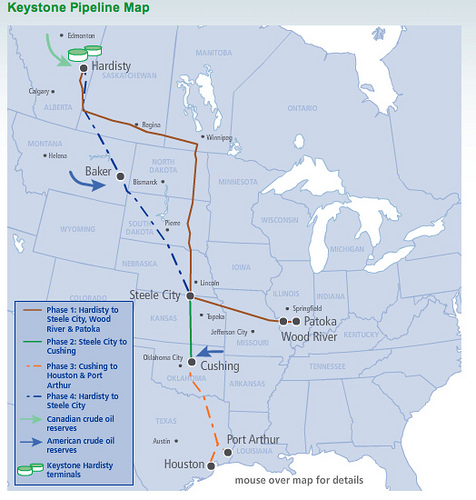 Let's look at fracking in the States the pipeline will traverse and the earthquakes they are experiencing:
EASTERN MONTANA FRACKING
This animated map shows a huge amount of horizonal or fracking in the area of Montana from 1985 - 2010. This is an area that Phase 4 of the pipeline will cross:
There are no fault lines in Eastern Montana according to theUSGS Map.
Recent Earthquakes in Eastern Montana.
4.1 September 25, 2009 at 09:11:34 AM at epicenter Lat 45.0156 Long -104.2075

2.3 September 21, 2010 Lat 45.3326 Long -107.4603

2.3 January 1, 2012 Lat 48.5505 Long -111.5105
WHAT COULD POSSIBLY GO WRONG? Lot of things. Here's one:
Crews Work to Staunch North Dakota Fracking Blow Out
Crews in North Dakota are working to seal a leaking oil well. According to the Associated Press, officials are calling the leak, the result of a well blowout, the worst in the state since it saw a resurgence of the gas drilling process known as hydraulic fracturing, or fracking.
Before we look at South Dakota and Nebraska, I want to show the Niobrara Oil Shale map again. This area that will be fracked.
SOUTH DAKOTA
South Dakota is ready to start fracking. Notice that the Keystone Pipeline, Stage 4 will cross the Niobrara Oil Shale area in northwest South Dakota.
South Dakota Legislature Considering Bill To Back Fracking
In April of 2011, North Dakota Governor Jack Dalrymple signed into law a bill passed by the state legislature which "designates hydraulic fracturing, a mechanical method of increasing the permeability of rock to increase the amount of oil and gas produced from the rock, an acceptable recovery process in this state."

The state legislature also passed a resolution, HCR3008, calling on Congress to "clearly delegate responsibility for the regulation of hydraulic fracturing to the states."
Now it appears as though South Dakota is following the lead of their northern neighbors. Introduced in the 2012 legislative session is a bill with the exact same text as North Dakota's endorsement of fracking.

South Dakota is already experiencing earthquakes:
Earthquakes from 1872 - 1991
Earthquakes in South Dakota from 1872 - 2011
3.0 - January 16, 2012 Lat 43.48 Long 102.99W
4.0 - November 14, 2011
3.3 - November 15, 2011
3.4 - August 9, 2011 Lat 44.36 Long 100.363
NEBRASKA
The pipeline will not cross the Niobrara Oil Shale area in Nebraska. However, it will pass through some very flood prone areas. That is a concern on several levels. One, stress on the pipeline and two, damage to the Missouri River.
No fracking oil wells drilled yet in Nebraska
OKLAHOMA
Oklahoma has two many earthquakes to list as in many earth quakes EVERY DAY. Most of them are close to and east/north east of Oklahoma city AND near the path of Phase 2 of the Keystone XL pipeline.
Here's a video that shows the actual fracking sites in Oklahoma, and their proximity to the 5.6 earthquake (depth 5 km) on November 6, 2011. The vid shows two wells within a mile of the this huge quake that was felt as far away as Illinois , Kansas , Arkansas , Tennessee and Texas. How much proof do we need? Please watch the video to see for yourself:
Oklahoma Earthquake 2011: Quake Rattles Area Stretching Into Texas, Arkansas, Kansas, Missouri
A 5.1 magnitude earthquake struck in October 2010 a few miles southeast of Norman. Two people were treated at hospitals after that temblor.
Here's a partial list for just the last few days.
You can get see that earthquakes are a daily occurence in Oklahoma.
2012-02-01 00:52:59Lincoln1.4 ML 35.4977-96.8212 5.9
2012-01-31 21:21:05Lincoln2.1 ML 35.5592-96.828615.8
2012-01-31 09:51:34Lincoln1.8 ML 35.5384-96.9778 5.0
2012-01-31 04:23:52Oklahoma1.9 ML 35.6145-97.2201 4.8
2012-01-30 01:55:14Lincoln1.9 ML 35.5269-96.7742 7.7
2012-01-29 20:50:12Oklahoma1.1 Md 35.5262-97.1887 8.6
2012-01-29 15:31:27Oklahoma2.4 ML 35.5252-97.1606 5.0
2012-01-29 11:33:48Lincoln2.7 ML 35.5105-96.7877 5.0
2012-01-28 23:22:15Oklahoma1.4 ML 35.5610-97.2793 5.0
2012-01-28 23:10:43Oklahoma2.0 ML 35.5710-97.2727 4.5
2012-01-28 17:26:09Oklahoma1.2 Md 35.5911-97.3111 5.0
2012-01-27 17:53:33Lincoln3.0 ML 35.5944-96.8899 4.7
2012-01-27 07:28:43Lincoln2.2 ML 35.5287-96.7653 4.2
2012-01-27 04:17:27Lincoln2.5 ML 35.5998-96.8951 4.4
2012-01-27 01:06:42Lincoln1.6 ML 35.4851-96.7450 4.5
2012-01-27 00:44:12Lincoln1.8 ML 35.5985-96.9018 4.2
2012-01-27 00:33:04Lincoln1.9 ML 35.5997-96.9083 4.3
2012-01-27 00:05:36Lincoln2.4 ML 35.5997-96.9003 4.3
Who would have guessed? Oklahoma looks like California.
KANSAS
Keystone XL pass from north to south through the whole state and through the Excello/Mulky natural gas deposits (see maps in intro).
Fracking in Kansas pushes water permits to new high
Even as sections of Kansas struggled with drought last year, oil exploration companies pushed into the state to drill for oil and gas with horizontal hydraulic fracturing, a method that relies on water.

The burst of drilling pushed temporary water permits for oil and gas exploration in Kansas to a nearly 30-year high. Chelsea Good, spokeswoman for the Kansas Division of Water Resources, said the division received more than 600 applications for temporary water permits for oil and gas exploration in 2011 and approved all but two.
This story is disconcerting. Water for oil and gas seems more important than water for people and animals in Kansas.
This is interesting:
Status of Abandoned Oil and Gas Well Plugging Operations and Site Remediation Activities
Some Kansas earthquakes are associated with the Nemaha Ridge and the Midcontinent rift, which happens to be where the Keystone XL pipeline will run. Look at the maps in the link.

25 earthquakes rumbled through the state between 1867 and 1976

100 were measured between 1977 and 1989 (The largest event had a magnitude of 4.0 and the smallest had a magnitude of 0.8
Ok, I am running out of time here. I will be back to finish.
The Patoka, Illinois site could be a diary on its own and needs more scrutiny because it is a high seismic area.
Let me know if you have information to contribute.
Thanks.