At least one dead, possibly more, in …
(Reuters) - At least one person has been killed in a shooting at a busy Oregon mall on Tuesday in the … Full Story »At least one dead, possibly more, in Oregon mall shooting: police
Reuters
CLACKAMAS, Oregon | Wed Dec 12, 2012 7:56pm EST
CLACKAMAS, Oregon (Reuters) - A masked gunman who opened fire in a crowded Oregon mall in the middle of the holiday shopping season, killing two people and wounding a third before taking his own life, appears to have acted alone in a random rampage, police said on Wednesday.
Investigators identified the man behind Tuesday's shooting as Jacob Tyler Roberts, 22, who they said had no significant criminal history and acted without any obvious warning, though his Facebook page indicated an affinity for guns and alcohol.
Roberts' page on the social media site lists "shooting" as one of his interests but offers no clues that he may have been preparing for a shooting spree.
"I'm the conductor of my choo choo train," he wrote on the site. "I may be young but I have lived one crazy life so far. My friends are my family and I don't think that will ever change."
Portland-area television station KGW published on its website a note of apology it attributed to Roberts' mother, Tami Roberts, saying she had "no understanding or explanation" for his behavior, adding that it was "so out of his character."
The weapon used in the shooting was an AR-15 semiautomatic rifle, which the Clackamas County Sheriff's Office said was stolen the day before from an acquaintance of the killer.
Roberts was also believed to be carrying several fully loaded ammunition magazines when he walked into the Clackamas Town Center in the Portland suburb of Happy Valley and moved swiftly to a food court to start shooting, authorities said.
Two people were killed - Steven Mathew Forsyth, 45, of suburban West Linn, a father of two who owned a business in the mall, and Cindy Ann Yuille, 54, of Portland.
Kristina Shevchenko, 15, was wounded but managed to stagger away from the food court to the lower level of the mall, where she was found. She was in serious condition in an Oregon hospital.
But the carnage likely was limited because the gun jammed, although the suspect managed to get it working again before he moved downstairs and shot himself, Sheriff Craig Roberts told a news conference.
He also said the casualty count was curtailed because the estimated 10,000 shoppers in the mall "kept a level head" for the most part in swiftly leaving the building.
MOTIVE UNCLEAR
Authorities said they remained baffled about what prompted the violence, the latest in a spate of U.S. gun rampages this year including a deadly July shooting at a midnight screening of a Batman film in Colorado that killed 12 people.
Sergeant Adam Phillips, a spokesman for the sheriff's office, said investigators were not aware of any signs that Roberts was preparing to act as he did.
"Every indicator is that he acted solely alone in carrying out this heinous and tragic crime," he said.
Detectives contacted several members of the suspected gunman's family as they began their investigation, but authorities gave little information about Roberts' personal background, employment history or education.
A photograph of Roberts displayed by police showed a young man with longish, straight black hair, a light mustache and goatee, and ring-sized discs in each of his pierced earlobes.
Roberts' Facebook page offered few additional insights into the man suspected in the murderous rampage.
He described himself in a brief biography as "a bit of an adrenaline junkie," and as "a pretty funny person that takes sarcasm to the max." Professing an independent streak, Roberts said: "I'm the kind of person that is going to do what I want."
He starts out jokingly introducing himself as "Jake and I'm an alcoholic," then goes on to write that in addition to "hanging out with my friends" he likes to "maybe get a little drunk every now and then."
His profile includes a snapshot of a person firing a pistol at two outdoor targets, though the face is not visible because the photo was taken from over the subject's shoulder.
In addition to "shooting," he lists river rafting and camping among his interests. He also counts the cable television dramas "Dexter," about a serial killer, and "Breaking Bad," about a high school teacher who becomes a methamphetamine kingpin, among his favorites, along with "South Park."
(Additional reporting by Chris Francescani in New York and Steve Gorman in Los Angeles; Writing by Steve Gorman; Editing by Cynthia Johnston and Eric Beech)
Details, but no answers, in Oregon mall shooting
By Mariano Castillo and Holly Yan, CNN
updated 7:42 PM EST, Wed December 12, 2012
Follow continuing local coverage on CNN affiliates KPTV, KATU, KGW and KOIN. See photos from the scene
(CNN) -- The gunman shot three people on the second floor of an Oregon mall, then ran.

Shoppers hid behind racks as the man, wearing a vest and a mask, ran down a corridor and to a back hallway that led downstairs.

By then, he likely heard the sirens as dozens of police vehicles converged on the Clackamas Town Center in Happy Valley.

He then took his own life.

As details of Tuesday's mall shooting emerged, the question of motive remained unanswered.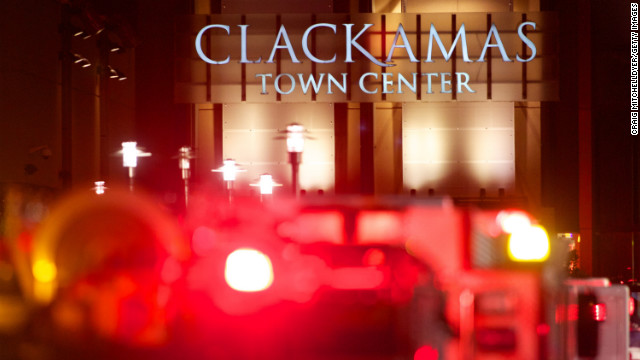 The Clackamas Town Center mall is filled with emergency vehicles and law enforcement.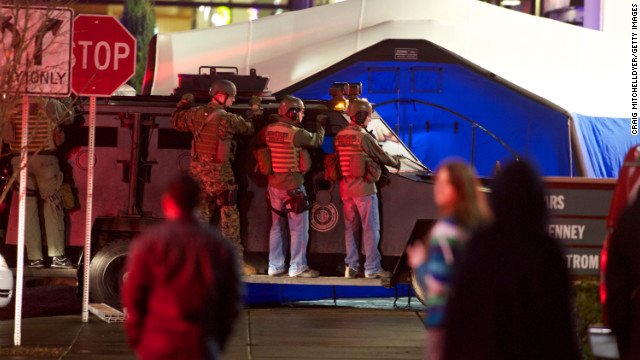 Memebers of a SWAT team take position outside the mall.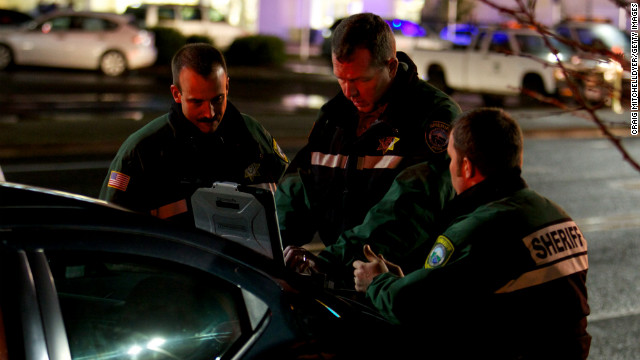 Lt. James Rhodes of the Clackamas County Sheriff's Office works with other responders in the parking lot of the mall.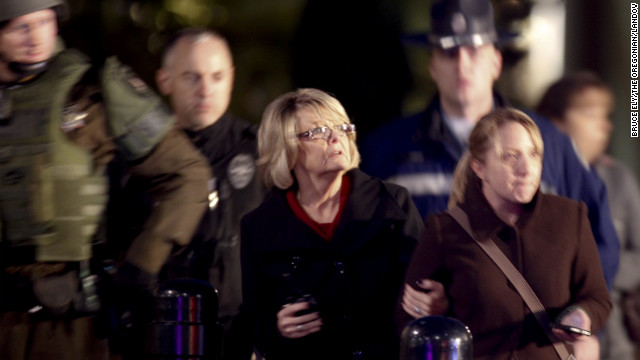 Panicked customers rushed to the exits when the gunman opened fire. Some people huddled behind store counters and hid behind racks of clothing.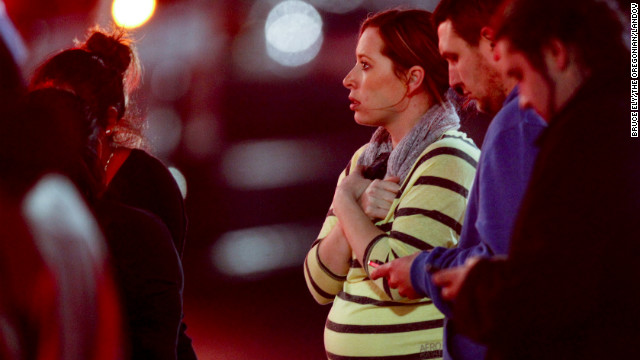 Authorities closed entrances and exits in the mall parking lot, said Lt. Gregg Hastings of the Oregon State Police.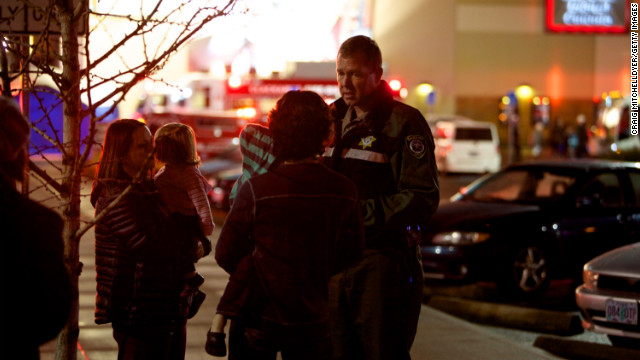 A law enforcement officer talks to people waiting outside the mall.
Gunman opens fire in

Oregon

mall
Gunman opens fire in Oregon mall
Gunman opens fire in Oregon mall
Gunman opens fire in Oregon mall
Gunman opens fire in Oregon mall
Gunman opens fire in Oregon mall
Gunman opens fire in Oregon mall
HIDE CAPTION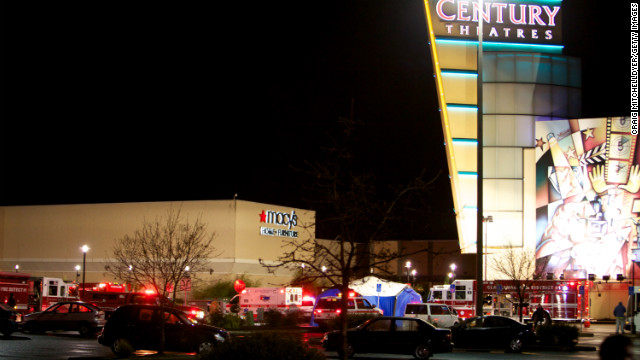 Gunman opens fire in

Oregon

mall
At a news conference on Wednnesday, investigators identified Jacob Tyler Roberts, 22, as the lone suspect in the shootings -- two of which proved fatal -- at the suburban Portland mall.

Sheriff's investigators said there was no apparent connection between Roberts and any of his victims.

The fatalities were identified as Cindy Ann Yuille, 54, and Steven Mathew Forsyth, 45.

The incident unfolded during the afternoon as the gunman moved quickly through the Macy's at the mall and toward the food court on the second floor, where he opened fire, the sheriff's office said.

The arrival of police within a minute of receiving the first calls of the shooting may have influenced the gunman's ultimate course of action, Sheriff Craig Roberts said.

The gunman was wearing a load-bearing vest -- a military-style garment designed to carry heavy equipment, which some witnesses confused with a bulletproof vest -- and was carrying a semi-automatic rifle.

At one point, the rifle jammed but started working again, the sheriff said./p>
Kristina Shevchenko, 15, was taken to the Oregon Health & Science University Hospital, where she was in serious, stable condition on Wednnesday with a bullet wound to her chest, her surgeon told reporters.

Shevchenko, who suffered a collapsed right lung and injuries to her liver, underwent an hourlong operation Tuesday night to remove bullet fragments and was in the hospital's intensive care unit, Dr. Laszlo Kiraly said.

He said he was optimistic that she would recover fully but added that she was in shock and at risk for complications, including infection. "She's a very brave young woman," he said, adding that she was awake and talking to her family.
FFurther surgeries will focus on closing her wounds "and getting her to heal properly," he said. "I would anticipate that she would be with us for about a week or so."

Friends of the gunman said they were shocked when they heard who the shooter was.

"This is more than a tragic event, and my heart goes out to everyone affected by it, but I also feel as if the side of Jake that I remember needs to be shared," said Erin Philpot, a friend of the shooter, in an e-mail to CNN.

"He was a very loved individual that always seemed as if he had great intentions and a heart of gold. I know that must be hard for people to see/think/understand, but It's the truth. I don't know what caused him to do such a horrendous, terrible thing, but I do hope that somehow answers will be available to us all."

Philpot, who attended middle school and high school with Roberts, said he had recently broken up with a girlfriend and was considering moving to Hawaii. "I just had drinks with him in November, and he had just moved into a new place and was totally stoked about it," she said. "I can't believe he did this."

Jordan Salazar, who attended Milwaukie High School in the Portland area with Roberts, said in an e-mail, "He was a really nice guy, and it's completely shocking he did this."

She added, "He was a popular guy in high school and had a lot of friends," she said. "I was pretty much in shock with all of this."

Roberts attended Milwaukie High School for three years but did not graduate, said Joe Krumm, the director of community relations for North Clackamas County School District. "Average talent, average grades," Krumm said about Roberts, who was in a mainstream program and had no record of discipline issues or extracurricular activities.

Roberts then transferred to another district and graduated in 2008 fromspan id="dtx-highlighting-item10" dtx-Highlight-BackgroundColor="yellow"> Oregon CCity High School, the school said in a statement on its website that also talked about the killings.

"This news is very shocking to those who knew Jacob while at OCHS," the statement said. "He was known as a soft-spoken and polite young man who was often eager to be helpful. The motive for such a horrific act is likely to remain a mystery to us all."

The families of the victims who died -- Yuille and Forsyth -- provided brief comments through authorities but asked for privacy as they mourn./p>
Yuille was remembered as "everybody's friend" who put others first.
Forsyth had two children, a great sense of humor and a zest for life, his family said.
DDuring the shooting, mall patrons said they had no clue where the gunman would fire next.

Entire swaths of Clackamas Town Center became silent except for the rifle blasts and screams. Even the mall's Santa dropped to the ground.

"I thought I was going to die," mall employee David Moran said. "The gunshots were so loud, it was very scary. ... Kids were crying. Parents were crying, too."/p>
KKira Rowland was holding her 6-month-old baby in Macy's when the shots rang out.

"I threw my baby into the stroller and just started running, because everybody was screaming and everybody just started to run," she said.

Inside Clackamas Town Center/a>
The gunman wore a hockey mask and jogged through Macy's wielding a rifle, a woman told CNN affiliate KOIN.
AAs some panicked customers bolted for the exits, others ducked under store counters or hid behind clothing racks.

"I am the shooter," he said as he ran through Macy's, said witness and store employee Austin Patty.

As the shooting started, Patty ran from the store, warning all in earshot that a shooter was loose and ordering them out of the store.

The sheriff's office said a rifle and a mask were recovered from the scene./p>
IInvestigators were reviewing surveillance footage to get a better picture of what happened.

Erin Quackenbush-Baker was with her grandmother and three children at a kiosk in the middle of the mall when she heard the shots.

"My 5-year-old was covering her ears and crying. I was frantic to find a place to run, and I looked back -- my son in my stroller and glass is falling over us," she said. "The shots were getting closer."

She added, "I felt like sitting ducks where we were."

Timeline: Worst mass shootings in U.S./a>
DDuring a brief halt in the gunfire, a man helped hustle the family members into a cosmetics store, where they hid for an hour "waiting to see if we were going to be shot or not."

As word spread that the shooter was moving from store to store, customers at Sears burst into tears, Christina Fisher told KOIN.

"We were told to stand in a group by the top of the escalators and stay away from the windows out of the aisle. ... We stood there for probably a good 20 minutes," she said. "All of the sudden, somebody came through with a radio, yelling, 'Get down!' "

As the mayhem unfolded, some customers watched television reports about the shooting from inside the Sears entertainment center, Tylor Pedersen told affiliate KGW..

Antonio Charro spotted a wounded woman near a cell phone store and tried to help.

"She had apparently been shot in the chest, and I couldn't get her turned over to help her," said Charro, who had been shopping at the mall with his daughters. "There was no one around. She wasn't breathing."

Clackamas County Sheriff Craig Roberts said about 10,000 people were in the mall at the time.

No law enforcement officers fired any shots when they arrived, sheriff's Sgt. Adam Phillips said.

The 1.4 million-square-foot mall remained closedspan id="dtx-highlighting-item12" dtx-Highlight-BackgroundColor="cyan"> Wednnesday as investigators looked for clues about the attack.

Rowland said she's grateful she got distracted while shopping and didn't venture farther into the mall.

"I think if I hadn't stopped to smell that perfume, that maybe me and my baby wouldn't be here today."

CNN's Meridith Edwards, Catherine E. Shoichet, Cristy Lenz, Chandler Friedman, Michael Martinez, Tom Watkins and AnneClaire Stapleton contributed to this report./p>