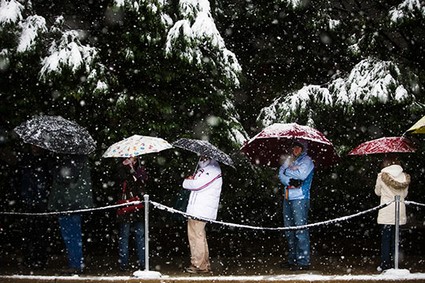 SNOW UMBRELLAS?
Dee Finney's blog
start date July 20, 2011
today's date December 18, 2012
updated 12-26-12
page 403
TOPIC: WINTER WEATHER - 2012 - 2013
WINTER WEATHER PREDICTIONS PREVIOUSLY POSTED:
Sep 24, 2012 –

Spirit Message 7 - Nibiru - storms,

weather

,

preparation

, moving ... Dee Finney's

blog

August 17, 2012 page 271 THE GRAND REAPER

...


Sep 25, 2012 –

Dee Finney's

blog...

TOPIC: NUCLEAR

WINTER......

the climate causing cold

weather

and reduced sunlight for a period of months or even

......

assessment of the details of a possible war, and

preparation

for it, are essential.




Aug 3, 2012 –

In this dream, it was

winter

time and the star of the dream was Jim Carey

...

The

weather

wasn't howling outside but it was cold nonetheless.

......

number of restrooms, food

preparation

areas, and football fields, where tent cities

...
I GOT A STRANGE E-MAIL YESTERDAY ABOUT THE WINTER STORM WE WERE HAVING WAS CALLED DRACO.
SINCE WHEN DO CALIFORNIA STORMS GET NAMES?
BUT LOOK AT THE DREAMS I HAD RELATING TO WEATHER AND PREPARING FOR THEM.
12-17-12- NAP DREAM - I was somewhere with a friend and she was havng some kind of blood tests, a sugar test, and some other tests. I had a flashlight that used 'D' batteries and it was going dim, and nobody had any spare batteries.
Someone is predicting that the 3 days of darkness starts precisely at midnight tonight.
We have plenty of candles and batteries. :-) and a windup radio too. :-)
NOTE: No such thing happened. The woman who predicted this stated at the end of her article, that the three days of darkness meant that Jesus would be out of contact from anyone for three days.
********************
12-18-12 - DREAM - I only remember being out on my porch and creating charts and guages to measure temperature, and other things in the atmosphere with charts that were colored into diamond shapes within a square about 3 ft on a side.
*****************
The last 4 days, I've woken up at 3:52, 3:52, 3:50, and 3:51. Isn't this a little odd?
******************
12-18-12- MEDITATION. I saw a bright green screen with the word WEATHER at the top, and some smaller boxes, that were probably drop down boxes of different things one might associate with the weather.
A few moments later I saw the word CODEX.
HERE IS THE DRESDEN CODEX http://www.google.com/search?num=10&hl=en&site=imghp&tbm=isch&source=hp&biw=1026&bih=750&q=dresden+codex&oq=dresden+codex&gs_l=img.3..0l3j0i5j0i24j0i10i24j0i24l4.2068.5051.0.5260.13.11.0.2.2.0.303.2168.1j3j5j1.10.0...0.0...1ac.1._UVlpsbJZl4
****************
12-19-12 - DREAM - I was working on a computer screen, downloading and editing information given by someone else, and the screen was green and yellow.
*******************
12-19-12 - NAP DREAM - I was working on a computer screen, downloading and editing information given by someone else, and the screen was white and red-violet.
******************
Severe Winter Storm 'Draco' Blitzes Northwest
Draco expected to strike central states after burying Pacific Northwest
By Seth Cline
A powerful winter storm lingering from the weekend continues to batter the Pacific Northwest with high winds and white out conditions.
The storm, which The Weather Channel has named "Draco," is pulling cold air and moisture from the north Pacific and dumping it inland in the form of deep snows and winds up to 85 mph.
Parts of Washington and Oregon are expected to receive a foot or more of snow Monday, and winter storm warnings have been issued as far east as Wyoming and Colorado.
The conditions have already caused dozens of crashes and power outages in Oregon and Washington, according to The Seattle Times. The blizzard conditions prompted The Weather Channel to issue no travel warnings in the highlands, including the Cascade and Sierra mountain ranges.
In these higher elevations the snow could reach two or three feet of snow, according to the National Weather Service. The NWS reported hurricane-force winds, as strong as 100 mph, in the mountains of the Northwest.
Along the coast, the winds are expected to reach 85 mph, fueling 30-foot waves. Most of the Oregon and Washington coasts have issued flood warnings in anticipation of tidal overflows and heavy rains in low-lying areas.
Forecasters predict the storm will weaken as it moves inland, but expect heavy snows to continue. Idaho, Utah, Colorado, and Wyoming could see up to a foot of snow by Tuesday.
Later in the week the storm is expected to hit the Midwest. By Thursday, Chicago and surrounding areas could feel its strong winds while parts of Iowa, Wisconsin, Minnesota, and the Dakotas could see enough snow to complicate holiday travel plans.
"Draco" is the fourth large winter storm to be officially named by the Weather Channel, which began naming winter storms of sufficient strength in October
SALT LAKE CITY -- A winter snow storm moved through the Rocky Mountain region Tuesday as many people prepared for the start of their holiday travels.
The storm could cause travel delays on major highways such as Interstate 40 in Arizona, Interstate 15 in Utah, Interstate 70 in Utah and Colorado and Interstate 25 in Colorado.
The storm is headed east along the U.S.-Canada border and will eventually impact the Midwest and even the Northeast.
(More: Track Winter Storm Draco)
"Winter Storm Draco's 'second phase' is poised to begin Wednesday," said weather.com meteorologist Jon Erdman. "Snow will spread into the Plains and Upper Midwest, becoming heavy in parts of the Upper Midwest Wednesday night into Thursday."
Just light snow flurries are expected in the Salt Lake City area in northern Utah, said Jeff Zimmerman, a meteorologist with the National Weather Service in Salt Lake City. The Salt Lake City International Airport wasn't expecting delays.
But the snow will continue to come down heavily in the Utah ski resorts in the Wasatch Mountains. The ski areas have received 12-20 inches of snow in the last 48 hours and should get 4-8 inches more, Zimmerman said.
The Utah Avalanche Center has issued a warning for dangerous backcountry snowslides in northern Utah's mountains.
By Thursday, the snow is expected to subside in Utah and Arizona. By then, storms will begin in the Pacific Northwest, where snow and rain is expected, Zimmerman said.
The snow expected in northern Arizona will add to an already thick snowpack.
Two recent storms had combined to blanket the mountains north of Flagstaff with 2 feet of snow, about 20 inches in Flagstaff and along the Mogollon Rim, and about 6 inches in Prescott. The snowfall put Flagstaff above its nearly 17-inch normal for December with the snowiest month yet to come in January.
The fast-moving storm will hit Arizona from west to east Tuesday evening before leaving the state Wednesday with temperatures that will be 10-15 degrees below normal, the National Weather Service said.
For those traveling over the weekend for the holidays, the weather won't be as bitter. Warmer temperatures return Thursday and will back to near-normal on Friday and through the weekend, said Robert Rickey, a meteorologist with the National Weather Service in Flagstaff.
Until then, the major roadways in northern Arizona are expected to be an icy and slushy mess. Gusty winds that send snow blowing through the air also could limit visibility.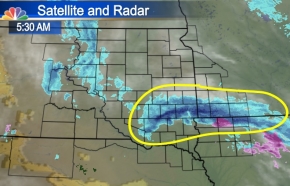 Snow Totals Tuesday and Wednesday's Potential Storm
by Cody Matz
December 18, 2012 8:05 PM



The snow Tuesday may not have been a surprise for many as we had talked about snow and freezing drizzle with light accumulations Mondaynight, however the intensity and ultimately the amount of snow that fell was unexpected by even the weather community. This impressive band of heavy snow that you can see on your left set up right along I-90 and is called convective snow. This is where you get the heaviest snowfall rates, topping 2 inches an hour in some spots Tuesday morning. You typically find these snowfall rates during large storms that have a tremendous amount of moisture…. Which are very common to our east in the Great Lakes and Northeast, as well as the highest elevations of the West Coast. This convective snow develops from strong instability (uplift) in the atmosphere that forms at the perfect height above the surface to get much larger snowflake development. This allows those "golf ball size" flakes to fall to the surface and collect much faster, leading to higher snowfall totals in a shorter amount of time. These totals are listed below along with more information on our next potential winter storm moving in Wednesday afternoon.

According to Winter Weather Expert, Tom Niziol , Blizzard warnings are in effect for parts of six states as Winter Storm Draco begins to emerge from the Rockies and into the Midwest. Draco was named based on the following impacts:
Significant, widespread heavy snowfall for the mountains of the West, with as much as 3 feet likely through Wednesday ("phase one" of the storm)
Heavy snowfall for lower elevations, including population centers of the Midwest ("phase two" of the storm)
Major interstates impacted
To watch the video and read the rest of this story, visit Weather.com.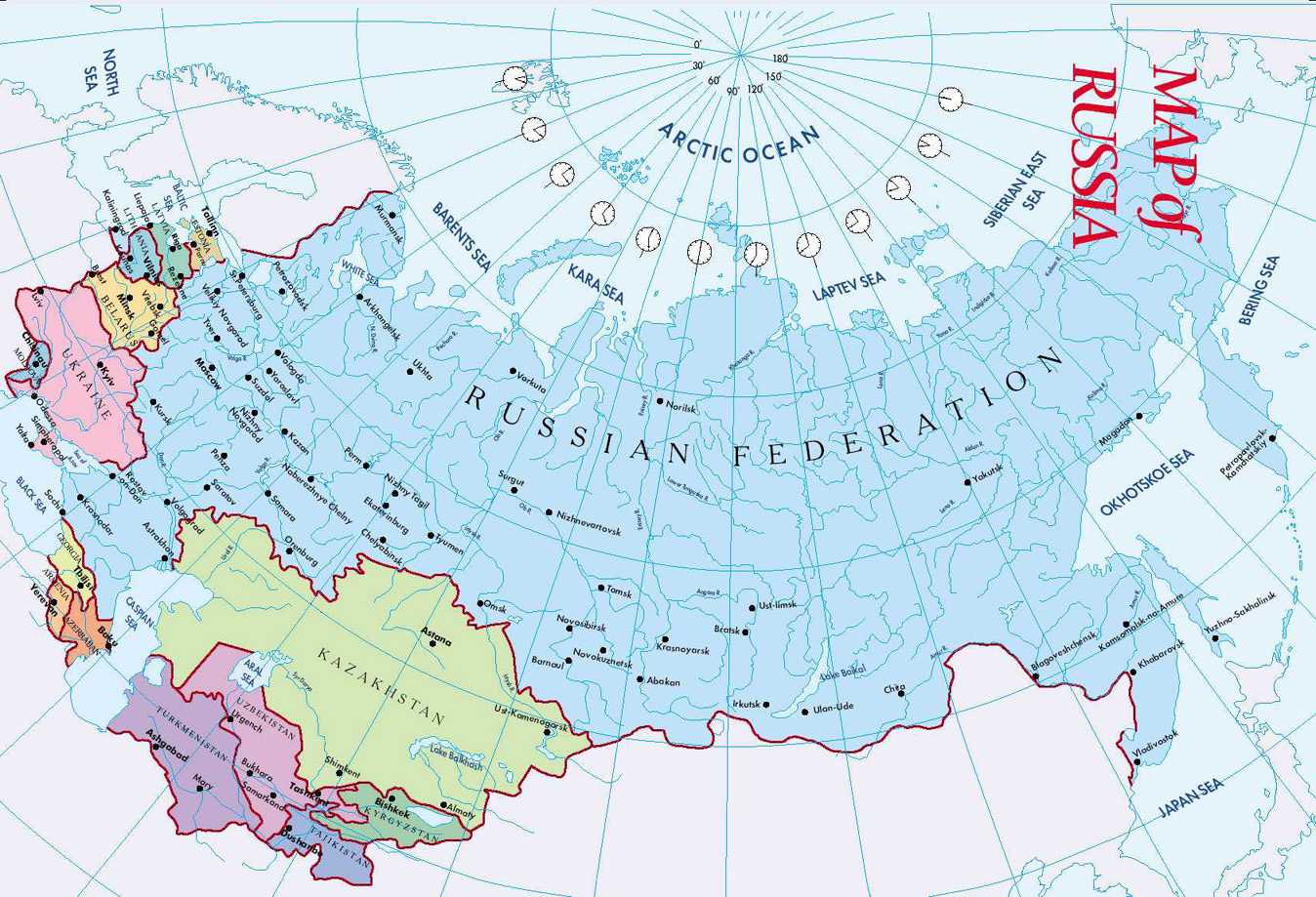 Abnormally low winter temperatures in Russia continue to claim more and more lives. Twenty-one people froze to death in only one day; 147 others were hospitalized with frostbite. The cold weather in central Russia is not going to get any warmer soon. On December 19, the cold has reached St. Petersburg, where temperatures fell below -20 degrees Centigrade. It is 30 degrees below zero in the Ivanovo region, -22C in the Kaluga region, and -25 in Tver.
For the time being, the winter of 2012 has killed 45 people (266 have been hospitalized).
To read the rest of this story, visit Pravda.ru.
Subject: Wind Map- Something might be up
Date: Wed, 19 Dec 2012 19:32:00 -0500
http://hint.fm/wind/
http://www.godlikeproductions.com/forum1/message2087407/pg1
http://radar.weather.gov/Conus/full_loop.php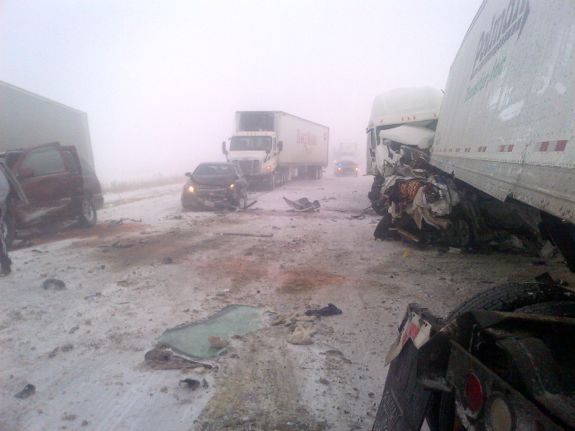 Big Midwestern Snowstorm Leads to 25-Vehicle Crash
"It's time to listen to warnings and get off the road," one Iowa official said

12-20-12

DES MOINES, Iowa (AP) - The first widespread snowstorm of the season crawled across the Midwest on Thursday, with whiteout conditions stranding holiday travelers and sending drivers sliding over slick roads - including into a fatal 25-vehicle pileup in Iowa.

The storm, which dumped a foot of snow in parts of Iowa and Wisconsin, was part of a system that began in the Rockies earlier in the week before trekking into the Midwest. It was expected to move across the Great Lakes overnight before moving into Canada.

On the southern edge of the system, powerful storms packing wind and rain damaged homes in Arkansas, peeled roofs off buildings and toppled trucks in Alabama, and led to flight cancellations in Texas.

In Iowa, drivers were blinded by blowing snow and didn't see vehicles that had slowed or stopped on Interstate 35 about 60 miles north of Des Moines, state police said. A chain reaction of crashes involving semitrailers and passenger cars closed down a section of the highway. At least one person was killed.

"It's time to listen to warnings and get off the road," said Iowa State Patrol Col. David Garrison.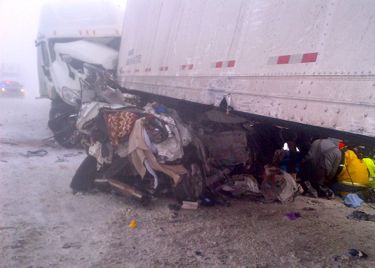 Thomas Shubert, a clerk at a store in Gretna near Omaha, Neb., said his brother drove him to work in his truck, but some of his neighbors weren't so fortunate.

"I saw some people in my neighborhood trying to get out. They made it a few feet, and that was about it," Shubert said.

The heavy, wet snow made some unplowed streets in Des Moines nearly impossible to navigate in anything other than a four-wheel drive vehicle. Even streets that had been plowed were snow-packed and slippery. Eight jackknifed semitrailers were reported on a section of Interstate 80 east of the city, with portions of the roads closed until the accidents could be cleared.

The storm made travel difficult from Kansas to Wisconsin, forcing road closures, including a portion of Interstate 29 in northern Missouri and part of Interstate 80 in Nebraska. Iowa and Wisconsin activated National Guard troops to help rescue stranded drivers.

Those who planned to fly before the Christmas holiday didn't fare much better.

In Chicago, commuters began Thursday with heavy fog and cold, driving rain, and forecasters said snow would hit by mid-afternoon.

Airlines delayed and canceled hundreds of flights out of Chicago's O'Hare and Midway international airports. Southwest Airlines, which has a hub at Midway, canceled all of its flights after 4:30 p.m.

In Texas, American Airlines reported 120 cancellations in Dallas because of thunderstorms.

"We are trying to delay as much as we can, instead of canceling, because we know that we have many customers who are trying to make their holiday travel plans," said American Airlines spokeswoman Andrea Huguely.

Before the storm, several cities in the Midwest had broken records for the number of consecutive days without measurable snow.

In the Des Moines suburb of Urbandale, Kristin Isenhart, 38, said her three kids, ages 9, 5 and 3, were asking about going outside to play after school as canceled for the day.

"They are thrilled that it snowed," she said. "They've asked several times to go outside, and I might bundle them up and let them go."

As far as the region's drought, meteorologists said the storm wouldn't make much of a dent. It takes a foot or more of snow to equal an inch of water, said Brian Fuchs, a climatologist at the National Drought Mitigation Center.

Meanwhile, tens of thousands of people lost power in Arkansas, Iowa and Nebraska as heavy snow and strong winds pulled down lines. Smaller outages were reported in Alabama, Kansas, Missouri, Illinois and Louisiana.

"The roads have been so bad our crews have not been able to respond to them," said Justin Foss, a spokesman for Alliant Energy, which had 13,000 customers without power in central Iowa. "We have giant four-wheel-drive trucks with chains on them, so when we can't get there it's pretty rough."

The airport at Creston, Iowa, recorded the highest winds, with a gust of 53 mph, said Kevin Skow, a National Weather Service meteorologist.

Along with Thursday's fatal accident in Iowa, the storm was blamed for road deaths in Kansas and Wisconsin. In southeastern Utah, a woman who tried to walk for help after her car became stuck in snow died Tuesday night.

The owner of the Norske Nook restaurant and bakery in Osseo, a town in west-central Wisconsin that woke up to at least 10 inches of snow, said "blizzardy" conditions were not unusual for the area and that the weather would not upset her business.

"It's our policy to stay open for the customers," said Jean Zingshiem. "In case someone is stranded they'll have somewhere to go."

Blake Landau, a cook serving eggs, roast beef sandwiches and chili to hungry snowplow drivers at Newton's Paradise Cafe in downtown Waterloo, Iowa, said he has always liked it when it snows on his birthday. He turned 27 on Thursday.

"It's kind of one of those things where it's leading up to Christmas time," Landau said. "We don't know when we get our first snowfall, and I hope we get it by my birthday. It's nice to have a nice snowy Christmas."


NO wonder they called this storm DRACO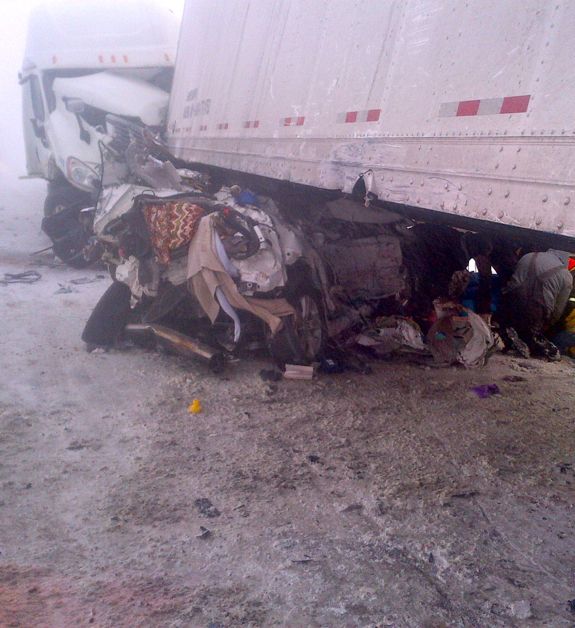 12-26-12 - A REALLY BAD SOUTHERN STORM SYSTEM WENT THROUGH THE COUNTRY ON CHRISTMAS DAY.
IT SPAWNED 34 TORNADOES, SOME OF WHICH DESTROYED A LOT OF TREES AND PROPERTY.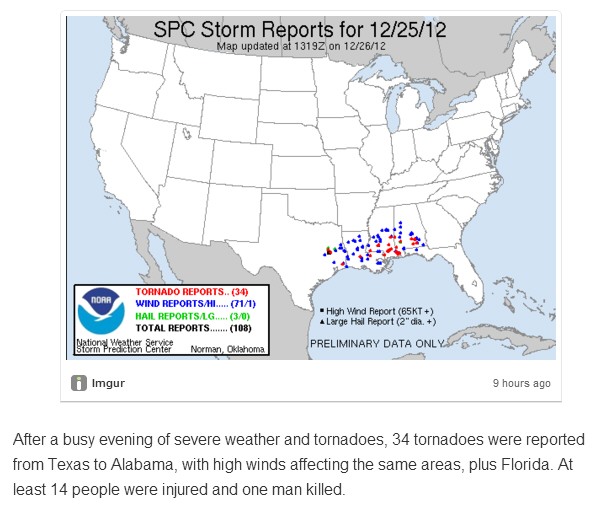 ITS STILL HEADED EAST AND NORTH RIGHT NOW CAUSING MORE DAMAGE.
OVER 100,000 PEOPLE ARE WITHOUT POWER RIGHT NOW.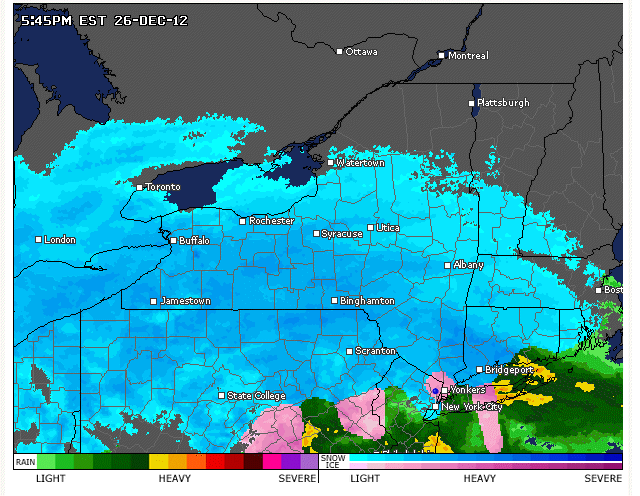 HERE IS WHAT IS COMING TODAY 12-26-12