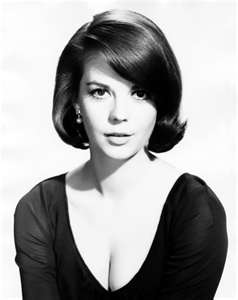 NATALIE WOOD
Dee Finney's blog
start date July 20, 2011
Today's date Feb. 6, 2012
TOPIC: NATALIE WOOD'S DEATH
I had been working on a blog page right before this one #127 and I needed a break, so I went into the livingroom and turned on the TV, and decided to watch an old show I hadn't seen yet. It turned out to be 20-20. about crazy Hollywood weddings and crazier divorces. I don't really care about such things like that so I fast forwarded it, delete it, and decided to meditate instead. I no sooner started meditating, and I fell into a dream in which I was living in someone else's house. I was either a maid or a secretary or something, and I saw a very petite, slim dark-haired woman heading for the door of the house I was in. she wore sunglasses, and a very slim linen dress with her head down and trying to hide her face from the press apparently.
the telephone rang and I answered it. The call was for the woman of the house, and the voice sounded very similar to a psychic I know from the east coast, and the woman was asking me a couple questions, when I heard a blaring speaker on a vehicle going by, and at the same time, I saw a large group of cops and a Sheriff type and a large man dressed in grey with a broad hat on come to the door.
I had the feeling that they were coming to arrest me or something but before I could answer the door, I just dropped the phone after saying, "hang on!" and I heard someone outside cry out, "Arrest them!" and all the cops, the Sheriff, and the man in the grey suit turned and ran across the street.
Out in the street, two long vehicle were going by, a truck with a long flatbed behind it, with what appeared to be bleachers, overloaded with hundreds of women and children apparently sightseeing, They were driving very, very slowly as they went by and I could see what looked a park across the street with very tall trees in it. the vehicles turned the corner and went down that street alongside the park, and I heard a voice outside say, "The media of the Stars.!"
I couldn't even wake up, I kept seeing the vehicles moving by so slowly, and when I thought they were leaving the scene, the would repeat the scene, over and over and over. I just had to force my eyes open to get rid of it, and I closed my eyes , the scene with those vehicles full of women and children repeated itself again,, and again.
What a nightmare way to live.
NOTE: I wonder if that's what Natalie's was just like that people watching all the time. It also came ot me that perhaps Marilyn nand Natalie had similar problems - yesterdy was Marily Monroe - today was Natalie Wood. In both cases, their deaths did inot have a finality to them. Both deaths have been argued and discussed for many years. perhaps they can't rest until this is settled one wy or anther - with truth.
Natalie Wood, born Natalia Nikolaevna Zacharenko (Russian: Наталья Николаевна Захаренко;[1] July 20, 1938 – November 29, 1981) was a Russian-American film and television actress best known for her screen roles in Miracle on 34th Street, Splendor in the Grass, Rebel Without a Cause, and West Side Story. After first working in films as a child, Wood became a successful Hollywood star as a young adult, receiving three Academy Award nominations before she was 25 years old.
Wood began acting in movies at the age of four and at age eight was given a co-starring role in the classic Christmas film Miracle on 34th Street.[2] As a teenager, her performance in Rebel Without a Cause (1955) earned her a nomination for the Academy Award for Best Supporting Actress. She starred in the musical films West Side Story (1961) and Gypsy (1962), and received Academy Award for Best Actress nominations for her performances in Splendor in the Grass (1961) and Love with the Proper Stranger (1963).
Her career continued with films such as Bob & Carol & Ted & Alice (1969). After this she took a break from acting and had two children, appearing in only two theatrical films during the 1970s. She was married to actor Robert Wagner twice, and to producer Richard Gregson in between the marriages to Wagner. She had one daughter by each: Natasha Gregson and Courtney Wagner. Her younger sister, Lana Wood, is also an actress.
Wood starred in several television productions, including a remake of the film From Here to Eternity (1979) for which she won a Golden Globe Award. During her career, from child actress to adult star, her films represented a "coming of age" for both her and Hollywood films in general.[3]
At age 43, Wood drowned near Santa Catalina Island, California at the time her last film, Brainstorm (1983), was in production with co-star Christopher Walken. Her death was declared an accident. Although the Los Angeles County Sheriff's Department reopened the case in late 2011 based on new witness statements, no evidence to contradict that original conclusion was found.[4]
Marriages
Natalie Wood's two marriages to actor Robert Wagner were highly publicized. Wood said she had had a crush on Wagner since she was a child,[2] and on her 18th birthday she went on a studio-arranged date with the 26-year-old actor. They married a year later on December 28, 1957, a marriage which met with great protest from Wood's mother. In an article in February 2009, Wagner recalled their early romance:
I saw Natalie around town but she never seemed interested. She was making Rebel Without a Cause and hanging out with James Dean; I was with an older crowd. The first time I remember really talking to her was at a fashion show in 1956. She was beautiful, but still gave no hint about the mad crush she had on me. I later found out she had signed with my agent simply because he was my agent. A month later, I invited Natalie to a premiere on what turned out to be her 18th birthday. At dinner, we both sensed things were different. I sent her flowers and the dates continued. I remember the instant I fell in love with her. One night on board a small boat I owned, she looked at me with love, her dark brown eyes lit by a table lantern. That moment changed my life.[24]
A year after their wedding, Wood expressed her feelings in a letter to her new husband:
"You are my husband, my child, my strength, my weakness, my lover, my life."[25]
Wood and Wagner separated in June 1961 and divorced in April 1962.
On May 30, 1969, Wood married British producer Richard Gregson. The couple dated for two and a half years prior to their marriage, while Gregson waited for his divorce to be finalized.[22] They had a daughter, Natasha Gregson (born September 29, 1970). They separated in August 1971 after Wood overheard an inappropriate telephone conversation between her secretary and Gregson.[22] The split also marked a brief estrangement between Wood and her family, when mother Maria and sister Lana told her to reconcile with Gregson for the sake of her newborn child. She filed for divorce, and it was finalized in April 1972.
In early 1972, Wood resumed her relationship with Wagner. The couple remarried on July 16, 1972, just five months after reconciling and only three months after she divorced Gregson. Their daughter, Courtney Wagner, was born on March 9, 1974. They remained married until Wood's death seven years later on November 29, 1981.
[edit] Other relationships
Biographer Suzanne Finstad writes that Wood had a relationship with director Nicholas Ray, director of Rebel Without a Cause, when she was 16 and he was 43.[22] During her teens, Wood went on studio-arranged dates with older men, including actors Tab Hunter and Nick Adams,[22] and dated actor Raymond Burr, when she was 17 and he was 38.[26] Wood also dated actors Michael Caine, Steve McQueen, Warren Beatty and Dennis Hopper, singer Elvis Presley, director Henry Jaglom, and politician Jerry Brown.[22][27]

Among her celebrity friends were fellow child performers Margaret O'Brien, Carol Lynley and Stefanie Powers.[22][28][29]

Wood died by accidental drowning while on a weekend trip to Catalina Island with her husband, Robert Wagner, actor Christopher Walken, and the boat's captain, Dennis Davern. Many facts surrounding her drowning are unknown, as no one saw how she entered the water. Los Angeles County coroner Thomas Noguchi ruled her death an accident by drowning and hypothermia following his investigation.[30] According to the autopsy report, Wood had dozens of bruises on her body, including injuries to her face and arms. The autopsy found that her blood alcohol level was .14, and an examining doctor stated that it was higher when she went overboard. They also found two drugs in her bloodstream: Cyclivine, a sea-sickness pill, and Darvon, a painkiller, which they believed caused a "much more drunken state" when combined with alcohol.[31] The case was reopened in late 2011 based on new witness statements, and after nearly two months of further investigation, no new evidence to contradict the original conclusion and cause of death was found.[4]

Natalie Wood was buried in Westwood Village Memorial Park Cemetery. Scores of international media and photographers as well as the public tried to attend Wood's funeral at Westwood Village Memorial Park Cemetery; however, all were required to remain outside the cemetery walls. Among the celebrity attendees were Frank Sinatra, Elizabeth Taylor, Fred Astaire, Rock Hudson, David Niven, Gregory Peck, Gene Kelly, Elia Kazan and Sir Laurence Olivier. Olivier, who had worked with Wood and Wagner in their 1976 television production of Cat on a Hot Tin Roof, flew from London to Los Angeles to attend the service.[32]

]

Captain: Wagner responsible for Natalie Wood deathBy ANTHONY McCARTNEY | AP – Tue, Nov 22, 2011

LOS ANGELES (AP) — A yacht captain said Friday that he lied to investigators about Natalie Wood's mysterious death 30 years ago and blames the actress' husband, Robert Wagner, for her drowning in the ocean off Southern California.

The circumstances of her death remain one of Hollywood's enduring mysteries, and homicide detectives on Thursday unexpectedly reopened the case that had long been classified as a tragic accident.

A Los Angeles County sheriff's detective will speak to reporters Friday about the decision to take another look at the Oscar-nominated actress' nighttime death in the chilly waters on Nov. 29, 1981. Wood drowned after spending several hours drinking on Catalina Island in a yacht with Wagner, fellow actor Christopher Walken and the ship's captain, Dennis Davern.

Davern, skipper of the Splendour, told NBC's "Today" show on Friday that he made mistakes by not telling the truth about events leading to the death and had urged Los Angeles County sheriff's homicide investigators to reopen the case.

It is the latest attempt by Davern to change the official account of what happened in the hours before Wood's death.

"Was the fight between Natalie Wood and her husband Robert Wagner what ultimately led to her death?" show host David Gregory asked.

"Yes," Davern replied.

"How so?"

"Like I said, that's going to be up to the investigators to decide," the captain said after a long pause.

Davern said he believes Wagner intentionally kept the investigation into Wood's death low profile and didn't do everything he could have done.

Davern has said for years that the official account of Wood's disappearance was not what really happened, including in a 1992 appearance on a Geraldo Rivera special and in a 2000 Vanity Fair piece. He also worked with author and friend Marti Rulli on "Goodbye Natalie, Goodbye Splendour," a book released last year.

Wagner spokesman Alan Nierob said Friday a statement he released Thursday spoke for itself.

"Although no one in the Wagner family has heard from the LA County Sheriff's department about this matter, they fully support the efforts of the LA County Sheriff's Dept. and trust they will evaluate whether any new information relating to the death of Natalie Wood Wagner is valid, and that it comes from a credible source or sources other than those simply trying to profit from the 30 year anniversary of her tragic death," Nierob wrote in the statement.

Davern denied he was motivated to speak out for profit.

Sheriff's spokesman Steve Whitmore said Thursday the renewed inquiry was prompted by unspecified new information about Woods' case. The Los Angeles Times reported that Los Angeles Sheriff Lee Baca said detectives want to talk to Davern and that he had "made comments worthy of exploring." The paper said the agency had also received information from an unidentified third party.

In the Vanity Fair story, Davern is quoted as saying that Wood and Wagner fought in their cabin before the actress disappeared. Coroner's officials ruled her death an accidental drowning, perhaps caused by her slipping off the boat while trying to tie down a dinghy.

She was found wearing a flannel nightgown, socks and a down jacket and Davern identified her body for authorities, according to an autopsy report. Her body had superficial bruises, according to the report, but those were considered consistent with drowning.

Her death sparked tabloid speculation that foul play was involved, but Wagner and Wood's sister have dismissed any suggestion the actress' death was anything more than an accident. Coroner's officials at the time agreed, writing that Wood was "possibly attempting to board the dinghy and had fallen into the water, striking her face."

Assistant Chief Coroner Ed Winter said the agency hadn't been asked to do any additional investigation into Wood's case.

Sheriff's officials are hoping for tips from the public that may shed new light on how Wood, who was afraid of being in the water, ended up drowning.

Wood, a three-time Oscar nominee famous for roles in "West Side Story," ''Rebel Without a Cause" and other Hollywood hits, was 43 when she died. She and Wagner were twice married, first in 1957 before divorcing six years later. They remarried in 1972.

Lana Wood wrote in a biography on her sister, "What happened is that Natalie drank too much that night."

Wagner, star of the television series "Hart to Hart," wrote in a 2008 autobiography that he blamed himself for his wife's death.

He recounted the night of Wood's disappearance, during which the couple and Walken drank at a restaurant and on the boat. Wood went to the master cabin during an argument between her husband and Walken. The last time Wagner saw his wife, she was fixing her hair at a bathroom vanity and she shut the door.

Wagner wrote that despite various theories about what led Wood to the water, which she feared, it was impossible to know what exactly happened.

"Nobody knows," he wrote. "There are only two possibilities; either she was trying to get away from the argument, or she was trying to tie the dinghy. But the bottom line is that nobody knows exactly what happened."

Later in the book, Wagner wrote, "Did I blame myself? If I had been there, I could have done something. But I wasn't there. I didn't see her."

He wrote that he never saw his wife after she died and has never returned to Catalina Island.

Phone and email messages to Walken's publicist were not returned Thursday. Walken and Wood were co-stars in "Brainstorm," which was the actress' final big screen role.
Police pursue 'intriguing' information in Natalie Wood case