TEXAS TORNADIO APRILL 4, 2012
Dee Finney's blog
start date July 20, 2011
Tolday's date April 5, 2012
page 188
TOPIC: Extreme Weather USA: 2012 Kicks Off With Record Heat, Tornadoes & Drought
There have been 476 tornadoes in the U.S. since January 1
Foremost in the news isi the suddent Texas tornados of yesterday. That was a scary one, with a tornado in Dallas actually picked up entire trailer trucks and tosed them on top of houses. Fortunately, there were no reports of deaths.
Yesterday, a dozen tornadoes ripped through Dallas, spurring panic in a highly populated, 6 million-strong metropolitan area. The footage captured by news helicopters was dramatic—semi trucks and trees were hurled into the air like newspapers tossed from a malevolent paperboy.
http://www.youtube.com/watch?v=stX1Avy4qHg&feature=sh_e_top&list=SL
But the fleet of Texan tornadoes only marks the latest in a year that has already been packed with extreme weather—we've had record-hot winter months, unusually early tornadoes in the midwest, and states wracked with drought. Here's a closer look.
Tornadoes
There was nothing tremendously out of the ordinary about the tornadoes that hit Dallas, but climatologists were concerned about the spate of twisters that swept through Kentucky, Indiana, and three other states in early March. Those tornadoes killed 39 people and exacted untold property damage to homes and buildings across the region.
And tornado season doesn't usually begin until April, leading climate scientists to link the warmer weather to earlier (and potentially longer) seasons. Here's Joe Romm:
The unexpectedly fierce and fast tornado outbreak so early in the season has folks asking again about a possible link to climate change. Climatologist Dr. Kevin Trenberth emailed me that, because of climate change, "there is every expectation that the [tornado] season will move up in time. The warm winter in the US is perhaps an indicator of the nature of the changes to be expected."
Trenberth also elaborates on the link between tornadoes and climate change in a recently published paper, which notes that "Global warming does not contribute directly to tornadoes themselves, but it does contribute to the vigor of the thunderstorms that host them through the increased warmth and moisture content (moist static energy) of the low level air flow." Meaning: there's no evidence tornadoes themselves are more powerful, but the storms from which they come will be. Which is one reason climatologists speculate that the 2011 tornado season broke records in terms of casualties—539 were killed by 1070+ tornadoes.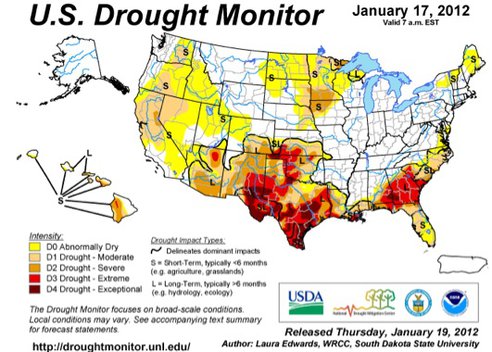 USDA and NOAA/Public Domain
Record-Breaking Heat
The 2011-12 winter has become the "winter that wasn't" in common parlance, and for good reason. Climatologists have confirmed that it was the fourth warmest winter season on record. Furthermore, for much of the nation, March was the hottest ever—25 cities and regions broke heat records last month.
Reuters reported that "Last month was the warmest March on record across half of the United States with summer-like temperatures." And "Accuweather.com said cities in more than 25 states, as well Washington, D.C., broke records for average daily temperatures last month, including Chicago, Oklahoma City, Des Moines, Milwaukee, Indianapolis and Detroit."
Statisticians and meteorologists point out that we're breaking many more heat records than cold ones—which is useful evidence that global warming is continuing an ascendent trajectory.
Drought
Drought was a major story in 2011, especially in Texas, where the majority of the state was parched for most of the year. Well, that drought stretched on into 2012, too. And though the state was met with a brief reprieve with some scattered rainfall in late February, drought conditions stretched on through March. 70% of the state was listed as experiencing "severe drought", and 14% suffered from "exceptional" drought.
But it's not just Texas. Colorado too has entered an unusual drought—according to the Denver Post, a startling "98 percent of the state is experiencing varying levels of drought."
Wendy Ryan, a research associate at the Colorado Climate Center, told the Post that "In Fort Collins, we had the hottest and driest March on record ... This is the first time we've ever had only a trace of precipitation for March. No years have had zero."
And now for the inevitable disclaimer: No single specific weather event can be said to be caused by global climate change. But scientists are anything but hesitant to explain that the kinds of phenomena described above are symptomatic of global warming—these are the kinds of things we'll expect to see more of in a warming world. And the combined weight of each; of the hottest-ever record temperatures that continue to be broken, of the increasingly ornery storm systems, of the unprecedented dry seasons, all help drive home on a visceral level what the scientists have been telling us for decades now.
Human activity is causing the world to warm. Warmer temperatures means the air holds more moisture, so: Wet areas will get wetter. More rain, more storms. Where there's little moisture to be found in the first place, the hot, dry regions will become hotter—and drier. The extremes are exacerbated; that's the calling card of global climate change.
For a useful final word, here's Dr. Trenberth: "The answer to the oft-asked question of whether an event is caused by climate change is that it is the wrong question. All weather events are affected by climate change because the environment in which they occur is warmer and moister than it used to be…"
Pn these graphs, I'm seeing 383 "confirmed" tornado reports. For instance, the most tornadoes in one day so far has been on this date shown in the above graph (March 2nd) which shows 160 tornados, but only 132 "confirmed" reports in the final tally.
Apparently what happens is that several reports will come in for one tornado that has a long path. As I remember, some of the tornados for that date had paths of up to 20 miles long.
What's amazing to me is that there weren't any fatalities from that Texas outbreak. That's miraculous!

This was just 6 days before the 19th anniversary of the <BR>Mothers Day tornado that hit the Dallas suburbs of Sachse <BR>and Wylie on May 9, 1993.

The largest tornado outbreak ever recorded; April 25-28, 2011

I remember well. 346 fatalities, and 11 billion dollars worth of damage total!!! The whole article is just mindboggling. <BR><BR><BR>An extremely large
and violent tornado outbreak, the largest tornado outbreak ever recorded, and popularly known as the 2011 Super Outbreak, occurred
from April 25 to 28, 2011. The outbreak affected the Southern, Midwestern, and Northeastern United States, leaving catastrophic
destruction in its wake, especially across the state of Alabama.[ It produced destructive tornadoes in Alabama, Arkansas, Georgia,
Mississippi, Tennessee, and Virginia, and affected many other areas throughout the Southern and Eastern United States. In total, 358
tornadoes were confirmed by the National Weather Service in 21 states from Texas to New York and even isolated tornadoes in Canada.
Widespread and destructive tornadoes occurred on each day of the outbreak, with April 27 being among the most prolific and
destructive tornado days in United States history with a record 208 tornadoes touching down that day. Four of the tornadoes were
destructive enough to be rated EF5 on the Enhanced Fujita Scale, which is the highest ranking possible; typically these tornadoes are
only recorded about once each year or less.

In total, 346 people were killed as a result of the outbreak. That death toll
includes 322 tornado-related deaths across six states. In addition, 24 fatalities were not caused by tornadoes, but were confirmed to be
as a result of other thunderstorm-related impacts such as straight-line winds, hail, flash flooding or lightning.[8][9] 239
deaths in Alabama alone were confirmed by the SPC and the state's Emergency Management Agency.[2][8]<BR><BR>April 27 was the deadliest
tornado day in the United States since the 1925 "Tri-State" outbreak,[10] which produced the infamous Tri-State Tornado.[11][12]
Although it has been classified by some news outlets as the second-deadliest tornado outbreak in United States history,[13][14]
the 1936 Tupelo–Gainesville tornado outbreak [15] actually holds that distinction with at least 436 reported deaths split almost
evenly over two days. Officially the outbreak is listed by NOAA as the fourth deadliest in United States history [16] and the
24-hour-period from 8:00 a.m. April 27 to 8:00 a.m. April 28 as the fifth deadliest tornado day in United States history.[7] Nearly 500
preliminary local storm reports were received for tornadoes over four days, including 292 in 16 states on April 27 alone.[17] It was
also the costliest tornado outbreak and one of the costliest natural disasters in United States history (even after adjustments for
inflation), with total damages of nearly $11 billion (2011


www.youtube.com/watch?v=uSs45dJGOlE

Apr 3, 2012

-

4 min

-

Uploaded by mywonderjam


Dallas Tornado : (Reuters) - At least two tornadoes tore through the Dallas-Fort Worth metropolitan area in ...


www.youtube.com/watch?v=TK6jVmYE48s

Apr 3, 2012

-

1 min

-

Uploaded by abjectartist


Sheltering After April 3 Texas Tornadoes Posted April 3, 2012 http://www.youtube .com/watch?v=vgIVY0aUq8k ...

From Wikipedia, the free encyclopedia
April 13–16, 2012 tornado outbreak

An EF4 tornado near Marquette, Kansas
Date of tornado outbreak:
April 13–16, 2012
Duration1:
Four days
Maximum rated tornado2:
EF4 tornado
Tornadoes caused:
71 confirmed, 183 reported
Damages:
At least $283 million (in Wichita, unknown elsewhere)

[

1

]

Fatalities:
6

[

2

]

Areas affected:
Central United States, Great Lakes region

1Time from first tornado to last tornado
2Most severe tornado damage; see Enhanced Fujita Scale

xxxxxxxxxxxxxx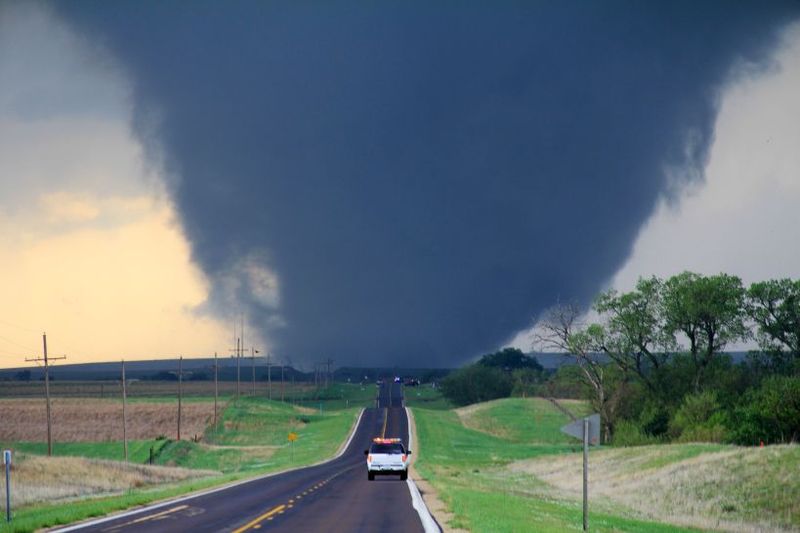 resulted in 6 tornado-related fatalities, all of which occurred in a mobile home park in Woodward, Oklahoma, where an EF3 tornado on the Enhanced Fujita Scale caused significant damage and leveled at least 10 homes.
www.youtube.com/all_comments?v=ZXJ_wg307CM
The Central England Temperature (CET) record (which goes back to 1659) belies ..... Bachmann, Perry and Romney would just be more of the same.. R.P. 2012 ...... warmer summers, perhaps more natural dissasters from hurricanes, tornados etc. ...... @kagiso3741 It actually snowed here in Rochester New York in April.
U.S. Records Warmest March; More Than 15,000 Warm Temperature Records Broken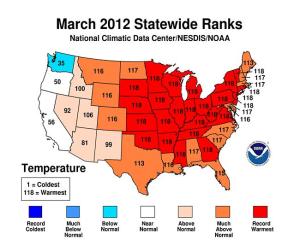 ScienceDaily (Apr. 10, 2012)

— Record and near-record breaking temperatures dominated the eastern two-thirds of the United States and contributed to the warmest March on record for the contiguous United States, a record that dates back to 1895. More than 15,000 warm temperature records were broken during the month.



The average temperature of 51.1°F was 8.6 degrees above the 20th century average for March and 0.5°F warmer than the previous warmest March in 1910. Of the more than 1,400 months (117+ years) that have passed since the U.S. climate record began, only one month, January 2006, has seen a larger departure from its average temperature than March 2012.

Note: The March 2012 Monthly Climate Report for the United States has several pages of supplemental information and data (www.ncdc.noaa.gov/special-reports/march-2012-heat-wave/) regarding the unprecedented early 2012 temperatures.

U.S. climate highlights -- March
Every state in the nation experienced at least one record warm daily temperature during March. According to preliminary data, there were 15,272 warm temperature records broken (7,755 daytime records, 7,517 nighttime records). Hundreds of locations across the country broke their all-time March records. There were 21 instances of the nighttime temperatures being as warm, or warmer, than the existing record daytime temperature for a given date.
A persistent weather pattern led to 25 states east of the Rockies having their warmest March on record. An additional 15 states had monthly temperatures ranking among their ten warmest. That same pattern brought cooler-than-average conditions to the West Coast states of Washington, Oregon, and California.
Temperatures in Alaska during March, which are not included in the contiguous U.S. average value, ranked as the tenth coolest on record.
The nationally-averaged precipitation total was 2.73 inches, which is 0.33 inches above average. The Pacific Northwest and the Southern Plains were much wetter than average during March while drier-than-average conditions prevailed in the interior West, Northeast, and Florida. Colorado had its driest March on record.
According to the U.S. Drought Monitor, as of April 3rd, 36.8 percent of the contiguous U.S. was in drought, a decrease from 38.7 percent at the end of February and an increase from 28.8 percent a year ago on April 5, 2011. Above-average precipitation across the Southern Plains improved long-term drought conditions Texas, Oklahoma, and Kansas.
Warmer-than-average conditions across the eastern U.S. also created an environment favorable for severe thunderstorms and tornadoes. According to NOAA's Storm Prediction Center, there were 223 preliminary tornado reports during March, a month that averages 80 tornadoes annually. The majority of the tornadoes occurred during the March 2nd-3rd outbreak across the Ohio Valley and Southeast, which caused 40 fatalities. Total losses from this event are estimated to exceed $1.5 billion dollars, making this the first event of 2012 to exceed one billion dollars in damages and losses.
On March 9, a large weather system impacted the Hawaiian Islands, bringing extreme rainfall and severe thunderstorms. A rare EF-0 tornado hit the towns of Lanikai and Kailua on Oahu, causing minor damage. A hailstone with the largest diameter on record for the state, measuring 4¼ inches, fell on Oahu during this event.
Year-to-date (January-March)
The first three months of 2012 were also record warm for the contiguous United States with an average temperature of 42.0°F, 6.0°F above the long-term average.
Twenty-five states, all east of the Rockies, had their warmest first quarter on record, and an additional 16 states had first-quarter temperatures ranking among their ten warmest.
Numerous cities had a record warm January-March, including Chicago, Boston, and Washington, D.C. No state in the contiguous U.S. had below-average January-March temperatures.
Alaska had its ninth coolest January-March period; temperatures were 5.2°F below average.
The nationally-averaged precipitation total for January-March was 0.29 inches below the long-term average. States across the Pacific Northwest and Southern Plains were wetter than average, while the Intermountain West, parts of the Ohio Valley, and the entire Eastern Seaboard were drier than average.
NOAA's U.S. Climate Extremes Index, an index that tracks the highest 10 percent and lowest 10 percent of extremes in temperature, precipitation, drought and tropical cyclones, was 39 percent, nearly twice the long-term average and the highest value on record for the January-March period. The predominant factor was the large area experiencing extremes in warm daily maximum and minimum temperatures.
Cold season (October-March) and 12-month period (April 2011-May 2012)
The cold season, which is defined as October 2011 through March 2012 and an important period for national heating needs, was second warmest on record for the contiguous U.S. with a nationally-averaged temperature 3.8°F above average. Only the cold season of 1999-2000 was warmer. Twenty-one states across the Midwest and Northeast, areas of the country with high annual heating demands, were record warm for the six-month period.
The previous 12-month period (April-March), which includes the second hottest summer (June-August) and fourth warmest winter (December-February), was the warmest such period for the contiguous United States. The 12-month running average temperature was 55.4°F, which is 2.6°F above the 20th century average.