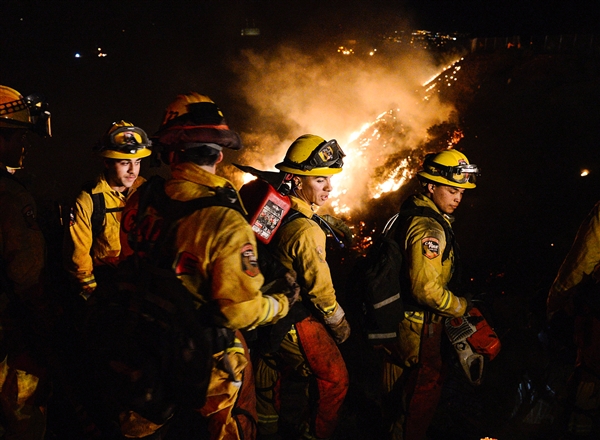 AP Photo/Dan Steinberg
Firefighters battle a wind-driven brush fire in Simi Valley, Calif., on Wednesday.
Firefighters expected to have a wind-whipped wildfire, burning outside Los Angeles since Christmas evening, fully contained by nightfall on Thursday, officials said.
The Simi Valley blaze was only 80 percent contained on Thursday morning, but "we are at a point where at 6 pm we're going to declare the fire 100 percent contained," said Ventura County Fire Department Capt. Mike Lindbery at 4:30 p.m. local time (7:30 p.m. ET).
The Simi Valley blaze has scorched about 8 to 10 acres in the Santa Susana Pass, spreading rapidly because of strong Santa Ana winds and low humidity, the Ventura County Fire Department said.
Area residents were not evacuated, and there were no reports of damaged structures, according to the Ventura County Fire Department.
Hundreds of firefighters from Ventura and Los Angeles counties were joined by helicopters and bulldozers, and were able to control 20 percent of the fire since it started 10:40 p.m. local time (1:40 a.m. ET) Wednesday.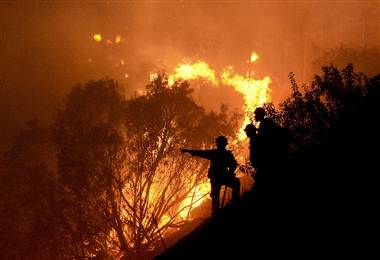 AP Photo/Dan Steinberg
Firefighters battle the fire on Wednesday.
"We dumped everything we could on it," Lindbery said. At the peak of the fire, 325 personnel were fighting the blaze, he said. Sixty firefighters remained as the fire slowed down Thursday afternoon, Lindbery said.
One firefighter suffered a minor ankle injury while attempting to squelch the flames, according to the Ventura County Fire Department.
Winds were expected to increase and the humidity was to remain low throughout Thursday. Lindbery said high winds continued to gust "but not as intensely as they were earlier today."
"If we don't get any rain, we're going to be doing this for months because the winds will continue to blow," Lindbery said.
Adding to the difficult conditions, Southern California has been experiencing balmy temperatures — some 15 degrees Fahrenheit above December averages. By midday Wednesday, temperatures in Los Angeles hit 81 degrees — just shy of the record Christmas Day high of 85 degrees in 1980.
The high winds were also thought to be responsible for 5,000 power outages in the same area. The power was later restored, a SoCal Edison official told NBC Los Angeles.
While the West Coast baked, some 140,000 people were still without power in the Northeast and Midwest on Thursday, days after a bitter ice storm.
As a precaution, several roads were closed in the Simi Valley Pass.
Related: