17 And there came one of the seven angels, who had the seven vials, and talked with me, saying unto me, "Come hither; I will show unto thee the judgment upon the great whore who sitteth upon many waters,
2 with whom the kings of the earth have committed fornication, and the inhabitants of the earth have been made drunk with the wine of her fornication."
3 So he carried me away in the Spirit into the wilderness; and I saw a woman sitting upon a scarlet-colored beast, full of names of blasphemy, and having seven heads and ten horns.
4 And the woman was arrayed in purple and scarlet color, and bedecked with gold and precious stones and pearls, having a golden cup in her hand full of abominations and filthiness of her fornication;
5 and upon her forehead was a name written: Mystery, Babylon the Great, Mother of Harlots and Abominations of the Earth.
6 And I saw that the woman was drunk with the blood of the saints and with the blood of the martyrs of Jesus. And when I saw her, I wondered with great amazement.
7 And the angel said unto me, "Why dost thou marvel? I will tell thee the mystery of the woman and of the beast that carrieth her, which hath the seven heads and ten horns.
8 The beast that thou sawest was, and is not, and shall ascend out of the bottomless pit and go into perdition; and they that dwell on the earth, whose names were not written in the Book of Life from the foundation of the world, shall wonder when they behold the beast that was, and is not, and yet is.
9 "And here is the mind which hath wisdom: The seven heads are seven mountains on which the woman sitteth.
10 And there are seven kings: five are fallen, and one is, and the other has not yet come; and when he cometh, he must continue a short space.
11 And the beast that was, and is not, even he is the eighth, yet is one of the seven and goeth into perdition.
12 And the ten horns which thou sawest are ten kings, who have received no kingdom as yet, but will receive power as kings for one hour with the beast.
13 These have one mind, and shall give their power and strength unto the beast.
14 These shall make war with the Lamb, and the Lamb shall overcome them; for He is Lord of lords and King of kings, and they that are with Him are called, and chosen, and faithful."
15 And he saith unto me, "The waters which thou sawest, where the whore sitteth, are peoples and multitudes, and nations and tongues.
16 And the ten horns which thou sawest upon the beast, these shall hate the whore, and shall make her desolate and naked, and shall eat her flesh and burn her with fire.
17 For God hath put into their hearts to fulfill His will and to agree, and to give their kingdom unto the beast, until the words of God shall be fulfilled.
18 And the woman whom thou sawest is that great city which reigneth over the kings of the earth."
Revelation 18
21st Century King James Version (KJ21)
18 And after these things, I saw another angel come down from Heaven, having great power; and the earth was lightened by his glory.
2 And he cried mightily with a strong voice, saying, "Babylon the great is fallen, is fallen, and is become the habitation of devils, and the hold of every foul spirit, and a cage of every unclean and hateful bird.
3 For all nations have drunk of the wine of the wrath of her fornication; and the kings of the earth have committed fornication with her, and the merchants of the earth have waxed rich through the abundance of her indulgences pleasures."
4 And I heard another voice from Heaven, saying, "Come out of her, my people, that ye be not partakers of her sins, and that ye receive not of her plagues;
5 for her sins have reached unto Heaven, and God hath remembered her iniquities.
6 Reward her even as she has rewarded you, and unto her double according to her works; in the cup which she hath filled, fill to her double.
7 How much she hath glorified herself and lived voluptuously! That much torment and sorrow give back to her; for she saith in her heart, 'I sit a queen and am no widow, and shall see no sorrow.'
8 Therefore shall her plagues come in one day" death and mourning and famine, and she shall be utterly burned with fire; for strong is the Lord God who judgeth her.
9 "And the kings of the earth, who have committed fornication and lived wantonly with her, shall bewail her and lament for her when they shall see the smoke of her burning,
10 standing afar off for the fear of her torment, saying, 'Alas! Alas, that great city Babylon, that mighty city! For in one hour has thy judgment come.'
11 "And the merchants of the earth shall weep and mourn over her, for no man buyeth their merchandise any more:
12 the merchandise of gold, and silver, and precious stones, and of pearls; and fine linen, and purple, and silk, and scarlet; all scented wood, all manner of vessels of ivory and most precious wood, and of brass, and iron, and marble;
13 and cinnamon, and perfumes, and ointments, and frankincense, and wine, and oil, and fine flour, and wheat; and cattle, and sheep, and horses, and chariots; and slaves, and the souls of men.
14 "And the fruits that thy soul lusted after have departed from thee, and all things which were dainty and goodly have departed from thee, and thou shalt find them no more at all.
15 The merchants of these things, who were made rich by her, shall stand afar off for the fear of her torment, weeping and wailing
16 and saying, 'Alas! Alas, that great city, that was clothed in fine linen and purple and scarlet, and bedecked with gold and precious stones and pearls!
17 For in one hour such great riches have come to nought!' "And every shipmaster and all the company in ships, and sailors, and as many as trade by sea, stood afar off;
18 and they cried when they saw the smoke of her burning, saying, 'What city is like unto this great city!'
19 And they cast dust on their heads and cried, weeping and wailing, saying, 'Alas! Alas, that great city, wherein all that had ships in the sea were made rich by reason of her extravagances! For in one hour is she made desolate!'
20 Rejoice over her, thou heaven and ye holy apostles and prophets, for God hath avenged you on her."
21 Then a mighty angel took up a stone like a great millstone, and cast it into the sea, saying, "Thus with violence shall that great city Babylon be thrown down, and shall be found no more at all.
22 And the voice of harpers and musicians, and of pipers and trumpeters shall be heard no more at all in thee; and no craftsman, of whatsoever craft he be, shall be found any more in thee; and the sound of a millstone shall be heard no more at all in thee;
23 and the light of a candle shall shine no more at all in thee; and the voice of the bridegroom and of the bride shall be heard no more at all in thee. For thy merchants were the great men of the earth, for by thy sorceries were all nations deceived.
24 And in her was found the blood of prophets and of saints, and of all that were slain upon the earth."
HERE ARE THE NOTES FROM THE JIM BAKKER SHOW:
JIM IS BASING HIS BIBLE KNOWLEDGE OF THIS TOPIC ON THE BOOK OF REVELATIONS 18
JIM STATED THAT THE WORLD IS NOW UNDER THE SPIRIT OF THE ANTICHRIST.
NOTE THAT THE ANTICHRIST HAS NOT YET APPEARED ANYWHERE, NOR ANNOUNCED HIMSELF YET AND WE WON'T KNOW WHO HE IS UNTIL HE TELLS THE WORLD THAT HE IS IN CHARGE AFTER THE THIRD TEMPLE IS BUILT IN JERSALEM AND HE STOPS THE ANIMAL SACRIFICES THERE. RICK JOYNER SAID THAT MANY PEOPLE WILL ACTUALLY LOVE THE ANTICHRIST FOR DOING THAT.
JIM STATED THAT HE BELIEVES THAT NEW YORK CITY IS MYSTERY BABYLON. HE STUDIES BY ANALYZING THE 'ROOT' OF WORDS IN THE GREEK AND HEBREW.
ROMANS 8:22: For we know that the whole creation groans and travaleth in pain together until now.

WE ARE IN A PERIOD OF BAD WEATHER NOW THAT IS SO COLD THAT OVER 1200 COLD RECORDS WERE SET ACROSS THE UNITED STATES IN ONE WEEK.
SARDINIA HIT BY DEADLY FLOOD FROM CYCLONE CLEOPATRA. AT LEAST 18 PEOPLE THERE HAVE BEEN KILLED IN FLOODING ON THE INDIAN ISLAND OF SARDINIA AFTER A CYCLONE AND HEAVY RAIN.

PSALMS 11:6: He will send hot coals and burning sulfur on the wicked. A whirlwind is what they were get.
A VOLCANO ERUPTED AND SHOT OF FIERY LAVA UP 3280 FT INTO THE SKY. A STREAM OF LAVA ROSE UP TOA KILOMETRE ABOVE THE SUMMIT OF KLYUCHEVSKY ON THE KAMCHAKKA PENINSULA IN THE EAST OF THE COUNTRY.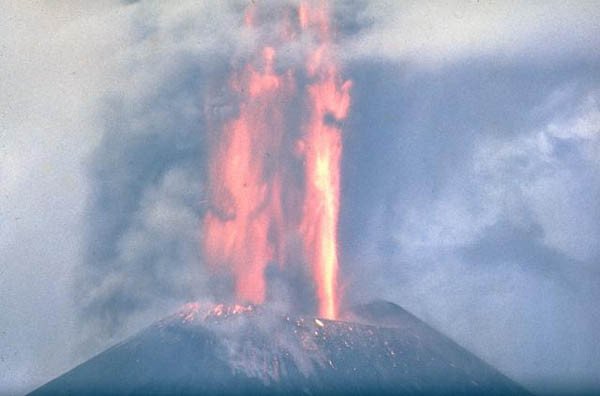 MATTHEW 24:8
But all these things are merely the beginning of birth pangs.

ROMANS 9:28
because a short work all the Lord make upon the earth.
JIM STATED THAT, "THE EARTH IS GOING THROUGH SO MANY CHANGES RIGHT NOW THAT THE OLD PEOPLE CAN'T TOLERATE IT. (HE THINKS HE IS ONE OF THE OLD PEOPLE)
WE USED TO BE A CHRISTIAN NATION. WE USED TO BE ABLE TO PUT A MANGER SCENE IN THE TOWN SQUARE AND NOW ITS AGAINST THE LAW TO PUT A CHRISTIAN SCENE IN THE TOWN SQUARE BECAUSE IT OFFENDS PEOPLE.
THE INCREASING OF THE ERA OF THE ANTICHRIST IS HAPPENING SO QUICKLY THAT HIM SAYS THAT CHAPTER 18 OF REVELATION IS GOING TO HAPPEN SOONER THAN PEOPLE THINK.
QUESTION: WHO IS THE HARLOT? - WHAT CITY IS IT?
WE ARE IN THE BEGINNING OF SORROWS. THE STAGE IS SET. HOW COULD WE HAVE BECOME THE AMERICA WE ARE THIS MINUTE?
THE ANTICHRIST OF AMERICA WHERE JESUS CHRIST IS OUTLAWED. YOU CAN'T PRAY 'IN JESUS NAME'. EVERYONE IS AFRIAD TO SAY, 'IN JESUS NAME! AMEN!'. THAT IS BASICALLY AGAINST THE LAW IN SCHOOLS, IN PUBLIC PLACES, IN GOVERNMENT AREAS.
SO WHAT IS THE GREAT DESTRUCTION? WHAT IS IT? WHO CAUSED IT?
THIS IS WHAT GOD SHOWED ME IN THE NIGHT!
REVELATION 17:12
"The ten horns you saw are the kings who have not yet begun to rule, but they will receive power to begin with the beast for one hour."
THAT MEANS A VERY SHORT TIME.
REVELATION 17:13
All ten of them have the same purpose and they will give their power and authority to the beast.
THIS COULD SAVE YOUR LIFE AND GIVE YOU UNDERSTANDING YOU'VE NEVER HAD BEFORE. YOU HAVE TO SEE IT ALL AT ONCE.
REVELATION 17:14
They will make war against Jesus but Jesus will defeat them because he is Lord of Lords and King of Kings. He will defeat them with his called and chosen and faithful followers.
REVELATION 17:15
THE GREAT BABYLON MOTHER OF PROSTITUTES AND OF THE EVIL THING OF THE EARTH.
REVELATION 17:16 Then I saw that the woman was drunk with the blood of God's holy people and with the blood of those who were killed because of their faith in Jesus. Then I saw the woman and I was very amazed.
EVEN IN EUROPE THEY ARE AGAINST JESUS. THE DON'T WANT ANYTHING TO DO WITH JESUS.
EVEN ALL THE CHRISTMAS SHOWS ON T.V. JESUS ISN'T IN THEM.
THE SPIRIT OF CHRISTMAS HAS BECOME THE SPIRIT OF SANTA CLAUS. NOT THE SPIRIT OF CHRIST, NOT THE SPIRIT OF THE CHRIST CHILD.
THE 10 KINGS OF THE 10 NATIONS, 10 SECTIONS OF THE EARTH WHO WILL COME TOGETHER AND THE ANTICHRIST WILL BECOME ON OF THOSE 10.
HIS FAITHFUL FOLLOWERS WILL WIN OVER THEM. THAT IS THE ONE THING HE WANTS IS FAITHFULNESS.
THERE WILL BE MILLIONS WHO WILL HAVE TO TAKE THE MARK OF THE BEAST OR WILL BE BEHEADED OR STARVED TO DEATH.
SO IF YOU PREPARE NOW AND HAVE AT LEAST SOME FOOD.
EVEN GOVERNMENT WEBSITE ARE SAYING YOU SHOULD LIVE SO FAR OUT OF TOWN AND HAVE FOOD FOR A CERTAIN PERIOD OF TIME.
YOU HAVE TO GET OUT OF THE CITIES, SO ITS NOT STUPID TO HAVE A FARM.
I SENSE THE EARTH. FARMERS CAN SENSE THE EARTH - THEY CAN TALK TO THE EARTH AND THEY CAN LISTEN TO THE EARTH. THEY UNDERSTAND THE EARTH.
JEREMIAH 22:29
O earth, earth, earth, hear the word of the Lord.
IT IS GROANING NOW!
REVELATION 17:15 -
Then the angel said to me, "The waters that you saw where the prostitute sits are peoples, races, nations, and languages.
IF YOU WANT TO INTERPRET DREAMS, THE BIBLE HAS THE FORMULA FOR INTERPRETING DREAMS. REV. 17:15 IS JUST ONE EXAMPLE:
SEE:
www.greatdreams.com/bible.htm
DREAMERS BIBLE BOOK REVIEW. The Bible is full of references to dreams and visions, including those in which God or angels appear to give people ...
SO THIS HARLOT, PROSTITUTE, WHORE - DIFFERENT NAMES FOR IT, DEPENDING ON WHICH BIBLE YOU USE.
MYSTERY BABYLON: WHERE DOES SHE SIT?
SHE SITS ON THE PEOPLE OF THE WORLD - THE WATERS - THE PEOPLES, THE RACES, THE NATIONS AND THE LANGUAGES.
THEY ARE GOING TO BE AGAINST US, BUT EACH OTHER AS WELL.
A MUTUAL ENEMY WILL MAKE STRANGE BEDFELLOWS.
DID YOU EVER SEE TWO PEOPLE WHO HATED EACH OTHER, BUT THEY BOTH HATED YOU MORE, SO THEY WORKED TOGETHER AGAIN YOU. (THAT IS WHAT HAPPENED TO JIM AND SENT HIM TO PRISON)
REVELATION 17:16
The ten horns and the beast you saw will hate the prostitute. They will take everything she has and leave her naked. They will eat her body and burn her with fire.
WHO IS THE HARLOT? SHE IS ILLIGITIMATE. I JUST NAMED HER: "LOVE OF MONEY". SHE IS THE FINANCIAL SYSTEM OF THE WORLD.
1 TIMOTHY 6:10
For the love of money is the root of all evil.
THE CHURCH HAS EMBRACED THE LOVE OF MONEY.
THE NUMBER ONE THING THAT REALLY GETS TO GOD IS A HARLOT WHO TAKES HIS PLACE.
EXODUS 20:3
Thou shalt have no other Gods above me!
ANYTHING THAT COMES BETWEEN US AND GOD IS SIN.
REVELATION 17:17
God made the ten horns want to carry out his purpose by agreeing to give the beast their power to rule until what God has said comes about.
REVELATION 17:18
The woman you saw is the great city that rules over the kings of the earth.
THESE KINGS CONNECT WITH HER FOR A LITTLE BIT, BUT THEY WANT HER MONEY - THEY WANT HER POWER.
JIM STATES: I BELIEVE THE HEAD OF MONEY IS NEW YORK CITY.
I BELIEVE THE BASE OF THE MONEY SYSTEM OF THE WORLD IS THE STOCK MARKET.
EVERYONE SAYS THAT THE FINANCIAL CAPITAL OF THE WORLD IS NEW YORK CITY. THE STOCK MARKET IS THERE.
WHAT BUILDING IS THERE THAT HOUSES THE UNITED NATIONS. IT'S IN NEW YORK.
IT WAS CREATED IN 1945 AND THE BUILDIING THAT HOUSES THE UNITED NATIONS WAS STARTED TO BE BUILT IN 1948 - COINCIDENTALLY THE SAME YEAR THAT ISRAEL BECAME ITS OWN STATE.
THE TWIN TOWERS THAT WERE DESTROYED WAS THE WORLD TRADE CENTER. IT WAS IN NEW YORK CITY.
GOD GIVES PREVIEWS OF COMING ATTRACTIONS. THEY ARE CALLED HARBINGERS.
IT ONLY TOOK ONE HOUR TO DESTROY THE ENTIRE WORLD TRADE BUILDINGS.
REVELATION 18:10
great city, powerful city of Babylon, because your punishment has come in one hour.
SEE:

www.greatdreams.com/blog-2013-3/dee-blog558.html
Sep 14, 2013 ... Dee Finney's blog. today's date September 14, 2013. page 558. TOPIC: ISAIAH 9:10 THE HARBINGER ...

ONE WORLD TRADE CENTER IS NOW CROWEND THE TALLEST BUILDING IN THE UNITED STATES.
WE ALMOST REPENTED -FOR A COUPLE HOURS.
BUT AMERICA THEN BECAME WICKEDER - MORE WICKED
REVELATION 17:18
The woman you saw in the great city that rules over the kings of the earth.
ITS THE CITY THE RUNS THE WORLD.
MYSTERY BABYLON IS DESTROYED.
REVELATION 18:1
This angel had great power and his glory made the earth bright.
REVELATION 18:2
He shouted in a powerful voice. "Ruined! Ruined! is the great city of Babylon. She has become a home for demons and a prison for every evil spirit and a place for every unclean bird and unclean beast.
THIS IS NOT THE BABYLON OF THE MIDDLE EAST. THAT HAS ARLEADY GONE INTO RUIN. THERE ISN'T EVEN A CITY THERE.
THIS ONE CHAPTER DESCRIBES WHAT IS COMING AND WHAT IS GOING TO BE DESTROYED.
I BELIEVE IT IS THE FINANCIAL SYSTEM OF THE WORLD AND IT IS HEADQUARTERED IN NEW YORK CITY WHERE THE STOCK EXCHANGE IS.
REVELATION 18:3
She has been ruined because all the people of the earth have drunk the wine of the desire of her sexual sin. She has been ruined also because the king of the earth have sinned sexually with her.
THIS ISN'T JUST A WOMAN. THIS IS A CITY. THERE IS A SPIRIT AND SHE IS EVIL.
1 TIMOTHY: 6:10
For the love of money is the root of all evil.
1 TIMOTHY: 6:5
5 Perverse disputings of men of corrupt minds, and destitute of the truth, supposing that gain is godliness: from such withdraw thyself.
RUN FROM THE CITY
PEOPLE HAVE HAD SOCIAL INTERCOUSE WITH HER, ALL THE PRODUCTS, AND GOODS - THE PRIDE.
THIS IS A SPIRITUAL FORNICATION
IT HAS CAPTIVATED ALL OF MANKIND. THAT DOLLAR HAS LITERALLY TAKEN OVER THE WORLD.
THE DOLLAR ITSELF HAS BECOME AN IDOL. THAT'S WHY MYSTERY BABYLON IS NEW YORK CITY. THAT IS THE WHORE, THE PROSTITUTE REFERRED TO IN REVELATION 18.
IT IS THIS PROSTITUTE WE ARE COMMITTING SPIRITUAL FORNICATION WITH. IN OTHER WORDS WE ARE HAVING SEX WITH DEMONS.
IT IS NOT THE CITY ITSELF - IT IS THE MONETARY SYSTEM, THE POWER OF ALL SALES, OF THE WHOLESALE, THE WHOLE FINANCIAL SYSTEM OF THE ANTICHRIST. IT IS THE SYSTEM THAT HAS TURNED AGAINS GOD. THE BIGGEST MONEY MAKING IS THE BIRTHDAY OF JESUS CHRIST, BUT JESUS CHRIST IS NOT EVEN ALLOWED AT HIS OWN BIRTHDAY PARTY.
REVELATION 18:3
and the merchants of the earth have grown rich from the great wealth of her luxury.
WHERE DOES THE WEALTH COME FROM? THE STOCK MARKET. WHAT IS THE STOCK MARKET? IT'S WHERE YOU INVEST, WHERE YOU BUY COMMODITIES, BUY CATTLE IN THE STOCK MARKET, GOLD, SILVER, CARS - YOU INVEST IN GENERAL MOTORS - IN ANYTHING.
REVELATION 18:4
Then I heard another voice from heaven saying, "Come out of that city my people, so that you will not share in her sin, so that you will not receive the disaster that will come to her.
NOTE: THIS IS COMING WITHIN THREE MONTHS ACCORDING TO LINDSEY WILLIAMS WHO CLAIMS TO BE THE SPOKES PERSON FOR DYING ILLUMINATI MEMBERS.
HE IS NOT SAYING COME OUT OF NEW YORK, BUT I SURE WOULDN'T WANT TO LIVE THERE IF MARTIAL LAW WERE DECLARED.
SEE:

www.greatdreams.com/blog-2012-2/dee-blog261.html
Jul 30, 2012 ... MARTIAL LAW. Dee Finney's blog. start date July 20, 2011. today's date 8-1- 2012. updated 9-1-2012. page 261. TOPIC: MARTIAL LAW. 7-3-12 ...

page 606
December 9, 2013
PASTOR RICK JOYNER SPEAKS OUT
ONE MAN CAN CHANGE THE WORLD
MARTIAL LAW COMING
JIM SAYS: I WOULDN'T WANT TO BE WHERE I COULDN'T GET GROCERIES. IF THE ELECTRIITY WENT OUT, I WOULDN'T WAT TO WALK DON 200 FLIGHTS OF STAIRS TO BUY A LOAF OF BREAD. I'D PROBABLY BE TOO TIRED TO EAT IT. I'D PROBABLY EAT THE WHOLE THING ON THE WAY BACK UP THE STAIRS.
BUT HE SAID, "Come out of that city, my people, my people." THAT IS SAYING EVEN THE CHURCH IS INVOLVED IN THE SYSTEM.
THE CHURCH RIGHT NOW HAS EMBRACED THE 'LOVE OF MONEY'.
HOW COULD WE BE SO DECEIVED? EVEN IN THE LAST DAYS, THE FULL GOSPEL PEOPLE WOULD FALL IN LINE WITH THE 'LOVE OF MONEY.'
IT IS ANOTHER GOSPEL! HOW COULD WE MAKE MONEY OUT OF OUR OWN RELIGION"
SEE:
PROSPERITY! http://www.greatdreams.com/blog-2013-3/dee-blog614.html
IF THE STOCK MARKET CRASHES LIKE RICK JOYNER SAYS IT WILL, MONEY WILL BE WORTH NOTHING! EVERYTHING THAT PEOPLE INVESTED IN WILL BE WORTH NOTHING.
DO YOU KNOW WHO DONATED THE LAND FOR THE UNITED NATIONS?
JOHN D. ROCKEFELLER, JR.
ONE OF THE RICHEST MEN IN THE WORLD GAVE THE LAND TO BUILD THE UNITED NATIONS.
HAS NOT THE WHLE WORLD BEEN TRICKED FOR MONEY?
AMERICA OWES MORE MONEY IN DEBT THAN IS AVAILABLE ON EARTH TO PAY. WE ARE PRINTING $80 TO $100 BILLION DOLLARS PER MONTH IN AMERICA. YOU EITHER HAVE TO PAY FOR IT OR SOMETHING IS GOING TO HAPPEN.
AND WE, LIKE SHEEP, JUST KEEP ON FOLLOWING. WE'RE STUCK AND ALL THE NATIONS WERE TRICKED BY YOUR MAJIC.
REVELATION 18:24
You are guilty of the death of the prophets and God's holy people and all who have been killed on earth.
THE LOVE OF MONEY. MONEY CORRUPTS AND MONEY = POWER. THE ECONOMY CRASHES AND GOD GETS EVEN WITH THE HARLOT. YOU AND ME TOO. WE'VE ALMOST BEEN A SLAVE TO MONEY. WE HAVE TO. THE SYSTEM DEMANDS IT. AND WE ALL FALL FOR IT. IF YOU DON'T MAKE THE CAR PAYMENT, THEY TAKE THE CAR BACK. OR THE HOUSE OR WHATEVER. WE SOLD OUR SOULS TO THE HARLOT.
THIS IS THE COMPLETE FINANCIAL COLLAPSE. IT'LL NEVER COME BACK AFTER THIS ONE.
REVELATION 19:1
After this vision and announcement, I heard what sounded like a great many people in Heaven, saying, "Hallelujah! Salvation, glory and honor belong to our God!"
AMERICA IS STOCKING UP AND AMMUNITION AND GUNS. 1.6 BILLION ROUNDNS OF AMMO FOR HOMELAND SECURITY? IT'S TIME FOR A NATIONAL CONVERSATION!
SOME OF THIS PURCHASE ORDER IS FOR HOLLOW POINT ROUNDS, FORBIDDEN BY INTERNATIONAL LAW FOR USE IN WAR, ALONG WITH A FRIGHTENING AMOUNT OF SPECIALIZED FOR SNIPERS.
RICK JOYNER SPOKE ABUT MARTIAL LAW.
DAVID WILKERSON HAD A VISION OF THOUSANDS OF BUILDINGS ON FIRE IN NEW YORK CITY.
NOTE FROM DEE: THIS FIRST INTERPRETATION IS BY MY FAVORITE PREACHER AT THE MOMENT - RICK JOYNER. THE COMMENTOR IS EVIDENTLY FROM A DIFFERENT RELIGION OR BELIEF SYSTEM, SO I HAVE INSERTED COMMENTS ON THE COMMENTOR'S COMMENTS A FEW TIMES TO EXPLAIN MY OWN VIEWPOINT ON THE COMMENTOR'S STATEMENTS. PLEASE USE YOUR OWN DISCERNMENT AS YOU GO. NOT EVERYONE BELIEVES THE SAME THINGS:
RICK JOYNER
How I Received The Vision
Joyner says "One of the most common questions that I receive about this vision concerns how I received it. He explains what he mean by visions and "prophetic experiences."
p.8 Prophetic "experiences" as I call them are numerous and diverse. They include all of the primary ways in which the Lord has spoken to His people in the Scriptures. Because the Lord is the same today as He was yesterday, He has never ceased to relate to His people in the same ways, and these experiences continue to be found throughout church history. As the apostle Peter explained in his sermon recorded in Acts Chapter Two, dreams, visions and prophecy are primary signs of the last days, and the outpouring of the Holy Spirit. As we are obviously getting closer to the end of this age, these are becoming increasingly common in our time.
comment: I believe he is correct in that dreams, visions and prophecy are increasing in our time. The Bible warns of an increase in the end of prophets and miracles that are not from God but instead from the enemy.
Mt.7:15, 24:5,11,24;
2 Thess.2:9;
Acts.20:31;1
Jn.4:1;
2 Pt.2:1.

All these are warnings from the true prophets who wrote the Scripture and are not to be ignored. He is wrong in that the Lord does not change his ways to relate to his people.

Heb.1. While it does say that God will pour out his spirit on all flesh in Acts 2, where young men see visions, old men dream and maid servants prophecy. One needs to see what is meant by this. Who are the recipients and where does it take place, what is the purpose. We find it is a repeat of the first Pentecost that began the church by saving those in Israel. ( for more on this go to the latter rain)
He explains they are more common now to accomplish "our purposes in these times". " It is also true that Satan, who unfortunately knows the Scriptures better than many Christians, also understands the importance of prophetic revelation in God's relationship to His people, and he is therefore pouring out his own counterfeit gifts in great measure to those who serve him. However, there would be no counterfeit if there was not a genuine reality, just as there are no counterfeit three dollar bills because there are no real ones."
comment: the facts that there is a devil and he knows the scriptures as Joyner puts it "better than many Christians" is concerning. The Bible teaches that one cannot understand Gods word without the Holy Spirit 2 Cor. 2:10-14. Certainly no demon much less the head of them can understand the plans of God better than a Christian. Would Satan would be concerned about is the prophetic revelation in the Scripture that would fulfill his demise? Of course, he has an invested interest in all this.
Not all has to be a counterfeit outpouring. Satan is an inventor as well and can give something totally new as he does in other religions and spiritual systems..
Joyner seems to think it is not possible to be deceived. But due to our own human susceptibility to being deceived that even a self proclaimed end time prophet like Joyner could be hearing from a counterfeit, a cleverly disguised demonic source of revelation. So there is a danger to all. How will we know? By testing the final Quest to see if Joyner is hearing from the authentic spiritual source or a false one.
p.9 "Soon after I became a Christian in 1972, 1 read this passage in Acts Two and understood that if these were the end times it was important to understand these ways that the Lord would be speaking to us. I do not remember praying to have the experiences myself at first, but I did begin to have them, which gave me even more impetus for understanding them."
comment: Here Joyner admits his propensity and seeking after what he misunderstood for the last days, this has shaped his theology. As he later states that he had prayed for 25 years to be caught up to the third heaven just like the apostle Paul (pp. 44-45). He writes the lord began to give him a dream in 1995 that was first published in condensed form in The Morning Star Journal Vol.5 No.2-4 1995, 1996" "the hordes of hell are marching parts III & III)Yet, if this had been Joyner's prayer for 25 years, his conversion would have had to have been pushed back to 1970 or before which certainly brings to question his memory not only of his experiences but the time of his conversion.
From what I have read there would be no testing of his experiences but a reckless trust that it was all from the Lord of the Scriptures.
"There are many levels of prophetic revelation. The beginning levels include prophetic "impressions." These are genuine revelations. They can be extraordinarily specific and accurate when interpreted by those who are experienced and sensitive to them. However, it is on this level that our "revelations" can be affected by our own feelings, prejudices, and doctrines. I have therefore resolved not to use such expressions as "thus saith the Lord" with any revelations that come on this level
comment: A Danger -of prophetic impressions. Where does he get this idea of the different levels of prophetic revelation? Joyner states most of the visions came on what he deems the 4th level (trance) but doesn't know how this knowledge came to him.
How can these impressions "... be extraordinarily specific and accurate when interpreted by those who are experienced and sensitive to them at any time? If in the same paragraph Joyner admits they can be affected by our own feelings, prejudices, and doctrines". (Which can be applied to Joyner as well.) These two statements seem to cancel out each other as far as establishing any kind of trustworthiness to the revelations received "on this level". Can you see the apostles saying such a thing in their visions or prophecies? How do we know which parts of the Final Quest were impressions and which are not since he does not tell us. From this perspective we are left to subjectively accept or reject whatever we feel we should. How then can we arrive at the truth in any of the stories?
There is a reason for this position by refraining from "thus saith the Lord" to some of the revelations in the book. Joyner covers his own tail and is now able to excuse any false statement or heresy that one would find as his fault in interpretation or memory. If it is up to us he can say that is what it is too you, but it may not be to another. Although he claims to receive this information from God, he appears reluctant to trust that he is receiving it correctly. In short Joyner himself is not confident in the complete accuracy of the content in the final Quest nor can vouch for which parts are accurate. So why should we? Why should we be asked to believe the trustworthiness of these revelations as from a true Godly source if Joyner admittingly says there is chaff: (p.14) amidst wheat. What if three people read the book and what one considers as wheat another may consider as chaff, and what of the third person who may disagree with both? We are left to our own subjective interpretations of his prophetic insight. I ask you can we do this for the Bible as well? The Scripture says no prophecy is of a private interpretation, therefore if his writing is genuinely prophetic it cannot be left to various opinions on its meaning.
"Visions can come on the impression level, also. They are gentle and must be seen with "the eyes of our heart." These, too, can be very specific and accurate, especially when received and/or interpreted by those who are experienced. The more the "eyes of our hearts" are opened, as Paul prayed in Ephesians 1:18, the more powerful and useful these can be.
Comment: Must be seen with "the eyes of our heart." The Bible says the opposite Eph.1:18 is about the love of God not what Joyner's is writing about in his visions. His is x-tra biblical doctrines, they add to what the Bible does not include. Eyes of the heart is a recurrent phrase throughout his book.
Can we find a biblical precedent for this idea of being interpreted by the experienced? How experienced were the OT prophets who received visions from God? Was not the role of interpreting heavenly visions God himself? Daniel interpreted the visions without any experience. How? he states Dan 2:28 "But there is a God in heaven who reveals secrets, and He has made known to King Nebuchadnezzar what will be in the latter days. None of the prophets had experience, as we will see there is an underlying meaning to what he is conveying.
"The next level of revelation is a conscious sense of the presence of the Lord, or the anointing of the Holy Spirit, which gives special illumination to our minds. This often comes when I am writing, or speaking, and it gives me much greater confidence in the importance or accuracy of what I am saying. I believe that this was probably experienced by the apostles as they wrote the New Testament epistles. This will give us great confidence, but it is still a level where we can still be influenced by our prejudices, doctrines, etc.
Comment: Next level- the apostles did not have greater confidence, but absolute confidence (assurance that what they wrote is accurate. They had nothing to say about different levels. Joyner's position implies the 60, 70, 90% accuracy from practice not only is it to be accurate but biblically orthodox as well. Since many prophets who are in the new age have accuracy but will redefine or twist the Scripture. One of the indications of where Mr. Joyner is spiritually is his past accuracy. What past statements in journals or sermons were said that would indicate a good track record of being scripturally accurate. In this we find his theology from a certain bent of which he does admit.
Here is how Joyner defines it "Bob [Jones] was told that the general level of prophetic revelation in the church was about 65% accurate at this time. Some are only about 10% accurate, a very few of the most mature prophets are approaching 85 to 95% accuracy. Prophecy is increasing in purity, but there is still a long way to go for those who walk in this ministry. (Rick Joyner" (1990," Morning Star Prophetic Newsletter (Charlotte, NC; Morning Star Publications, Vol. II, No. 5, Oct.-Nov., 1989), p. 4.
If their prophetic gifts work on the 80% level of accuracy they want diplomatic spiritual immunity. Rick Joyner says, "it seems inevitable that the self-appointed 'heresy hunters' will always do more damage to the church than the actual heresies. (The MORNING STAR, Vol. III, No. 5, Sept/Oct. 1990) Imagine not only saying this but believing it. Now we know where he is coming from and why he can be confident to say the things he sees are from the Lord despite it falling short.
What does Scripture have to say
Bible: 2 Pet 1:21" for prophecy never came by the will of man, but holy men of God spoke as they were moved by the Holy Spirit." This means 100% accuracy despite any shortcomings of the vessel. Prophetic failure of fulfillment is excused today because prophets are growing during the process of learning to become more proficient, and so errors are accepted. Imagine Isaiah or Jeremiah saying, "I could be wrong, but I'm improving with time"!
"The visions contained in this book all began with a dream. Some of it came under a very intense sense of the presence of the Lord, but the overwhelming majority was received in some level of a trance. Most of it came on the level where I was still conscious of my surroundings, and could even interact with them, such as answering the phone. When they were interrupted, or when things got so intense that I would have to get up and walk around, when I sat back down I would immediately be right back where I had left off. Once the experience became so intense that I actually got up and left the mountain cabin where I go to seek the Lord, and drove home. Over a week later I returned and almost immediately I was right back where I left off. p.11
Comment: This he states went on for months as it is turned on and off like a TV series. I cannot recall any prophet that had this kind of communication. God would finish what was being presented and then give further insight.
p.12 "I must state emphatically that I do not believe that any kind of prophetic revelation is for the purpose of establishing doctrine." We have the Scriptures for that."
"We, also, see such revelations being given for illuminating doctrine that is taught in the Scripture, but is not clearly seen. The example of Peter's trance is one that illuminated both the will of the Lord, and sound biblical teaching that the Scriptures were very clear about (the Gentiles being able to receive the gospel), but which had not yet been understood by the church.
Comment: This is interesting in that his whole vision is either changing doctrine from his own taught perspective or adding to it. What about Peter whose trance was certainly teaching him doctrine, it wasn't just illuminating it. What was once forbidden under the law he was now able to eat, besides his understanding that now gentiles become part of the body Eph.2:, isn't this doctrine?
"The visions in this book do contain some strategic revelations, and they also illuminated some biblical doctrines that I had honestly not seen before, but now see quite clearly. However, most of the doctrine that was illuminated to me in these experiences I have known and taught for years, even though I cannot say that I have lived them all very well. Many times I thought about the warning that Paul gave to Timothy to pay attention to his own teachings. Many of the words spoken to me in these experiences I have, myself, taught many times.
Remember Joyner already admits on p.9 they can be affected by our own feelings, prejudices, and doctrines." Now he admits most of the "doctrine that was illuminated to me in these experiences I have known and taught for years," So now he falls into the category of his own previous doctrinal view to cloud his understanding. This means nothing can be trusted even if some of it were accurate. But the real concern is that he now interprets the Bible by his vision. It was this kind of experience that started the Mormon Church by a man named Joseph Smith who came to the conclusion that what Christianity was teaching was unacceptable. Joyner does the same in a more subtle manner by chastising the Church that holds to the old biblical traditions and will not move along with him and his fellows into the new.
p.14 "I was encouraged by some to write this as an allegory, in third person like The Pilgrim's Progress, but
I dec
ided against it for several reasons. First, I feel that some would have taken this to be the result of my own creativity,
and that would have been wrong. I would like to be this creative, but I am not. Another reason was

that I felt that I could be much more accurate if I related it just like I received it,

and I did my best to convey these experiences just the way that they were received. However, I consider my memory of details to be one of my greatest weaknesses. At times I have questioned my own memory for certain details in this vision,

and I think that you should therefore have the liberty to do the same."
Bible:
John 14:26 "But the Helper, the Holy Spirit, whom the Father will send in My name, He will teach you all things, and
bring to your remembrance all things that I said to you.
" If the Holy Spirit is involved in giving revelation he will not miss in being accurate.
John 16:13 "However, when He, the Spirit of truth, has come, He will guide you into all truth; for He will not speak on His own authority, but whatever He hears He will speak; and
He will tell you things to come
." Whatever the Spirit speaks will come from Jesus or the father. so there is no failure in communicating or recording this, at least not with the apostles or prophets. And since Joyner considers himself at least a prophet it should be no different.
Comment: Having a bad memory is not a sin, it may be an unfortunate quality some of us possess. Joyner freely confesses that he has this problem as it being his greatest weakness and that we should question the details. So how can we trust anything said since he does not know which parts are lacking?
My contention is with the fact that, IF this collection of prophetic revelations are truly from the infallible Holy Spirit who is God and intended for our edification and relaying of prophetic truth to Gods people, THEN Mr. Joyner's faulty memory should not play a factor in the accuracy of this book. Could not the Holy Spirit override such a flaw as bad memory if he truly intended to reveal truth of this alleged import? Certainly the apostles did not have perfect memories yet they were able to perfectly communicate the revelation in Scripture. This sounds more like an excuse for any false content that may be presented in the book (of which there is much)
He implies the Holy Spirit gave him this vision but admits it is not trustworthy. The story is not biblical in some places and it is extra biblical in much of its writing. what is one to think of this. Are we to ignore Gods clear revelation of testing it or do what Christ himself said to do personally and through the apostles.
Only the Scriptures deserve to be considered infallible. As you read he then prays the Holy Spirit would lead you into the truth, and separate any chaff that may be present from the wheat." This is what Jesus said the spirit would do for his word. If the final Quest is to be in any way considered from God there must be NO chaff. It needs to all conform to Scripture 100%. If this man was hearing from the Holy Spirit he should have been guided into all truth in the revelation, in the writing as well as the recording of this document. He readily admits this document is not on par with holy Writ but he claims is a compilation of revelatory truth from the same source as Scripture, God the Holy Spirit. Then it must bear the same accuracy if it is to be deemed credible. Joyner's book needs to be distinguished from other books or commentaries in that it is proposed by the author as being a collection of truths revealed in a supernatural way and not merely the conjectures or insights of a person studying scripture who subsequently wrote a book or commentary. These are claimed to be revelations from the almighty God who can only be the author of truth. Again who decides what is wheat or chaff? You the reader do, so there is no objective way of sureness to be found. since I may accept one portion that you may not and vice versa. None of this have the opportunity to do the same with Scripture.
The question everyone needs to ask, does this book stand up under scrutiny by submitting to the biblical test of Scripture? Or is the Bible under reformation by his visions.
These are some general examples of what he describes demons do "A single demon of Bitterness could sow his poison into multitudes of people, even entire races or cultures." "send what appeared to be bolts of electric slime that would hit and "desensitize" great masses of people." "The most shocking part of this vision was that this horde was not riding on horses, but primarily on Christians!" p.17
X-TRA BIBLICAL one demon can infest whole culture which is basically an impossibility even if they are non corporeal beings. They are limited to be one place at a time. Everything is blamed on the demonic, discounting the fallen nature of man. Their purpose to preempt the coming move of God. While we cannot not discount demons affecting people, the main problem is that the church is not applying the word of God so we fall prey to the world the flesh and the devil. Yet we also become prey to every wind of doctrine, which from Joyner's corner is blowing in hurricane force.
Joyner does say the Christians are captive and "If the Christians had just used their weapons they could have easily freed themselves."
Joyner has no answer for this and he may just be part of the problem by having us focus on the demons instead of the Word. The Bible says if we stand firm in Christ, resist the devil he flees. No long battle and chasing after him or getting more troops to enter a battle to vanquish him. But then there would be no book!
"Many of these believers were host to more than one demon, but one would obviously be in charge. The nature of the one in charge dictated which division it was marching in. Even though the divisions were all marching together, it also seemed that at the same time the entire army was on the verge of chaos. For example, the demons of hate, hated the other demons as much as they did the Christians.p.18
Comment : All this is setting up the scenario of a civil war inside the Church which according to him is going to be demon deceived Christians (the grays) against the Christians who are Spirit followers (blues). Jesus said Luke 11:17-18 "Every kingdom divided against itself is brought to desolation, and a house divided against a house falls. This sounds much similar to the civil war that was lead in heaven by Lucifer in his rebellion.
The BIBLE: Mt.12:25 "If Satan also is divided against himself, how will his kingdom stand? Which is exactly what he is describing. Although he is careful to say the Demons are on the outside the Christian, the control is no different. Jealousy, hatred bitterness, accusations and other emotions are manifested all from demons. Scripture says they are from the fallen nature of man, our flesh Gal.5. this does not mean they can be manipulated in some way by our enemy but what he is doing is blaming it all on demons. He is demonizing a whole segment of the Church without any legitimacy biblically except by a dream and vision that may or may not be accurate (even by his own standards).
Non biblical: "the sky was black with vultures named Depression. Occasionally these would land on the shoulders of a prisoner and would vomit on him. The vomit was Condemnation." p.20 He states he saw Christians" picking up the enemy arrows and shooting them back. … The demons easily dodged the arrows and let them hit the Christians." p.26 "swarms of vultures would fly above us to vomit down on us, or to carry demons who would urinate or defecate upon the ledges, making them very slippery." p.28 Christians" legs were bound by serpents." p.33
Comment: Since when do we use the enemies arrows which are not physical but fiery darts, in other words condemnation accusing us to God and making us have a guilty conscience. which is the very things his vision is communicating.
X-tra Biblical Christians demonically bound are able to attack and killing one another with slander and accusation. We do not find this army described in Scripture.
In his previous book "The Hordes of Hell Are Marching") "However, this slime made the Christians feel so much better… they easily believed that the demons were messengers of God, and they actually thought this slime was the anointing of the Holy Spirit."
Joyner takes no notice to speaking this way of the brethren? (Eph 4:29-32.)
Joyner is constantly berating those who comment on others but has nothing to say about his generalizing and dragging a whole segment of people through the dirt with the claim of a "revelation" ! The very same thing he states is being done by the deceived Christians.
p.19
"It was clear that the power of the demons was rooted almost entirely in the power of deception, but
they had deceived these Christians to the point where they could use them and they would think they were being used by God.
" "He knew that a house divided cannot stand, and this army represented an attempt to bring such division to the church that she would completely fall from grace. It was apparent that the only way he could do this was to use Christians to war against their own brethren, and that is why almost everyone in the forward divisions were Christians, or at least
professing Christians
. "
Comment: What he is describing those who are in an army as possibly false Christians. he states about a house falling if divided as Satan's strategy on the church but when it is happening to Satan's kingdom it seems to have no affect. So this is logically contradictory. but there is something under the surface that seems to rising. this is his theology that those who speak out against prophetic revelations (such as his) are part of this army that brings division to the church.
p.23 "Behind this army there was a trailing mob similar to the prisoners who followed the evil horde, but these were very different in nature. They seemed overly happy, as if intoxicated. They were playing games, singing songs, feasting and roaming about from one little camp to the next. This reminded me of Woodstock." Joyner concerned for this mob ' tried to raise my voice above the clamor to warn them that a battle was about to begin. Some" gave me the "peace sign" and said they did not believe in war, and that the Lord would not let anything bad happen to them."
Comment: this reminds me of the Toronto blessing that Joyner and his patriot's endorse. you know, the ones that lay on the floor enjoying the blessing by being intoxicated on too much wine. The very ones Joyner holds to. He has been ineffective for them as well.
"Then a messenger came up to me, gave me a trumpet and told me to blow it quickly. I did, and those who had on at least some of their armor immediately responded, snapping to attention. behind the army. As we looked at them all of our shields began to grow. p.23
Comment- Joyner now becomes an important part of the army In his vision Joyner sees himself at the head of a great army which he calls the "army of the Lord." Joyner continues to appear, in all of his visions, as the central character (the leader) the "army of the Lord In his vision Joyner sees himself at the head of a great army which he calls the "army of the Lord." Joyner continues to appear, in all of his visions, as the central character (the leader) the "army of the Lord In his vision Joyner sees himself at the head of a great army which he calls the "army of the Lord." And the scenario for his view of the end times (Joel's army) is set up and the plot unfolds.
p.25"Immediately three great angels named Faith, Hope and Love came and stood behind the army. As we looked at them all of our shields began to grow."
Non biblical: faith, hope and love are not angels but qualities from the Holy Spirit that exemplifies Christians. They continue with us for eternity. It was Gnosticism that had angels for qualities.
A "great angel named Wisdom then appeared and directed us to fight from the mountain behind us."
p. 26 "On the mountain there were ledges at different levels for as high as we could see. At each higher level the ledges became narrower, and more difficult to stand on. Each level was named for biblical truth. The lower levels were named after foundational truths such as "Salvation," "Sanctification," "Prayer," "Faith," etc., and the higher levels were named after deeper biblical truths. The higher we climbed, the larger both our shields and our swords grew, and fewer of the enemy arrows could reach our positions."
comment: Shades of pilgrims progress. Is faith and prayer lower levels? Serious Scriptural doctrines are also treated in the allegory in a casual manner. For instance, when Christian warriors were captured they were led away to prison camps which were named after different "doctrines of demons." These doctrines were never enumerated and it was not explained why they were assigned to prison camps or what lessons we should draw. This is a careless use of a term which is acutely relevant to the Church in the present age. In particular, the doctrine of salvation, which is Scriptures overriding purpose and part of Messiahs name ( -- God is salvation), is treated cavalierly. Wisdom (the angel which is his guide, he later says is Jesus) .
Joyner explains his climbing up The Holy Mountain, As he climbs to each "new level", he learns new spiritual truths ( but not always biblical ones), and receives new weapons to help kill the demonic creatures.
At the top of the mountain is the garden of God and Jesus, but in order to get there one must first climb up the "levels" as soldiers fighting battles. Joyner describes these levels on a mountain he is climbing. He explains the order of these levels going up as Salvation p.51, Sanctification p.26, Thanksgiving and praise p.47. unity of the brethren p.27. Galatians 2:20 p.29, and patience p.33.The lower levels of truth which other Christians are content with are "salvation, Sanctification, Prayer, Faith. The very things were are told to always have in Scripture, they are the focus of our Christian life and walk. Believing and walking in the Spirit for growth is NOT like the Masons: we do not work our way up by levels of initiation in order to grow and have our authority.
p.27 "When we reached the level called "The Unity of the Brethren," none of the enemy's arrows could reach us."
"Soon my skills were good enough to shoot and hit the demons without hitting the Christians. I felt that if I kept going higher I could shoot far enough to hit the main leaders of the evil horde who stayed behind their army."
Comment: while the Bible does mention this Joyner twists this to mean something it does not. I don't think anyone can now rest easy that Joyner has learned skill in his aiming and stopped hitting Christians. I think it just may be the opposite from all the demonic descriptions of Christians .
"At each level there were arrows of Truth scattered about which I knew were left from those who had fallen from that position (many had fallen from each position). All of the arrows were named after the Truth of that level."
p.28 "Since the enemy could not hit us on the higher levels with its arrows, swarms of vultures would fly above us to vomit down on us, or to carry demons who would urinate or defecate upon the ledges, making them very slippery."
Comment: Beside this being disgusting it is unbiblical and just downright ridiculous.
"
Our swords grew after we reached each leve
l, but I almost
left mine behind because I did not seem to need it at the higher levels. I almost casually decided to keep it, thinking that it must have been given to me for a reason. Then, because the ledge I was standing on was so narrow, and becoming so slippery, I drove the sword into the ground and tied myself to it while I shot at the enemy. The voice of the Lord then came to me, saying: "You have used the wisdom that will enable you to keep climbing. Many have fallen because they did not use their sword properly to anchor themselves. " No one else seemed to hear this voice, but many saw what I had done and did the same."
Comment: Joyner has become a leader in this war even though he admits he does not know what he is doing. Imagine having a vision with yourself in it and being the hero. are we to believe he is climbing "levels" and in a fierce battle he almost leaves his sword behind? All this stretches ones credulity.
His aim becomes better " Soon we were hitting the demons with almost perfect accuracy. Rage ascended from the enemy army like fire and brimstone. I knew that the Christians trapped in that army were now feeling the brunt of that rage. Some became so enraged that they were now shooting at each other. Normally this would have been very encouraging, but those who suffered the most were the deceived Christians who were in the camp of the enemy. "
"The arrows of Truth would seldom penetrate the vultures, but they hurt them enough to drive them back."
Comment: Truth doesn't seem to be to powerful in his vision. One can only ask what is? The Bible describes Jesus as grace and truth revealed and the word as truth, that the truth sets one free (from falsehood). 2 Cor.10:3-6 our warfare is against false knowledge and we find our most powerful weapon is the word of God (truth). Eph.6:10-18 mentions it as our sword. As a matter of fact all the armor we are to have on and use daily is to Joyner the lower level.
p.29 .."on this level I caught up to Faith, Hope and Love, which before I had only been able to see from a distance. Here I was almost overpowered by their glory. ...When they touched my sword, great bolts of brilliant lightning began flashing from it. Love then said, "Those who reach this level are entrusted with the powers of the age to come."
Comment: Really! . Here Joyner says he is bestowed power beyond anything given before. Nowhere does the Bible teach this. This phrase occurs only at Hebrews 6:5 is preceded by the phrase "and have tasted the good word of God and the powers of the age to come."The powers of the age to come are reserved for the AGE TO COME. There is no level to climb literally or metaphorically.
"The "Galatians Two Twenty" level ...We decided not to use the arrows of truth until we had destroyed all of the vultures, because the cloud of depression they created made the truth less effective."
Comment: If this is beginning to take on the life of fantasy you may be getting closer to reality than he is.
p.32 For a long time we continued killing the vultures and picking off the demons that were riding the Christians. We found that the arrows of different Truths would have greater impact on different demons. We knew that it was going to be a long battle, but we were not suffering any more casualties now, and we had continued to climb past the level of "Patience."
p.33We shot arrows of Truth at the serpents, but they had little effect. We then tried the arrows of Hope, but without results.'
Comment: Once again truth has little affect on the enemy in Joyner's dream. Is this a subtle hint to what source this is from?
"
We passed levels of truth very fast
. .... Faith, Hope and Love stayed right with us, but I had not noticed that we had left Wisdom far behind. It would be a long time before I would understand what a mistake this was. He would catch up to us on the top, but leaving him behind cost us a much quicker and easier victory over the evil horde."

Almost without warning we came to a level that opened up into a garden. It was the most beautiful place I had ever seen. Over the entrance to this garden was written, "The Father's Unconditional Love." This entrance was so glorious and inviting that we just could not resist entering. As soon as I entered I saw a tree that I knew was the Tree of Life."

p.34 Then from an angel guarding the tree " called out, "Those who make it to this level, who know the Father's love, can eat."

Bible says all who overcome can eat it is by faith we overcome
I did not realize how hungry I was. When I tasted the fruit, it was better than anything I had ever tasted, but it was, also, somehow familiar. It brought memories of sunshine, rain, beautiful fields, the sun setting over the ocean, but even more than that, of the people I loved. With every bite I loved everything and everyone more. Then my enemies started coming to mind, and I loved them, too. The feeling was soon greater than anything I had ever experienced, even the peace on "Galatians Two Twenty" when we had first reached that level. Then I heard the voice of the Lord, saying, "This is now your daily bread. It shall never be withheld from you. You may eat as much and as often as you like. There is no end to My love."
Comment: Look what Joyner is saying, that he is privileged enough to eat from the tree of life in Paradise. he is allowed to eat of the "tree of life," which doesn't make its appearance for other Christian believers until the New Jerusalem in Revelation 22:2. biblically if one eats from the tree of life they will never die. This becomes his daily bread a physical fruit while Jesus said it was his word. But the affect on him is like a mystical experience.
"The Lord Jesus Himself then appeared right in out midst. He took the time to greet each one personally, congratulating us for reaching the top of the mountain.
Then He said, "I p.35 "must now share with you what I shared with your brothers after My ascension--the message of My kingdom. The enemy's most powerful army has now been put to flight, but not destroyed. Now it is time for us to march forth with the gospel of My kingdom. The eagles have been released and will go with us. We will take arrows from every level, but I am your Sword, and I am your Captain. It is now time for the Sword of the Lord to be unsheathed. "
X-tra biblical- if this is the message he shared after the ascension it is missing from the Scriptures even though he was with them 40 days. This sounds reminiscent to the Gnostic gospels content. Where does Jesus talk about eagles released or arrows taken from LEVELS this is all a concoction of Joyner's mind. what was the sword that was growing if not the sword of the Lord. but the sword of the Lord is the word, it is the truth which seems to have little use up until now. On this page beautiful eagles with "blinding glory" do his bidding. The Lord Jesus appears and personally congratulates him for reaching the top of the mountain (pp. 35-36) .
What's wrong with the ancient truths do we really need new truths unrevealed in scripture by the new prophets? Jesus never used terms of marchin' and capturing and this is all from the bent of Joel's army. After Jesus resurrected the gospel of the kingdom was on the death burial and resurrection and there are no banners to be carried. From his own admission this is the day of the Lord so the church is here and not only that is going to march triumphant. This is latter rain dominionism.
p.35"I then turned and saw that the entire army of the Lord was standing in that garden. There were men, women, and children from all races and nations, each carrying their banners which moved in the wind with perfect unity. I knew that nothing like this had been seen in the earth before. I knew that the enemy had many more armies, and fortresses throughout the earth, but none could stand before this great army. I said almost under my breath, "This must be the day of the Lord." The whole host then answered in an awesome thunder, "The day of the Lord of Hosts has come."
Xtra-biblical
Joyner¹s focus is on a great human army, but Scripture emphasizes the execution of vengeance on the Day of the Lord not through a victorious human army not on earth but by the Lord Himself: the only army amassed on earth is those who fight against the Lord.
The "day of the Lord" described by Joyner has nothing in common with the Day of the Lord in Scripture, which is a dark and fearful day, not a day of celebration: this is prophecy and must be accurate for what he is claiming here

Amos 5:18 Woe unto you that desire the day of the LORD! to what end is it for you? the day of the LORD is darkness, and not light.

Amos 5:20 Shall not the day of the LORD be darkness, and not light? even very dark, and no brightness in it?

Zeph. 1:14 The great day of the LORD is near, it is near, and hasteth greatly, even the voice of the day of the LORD: the mighty man shall cry there bitterly.

Is. 13:6 Howl ye; for the day of the LORD is at hand; it shall come as a destruction from the Almighty.

Is. 13:9 Behold, the day of the LORD cometh, cruel both with wrath and fierce anger, to lay the land desolate: and he shall destroy the sinners thereof out of it.

Joel 1:15 Alas for the day! for the day of the LORD is at hand, and as a destruction from the Almighty shall it come.

Joel 2:11 And the LORD shall utter his voice before his army: for his camp is very great: for he is strong that executeth his word: for the day of the LORD is great and very terrible; and who can abide it?

Jude 1:14 And Enoch also, the seventh from Adam, prophesied of these, saying, Behold, the Lord cometh with ten thousands of his saints, To execute judgment upon all, and to convince all that are ungodly among them of all their ungodly deeds which they have ungodly committed, and of all their hard speeches which ungodly sinners have spoken against him.
p.37 Joyner pondered his dream. Claiming certain events and conditions in the church paralleled the hordes from hell marching ." I was then reminded of Abraham Lincoln. The only way that he could become "the Emancipator," and preserve the Union, was to be willing to fight a Civil War." Fighting with "the resolution not to compromise until the victory was complete. He also had to have the grace to fight the bloodiest war in our history without "demonizing" the enemy with propaganda."
comment: With that statement in mind, "to fight the bloodiest war in our history without 'demonizing' the enemy with propaganda." Yet this "Civil war," is described as the demons deceiving Christians defecating on them and all the rest of the expletives. Pride, Selfish Ambitions, Unrighteous Judgement, Jealousy ... Intimidation ... Treachery ... Accusation, Gossip, Slander, Faultfinding ... are a few of the descriptions as their actions.
Xtra-biblical- The prophecies in Scripture about the last days speak neither of a Civil war nor of a great revival. The unanimous testimony of the apostles and prophets is that in the last days of this age, Christendom (not The Church) shall be characterized by apostasy: false prophets and teachers, false brethren and false doctrines.
He also implies that the church will triumph on earth, something which is contradicted by passages such as Matthew 24 which forecasts deception and terrible persecution (to those who claim Christ), not triumph, for the church prior to His return.
We are nowhere told to expect things to get better but only worse. So much worse, in fact, that our Lord Jesus Christ, Himself, asked the question when I come will I find faith on the earth?
In Luke 18: which strongly suggests that there will not be a victorious earthly church at that time, but few who have held to his teachings.
"The Lord is now preparing a leadership that will be willing to fight a spiritual civil war in order to set men free. The main issue will be slavery versus freedom…. The church will not be destroyed, but the institutions and doctrines that have kept men in spiritual slavery will be."
Comment: Scripture says he who the Son sets free is free indeed. Doctrines keep us in slavery? Actually the Bible which is filled with doctrines we are to obey because it keeps us on course. What he means by doctrine is not really explained but one can gather from his writings it is holding to the written word and proven historic interpretations. Joyner's belittling doctrine shows his animosity toward the truth from the very words of the one he calls his savior.
This is also unscriptural in that, although there will be unbelievers or false believers intermingled among true ones in the visible church on earth, Jesus makes it plain that these "tares" among the wheat will not be uprooted until the end of the age when the Son of Man will send out angels to gather the wheat into the barn and burn the tares in the fire (Matthew 13:40-41). It is the angels, and not men, who will have the job of cleaning up the church!

"There will still be struggles for women's rights, and to set the church free from other forms of racism and exploitation. … However, in the midst of the coming spiritual civil war, Faith, Hope and Love, and the kingdom of God that they stand upon, will begin to be seen as they never have before. This will begin drawing all men to the kingdom. God's government is to be demonstrated as greater than any human government."
Comment: This passage suggests that the church will be an active force for the women¹s rights movement and for political liberation movements focusing on racism and economic exploitation.
Is this "politically correct" Christianity? In the current climate this is wrong, since it is such movements as Feminist Theology in the seminaries which is actually destroying Scripture-based teaching. Furthermore, the Bible proclaims that God is no respecter of persons and that He looks past outward forms and circumstances and regards each child of God equally. Gal.3:28 There is neither Jew nor Greek, there is neither slave nor free, there is neither male nor female; for you are all one in Christ Jesus. .
J
oyner seems to attribute to the church what only Christ himself ruling on the earth can do.(Isa.9:6) Only when Jesus comes and installs his Government will this be accomplished. No one else can bring this about but the savior in the millennium
(Mt.25). This is dominion teaching, kingdom now explanations, that have nothing to do with the true biblical scenario of the end.
"I closed my eyes because the glory I was seeing with my heart was as great as what I was seeing with my physical eyes....then an angel said, "Close your eyes again." When I did, I beheld the glory of the Lord. This was no small relief I knew that I just could not live without the glory now that I had experienced it.
Here again Joyner goes within to experience Gods glory. all the prophets speak of Gods glory outside themselves. The NT teaches Christ in you the hope of Glory
1Kings 8:11 So that the priests could not stand to minister because of the cloud: for the glory of the LORD had filled the house of the LORD. "
Ezekiel described the appearances of God¹s glory as awesome and they are all outside
(Ezek. 1:28; Ezek. 10:4 ; Ezek. 10:18 ; Ezek. 10:19; Ezek. 11:22; Ezek. 11:23 )
p.42 Then the angel Wisdom teaches Joyner, "What you see with the eyes of your heart is more real than what you see with your physical eyes." I had myself made this statement many times, but how little I had walked in it! The angel continued, "It was for this reason that the Lord told His first disciples that it was better for Him to go away so that the Holy Spirit could come. The Lord dwells within you. You have taught this many times, but now you must live it, for you have eaten of the tree of Life."
The Angel leads Joyner out of Paradise and he protests not wanting to leave." Looking surprised, the Angel took me by the shoulders and looked me in the eyes, that is when I recognized him as the Angel Wisdom. 'You never have to leave this garden, this garden is in your heart because the Creator Himself is within you.'"
p.43 "I then looked past him to the Tree of Life. I had a compulsion to grab all of the fruit that I could before leaving. Knowing my thoughts, Wisdom gently shook me. "No. Even this fruit, gathered in fear, would go bad. This fruit and this tree are within you because He is in you. You must believe. "
Comment: This supposed angel of God goes on to tell Joyner that the tree and its fruit dwells within him. Nowhere does Scripture teach this, but Gnosticism does. like the divine spark of the Gnostics. (The inner Christ which the new age promotes). After the Resurrection when Thomas doubted, Jesus did not tell him that the evidence did not matter he had only to "see with the eyes of his heart;" rather, He offered the evidence by telling Thomas to look at His hands and touch His side (John 20:27). The difference between Jewish beliefs and religions of the East (and some in the West) was that, say, Hindus believed that the physical was unimportant, "maya," illusion, that needs to be transcended so that it would disappear, while the Jews believed in a physical resurrection. This statement of the "angel" was not a Jewish statement that Jesus would have made ­ it is more like a statement made by someone who believed that only the spiritual realm, not the physical universe, was "real." The physical fact of the Resurrection was all-important because, as Paul said, if Christ is not [really] risen, then our faith is futile and we are still dead in our sins (1 Cor 15:17).Paul points to those who were witnesses to the resurrection as an opportunity for those who question to ask. Luke tells of Jesus presenting Himself alive "by many infallible proofs" (Acts 1:3), a legal term referring to irrefutable evidence. Truth, and hence reality, and hence evidence of that reality, were important to Jesus and His disciples.

To "see with the eyes of your heart" only and ignore objective evidence including how a would-be prophet or apostle behaved or what he taught would be against Biblical injunctions to "test the spirits, whether they are of God; because many false prophets have gone out into the world" (1 John 4:1). We are to search the Scriptures daily to see whether what they teach is so (Acts 17:11). But Joyner is encouraging people to look inside for the answers. The Bible says the heart is deceitfully wicked and who can know it. To point to inside a person as the garden in ones heart is not biblical. We do not pray toward inside us but toward heaven where Christ and the Father is. The Holy Spirit is the helper but He has not given us complete understanding, we still walk by faith. While the Bible does teach he has deposited his nature in us it never instructs us to look inside.
Non biblical-The "tree of life" is misused here. Scripture begins with the tree of life (Gen 2:9) and, at the climax of history, ends at the tree of life (Rev 22). In the age to come, the tree of life will be for those who persevered in their faith in this life, it is a reward for being victorious on earth: Rev. 2:7 To him that overcometh will I give to eat of the tree of life, which is in the midst of the paradise of God.
Non biblical: It will not be available until after a "new heaven and a new earth" are created and the New Jerusalem comes down (Rev 21). Yet Joyner who obviously implies has already overcome says he has partaken of it which means he will never die.

Rev. 22:2 In the midst of the street of it, and on either side of the river, was there the tree of life, which bare twelve manner of fruits, and yielded her fruit every month: and the leaves of the tree were for the healing of the nations.
Rev. 22:14 Blessed are they that do his commandments, that they may have right to the tree of life, and may enter in through the gates into the city.
Warning- Mr. Joyner has certainly put his revelation on par to John the apostle. He carefully warned Rev 22:18-19For I testify to everyone who hears the words of the prophecy of this book: If anyone adds to these things, God will add to him the plagues that are written in this book; and if anyone takes away from the words of the book of this prophecy, God shall take away his part from the Book of Life, from the holy city, and from the things which are written in this book." One needs to ask if what Joyner has done by prophetic inspiration is add to the revelation contained in this book.
"You have tasted of the heavenly realm, and no one ever wants to go back to the battle once they do. No one ever wants to leave the manifest presence of the Lord. When the apostle Paul came here he struggled for the rest of his life as to whether he should stay and labor for the sake of the church or return here to enter into His inheritance. His inheritance was magnified the longer he stayed and served on earth. Now that you have the heart of a true worshiper you will always want to be here, but you can when you enter into true worship. The more focused you are on Him, the more glory you will see, regardless of where you are."
Comment: We see here that Rick Joyner seems to believe he is much superior in anointing and privilege to Paul, who visited the "third heaven" but was completely forbidden to say anything about what he heard (2 Cor. 12:4). In Col 2:18 Paul warns about similar people of his day who were "puffed up" and went around claiming knowledge superior to what he and the other apostles taught.

To say he can enter heaven anytime by worship is nonsense. Heaven has a location it is a place.
NOTE FROM DEE: I MUST REMIND THE READER THAT DIFFERENT RELIGIONS DO NOT APPROVE OF EXTRA BIBLICAL GIFTS THAT SOME PEOPLE HAVE. THE COMMENTOR IS ENTITLED TO HIS OPINION BUT THAT DOESN'T MAKE HIM RIGHT EITHER!
"Wisdom's words had finally calmed me. Again I closed my eyes just to thank the Lord for this wonderful experience, and the life He had given to me. As I did, I started to see His glory again, and all of the emotion of the previous worship experience flooded my soul. The Lord's words to me were so loud and clear that I was sure they were audible; "I will never leave or forsake you. "
"Lord, forgive my unbelief," I responded. "Please help me never to leave or forsake you."
One of Joyner¹s most basic mistakes is to think Jesus is an angel called "Wisdom." The Creator and Lord of the universe is not one of His creations (an angel). He is vastly superior to the angels, as Hebrews 1 declares. To promote this as the revelation he received from Jesus shows to me this is not from the Jesus of the Bible. The revelation He has goes from one thing to another that often times contradict Scripture.
p.44 "Here the "real world" was not real, and the spiritual realm was so much more real that I just could not imagine going back to the other.
Wisdom says, "You are dreaming, " he said. "But this dream is more real than what you think of as real. The Father gave men dreams to help them see the door to His dwelling place. He will only dwell in men's hearts, and dreams can be a door to your heart, which will lead you to Him.
"
'I am the primary gift that has been given to you for your work "
he said. "I will show you the way, and

I will keep you on it, but only love will keep you faithful. The fear of the Lord is the beginning of wisdom, but the

highest wisdom is to love Him. "
NOTE FROM DEE: I PERSONALLY DO NOT ESPOUSE 'FEAR' AS THE WAY TO FOLLOW ANYONE, INCLUDING JEHOVAH OR JESUS. LOVE IS THE ONLY WAY TO DO SO - OR DON'T FOLLOW IT.
NON Biblical: The above paragraph can only be described as "a revelation of babble." What on earth does it mean? How can this be explained adequately? Joyner uses familiar Scripture verses to sound Biblical and give himself authority, but when strung together or qualified with other phrases they don't always make any clear sense. Do our dreams lead to our heart where we will find the Father? Does the Father ONLY dwell in men's heart? This is certainly New Age mysticism to go within oneself and find this. Where does the Bible say the greatest WISDOM is love? The spiritual realm is not more real than what we live in. This sounds like it is tainted with Hinduism which teaches this world is an illusion and not the true reality. The Dream concept seems to have picked up in Tommy Tenney's book God's Dream team, where God has planted his dream within His children and we need to Keep His dream alive. I don't have any answers for this except to say it is not biblical.
He follows Wisdom toward the gate. " I remembered the exhilaration of the battle and the climb up the mountain, and it was compelling, but there was no comparison to the presence of the Lord and the worship I had just experienced. Leaving this would be the greatest sacrifice I had ever made. Then I remembered how it was all inside of me and was amazed that I could forget this so quickly. It was like there was a great battle raging within me, between what I saw with my physical eyes and what I saw with my heart."p44
Comment: Saying that "it was all inside of me" is an Eastern concept, not a Biblical one. God¹s spirit comes to abide in Christians but is not contained by them. The Jesus with eyes of flaming fire and feet of fine brass that John the beloved disciple saw in Revelations 1 was not "all inside" of him. Phil 2:10-11 says that every knee shall bow and tongue confess that Jesus Christ is Lord, to the glory of God the Father. We don't bow to ourselves. The Bible says in him is found all wisdom. He is a person.

The Bible says to love God with all your heart, soul, mind, and strength (Mark 12:30), all working together. There is no Biblical reason for expecting what the mind sees through the eyes and be at war with what the heart sees. Jesus said to the Father, "Your word is truth" (John 17:17). Truth is to correspond with reality. Reality will not make a lie out of what God is impressing upon your heart. You do not have to choose between reality outside and inside feelings.
"I moved forward so that I was walking beside Wisdom, and asked, "I have prayed for twenty-five years to be caught up
p44 into the third heaven like the apostle Paul. Is this the third heaven?""this is part of it, " he replied, "but there is much more." Will I be allowed to see more?" I asked."You will see much more. I am taking you to see more now," he replied. I started thinking of the book of Revelation. "Was John's revelation part of the third heaven?" I asked.
"part of John's revelation was from the third heaven, but most of it was from the second heaven. The first heaven was before the fall of man. the second heaven is the spiritual realm during the reign of evil upon the earth. The third heaven is when the love and domain of the Father will again prevail over the earth through the king. "
Comment
:
Notice he says his desire was to have the experience of Paul. So he was pursuing and coveting a spiritual experience which puts one is a precarious position of being deceived. Students of the Bible generally agree that the first heaven refers to the atmosphere where, for instance where birds fly (Gen 1:9, 20), the second to space where the stars are (Gen 1:1), and the third of course to the realm where God dwells. There is absolutely no Scriptural basis for Joyner¹s conceptions of the first and second heavens. Actually the Bible refutes Joyner because when the judgments are poured out from heaven to the earth during the tribulation. there is no reason to believe the heavens are ages.
"What was the first heaven like?" I inquired, strangely feeling a cold chill as I asked. "It is wisdom not to be concerned about that now, " Wisdom responded with increased seriousness as my question seemed to jolt him. "Wisdom is to seek to know the third heaven just as you have. There is much more to know about the third heaven than you can know in this life, and it is the third heaven, the kingdom, that you must preach in this life. In the ages to come you will be told about the first heaven, but it is not profitable for you to know about it now. "
comment: Paul warned about teachers who intrude into things not seen and become vainly puffed up through a fleshly mind (Col 2:18).I never heard the Scripture mentioning preaching a third heaven message.

I resolved to remember the cold chill I had just felt, and Wisdom nodded, which I knew to be an affirmation of that thought. "What a great companion you are," I had to say as I realized the valuable gift that this angel was. "You really will keep me on the right path." "I will indeed," he replied.p.45
comment: Psalm 119:105 says that "Your word is a lamp to my feet and a light to my path," and 119:11 says, "Your word have I hidden in my heart, that I might not sin against You." God's word, not an angel named Wisdom, is given to us to keep us on the right course. Where does the Bible say an angel personally guides us on our path, this is like spirit guides in the new age. The Holy Spirit guides us, he is not angel but God. hew leads us into God's word of truth.

"I was sure I felt love coming from this angel, which was unique, -since I had never felt this from other angels. They usually showed their concern more out of duty than love. Wisdom responded to my thoughts as if I had spoken them out loud."
Comment: Extra biblical-Angels are God's messengers and agents, always on a Divine mission. The Bible does not speak of their emotions and that angels love us. This guided tour by an angel is in my biblical opinion the deception in his vision. consider what this angel next says to him.
NOTE FROM DEE: I ALSO HAVE A PERSONAL ANGEL WHO IS SO FULL OF LOVE, ONE CANNOT EXPLAIN HIS WORK IN ANY OTHER WAY. THAT SAID, I KNOW OF ANOTHER ANGEL WHO HAS NO EMOTION IN HIS TEACHINGS AT ALL. SO PERSONAL EXPERIENCE IS THE ONLY WAY TO FOLLOW ANGELS - THEY ARE NOT ALL THE SAME.
"It is wisdom to love and I could not be Wisdom if I did not love you. It is also wisdom to behold the kindness and the severity of God. It is wisdom to love Him and to fear Him. You are in deception if you do otherwise. This is the next lesson that you must learn," he said with unmistakable earnest.
"I do know that, and have taught it many times," I responded, feeling for the first time that maybe Wisdom did not fully know me.
"I have been your companion for a very long time, and I know your teachings, "Wisdom replied. "Now you are about to learn what some of your own teachings mean. As you have said many times, 'It is not by believing in your mind, but in your heart that results in righteousness.
comment: What does this angel mean by his own teachings? The Scriptural concept of the "heart" was more inclusive than just feelings but was "the rational-spiritual nature of man" and "the center of thought and conception" which knows, understands, and reflects (The New Unger¹s Bible Dictionary, page 544). Therefore, it includes not excludes, belief in the mind. Otherwise "believing in your heart" would make no sense for how can the heart rejoice over something the mind has not taken in. We are made to act as a whole being body soul spirit not portions. Joyner lacks a proper understanding of a Biblical concepts, but this can be due to his accepting the vision and angels words over the Bibles.
"now taking you to another place because it is time for you to worship Him in the fear of His judgment. Until you know both there is a danger that we can be separated from each other "
"Do you mean that if l had stayed back there in that glorious worship I would have lost you?" I asked in disbelief.
'Yes. I would have always visited with you when I could, but we would have rarely crossed paths. It is hard to leave such glory and peace, but that is not the whole revelation of the King. He is both a Lion and a Lamb. To the spiritual children He is the Lamb. To the maturing He is the Lion. To the fully mature He is both the Lion and the Lamb. Again, I know you understand this, but you have known it in your mind. Soon you will know it in your heart, for you are about to experience the judgment seat of Christ."
Comment : Jesus is "the Lamb who takes away the sins of the world" (John 1:29). His role as the perfect Passover Lamb who was acceptable to the Father as the sacrifice for mankind¹s sin has nothing to do with the spiritual age or youth of believers. This is a misunderstanding and misuse of this key theological term. As the inheritor of the throne of David, He is also the Lion of Judah who opens the seals. But no teaching ever tells us to know him as the lion. This has nothing to do with the spiritual maturity of those who believe in Him. To all believers as the Lamb He is their savior and their Lord. He comes back as the lion in as far as the judgment. The judgment seat of Christ is after one dies not for a dream or vision. What kind of interpretation is this? Certainly since it is outside the Bibles revelation it becomes a mystical journey that science fiction writers would be jealous of.
He then asked Wisdom to ponder all that that I had experienced. ... he replied, "but I have a better place for you to do it." He follows Wisdom out of the gates down the mountain. "To my surprise the battle was still going on, but not as intensely as it was when we ascended. There were still arrows of accusation and slander flying about on the lower levels, but most of the enemy horde that was left was furiously attacking the great white eagles. The eagles were easily prevailing."
We kept descending until we were almost at the bottom. just above the levels of "Salvation" and "Sanctification" was the level "Thanksgiving and Praise." I remembered this level very well because one of the greatest attacks of the enemy p.47
Each level [of the mountain] was named for a biblical truth. The lower levels were named after foundational truths such as "Salvation," "Sanctification," "Prayer," "Faith," etc., and the higher levels were named after deeper biblical truths. (My emphasis.)

comment: Notice that the doctrine of salvation is not explained or emphasized (here or elsewhere in the book!), that it is at a lower (although "foundational") level, and that it is not as "deep" as other truths. I'm reminded of the Gnostics and their levels of revelation and knowing for their illumination.
"Salvation" is here presented as a level lower than "Thanksgiving and Praise." This is certainly a lower view of salvation than the apostle Paul had when he determined to know nothing but "Jesus Christ and Him crucified" (1 Cor 2:2). To Paul, no knowledge was higher than the knowledge that Christ died for our sins. Joyner's angel belittles this with handing him a whole new view of Christianity.
FROM: http://www.letusreason.org/BookR4.htm
THE FOLLOWING INTERPRETATIONS HAVE NOT BEEN COMMENTED ON BY DEE AND STAND ON THEIR OWN MERITS. FOLLOW YOUR OWN DISCERNMENT