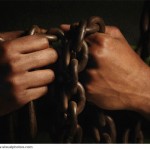 One of the strangest scriptures is Matthew 16: 19: Whatever you bind on earth will be bound in heaven, and whatever you loose on earth will be loosed in heaven. What could Jesus have meant by these words? Is this statement only about the affairs of the church? Catholics believe Christ was giving spiritual supremacy to Peter as the first pope. Most traditional Protestant commentators think Christ's words were a commission to the apostles to administrate the affairs of the early church. Binding and loosing were terms describing how ecclesiastical activities were to be governed.
Anyone who has conducted a successful exorcism knows that the authority to bind or loose a demon is much more. It is a practical and intended consequence of Christ's command to cast out demons, not some abstract directive about corporate church doings. Binding and loosing must be taken quite literally. In deliverance, when we bind a demon we:
Assert control over the evil spirit – we spiritually make it subject to our commands through the authority Christ has given us.

Restrict its activities in some way – we may bind it from speaking needlessly, bind it from physical violence, and bind it from activity in the soul of the person to delay the deliverance.

Hold it hostage to our demands on behalf of the demonized person – it is restrained from acting independent of our commands through Christ.
We may also loose both the person and the demon. We have the authority to:
Loose the person from the bondage of the devil – we declare by faith their freedom and assert that through the process of the exorcism they will be delivered.

Loose the demon from its right to invade the possessed soul – we cut off the demon, loose it from its normal functioning so that it is hindered from further deteriorating the situation.

Loose the evil spirit from its earthly mission to receive God's judgment in the Pit – we sever its instructions from the spirit world and make it bound to what we demand through Christ.
Sadly, such practical instructions about binding and loosing are not taught in any evangelical Bible colleges or seminaries. In fact this information is deliberately avoided and negated. The result is that far too many Christians suffer needlessly the attack of demons, evil spirits that could have been restricted by binding them and loosing them to be sent to the Pit.