Dee Finney's blog
start date July 20, 2011
today's date January 2, 2014
page 622
TOPIC: PREVENTING ASTEROIDS FROM HITTING EARTH
NOTE: MULTIPLE METEOROIDS AND METERORITES HAVE BEEN GOING THROUGH EARTH'S ATMOSPHERE RECENTLY. NO REPORTS OF STRIKES TO EARTH, BUT THAT DOESN'T MEAN THAT DUST FROM THESE OBJECTS IS NOT FALLING DOWN UNNOTICED THAT COULD HAVE BACTERIA ON THEM THAT HUMANITY WOULDNT KNOW WHAT TO DEAL WITH IF IT WAS BREATHED IN. THE BIGGER DANGER AT THIS POINT - IS - WITH SO MANY ASTEROIDS GOING AROUND EARTH AT ANY ONE MOMENT, WHERE ARE THEY ALL AND HOW CAN WE PREVENT THEM FROM STRIKING EARTH?
I HAVE PREVIOUSLY WRITTEN ON THIS TOPIC 242 TIMES AND TRACKED ASTEROIDS FOR A THREE YEAR PERIOD RIGHT AFTER OUR DEAR FRIEND KENT STEADMAN SUDDENLY PASSED AWAY IN 2008. WE DECIDED TO RESUME THESE REPORTS IN 2014 BECAUSE THERE IS NEW EFFORT TO TRACKING AND PREVENTING ASTEROIDS FROM STRIKING EARTH WHICH WOULD BE DISASTROUS - MORE SO IF ONE WAS VERY LARGE.
IN 2010, I PUBLISHED THIS LIST:
On January 17, there were 1092 potentially hazardous asteroids.
On February 17, there were 1100 potentially hazardous asteroids.
NOTE: These are not 'new' asteroids' merely newly discovered by people and their new telescopes.
On March 24, there were 1110 potentially hazardous asteroids.
On April 5, there are 1110 potentially hazardous asteroids.
On April 14, there are 1117 potentially hazardous asteroids.
On May 15, there are 1127 potentionally hazardous asteroids.
On June 19, there are 1133 potentially hazardous asteroids.
On June 23, there are 1138 potentially hazardous asteroids.
On July 23, there are 1140 potentially hazardous asteroids.
THIS IS TODAY'S LIST
Potentially Hazardous Asteroids (PHAs) are space rocks larger than approximately 100m that can come closer to Earth than 0.05 AU. None of the known PHAs is on a collision course with our planet, although astronomers are finding new ones all the time.
On January 2, 2014 there were
1448
potentially hazardous asteroids.
Recent & Upcoming Earth-asteroid encounters:

Notes:
LD means "Lunar Distance." 1 LD = 384,401 km, the distance between Earth and the Moon. 1 LD also equals 0.00256 AU.
MAG is the visual magnitude of the asteroid on the date of closest approach
As you can clearly see, the number of sighted asteroids is growing because more and more amateur astronomers are diligently daily searching the skies over our head all over the earth.
1-7-2014
Recently Reactivated NASA Spacecraft Spots Its First New Asteroid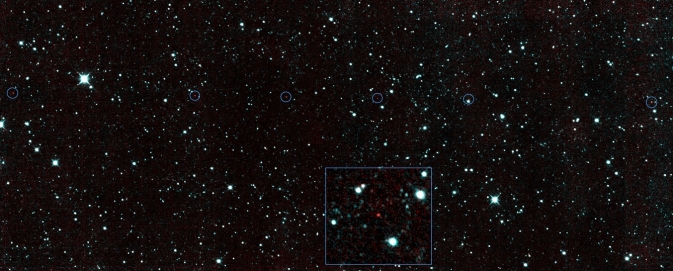 NASA's Near-Earth Object Wide-field Infrared Survey Explorer (NEOWISE) spacecraft has spotted a never-before-seen asteroid -- its first such discovery since coming out of hibernation last year.
NEOWISE originally was called the Wide-field Infrared Survey Explorer (WISE), which had made the most comprehensive survey to date of asteroids and comets. The spacecraft was shut down in 2011 after its primary mission was completed. But in September 2013, it was reactivated, renamed and given a new mission, which is to assist NASA's efforts to identify the population of potentially hazardous near-Earth objects (NEOs). NEOWISE also can assist in characterizing previously detected asteroids that could be considered potential targets for future exploration missions.
NEOWISE's first discovery of its renewed mission came on Dec. 29 -- a near-Earth asteroid designated 2013 YP139. The mission's sophisticated software picked out the moving object against a background of stationary stars. As NEOWISE circled Earth scanning the sky, it observed the asteroid several times over half a day before the object moved beyond its view. Researchers at the University of Arizona used the Spacewatch telescope at the Kitt Peak National Observatory southwest of Tucson to confirm the discovery. Peter Birtwhistle, an amateur astronomer at the Great Shefford Observatory in West Berkshire, England, also contributed follow-up observations. NASA expects 2013 YP139 will be the first of hundreds of asteroid discoveries for NEOWISE.
"We are delighted to get back to finding and characterizing asteroids and comets, especially those that come into Earth's neighborhood," said Amy Mainzer, the mission's principal investigator from NASA's Jet Propulsion Laboratory (JPL) in Pasadena, Calif. "With our infrared sensors that detect heat, we can learn about their sizes and reflectiveness."
2013 YP139 is about 27 million miles (43 million kilometers) from Earth. Based on its infrared brightness, scientists estimate it to be roughly 0.4 miles (650 meters) in diameter and extremely dark, like a piece of coal. The asteroid circles the sun in an elliptical orbit tilted to the plane of our solar system and is classified as potentially hazardous. It is possible for its orbit to bring it as close as 300,000 miles from Earth, a little more than the distance to the moon. However, it will not come that close within the next century.
WISE discovered more than 34,000 asteroids and characterized 158,000 throughout the solar system during its prime mission in 2010 and early 2011. Its reactivation in September followed 31 months in hibernation.
NEOWISE will continue to detect asteroids and comets. The observations will be automatically sent to the clearinghouse for solar system bodies, the Minor Planet Center in Cambridge, Mass., for comparison against the known catalog of solar system objects and to determine orbit if the object is not known. A community of professional and amateur astronomers will provide follow-up observations, establishing firm orbits for the previously unseen objects. Infrared sensors, similar to the cameras on NEOWISE, are a powerful tool for discovering, cataloging and understanding the asteroid population. Some of the objects about which NEOWISE will be collecting data could become candidates for NASA's announced asteroid initiative, which will be the first mission to identify, capture and relocate an asteroid for astronauts to explore. The initiative represents an unprecedented technological feat that will lead to new scientific discoveries and technological capabilities that will help protect our home planet and achieve the goal of sending humans to an asteroid by 2025.
JPL manages the project for NASA's Science Mission Directorate in Washington. The Space Dynamics Laboratory in Logan, Utah, built the science instrument. Ball Aerospace & Technologies Corp. of Boulder, Colo., built the spacecraft. Science operations and data processing take place at the Infrared Processing and Analysis Center at the California Institute of Technology in Pasadena. Caltech manages JPL for NASA.
An image of asteroid 2013 YP139, taken by NEOWISE, is available at:
More information about NEOWISE is available online at:
Dwayne Brown
Headquarters, Washington
202-358-1726
dwayne.c.brown@nasa.gov
DC Agle
Jet Propulsion Laboratory, Pasadena, Calif.
Wikipedia states:
Asteroids are minor planets, especially those of the inner Solar System. The larger ones have also been called planetoids. These terms have historically been applied to any astronomical object orbiting the Sun that did not show the disk of a planet and was not observed to have the characteristics of an active comet, but as minor planets in the outer Solar System were discovered, their volatile-based surfaces were found to resemble comets more closely and so were often distinguished from traditional asteroids. Thus the termasteroid has come increasingly to refer specifically to the small bodies of the inner Solar System out to the orbit of Jupiter. They are grouped with the outer bodies—centaurs, Neptune trojans, and trans-Neptunian objects—as minor planets, which is the term preferred in astronomical circles. In this article the term "asteroid" refers to the minor planets of the inner Solar System.
There are millions of asteroids, many thought to be the shattered remnants of planetesimals, bodies within the young Sun's solar nebula that never grew large enough to become planets. The large majority of known asteroids orbit in the asteroid belt between the orbits of Mars and Jupiter, or are co-orbital with Jupiter (the Jupiter Trojans). However, other orbital families exist with significant populations, including the near-Earth asteroids. Individual asteroids are classified by their characteristic spectra, with the majority falling into three main groups: C-type, S-type, and M-type. These were named after and are generally identified with carbon-rich, stony, and metallic compositions, respectively.
Only one asteroid, 4 Vesta, which has a relatively reflective surface, is normally visible to the naked eye, and this only in very dark skies when it is favorably positioned. Rarely, small asteroids passing close to Earth may be visible to the naked eye for a short time. As of September 2013, the Minor Planet Center had data on more than one million objects in the inner and outer Solar System, of which 625,000 had enough information to be given numbered designations.
HERE IS A NASA GRAPHIC FROM EARLY 2013 OF POTENTIALLY HAZARDOUS ASTEROIDS IN SPACE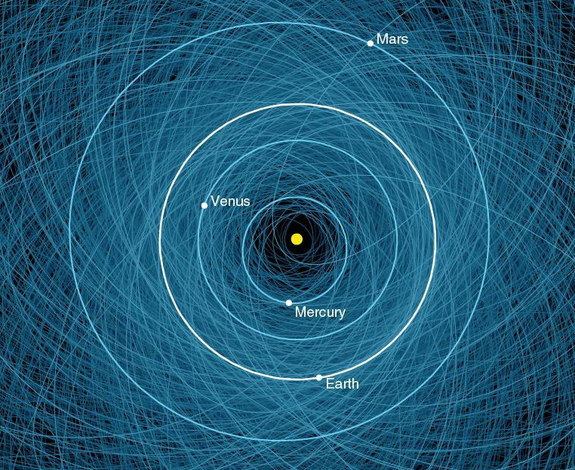 YOU CAN SEE HOW MANY COULD INTERSECT THE ORBIT OF EARTH AT SOME GIVEN POINT.
HERE IS THE ORBIT OF 2013 YL2 WHICH IS CLOSEST TO EARTH ON JANUARY 3, 2014
http://ssd.jpl.nasa.gov/sbdb.cgi?sstr=2013%20YL2&orb=1
THAT IS THE CLOSEST ONE IN THE FIRST QUARTER OF THIS YEAR.
WATCH http://www.spaceweather.com for the daily update of asteroid threats to earth.
Discovered on New Year's Eve by a telescope in Arizona, a small asteroid struck Earth somewhere over the Atlantic Ocean — apparently unnoticed — about 25 hours later.
It was New Year's Eve, but that didn't stop observer Richard Kowalski from scanning the sky for near-Earth objects (NEOs). He hadn't been using the 60-inch telescope on Arizona's Mount Lemmon for long when he noticed a 19th-magnitude blip skimming through northern Orion in a seven-image series begun at 5:16 p.m. (1:16 Universal Time on January 1st). After confirming that it was a new find, Kowalski dutifully submitted positions and times to the IAU's Minor Planet Center. Then he went back to the night's observing run.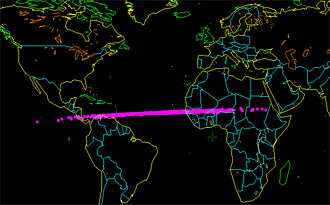 Thus did the Mount Lemmon reflector, part of the
Catalina Sky Survey
, discover 2014 AA, the first asteroid found this year. But at the time neither Kowalski nor anyone else realized that the little intruder was only 300,000 miles (500,000 km) from Earth and closing fast.
As
announced by the MPC
earlier today, it's "virtually certain" that 2014 AA hit Earth. According to calculations by dynamicist Stephen Chesley (Jet Propulsion Labo­ra­tory), the impact occurred over the Atlantic Ocean somewhere between Central America to East Africa. Chesley's "best-fit" collision is just off the coast of West Africa at roughly 2:30 Universal Time this morning.
More precision has come from an analysis of infrasound data by Peter Brown (University of Western Ontario). Infrasound is extremely low-frequency acoustic energy (20 hertz or less) created, for example, during energetic explosions. A
global network of detectors
, maintained by the Comprehensive Nuclear-Test-Ban Treaty Organization, can pinpoint the location and energy of any powerful detonation — including airbursts from meteoric blasts.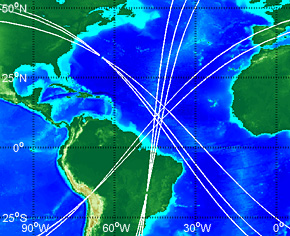 According to Brown, 2014 AA triggered very weak detections at three infrasound stations. His triangulation from those records, shown in the graphic at right, indicates that the space rock slammed into the atmosphere near 40° west, 12° north. That location, about 1,900 miles (3,000 km) east of Caracas, Venezuela, is far from any landmass.
"The energy is very hard to estimate with much accuracy — the signals are all weak and buried in noise," Brown explains. And yet, he adds, we're lucky that the event happened just after local midnight, when winds are calmest. "Had this occurred in
the middle of the day I doubt we would see any signals at all," he says.
Brown's rough guess is that the impact energy was equivalent to the explosive power of 500 to 1,000 tons of TNT — which, though powerful in human terms, implies the object was no bigger than a small car. "It was no
Chelyabinsk
," he says.
So 2014 AA was too small to reach the ground intact. But it must have created one heck of a fireball! The skies over the Atlantic were relatively clear last night. Alas, a search of ship- and plane-tracking websites turned up no vessels in that area — it seems that no one was positioned to witness 2014 AA's demise.
"I'm not aware of any visual sightings," says William Cooke of NASA's Meteoroid Environment Office in Huntsville, Alabama. "Looks like it was too far away from human eyes."
The impact occurred a little after 3
h
UT, Brown says. That's only about 22 hours after Kowalski's initial report to the MPC, and it's giving me déjà vu all over again. It's been just five years since another small asteroid called
2008 TC3

struck Earth over Sudan
just 19 hours after its discovery by the same telescope.
The difference between these events is that astronomers had nearly a day of advance warning regarding the 2008 impact. Telescopes worldwide amassed hundreds of observations before the object slammed into the atmosphere, and eventually
many fragments were recovered
.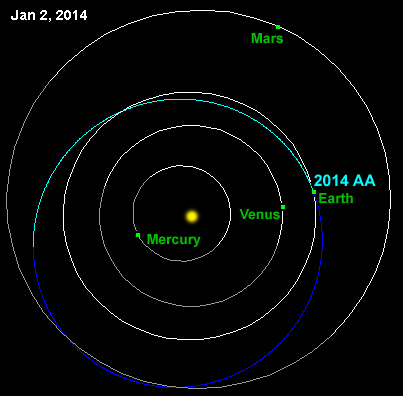 There was no heads-up alert this time. "I'm kicking myself for not having spotted this," admits amateur NEO sleuth Bill Gray (
Project Pluto
). Most mornings Gray downloads "and yes, for me, it was holiday-related."
Most mornings, he downloads the circumstances for recent discoveries and computes "what ifs" for potential impactors and near-misses. "However, on New Year's Day, I'd made arrangements to go with my family to visit my sister, go for a walk, stop off for a doughnut, shovel snow, etc., etc." He didn't realize an impact was imminent until last night — only a couple of hours before the impact.
Let's cut Gray some slack and instead give him, Chesley, and Gareth Williams at the MPC a collective pat on the back. All three were able to conclude — based on just seven images
taken within 3 minutes
— not only that 2014 AA was going to strike Earth, but also roughly where and when. Mad props for that impressive number-crunching!
http://ssd.jpl.nasa.gov/sbdb.cgi?sstr=2014%20AA&orb=1
THIS IS WHERE I POST WHAT I'M DOING AND THINKING
BLOG INDEX 2011
BLOG INDEX 2012 - page 1
JANUARY THRU APRIL 2012
MAY THRU AUGUST 2012
SEPTEMBER THRU DECEMBER
BLOG INDEX 2013
BLOG INDEX - PAGE 2 - 2013
BLOG INDEX - PAGE 3 - 2013
BLOG INDEX - PAGE 4 - 2014