California Gov. Jerry Brown on Friday declared a drought emergency for the state, saying it is facing "perhaps the worst drought that California has ever seen since records (began) about 100 years ago."
The governor's announcement, made in San Francisco, came as a wildfire burned Friday with only 30% containment in 1,700 acres of foothills of Los Angeles County near Glendora. An illegal campfire apparently ignited the wildfire, and fire officials cited drought conditions as contributing to the blaze.
In his declaration, the governor called for voluntary "20% conservation of our water use" statewide.
***rest of the article here:
http://www.cnn.com/2014/01/17/us/california-wildfire/index.html?hpt=hp_t1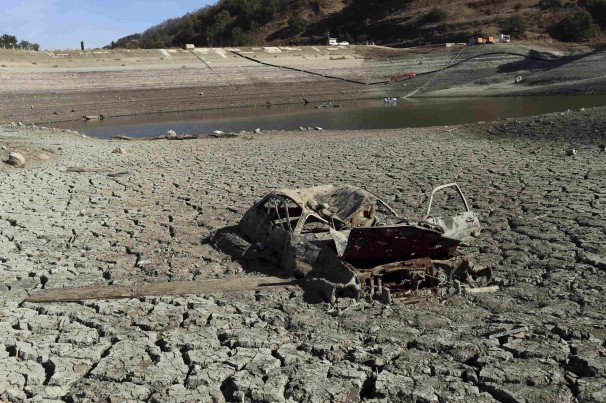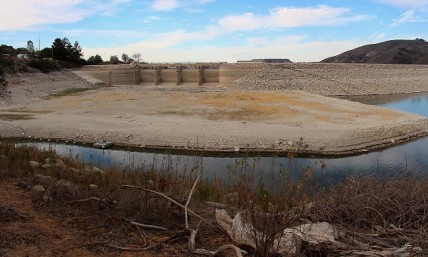 Drought reveals hidden city, glimpse of past
Ghosts of California's past are emerging from our reservoirs. It's a fascinating look at where we come from, and a frightening look at where we may be going if we don't get some rain.
'We saw a rock wall and some buildings,' said Zachary Wimberely. 'And some things from a long time ago.'
He was with his family, exploring the ruins of Mormon Island -- a town once submerged when Folsom Lake was flooded to create a reservoir, now reemerging as the lake dries up.
Folsom Lake isn't the only one showing its bones. The town of Jacksonville, beneath the Don Pedro Reservoir in Tuolumne County, was once home to thousands of miners -- one of the biggest on the Mother Load. Flooded in the '60s, it has reemerged once again.
'There is kind of that spiritual connection with our past, and the fact that was there the whole time and no one could see it, and now all of a sudden it's visible ... it's kind of, hopefully, once-in-a-lifetime when it's going to be exposed and we should take advantage of it while it's there,' said Marcia Eymann, Sacramento City Historian.
Don Pedro Reservoir and the town of Jacksonville, Folsom Lake and the town of Mormon Island aren't the only ones in our area.
The town of Monticello, once swallowed up by Lake Berryessa, is now reemerging. And the town of Camanche is close to seeing sunlight once again as it reemerges from the lake that bears its same name.
'We got two things to talk about here. You have the low water, drought situation, as well as the history under the Lake,' said Renee Dwyer, Zachary's grandmother.
One look at the muddy area that once was Folsom Lake and it becomes clear: a sense of that past, and a respect for water, has never been more important.
California's state governor, Jerry Brown, has this month officially declared a drought across the state, which last year saw its lowest annual rainfall total since records began 119 years ago.

The lack of rain is a cause for concern in many of California's vineyards. 'The soil is dry, the water table is lowering, shallower wells are drying up, [and] some neighbour relations are souring,' Tom Lane, winemaker at Bianchi winery in Paso Robles, told decanter.com.

'Last year we saw only 1.9 inches of rain, where we average about 12 inches per year.'

He added, 'there is a move to create a local water district to insure that water is distributed equitably among rural residents and agricultural concerns.' A key issue for vineyards is sourcing enough water for winter irrigation, to ensure the vines get enough water to grow healthily.
Other wine regions in California are also dealing with unusual conditions. 'In the 30 years that I have been working in the vineyards, I have never seen a Winter like this one,' said Anne Moller-Racke, president of The Donum Estate, in Carneros, Sonoma.

'Thus far we have less than 2 inches of rain for the season and normally we would have 17 inches by end of January.' She added, 'We certainly have to be thoughtful in how we farm in 2014.'

Tj Evans, Pinot Noir winemaker at Domaine Carneros, added, 'While it is too early to panic, it is not too early to devise a strategy that covers worst-case scenario.

'Chances for January rain are nil, but I remain cautiously optimistic for a wet February, and a "March Miracle" is not out of the question. It has happened before.'

According to Moller-Racke, the drought is causing particular concern for those dealing with frost. 'Vineyards that are using water for frost protection are in bad shape as there is no water to pump out of creeks or rivers,' she said.

However, some areas are faring better than others. Michael Beaulac, president of the Napa Valley-based Stags Leap District Winegrowers Association, said, 'because we don't have the same frost issues in the District as regions in Napa Valley, we are not as worried about the water deficit.

'We feel extremely fortunate that this current situation might prove to only minimally effect our wines in any meaningful sense,' said Beaulac, who is also general manager and winemaker at Pine Ridge Vineyards.
Read more at

http://www.decanter.com/news/wine-news/584753/california-winemakers-face-worst-drought-in-decades#OAm0JTcBlcGYpGbt.99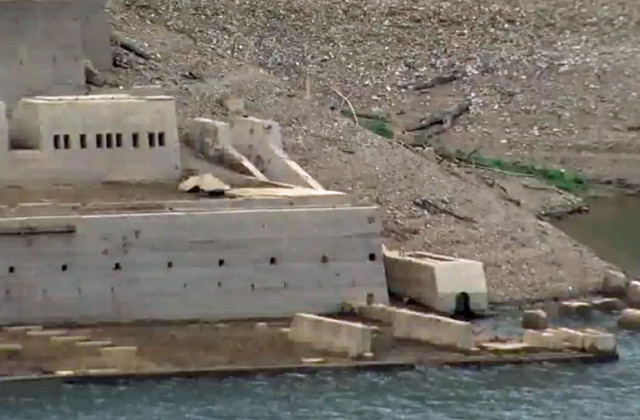 The Mormon City that was buried and now reappeared during the drought.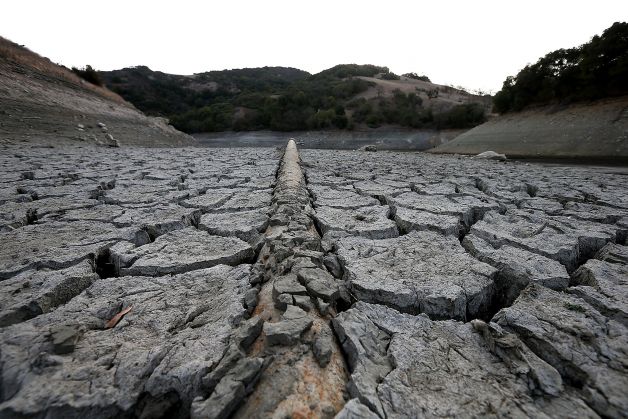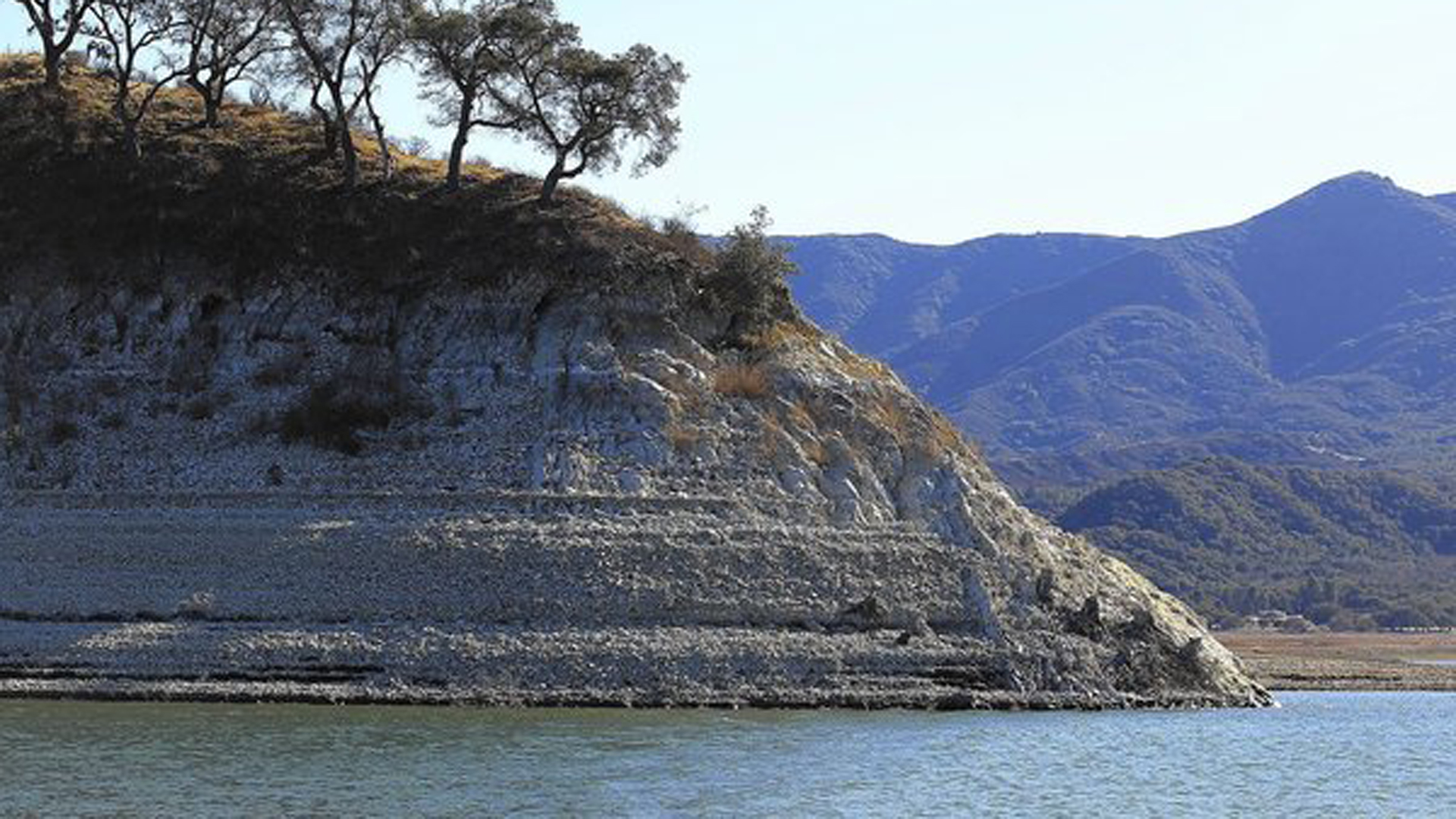 Parched earth: Satellite images that show how the worst drought in HISTORY is affecting California as state declares emergency

Governor Jerry Brown has declared a drought emergency
The move will allow California to seek federal aid as the state's water reservoirs fall dangerously low
A wildfire is burning near Los Angeles and has claimed five homes already

Agricultural and farming areas as well as urban areas face dire consequences if the state does not prepare fordrought

Folsom Reservoir near Sacramento is so low that the remains of a Gold Rush-era ghost town - flooded to create the lake in the 1950s - are visible for the first time in year.
By REUTERS
PUBLISHED: 16:40 EST, 17 January 2014 | UPDATED: 11:55 EST, 18 January 2014
New satellite images show the true extent of the record drought hitting California, as the state declares an emergency and seeks federal aid.

The NOAA images show how the state's landscape is parched with minimal snow cover and the land dried out compared to the same time last year.

The dry year California experienced in 2013 has left fresh water reservoirs with a fraction of their normal reserves and slowed the normally full American River so dramatically that brush and dry riverbed are showing through in areas normally teeming with fish.

'We can't make it rain, but we can be much better prepared for the terrible consequences that California's drought now threatens, including dramatically less water for our farms and communities and increased fires in both urban and rural areas,' Governor Jerry Brown, a Democrat, said in a statement.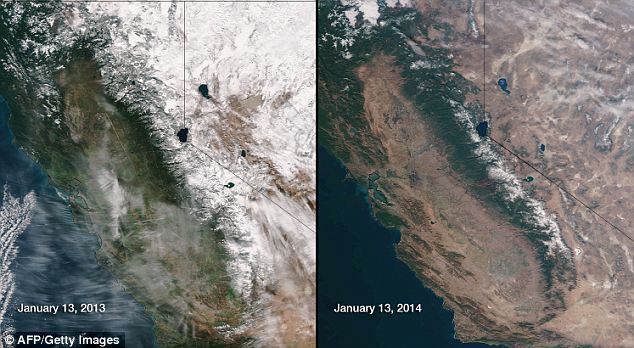 Record drought: These satellite images show the parched California landscape this year compared to a normal year with plenty of foliage and snow coverage last year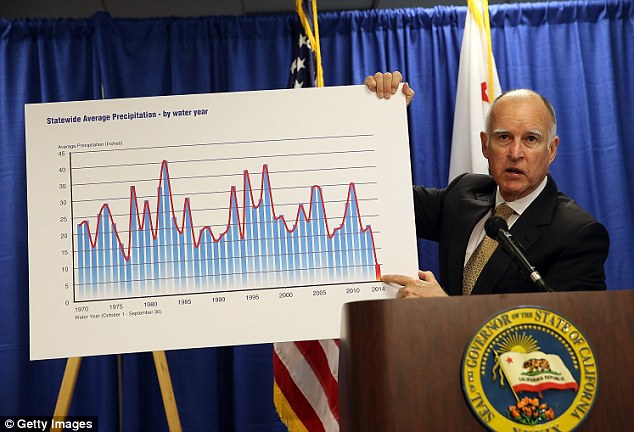 Dry year: Governor Jerry Brown holds a chart showing statewide average precipitation as he speaks during a news conference today in San Francisco after declaring a drought state of emergency for California
'I've declared this emergency and I'm calling all Californians to conserve water in every way possible,' he said, in a move that will allow him to call for conservation measures and provide flexibility in deciding state water priorities.

Speaking at a news conference in San Francisco, he said the drought threatens to leave farms and communities with dramatically less water and increases the risk of fires in both urban and rural areas.
He appealed to residents to keep a lid on water use with the aim of reducing overall consumption by 20 percent, telling them that 'this takes everybody pitching in.' He warned that mandatory conservation programs may be initiated down the road.

In a sign of the severity of the drought, some of the state's reservoirs are at their lowest levels in years. The Folsom Reservoir near Sacramento is so low that the remains of a Gold Rush-era ghost town - flooded to create the lake in the 1950s - are visible for the first time in years.

The state's mountain ranges, where runoff from melting snow provides much of the water for California's thirsty cities and farms, have just 20 per cent of the snow they normally have at this time of year, officials noted.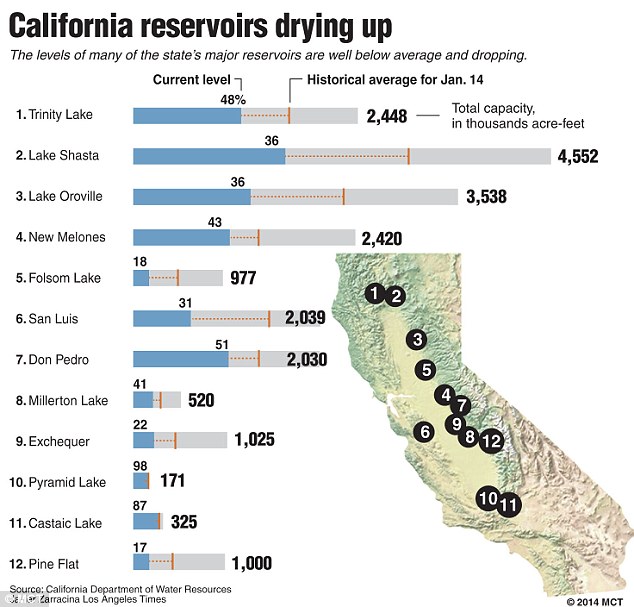 Parched: Water levels for many of California's major reservoirs are well below average and dropping; concern is mounting that California may be headed for a replay of the big drought of the late 1980s through the early 1990s, or even worse, 1977
Lake Shasta, the largest reservoir in California, is down from its historical average by nearly half.

Other sources of water, including the massive Sacramento-San Joaquin Delta, are also affected, prompting cities to dip into reserves and forcing farmers to scramble. Some public agencies may be able to purchase just five per cent of the water that they contracted to buy from the state.

Adding to concerns, January and February are usually the wettest months in much of the state, but 2014 has so far been mostly dry, with little precipitation expected, according to the National Weather Service.
In declaring a drought emergency, Brown said he did not know if he would be successful in persuading the federal government to free up funds for drought relief but he would try his best.

'It's important, first of all, to awaken all Californians to the serious matter of drought,' he said, also warning of upcoming 'conflicts and different perceptions on how water is to be allocated.'

Water has long been a contentious issue in California, where it has been diverted from mountain lakes and streams to irrigate farms and slake the thirst of metropolitan areas.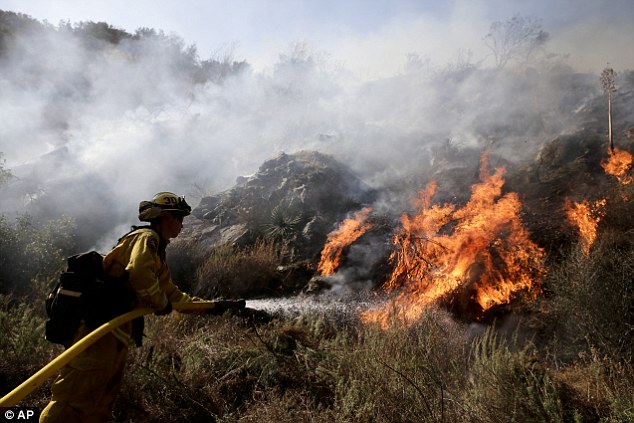 Tinderbox: Firefighter Jeff Newby sprays water as he battles the Colby Fire today near Azusa, California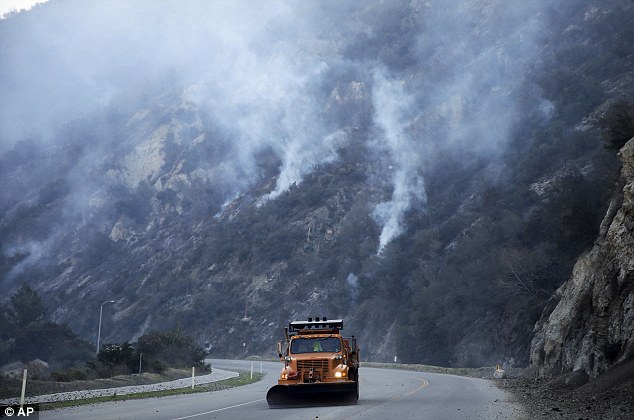 Working around the clock: A truck clears away rocks along San Gabriel Canyon Road as firefighters continue to battle the Colby Fire that was sparked Thursday morning
Many of the state's efforts to deal with the problem are controversial, including a $25 billion plan to divert water from above the delta by sending it through a pair of huge tunnels.

For many in the state's $44.7 billion agriculture business, water scarcity is a problem made worse by a recent switch to orchard-style crops such as almonds and olives. Unlike vegetables or cotton, which grow in fields that can be left fallow in dry years, the trees need water every year.

Already, there were signs of competing priorities among groups that contend for water and will be closely watching how state officials use their new flexibility in allocating it.

Assemblywoman Connie Conway, the leader of the Republican minority in the state Assembly who represents a heavily agricultural area in central California, expressed hope that with the declaration more water could go toward 'Valley farmers and workers who depend on water to feed the world.'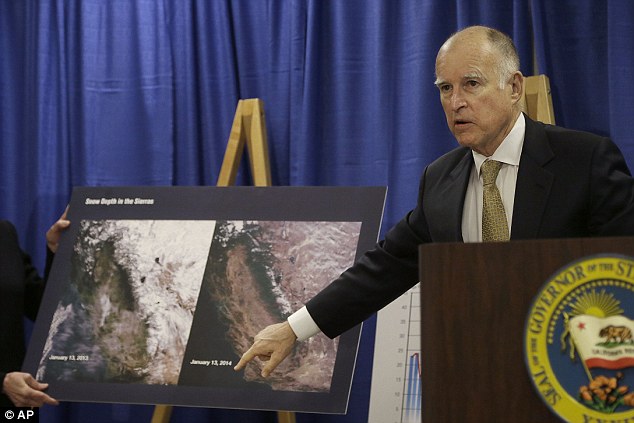 Low and dropping: Governor Jerry Brown points to images showing the snow depth in the Sierra mountains on January 13, 2013 (left) and January 13, 2014 (center) while declaring a drought state of emergency in San Francisco
John McManus, executive director of the Golden Gate Salmon Association, said his group's concern was for the health of salmon and a fishing industry that supports tens of thousands of jobs in California and Oregon.

'If the drought declaration results in more attention to saving the salmon that are in the Sacramento Valley rivers, and which are in dire need of attention, then that is good thing,' he said.

Doug Obegi, an attorney at the Natural Resources Defense Council, said California has a complex system that allocates water to areas that laid claim to it first - often over 100 years ago - and which many view the system as unfair.

'Because it's so contentious, there are times when it's hard to make progress,' Obegi said.

But in some ways the state has done well. Over the last 40 years, the state's agriculture industry has doubled the revenue per drop of water used, largely from improved efficiency and changes in the plants grown, Obegi said.


Read more:

http://www.dailymail.co.uk/news/article-2541531/California-governor-declares-drought-emergency-wildfires-continue-burn.html#ixzz2qzamboj8



Satellite Photos Show Pacific


Storms Stopped Cold, Destroyed




1-9-14
Thanks to satellite weather photos, we've been able to observe a persistent, virtually permanent, huge, blocking High Pressure system off the West Coast for the last two months...most of November, December and into January.

We have watched the satellite photos reveal how storm after storm formed up, as usual, in the Kamchatka, Korea and Northern Japan (Fukushima) areas of the North West Pacific.

We've watched them move from West to East - like they have always done - to deliver their life-giving rain and snow to keep the US green and verdant. These storm systems, wave after wave, fill our lakes and rivers with water, rain on our vast agricultural lands and cover the Sierras, Cascades and Rockies with snow.

However, for some *strange* reason, not one of them has made it through the immense high pressure blockade sitting off the West Coast this winter. Why? These often robust rain systems run into the High Pressure 'brick wall' and are broken down into pieces with much of their water content raining back into the Pacific.

It *might* be these storms are carrying a lot of radiation and 'someone' has decided it would be best if they were prevented from getting to the West Coast because if they are carrying radiation, countless thousands on citizens would be measuring and reporting via YouTube, etc, the sudden uptick in CPM rates.

It is widely believed that human emf geoengineering technology can erect and keep high pressure systems in place, if so desired. Is that what is happening to the West Coast... is this an effort to keep Fukushima radiation from blanketing the Western US...even if it is just for the time being?

Watch the sequences of date-stamped satellite photos below. Remember also, high pressure systems are round, circular mountains of air spinning in a clockwise rotation. HIgh pressure systems do not lay out in squares or drastic 90 degree configurations. Take a look. Follow the storms as they move from left to right and what happens to them.

Some of the pieces end up being pushed by the Jet Stream up into British Columbia, across Canada and then dropping down into the Central US. That would explain by Geiger counter readings of some of the current snow in Missouri measured 100% over normal background.

The High Pressure Ridges appear as clear spaces off the West Coast...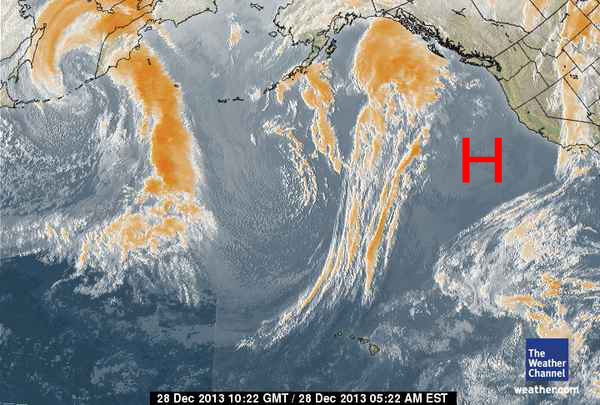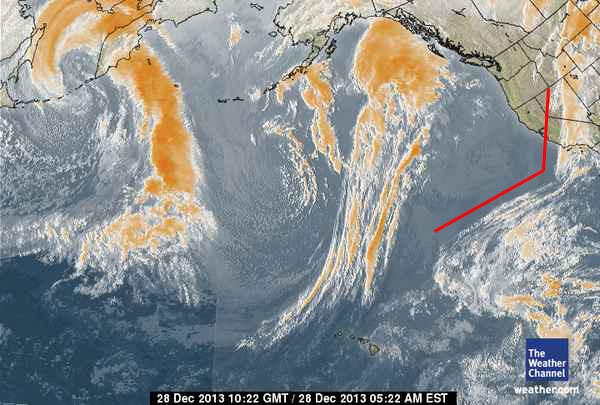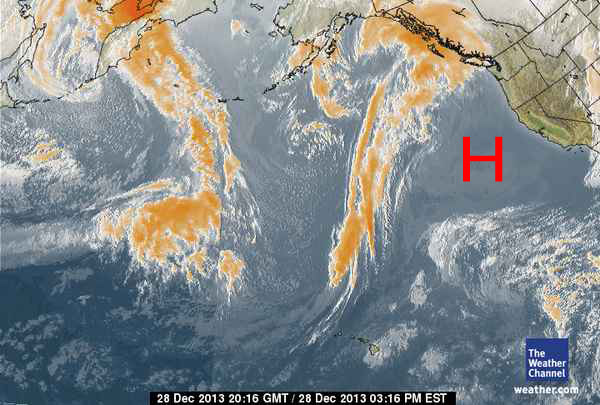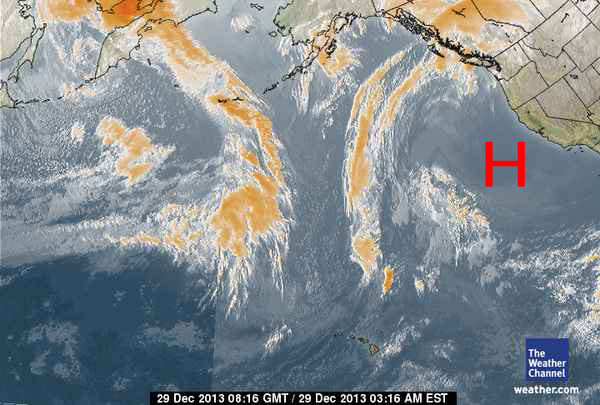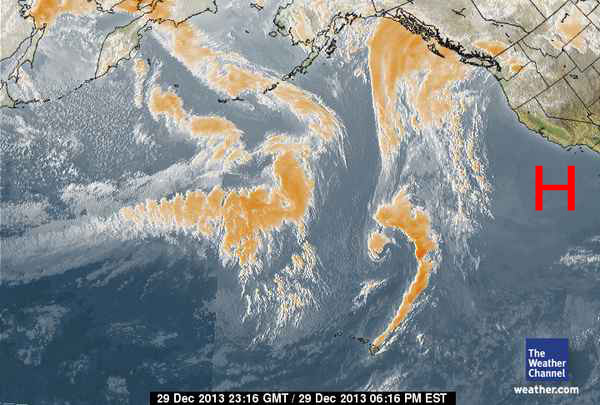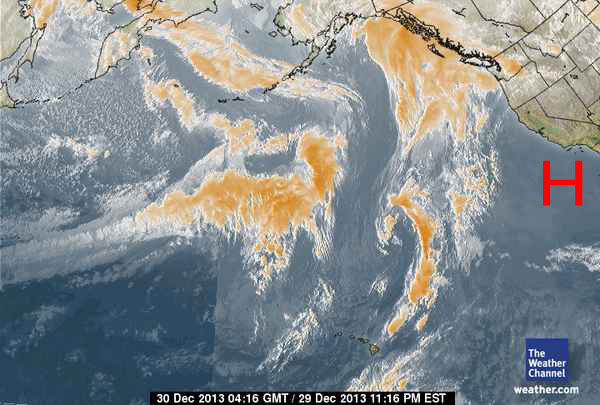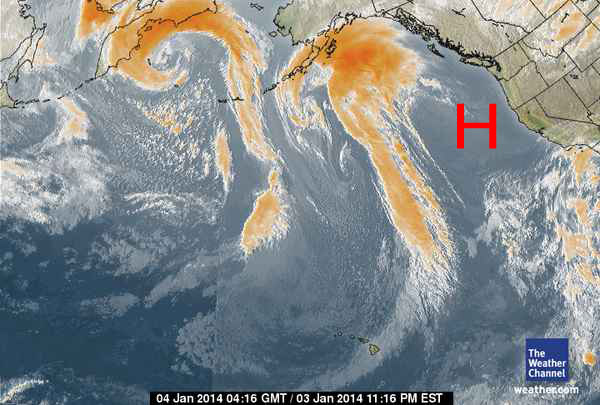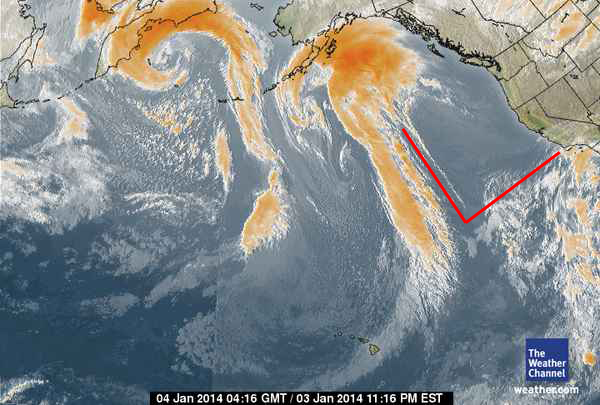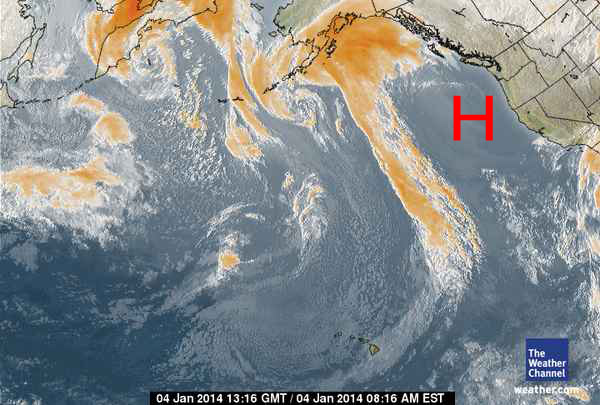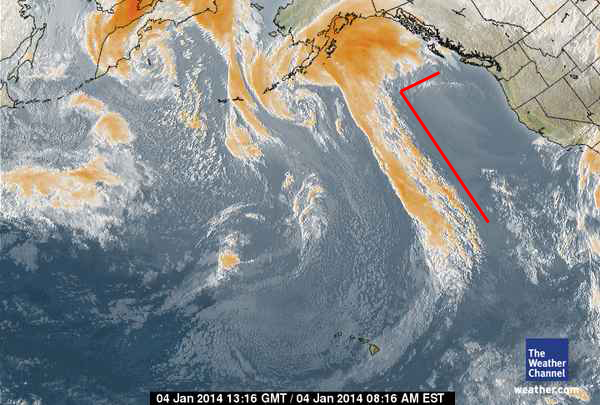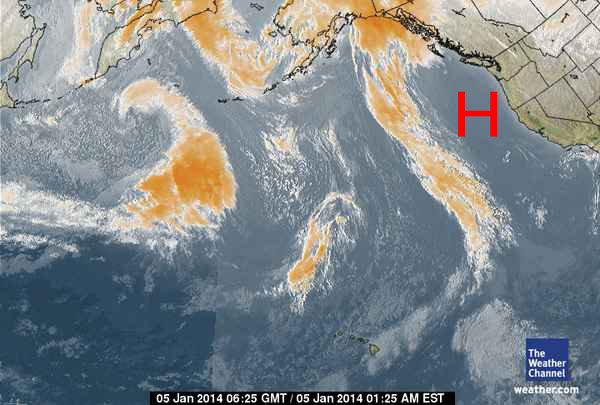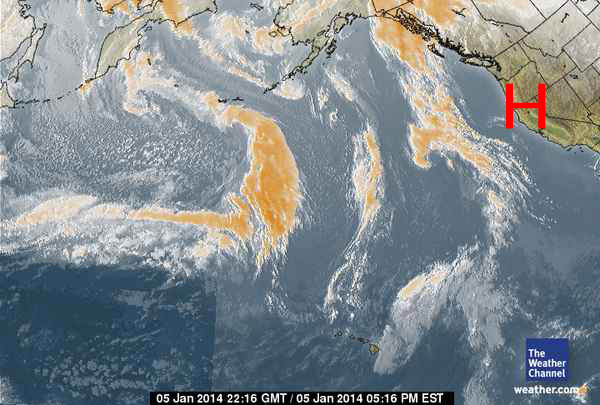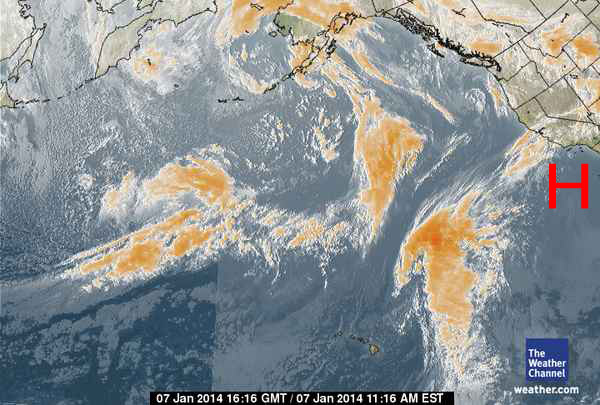 Here we are two days later and you can see the High Pressure is back off California, stronger than ever...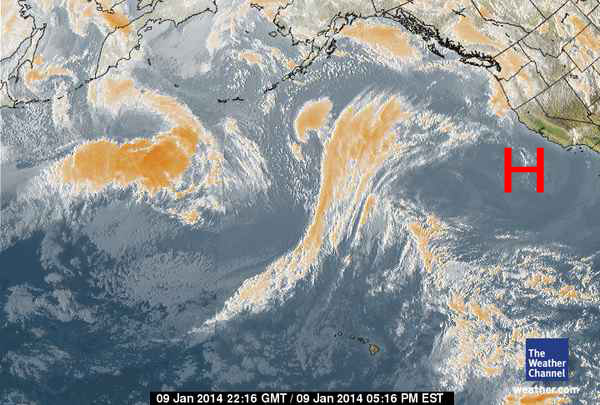 California fights wildfire, expects more as drought emergency declared
updated 7:22 PM EST, Fri January 17, 2014

Los Angeles (CNN) -- California Gov. Jerry Brown on Friday declared a drought emergency for the state, saying it is facing "perhaps the worst drought that California has ever seen since records (began) about 100 years ago."
The governor's announcement, made in San Francisco, came as a wildfire burned Friday with only 30% containment in 1,700 acres of foothills of Los Angeles County near Glendora. An illegal campfire apparently ignited the wildfire, and fire officials cited drought conditions as contributing to the blaze.
In his declaration, the governor called for voluntary "20% conservation of our water use" statewide. "It's important to wake all Californians to the serious matter of the drought and lack of rain," Brown told reporters. "We are in an unprecedented, very serious situation that people should pause and reflect on how dependent we are on the rain, nature and one other.
"This is an effort to call for arms," he continued. "That's the point of the declaration."
Brown said he would set into motion an initiative that would make water transfers easier between regions in the state.
The snowpack in California's mountains is at 20% of normal levels. The state's largest water reservoirs are below record lows, and the major waterways, including the Sacramento and the San Joaquin rivers, flow with "significantly reduced" water.
Since 2011, extremely dry conditions have parched the state.
Under the proclamation, Brown directed officials to take "all necessary actions" to address the drought, including assisting farmers and communities with water shortages. He directed state agencies to use less water and hire more firefighters.
Ninety percent of California is in a severe drought, CNN meteorologist Chad Myers said. "This could be a giant fire year coming up," Myers added.
Meanwhile, about 800 firefighting personnel brought a Los Angeles-area wildfire under some control Friday, with 30% containment -- an improvement over 0% a day earlier.
"I've seen the sky turn gray from smoke before during fires here in Los Angeles, but this red sun was more eery than others," said CNN iReporter Corinne Shor from about a 20-minute drive away. "I could also smell the fire and my eyes started to sting."
About 3,600 people at one point were ordered to evacuate, though that number had fallen to about 1,600 as of late Thursday night, according to Angeles National Forest's update on the Incident Information System's website.
The number of evacuees fell even further Friday, when police in the inland Southern California city of Azusa announced that select residents could return to their homes at 4 p.m. (7 p.m. ET). Residents of Mountain Cove in that city, however, were not being let back in due to continued "concern for the roadway and homes in that area."
Meanwhile, a red flag warning was extended to Friday because of anticipated warm, dry breezes called Santa Ana winds, InciWeb said.
The blaze began before dawn Thursday and allegedly originated with three men camping in the foothills near Glendora, authorities said. The campers were tossing paper into a campfire, and a gust of wind spread embers, authorities said.
The three men, all in their early 20s, were arrested on suspicion of recklessly starting a fire, said Police Chief Tim Staab of Glendora. One man is from Glendora and another is from Irwindale, he said. The third man's home was not known. Bail was set Thursday at $20,000 for each.
"The way it's told to us is that all three of them were together at the time, sitting around this campfire," he said. "Breeze kicked up, and that's what caused this fire.
"It's not a camping area, but people do camp up in the hills above Glendora," Staab said.
The arrests were made after authorities received a call that at least two people were suspiciously walking away from the fire, the chief said.
The three men arrested were identified as Jonathan Carl Jerrell, 23; Clifford Eugene Henry Jr., 22; and Steven Robert Aguirre, 21, police said. They and their attorneys couldn't be reached for comment.
The wildfire, named the Colby Fire, destroyed two homes and injured one person Thursday morning, Los Angeles County Fire Chief Daryl Osby said.
The injured civilian suffered minor burns, Osby told reporters.
"We predicted that this is going to be an intense fire season because this is the third year of an ongoing drought," he said.
There hasn't been a fire in Glendora's foothills since 1968, so the area has lots of brush and other fuel for a wildfire, authorities said.
CNN's Jason Hanna, Sonya Hamasaki and Greg Botelho contributed to this report.
NORDEN, Calif. — Cattle ranchers have had to sell portions of their herd for lack of water. Sacramento and other municipalities have imposed severe water restrictions. Wildfires broke out this week in forests that are usually too wet to ignite. Ski resorts that normally open in December are still closed; at one here in the Sierra Nevada that is open, a bear wandered onto a slope full of skiers last week, apparently not hibernating because of the balmy weather.
On Friday, Gov. Jerry Brown made it official: California is suffering from a drought, perhaps one for the record books. The water shortage has Californians trying to deal with problems that usually arise in midsummer.
With little snow in the forecast, experts are warning that this drought, after one of the driest years on record last year, could be as disruptive as the severe droughts of the 1970s.
Under state law, that would allow the governor to "waive laws or regulations and expedite some funding," said Jeanine Jones, deputy drought manager for the State Department of Water Resources. "It does not create a new large pot of money for drought response or make federal funding available."
Signs of drought are everywhere, affecting vast sectors of the economy. A sense of dread is building among farmers, many whom have already let fields go fallow. Without more water, an estimated 200,000 acres of prime agriculture land will go unplanted in Fresno County, according to Westlands Water District officials. Cattle ranchers accustomed to letting cows graze on rain-fed grass have had to rely on bought hay or reduce their herds.
Clergy of all faiths have been exhorting the faithful to pray for precipitation. "May God open the heavens, and let his mercy rain down upon our fields and mountains," Bishop Jaime Soto, the state's Roman Catholic conference president, said last week. The Sacramento Valley chapter of the Council on American-Islamic Relations followed suit by announcing that area mosques would offer the traditional rain prayer, Salatul Istisqa.
California gets much of its water from the snowpack of the Sierra Nevada, so towns like this one have a front-row view of the problem. The base at Donner Ski Ranch, a family-owned resort with limited snow-making capacity, was less than a foot of snow this week. Usually, it would be several feet deep in January, like other resorts in the Sierra.
"This is the worst I've ever seen," said Lincoln Kauffman, 55, the resort's general manager, who has been skiing in these mountains since the early 1970s. "I think 1976 and 1977 were comparable to this — that was a really tough one. I remember the restrictions on showers and flushing toilets."
"We still have extreme fire conditions throughout the state in January," said Dennis Mathisen, a spokesman for the state's Department of Forestry and Fire Protection. "This is definitely not the norm for us."
The snowpack plays a critical part in what is one of the world's most sophisticated and complex water delivery systems, supplying water to more than 25 million people and the $44.7 billion agricultural industry. The snow that piles up on the Sierra Nevada's 400-mile range during the winter acts as a reserve that starts to melt in the spring. The melting snow drains into rivers that feed reservoirs below, providing water to densely populated communities hundreds of miles south in Southern California.
Given the snowpack's significance to the state's farmers and water boards, winter snow surveys are carried out monthly starting every January. In a ritual that often makes it onto the front pages of newspapers in California, the chief snow surveyor, Frank Gehrke, measures the depth of the snowpack every month by plunging aluminum tubes into the same spot along Highway 50 in the Sierra.
After the survey this month, the Department of Water Resources said that the snowpack was only 20 percent of the historical average.
The lack of precipitation has been caused in large part by a high-pressure zone stretching along the coast from Oregon to northern Mexico. The zone acts like a mountain range, blocking storm systems from striking land. Storms are pushed instead north into Canada and Alaska, contributing to the extreme cold weather seen in recent weeks across much of the Midwest and Northeast. Though such high-pressure zones are normal during the winter, they usually dissipate and re-form, allowing storms to blanket the state in snow and rain.
"We've got a ridge of high pressure sitting overhead, and it is not budging," said Diana Henderson, a forecaster with the National Weather Service.
In Truckee, a ski resort town near here, the Back Country store was holding a clearance sale on mountain bikes, which some people were riding this winter instead of skiing.
"These should be sitting on the shelves this time of the year," an employee, Aaron Breitbard, said of CO2 cartridges used to inflate flat tires in an emergency. "But they've been selling. And, as you can see, we're building one bike and repairing another one."
About a hundred miles west of here, the relics of Red Bank, a Gold Rush-era town that, according to California State Parks, included a mine, winery and dairy, now lie exposed on the dry bed of Folsom Lake. A few dozen locals had come to look at nails, glass and bricks scattered here and there.
"Everybody's been talking about how low the lake is," said Ramone Velazquez, who was visiting with his wife, Mariana, and their young daughter, Juliet.
"I'm really worried about how this drought is going to affect us," he said. "I heard about the drought in the '70s, and how people couldn't water their lawns and wash their cars. They could take only one-minute showers."
"Can you believe that?" his wife said. "We're used to taking an hour."