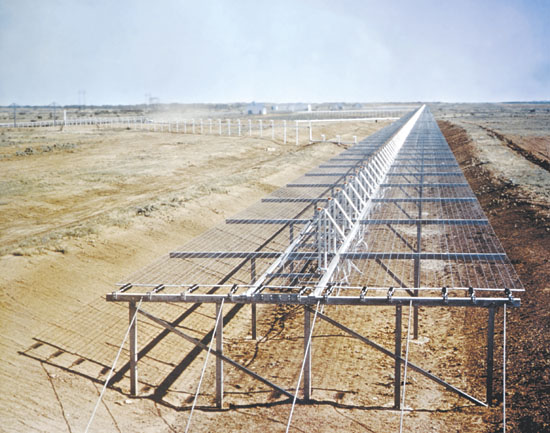 Dee Finney's blog
start date July 20, 2011
today's date January 1, 2013
page
TOPIC: THE SPACE FENCE
1-7-2014
NOTE: THESE ARE THE NOTES I TOOK FROM A DOCUMENTARY FILM ABOUT A REAL SPACE FENCE, ALREADY IN OPERATION IN THREE STATES, WHICH I WATCHED ON THE MILITARY CHANNEL ON TELEVISION.
SATTELITES:
THERE ARE OVER 3,000 SATELLITES FLYING OVERHEAD. THERE ARE RULES THEY MUST FOLLOW BUT ALMOST IMPOSSIBLE TO ENFORCE.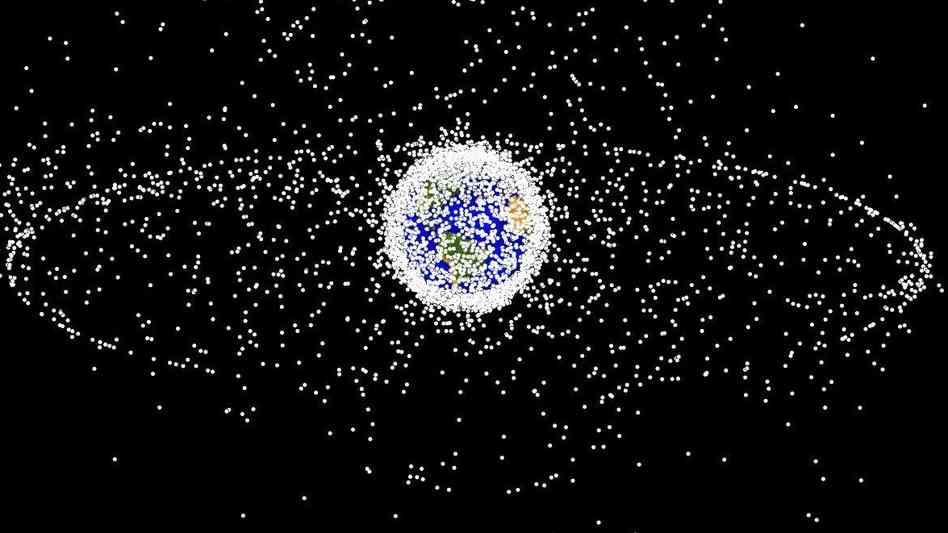 A computer image generated by NASA shows objects orbiting Earth, including those in geosynchronous orbit at a high altitude.
The objects are not to scale.
IT MAY ALREADY BE A WARZONE.
IF A SATELLITE GETS HIT BY SOMETHING AS SMALL AS A PEBBLE, IT COULD CAUSE A SATELLITE TO WOBBLE AND SUBSEQUENTLY CRASH.
THERE ARE OVER 150, 338 OBJECTS IN SPACE. NOT ALL OBJECTS ARE FUNCTIONAL.
THE SPACE FENCE.
A 2,000 FEET LONG FENCE THAT TRACKS EVERY SATELLITE IN ORBIT.
SPACE JUNK IS DANGEROUS. SPACE IS NOW CUTTERED WITH NUMEROUS DEFUNCT SATELLITES, LEFT OVER ROCKET BOOSTERS AND OLD PARTS FROM LEFTOVER SPACECRAFT.
THE SPACE FENCE IS THE FIRST LINK OF DEFENCE. IT IS LOCATED 90 MILES FROM BIRMINGHAM, ALABAMA.
IT IS NEARLY A MILE LONG.
IT WORKS WITH TWO OTHER IDENTICAL FACILITIES IN TEXAS AND ARIZONA.
TOGETHER IT SHOOTS A MASSIVE RADAR BEAM STRAIGHT TO THE HEAVENS.
JORDAN LAKE, AL, LAKE KICKAPOO, TX, GLANVER, AZ.
THERE ARE SIX RECEIVERS ON EARTH THAT CAPTURE THE SIGNAL SENT BACK FROM THE SATELLITE BEING HIT BY THE RADAR BEAM.
AT PENSACOLA, FL IS A SITE CALLED G-6.
FEW PEOPLE ARE ALLOWED TO SEE IT.
THIS IS A SISTER SYSTEM TOT HE SPACE FENCE AND IT'S THE MOST POWERFUL RADAR IN THE WORLD.
IT'S A 14 STORY BUILDING THAT HAS 5028 POWERFUL ANTENNAS INSIDE IT.
THE SPACE FENCE PLUS THIS FACILITY IS CALLED ' THE SPACE SURVELLANCE NETWORK.'
IT CAN TRACK 200 SATELLITES SIMULTANEOUSLY.
THE QUESTION IS: DOES THIS FACILITY DO MORE THAN TRACK SATELLITES?
IN 2008, A U.S. SPY SATELLITE USA/93 MALFUNCTIONED AND WAS FALLING BACK TO EARTH. IF IT LANDED ON A CITY, IT WOULD EXPLODE LIKE A BOMB. IT WAS LOADED WITH 1,000 LBS. OF SATELLITE FUEL.
THE SPACE FENCE FACILITY WAS CALLED UPON TO HELP. WHAT THINGS WOULD BE EXPOSED WHEN THE SPY SATELLITE WAS SHOT OUT OF THE SKY?
THOUSANDS OF SATELLITES ARE FLYING AROUND EARTH AT THE SPEED OF 10 TIMES THE SPEED OF A BULLET.
THE U.S.S. LAKE ERIE IS LOCATED N.W. OF HAWAII AND COORDINATES WITH THE SATELLITE CONTROL FACILITY. IT THEN LAUNCHES A SPACE MISSILE AT THE SATELLITE THAT IS MALFUNCTIONING AND BLOWS IT APART.
THERE WAS A DANGER TO PEOPLE IF THE SATELLITE WOULD HAVE HIT EARTH BUT THERE IS MORE TO THE STORY.
IT DEMONSTRATED A NEW WEAPONS SYSTEM.
THERE IS EVIDENCE THAT SHOW THAT OTHER LARGE COUNTRIES HAVE FACILITIES LIKE OURS.
ON JANUARY 10, 2011, CHINA USED A SAPCE MISSILE TO KNOCK OUT ONE OF ITS OWN WORN OUT WEATHER SATELLITES.
THE CLEAR MESSAGE IS THAT THE CHINESE ARE ALSO CAPABLE OF SHOOTING DOWN SATTELITES - OUR SATELLITES TOO.
MODERN WARFARE RELIES HEAVILY ON SATELLITES SO A FUTURE CONFLICT WILL LIKELY START IN SPACE.
SPACE IS LIKELY TO BE A PLACE OF FUTURE CONFLICTS.
MILITARY WOULD NEED TO BE ABLE TO TAKE OUT SATELLITES WITHOUT LEAVING EVIDENCE OF FOUL PLAY.
X-37B - AN UNMANNED SPACE CRAFT.
IT HAS RARELY BEEN PHOTOGRAPHED. THE X-37B USES EVIDENCE FROM THE SPACE FENCE TO TRACK FOREIGN SATELLITES. THEN IT COULD ATTACK THEM. BUT WOULDN'T THAT START WWIII?
EXPERTS SAY IT WOULD BE MORE CLANDESTINED THATN ROCKETS OR MISSILES.
IF YOU COULD SPRAY A SATELLITE WITH A NON-REFLECTIVE MATERIAL YOU WOULD CAUSE IT TO OVERHEAT, CAUSING IT'S SENSITIVE INSTRUMENTS TO MALFUNCTION, SENDING IT OFF COURSE AND PLUNGING TO EARTH.
THE GOOD PART OF THE PLAN IS THAT IT IS IMPOSSIBLE TO PROVE WHO IS BEHIND IT.
THE X-37B WAS LAUNCHED IN 2010. ITS MISSION AND ORBIT ARE STILL TOP SECRET.
SOME AMATEURS HAVE DISCOVERED HOW TO TRACK THE X-37B BY TRACKING THE RECEIVING BLIPS ON THE SPACE FENCE.
HOME BUILT SATELLITE TRACKERS CAN BE BUILT IN ONE'S OWN BACK YARD APPARENTLY. ONE OF THEM IS IN COLORADO.
IT WAS BUILT WITH COAT HANGARS AND COAXIAL TV CABLES. THE OWNER FOUND THE FORMULAS TO BUILD IT ON THE INTERNET. HE FORMULATED A WAY TO SEE THE SAPCE TRACKING ON A SCREEN IN HIS BEDROOM.
HE DISCOVERED THAT IT FLIES CLOSE TO CHINESE SATELLITES, BT THERE IS NO EVIDENCE THAT IT TAMPERS WITH THEM.
IN 2011 A MALFUNCTION MAKED THE WORLD TAKE NOTICE. RUSSIA LAUNCHED A PROBE BOUND FOR MARS NAMED PHOBOS GRUNT.
SHORTLY AFTER LAUNCH, PHOBOS GRUNT WAS CRIPPLED BY SOLAR PANEL FAILURE AND ALL COMMUNICATION WAS LOST.
THE 14 TON CRAFT STARTED MAKING A SLOW DESCENT BACK INTO EARTH'S ATMOSPHERE. PHOBOS GRUNT IS THE HEAVIEST OBJECT TO FALL BACK TO EARTH AND DANGEROUSLY OUT OF CONTROL.
BUT COULD THE U.S. BE RESPONSIBLE FROM THE BEGINNING? IT WOULD HAVE BEEN POSSIBLE TO USE THE SPACE FENCE TO TRACK PHOBOS GRUNT AND THEN USE THE RADAR TO BLOCK RUSSIA'S ABILITY TO COMMUNICATE WITH IT.
PHOBOS GRUNT BROKE UP INTO MANY PIECES AND FELL INTO THE SOUTH PACIFIC AND THOUGH RUSSIA BLAMES THE U.S. FOR THE FAILURE OF THE SPACE CRAFT, THERE IS NO EVIDENCE TO PROVE IT.
QUESTION: IS THE SPACE FENCE JUST A TRACKING DEVICE, OR IS IT A SPACE WEAPON? WE DON'T KNOW! THAT INFORMATION IS CLASSIFIED.
NEWS:
The Space Fence is down. That's the message we get from the SatWatch site, following up on our report last month that the U.S. Air Force was poised to shut down the radar system that tracks thousands of objects orbiting Earth. It had been in operation since 1961.
The Space Fence — also known by its formal name, the Air Force Space Surveillance System — consists of three transmitters and six receivers that stretch across the southern U.S., using radio waves to paint a picture of a slice of space. The items it detected ranged from satellites and debris to meteors.
"The final satellite I captured an RF reflection from was the Meteor Priroda," says Mike Coletta of SatWatch, "which went over the transmitter site at approx 0000 hrs UTC [on Sept. 1], and there have been no more reflections since that time."
Shutting down the system will save around $14 million annually, the Air Force Space Command said last month. The agency hopes to install a new version of the fence using technology that it says will be more accurate.
News of a pending shutdown came last month after an Air Force memo came to light. That led to criticism from experts who say the fence should not be shut down before a new system is in place.
Under current projections, a new U.S. space fence system is expected to be operational in 2017. According to military contractor Lockheed Martin, the new system will be built in the Marshall Islands at an estimated price of $1.9 billion over seven years.
Writing for The Space Review site, Brian Weeden of the Secure World Foundation says that shutting down the Space Fence is "a high-stakes gamble by AFSPC to bolster the long-term survivability of the new S-Band Space Fence it wants to acquire."
The system's shutdown has also disappointed hobbyists who for years tuned in to the fence's frequency, around 216.98 MHz, to hear the pings and beeps created when orbiting objects reflect VHF radio signals back to Earth. According to the most recent report we could find from NASA, more than 21,000 objects larger than 10 centimeters are in orbit.
Because the Space Fence operated continuously, it collected reams of data about the objects that swarm around the Earth.
"The U.S. military also uses the data to offer a close approach warning service for owner-operators of the more than 1,000 active satellites in orbit," Weeden writes. "In 2012, satellite operators conducted 75 maneuvers to avoid potential collisions as a result of those warnings."
The Air Force Space Surveillance System, colloquially known as the Space Fence, IS a U.S. government-multistatic radar system built to detect orbital objects passing over America. It is a component of the US space surveillance network, and was claimed to be able to detect objects as small as 10 cm (four inches) at heights up to 30,000 km (15,000 nautical miles.)
The system ceased operation in September 2013.
The operation's headquarters are at Dahlgren, Virginia, and radar stations are spread out across the continental United States at roughly the level of the 33rd parallel north.
There are three transmitter sites in the system:[1]
The master transmitter at Lake Kickapoo is said to be the most powerful continuous wave (CW) station in the world, at 768 kW radiated power on 216.97927 MHz. Overhead imagery (see coordinates given above) of the Gila River and Jordan Lake sites suggests that the original design called for antennas of twice the present length with, presumably, greater radiated power.
There are six receiving stations:[1]
The following receiving stations were placed in cold storage in April 2013:
The receiving stations at Elephant Butte and Hawkinsville are considered to be "High Altitude" stations with longer and more complex antenna systems that are designed to see targets at higher altitudes than the other four receiving stations.
Although formerly operated by the U.S. Navy from 1961 until October 2004, and known then as NAVSPASUR (short for "Naval Space Surveillance"), command passed to the Air Force 20th Space Control Squadron on October 1, 2004.
In 2009, the operations and maintenance contract for the day-to-day management and operation of the Fence was awarded to Five Rivers Services,LLC, based out of Colorado Springs, Colorado. On September 30, 2011, Five Rivers Services was awarded a $7,022,503 firm fixed price with cost reimbursable line items contract modification to manage, operate, maintain, and logistically support the nine Air Force Space Surveillance System field stations, presumably for Fiscal Year 2012.
The 850th Electronic Systems Group, Electronic Systems Center awarded 3 $30-million contracts to Lockheed Martin, Northrop Grumman andRaytheon on 11 June 2009.
The Space Fence is envisaged to be a system of two or three S-band ground-based radars designed to perform uncued detection, tracking and accurate measurement of orbiting space objects. The Space Fence is intended to replace the Air Force Space Surveillance System, or VHF Fence, that was transferred from the Navy to the Air Force in 2004. The shorter wavelength of the S-band Space Fence allows for detection of much smallersatellites and debris.
The February 10, 2009, collision of a U.S. Iridium communications satellite (Iridium 33) and a Russian Cosmos 2251 communications satellite, which added hundreds more pieces of debris to the atmosphere, highlighted the need for more precise tracking of space objects.[6]
Data collected from the Space Fence's sensors would potentially feed into the Joint Space Operations Center Mission System, which is used to track objects orbiting the Earth, monitor space weather and assess foreign launches. Used by operators at the 614th Air and Space Operations Center atVandenberg Air Force Base, Calif., the 614 AOC's 24-hour-a-day, seven-day-a-week support provides vigilance of global and theater operations and equips the Joint Functional Component Command for space operations with the tools to conduct command and control of space forces.[5]
Plans to award the final contract have been stalled by U.S. budget sequestration in early 2013.[7] and the AFSSS system is likely to be discontinued in October 2013 due to budget cuts
(Published August 13, 2013)
PETERSON AIR FORCE BASE, Colo. (AFNS) -- Due to resource constraints caused by sequestration, Air Force Space Commandofficials have directed the 21st Space Wing to prepare to discontinue operations at the Air Force Space Surveillance System by Oct. 1. Final decisions on all fiscal 2014 budget issues will be made over the next few weeks. By discontinuing operations, the AFSSS would not be maintained in operational status; however, equipment will not be removed until a final disposition determination is made. The AFSSS sites are operated under contract and the 21st SW has notified the vendor, Five Rivers Services in Colorado Springs, Colo., that it most likely will not exercise the next contract option beginning Oct. 1. By de-activating the AFSSS by Oct. 1, AFSPC would see a cost savings of approximately $14 million per year, beginning in fiscal 2014. AFSPC officials have devised modified operating modes for the Perimeter Acquisition Radar Characterization System at Cavalier Air Force Station, N.D., and for the space surveillance radar atEglin Air Force Base, Fla., which allows the discontinuation of AFSSS operations while still maintaining solid space situational awareness. The AFSSS is a series of three transmitters and six receivers along the 33rd parallel stretching across the southern United States.The three transmitter sites are located at Jordan Lake, Ala.; Lake Kickapoo, Texas; and Gila River, Ariz. The six receivers are located at Tattnall, Ga.; Hawkinsville, Ga.; Silver Lake, Miss.; Red River, Ark.; Elephant Butte, N.M.; and San Diego, Calif. The two receiver sites at Tattnall and Silver Lake were deactivated in April of this year.The AFSSS, which has been operational since 1961, is just one part of AFSPC's global Space Surveillance Network. The system is designed to transmit a "fence" of radar energy vertically into space to detect all objects intersecting that fence. The operational advantage of the AFSSS is its ability to detect objects in an un-cued fashion, rather than tracking objects based on previous information. The disadvantage is the inherent inaccuracy of the data, based on its dated design. The new operating modes at Cavalier AFS and Eglin AFB will provide more accuracy than the AFSSS and still collect un-cued observations.The AFSSS is typically referred to as the "space fence," which has caused confusion with the new space fence being developed for the future. "The AFSSS is much less capable than the space fence radar planned for Kwajalein Island in the Republic of the Marshall Islands," said General William L. Shelton, the commander of Air Force Space Command. "In fact, it's apples and oranges in trying to compare the two systems." Unlike the AFSSS, the new space fence will provide very precise positional data on orbiting objects and will be the most accurate radar in the Space Surveillance Network. It will provide enhanced space surveillance capabilities to detect and track orbiting objects such as commercial and military satellites, depleted space boosters and space debris. The new space fence will have much greater sensitivity, allowing it to detect, track and measure an object the size of a softball orbiting more than 1,200 miles in space. Because it is also an un-cued tracking system, it will provide evidence of satellite break-ups, collisions, or unexpected maneuvers of satellites. "When combined with the new Joint Space Operations Center's high-performance computing environment, the new fence will truly represent a quantum leap forward in space situational awareness for the nation," Shelton said. (Courtesy of Air Force Space Command Public Affairs)
On August first, General William L. Shelton, commander of Air Force Space Command, directed that the Air Force Space Surveillance System be closed and all sites vacated effective October first. The AFSSS was turned off September first. "It appears they pulled the plug at 00:00 UT (6 am Local MDT) on September 1st," reports engineer Stan Nelson, who was monitoring the radar using an antenna in Roswell, New Mexico. The radar's final echoes came from a Russian satellite and a sporadic meteor."
THIS IS WHERE I POST WHAT I'M DOING AND THINKING
BLOG INDEX 2011
BLOG INDEX 2012 - page 1
JANUARY THRU APRIL 2012
MAY THRU AUGUST 2012
SEPTEMBER THRU DECEMBER
BLOG INDEX 2013
BLOG INDEX - PAGE 2 - 2013
BLOG INDEX - PAGE 3 - 2013
BLOG INDEX - PAGE 4 - 2014