2-15-03 - The dream starts in my own New Berlin house, but none of the following scenes resembled that house.

I was out in the yard where my husband grew grapevines that attached themselves to the garage wall. It seemed to be Spring and I was observing what was going to come back and what wasn't. At first glance, it appeared that the grapes on the west end of the wall were gone for good because there were no vines attached to the wall, but the plant on the east end of that same wall looked sturdy and firm and ready to come back. I looked closer at them though and I decided that the vine on the west end still had a chance to grow if it could grow new vines this year.

I turned to go back to the house and saw that weeds were growing strongly between the flagstones and along the stone wall alongside the house. I decided to pull out the weeds as long as I was there. A couple only broke off the tops as I didn't get the whole root - a couple others, I got the whole root too. But I knew just from looking at the soil left between the stones that weed seeds could easily blow in and take root again, I would have to come back and scrape out and clean the stones too to prevent the weeds from growing there.

But first I had to make dinner for the royal couple who lived in this house.

I entered the house and saw that the kitchen was clean, but before I could cook dinner, I had to go upstairs and put on my cook's uniform.

I was already dressed in a white uniform that looked like a nurse, but to cook, I had to put a bright yellow boustierre type cover over the white uniform.

I went upstairs to the bathroom and saw that it was clean and I wouldn't need to do any work here. I only had to put on my boustierre.

I was followed into the bathroom by a chubby black woman who was also dressed in a white nurse-type uniform.

I had a secret desire and that was to steal the royal couple's crystal bowls that I knew they would never use and never miss. They were stored in the basement storage room.

I wanted to tell someone about my plan because it was hard to keep this kind of secret, but I had wanted to share it with a friend who also worked for the royal couple who was also a young, thinner black woman. That particular woman also followed me into the bathroom, and she came in with a man - I don't know if was a butler or her husband - he was also black. But because she didn't come in alone, I didn't want to share my secret with her any long. She made a comment about the Lord and Lady not being home yet.

I made a big production of standing in front of the mirror and putting on my yellow boustierre over my nurses uniform.

So, I invited the chubby black woman to come downstairs to the kitchen with me.

As we were descending the stairs, the woman was complaining about her knees hurting and how much she hated stairs.

I commiserated about her pain and when we arrived in the kitchen which was also brown wood, but perfectly clean, I saw on the clock that it was exactly 4 p.m. and I didn't have to start dinner quite yet. We had time to play a game of cards before starting dinner.

So I decided to share my secret with the black woman and give her the opportunity to steal the other set of crystal bowls that was in the basement. I knew she would hate walking down these stairs so only by enduring more pain in her knees could she share in the secret of the crystal bowls.

So she followed me down the stairs to the basement, not knowing what I was going to show her.

On the basement floor, in front of a large refrigerator, was the parings of a cut carrot top and a cut radish top. I picked these up to dispose of them properly and there was no rubbish bin there to throw them in, but there was a watermelon rind there, so I put the vegetable tops into the watermelon rind and slid it out into the alley like a boat for the garbage men to pick up.

To my right, was another set of stairs that went up into a separate store room and I could see there were two complete sets of matching crystal bowls there that the royal couple would never miss nor ever use. The crystal bowls were not upright, but laying over on their sides, and were set on a matching set of tables that had three shelves with these crystal bowls on each shelf. The table appeared to be metal and painted yellow-gold.

I was going to share these and offer the black woman one of the sets, but to see them close up , she would have to climb yet another set of stairs with her painful knees.

I was just about to tell her about the crystal bowls when a man with a booming voice said, "What you are doing is illegal", and I didn't know if he meant that putting the garbage into the alley was illegal, which it probably was, or if he somehow knew I wanted to steal the royal couple's crystal bowls.

~~~~~~~~~~~~~~~~~~~~~~~

Dream 2: 5-18-03

I was in my apartment on Port Washington Rd. in Milwaukee, WI. I made a phone call and must have dialed wrong because I ended up getting a guy in his car on his cell phone.

At first I couldn't really hear him because the connection wasn't good and I almost hung up, but he kept talking because he was amazed that I had been able to find him. He said that his number was only 12 numbers off from a very important government investigative office and he was in the insurance business.

I wasn't that amazed. A wrong number is a wrong number - but his voice kept getting strong and stronger and all of a sudden he was right in front of my building and he asked me to go with him while he picked his kids up from school.

I had nothing better to do at the moment, so I got into the back seat of his car and we almost immediately had the kids in the car too - a girl about 10 and a boy about 8 - though they could have been 9 and 11 or 10 and 12. The girl climbed into the same seat belt with her Dad, but in the center of the car, and the boy sat on the right. It was a good thing she did this and kept her eyes on the road, because the man was a very inattentive driver. He was always looking on the floor of the car to see if anything fell so he could pick it up right away.

He bent over to get something from the floor of the car more than once and never slowed down even though we were in heavy traffic.

I even got nervous and watched out the front windshield myself to make sure traffic didn't suddenly slow down in front of him and have us read-end them.

I almost told him to slow down a couple time, but he must have trusted his daughter to watch the road because he sure took his time looking for whatever fell on the floor.

Then we stopped at a small, but elegant restaurant to celebrate his son's birthday.

The boy said he had made the 'cake' himself, but what he served us was in 4 fluted glasses of lemonade or melted yellow jello to drink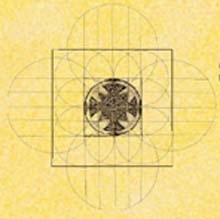 The birthday cake was a multiple colored bowl of jellos in a 12 fluted bowl on a stand - like a large glass ice-cream dish. There were 6 colors of jello in this bowl - each color individually place in the bow - so there were 7 colors altogether.
I looked at the man while he was standing by the table and though how handsome he was and that it was too bad I was so old - I was old enough to be the children's grandmother.
I didn't know what to talk to him about so I asked him if he knew anything about genealogy and that it was important to do it for the children's sake even if they didn't care now - they would care when they were older.
The kids were anxious to get going because it was almost 4:30 p.m. and they carried their own bowls to the back door of the restaurant to the kitchen and didn't expect someone to come and serve them at the table - in fact - they never even sat down.
So I grabbed my coat and carried my own bowls towards the back door myself as well and woke up.