Gulf Coast Residents Brace for Storm
8-22-99
Hurricane Bret Blowing at Up to 140 MPH
Texas Road Info: 1-800-452-9292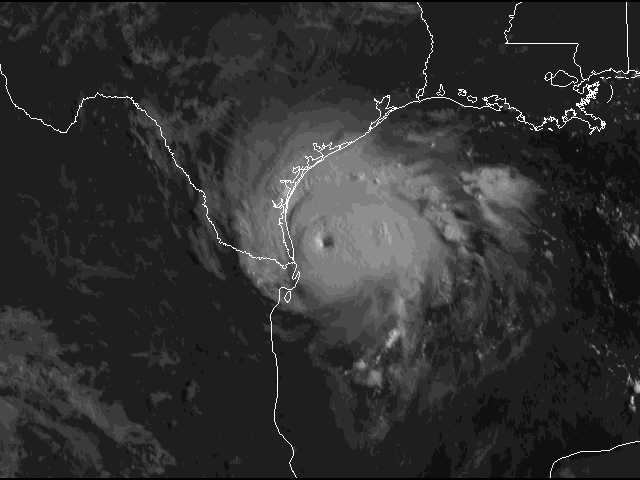 .
RADAR LOOP FOR BROWNSVILLE, TX
http://www.intellicast.com/LocalWeather/World/UnitedStates/SouthCentral/Texas/Brownsville/RadarLoop/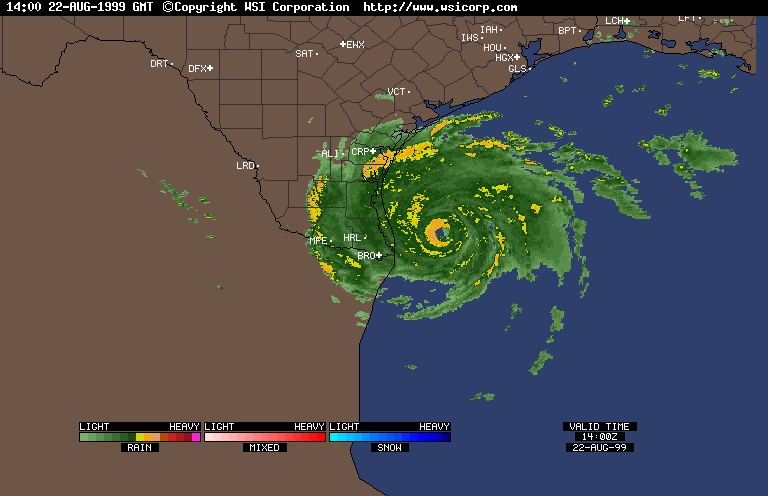 Hurricane Brett heads for the east coast of Mexico
Will make landfall near Brownsville, TX and northern Mexico on Sunday afternoon 8-22-99
Eighteen Mexican ports along the Gulf were closed Friday to small and medium craft navigation.
Hurricane Brett was located 210 miles (338 kilometers) east of Tampico and heading north at 8 mph (13 kph), the U.S. National Hurricane Center in Miami reported. The storm crossed the hurricane threshold with maximum sustained winds of 80 mph (129 kph) and was expected to continue building strength and start gradually turning northwest.
8-21-99 - 8:30 a.m. - Maximum sustained winds were near 90 mph, with higher gusts. Additional strengthening of winds is expected in the next 24 hours.
8-21-99 - 6:30 p.m. Winds have increased to 150 miles per hour. People in low lying areas have been warned to evacuate. Still aimed at Brownsville, TX. The National Weather Service posted a hurricane warning for a 120-mile stretch of the Gulf Coast from La Pesca, Mexico, to Texas' Baffin Bay, between Brownsville and Corpus Christi.
Officials of popular South Padre Island ordered all 2,100 residents to pack and leave by 6 a.m. Sunday, Mayor Ed Cyganiewicz said. Residents of Port Isabel, on the mainland side of the causeway leading to the barrier island, were given until 9 a.m. to evacuate.
''You're not going to live if you stay on the island and the hurricane hits,'' he said. ''You're going to drown.''
Rain had started falling around Brownsville and 5 to 10 inches of rain was possible in south Texas, the weather service said.
The storm was expected to have sustained wind blowing at up to 110 mph by the time it makes landfall Sunday afternoon near the mouth of the Rio Grande, meteorologists said.
~~~~~~~~~~~~~~~~~
By MADELINE BARO DIAZ
.c The Associated Press
BROWNSVILLE, Texas (Aug. 22) - Coastal residents braced overnight for Hurricane Bret, packing winds of 140 mph and expected to hit somewhere along the Texas coast Sunday afternoon or night.
The National Weather Service posted a hurricane warning for a 220-mile stretch of the Gulf Coast from La Pesca, Mexico, to Port O' Connor, Texas, between Corpus Christi and Houston.
Residents and tourists at popular South Padre Island were ordered to evacuate by 8 a.m. Sunday, though most had already fled for the mainland Saturday night.
If anyone refused to leave, ``then we hand out little body tags,'' said Cameron County Judge Gilberto Hinojosa. ``You're not going to live if you stay on the island and the hurricane hits. You're going to drown.''
As forecasters upgraded Hurricane Bret to the second-strongest designation of Class 4 on Saturday, people who live along the coast stocked up on gasoline and groceries. Building supply stores were overrun with those seeking plywood, nails, flashlights and generators.
At 5 a.m. EDT Sunday, the year's first Atlantic hurricane was located about 110 miles east of Brownsville, Texas, moving northwest at about 10 mph. But the U.S. National Hurricane Center in Miami said that pace could slacken as Bret turns northwest over the next six to 12 hours.
In addition to powerful winds, Bret was expected to spin off destructive tornadoes, drench the region with up to 10 inches of rain and hit the coast with 10-foot waves, forecasters said.
``The latest forecast has the center of the storm making landfall somewhere near Corpus Christi, (Texas),'' said Colin McAdie, a Hurricane Center meteorologist.
Texas hasn't been hit by a hurricane since Hurricane Jerry killed three people in October 1989.
While Hurricane Bret still presented a threat of heavy rains on Mexico's northernmost Gulf coast, forecasters said the danger to Mexico had lessened.
In Mexico, hurricane warnings were still in effect for a 160-mile stretch of Mexico's northern Gulf coast from Matamoros south to La Pesca. A hurricane watch extended another 100 miles south to Tampico.
Residents of Matamoros, a city of 360,000 across the border from Brownsville, rushed on Saturday to tape windows and pile sandbags, and stores were packed with residents buying food and water.
Matamoros Mayor Homero Zamora Ayala declared a state of alert and said as many as 7,000 people would be evacuated from low-lying coastal areas. An improvised shelter was established at an area convention center, where an estimated 500 people were expected.
``If the storm takes our house, we will lose everything,'' fisherman Ernesto Martinez Rodriguez said of the wood and tarpaper shack he left behind in the fishing village of Mezquital, near Matamoros.
The hurricane could cause storm surges and coastal flooding 10 to 15 feet above normal tides.
Previous hurricane warnings for the Mexican Gulf coast further south in the coastal state of Tamaulipas were downgraded to hurricane watches, but the threat of heavy rains remained along much of Mexico's coast. Tamaulipas residents were told to expect as much as eight to ten inches of rain.
Late Saturday, Bret became one of two hurricanes in the Atlantic. As of 6 a.m. Sunday, Hurricane Cindy was moving west at about 9 mph and was located about 590 miles west of the Cape Verde Islands. It had maximum sustained winds of 75 mph, with higher gusts, the hurricane center reported.
AP-NY-08-22-99 0619EDT
~~~~~~~~~~~~~~~~~~~~
Sunday, August 22 / 10:39 a.m.
Bret's winds top 135 mph
Evacuation of islands suggested; Landfall projected near Corpus Christi
By Heather Howard
Caller-Times
As the first major hurricane to threaten South Texas in more than a decade churned closer to the coast Saturday, the Coastal Bend waited for word on where it would hit - and braced for the possibility of being battered by Bret.
With the Texas coast north to Port O'Connor under a hurricane warning, emergency officials and weather forecasters kept their eyes on the storm and put employees on alert. Forecasters with the National Hurricane Center in Miami predicted late Saturday that Hurricane Bret would come ashore in the 50-mile stretch between Port Mansfield and Corpus Christi before noon Monday. Read story.
Click for updated hurricane report from the National Weather Service

Follow updated current position and projected movement of hurricane Bret and tropical storm Cindy - enter Storm Center.
---
Inchon sailors prepare to face hurricane
Crew recalled, ship repairs under way
By Stephanie L. Jordan
Caller-Times
INGLESIDE - Sailors on the USS Inchon, many recalled from leave, on Saturday raced the approaching hurricane to repair their ship so it could ride out the storm at sea.
Ever since the 602-foot long mine countermeasures command and control ship returned from a five-month long deployment, half the crew of 650 had been on leave and the rest working half days. Read full story.
---
Hurricane Bears Down on Texas Coast

BROWNSVILLE, Texas (AP) - Coastal residents are bracing today for Hurricane Bret as it whips the sea with winds of 140 mph. The storm is expected to hit somewhere along the Texas coast during the afternoon or night. The National Weather Service posted a hurricane warning for a 220-mile stretch of the Gulf Coast from La Pesca, Mexico, to Port O' Connor, Texas, between Corpus Christi and Houston. Residents and tourists were ordered to get off South Padre Island by 8 a.m. today. Heavy traffic flowed this morning along Interstate 37 as people headed out of the coastal city of Corpus Christi. The Texas National Guard called 600 troops to active duty.

Hurricane Bret Churns Toward Texas Coast

Updated 10:28 AM ET August 22, 1999

By Andrew Kelly

BROWNSVILLE, Texas (Reuters) - Coastal areas in south Texas and northeastern Mexico braced Sunday for the fury of Hurricane Bret, a powerful storm spinning like a pinwheel over the Gulf of Mexico packing winds of 140 mph and torrential rains.

A hurricane warning was in effect along the coast from La Pesca in northern Mexico to Port O'Connor, Texas, some 70 miles north along the coast from Corpus Christi.

At 8 a.m. CDT (9 a.m. EDT), Bret's center was about 80 miles east-northeast of the border town of Brownsville, Texas and 125 miles southeast of Corpus Christi, the National Hurricane Center said. The storm was headed northwest at 10 mph.

Bret is a category four hurricane, capable of causing extreme damage and surpassed in strength only by a "catastrophic" category five with winds of 156 mph or higher.

Meteorologists said it was most likely to make landfall somewhere near Corpus Christi, the largest city on the south Texas coast, late Sunday or early Monday morning.

Hurricane force winds of 74 mph and higher were extending 35 miles from the center and tropical storm force winds of 39 mph to 73 mph were reaching out 100 miles.

The National Hurricane Center in Miami forecast up to 12 inches of rainfall along the storm's path and a dangerous storm surge of up to 15 feet that would flood coastal areas.

Authorities ordered the evacuation of some vulnerable coastal areas Saturday, including the popular beach resort of South Padre Island, near Brownsville.

"We may be criticized later for having everyone get off the island for no reason, but I'd rather err on the side of safety," said Ed Cyganiewiecz, the mayor of South Padre Island.

Texans living close to the Gulf of Mexico rushed to hardware stores to buy plywood to board up their windows and also flocked to buy bottled water and flashlights.

Shelters opened in schools and other public buildings and authorities advised those who could do so to leave the coast and head inland until the worst of the storm passed.

The Texas Department of Criminal Justice said it had evacuated some 3,000 prisoners by bus from jails in the Brownsville area, transferring them to jails further north.

Gilberto Hinojosa, a judge in Cameron County, which includes Harlingen and Brownsville at the southernmost tip of Texas, was involved in emergency service preparations. He met Sunday with emergency services staff to discuss the response to the storm.

"It's still a very dangerous storm. There's still a great possibility that it may hit our area and cause severe damage," Hinojosa said.

The judge said he was most concerned about the flooding.

"Our area is a low-lying area and we have a tendency to flood," he added.

Bret is the strongest storm to threaten the Texas coast since Hurricane Beulah hit in 1967, killing 13 people.

Hurricane Jerry killed three people along the upper Texas coast in October 1989 but since then, the state has enjoyed a long stretch without a direct hurricane strike. Authorities are concerned that this has made Texans complacent about the threat of hurricanes and less likely to heed warnings.

Gulf Coast Residents Brace for Storm

Evacuation Ordered for Low-Lying Areas on Texas Coast

By MADELINE BARO DIAZ

.c The Associated Press

BROWNSVILLE, Texas (Aug. 22) - People were ordered to evacuate low-lying sections along the Texas Gulf Coast on Sunday as Hurricane Bret headed for shore with wind blowing at a steady 140 mph and a threat of 10- to 15-foot tides.

The National Weather Service posted a hurricane warning for a 220-mile stretch of the Gulf Coast from La Pesca, Mexico, to Port O' Connor, Texas, between Corpus Christi and Houston.

A mandatory evacuation order was issued for coastal Padre and Mustang islands and other low-lying areas and police went door to door urging people to leave. And the mayor of Corpus Christi declared a state of disaster and called for a general but voluntary evacuation of the city of more than 275,000 people, said city spokesman Ted Nelson.

''We are really trying to drive home the point that we take this very seriously and we consider this a very serious storm,'' Nelson said.

Corpus Christi city officials had been told the Category 4 storm could make landfall about 10 p.m., said Jim Rutland in the City Hall command center.

Waves were reaching 21 feet high at a buoy 45 miles off the coast, the weather service said, and tidal surges of 10 to 15 feet were possible when the storm hit the coast.

Heavy traffic flowed Sunday morning along Interstate 37 as people headed out of Corpus Christi toward the inland city of San Antonio, said Tom Vinger of the Texas Department of Public Safety.

The Texas National Guard called 600 troops to active duty, said Master Sgt. Larry Todd.

Farther south, residents and tourists had been ordered to get off popular South Padre Island near Brownsville by 8 a.m. Sunday, and most had already fled for the mainland Saturday night.

South Padre was pounded by heavy rain Sunday morning and experiencing 30 to 40 mph squalls, Mayor Ed Cyganiewicz said.

Except for police and about 50 residents, the island was a ghost town, he said.

''It was one of the most eerie feelings I've ever had, driving down Padre Drive around midnight and not seeing anybody,'' Cyganiewicz said.

At 11 a.m. CDT Sunday, the year's first Atlantic hurricane was located about 65 miles northeast of Brownsville or 105 miles south-southeast of Corpus Christi. It was moving toward the northwest at 10 mph, and was expected to gradually turn toward the west-northwest and slow down over the next 24 hours, the National Hurricane Center in Miami said.

In addition to powerful wind, Bret was expected to spin off destructive tornadoes, and drench the region with up to 10 inches of rain, forecasters said.

Texas hadn't been hit by a hurricane since Hurricane Jerry killed three people in October 1989.

While Bret still threatened parts of Mexico with heavy rain, forecasters said the danger to Mexico had lessened.

A hurricane warning was still in effect for a 160-mile stretch of Mexico's northern Gulf Coast from Matamoros south to La Pesca, but the Mexican government dropped a watch that had extended 100 miles farther south to Tampico.

Bret was one of two hurricanes in the Atlantic. As of 10 a.m. Sunday, Hurricane Cindy was moving west at about 7 mph and was located about 535 miles west of the Cape Verde Islands. It had maximum sustained wind of 75 mph, with higher gusts, the hurricane center reported.

AP-NY-08-22-99 1240EDT

~~~~~~~~~~~~~~~~~

Relief Agency Readies for Hurricane

Weather Service: 'Clear Potential of Producing a Major Disaster'

.c The Associated Press

WASHINGTON (Aug. 22) - Hurricane Bret has the ''clear potential of producing a major disaster,'' possibly more destructive than Hurricane Andrew in 1992, the National Weather Service declared Sunday.

A vital difference between Bret and Andrew, the service's Jim Hoke said, is that the hurricane bearing down on the Texas east coast is moving much slower while carrying the same 140 mph winds.

Hoke appeared with officials of the Federal Emergency Management Agency to discuss preparations for the expected afternoon or evening landfall.

FEMA's director of response and recovery operations, Bruce Bahghman, said the agency has prepared four emergency medical and relief teams for deployment once the location of Bret's landfall is certain.

Hoke said a tornado watch was to be issued Sunday afternoon on the south Texas coast to warn against twisters Bret was likely to spawn as it closed in between Corpus Christi and Brownsville. The area already was under a hurricane warning.

''Hurricane Bret has the clear potential of producing a major disaster,'' Hoke said. ''It has the ingredients to threaten life and property in many ways. These ways include storm surge, flooding from rains, high winds and tornadoes.''

He said the biggest worry of emergency workers is that barrier islands and low-lying coastal areas will be inundated by a storm surge of 10-15 feet.

AP-NY-08-22-99 1322EDT

~~~~~~~~~~~~~~~~~~~

Sunday, August 22 / 2:18 p.m.

--------------------------------------------------------------------------------

Hurricane Bret Update

By staff reporters

Caller-Times

Storm tracks:

At noon Sunday, Bret was about 100 miles south-southeast of Corpus Christi, moving slightly north of west at about 9 mph, according to the National Hurricane Center. Forecasters predict the storm to continue in this direction, but decrease its speed during the next 24 hours.

Bret is expected to make landfall between 8 and 10 p.m. Weather officials anticipate the first heavy winds at about 2 p.m., and hurricane force winds at about 6 p.m.

Maximum sustained winds are near 140 mph, with higher gusts. Hurricane force winds extend 35 miles from the eye of the hurricane, and tropical storm force winds extend for 150 miles.

~~~~~~~~~~~~~~~~~

Hurricane Bret Lashes Texas Coast

Forecasters Also Warn of Tornadoes

By KELLEY SHANNON

.c The Associated Press

CORPUS CHRISTI, Texas (Aug. 22) - Hurricane Bret, the biggest storm to hit Texas in nearly 20 years, roared ashore Sunday with horizontal sheets of rain and 125-mph winds that whipped and bent palm trees and forced thousands of people to flee inland.

The rapidly developing storm made landfall about 6 p.m. in sparsely populated Kenedy County, about 70 miles south of Corpus Christi.

Businesses and homes were shuttered from Brownsville to north of Corpus Christi, and highways leading inland were packed with bumper-to-bumper traffic for miles.

Winds of 125 mph, with gusts even higher, extended 40 miles out from the storm. Forecasters warned about tornadoes spawned by the storm, a foot or more of rain and a storm surge that could approach 25 feet.

The tightly focused storm had the ''clear potential of producing major disaster,'' said Jim Hoke, director of the National Weather Service's National Hydrometeorological Emergency Center.

He compared the storm with Hurricane Andrew, which battered Florida in 1992. But Hoke said Bret could be more destructive since it was moving more slowly while packing the same powerful winds.

''I think it's going to be bad,'' 19-year-old Elissa Rivera said as she stopped for a quick picnic lunch on her trip to San Antonio, where the Red Cross set up shelters for evacuees. ''We have a townhome and we're more worried about flooding than anything. We had to take everything and move it upstairs.''

Palm trees whipped as the wind strengthened in early afternoon and Corpus Christi Bay was covered with whitecaps as the Category 4 storm cam ashore.

Corpus Christi declared a state of disaster and called for a general but voluntary evacuation of the city of 300,000 residents, said city spokesman Ted Nelson.

''We are really trying to drive home the point that we take this very seriously and we consider this a very serious storm,'' Nelson said.

The evacuation was ''proceeding in an orderly fashion,'' Corpus Christi City Manager David Garcia said Sunday.

''I hope my fellow Texans say a prayer for those fellow Texans that are in harm's way,'' Gov. George W. Bush said.

Like monstrous Hurricane Allen in 1980, Bret's center appeared headed for one of the state's least populated areas, the ranch land of Kleberg and Kenedy counties between Brownsville and Corpus Christi. However, tropical storm-force winds of up to 73 mph extended more than 100 miles outward from the center, the National Hurricane Center said.

The King Ranch occupies much of Kenedy and Kleberg counties. Ranch president Jack Hunt said about 50 people had been evacuated but there was no way to protect about 55,000 head of cattle.

''The cattle will just have to ride it out,'' Hunt said. ''It's not practical to move them out.''

Waves reached 26 feet high late in the morning at a buoy 45 miles off the coast, the weather service said, and tidal surges of 10 to 15 feet were possible when the storm hit the coast. Up to a foot of rain could fall on coastal areas and there was also a threat of tornadoes, the weather service warned.

Most residents had left coastal Padre and Mustang islands, where a mandatory order was issued and police went door-to-door urging people to leave.

Hurricane warnings were posted from La Pesca, Mexico, north to Port O'Connor, Texas. A tropical storm warning and hurricane watch was discontinued from Port O'Connor to Freeport, about 35 miles southwest of Galveston.

At 7 p.m. EDT, the center of Bret was located about 70 miles south of Corpus Christi, moving northwest at about 8 mph.

Texas hadn't been hit by a hurricane since Hurricane Jerry killed three people in October 1989. However, the state's 367-mile-long coast has been struck by tropical storms since then, including Charley, which dumped 18 inches of rain and killed 19 people in August 1998.

The storm initially had been expected to head for Mexico's northern coast. But after Bret turned onto a course toward southern Texas, Mexico got little more than strong wind and warm rain, with a possibility of minor flooding.

AP-NY-08-22-99 1926EDT

~~~~~~~~~~~~~~~~

Rio Grande Valley Ready for Storm

Officials Expect Eight Inches of Rain

By MADELINE BARO DIAZ

.c The Associated Press

RAYMONDVILLE, Texas (Aug. 22) - Lupe Fuentes knew his trailer home wasn't safe with winds above 100 mph on the way. Still, he was reluctant to move.

''Whenever something like this goes around, everybody wants to break in,'' said Fuentes, who once had his air conditioning unit stolen from his window.

He opted to take a bus to higher ground, but many other Raymondville residents hunkered down and waited for Hurricane Bret, which was headed in their direction Sunday afternoon.

Police expected up to 8 inches of rain, but hoped the drainage system in this city about 20 miles west of the southeast Texas coast could handle it.

''We have everything under control,'' said co-police Chief Alex Martinez.

He said during Hurricane Gilbert in 1988, water was chest-high and police evacuated people on boats.

''We were catching trout over here,'' police investigator Uvaldo Zamora said.

Fuentes was at the Raymondville community center where people gathered to evacuate to the upper Rio Grande Valley. The first bus that took off Sunday afternoon only had about 13 people aboard.

In downtown Raymondville, people worked furiously to protect store windows.

Before leaving his home, Fuentes boarded up his windows. But he didn't know if his home, sitting on blocks, would survive.

''I hope it (the hurricane) goes another way,'' he said.

AP-NY-08-22-99 1739EDT

~~~~~~~~~~~~~~~~~~~

Sunday, August 22, 1999

4:00 p.m. Update

Click here for closures and road conditions

Click here for the location of shelters in San Antonio

City Officials: It's too late to leave now. Corpus Christi residents were cautioned against leaving the city after 2 p.m. because the commute to San Antonio could take as long as eight hours, city officials said.

As of 4 p.m., Bret was about 80 miles south-southeast of Corpus Christi, moving to the north-northwest at 8 mph. Maximum winds were near 140 mph, with higher gusts. City officials said the storm is expected to make landfall south of the city at about 4:30 p.m.

A tornado watch is in effect until 2 a.m. Monday for the Coastal Bend.

A mandatory evacuation order is in force for San Patricio County, including the cities of Ingleside and Aransas Pass.

Forecasters are also predicting a storm surge of eight to 12 feet above normal astronomical tides. The storm surge could be higher at the heads of bays, forecasters said. The cities of Rockport and Port Aransas could have water up to six feet deep in places. Aransas Pass will also likely experience flooding officials said.

With traffic slowed to a crawl, heavy rains and wind gusts, evacuees likely would not make it to San Antonio before the storm hits land, said Mayor Loyd Neal.

"If you have not left, look around your neighborhood, give a helping hand to the elderly," said Peter Teahem, a Red Cross disaster relief worker.

As of 3 p.m. Sunday, the Texas Department of Transportation had closed State Highway 361 from Aransas Pass to the ferry landing to Port Aransas, highway department officials said.

Park Road 22 to Padre Island also had been closed. However, cars still were being allowed to travel from the island to the mainland, officials said.

Water trouble

City Manager David Garcia said San Antonio shelters are filling up. Emergency workers have set up a staging area at McCreless Mall, 4100 S. New Braunfels, in San Antonio, he said. There, evacuees will be placed in shelters and given directions.

City officials have cut off water supplies to Padre Island and North Beach, officials said.

Water mains have broken throughout the city, said Corpus Christi city water superintendent Danny Ybarra, including a 20-inch cast iron water main in the Up River Road area where problems have been reported throughout the week.

"Fixing a main like that takes time - time that we don't have," Ybarra said. "Right now all we've done is isolate it, and when the storm blows through, we'll go back and fix it."

Ybarra said the department is getting water storage facilities prepared for Bret's aftermath.

"We have to stabilize (the system) so we can use the water after the storm goes through."

Camping out

About 325 prisoners were evacuated from a Nueces County Jail early Sunday because the building is not believed to be strong enough to withstand hurricane force winds, said Nueces County Sheriff Larry Olivarez.

At the police dispatch center on the fourth floor of the police station, dispatchers prepared to camp out.

Sleeping bags and pillows were piled beneath a desk, and extra food was brought in.

"We're prepared to stay," said police Capt. Michael McKinney.

Should the electricity go out, the center will be powered by diesel generators, he said. Officials tested the power source Saturday and operated on it for 45 minutes without problems, he said.

Inchon island

The USS Inchon became the evacuation point for more than 700 sailors from the mine countermeasure and coastal mine hunting ships. The ship has provisions for 1,000 sailors for 45 days and has full water tanks for drinking water. At about 4 p.m. Sunday the ship pushed away from the pier at Naval Station Ingleside with about 1,000 sailors on board. During the storm most will remain within the berthing areas on board.

The Inchon originally planned to ride out the storm at sea, but technical problems kept the 600-foot ship in harbor. The smaller mine hunters are moored in a heavy weather mooring system at the base.

"The fact that we didn't leave turned us into the best evacuation area for the sailors on the other ships," said Cmdr. Bruce Watson, acting executive officer on the Inchon. "Because those ships are away from the pier, if anything happened to them the sailors would be going swimming. Once we get the rest of the sailors evacuated to the ship we will turn into an island until this blows over."

Islands virtually empty

Mustang and Padre Islands were virtually emptied by noon Sunday, and police were not allowing motorists back onto the islands, city officials said at a press conference shortly before noon.

The city issued an order prohibiting price gauging. Merchants will be prohibited from taking advantage of the disaster by selling or leasing fuel, food, medicine or other necessities at an excessive price.

If all local radio stations and television stations lose power, San Antonio radio station KXYX will provide radio service to Corpus Christi, said city spokesman Ted Nelson.

Utility crews are on standby in case of disruptions in service, officials said, and debris crews are making plans for cleanup.

Police are making preparations to monitor the streets for looting, officials said.

State of emergency

Corpus Christi city officials declared a state of emergency at 8 a.m. Sunday as Hurricane Bret drew dangerously close to the Coastal Bend.

Emergency officials urged Corpus Christi residents to evacuate the area - advice that thousands took as evidenced by lines at gas stations and heavy traffic headed out of town. Evacuation orders have been given to residents of Padre and Mustang islands.

The university was evacuated by about 9 a.m. Sunday, and all university activities schedule for Monday have been cancelled.

Thousands of Coastal Bend residents headed inland with shelters being set up in San Antonio, Austin and Victoria.

As of 10 a.m., Central Power and Light officials were reporting only minor electrical outages, said Jessica Mahaffey, CPL spokeswoman.

The Corpus Christi Independent School District has closed all schools for Monday, as has the Taft ISD. Del Mar College also will be closed on Monday.

~~~~~~~~~~~~~~~~~~~~

BREAKING NEWS

Hurricane Bret made landfall at about 5:45 p.m. Sunday, coming ashore in rural Kenedy County about 70 miles south of Corpus Christi. Maximum winds are now about 125 mph, with hurricane force winds extending 40 miles from the storm's eye. The position at 6 p.m. was 26.8 N, 97.3 W.

--------------------------------------------------------------------------------

What to do after the storm

By Jonathan Osborne

Caller-Times

If Hurricane Bret proves as devastating as other hurricanes that have slammed into the Texas coast and you wake up without power, water or even a house, it's critical to know what to do.

When Hurricane Beulah waded ashore near Brownsville in 1967, with winds up to 100 miles-per-hour, spurring 155 tornadoes, extensive flooding and torrential rains that claimed 15 lives, bridges and roads proved impassable. Schools and colleges were closed and, according to the 1988 Hurricane Almanac, mail and garbage pick-up services ceased.

Fifteen thousand homes lost power and more than 25,000 lost phone service.

~~~~~~~~~~~~~~~~~~~~~~~

Hurricane Bret Sweeps Across South Texas

Little Damage, but Floods Possible

By Andrew Kelly

Reuters

KINGSVILLE, Texas (Aug. 22) - High winds and heavy rains swept across sparsely-populated southern Texas Sunday as Hurricane Bret spun slowly in from the Gulf of Mexico.

The storm's powerful winds dropped to 125 miles per hour as its pushed through ranching country 70 miles south of Corpus Christi, Texas.

Officials breathed a sigh of relief that the small-but-dangerous Bret missed the region's major cities. Its hurricane-force winds -- above 74 miles per hour -- extended just 35 miles from the eye.

Corpus Christi, with a population near 300,000, had wind gusts up to 73 miles per hour as Bret brushed past, but the city suffered little damage. CNN showed people surfing in Corpus Christi.

''We're very fortunate. We planned well, executed well and nature cooperated. We're not completely through yet, but it looks like we're going to miss the brunt of the storm,'' said Corpus Christi Mayor Lloyd Neal.

He warned that flooding was still a serious concern because forecasters said the slow-moving Bret could dump up to 15 inches of rain on the area. There was also a report of a tornado west of Corpus Christi, but it did no damage.

Bret was the first category four storm -- based on the Saffir Simpson hurricane intensity scale -- to hit Texas since Hurricane Carla in 1961. But it was quickly downgraded to a category three by the National Hurricane Center when its winds dropped below 130 miles per hour.

A category five hurricane has winds of 156 mph or higher.

The storm came ashore in rural Kenedy County, which is home to the massive King and Kenedy ranches, both of which date back to frontier days in Texas and encompass more than 500,000 acres each.

''If there's a good place for a dangerous hurricane to go, that's it,'' said Bill Read, meteorologist at the National Weather Service office in Houston.

Kenedy County Sheriff Rafael Cuellar said about 1,000 people lived in the county, but most had left for higher ground before the storm arrived.

''We have a lot of people in shelters right now. Some left town, some boarded up their houses and some people are stubborn and just don't want to get out of the way,'' he told Reuters.

Emergency management officials in neighboring Kleberg County, which was coordinating with Kenedy County, said they had yet to get any damage reports from the storm-stricken area.

In Kingsville, 50 miles northwest of where Bret made landfall, heavy rains fell intermittently and wind gusts blew the through town of 25,000, but no major damage had occurred yet, police said.

James Lee Witt, head of the Federal Emergency Management Agency, told reporters in Washington that resources were in place to help those hit by the storm. Texas Gov. George W. Bush asked President Clinton to declare the area a major disaster area, he said.

''As this storm goes inland, with the winds and amount of rainfall we're going to be having in Texas there's going to be some serious flooding,'' he said. ''This storm will reach inland maybe as much as 50 miles and the rainfall will stay with us in that region possibly through Tuesday morning,'' he said.

A National Weather Service spokesman had expressed concern earlier in the day that Bret would cause major destruction similar to that of Hurricane Andrew when it struck southern Florida in 1992.

Andrew, a compact category 4 storm like Bret, killed 40 people and caused $26.5 billion in damage when it passed through southern Florida in 1992.

Those fears contributed to a massive evacuation from the Texas coast which saw traffic backed up on Interstate 37 from Corpus Christi to San Antonio, 150 miles northwest.

Reut21:43 08-22-99

~~~~~~~~~~~~~~~~~~~~~~~

Mexico's Beach Residents Remain

By LISA J. ADAMS

.c The Associated Press

PLAYA BAGDAD, Mexico (Aug. 22) - The wind pulled angrily at his door, rain leaked through four different holes in his roof, and waves smashed ever closer to his front stairs. No matter. Jose Loera held on.

Despite initial warnings that Hurricane Bret could sweep in from the Gulf, destroying homes, flooding low-lying areas and threatening lives, the 69-year-old businessman said Sunday he could not afford to walk away.

''This is everything I own. This is my life,'' Loera said while standing on the wind-whipped porch of ''Super Paty,'' his combination snack bar-home on the beach of this fishing village and tourist resort.

Loera estimated that about 30 people had stayed behind to guard more than a dozen seaside businesses - mostly small, wooden structures built on stilts.

All together, 4,200 evacuees were taken to three shelters in Matamoros, according to Roberto Chavez, Red Cross disaster coordinator for the state. Some 1,200 people were evacuated in the coastal village of San Fernando, he said.

Inland to the west, authorities were bracing for flooding along the Rio Grande: 16 shelters were being set up in Nuevo Laredo and people in 12 riverside towns were being evacuated.

However, Bret turned toward the northwest Sunday, heading for landfall in southern Texas on Sunday. It delivered little more than strong winds and warm rain to Mexico's northern Gulf Coast. Minor flooding was still possible in Matamoros.

Several hundred yards down the beach from Loera's business, giddy tourists from the northern city of Monterrey, who had been escorted past an army blockade by local police, spilled out of a large bus and ran toward the violent ocean waves.

Young children, teen-agers and toddler-carrying mothers - all dressed in shorts and T-shirts - wandered through the sand collecting shells or stood pointing their faces into a salt-drenched wind, happily absorbing the pelting rain.

''This is our first time seeing the ocean,'' said a grinning 19-year-old Jose Manuel Guerra Rodriguez. ''It's immense and strong.''

AP-NY-08-22-99 1911EDT

~~~~~~~~~~~~~~~~~~~

Evacuees Flood San Antonio Shelters

.c The Associated Press

SAN ANTONIO (Aug. 22) - Pushed west by the steady advance of Hurricane Bret, evacuees clogged the roads running inland from the coast. Cars brimmed with children, pets and bundles of family photographs.

By Sunday afternoon, about 1,000 people had taken their places in makeshift shelters hastily set up in San Antonio schools.

And those were just the public shelters.

Kelly Air Force Base opened up its empty barracks to 5,000 more people forced out of Corpus Christi Naval Air Station.

Air Force workers pitched air-conditioned tents outside the barracks to house family pets. Husbands and wives were separated into men's and women's bunk houses.

''There are a very few ruffled tempers, frayed nerves, because of the situation,'' petty officer Matt Sainopulos said.

Dark clouds brooded over the city while droves of displaced families arrived.

Hundreds of mentally handicapped people were packed into vans and driven from the Corpus Christi State School. The clients will be housed in San Antonio facilities until the skies clear.

''We try to treat it as kind of an excursion or an adventure to try to allay their fears,'' said Laurie Lentz, a spokeswoman for the Texas Department of Mental Health and Mental Retardation.

In a San Antonio middle school cafeteria, adults hunched over dominoes while children raced in circles as Sunday slowly drained into night.

Almost 200 families were staying in that Red Cross shelter, spokesman Emilio Nicolas Jr. said.

Many of the families brought their own pillows and blankets, Nicolas said.

''They don't need to, but it makes them feel better,'' he said.

Hubbard Levell, 72, reached a Victoria shelter early Sunday morning. Levell, his son and two granddaughters fled his trailer home in Port Lavaca.

''When they said 'evacuate,' I said, 'My God, we'd better get out of here,' '' Levell said. AP-NY-08-22-99 1946EDT

~~~~~~~~~~~~~~~~~~~~~~

Hurricane Bret Hits Texas

Season's First Atlantic Hurricane

Originally A Category 4 Storm; 125 MPH Winds

Coast Evacuated, Residents Stock Up

PORTIS BELL, Texas

Monday, August 23,1999 - 12:38 AM ET

CBS

Winds over 100 mph are hitting Corpus Christi.

(CBS) The first hurricane of the 1999 season is battering the coast of Texas Sunday night. Hurricane Bret hit shore on a stretch of coastline between Brownsville and Corpus Christi, with sustained winds of 125 miles an hour, churning up violent waves.

The rapidly developing storm, which first appeared as a tropical depression off Mexico only four days earlier, made landfall in sparsely populated Kennedy County, about 70 miles south of Corpus Christi. Originally a category four storm, it has been downgraded to category three.

It's the biggest storm to hit Texas in 20 years. Forecasters warned about tornadoes spawned by the storm, a foot or more of rain and a storm surge that could approach 25 feet. They warn that flooding was still a serious concern because forecasters said the slow-moving Bret could dump up to 15 inches of rain on the area.

~~~~~~~~~~~~~~~~~~~

Texans headed for higher ground after getting orders to evacuate low-lying sections along the Gulf Coast, reports CBS News Correspondent Cynthia Bowers.

The National Weather Service posted a hurricane warning for a 220-mile stretch of the Gulf Coast from La Pesca, Mexico, to Port O'Connor, Texas, between Corpus Christi and Houston.

Gusts nearing 150 miles an hour extended 40 miles out from the hurricane.

Hurricane Bret has the "clear potential of producing a major disaster," possibly more destructive than Hurricane Andrew in 1992, the National Weather Service declared Sunday.

"The good news is that the core of the hurricane... is not over the more populated areas," said Max Mayfield of the National Hurricane Center.

The path resembles that of 1980's Hurricane Allen, which packed winds of 185 mph and did $55 million in property damage but killed only two people when it came ashore.

"I think it's going to be bad," 19-year-old Elissa Rivera said on her way to San Antonio, where the Red Cross set up shelters for evacuees. "We have a townhome and we're more worried about flooding than anything. We had to take everything and move it upstairs."

Palm trees whipped as the wind strengthened in early afternoon and Corpus Christi Bay was covered with whitecaps.

Corpus Christi declared a state of disaster and called for a general but voluntary evacuation of the city of 300,000 residents, said city spokesman Ted Nelson.

"We are really trying to drive home the point that we take this very seriously and we consider this a very serious storm," Nelson said.

South Padre Island is a barrier island that is usually packed with vacationers this time of year, but not this weekend. CBS News Correspondent Jim Axelrod reports the island was nearly empty.

It's been evacuated, as Hurricane Bret bore down.

The long parade of cars meant the intense hurricane preparation began. It's been ten years since Texas has been hit by a hurricane.

South Padre Island is a barrier island that is usually packed with vacationers this time of year, but not this weekend. CBS News Correspondent Jim Axelrod reports the island was nearly empty.

It's been evacuated, as Hurricane Bret bore down.

The long parade of cars meant the intense hurricane preparation began. It's been ten years since Texas has been hit by a hurricane.

waves.

"Ninety-five percent of our community has left -- either last night or yesterday," South Padre Island mayor Ed Cyganiewicz told CBS Radio News. "There's not a big line to get out right now...thank God people got out of here way ahead of time."

However, Cyganiewicz admitted not everyone has left the island. "It's either they have confidence in the forecast that we won't get hit directly, or there are some people that are -- for lack of a better word -- stubborn in their ways and just want to remain in their home and take their chances."

If anyone refused to leave, "then we hand out little body tags," said Cameron County Judge Gilberto Hinojosa. "You're not going to live if you stay on the island and the hurricane hits. You're going to drown."

"We'll check the town and then we'll move out - we'll be the last ones to leave the town," Port Isabel police chief Joel Ochoa told CBS Radio News. "We have a 5-thousand population and about ninety-nine percent has already left."

Cars streamed out of Corpus Christi.

On the mainland, the big worry is flooding, because generally speaking, in a hurricane, water kills, not the wind, and this hurricane system is packed full of rain.

As forecasters upgraded Hurricane Bret to the second-strongest designation of Class 4 on Saturday, people who live along the coast stocked up on gasoline and groceries. Building supply stores were overrun with those seeking plywood, nails, flashlights and generators.

In addition to powerful winds, forecasters say Bret is expected to spin off destructive tornadoes, drench the region with up to 12 inches of rain and hit the coast with 15-foot waves.

~~~~~~~~~~~~~~~~

Bret Downgraded to Tropical Storm

By MARK BABINECK

.c The Associated Press

RIVIERA, Texas (Aug. 23) - A blustery shadow of its former self, Hurricane Bret was downgraded to a tropical storm today as it plodded across a sparsely populated swath of southern Texas.

The storm, the biggest hurricane to strike Texas in nearly 20 years, continued to drench the region with thunderous squalls today, but no injuries were reported since Bret made landfall about 6 p.m. Sunday in sparsely populated Kenedy County.

''It sounded like a big jet engine was coming down on top of us. It was very scary,'' Jesse Salinas said in Sarita, the only town in Kenedy County.

There was little structural damage in Sarita, a town of 460 people, but power lines and trees were down, including several large trees around the courthouse square.

Up to 25 inches of rain fell by early today on the coastal plains of sparsely settled Kenedy County, where the average rainfall for a whole year is 29.7 inches, the National Weather Service said. Rain continued falling elsewhere and there was a chance of flooding in places plus isolated tornadoes.

Damage was substantial in Falfurrias, about 60 miles southwest of Corpus Christi, Mayor Michael Guerra said.

The eye passed over the town of about 5,800 residents about 3 a.m., ripping roofs from homes and businesses, he said. Up to 90 percent of the town had no electricity, he said.

''We have a lot of debris and live power lines in the roads, and we've had four convenience stores lose the canopies from their gas pumps. And some of the less-structurally sound buildings have lost roofs and windows,'' he said.

Power outages also were reported from the state's southern tip near Brownsville and McAllen to the counties surrounding Corpus Christi, said Jessica Mahaffey, spokeswoman for Central Power and Light Co. in Corpus Christi. The company serves much of South Texas.

''The winds are still howling out there,'' Ms. Mahaffey said. Repair crews have been working as wind conditions permit, and would be joined by others today, she said.

Workers from federal and state agencies gathered this morning to move into the storm-blown areas to assess the damage.

As of 11 a.m. EDT today, Bret had top sustained wind of 45 mph and some higher gusts, the National Hurricane Center said. The minimum for a hurricane is 74 mph.

Bret had been rated a Category 4 storm when it approached over the Gulf of Mexico with 140 mph wind, piling waves 26 feet high at one offshore weather buoy, but made landfall with wind down to 125 mph.

This morning, the center of Bret moved across rural southern Texas, going west-northwest at 6 mph.

It was expected to turn westward toward Mexico, where more than 3,500 people living near the Rio Grande in Nuevo Laredo, just across the border from Laredo, Texas, had been evacuated because of the possibility of flooding, the government news agency Notimex reported.

On Sunday, Bret unleashed its power on the deserted Padre Island National Seashore, 70 miles south of Corpus Christi, before continuing into desolate, sparsely populated ranch land.

Thousands of residents from Brownsville to Corpus Christi had fled north and west as the hurricane approached. Windows throughout the region were taped and boarded in anticipation of the worst storm since Hurricane Allen, another Category 4 storm that struck roughly the same area in 1980, causing $55 million in damage.

''I think it was overpublicized,'' said Ralph Huff, who defied conventional wisdom - and an evacuation order - and stayed in his cinder block home overlooking Baffin Bay, just east of this small agricultural town. His phone and power were still working late Sunday.

Even though the storm's center passed less than 10 miles to the south, ''there wasn't even any storm surge,'' he said.

The 125 mph wind, with gusts blowing even higher, extended 40 miles out from the storm when it first hit land. Forecasters feared possible tornadoes, a foot or more of rain and a storm surge that could approach 10 to 15 feet as it moved over land.

President Clinton issued a major disaster declaration Sunday night for seven counties, freeing funds to help local governments with emergency supplies and debris removal, said FEMA Director James Lee Witt.

Texas hadn't been hit by a hurricane since Hurricane Jerry killed three people in October 1989. However, the state's 367-mile-long coast has been struck by tropical storms since then, including Charley, which dumped 18 inches of rain and killed 19 people after it moved inland in August 1998.

AP-NY-08-23-99 1125EDT

Corpus Christi Escapes Hurricane

By KELLEY SHANNON

.c The Associated Press

CORPUS CHRISTI, Texas (AP) - Shops and restaurants shut down, residents boarded up their homes and thousands fled inland as Corpus Christi braced for the worst of Hurricane Bret.

As Bret arrived, wind whipped palm trees, littering streets with torn leaves. Canvas awnings on downtown buildings were shredded and flapped wildly in the gusts. Horizontal sheets of rain soaked the city.

But residents breathed a sign of relief when it turned out a rural area 70 miles to the south - not this populated coastal city - was the storm's main target.

Though many schools were closed in and around Corpus Christi today, city employees were told to report to work as usual as officials anticipated few major problems in the aftermath of the storm.

Bumper-to-bumper traffic had clogged northbound Interstate 37 for about 45 miles leading from the city Sunday. Traffic was heavy all the way to San Antonio - 145 miles away - where the American Red Cross set up evacuation shelters.

Kelly Air Force base in San Antonio opened its empty barracks to 5,000 people forced out of the Corpus Christi Naval Air station, and hundreds of mentally handicapped people packed into vans and were driven from the Corpus Christi State School.

By late Sunday night, the wear and tear of a long day on the road was evident on the faces of people who continued streaming into John Jay High School in San Antonio, one of 10 shelters expected to house 3,000 people.

Some headed for the percolating coffee pot or a spot in front of the only television. Early on, the cafeteria served hot food which eventually gave way to ham and cheese sandwiches.

Weary travelers, young and old, curled up on the mats - too short for most to stretch their legs - and pulled blankets over their eyes to shield against the fluorescent lights.

``We don't have all the comforts, but it's nice and clean and we have air conditioning and a place to sleep,'' said John Jay Assistant Principal Kathy Mitchell.

Nora Webb of Corpus Christi said she and nine family members packed into two cars and drove more than five hours to San Antonio, a drive she said normally takes two hours.

Although some of her family retreated immediately to the floor mats to catch some sleep, Ms. Webb said she planned to stay up late watching weather updates on TV.

``We just don't know what to expect,'' Ms. Webb said as she unpacked blankets and pillows from her car. ``My dad and my brother stayed over and I'm a little worried. They stayed to board up the house.''

Many of the San Antonio's hotels offered reduced evacuee rates with proof of residence in the coastal region, Bexar County emergency operations spokeswoman Suzanne Scott said.

Blanca Ramos and Christian Acosta fled Aransas Pass as the storm encroached Sunday morning. They left at 5 a.m., helped another family get out and finally reached San Antonio about 13 hours later.

``The sky was completely black in the rearview mirror,'' Ms. Ramos said, resting her face on her hand as she watched her 4-year-old daughter, Crystal, munch on a cold sandwich and chips.

``She just slept through the whole ride. She just knows there's a big thunderstorm,'' she said. ``I don't know if we'll find anything when we get home. It's just really sad.''

A few wished they had never left.

After looking for shelter in hotel rooms for six hours, Paula and Dave Williams, who had packed full two trucks, including two cats, had enough.

Finding no lodging, they were going home to Corpus Christi. They pulled into a gas station south of San Antonio to refuel, feed the cats and stretch their legs before driving back into the storm.

``We may get blown around or whatever,'' Dave Williams said. ``We're going home.''

AP-NY-08-23-99 0458EDT

~~~~~~~~~~~~~~~~

Texas Remembers Last Year's Floods

By KELLEY SHANNON

.c The Associated Press

DEL RIO, Texas (Aug. 23) - Screams of horror echoed from flooded San Felipe Creek a year ago.

The usually calm brook that has meant life and livelihood for generations of people in this Texas-Mexico border city, raged so violently that residents still haven't fully recovered.

Now, on the anniversary of that storm, they are watching a new natural disaster in South Texas.

Hurricane Bret made landfall Sunday about 70 miles south of Corpus Christi. However, it was moving toward the west-northwest today, and was expected to turn more westerly. That track would take Bret south of Del Rio and into northern Mexico.

Only 12 months ago, Del Rio's residents watched another stormy intruder arrive.

''I've gone through about five floods,'' said 90-year-old Manuel Blanco, explaining that none had ever been as terrible as when remnants of Tropical Storm Charley dumped more than a foot of rain in a 24-hour period on previously parched Del Rio.

The monster storm pelted the area beginning Aug. 23 and reached a crescendo early the next day when a wall of water roared through San Felipe Creek before dawn, sweeping away homes, cars and people.

Nine people were killed in flooding that weekend in Del Rio and the neighboring Hill Country. Hundreds of homes were damaged or destroyed.

Death and destruction visited other parts of Del Rio, a city of about 33,000 people. But the San Felipe neighborhood and its mostly poor, Hispanic residents near the center of town were hardest hit.

One of the city's oldest sections, the San Felipe area was settled in the late 1800s when the San Felipe Agricultural, Manufacturing and Irrigation Co. paid its employees with land there.

Historic buildings surrounding Brown Plaza - a scenic square at the heart of the neighborhood - were scarred or destroyed in last year's deluge.

On nearby streets, some houses remain in ruins. Others are livable, but many are not the homes they once were.

Piles of debris dot the landscape. Fences are mangled. Vehicles are crunched. Crosses adorned with flowers and American flags mark the spots where loved ones disappeared or perished.

The Blanco family remembers hearing the shrieks of neighbors who were trapped in their homes or sucked into the streets by the water.

''There was a girl drowning. She passed by and she was trying to grab wherever,'' said Virginia Blanco, 47, Manuel Blanco's daughter. Fortunately, the young woman was rescued after getting stuck beneath a truck, Ms. Blanco said.

The house Manuel, Virginia and her 16-year-old son, Angel Blanco, shared was damaged, as were an adjacent closed-down grocery store and storage building the family owns.

Like scores of other families, the Blancos are living temporarily on the edge of town in a mobile home provided by the Federal Emergency Management Agency.

A total of 126 families were placed in FEMA manufactured housing after the flood, and 122 families still live in the mobile homes.

Some may opt to buy the homes if they can't return to their original houses by the 18-month cutoff date when they must leave the temporary housing.

Maria Enriqueta Sanchez, 65, wants to move a mobile home onto the property where she once had a house. Her home was so damaged by the flood it was torn down.

She still visits her empty lot with her grown daughter, sitting quietly beneath large trees and reflecting on her loss.

''It was a big, old house,'' Ms. Sanchez said proudly, speaking in Spanish. ''I had a big fence all around.''

Ms. Blanco, a night-shift counselor at a rape crisis center, has received some government money for repairs to her family's house and furniture. But she's found the $6,000 stipend hasn't gone as far as she'd hoped and that some contractors haven't been trustworthy.

Then there were the looters. They stole a television set, bicycles, a new $800 air conditioning unit and porcelain dolls she was awarded for selling Avon cosmetics.

City officials have identified 197 severely damaged or destroyed homes in the flood zone targeted for a buyout. The program is funded by $4.6 million in federal money to combined with a smaller chunk of local and state money.

Assisting Del Rio's flood victims has been difficult because of the poverty in the town and a lack of available rental housing, said Terry Newman, an individual assistance officer with Texas' Division of Emergency Management.

At the moment, Ms. Blanco simply wants to get the home's plumbing and utilities working so her family can live there again, even if they have to sleep on the floor.

As she looks at her elderly father watering plants and feeding cats during a visit to the tattered home, Ms. Blanco breaks down in tears.

''I'm doing my best to try and get him back here,'' she said. ''But with my income it's hard to pick up the pieces. That's what hurts me the most. He wants to come back.''

AP-NY-08-23-99 1019EDT