No more victims were pulled from the wreckage of the
Minneapolis Bridge collaps
e this weekend, although rescue officials believe there are more bodies to recover from the Mississippi River. Meanwhile, the National Transportation Safety Board (NTSB) continued its investigation into the Minneapolis bridge collapse, amid reports that construction crews working on the Interstate 35W Bridge had felt the structure "wobble" for several days before the collapse.
According to the Minneapolis Star Tribune, construction workers have said that in the days prior to the disaster, the Minneapolis Bridge had "wobbled" with every layer of concrete they moved. The Minnesota Department of Transportation (MNDOT) would not comment on the reports, saying that they would be part of the NTSB investigation into the Minneapolis bridge collapse. A spokesperson for MNDOT also said that the NTSB was seeking information on the number of lanes that the I-35W Bridge had when it opened in 1967, as well as the number of vehicles the bridge carried at that time.
The NTSB said over the weekend that investigation of the Minneapolis Bridge collapse could take as long as 18 months. The agency, which has 19 investigators assigned to the Minneapolis bridge collapse disaster, has concluded that the collapse did not originate on the south end of the I-35W Bridge, and they will look at the north side today. An NTSB investigator told the Minneapolis Star Tribune that investigators are being extremely cautious because the collapsed Minneapolis Bridge is continuing to weaken.
Those same conditions were making recovery efforts difficult at the site. Divers were expected to return to the river today to search for the missing, and the state has requested help from FBI and Navy dive teams. Last week, the Army Corps of Engineers lowered the level of the Mississippi River by two feet in an attempt to lessen the current. Today, crews will begin removing debris from the river. MNDOT has hired a contractor from St. Paul, Minnesota to handle debris removal. The cleanup is expected to cost at least $15 million.
Five people have been confirmed dead as a result of the Minneapolis Bridge collapse, and eight are still missing. On Saturday, families of the missing were brought to the site of the collapse for the first time. Sunday was a day of prayer and grieving in the Twin Cities, where about 1400 people attended an interfaith memorial service at St. Marks Episcopal Cathedral.
This morning, Minneapolis commuters attempted to make it into work without one of the city's main corridors. The I-35W Bridge had carried 140,000 cars everyday. Commuters were encouraged to car pool and offered free bus rides. Meanwhile, MNDOT officials mulled over plans for replacing the collapsed Minneapolis Bridge. It is expected that replacement will cost in excess of $200 million. Late last week, Congress approved $250 million in emergency funds to help Minnesota with the cost of cleanup and bridge replacement. But MNDOT said that even with that money, the agency still faces a cash shortfall.
The I-35 W Bridge collapsed last Wednesday at the height of Minneapolis' rush hour. Between 50 and 100 vehicles were on the bridge when it fell into the Mississippi River. Recent inspections of the Minneapolis Bridge had found it to be "structurally deficient". The Minneapolis Bridge collapse is only the second time in 25 years that a highway bridge in the US collapsed without a cause like an earthquake or collision.
---
Navy, FBI divers join bridge search

PATRICK CONDON; The Associated Press
Published: August 8th, 2007 01:00 AM
MINNEAPOLIS – An elite team of Navy divers joined the search Tuesday for victims of the Minneapolis interstate bridge collapse, bringing to the job lessons learned from such disasters as TWA Flight 800 and the loss of the space shuttle Columbia.
The team of 16 divers and a five-member command crew arrived a day earlier. Once their gear arrived before dawn Tuesday, several divers immediately entered the Mississippi River even though local officials encouraged them to wait until daybreak.
"Two in the morning, they dove into the water," Minneapolis Police Capt. Mike Martin said, calling them "the best divers in the world."
"These guys make our SWAT guys look humble," Martin said.
Navy Senior Chief David Nagle said the divers wanted to get a feel for the area and were in the water for about two hours. Divers were back in the river by late morning, removing concrete rebar and other debris.
Also Tuesday, state officials laid out tentative plans for the bridge reconstruction, and Gov. Tim Pawlenty said his office was considering a victims' compensation fund.
The dive team's arrival raised hopes of speeding up the recovery operation. At least eight people are missing and presumed dead in last week's collapse, with perhaps more still in the river. Five people are confirmed dead.
Joining the Navy team was an FBI dive crew, doing forensic work for the investigation. Their tools included a small unmanned submarine equipped with a robotic arm.
"It's basically crime-lab-underwater kind of work," Martin said.
The city also asked residents to observe a moment of silence at the minute the bridge fell six days earlier. Bells at churches and City Hall tolled immediately after.
Four people still hospitalized with injuries from the collapse improved to serious condition, leaving only one person in critical condition. About 100 people were hurt in the disaster.
hero rewarded with college funds
A man who helped evacuate a school bus full of children after the Minneapolis bridge collapse has a generous offer to consider.
Jeremy Hernandez, 20, dropped out of Dunwoody College of Technology because he couldn't afford the $15,000 tuition. Now, he can finish his two-year automotive technician degree for free if he wants to come back, the school said Tuesday.
Hernandez, a gym coordinator for a Minneapolis community organization, was coming back from a water park with a group of 52 children, ages 5-14, when the bus dropped toward the Mississippi River gorge as the Interstate 35W bridge collapsed. Everyone on the bus got out safely.
Dunwoody President C. Ben Wright said the school created a fund that would pay for the education of people "who have done unselfish things trying to better society." The fund was created in response to Hernandez's efforts. Hernandez hasn't yet said whether he'll accept the school's offer.
The Associated Press
Copyright 2007 Associated Press. All rights reserved
Metal Plates Examined in Bridge Collapse
By MARTIGA LOHN
The Associated Press
Thursday, August 9, 2007; 7:03 PM

MINNEAPOLIS -- The metal plates that held the girders together on a failed 1960s-era interstate bridge were originally attached with rivets, old technology that that is more likely to slip than the bolts used in bridges today.
Some of the plates, or gussets, also may have been weakened by welding work over the years, and some of them may have been too thin or too small, engineering experts said Thursday.
This photo made available by the Navy Visual News Service shows Secretary of the Navy Donald C. Winter, 2nd left, as he tours the site of the I-35 bridge collapse over the Mississippi river with Department of Defense, federal, state, and local officials in Minneapolis, Wednesday, Aug. 8, 2007.
(AP Photo/Navy Visual News Service, Seaman Joshua Adam Nuzzo) (Seaman Joshua Adam Nuzzo - AP)
The National Transportation Safety Board, in a brief Wednesday advisory to states to check such plates in bridges nationwide, cited a "design issue" with the bridge's gussets. Engineers say that the plates are an obvious place to start looking, but that a number of other factors might have contributed to the Aug. 1 collapse that killed at least seven people, with at least six still missing.
And on Thursday, NTSB officials said "people have run maybe a little bit too far" with the statement on the gussets.
"Simply by finding a piece of metal that's been sheared or twisted doesn't necessarily mean it's a critical piece of the puzzle," said Bruce Magladry, director of the NTSB's Office of Highway Safety. "We see a lot of steel that's damaged because of the bridge collapse. What we need to ferret out is what's an initial cause of damage vs. what's a secondary cause."
Engineering experts said failure of the plates, which usually sandwich the bridge's steel beams where they intersect, in a critical spot could have brought down the whole bridge, although no one has pinpointed a gusset as the cause of the failure.
"What they'll be looking for is to see whether one of the gusset plates may have fractured," said W. Gene Corley, a forensic engineer with the Skokie, Ill.-based engineering firm CTL Group. "If one of those gusset plates breaks, then you have lost half the strength at that location, and most likely the other one can't carry the load then."
The bridge's builders in the mid-1960s riveted the plates together, which required many more holes than bolts would have. More holes weaken steel, said Abolhassan Astaneh-Asl, a professor of structural engineering at the University of California-Berkeley, who compared them to Swiss cheese.
The rivets also tend to slip more than bolts and can lead to more cracking, Corley said. Bolts are preferred in modern bridge construction, and were used in more recent repairs.
Welding work on some gussets _ at temperatures of 2,600 degrees or more _ could also have caused tiny cracks to form as superheated steel cooled, which may have developed fatigue cracks.
Astaneh-Asl reviewed 1965 construction drawings of the bridge that showed varying thicknesses of the gussets. Some in key spots over the Mississippi River were only a half-inch thick, he said, and his rough calculation of the pressure they could withstand suggested they were weaker than the beams they connected. A cracked gusset is visible in photographs taken after the collapse, he said, but it's unclear what role that might have played in the bridge's failure.
State transportation officials say damage seen on the bridge's gussets might have been caused by the collapse.
Various problems in the bridge may simply have added up over the years and created stresses that the designers never contemplated, Astaneh-Asl said. For instance, at least one expansion joint locked up, possibly pulling one of the bridge's piers out of alignment and leading to undetermined pressures on other parts of the bridge. Such things could have made fatigue cracks worse, he said.
Inspectors who completed the bridge's last full inspection in June 2006 noted problems _ "section loss, pitting, heavy flaking rust" _ on several of the plates. They also reported loose bolts on another gusset.
Corley, who has been invited to be part of a private investigation into the collapse, said he saw "lots of rust" on the gussets.
"It brings the issue of load and brings the issue of fatigue there as well as corrosion," he said.
But something could have gone wrong in design, too, Corley said. Each plate is individually designed, and someone could have miscalculated the load or weight-bearing capacity of an individual gusset plate, he said.
"In design there's always the chance for a blunder," Corley said. "One of the most common causes of collapse of any type of structure is the blunder."
Investigators are looking closely at the weight that was on the bridge when it fell.
Construction crews had piled up sand and gravel on the bridge as they prepared to pave a 520-foot stretch of two southbound lanes of the freeway, said Liz Benjamin, a construction engineer with MnDOT. Equipment on the bridge included a cement truck, a concrete mobile mixer, buggies to haul the concrete and personal vehicles of the workers. Workers also were using 45-pound jackhammers to remove the top layer of pavement.
The bridge was one of Minnesota's busiest, carrying 140,000 vehicles a day. Mark Hallenbeck, director of the Washington State Transportation Center at the University of Washington, said that's dramatically higher than designers would have considered in 1965.
The traffic would have contributed to fatigue over the years, Corley said. But the weight of truck and vehicle traffic is "pretty insignificant" next to the weight of the bridge itself, he said.___
Associated Press writers Patrick Condon in Minneapolis and Seth Borenstein in Washington contributed to this report.
---
2 Bodies Found in Minn. Bridge Wreckage
Thursday August 9, 2007 10:01 PM
By PATRICK CONDON
Associated Press Writer
MINNEAPOLIS (AP) - Searchers found two more bodies Thursday in the wreckage of the interstate bridge, bringing the death toll to seven with at least six missing more than a week after the bridge crumbled into the Mississippi River, authorities said.
Crews have been searching the site for the past week for eight people missing and presumed dead in the Aug. 1 collapse.
Dave Hayhoe, the police homicide unit commander, announced the recoveries ahead of a briefing on the investigation. He said the bodies were recovered by divers, but he gave no other information.
``Right now the first priority is notifying the families,'' Hayhoe said.
The Hennepin County Sheriff's Office said the first body was found shortly after noon and wasn't immediately identified.
Among the eight are a pregnant nursing student and her 2-year-old daughter, a construction worker nicknamed ``Jolly,'' and a former missionary who had been on his way to meet a friend for dinner.
As the recovery operation continued Thursday, so did the investigation into the cause of the collapse. Investigators with the National Transportation Safety Board said Wednesday they had found design flaws in the bridge's gusset plates, which help tie the steel beams together.
That discovery prompted Transportation Secretary Mary Peters to advise states to carefully consider any additional stress placed on bridges during construction projects. An 18-person crew had been working on the Interstate 35W span when it collapsed during the evening rush hour.
J. Richard Capka, administrator of the Federal Highway Administration, said Thursday that the agency would quickly advise transportation agencies around the country of steps they should take if a systematic problem with gusset plates was found, though he said no such advisory was in the works.
``Gusset plates have been around a long time, and they've been a reliable feature, and we have no indication that they've ever been part of a suspect bridge problem or a bridge failure before,'' Capka said.
``They have not concluded that they've discovered anything specific that might have contributed to the collapse,'' he added.
State officials have announced tentative plans for a replacement bridge to be opened by the end of 2008. Gov. Tim Pawlenty also said he was willing to reverse his long-standing opposition to a state gas tax increase to pay for infrastructure improvements in the state.
President Bush on Thursday dismissed raising the federal gasoline tax to repair the nation's bridges, though - as proposed Wednesday by House Transportation Committee Chairman Jim Oberstar, D-Minn. - at least until Congress changes the way it spends highway money.
``The way it seems to have worked is that each member on that (Transportation) committee gets to set his or her own priorities first,'' Bush said. ``That's not the right way to prioritize the people's money. Before we raise taxes, which could affect economic growth, I would strongly urge the Congress to examine how they set priorities.''
At the bridge site, recovery crews have removed several vehicles from the river in the last two days, and Navy divers have searched for possible victims in and around the others.
In all, 88 vehicles have been located, both in the river and amid the broken concrete wreckage of the bridge, according to the State Patrol.
NTSB investigators have been trying to pinpoint where on the bridge the collapse began. Observations from a helicopter camera Wednesday found several ``tensile fractures'' in the superstructure on the north side of the bridge, but nothing that appeared to show where the collapse began, the NTSB said.
Investigators were still working to verify the loads and stresses on the beams, as well as materials in the plates.
They also were looking into reports of wobbling before the collapse.
The company that was doing construction work at the site, Progressive Contractors Inc., rejected a report that a worker noticed unusual swaying of the bridge in the days before its collapse. The company said it didn't believe any of its work contributed to the bridge failure but hadn't responded directly to claims of wobbling.
``We have now met with every single worker who was on the bridge when it collapsed,'' Tom Sloan, vice president of the company's bridge division, said in a news release Wednesday. ``None of them observed or reported any unusual swaying.''
The eight people reported missing and feared dead in the bridge collapse have been identified as Christine Sacorafas, 45, of White Bear Lake; Vera Peck, 50, and her son Richard Chit, 20, both of Bloomington; Greg Jolstad, 45, of Mora; Peter Hausmann, 47, of Rosemount; Sadiya Sahal, 23, of St. Paul, and her 2-year-old daughter, Hanah; and Scott Sathers, 29, of Maple Grove.
---
Associated Press writers Archie Ingersoll in Minneapolis and Frederic J. Frommer and Jennifer Loven in Washington contributed to this report.
---
August 11, 2007
8th body found in Minneapolis bridge collapse

MINNEAPOLIS -- Divers removed another body from the wreckage of a freeway bridge Friday, while the federal transportation secretary offered $50 million to help with recovery and rebuilding.
The known death toll from last week's collapse reached eight when Navy divers found a body about noon.
The latest victim was identified as Sadiya Sahal, 23, St. Paul. A body found Thursday was identified as that of her 2-year-old daughter, Hanah Sahal.

Those identifications reduce the list of known missing and presumed dead to five.

During her visit, Secretary Mary Peters stood near a fallen section of the bridge as she announced the latest emergency aid. The funds are an advance on $250 million approved by Congress but not yet appropriated.

The money comes on top of $5 million in federal emergency aid pledged right after the Aug. 1 bridge collapse and $5 million to help the public transit system handle the loss of the heavily traveled span.
Associated Press - August 12, 2007 11:03 PM ET
MINNEAPOLIS (AP) - The official death toll in the Minneapolis bridge collapse has risen to nine.
Divers found another body in the Mississippi River Sunday.
The county medical examiner's office has identified the remains as those of 20-year-old Richard Chit of St. Anthony. His mother is still missing.
The other three people known to be missing are 45-year-old Christine Sacorafas of White Bear Lake; 45-year-old Greg Jolstad of Mora; and 29-year-old Scott Sathers of Maple Grove.
About 100 people were injured in the collapse, but only eight remain hospitalized.
Today, a crane removed a school bus and other vehicles from one end of the ruined span. In all, 44 vehicles have been removed from the bridge since its collapse. About 100 vehicles had been on the structure when it fell.
Copyright 2007 The Associated Press. All rights reserved.
Two More Victims Found in Minneapolis Bridge Wreckage
Search crews in Minneapolis have pulled out the tenth and eleventh bodies from the wreckage of the interstate bridge collapse.
The remains haven't been publicly identified by officials
The first remains were found in a vehicle recovered on the night of Aug. 15, 2007, with the second set of remains found the morning of August 16.
A national Greek community group said one of those whose body was recovered had been driving to her church to teach a folk dancing class at the time the bridge fell.
Officials have released the identities of nine people killed in the August 1st collapse of the Interstate 35W bridge.
Before the latest recoveries, four people were listed as missing
---
Associated Press Writer
Aug. 20, 2007 08:27 PM

MINNEAPOLIS (AP) - The remains of the last person missing after a bridge collapsed into the Mississippi River nearly three weeks ago have been found, authorities said Monday, bringing the official death toll to 13 and relief to the only family still awaiting word on a missing loved one.

Gregory Jolstad, nicknamed "Jolly," was on the construction crew that was resurfacing the bridge when it fell Aug. 1 during the evening rush hour. Jolstad, 45, was driving a skid loader, commonly known by the brand name Bobcat.

Divers had gone back in the water early Monday, and Jolstad's wife, Lisa Jolstad, has said officials had vowed to continue until they found her husband.

Greg Jolstad, 45, was one of 18 construction workers on the bridge working for Progressive Contractors Inc. The other 17 survived the collapse. Seven suffered injuries, but none critical.

Also Monday, Gov. Tim Pawlenty asked President Bush to declare the collapse a major disaster, which would make the state eligible for more federal money. The governor said the emergency response costs alone would be more than $8 million.

Bush was scheduled to be in Minneapolis on Tuesday and to get a briefing on the bridge.

Jolstad had worked for PCI for 10 years, often commuting 90 miles one way to road jobs in the Twin Cities from his home in the central Minnesota town of Mora.

Lisa and Greg Jolstad were married in 1995 and lived with Lisa's three teenage children from a previous marriage in a 97-year-old farmhouse north of town where Greg Jolstad grew up.

"Greg never wanted to venture far from home," Lisa Jolstad said.

Her worst fear since the collapse was that her husband would still be missing after all the other victims of the disaster had been found - and that's exactly what happened.

A tax assessor currently between jobs, Lisa Jolstad is living for now on her husband's paycheck, which PCI continued to issue, as well as paying for grief counselors for family members.

"Everyone at the company is just heartsick for Greg's family," said David Lillehaug, PCI's attorney.

Lisa Jolstad said earlier that she was trying to keep occupied by getting the farmhouse ready for winter.

"I sit home every night, and I just can't believe he's not coming home," she said. "I look out the back door window and it's weird not to see his truck out there. I look out the bathroom window at the sky and know he's up there, and I say, you know, why did you have to leave, Greg?"


12-25-07
Hundreds Feared Dead in Nepal
After Bridge Collapses
The Bridge Collapsed on Christmas Day,
Killing at Least 15 People
Bridges have given so much to Nepal's isolated villagers. But on Christmas Day, one bridge took
entire families away.
A 400-foot-long steel foot bridge over the Bheri River in Chunchu collapsed Tuesday afternoon,
killing at least 15 people and injuring hundreds. At least 70 people are still missing and presumed dead.
Hundreds of police officers, soldiers and locals are searching the river's icy waters for any survivors.
But the current is strong, and there is little hope of finding anyone alive. Some of the bodies were
found three miles downstream from the bridge.
"Most people did not know what happened. The bridge collapsed and most people on the crowded
bridge fell in the river," 20-year-old Durga Bika told The Associated Press from his hospital bed in
Katmandu. "The bridge was on top of me and my leg was caught. My friends pulled me out and
saved me."
Most of the victims were women and children. The youngest was only 5 years old.
"I heard a sound like a bomb explosion," 10-year-old Rabindra Buda told the Indo-Asian News
Service, after he had been pulled out of the river. "Then the bridge started swaying. I felt myself
falling and hit the water. You couldn't see the river anymore. It was full of human heads."
As many as 500 people were walking across the bridge toward a monthly, full-moon Hindu festival
when its steel cables gave way, plunging most of the bridge into the water about 100 feet below.
"We still don't know exactly how many people are missing so we have sent teams to nearby villages
to get information from families on whether they have not heard from their relatives," chief
government administrator Anil Pandey told the AP.
Nepal's villages are separated by mountains and the rivers that run through them. There is little
to no access to paved roads, so residents rely on their feet — and a relatively new network of
1,000 bridges throughout the country.
In all, at least 45 miles of bridges have helped to open villages up to the outside world in recent
years, reducing prices by giving farmers easier routes to deliver produce and saving lives by
making hospitals more accessible.
The bridge in Chunchu, about 310 miles west of Katmandu, was born out of peace.
It was built just last year after the government signed a cease-fire agreement with Maoist rebels,
who have waged a decade-long insurgency that devastated much of the country's infrastructure.
Rebels have destroyed bridges and roads in order to isolate government troops, but this time, the
bridge fell because it was not designed to support the weight of so many people, authorities say.
It collapsed just one day after Nepal's government took a historic decision to abolish its monarchy.
Under the deal, agreed to by the rebels, Nepal will become a republic after a general election
scheduled for next year.
This afternoon the government released a statement promising an investigation into the incident.
It also promised to pay $400 to each of the victims' families.
---
QUESTIONABLE REPORTING
BBC INTERVIEWS EYEWITNESS WHO SAYS THAT LARGE HOLES WERE DRILLED INTO CONCRETE SUPPORTS A FEW DAYS BEFORE BRIDGE COLLAPSED
Posted By: RayelansMailbag <Send E-Mail>
Date: Tuesday, 7 August 2007, 5:50 a.m.
"Some interesting info regarding the Minneapolis bridge collapse.

I was watching BBC News24 at about 3am(GMT) this morning. Whilst covering the bridge collapse they had a witness on via telephone who spent a few minutes explaining how he walks under the bridge almost daily. He had witnessed the fact that large holes had been drilled/cut through the concrete supports.

This angle was covered for an hour or so on the news and they had this same guy on again later - however, this time whilst he was re-telling the same story there was a weird buzzing/pulsing sound and he was cut off mid-talk.

It is now 10.30am GMT and BBC News24 are no longer reporting this guys story - not only that but they are reporting that all rescue efforts were stopped after a couple of hours and that the police have cordonned off the bridge - since when do rescue efforts stop when it gets dark, esspecially whne there are supposed to be people in cars at the bottom of the river."
August 2, 2007
Massive ULF 'Blast' Detected In US Bridge Collapse Catastrophe
By: Sorcha Faal, and as reported to her Western Subscribers
Reports from Russia's Institute of Solar-Terrestrial Physics located in Irkutsk are reporting today that their Siberian Solar Radio Telescope (SSRT) detected a 'massive' ultra low frequency (ULF) 'blast' emanating from Latitude: 45° 00' North Longitude: 93° 15' West at the 'exact' moment, and location, of a catastrophic collapse of a nearly 2,000 foot long bridge in Minneapolis, Minnesota.
To the horrific destruction of the Interstate 35W Bridge which spanned the Mississippi River we can read as reported by the Star Tribune News Service:
"The 1,907-foot bridge fell into the Mississippi River and onto roadways below. The span was packed with rush hour traffic, and dozens of vehicles fell with the bridge leaving scores of dazed commuters scrambling for their lives.
Nine people were confirmed dead as of 4 a.m. today. Sixty were taken to hospitals and 20 people were still missing this morning. Authorities said they expected the death toll to rise."
Russian Military reports state that the total collapse of such a massive bridge, and in the absence of evidence linking its destruction to terrorist activity, could only have been accomplished by an acoustic weapon, of which the United States Military is known to possess.
These reports further state that one of the United States primary research organizations into acoustic weapons research is Augsburg College, and which is located in Minneapolis, Minnesota, and most importantly less than 1 mile from the Interstate 35W Bridge collapse.
To the exact reason of why, and what exactly happened in this catastrophe we can only speculate, but, with what is known about the United States past history of using sophisticated weapons on their own citizens for 'research' purposes it certainly lies in the realm of possibility that this horrific tragedy is rooted in the use of ULF weapons.
To the past usage of these new types of weapons we can read even back into the 1980's of the United States research into their use as reported by the CNN News Service:
"Imagine the implications of a weapon with no visible trace -- a weapon that could knock out tanks, ships, and planes as fast as the speed of light. The same technology, with modifications, could disorient and even tranquilize military personnel, rendering them virtually helpless in the battle zone. These are the new weapons of war we will examine in this series.
For the past 40 years, the world has been riveted by the threat of nuclear war, and more recently by the prospect of space defenses using lasers and other modern technologies.
Lightning is the most dramatic form of energy to be found in nature. Scientists have succeeded in creating limited types of artificial lightning. And some think that these could be the forerunners of a new type of directed-energy weapon, part of a family of weapons that operate within the radio frequency segment of the electromagnetic spectrum, and are thus referred to as radio frequency weapons."
To the dangers of ULF weapons being used against civilians we can read the warnings of Dr. Rauni Leena Kilde, MD, the former Chief Medical Officer for Lapland (northern Finland), who warned in 1999:
"When the use of electromagnetic fields, extra-low (ELF) and ultra-low (ULF) frequencies and microwaves aimed deliberately at certain individuals, groups, and even the general population to cause diseases, disorientation, chaos and physical and emotional pain breaks into the awareness of the general population, a public outcry is inevitable."
To the exact reason of why the United States would be targeting Minneapolis with such a massive ULF 'blast' we can find in the exact neighborhoods that surround the Interstate 35W Bridge, and which are home to one of the largest Muslim populations in the United States, including over 30,000 Somalis who are outraged by the US sponsored invasion of their home Nation by Ethiopian forces.
For the American people as a whole, this catastrophe provides yet another example of the consequences of their allowing their Military Forces to gain total control over their economy and lives, and which history has long shown leads always towards total destruction.
© August 2, 2007 EU and US all rights reserved.
[Ed. Note: The United States government actively seeks to find, and silence, any and all opinions about the United States except those coming from authorized government and/or affiliated sources, of which we are not one. No interviews are granted and very little personal information is given about our contributors, or their sources, to protect their safety.]
---
Minneapolis Bridge Collapse - the Zetas Explain

by Nancy Lieder

8-2-07



What caused the collapse? Initial reports indicated terrorism was not a factor. The Zetas had warned of collapsing bridges up and down the Mississippi, due to the torque stress the N American continent endures.

ZetaTalk Prediction 2/10/2006:
[link to www.zetatalk.com]
This creates a diagonal stress on the N American continent where New England is pulled to the east while Mexico is pulled to the West, so the New Madrid is put under slip-slide stress where one half, east of the Mississippi, will move toward the NE while the other, west of the Mississippi, moves toward the SW. A widening Seaway also does not affect just those land masses bordering the Seaway, as buckling occurs inland and afar. What does man assume caused the Black Hills to be so rumpled, with the appearance of a recent bucking and heaving? This is the center of a land plate! The tearing of the Seaway does not end at Duluth, MN, it travels underground to S Dakota!

ZetaTalk Prediction 8/16/2006:
[link to www.zetatalk.com]
What does this do to the N. American plate? It pulls it at a diagonal, ripping the rock fingers along the New Madrid fault such that the land to the East of the Mississippi moves up and to the East, toward New England, and the land to the West of the Mississippi moves down and to the West. This does more than tear most of the bridges along the Mississippi.

Did such a torque affect Minnesota, causing the collapse? The Zetas explain.

SOZT
We have predicted that bridges crossing the Mississippi will be affected when the New Madrid and related fault lines adjust, going into the pole shift. Was this bridge crossing the Mississippi in Minnesota caused by such an adjustment, the footings on one side of the bridge moving in an opposite direction from the footings on the other side, or perhaps the bridge being pulled apart? The Mississippi is born in Minnesota, tumbling out of the headwaters in the highlands of Minnesota over a series of natural falls. This is a clue that adjustments in the rock strata could be involved. The highlands of Minnesota come to a point at Minneapolis, with lower land lying to the East along this point. What caused the land to the East to drop, unless this land was stretched in the past? We have stated that the ripping apart of the St. Lawrence Seaway ends in the rumpled Black Hills of SD. Run a line from Montreal, at the mouth of the Seaway, to Rapid City, SD and the line runs through Minneapolis. Why would an adjustment be made in the MIDDLE of this stretch zone while the seaway itself did not part? When we described the diagonal pull the N American continent is enduring, and just how this will snap when adjustments are made, we did not intend that this process would occur smoothly, all at once as described. Weak points along the rip lines give way one by one, each such adjustment placing stress on other points in a domino manner. The I35W bridge, being the larger of the bridges crossing the Mississippi at this point, was less able to adapt to a change in position vs a vs its footings on either side of the river, as it was an interstate bridge, supporting several lanes, and thus had massive and thus rigid supports. Smaller bridges have more flexibility as they are built to withstand uneven loads on either end, thus are more springy by design. Will there be more such disasters along the Mississippi and in the cities that will be affected by the New Madrid and Seaway rip? This is just the start, and when the pace picks up, there will be no question that something OTHER than Global Warming is the cause.
EOZT


Check out the ZetaTalk website!
[link to www.zetatalk.com]


Dear Friends,

http://www.dailygalaxy.com/my_weblog/2007/09/russian-siberia.html

Love and Light.

David

Siberian-Solar Radio Telescope Detected Mysterious Ultra Low Frequency
'Blast' in Sync with Minnesota Bridge Collapse Russia's Institute of
Solar-Terrestrial Physics located in Irkutsk reported recently that their
Siberian Solar Radio Telescope (SSRT) detected a 'massive' ultra low
frequency (ULF) 'blast' emanating from Latitude: 45° 00′ North
Longitude: 93° 15′ West.

ULF is the frequency range between 300 Hertz and 3 kilohertz. It is often
used in mine and submarines communications, as it can penetrate earth and
water.

The time and location of the ULF 'blast' detected coincides exactly with the
time and locations of the tragic collapse of a nearly 2,000 foot long the
Interstate 35W Bridge in Minneapolis, Minnesota that killed at least a dozen
people and seriously injured many others.

The time and location of the ULF 'blast' detected coincides exactly with the
time and locations of the tragic collapse of a nearly 2,000 foot long the
Interstate 35W Bridge in Minneapolis, Minnesota that killed at least a dozen
people and seriously injured many others.

So far there has been no evidence linking its destruction to terrorist
activity. However, according to Russian Military reports, the total and
instantaneous collapse of such a massive bridge could only have been
accomplished by an acoustic weapon. The United States Military is known to
possess acoustic weapons.

In fact, one of the United States primary research organizations for
acoustic weapons research is located in Minneapolis, Minnesota at Augsburg
College. The acoustic weapons research facility is less than 1 mile from the
Interstate 35W Bridge collapse.

Whether the Institute of Solar-Terrestrial Physics reports have are accurate
or not remains to be seen. Unfortunately, it would not be unprecedented for
the US military to test weapons on civilians. The Orange County Register
recently took a look back at human nuclear weapon testing that took place 50
years ago last month.

"In retrospect, the audacity of 1957's Operation Plumbbob was stunning: a
series of 29 aboveground atomic explosions witnessed at close range by
18,000 men testing their ability to fight on a nuclear battlefield. Planes
flew through radioactive clouds. Marines marched through radioactive sand.
Paratroopers jumped through radioactive skies…the National Association of
Atomic Veterans estimates that more than 900,000 men and women took part in about 1,000 nuclear tests from 1945 to 1992. And more than 140,000 may have suffered cancer or other illnesses as a result."

Acoustic weapons have been under research for decades in the both the US and Russia. Other nations reported to be involved in research on developing
acoustic weapons include Russia, China, France, United Kingdom, and Israel.
Sweden, Japan, Poland, Yugoslavia, and Denmark are reported to have acoustic weapons effects research programs. This type of weapon is commonly seen as a better alternative to nuclear weapons, as it leaves no polluting radioactive materials behind.

Posted by Rebecca Sato
Related links:

http://www.globalsecurity.org/military/systems/munitions/accoustic.htm

http://www.bestsyndication.net/forum/viewtopic.php?t=3288&sid=ba3374673c2abceff0e7eee654949209

http://www.foxnews.com/story/0,2933,159127,00.html


---
CALIFORNIA BRIDGE COLLAPSE
7-31-07
FedEx driver, construction worker injured in Oroville scaffolding collapse
Iron support beams of scaffolding crushed a FedEx truck near Oroville.
Associated Press photo by Steve Yeater
08/01/2007 12:38 AM ID: 63934
Bridge Collapse Traps Driver
Robert Sylvester, 45 of Chico CA, was trapped for three hours in his Fed Ex truck after a portion of a bridge under construction landed on his truck. Sylvester's leg and foot were trapped when one of the beams fell on the front of his truck.
A construction worker standing on top of the portion that collapsed, "surfed" the wreckage down to the ground. He and Sylvester were both sent to the hospital where they are expected to survive.
FCI Constructors, the general engineering contractors for the project were cited by Cal-OSHA last year for intentional failure to report worker injuries.
Source: www.kcra.com
Fall ... a highway overpass being built in California collapsed overnight / AP
2 Hurt in Calif. Highway Bridge Collapse
By DON THOMPSON 07.31.07, 7:17 PM ET
OROVILLE, Calif. -

A highway overpass that was under construction collapsed Tuesday, crushing a delivery truck and seriously injuring a construction worker who clung to a steel beam as it tumbled 50 feet to the ground.

Firefighters swarmed the FedEx (nyse: FDX - news - people ) delivery truck to cut its driver from underneath a large steel beam that crushed the hood but missed the cab. A second beam landed on the back of the truck.

The cause of the collapse was being investigated.

The driver, Robert Sylvester, 45, of Chico, was pulled free about 2 1/2 hours after he was trapped. He suffered only a sprained ankle and minor cuts, his wife, Carol, told The Associated Press.

"We've gone from thinking he was absolutely the unluckiest person to the luckiest," she said, taking her husband home from Enloe Medical Center in Chico.

The construction worker, Jeffrey Doll of Olivehurst, who was on top of the structure, also was injured when it collapsed about 7:15 a.m.

"He rode it 50 feet down to the ground. It's incredible that he's going to survive that one," said Mark Dinger, a spokesman for the California Department of Transportation.

Doll, 39, was in serious condition with a fractured pelvis, fractured left elbow and broken lower left leg at the hospital in Chico, hospital spokeswoman Sharon Cuglietta said.

The overpass was being built over Highway 149 where it intersects with Highway 70, about an hour north of Sacramento, California Highway Patrol spokeswoman Karen Ogle said. The project began last summer and was scheduled to be completed in fall 2009.

Highway 149 had been closed overnight and until 5 a.m. Tuesday while workers from private contractor FCI Constructors Inc. erected concrete columns and steel tubes weighing 2,400 to 3,000 pounds that were held together with cables and steel I-beams, Dinger said.

FCI has no record of health and safety violations, and a random inspection in July 2005 found no infractions, said Kate McGuire, a spokeswoman with the state Division of Occupational Safety and Health.

FCI Constructors President Curtis Weltz, who arrived at the site after the collapse, said he did not yet know what caused the structure to collapse.

"There's a bunch of different possible scenarios. It's never happened to us before," Weltz said.

Jacque Underdown, a spokeswoman for the project's second contractor, Granite Construction (nyse: GVA - news - people ) Co. of Watsonville, said the company was cooperating with investigators.

Carol Sylvester said her husband, a father of three who has worked for FedEx since 2003, had begun his delivery route and was driving north when he saw something fall.

"He saw something fall, he thought a box. Then things started hitting the truck," she said. "I think he's in shock and glad. It was a long time in the truck and he's glad to be home."

Construction crews planned to stabilize the remaining structure and remove an estimated 70 tons of steel worth about $50,000 that crashed onto the highway.

"The top priority right now is to stabilize this and get it reopened to traffic," Dinger said.

Meanwhile, FedEx was evaluating the "large number of packages" damaged in the accident.

"When it is deemed safe and all official investigations are complete, the packages will be retrieved and returned to our local facility," said spokesman Robert Boulware.

The Department of Transportation was rerouting traffic until the road could be reopened, possibly as early as Wednesday morning.

Associated Press writers Samantha Young in Sacramento and Marcus Wohlsen in San Francisco contributed to this report.

(This version CORRECTS age of deliver truck driver to 45, sted 46, per his wife. UPDATES that delivery truck driver released from home; ADDS comment from his wife and contractor. Minor edits.)

Copyright 2007 Associated Press. All rights reserved.
FedEx driver, construction worker injured in Oroville scaffolding collapse
Tuesday, July 31, 2007
07-31) 14:58 PDT OROVILLE -- Newly erected scaffolding on a highway ramp under construction near Oroville collapsed this morning, sending a construction worker plummeting 50 feet to the ground and crushing the legs of a FedEx driver who was trapped in his truck.
Thirty-six tons of steel girders and bent posts crashed to the ground around 7:15 a.m. at state highways 149 and 70 about 5 miles north of Oroville in Butte County, Caltrans spokesman Mark Dinger said. The cause of the collapse was not immediately known.
Two steel beams landed on the FedEx truck, crushing driver Robert Sylvester's lower extremities and trapping the 45-year-old Chico resident in the truck for more than three hours, officials said.
Anne Sylvester, Robert's mother, said her son is recovering, "as far as we can tell." She did not know the extent of his injuries but said she had seen her son in the hospital and that he was conscious and talking to his family.
"It's a miracle," she said.
Robert Sylvester has driven for FedEx for five years, his mother said. She said this was his first on-the-job injury.
Also hurt was 39-year-old Jeffery Doll of Olivehurst, an employee of Caltrans contractor Flatiron Construction, said Dinger. He suffered broken bones in his leg, elbow and pelvis after the platform he was standing on collapsed.
"It's incredible he survived," Dinger said. "He had all his safety equipment on, and it saved him."
Both injured men were being treated at Enloe Medical Center in Chico, Dinger said.
Another person, 29-year-old Carrie Underwood of Oroville, broke both her femurs when she rear-ended an unoccupied Caltrans vehicle shortly after the collapse.
The state is upgrading two-lane Highway 149 to a four-lane expressway, and the project includes several flyovers between highways. Dinger said false work -- temporary scaffolding that serves as a platform for construction workers -- for the flyover that will connect highways 149 and 70 had just been put in place Monday night and this morning.
The roadway was closed from 10 a.m. until 5 a.m. while the false work, made of steel girders and bent posts, was constructed. A portion of it collapsed just a little more than two hours after the work was finished.
The state Occupational Safety and Health Administration is investigating the cause of the collapse, and Caltrans is working with the contractor to secure the false work, Dinger said.
Dinger said officials may be able to make at least a preliminary determination of the cause by Wednesday morning.
The flyover is being constructed by FCI Constructors Inc. of Benicia, a subsidiary of Flatiron Construction Corp. of Colorado. Caltrans has contracts with the company to work on several high-profile projects in the Bay Area, including the new eastern span of the Bay Bridge and the toll plaza approach to the new Benicia Bridge.
According to the U.S. Labor Department statistics, the company has had five reports of safety violations in the last five years, including two in California.
The Associated Press contributed to this report.
---
Bridge in danger of collapse: area evacuated
Tucson, AZ.
July 31, 2007 05:23 PM PST
The Alvernon Way bridge over Aviation Hwy. has been closed. The city is concerned that the structural integrity of the bridge is in jeopardy.
Heavy rains have eroded the highway and have possibly affected the overpass supports.
Drivers are advised to stay off the roadways across Tucson. If you must drive, please use extreme caution and do not drive through flooded roadways or washes.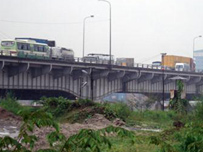 Southern bridge can collapse any time: official
7-31-07
The 43-year-old Dong Nai Bridge in the eponymous southern Vietnamese province, connecting three industrial hubs including Ho Chi Minh City, can collapse any time, an official has warned.
Colonel Nguyen Phi Hung, provincial deputy police chief, speaking at a conference Monday, blamed it on the increasing traffic which was overloading the bridge.
He had warned the Ministry of Transport several times but it had said the bridge "had seriously degraded but cannot collapse".
Tran Van Quan, deputy director of the province's transport department, told the conference that it was not until recently when the local administration had directly pleaded with Minister of Transport Ho Nghia Dung that he had instructed a state-owned company to do a feasibility study for a new bridge.
The bridge links Dong Nai and Binh Duong
---
Vital Cayuga County bridge collapses
New York State
Posted 7-31-07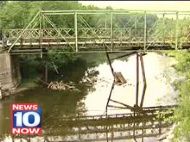 By: Evan Axelbank


CAYUGA COUNTY, N.Y. -- Now that pieces of this deteriorating bridge are lying in the water, the people who rely on it to cross the Seneca River, hope a turning point is here.
"You're really, really mad, and yet you're excited at the same time, that it finally did collapse again, for the second time, and maybe, now they will do something about it," said Tonya Anelli, a Haiti Island resident.
Bridge gives out

Parts of a bridge in Cayuga County collapsed early Saturday morning. The bridge connects the town of Mentz to Haiti Island. No one was hurt in the collapse, but for the 60 people who live on the Island, the bridge is a matter of survival. Ironically, just last week, the town held a meeting with state and elected officials to talk about how to fix the bridge. But the bridge collapsed before a plan could be put into motion. News 10 Now's Evan Axelbank explains.

"You can't get groceries, no fuel trucks can get across, no water delivery can be delivered, we're just basically all stranded," Anelli said.
The bridge is a 25 foot-long lifeline for an island that's not connected to municipal gas, water or sewer. The part that collapsed is from an old bridge, which is now covered by the newer main deck. For now, residents were allowed one trip to bring cars to the mainland, but will need to carry supplies on foot or by boat.
"It's not bad right now because it's summer time, but if this goes until winter, then you have the ice and a real big problem," said resident Betty Ranger.
The town of Mentz admits it has no solution on its own. Fixing the bridge isn't possible on their budget. For now, the state will send a team to inspect it to figure out if cars can begin to travel the bridge again.
"Our bridge inspectors will look at the structural elements, look at the condition of the deck and the substructure and make that determination," said Anthony Ilacqua, a State DOT spokesman.
But even if the state decides it's safe for cars, residents hope the bridge's latest collapse will be proof enough that it's time for higher levels of government to foot the bill for a new bridge, the only way to get to Haiti Island.