DROUGHT - 2002
---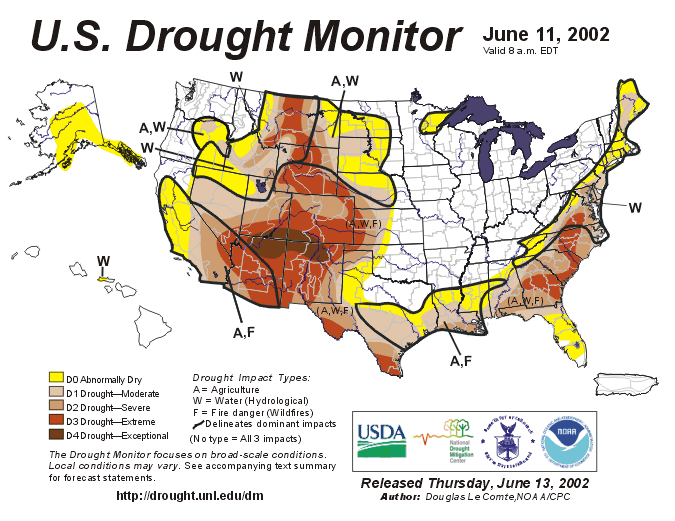 Horror season ahead: CSIRO
Thursday, 10 October 2002
The drought gripping Australia could be a catalyst for sparking the nation's worst bushfires in recent memory, according to the CSIRO.
Bushfire destroyed 10 homes and severely damaged 11 others in Sydney's south on Tuesday in an early start to the fire season.
The CSIRO's Bushfire Behaviour and Management Team leader, Jim Gould, said this year's bushfire season had the potential to be more devastating than last summer and the 1994 fires because Victoria and South Australia were now also at risk.
He warned firefighters would struggle to control severe fires for more than a few days. "The agencies are preparing for a worst-case scenario," he said.
"I think they'd be able to cope for two or three days but if they [fires] extended, carried on, for a week or more then I think the resources would be stretched to the very limits in this country."
Mr Gould said that the problems had been exacerbated by the drought extending over the winter months into spring. "The season looks very severe. The fuels are very dry and it would take a significant amount of rainfall to moisten these fuels up to dampen the season," he said.
Meanwhile, a coronial inquiry will decide whether Sydney Water played a role in starting Tuesday's devastating bushfire.
NSW Premier Bob Carr announced the latest inquiry as stunned residents mopped up.
It brings to three the number of probes into the bushfire, with police and Sydney Water also conducting investigations.
Mr Carr said the coronial inquiry would determine whether the water company's employees were responsible for the fire.
Sydney Water, which launched its own investigation, said it would compensate families if it was found to be at fault.
The inquiries come as the Sutherland Shire, which takes in the suburb of Engadine, was declared a natural disaster area, giving residents access to more government assistance.
There are fears that Sydney Water maintenance workers using power tools to repair leaks on the Woronora water pipeline may have sparked Tuesday afternoon's blaze.
"We'll establish by scientific method whether the fire that destroyed homes was caused by the Sydney water crew working on repairing that pipe," Mr Carr said in the state's west yesterday.
NSW Rural Fire Service spokesman Cameron Wade said about 60 fires were still burning across the state although all Sydney fires were now extinguished.
The worst blazes were in Tenterfield and Glen Innes in the northern tablelands and Grafton on the North Coast, he said, but no property was being threatened.
Sydney Water spokesman Colin Judge said the company's inquiry into the Engadine bushfire was expected to be completed by tomorrow.
"We hope it's finished as quickly as possible," he said.
Police from Strike Force Toronto, set up in the wake of last year's Christmas bushfires, would also investigate the blaze.
During a visit to Engadine yesterday, NSW Rural Fire Service Commissioner Phil Koperberg said more drama could be expected as fire crews braced for worsening weather conditions over summer.
"We shouldn't rule out a repetition regularly throughout the next four to five months of the sorts of conditions we saw yesterday," he said.
The natural disaster declaration means families will also have access to personal hardship and distress assistance.
NSW Community Services Minister Carmel Tebbutt announced the 10 families who lost their homes would receive a one-off $10,000 helping hand from the Government.
"It's a one-off payment, it's not means-tested," she said.
"The department then makes available means-tested financial assistance in the longer term for those people who are uninsured."
The Severn and Tenterfield shires in the state's north-west and the Bellingen and Nambucca shires on the mid-north coast have also been declared natural disaster areas.
Primary producers and small businesses will be able to access low interest loans and obtain subsidies for livestock transport and fodder.
~~~~~~~~~~~~~~~~
Drought's worst is yet to come
Thursday, 10 October 2002
Drought has claimed 40,000 rural jobs in three months and the worst is still to come.
NSW Premier Bob Carr, on a drought tour in the state's west yesterday, warned of recession-style job losses as new figures showed the situation had deteriorated.
Just 8 per cent of NSW has not been affected by the dry.
And for the first time since the mid-90s, Sydney has also been officially drought declared.
The figures for October showed the areas in drought had risen from 86 to 92 per cent in one month.
Mr Carr, who visited the western NSW region of Hillston as part of a two-day drought tour, attended a local crisis meeting in the community.
The state's drought coordinator, Geoff File, told how job losses were becoming a crucial issue in drought-stricken towns.
Australian Bureau of Statistics officials, also visiting the area, said more than 40,000 jobs had been lost from the rural sector nationally in the past three months.
Mr File said the figure would worsen as the flow-on effect from the drought took hold.
Sheep numbers nationally had dropped from 120 million in 1996 to 100 million today, although stock agents claimed the figure could be as low as 90 million.
NSW had taken the brunt of the losses with sheep numbers dropping from 41 million in October to 36 million.
The state's $1.6 billion wool industry was expected to suffer a 30 per cent downturn.
Meanwhile, winter crops had been reduced to 2.25 million hectares down from 3.89 million hectares in early July.
"Once we see these summer crops not going in - rice and cotton in particular - the unemployment you see will be quite spectacular," Mr File said.
The Australian Bureau of Agricultural and Resource Economics has predicted a 16 per cent drop in the gross value of farm production nationally.
Contract harvesters, planters and shearers were the worst hit with little or no income this year, Mr File said. Welfare agencies were meeting with farmers who claim health issues are a major problem.
Mr Carr said it was clear Australia could face "recession-style job losses" if conditions worsened.
"You can see the impact of the drought moving the Australian economy towards recession," he said. He also criticised the Federal Government for failing to deliver assistance for the state's worst-hit farmers in Bourke and Brewarrina.
The state Government lodged the application last month and has blamed red tape for it not being approved.
Hillston farmer Geoff Peters said he had been forced to borrow money to buy feed for his last remaining breeding stock.
Paying it back would be tough but he said the prospect of the drought not breaking until next autumn could not be contemplated.
"We just can't go that long," he said.
~~~~~~~~~~~~~~~~~~~~~~~
Drought grips much of U.S.
August 15, 2002
The parched bottom of Boyd Lake, north of Loveland, Colorado, is revealed on Saturday, August 3.
CAMP SPRINGS, Maryland (CNN) -- An extraordinary drought and near-record warm temperatures stretched across the United States in July, the National Oceanic and Atmospheric Administration said Wednesday.
NOAA's monthly drought assessment placed 49 percent of the contiguous United States in "moderate to severe" drought conditions -- due in part to the fifth-warmest July on record.
Extreme drought conditions persisted across a huge swath of the West, from San Diego north to Montana, and east to Lincoln, Nebraska. Another extreme drought zone spread across the Southeast, from middle Georgia north to Delaware, while a third, smaller extreme drought zone gripped the lower Rio Grande Valley in Texas.
For six U.S. states -- the Carolinas, Georgia, and Virginia in the east; Colorado and Wyoming in the west -- July wrapped up the driest August-to-July year in their history.
Several Western states, struggling with arid pastures, range, and cropland, have been declared agricultural disaster areas by the U.S. Department of Agriculture. And the Forest Service is struggling with what has already been called one of the worst wildfire years in history: More than 4 million acres have burned, nearly twice the average year-to-date over the past decade.
The NOAA's Climatic Data Center said average July temperatures this year were 2.2 degrees Fahrenheit higher than normal, making last month the fifth-hottest July since record-keeping began in 1895.
Only the state of Texas bucked the trend. It had to cope with record floods in early July in what became the third-wettest July on record for the Lone Star State. Texas also was the only one of the 50 states whose temperatures were significantly below average.
Thirty-nine states were warmer than average last month, according to NOAA.
Climate researcher John Christy, of the University of Alabama at Huntsville, said 2002 is in line to be the second-hottest year in the past 20. He said the expected impacts of what NOAA predicts will be a weak to moderate El Nino weather phenomenon could drive average global temperatures higher in the final five months of the year.
~~~~~~~~~~~~~~~~~~~~~~~
Drought Looms High in Afar As 500,000 People Are Displaced
Addis Tribune (Addis Ababa)
July 5, 2002
Posted to the web July 5, 2002
About 500,000 people have been displaced in Afar and are migrating to neighboring regions as an imminent drought is just around the corner due to the failure of rains for the past two years.
The results of the early warning studies have been sent to the Federal Disaster Prevention and Preparedness Commission but little food was sent only in March, the regional administrator, Ismael Alisero told the state run Ethiopian News Agency. The study identified that 400,000 were faced with drought.
"The problem is in all the Zones and Woredas and the people, particularly from Zone Five are migrating to the neighboring regions of Amhara, Oromia and Tigray," Ismael said over the weekend.
Children and elders who couldn't move from place to place were the main victims, according to the administrator, and the Federal DPPC should send relief immediately.
He said the Regional Early Warning Committee is undertaking a study and the number of people that need relief food is expected to rise.
A spokesman for the DPPC was quoted as saying that as per the study conducted by the commission in January, 21,630 quintals of food was sent two weeks ago to be distributed among the over 173,000 people as their one month ration.
---
By ALISA BLACKWOOD
.c The Associated Press

SHOW LOW, Ariz. (June 20, 2002) - A wildfire sweeping across more than 36,000 acres of an eastern Arizona forest drove thousands of people from their homes early Thursday as flames entered one of three evacuated towns.

Three homes, all log cabins, were lost in Pinedale, one of three communities evacuated near Show Low, said Gary Butler, sheriff in Navajo County.

Butler said residents of Show Low, a town of 7,700 some 125 miles northeast of Phoenix, were being warned of the flames but not told to evacuate, contradicting an earlier report by a dispatcher.

There was no sign in Show Low that an evacuation was under way.

Firefighters were unable to halt the fire's advance as it roared through the Apache-Sitgreaves National Forest, at times moving from treetop to treetop.

Firefighters continued to monitor the fire but didn't fight it overnight because of the potential danger, Apache-Sitgreaves spokesman Dorman McGann said.

The fire was one of 16 major blazes burning across the nation Wednesday, according to the National Interagency Fire Center in Boise, Idaho. Overall, wildfires have scorched 1.75 million acres so far this year, more than double the 10-year average through this time of the year.

In Colorado, veteran Forest Service worker Terry Barton was charged Wednesday with deliberately setting a wildfire southwest of Denver, which has grown to 135,000 acres, destroyed at least 25 houses and forced 7,500 people from their homes since June 8.

The charges were filed after prosecutors expressed doubt in her story that the fire got out of hand as she burned a letter from her estranged husband.

The fire grew at a slower pace Wednesday, thanks to higher humidity and cooler temperatures. Rain fell through the night in the Denver area and on parts of the fire, although it wasn't nearly enough to put it out.

''The main thing is that it will raise humidities and cool temperatures,'' fire information officer Dan Kincaid said. ''We should be able to get in there, hopefully (Thursday) and work on line construction.''

The blaze was 40 percent contained, down from 47 percent Tuesday.

The Arizona fire began Tuesday about a quarter-mile northeast of Cibeque, growing to about 1,200 acres by midday Wednesday before exploding.

Navajo County authorities earlier ordered the communities of Linden, Pinedale and Clay Springs evacuated, said Kartha Icenhour, a fire prevention officer for the forest.

Navajo County Sheriff Gary Butler said authorities had been expecting a blaze of this magnitude because of the dry conditions in the state's forests.

''It wasn't if it was going to happen, but when it was going to happen,'' said Butler. ''We just knew the big one was coming.''

Gov. Jane Hull declared a state of emergency to free up funds to fight the blaze, which is believed to have been caused by people.

Meanwhile, local fire officials sprayed down homes to try to keep them safe.

There also were evacuations in New Mexico, where authorities went door-to-door in and around Pecos, southeast of Santa Fe, to clear 21 families from their homes in advance of a 3,400-acre wildfire.

In southwestern Colorado near Durango, firefighters battling a fast-growing 54,000-acre blaze were focused on saving homes.

''We're a long way from having a handle on the fire,'' information officer Mark Morrow said. ''We don't want to lose homes that have already been saved once.''

The fire, burning since June 9, grew by more than 9,500 acres Wednesday, jumping containment lines and threatening more than 400 homes. About 33 homes and 26 other structures have been destroyed and more than 1,760 homes have been evacuated.

In California, cooler temperatures and calmer winds helped firefighters battling multiple blazes that have led to the deaths of an air tanker flight crew and the destruction of 13 homes.

Winds had died down at the scene of the wildfire near Yosemite National Park where three firefighters were killed Monday in an air tanker crash. The blaze, which began on Saturday, has blackened nearly 22,000 acres.

AP-NY-06-20-02 0715EDT
---
---
http://www.fema.gov/emanagers/nat061102.htm
Wildfires Continue In California
Region IX reported the Wolf Fire in the Los Padres National Forest in Ventura County, CA was at 21,278 acres yesterday afternoon. The fire was 55 percent contained as of yesterday evening, but local officials are not sure when full containment will be reached. This fire has destroyed six outbuildings, but Highway 33 is now open.
The 23,500-acre Cooper Fire in the Angeles National Forest of Los Angeles County was reported at 90 percent contained as of yesterday afternoon. Residents are being allowed to return to their homes in evacuated areas. Twenty-six structures, including nine residences and 17 outbuildings have been destroyed.FEMA Region IX continues to monitor the situation closely with their State counterparts. (FEMA Region IX)
Updated: June 11, 2002
---
6-2-2002 - ARIZONA DROUGHT
FROM: ANONYMOUS:
Hi Family, It is very scary here with the water situation.
Several villages around me, there wells have dried up. No water to flush the toilets. They are having to ship water in on trucks. Very expensive. The community well up the street from here has also gone dry. So far, Joey and I have not had water interruptions thank God! The towns of Strawberry and Pine, well, the private wells are drying up too. I have ordered barrels for water storage starting with a 3 month supply. That's just a start and I will start in earnest storing food. As most places are in they're 4th or 5th year of drought, the food prices are becoming volatile on the market and we have been informed by a very large bulk food chain that there will be shortages next year which will drive the prices up even more.
so, food storage, is of great priority this year for me, I have been storing food here and there but now it is a priority and gets a file folder all it's own. It's been a real slap in the face, this water shortage and it is getting very real. If the drought goes on it will be very bad news. I hope Michael is correct in his prediction, even still the drought has done 4 to 5 years of damage and we all will feel the effects soon enough, the farmers and ranchers already are. Michael is right. The oaks are dying en-masse here. It is very sad. And even the Junipers that are so strong and need little water are turning brown at the tops. The birds and animals are feeling the stress by now. They have closed all the forests down, up here, even to foot traffic and are literally patrolling the forests to keep people out because of the fire danger here. We feed the birds every day now. And Joey and I are going to get a storage barrel and fill it up for the Elk in the forest.
Lets all, visualize..........feeling, smelling, hearing, touching, the rain........lets all see ourselves dancing in it. Thank you for your intent.
Blessings,
June 2, 2002
Tribe Says Drought an Emergency
Shaun McKinnon
The Arizona Republic
Faced with dwindling water supplies and dying livestock, the drought-stricken Tohono O'odham Nation declared a state of emergency Friday and began looking for ways to deliver water to parched communities.
The tribe's Department of Natural Resources activated a drought relief action plan that outlines options to find other water sources and authorizes tribal officials to seek aid from federal and state agencies.
"Water, our most precious resource, is in extremely short supply, and with the complete absence of rainfall, our reserves have diminished at an alarming rate," said tribal Chairman Edward Manuel.
The tribe distributed photographs Friday of dead cattle along the edges of shrunken water pools. In some parts of the reservation, the pools, or "charcos," have dried up, tribal officials said, as have many wells. The drought has ruined much of the range feed for livestock.
Officials also are worried that water supplies for many reservation communities could begin to dry up. Water tables have fallen significantly across the reservation, Manuel said.
The U.S. government declared a federal drought emergency for all of Arizona last month, allowing farmers and ranchers to seek aid for crop and livestock losses. Gov. Jane Hull has activated a state emergency drought response plan and formed a drought task force coordinated through the state Agriculture Department and the Division of Emergency Management.
The entire state is now under severe or extreme drought conditions, according to the National Drought Mitigation Center. The state's northeast corner was upgraded this week to the seldom-used "exceptional drought" category.
---
Drought shrivels supply of food for local wildlife
By Richard Guzmán
The Desert Sun
June 1, 2002
An ongoing drought that has the valley set to break the record for the driest year may be more threatening to the desert's wildlife than its human settlers.
According to the National Weather Service, only 0.34 inches of rain have fallen at Palm Springs International Airport since July 1, the start of the weather agency's calendar year.
If the total doesn't surpass 0.81 inches by June 30, then the previous low rainfall record set from July 1998 to June 1999 will be broken.
The lack of rainwater may not seem significant to many valley residents used to the dry desert environment. But to the fringe-toed lizard, the lack of rain could mean a reduction in population by as much as 50 percent, said Cameron Barrows, director of the Coachella Valley Preserve.
He said insects, the lizard's main food source, flourish when there is more rainfall.
But the dry year has diminished the reptiles' food supply and the lizards have only been eating ants, which do not provide the same amount of nourishment as bigger bugs such as beetles.
The lack of proper food means the lizard may not reproduce as much this summer, he said.
"I've already seen signs of less breeding. (The lizards) are not carrying eggs yet," he said.
But the lizard isn't alone. The drought is affecting wildlife all over Southern California, said Jane Hendron, a spokeswoman for the U.S. Fish and Wildlife Service, which works to protect all endangered species.
Officials with the Bighorn Institute in Palm Desert said the lack of rain has more bighorn sheep than usual looking for water and food in several valley neighborhoods.
Blowing sand: The dry year has also added to the common problem of sand blowing across the desert and valley homes.
Without rain to create a crust on the sand dunes throughout the valley, windstorms are able to pick up large amounts of sand that end up blowing into valley homes and onto area roads.
That sand is troublesome for those trying to lower the valley's dust emission levels, which are currently in violation of the federal Clean Air Act.
Although days when natural dust storms occur aren't counted against the valley when its dust emissions are tallied, the sand can be particularly problematic and expensive for developers trying to comply with strict requirements to limit the amount of dust blowing off their property.
Farming: But the drought does not mean people in the valley will have to wander through the desert looking for watering holes.
Dennis Mahr, spokesman for the Coachella Valley Water District, said a record-setting dry year will not affect the valley's water supply.
"We've got a huge reservation in our ground basin ... nobody relies on rain for irrigation or anything else in the desert," he said.
"We basically bring water into the valley, put it in the groundwater basin and use it as we need it," he said.
Valley farmers said they also are not affected by a dry year.
"We don't ever rely on rain for water," said Nick Jarrett, general manager of Peter Rabbit Farms in Coachella.
He said valley farmers rely on underground water supplies for their water needs. He said that is the only way farming is possible in the desert.
Fire threat: Palm Springs Fire Marshal Carl Thibeault said the drought has an effect that may surprise many people.
"It's the opposite of what you may think ... because of the drought, we may have a moderate to slow fire season," he said.
Fire season in the valley lasts roughly from June until the end of August, he said.
Thibeault said the lack of rain means there will be less vegetation growing on the hillsides to fuel brush fires.
"We've had our worst fire season following the years of (heavy) rain," he said.
Richard Guzmán covers La Quinta for The Desert Sun. He can be reached at 775-4204 or by e-mail at Richard.Guzman@thedesertsun.com
------------------------------------------------------------------------------------------------------- Police Dog Left In Hot Patrol Car Dies Temperatures Reached Over 100 Degrees
PHILADELPHIA -- A Philadelphia police officer in the Holmesburg section of the city is distraught after a mistake that took the life of his K-9 partner.
Authorities in Philadelphia said a police dog died of heat exhaustion after being accidentally locked inside a patrol car. They said the windows were rolled up for more than four hours.
Usually when an officer with the K-9 unit wraps up his shift, he leaves his dog in the car, does his paperwork and then takes the dog home with him in his own car.
But authorities say a canine officer forgot to remove Woodrow, a German shepherd, at the end of his shift last week. The officer, a 28-year veteran, is temporarily reassigned pending an investigation.
The dog was found dead of heat exhaustion in the back of a police cruiser. Police estimate that it was more than 100 degrees inside his metal cage. Investigators say the temperature was 80 degrees outside the patrol car when Woodrow died, but higher inside because the windows were rolled up.
Woodrow's handler, officer Joe Arrison, was supposed to take the dog home Friday at the end of his shift.
"Dogs, they live at home with the officers. What occurred here is (that) the officer just got up and went home. Now, he can't even explain why he did it. He's a 15-year K-9 veteran and 21-year veteran of the police department and it never happened before and he's devastated, we're all devastated," said Capt. Alan Kurtz of the Philadelphia Police Department.
Woodrow, 5 years old, was trained as a drug sniffer. Officer Arrison has been reassigned as the investigation into Woodrow's death continues.
A commander said Woodrow's death may lead to new safety procedures -- including heat sensors that would start a fan, open a window or sound an alarm when it gets too hot inside patrol cars.
"We lost a member of our family and we'll get over it, but (Arrison) never will. I mean, (he was so upset) we couldn't even talk to him," said Kurtz.
Arrison is a member of the military and sometimes left his dog in the kennel when he went to military service on the weekends. His fellow officers speculated that he might have thought that he had taken the dog to the kennel.
The investigation should take about a month, according to Internal Affairs.
---
FROM: http://www.drought.unl.edu/dm/monitor.html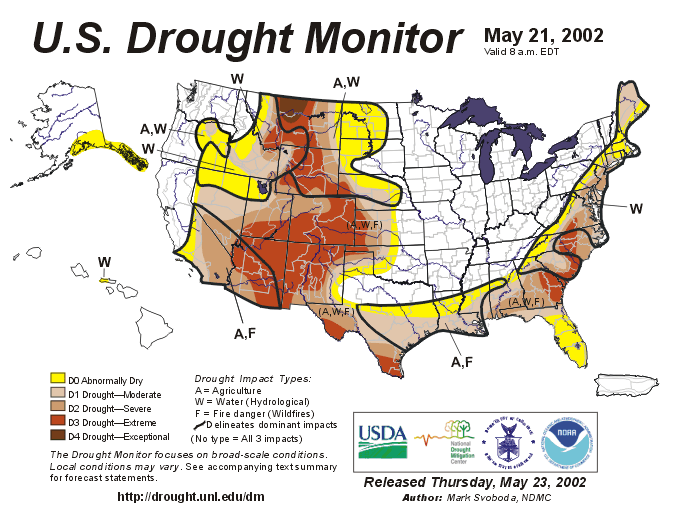 Over 1,000 Dead in India Heat Wave
By OMER FAROOQ
.c The Associated Press
HYDERABAD, India (AP) - The death toll from a heat wave that has gripped southeastern India rose to 1,030 Wednesday as reports trickled in from remote rural villages. Most of the dead were older people unable to bear temperatures that reached 122 degrees.
Officials were still adding up the toll in Andhra Pradesh state, but it was already the highest one-week death count on record for any Indian heat wave.
``There seems to be no end to our suffering,'' said P. Venkateshwara Rao, a fish farmer in the town of Kaikalur. ``We are totally helpless in the face of relentless heat.''
The death toll ``is much worse than we had anticipated,'' relief commissioner D.C. Roshaiah said in Hyderabad, the state capital. ``We are getting information very slowly from the remote rural areas.''
In the hardest-hit districts, mostly on the Bay of Bengal, the heat was so intense that tin-roofed shanties turned into ovens, ponds and rivers dried up, birds fell from the sky and animals collapsed.
All the deaths occurred May 9-15, and the victims were mostly the elderly and the poor, who could not withstand the brutal heat, which causes dehydration and sunstroke. Farm laborers and rickshaw pullers who had worked instead of taking shelter also died.
It is the highest one-week toll on record for any Indian heat wave, meteorologists said. Weather officials said past heat waves have never killed many more than a few hundred in a week countrywide.
Similar heat waves struck Andhra Pradesh in 1996 and 1998. Andhra Pradesh is the fifth-largest state in India, with 76 million people.
The deaths, which come in the peak of summer in southern India, were expected to taper off as the second week of the heat wave was not so intense. Roshaiah said there has not been a reported death during the last two days.
Early monsoon rains cooled some regions last week, but the coastal regions still suffer. A high of 110 degrees was recorded Wednesday in the port city of Kakinada, 355 miles east of Hyderabad.
Poor farmers and traders have seen their scorched fields and businesses suffer.
``Everyday we are looking toward the sky with the hope of some cloud cover and rain,'' said Sai Ramesh, a trader in Rajahmundry town. ``But after some relief, things are even worse.''
The state government announced a compensation of $1,000 to the families of those who died.
``The victims are from the very poor sections or physically weak people who could not withstand the harsh weather,'' said Chief Minister Chandra Babu Naidu, the top elected official.
Officials say the homeless who live on foot paths and open areas were also hit.
``They could not find any place to save themselves from the heat,'' said a Krishna district official, R.P. Meena. He said that in the town of Vijaywada, at least seven homeless people and beggars died during a record temperature of 120 degrees.
Northern desert winds led to an abnormally hot May in southern India, with temperatures more than 7 percent above the monthly average. The northern parts of the country have also been baking.
Heat wave conditions were likely to prevail over the coastal belt of Andhra Pradesh through Friday because full monsoon rains were unlikely for a few days, said C.V. Bhadram, director of the meteorological office in Hyderabad.
Monsoons typically break over southern India by the end of May.
The government is investigating whether the heat wave has been caused by global warming or deforestation. But weather experts say it was caused by a change in the intensity and direction of winds from the desert.
``These winds are still blowing but the heat wave today is not as intense as it was about 10 days ago,'' said Bhadram.
Still, civic authorities issued warnings to stay indoors or cover up when outside, and to drink plenty of water. Water supplies have been sent to all the districts.
05/22/02 22:49 EDT
Copyright 2002 The Associated Press.