DRUGS
THE CONTROVERSY
THE DREAM AND THE REALITY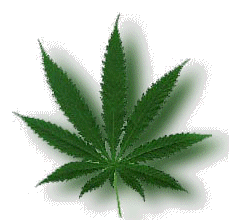 8-26-2000 - To begin with, I know that very few people are going to care
what my personal opinion is about drugs. Every day we hear numerous
news articles on television about the 'drug war' and see videos of cops
gathering huge crops of marijuana from farms and woods, and people's
homes. Several people would look upon my personal opinion and laugh
at my naivete, and others would say I was stupid.
Numerous people are doing long 'hard time' in prison for carrying small
amounts of marijuana ... all out of proportion to it's use and danger.
Other people are trying to legalize marijuana because of its medicinal
purposes which their very lives and pain levels depend on.
In history, there are plenty of people who used drugs for a good purpose as
well, and some count on it to hold their jobs. So, what point it there to do
another page of opinion?
I have control issues in my personal life. I've had drugs used against me and
forced on me. I know they are illegal. There are people using cocaine, crack,
ecstasy, heroin, opium, methamphetamines, LSD, psylocibin, peyote, PCP,
amphetamines, uppers and downers. Some are happy about their use and some
wish they had never touched the stuff.
There are plenty of people who wish we'd go away with our opinions and
leave them alone.
Very famous people have used drugs over the years and I've had dreams about
the use of drugs and that's where I'll begin.
by Dee Finney
.
Parts of this list are excerpted from this page: http://www.kassiber.de/drogen.htm
"Threat to Society":

Drugs used:

Isaac Abrams, artist
LSD
Tim Allen, actor, comedian "Home Improvement", "The Santa Clause"
cocaine
Richard Alpert (also known as Baba Ram Das), psychologist, author, guru
LSD
Lewis Daniel Armstrong, musician ("Satchmo")
marijuana
Allen Atwell, artist
LSD
Marcus Aurelius, philosopher, emperor of Rome
opium
Ginger Baker, musician
amphetamines
Tallulah Bankhead, actress
cocaine
Marion Barry, mayor of Washington, D.C.
cocaine, alcohol
Charles Baudelaire, poet
absinthe
The Beatles, musicians
marijuana, LSD
John Belushi, comedian, actor
marijuana, heroin, cocaine
Sarah Bernhardt, actress
cocaine
Bono, Sonny, U.S. Senator, actor
prescription drugs
Elizabeth Barrett Browning, poet
opium
Lenny Bruce, comedian, free speech activist
marijuana, heroin
William S. Burroughs, historian, author: "Naked Lunch", "I, Claudius"
cocaine, opium
George W. Bush, Governor of Texas,
cocaine
Lewis Carrol, mathematician, photographer, author: "Alice in Wonderland"
mushrooms
Winston Churchill, British prime minister
alcohol
Clapton, Eric, singer, musician, music writer, "Tears in Heaven", "Unplugged" built a treatment center for others to recover also.
drug and alcohol addict in recovery
Grover Cleveland, U.S. president
cocaine
William Clinton, U.S. president "Well, I did smoke pot, but I didn't inhale."
marijuana
Kurt Cobain, singer, musician
heroin
Jean Cocteau, playwrite: "Orpheus"
opium
Samuel Taylor Coleridge, poet: "The Rime of the Ancient Mariner"
opium (laudanum)
Wilkie Collins, author: "The Moonstone"
opium
Carlos Costanada
hallucinogens
David Crosby, Musician, founding member of "The Byrds" and "Crosby, Stills and Nash"
marijuana, cocaine
Aleister Crowley, magician, author: "Magick Without Tears", "Moonchild", "The Book of Thoth", "Diary of a Drug Fiend", "Theory of Magick"
EVERYTHING
Ram Daas, psychologist, author, guru
LSD
Salvador Dali, painter "Everyone should eat hashish, but only once."
hashish
Thomas DeQuincy, author: "Confessions of an English Opium-Eater"
opium (laudanum)
Charles Dickens, author: "A Christmas Carol", "Oliver Twist"
opium
Downey, Robert , Jr
Arthur Conan Doyle, logican, author: "Sherlock Holmes" (a cocaine user)
opium
Isadora Duncan (revolutionized dance)
cocaine
Thomas Alva Edison, inventor, industrialist
cocaine, alcohol
Havelock Ellis, physician, author: "Psychology of Sex", essay: "Mezcal: A New Artificial Paradise"
peyote
Carrie Fisher, Actress, screenwriter
prescription drugs
Ben Franklin, inventor, publisher, scientist, American statesman
opium, marijuana
Peter Fonda, actor
marijuana, LSD
Sigmund Freud, physician, "Father of Psychoanalysis"
cocaine
Jerry Garcia, musician (with The Grateful Dead), philosopher, spiritual consultant to Jefferson Airplane, religious leader
LSD, marijuana, heroin
Newt Gingrich, Speaker of the Senate
marijuana
Al Gore, U.S. vice-president
marijuana
Cary Grant, actor - 1950 era

LSD
Ulysses S. Grant, U.S. president
cocaine, alcohol
Grateful Dead, musicians
marijuana
Jimi Hendrix, musician, singer, legendary guitar player
LSD, heroin
Albert Hoffman, chemist, discovered LSD and became a proponent
LSD
Billie Holliday, singer
opium
Dennis Hopper, actor
marijuana
Houston, Whitney, singer
? in denial
Aldous Huxley, author: "Brave New World", "Island", "Doors of Perception"
mescaline
William James, physician, philosopher
nitrous oxide, ether, peyote
Jefferson Airplane/Starship, musicians
marijuana
Thomas Jefferson, U.S. president, inventor, architect, marijuana farmer
marijuana
Steve Jobs, co-creator of the Apple computer, the NeXt computer, and former head of Apple Computers, Inc.
marijuana, LSD
Janis Joplin, singer
heroin, alcohol
Stacy Keach, actor (Mike Hammer)
cocaine
John Keats, poet
opium
Ken Kesey, author: "One Flew Over the Coo-Coo's Nest", "Once a Great Notion"
* Mr. Kesey's personal correction: I only had him down for LSD, to which he commented that someone not willing to try anything, is not a real truth-seeker, but only a dilatant.
EVERYTHING*

Archibald Leach (actor Cary Grant)
LSD
Timothy Leary, psychologist, Father of Transactional Analysis, software author: "Mindwheel". "Turn on, tune in, drop out."
LSD, marijuana
Donovan Leich, musician
LSD, marijuana
Pope Leo XIII
cocaine
John Cunningham Lilly, physician, scientist (electronics, dolphin communication, sensory deprivation), philosopher, author: "Mind of the Dolphin", "Center of the Cyclone"
LSD, ketamine

Bela Lugosi, actor
opium, morphine
Manson, Marilyn, singer, musician
multiple drugs
Bob Marley, musician "The Father of Reggae Music"
marijuana
Judge Marquat, Arizona Supreme Court Justice, involved in Miranda ruling.
marijuana
Joseph McCarthy, U.S. Senator
opium
Joni Mitchell, Musician
Marijuana
Wier Mitchell, physician, author: "Injuries of the Nerves and their Consequences"
peyote
Marcia Moore, Sheraton Hotel heiress, author: "Hypersentience", Journeys into the Bright World"
LSD marijuana, ketamine
Jim Morrison, lead singer for The Doors
cocaine, alcohol, LSD, marijuana
Mothers of Invention, musicians
LSD, marijuana
Willi Nelson, musician, claimed he did it at the White House
marijuana
Jack Nicholson, actor
marijuana, LSD
Stevie Nicks, singer
cocaine
Nixon, Richard, U.S. President
dilantin
Philippus Aureolus Paracelsus, Father of Modern Medicine
opium
Pablo Picasso, painter, "The smell of opium is the least stupid smell in the world."
opium
Plotinus, Roman philosopher, 205-270 AD
opium
Edgar Allen Poe, poet, author: "The Raven", "The Fall of the House of Usher"
opium
Jackson Pollack, painter (His work sold for up to $8,000,000 a piece.)
alcohol
Cole Porter, composer
cocaine
Elvis Presley, singer, actor
prescription drugs
Freddy Prinz
Richard Pryor, actor, comedian
cocaine
Cardinal Duc de Richelieu, leading minister to king Louis XIII
opium
Franklin Delano Roosevelt, U.S. president
alcohol
Sir Walter Scott, poet, author
opium
Sheen, Charlie, actor
Shelly, poet
opium
Arlene Sklar-Weinstein, artist
LSD
Robert Louis Stevenson, author
cocaine, morphine
The Rolling Stones (reputed to be the greatest rock-and-roll band in the world)
marijuana, LSD
Darryl Strawberry
Desmond Taylor, film director
cocaine
Clarence Thomas, U.S. Supreme Court Justice
marijuana
Tyler, Steven , Aerosmith singer
alcohol and drugs
Vincent Van Gogh, painter
absinthe, camphor
Jesse Ventura, wrestler, governor of Minnesota
marijuana
Jules Verne, author: "The Time Machine", "War of the Worlds", "2,000 Leagues Under the Sea"
cocaine
George Washington, U.S. president, marijuana farmer
marijuana (sensimilla)
Allen Watts, Zen philosopher, masters degree in religion, doctorate in divinity, author: "The Joyous Cosmology", "Zen Sticks, Zen Bones", "The Taboo against Knowing Who You Are", "The Wisdom of Insecurity".
LSD, marijuana, mescaline, psilocybin, dimethyl-tryptamine (DMT), alcohol
Andrew Wiel, physician, psychopharmacologist, anthropologist, fire-walker, alternative health expert, author: "The Natural Mind", "Spontaneous Healing", "8 Weeks to Optimum Health"
marijuana, peyote, yage (S. American hallucinagin)
William Wilberforce, almost singlehandedly got slavery abolished throughout the British Empire
opium

-
.
Just within the last decade or so, fatalities include Sublime's Bradley Nowell, Blind Melon's Shannon Hoon, Comedian Chris Farley, actor River Phoenix, Nirvana's Kurt,Cobain (who was high on heroin when he committed suicide), and members of Hole, Red Hot Chill Peppers, and the Smashing Pumpkins
THE DREAMS
8-27-00 - DREAM - My dream is fading fast because I was given a shot of some kind of drug which woke me up suddenly. The woman who gave it to me said, "For America!" I woke up instantly, but then started having a slow pulsating vision of a newspaper page with a green forest picture on the front. That faded, then someone said ... "Glen Tyler ... killed three women."
In the dream itself, I saw two sides in an ET type war. They actually resembled the heads of pliers ... rather A shaped ... one was silver and one was bright blue ... seemingly the color of their suits with helmets.
There was a factory scene in here which I can't remember . I was inspecting parts ... which is where I saw the ET war preparation scene.
There was a brief discussion with a women who was in my kitchen and of my having visions and wondering if I was sane. I knew I was but I was trying to give the impression that maybe I wasn't. Sometimes it makes me wonder.
There was the indication that a man was moving into a house on 15th St. which was right across the alley and a couple houses down which was to be for my benefit because he knew things I didn't and I'd be able to find out from him what I didn't know.
I went to the lunchroom where preparations weren't quite ready. An older woman said she needed someone to go to Benson's with her (like a butcher shop) (Benson's in Wisconsin is a famous bar where people go to see UFOs) I said I had errands to go on also and would go with her. She was surprised. I said I had to go to the bathroom first and on the way I saw the clock and it said 4:20 p.m. I wondered what happened to all the time ... it was supposed to be noon. (The crop circle which appeared in 1998 said 4:20 and there was discussion about what it meant) (Some say it's a symbol for drugs)
I didn't find a bathroom, but went into a small office. A red haired woman came in and I was going to go in a little waistbasket. I sat down on a chair and three people came in who cornered me ... a guy and two girls ...They towered over me and we had a brief discussion about the use of drugs to have visions vs having them naturally. One of the girls was obviously coming down off of some kind of drugs ... her face and hands were twitching like she needed a fix of something really bad. I said I preferred having natural visions. The other girls said, "Well, we'll see ..." and jabbed me in the hip with her hand which I assumed had a hypodermic needle in it.
I woke up instantly ... then started to have the visions of the forest then, about the 3 women being murdered.
I dont' feel well, I had a bad hot flash a moment ago and feel kind of sick... so I'm going back to bed.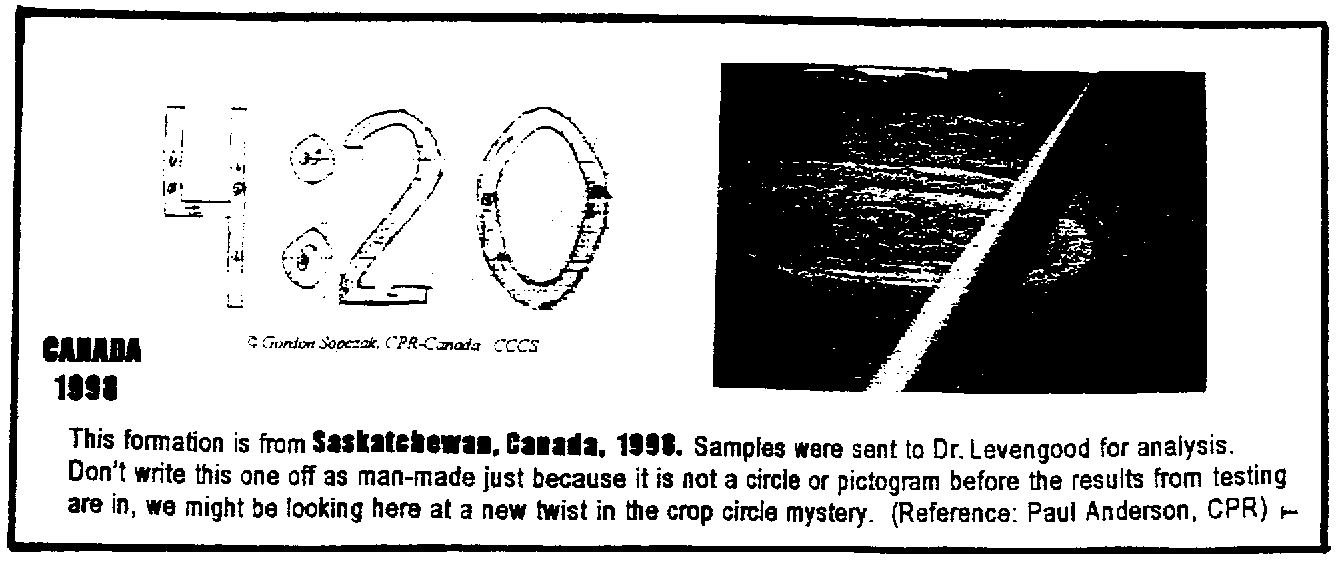 Photo from Crop Circles Commentary
The Center for Crop Circle Studies Oregon Newsletter
March 1999 - No. 9
~~~~~~~~~
OLDER DREAMS
6-27-88 - (Emotionally I was a basket case. My husband had just told me the day before that he had decided to go away for a year for drug and alcohol treatment)
DREAM - I was on a stony driveway, sitting on a revolving stool. I was riding it backwards around and around, back and forth, back and forth. There were two unidentified men there, (perhaps a good man and a bad man) The driveway was partly smooth and partly hilly. I went back and forth between the two men, across the smooth section and across the hilly section. When I stopped, I told the bad man, "I don't know what I'm going to do with myself for a year." Then I said, "I'd rather go across the hilly section, (indicating the driveway), it's more fun. "
~~~~~~~~~~~~~~~~
7-27-88 - DREAM - I was shown a city which was wonderful and I said, "Is this the way it looks when you are on drugs?" and they said, "No! This is the way it really is." and I knew it was heaven.
I then went upstairs and rearranged the clothing situation and hung the baby girl clothes in my grown son's closet.
I tried to give my husband a nickel, but he thought it was a slug and refused it.
~~~~~~~~~~~~~~~
8-20-88 - DREAM - I was going to join a choir just before Christmas and Edward's voice came booming over the loudspeaker in front of all those people, telling me that i was a bad wife and I was yelling back that he was a creep and a jerk and all he wanted to do was sit around and do drugs and drink. I was so upset, an elderly man tried to console me by telling me that Edward should be seeing a psychiatrist and I said that he should have seen one years earlier. The man said he knew of other cases where a person may have taken 3 or 4 years to kick a drug habit but they made it.And I said, "Yes! But they wanted to do it and he doesn't"
~~~~~~~~~~~~~~~
8-24-88 - Edward came home. He sat out in the yard in the pouring rain. I was in the house looking out the picture window. The rain was pulsating up and down violently and then I saw a tornado of rain drops coming off of my roof. I tried point it out to him but he didn't see it.
Then he came in and we lay in bed together. He was sober and free of drugs. After we got up, I was talking a mile a minute about things and he said, "I knew you were going to be like this." He started acting angry like he wanted me to walk around in silence.
He went over to the sink to rinse some pinto beans. It made me feel nauseous and Edward too.
~~~~~~~~~~~~~~~
8-19-98 - DREAM - I was in a vehicle with some other people in the back seat. I had a pink purse or something like that with me and something secret was put in it.
I got out of the car on Wisconsin Ave. just as an 'evil' person caught up to our car. I ran across the street following someone who was running ahead of me. When I got across the wide street, I had to climb a high hill and had a great deal of trouble getting to the top so I worked my way across the hill to my right and ended up at a drug store display window. At the window, I began seeing 'things' related to the search which followed and search by search starting to the real to the unreal and web page. I ended up at the web page and the subjects...square rectangles lined up to which could be pressed one at a time with a letter of the alphabet in each rectangle ... the word music appeared and as I woke up the word 'algorhythms' popped into my mind.
8-19-98 - VOICE - "On the 26th there will be a quake like never before".
~~~~~~~~~~~~~~
9-16-88 - DREAM - I was downtown and had a good time and got used to being with people. It was snowing outside and I crossed the street to find a bathroom. The sky was unusually blue at the same time it was snowing.
I went home to take care of the children. My husband came home. He was drunk but he asked if I would go downtown to see a musical show with him. I said, "Yes!" because I had enjoyed myself there. He brought out some liquor and offered me a sample. I took a sip to be friendly. He then pulled out a larger bottle of booze and began drinking heavily and I became afraid.
I began to dress the baby in his snowsuit. It was pale green. I could hear my husband talking to me from the other room. He was laying on the floor. I was hurrying to run away from him so he wouldn't hurt the baby.
I reached the front door and opened a golden lock and undid a golden chain and slipped out the door with the baby.
I was now in Milwaukee on 16th St. running north. My husband followed me to the door saying how great he had done fixing our lake cottage. I kept running farther and farther away from him. Then he said, "You're right. I don't say the right things. May the Great God watch out for us together."
NOTE: It was only 3 months later that I was forced to run away from him for the last time and finally divorced him because of his drinking and drug habits.
~~~~~~~~~~~~~~
1-19-90 - DREAM - I was in a house and a man came in acting accusatory and asking to see me. I picked up my baby in a blanket and held it against my chest protectively to show the man that I was a responsible person. He said that he wasn't to asked me some questions. I said, "The answers are: "No! No! No! No! No!, No! No! and N/A!" Then he asked me questions about whether I used drugs. All the answers I had given him answered all the questions he asked, and they were correct. I walked away , carrying my child, feeling triumphant over the man.
~~~~~~~~
2-8-90 - DREAM - My husband gave me a blue car to drive. I was pushing the car around the street by hand from the sidewalk because I wasn't ready to drive it yet. A bus came from one way and bumped into it, knocking it backwards, then a bus came from the other way and bumped into it. It was a little bent on the bumper, but otherwise still drivable. I was headed toward the car when I saw the two drivers go up to the car, reach inside to get some information, then shake hands to make a pact not to tell anyone they were stealing the information. I decided to take a tranquilizer and get in the car and drive it whether I was ready or not.
I went to my New Berlin house and my head was itching on top. I scratched it a few times, then went to the bathroom to comb it. with one combing, half of my hair came out on top of my head, but nothing did on the sides or back. I was devastated and I wanted to call a doctor for help.
The kids were making so much noise in the livingroom, so I went to the kitchen to use that phone. I knew it was the tranquilizer mixed with another drug that made my hair fall out. I picked up the phone and I could hear my mother talking to Oral Roberts, the minister. I decided then to ask Oral Roberts to pray for me.
~~~~~~~~~~
4-1-90 - DREAM - I was at a house and my Mother, Father, and brother came to visit. My Mother carried my brother in as big as he was and laid him on the couch where I was sitting. My brother was sleeping but he kept kicking me until I finally had to sit on the floor.
My Father leaned over the couch backwards and sat on the sofa behind mine. A small purse-size phone rang and my Mother ran upstairs to answer it. I knew it was 3 a.m. and nobody ever calls at that time unless it is a death in the family. I was trying to figure out who died and I guessed that it was my Grandmother. My Mother didn't come back down, so I went upstairs to see if she was okay. My Father disappeared and my Mother said that he had come upstairs to check on the phone call and then went to the drugstore.
I didn't meet him on the stairs so I couldn't figure out how he got past me. I asked my Mother if she was okay and she answered that she was.
NOTE: My grandmothers passed on many years ago.
~~~~~~~~
9-30-90 - My neighbor and friend Dorothy saw in spirit about T.H. She gave her students untraceable drugs in liquid and powder form to make them ill. She controlled them with hypnosis and fear.
She also had an astral vision of a demon by her bedroom door. From the knees up, it was a man. He had hairy horns on his head. He had a dragon-like lower body and tail like a crocodile.
~~~~~~~~~
10-24-90 - DREAM - I was helping out a woman who was probably my daughter/best friend. We lived together. I supported her and gave her all my money. She wanted more money so she left me and then called the cops on me to have me arrested for selling drugs. I turned off all the lights so the cops wouldn't know I was home, but when they arrived, I let them in anyway. They didn't find anything. But now I had no money and I was feeling weak and tired. I had had a baby 5 months earlier and received a vitamin shot then and had felt good, so I decided to go the hospital on Teutonia Ave. for another shot. I thought too that I might meet a man there. I did! He sat down next to me at the lunch table. We began to get acquainted and Norman came along and interfered. He made comments of a personal nature that made the other man go away. Then I sat on Norman's legs and fake cried that I didn't have any money and couldn't take care of myself. He wanted me to be there, but he didn't provide any firm support either.
~~~~~~~~~~
12-9-91 - DREAM - I managed an apartment building on the East side of Milwaukee with 84 apartments and I lived in #73. It was hard to distinguish #73 from #84 and a little boy showed me which door to use. Inside, it all looked familiar. Someone had tried t take my I.D. and all the proof of who I was, was strewn on top of the bed which had an orange blanket on it. I picked it all up, including some photos of people I knew and the photos became live and I became part of the photo and found myself walking from 20th St. school to my home on 16th St. I was carrying a flashlight and every corner I came to, people were offering to buy me a drink. I knew this was out of the goodness of their hearts, but I didn't drink and tried to be nice so as not to hurt their feelings. I carried a lighted flashlight to show the way and shown it on each person who called my name. The police were watching me because so many people were calling my name. As we walked up 16th St., we came to two places where drugs were stored for distribution. The officials were in charge of them. They said that they could allow booze to be stopped, but drugs is what kept our country going.
~~~~~~~~~
3-9-92 - DREAM - I was in New Berlin and we had a tester in the house and the potentiometer had gotten weak. There was one on sale at the drug store for $1.40 and Edward (my husband) volunteered to go get it. Somehow I became Edward and as I went north on Calhoun Rd. to National Ave., I saw a huge 3 masted blue boat going east along the road. Lining the road were tall poles with extensions on them with flags waving and it sounded like gunfire.
The next thing I knew, I was laying alongside the road on National Ave. and the blue boat was east of Calhoun Rd. being accompanied by hundreds of men. I didn't know how long I had been laying alongside the road or how I had gotten there, but I knew I had to get the potentiometer and get home.
There was an old woman who lived in a house where I was laying and she had a red blanket laying in a square covered up with plastic. I yanked the blanket out from under the plastic and rolled it up into a bedroll. She called the police to catch me, but I outsmarted them and headed cross fields instead of by road. I ran as fast as I could, going over, under, and through fences the best way I could. Every one of them had an electrified strand across the top, which was demonstrated by a dark haired woman who tested hers by spitting at it from yards away and delighting herself in her accuracy to see the spit fly up in a hissing stream when it hit the wire.
The cops were determined to catch me, but I eluded them and even when I crossed the roads between Racine Ave. and Calhoun Rd. they couldn't catch me.
I was now Dolores again and I came to a finely plowed field just north of my house and met my neighbors from across the street.
I was using a ballpoint pen and writing my life story,using the rows of plants as lines like on a tablet. However, when I wanted to show my neighbors what I had written, it didn't show up. We looked closer and saw that when the dew glistened in sparkling droplets on the lines of lettering in the new sunlight, we could make out the lines, but I knew I'd have to write it out in longhand on yellow legal paper and then type it up on the computer for anyone to be able to read it. I finally got home then and a friend had been kind enough to loan me a potentiometer for my tester and it was working fine again.
~~~~~~~~~~~~
10-18-93 - DREAM - a woman came up to me and told me she was going to support M.L. I told her she was a fool and she would be sorry. She said she thought I was cold hearted. I told her she would find out what kind of person he was. Tom, my locksmith boss said he was a drug user. I said, "No! He wouldn't test positive for drugs right now, but he had a lot of problems."
NOTE: M.L. died in January of 1994, possibly suicide. He had been in a lot of pain after being stabbed 24 times during a robbery. He was never the same after his trauma. He was talking suicidal the last time I spoke with him. His mother told me he died of a heart attack. His body wasn't found for 6 days. When it happened I had been on vacation and had no contact by phone with outsiders except family. When I came back from vacation, I never heard from M.L. again and never could figure out why. I found out about his death many months later when an investigator found my phone number in his possessions.
~~~~~~~~~~~~~
3-5-94 - DREAM - I was going to the hospital to have some kind of radioactive device implanted in my shoulder that would measure the amount of pain that I have there. (The pain is true) I was very apprehensive about the surgery and was asking other people what they thought of it. I was getting more and more fearful and coming close to deciding not to go through with it. Then I was at the hospital and asked a doctor his opinion.At that point, I decided to go home and forget the whole thing. A nurse noticed my distress and fearing I would not return to the hospital for surgery, grabbed me to detain me, and decided to drug me to keep me there so I would be prepared for the operation a couple hours hence. I contemplated how the drug would effect me and feared even that, but I couldn't leave.
~~~~~~~~~~
10-22-97 - DREAM - Our house was in an apartment building. The Internic (controller of domain names) was installed on the 6th floor.All of the cable connections were on the elevator.The Internic box looked like a rainbow colored jukebox.
I went up to the 9th floor to begin collecting my mail. I had a mailbox on every floor. The same key opened all the boxes.
After that I was in the car with my Father. He drove...I was in the back seat. He pulled up to the curb on 15th and Center and a man dressed in a black trench coat came up to the car ad put his hand in the window. My Father handed the man my credit card. The man went up the stairs to a house there. He was very mysterious and scary. He didn't show his face to anyone and wore a black slouch hat. However, I did catch a glimpse of his profile when he got to the door. He was really handsome and had white skin. He was protected by a black man wearing an orangish brown coat.
We went back to the apartment building and I met some other mysterious people. They seemed like welfare investigators or some other social workers. I had a short conversation with them. I was trying to pump them for information. I can't remember what was said.
I went back to my own apartment and knew that those two men had been in the building before and were expected back. I was concerned that they might be into the drug scene or something.
I was taking care of other people's kids as well as my own and I allowed my baby daughter and another kid to hide in the bottom dresser drawer so the guy in black wouldn't kidnap her.
I met a guy in the hall that said there had been complaints about a donkey braying in that house on 15th St. where I saw the tall man in black go into. A little later, I confronted my father about the mysterious men on 15th St. and I told him I knew about the donkey braying there. He acted like he didn't know what I was talking about, but I knew he did. I kept telling him that the house was East of ours. I kept saying..."It's East...It's East."
~~~~~~~~~
12-4-97 - DREAM My boss Tom asked me why I bought 15 refrigerators for use next year. He also asked me if I bought the drug diason of disophamine.
The purchase order was dated 5//4 and the size of the purchase orders were 5 feet by 4 feet big.
~~~~~~~~~~~
12-24-97 - DREAM - I was in a city and managed a building on a corner at an intersection. Kitty corner, across the street, my Great Aunt Cora lived. (deceased many, many years) There was a paper boy gong by delivering newspapers, and he handed her a roughly torn yellow piece of paper about 3" x 3" folded in half. A $10 bill was inside with someone's initials written on it.
She got upset that he had handed it ito her to hold, so I went over and got it, and put it into a drawer in a small brown wooden cabinet that was just inside my front door on the corner.
Again the paperboy came by and handed her another small yellow piece of paper roughly torn with a $10 bill folded inside and someone elses initials on it. Again she got upset and I went and got it and put it in the cabinet drawer. A 3rd time this happened and I put the piece of paper with the money and initials in the drawer.
I began to think this had to do with purchasing drugs and paying for it anonymously without anyone knowing who bought it or sold it on either side.
A last time, the paperboy came by and came directly to me and handed me a stack of yellow ledger sheets with numbers crudely scribbled on the sheets keeping track of the money coming in. He was putting me in charge of the whole deal. When he handed me the paper ledger sheet, he gave me a sly look that had meaning without saying words.
~~~~~~~~~~~
12-26-97 - DREAM - I had a very bad nightmare about a drug user. Tony Perkins the movie actor played the part. (Movie was PSYCHO) (I've had this dream before.) Just at the point where Tony Perkins was getting off the bus to come home, he was wearing a dark green coveralls, I found some large size foreign money on the floor. I picked it up knowing he would take it right to the bank and go buy more drugs. He got a big grin on his face, took the money, and said he'd be back in an hour.
I seemed to know I was dreaming and made myself wake up. At the bottom of the screen of the dream picture, little squares appeared and the voice said, "You have voted this...so far". A mark appeared and as I woke up I knew if I closed my eyes again the dream would continue, so I forced myself to stay awake.
~~~~~~~~~~~~
2-23-98 - DREAM - I was in my apartment with a couple of men friends and perhaps co-workers. They wanted to go out for a fish fry because they were hungry and agreed to go down to the street to a bar that started with the letter N. I wasn't ready to go so they sad they'd go ahead and I could follow. One of the guys told me not to forget my marker so I could play bingo.
I saw some popcorn on the floor so I picked up a couple pieces from the floor to take with me. I grabbed my purse and my shoes and ran after them but they had already gone down the elevator and left me behind. I figured I'd find them even though I couldn't remember the name of the bar.
There couldn't be many down the street starting with the letter N. So, I went down the elevator, out the door and started walking down the street.
There were a lot of people outside in the dark. I felt a little apprehensive outside but not really afraid. I got down into the next block and came to a hotel of sorts.There was a doorman there who looked familiar. I think his name was John. He saw me and said he would walk with me the rest of the way and make sure I was safe. I said, "Okay!" and he put his arm around my waist. I felt very safe. We walked in step and it felt good. We walked about another block when I looked down and realized I hadn't gotten dressed. I was naked under my red robe that was inside out. It was even too large for me and dragged on the ground about 4 feet too long and it wasn't belted either. I was clutching it shut with my hands in which I was still carrying my white shoes and purse.
I thought, "Oh my God! I have to go home and get dressed." So, I stopped walking and told the man I was with that I had forgotten something at home and needed to go get it. He said, "Okay! I'll walk with you and make sure you get home safe."
So, we turned and went back towards home. Again, we were walking in step and John had his arm around my waist and I felt perfectly comfortable and safe except now I realized I was naked under an inside out bathrobe and was inappropriately dressed. We got to his apartment building where he was supposed to be on duty by the elevator and there was a pretty girl waiting for him down in a hole in the street where the elevator was. I told John there was a girl waiting for him.
He said it was more important to make sure I was safe and continued to walk with me another block to my building.
When we got to my door, he said, "As soon as you are ready, I'll walk back with you and keep you safe." But he couldn't be seen with me where there were people I knew, so he acted really weird and disappeared from view before I could even protest. There were a lot of people coming into my building and off the street I felt safe by myself. There was a series of elevators to go upstairs. The first one had a door that was about 4 feet up from the floor and I saw foreign dressed people with cloth suitcases climbing up into that one. The man would crawl up and then pull their wives and luggage up after them. I was glad I didn't have to go into that elevator. Being all alone, I knew I couldn't climb that high easily.
The next elevator was 3 feet up, and the next was 2 feet up. The last one, where I was going was about 1 foot up, which was bad enough because I was carrying my shoes and purse and clutching my robe shut. My elevator door was glass and see-thru. It was a brilliantly lit elevator, really large, but very few people, unlike the small elevator where the foreign people went up which was small and crowded and darker.
But there were a few people getting on my elevator which was for the 'rich' people. I assumed I must be 'rich' because this was the elevator I was taking. Another woman was having trouble getting into the elevator even though it was only a foot high and was losing her balance so I put my shoes and purse down to give her a hand, then climbed up into the elevator myself. There was a sudden scramble of people and I saw the back of the head of a black woman I thought I recognized as Evelyn (a woman I knew in Milwaukee) who I used to live near. She grabbed my white purse and ran off with it. I thought, "Oh! No!" My purse has all my tranquilizers, credit cards, and I.D. in it. Everything I AM is in that purse. I have to get it back."
So, I chased after the woman, out of the building and back out onto the dark street, clutching my inside out robe around me, barefoot, and leaving my white shoes behind on the elevator.
I called her name, "Evelyn, Evelyn" but she was gone. I got to the 1st corner. There was a little black girl there. she heard me call out Evelyn's name. The little girl said she knew where Evelyn lived, so I followed the little girl down the dark side street. I was accosted by a drunken guy but he was too drunk to keep up with me.
The little girl showed me the door to Evelyn's building. The doorway was pitch dark. I asked the little girl which was Evelyn's apartment. She said it was underneath the parking garage and it was #1. I peered inside the hallway. There were several people in the hall and I felt very uncomfortable. I was glad Evelyn lived in #1 because it was right in front. I saw the #! on the door but there was no outside handle; you had to knock and be let in from inside.
I knocked and was let in. There were a lot of people inside, al parting, drunk, and on drugs of various kinds. I saw Evelyn sitting on a couch with some other people. I walked over to her and got down on my knees at her feet and begged her to give my purse back. I said, "Didn't I help you take care of your baby when you needed me?", reminding her that we had been friends and I was there for her when she needed me.
The man next to her made a remark about my chest. He said, "She looks like she used scented oil on her to make love."
I looked at Evelyn's face. It was all pimples and she was really ugly. (not the way she really was.) I had remembered her as perfectly groomed with impeccable makeup. This woman didn't look like Evelyn at all now.
But, the woman didn't deny she had my purse. She got up and said, "I'll show you where your purse is. Follow me!"
I was so grateful, I followed her. We went across the hall to an apartment marked, 'Manager'. That apartment had the door open. It was huge like a livingroom and reception room. there were many people in it. The atmosphere was better. I saw some people lifting weights and I could hear music playing.
Evelyn told me to wait there and she'd get my purse. I saw some women in pale green and yellow leotards dancing and exercising so I took my eyes off of Evelyn to watch them. then I noticed there were more women all dressed alike, exercising and dancing in unison. i was mesmerised by these tall, beautiful model-like women, all dancing and moving in unison. They were rehearsing for a stage play they were going to be in.
They began to sing and I heard them sing, "Do not by hypnotized by whatever you see because you then won't know the truth." The song was wonderful to hear until I realized what the words meant. I had been duped by Evelyn. She had slipped past the dancers and now both she and my purse were gone again.
I decided I'd better go home quickly so I went out into the dark street where I was again accosted by the drunken man. I kept remembering those words, "Do not be hypnotized by what you see, because then you won't know the truth."
I ran faster and faster. The drunk was too far gone to follow. I headed for home as fast as I could and woke up.
~~~~~~~~~~
4-30-98 - DREAM - I was living in the NW corner office on the 1st floor at Northwestern Mutual Life Insurance Co. (I worked in that office when I was 17 and 18 years old)
Ralph, my old boss came along and saw me and handed me a piece of paper thru an opening in the corner of the window.
I thought to myself, "Boy! someone could really do a drug business out of this place."
He came inside the room then and so did some kids. I had a pile of pink slips of paper on which my dreams were written. Either the kids or I knocked them off the table and the got scattered and out of order. I got really upset and started picked up the slips of paper.
I actually woke up at that point and started to jump out of bed to pick up the pieces of paper because it seemed so real.
~~~~~~~~~~~~~
8-21-98 - VISION - I saw a man standing over a woman who was laying on the ground. (It was cartoonish) It was labeled NODOR...NEDELIM...993
NOTE: Nodor is the name of a dart board, or a name of a drug that kills bugs and allergies. Nedelim is a Bulgarian word which means "indivisible, inseparable, undividable, or impartible".
~~~~~~~~~~~~~
9-5-98 - DREAM - Joe and I were visiting someone who was living in an old country-type farm house. This woman looked to be in her 30's. She was so beautiful and had impeccable makeup on. But inside she was an emotional wreck. Joe must have known her before me because when I started talking to this woman about her personal life, Joe went into the bedroom to go to bed.
The woman was so unhappy she was ruining her life. I asked her what she really wanted to do. She said she would be happier if she went to stay with her aunt Guerin.
I told her that if that would make her feel better then she ought to do that.
She said, "But what if HE comes back?" and she started to cry and buried her head in her hands.
I said, "For right now, you can do what is best for you, and if HE comes back, then you can do something different."
Joe heard her crying and said, "Oh, no! Here she goes again," and went to bed.
I put my hand on her head to comfort her. She only cried a minute. She had a radio playing music. It was black and had 2 circles like red-ringed eyes that flashed in time to the music. I covered up the eyes so we didn't have to look at it.
Her face was all red now and she went to get her blood pressure medicine which was okay, but then she went to find some other drugs and came out with a green cup filled with pills and capsules of various kinds of drugs. She offered it to me to take my pick. She named one. It was named CODE _______. I took the cup from her and set it down on a shelf and help her lay down on a couch. she had a large green sheet there with a fleur de lis pattern. I covered her up with the sheet and she pulled it up over her face.That made it too short to cover her feet, so I took my own afghan which looks like a Joseph's coat of many colors and tucked it around her feet.
I then went over to the light switch and turned off the light and woke up.
NOTE: Some of the symbols in that dream seemed to past-life things like the Fleur-de-lis of France, the Joseph's coat of many colors from Israel. I think there is a connection too with the cup to the Holy Grail story.
~~~~~~~~~~~
2-5-99 - DREAM - This dream began and ended in a heavy fog and it took tremendous searching of my memory to bring back what was inbetween the two fog banks.
All I could see in the beginning was a heavy gray fog. When the fog began to clear, I found myself in a car with an old boyfriend (looking the way he would at my current age, not like he did when we were young) We were discussing going to the drug store to purchase something and there was a limited time to do it in before we had to go back to work.
He was wearing a heavy black long winter coat, and I recall being dressed in a light summery flowered dress and having come outside without my shoes. I wanted to run back into the building and get my shoes first because we were going to walk to the drug store, not drive. He didn't want to wait for me because it would take too much time so he got out of the car and walked away down the street as fast as he could without me.
I went into my work building in search of my shoes. I knew I was already half an hour late and it was a huge building and I had to walk the full length of it. I went to the 4th floor where I worked and I had to quickly search every area I had ever worked in to see if my shoes had been left there.
I wasn't finding my shoes and kept running into other people I had worked with who were busy working in their little office cubicles, trying to look non-plussed and that what I was doing was part of job. When I got down to my own office space there were other women there working, who looked up as I came by. I kept my head held high, not acknowledging that anything was wrong in their presence but feeling VERY guilty for being late and being without shoes.
Inside my office, the scene turned symbolic. Here there were no people. Here, I faced a golden ladder of a sort with 4 legs with criss-crossed rungs between them, not a ladder one would climb personally. Inside the ladder, colored balls of green, blue, and brown were moving back and forth from rung to rung, from side to side, rising along inside this ladder like it was measuring the height of each 'sin' or 'event' of my life which determined the color of the ball and the height the ball reached.
I believe this to be symbolic of the Tree of Life.
As I watched these colored balls rising inside this golden ladder, the dream again faded to the heavy fog bank and I woke up.
I opened my eyes and saw that it was foggy outside too, so much so that I couldn't see the trees on the other side of the driveway. I closed my eyes quickly to search my memory for the dream and finally managed to pull it back bit by bit, and put it back together in it's proper sequence.
~~~~~~~~~~
3-24-99 - DREAM - I was in Milwaukee. I had just moved back and took over the manager's job again. I don't know what apartment number this was but it was on the 1st floor and there was no privacy. People were wandering in and out at will. Where the windows should have been, it was wide open to the open air. I wasn't settled in yet, had little furniture, a desk, a chair and a dresser and that was it. It was almost noon and I hadn't been to the office yet. Then I realized I didn't have any keys yet either, nor did I have my own keys. I started hunting for my coat figuring they were probably in the pocket. I looked in the closet and saw that Ed (my ex-husband) had been there. He had hung his own four beige coats on the hook by the door and he had thrown all my stuff in a heap at the back of the closet. That was typical of him. I didn't know where he was but he had obviously been there.
I finally found my "Joseph's coat of many colors" laying on the dresser and sure enough there were keys in the right pocket. They weren't on a ring like they used to be though.
I knew immediately that Ed had taken them, and I tried to see what keys were missing. I saw my car keys and there was a bunch of apartment keys and other keys, but no building keys. that was okay because I was in a new building now and the manager had had all the locks changed while I was gone. All of a sudden I spotted a pile of building keys. They were gold and double sided, more or less like a tall . . . wide Christmas tree.
I was so happy to find them. Now I had access to everything again. I put them in a neat pile on my desk. There were a lot of people milling around.
A guy named David who I used to work with and a woman came in. I was just about to water two vine plants that I had neglected. One branch from each one broke off and I was going to replant them, but instead I gave them to the woman. She smiled and took them and left. David said, "Do you mind if we hang around together? Today is Thursday!" I had to read between the lines on that one. It meant his wife was busy or working and he was at loose ends. However, "Hanging around together" sounded safe enough.
I saw several bosses come in, some were inspecting the building it seemed. They said "Hello!" and moved on. But the head boss came over and said, "We need to discuss this man in your life," indicating Ed's coats. I assured him that Ed would not be back. He seemed happy with that answer and went on about his business.
I continued to try to figure out how I could close the front windows. There were people everywhere in my apartment. Two guys brought in a purple couch and asked where I wanted it. I knew they'd want to put it down somewhere, so I told them to just put it along a wall and I'd move it to its exact position later. They were happy about that. When they sat it down, I adjusted it a little. I was amazed at how light weight it was.
Then a girl called my attention to an animal cage up near the ceiling. Inside the cage I could see black cats, exotic ring tailed monkeys, all small animals that can wreak havoc if they are loose. On the outside was a rod where a bunch of birds were sitting. I looked closer and they looked more like bats in color though they weren't hanging upside-down. A couple came down and landed on my arm and I flung them off saying, "Wild animals have no place in a house." I knew they'd have to be moved out.
I still had to get to the office and I just let the people mill around in the apartment. Except for the purple couch that had just been brought in, there was no furniture. I even noted that there was no washer and dryer to do laundry yet.
I started walking down the hall and it appeared I was inside that underground mall I discovered last week in another dream. I had to walk a long ways through the mall. There were lots and lots of jostling people out here. I assumed my office was at the far end.
I was having trouble getting through the crowds and a big heavy set woman came up behind me. She grabbed me by both arms and said, "Let me help you find a way!" She began steering me between the crowds of people and I was grateful for the fast pace we were moving , but then I noticed that as soon as we went through a door and down a narrow hallway, it seemed more and more nasty looking. The walls were dirty and so were the floors. There were fewer people here but those I saw looked like bad off drug addicts, drunks, and the really bad off people. I was getting nervous that she was taking me the wrong way, so I wrenched myself out of her hands and ran back the way we had come. I ran up a stairway and was now outside. It seemed I was on 108th and Greenfield Ave. I was going to cross the intersection and head east on Greenfield Ave. but a huge construction truck had flipped over, spilling all the construction materials. A bystander said, "When the truck flipped over, the driver ran right into the bar over there." I took a look and sure enough, the truck driver was sitting at the bar, swigging drinks down as fast as he could.
I continued east on Greenfield Ave. which was uphill to 92nd St. I had to pick my way through all the construction materials that had fallen off the truck.
I got to 92nd St. and was about to crest the hill and a man grabbed me by the arm and said, "I want you to see something." I got to the crest of the hill where I could see the entire city in the valley ahead. I couldn't believe what I was seeing and backed up a little and couldn't see it.
He took me by the arm again and said, "Look! I want you to see what a city looks like when it's hit by a nuclear attack!" He made me look again. The tall buildings were standing, just twisted girders of steel, where there was any brick, it was just partial and hanging off, no windows anywhere. It was just total devastation. There were NO people. It was a dead city.
~~~~~~~~~~
5-11-99 - NOTE: I went to bed worrying about my kidneys aching and did a short healing meditation to heal them as I was falling asleep.
DREAM - I went into town to Waterford to see a doctor to get a prescription for my bladder and kidney infection. (It was the exact place I remembered a doctor's office in town) For some reason I didn't go in. I stood by the door in the darkness for a long time. There were a couple men across the street just standing there and I felt intimidated by them. I was standing in the dark and felt dark and inside the doctor's office it looked dark as well. I don't know how long I stood there but it was a long time. I finally came to the realization that I had to go inside to see the doctor, so I went in and the farther I went in the lighter it got. I went up to the reception desk. The woman standing there had a prescription for me already written out. I could see there were two drugs written on the scrip...but I couldn't read them. Instead of handing them to me, the woman said, "do you have a job?" I simply said, "No!" She stood there silently and didn't move and said nothing! I said, "I can afford to pay for this", knowing there was money in the bank. The receptionist then quickly walked into the doctor's office and I followed her. The doctor was a woman,...to my surprise.
Instead of commenting on the condition I came in for, she hollered at me, "What about your cholesterol and your weight?"
And I woke up.
~~~~~~~~~~~~~
7-8-99 - VISION - A scene of a drug store. On the top shelf, about eye level were 5 pill bottles. I saw my name clearly on one of them.
Note: I had a long standing bladder infection. Hoping that's all it was
~~~~~~~~~~~~~~
7-27-99 - DREAM - I was headed west on Center St. I was going to work and intended to take a bus and cut over on 57th St. I didn't think I had enough change for the bus, so I stopped in a restaurant and sat at a table. Some interested bystanders saw me going through my purse because I spread it all out on the table. A young man on my left helped me sort it out.
I had 3 different pairs of glasses and each one had their own pocket. I was trying to find two quarters and didn't see them. I had a small leather pouch and decided to dump the contents out on the table too. For some reason I expected everything to be small but everything was full size and there was more on the table than the pouch could possibly hold. It looked like I had a brown wooden bead rosary or prayer beads and I shoved those into my right pocket. I had all kinds of change but didn't have any quarters. I decided I would stop at the corner drug store and buy something and get quarters that way.
I went outside again and I had a little girl with me. I helped her up some stairs and she grew in size with each step up she made.
I heard a noise in the sky and looked up. I saw series of lights in the sky like jets in formation, but as I looked the planes stopped moving and the sound stop too. I said, "They look like cardboard cutouts."
I looked down and I heard the noise again so I looked up and the planes were closer. Now the lights, instead of being many jets in formation were clearer and I saw that the series of lights were on the bottom of several black bomber type war planes. It kind of looked like the bottom of planes in Star Wars, nothing like what I've ever seen before.
I told everyone to hide ... quick... I grabbed the little girl in one arm, who instantly was now a baby again.
I ran a little ways, noticing a huge glass window on the right like a store front, but I could see people inside watching us like we were on a stage.
Some kids said, "Follow us!" There was a metal door in the building. It had a lot of odd holes in it. I didn't know why. The kids were ahead of me so the door had already closed when I got to it, but I pushed it open and found myself in a tunnel between buildings. The kids were way ahead of me. I had the baby clutched in my right arm and I was following the kids through the tunnel by glimpses of a light. I hoped I didn't run into any dead ends. I hurried along the tunnel and woke up.
As I lay in bed thinking about the dream, I had a vision of a medieval type scene. Three Kings stood close together, seemingly holding a big black snake. a woman dressed in a fancy gown bowed to the ground at their feet.
~~~~~~~~~~~~~~
8-28-99 - DREAM - This was about hunting for someone. I saw the date 8-28-1988 - I was going to go with some people on a bus to a museum or something. I looked in my purse and one side was completely empty. I had left my wallet and important papers at home. But then I realized I had checks and credit cards still and all I'd have to do is to buy something and ask for cash change back and I'd have money to ride the bus.
So I went to a corner drug store to buy something. I didn't know what I was going to buy. About this time, I realized I had written a love letter to someone and didn't remember what I had said.
So! I looked in my coat pocket and found the letter. I hadn't even sent it. I still had it and the one I had received, so I folded them into quarters and put it into the empty space in my purse.
I then went to catch the bus. I had a choice of catching the bus right at the + intersection by the drug store or walking down a block and meeting the others at the next corner and catching just the transfer bus with the others. I looked down the street and didn't see the bus coming yet ... it was late ... so I walked down a block to meet th others so I'd only need to ride one bus ... the transfer bus ... instead of two.
So I met the people ... all familiar faces ... and from there, wherever we were going was only one block so we walked there too.
When I got there, there was a stone wall and people were arguing about what nationality of people were responsible for the bad/evil part of our blood. Some said it was the black man because our DNA matched.
The dream ended with everyone singing, it was Ayn or Adam from Haydn that did it.
~~~~~~~~~~~~~
10-2-99 - DREAM - I was headed to a place where I used to live in the country and get some furniture I had left behind. I got to the house and it was boarded up. I knew the furniture was still in there but there was no way to get to it. My husband had stopped off at the barn. I saw the cops go in there and arrest him. Other people came out of the barn then. I was expecting them to be arrested too but the cops didn't seem to be interested in them. These people seemed peasant-like.
At first I was worried they might attack me because it was obvious I wasn't like them. But when they stopped to eat, they didn't use utensils, but used their bare hands. I was just like them, because I had to eat with just my hands too.
I needed to go home but was going to stop at the corner drug store on 17th and Center before I went there.
I parked the car and then noticed there was a big meeting going on down the street. I walked in and saw that here were men, all dressed in blue suits. I didn't belong here either and besides that I wasn't wearing any clothes below my butt. Where my shirt ended, that was it, so I couldn't bend over.
I was about ready to go home and found that by walking around in here, I had made myself a sand pit and I was trapped in it. It felt so good under my feet that I hated to leave it. But I climbed over the wall I had created and went over to the food table. I was going to take some stuff home because there was so much here. I also noticed that huge packages were being sent to people from here. They were almost as big as pillows.
I also saw that I had left two umbrellas here, a clear one and a dark blue one. I saw at least nine with my name on them and one with the name 'Schroeder." I had to get home before the mail got there.
I went over to the long trestle type food table and picked up a package of frozen carrots and a package of frozen green beans. There were in industrial type sized packages so when I stacked them up in my arms, I could barely tuck them under my chin and they were frozen, so they were really cold.
A guy from C.D. (Conscious Development) showed up ... (Norbie) and told me he would carry half the load. I was grateful and thanked him. I was about to leave and had my two umbrellas and the carrots and some mail and I spotted a potted lilly I wanted.
But to pick up the lilly I dropped the carrots. It was at that point Norbie came back and asked me if I was still coming with him carrying half the load, I was able to pick up the lilly and carry that too. It seemed that the carrots had thawed and were growing now too. I picked them up too.
The meeting of world leaders broke up and I spotted someone I knew on sight. (I can't remember now who it was) He recognized me and we both said, "Oh! I didn't know you were here."
I walked out the front door where the bus stop was. There were so many people standing here waiting for the bus, I couldn't walk on the sidewalk. The people stretched half way up the block so to get back to my car, I had to walk in the street.
So I headed up the street. It was narrow with building walls right up to the sidewalk. A huge tank came down the street. I was able to squeeze in along the people on the sidewalk and it went by. Then another army type vehicle came along and I had to squeeze myself into about 6" while it went by.
Then a huge red tank with a big cannon on it came along. This one was bigger than all the rest and I couldn't see any way to get past this one. The cannon came around and almost hit me in the head just as I woke up. (This last one was made out of wood.) ( WWI, WWII, and WWIII, the red being Russian. )
~~~~~~~~~~~~~
October 17, 1999 (I can in no way do this dream justice, since it happened twice within the dream, then the 'actors' appeared a third and fourth time and there were conversations in all parts, but here goes)
DREAM - I was working in a large office and my boss was bringing in a couple from Russia and he asked me to play the part of a sophisticated woman and help make a delivery of some important papers so that the woman wouldn't be frightened off by a big scary American man.
They dressed me up in a long beautiful yellow satin gown with a long satin cape over it and
brought in a hair dresser who cut my long hair and combed what was left into a pouffy upsweep using all kinds of wonderful haircare products and sprays, and then pinned it all together in the back with little short pins somewhat like staples because they were square but a lot like the old fashioned hairpins.
There were some other people in the office when I came back out looking like a queen. There were some dark moustached men, a tall blonde guy who looked much like Sam Rappoport, the attorney from the TV show 'One Life to Live', and some other women.
Then the Russian couple came in. The man was rather short, about 5'5" tall and his wife was rather portly/stout about the same, maybe an inch taller because of her shoes. They were both dressed rather plain looking with peasant-like clothes, her in a plain flowered cotton dress, and him in just regular men's casual clothes, like gabardine pants and a plain brown shirt.
They brought with them a large medium green envelope which had another smaller envelope inside which was also green of the same shade which had writing on it, and in that envelope had another smaller white envelope with something secret inside.
It was my job to get these people from the office which was around 50th St. to somewhere on the East side without them getting scared off, and then come back to the office.
These people spoke some English so there was no language problem. Before we could go though, I had to go to the bathroom. Several other women had to go to the bathroom also before me and one toilet had a lid and one didn't. The one that didn't also didn't flush, it just sat there with a little clear water in the bottom, so there was no way I could use that.
I also didn't want to get my gown dirty so I took off the gown, and went into the dressing room part and looked into the mirror. Here, I saw that my hair was getting messed up and I took it upon myself to take the pins out of my hair, recomb and spray my hair, but it came out nowhere near as nice as the first time, but it was adequate. This all happened in real time, all the combing and spraying was normal except that the spray was foamy.
Then I had to have help getting back into my gown and I needed someone to zipper the dress up and everyone else was busy with their own problems. I managed to get back to the office and now the envelopes had changed, and instead of carrying just paper, one of the envelopes was much larger and contained a small typewriter.
The Russian woman who was originally in the room, was replaced by another woman who was an actress. She was much younger and cuter and played her part well. I knew she was an actress, but she remained in the Russian character with the Russian man.
I suddenly had a vision of myself holding a small brown platform block, the size of a domino, but brown. On top of this platform, all the pins I had taken out of my hair were standing on top on their legs. They were square on top and began to do a slow dance with each other, changing positions and the legs changing like people with knees would move their legs up and down while dancing. This was all in slow motion.
When the vision was over, it went into the next part of the dream.
Instead of leaving right away, we went into another room where music was playing and the men decided they wanted to dance and have a drink and relax a bit before they continued their duties.
I ended up dancing with several men briefly and was introduced to one man who looked much like Ross Perot and he came out of character long enough to acknowledge that he was really an Englishman and he had long admired me. We hugged and then another man in a grey suit asked me to dance.
I was not wearing shoes at this point, just my yellow gown with panty hose and the way he held me I barely had my feet on the floor and he never once stepped on my toes, the rhythm and the dance was so perfect he didn't want to stop. He kissed me in such a way that my heads was somewhat twisted to the right. Our mouths remained together during the entire dance. The music went on and on and other people were commenting about the dancing and when the music was about to end, someone made a comment about me being the perfect 120 pound woman. (Little did they know I weighed twice that) But I was an actress in this part and I did the part well obviously.
The dance ended and it was time to make the delivery of the package. I was told that if we went downstairs, a limousine would drive us to the destination. However, before we went, I had to check to make sure the laundry or something was okay in the basement area, and I went down there. The door opened at the bottom of the steps, and inside was the original Russian woman, all her children and their toys scattered all over the floor. I had to make sure she took care of all that before I could make the delivery and this took some time.
I went back upstairs and the play-acting Russian woman was there and she started to come out of character and be herself. She had a bad cold and started sniffing and coughing. My dress had become unzipped and I need someone to zip it up. I couldn't even reach the bottom hem to get it started.
We got out to the street, and were going to cross the street to another building to where the limousine was, but it started to downpour with huge drops. I could see the building on the other side, which was on the corner, had an arched alcove where we could run under. The woman who was going to drive the limousine was encouraging us to cross the street in the rain and run for it.
However, besides that I wanted to drive myself and the other three women who were going with me, and my car was parked in the garage over on 57th street and we would have to walk there. That was about 7 blocks away. Either way we would get wet and my dress wasn't zippered and I was trying to keep it wrapped around my legs, and I had about 5 bottles of these wonderful haircare products I was no way leaving behind.
At the last second, I saw the tall, blonde Sam Rappoport character, standing in a slight alcove. He looked at me with a smile on his face, and then his face contorted into a wicked grin, and his tongue began to come out of his mouth and elongate until it was about 4 feet long. He continued to grin at me.
I woke up at this point, feeling like I had been drugged and was just coming back into consciousness. I wanted to write down the dream but I was so relaxed, I just lay there and thought about it. While I lay there, I had a vision of the the tall blonde character who played Sam Rappoport on the TV show One Life to Live. In front of my eyes, he started to morph from the tall blonde man, down into a three foot tall grey alien. I was too relaxed to be astonished, but amazed and wondering if that was true went through my mind.
I went back into a dream before I realized it. I was now in my own apartment, doing normal things. I had all the envelopes from the first dream and was laying them out on a long low table and looking at them. I noticed that there was two small side by side windows in the door to the hallway, and the faces of the same people from the previous dream would appear in the window with their hands up next to their eyes like they were looking in to see what I was doing and then would go away again.
I opened the door and found two of the guys out in the hall with a pile of groceries and several six packs of beer. They were laying back on their elbows on the floor, ready to start drinking the beer. I asked them what they were doing out there and they said that they were never allowed to drink at home because they got too rowdy. But laying out in the hallway was not a good idea either, so I invited them in and told them they could take all the beer into one of the bedrooms and drink it in there.
I closed the door after the guys came in and went back to the sink where I was peeling potatoes and making dinner. Again, another guy came to the door and looked in, so I went to the door and the guy was walking away. I hollered at him, "Hey! Why didn't you just knock?" He looked at me rather strangely. At that moment he was wearing a grey sweatshirt and gabardine pants and he stepped inside the next door for less than a second and I could see his shirt and pants change in less than an instant into bluejeans and a red and black large checked shirt and he grew a moustache in that less than an instant as well. (It was like watching Superman change from Clark Kent to his Superman costume)
He came into the apartment and I tried to pretend I hadn't seen what just happened. I went back to my potato peeling and he came up behind me and put his hands on my shoulders. I was still cutting the ends off of french fries and cutting them into smaller pieces. I said, "I'm sure glad I'm my normal self!"
He said, "Are you sure you are?"
and I woke up.
~~~~~~~~~~~
12-15-99 - DREAM - I was moving into an apartment building. I was going to be the manager, but I also had to clean the building. The boss had a work chart and in my space, he labeled me 'morning woman'. That meant I had to vacuum the floors and pick up trash that other people dropped.
The front lobby was full of water from the heavy rain that had seeped in under the door. There were two maintenance men who had the job to mop that up.
My ex-husband Edward was there. He volunteered to do the vacuuming so that I could do other chores. But he vacuumed everything no matter how large it was. He vacuumed entire sheets of newspaper, huge plastic leaves that were vining, all kinds of orange fabric shreds, toys, anything that laid on the floor went into the vacuum. It wasn't long and the vacuum cleaner wouldn't suck at all, so I took over the job. I slung the vacuum cleaner machinery part over my shoulder, cleaned it out and pulled all that big stuff out. There were three huge oval wads of orange fabric fluff in it. I showed all these various things to the other maintenance men and said, "Who would vacuum up all these big things?" They just shrugged their shoulders.
Meanwhile there was a doctor's type office there off to the side where a doctor was going to give a lethal injection to a man who was a drug addict. The man who was not very old sat on a square table undressed to the waist. He had a crazed look on the table and said to the doctor... "Me first! Me first!" He couldn't wait for the injection ... he was that addicted.
In my apartment was a square table that had stuff all over it... can't remember the details, but I was putting away all the individual items and wiping off the table as I went. There was a young woman sitting there when I started. I wasn't yet done and a young man sat down with all his homework and spread it out to work on it. I told him I wasn't done yet, and he helped me move his work around until the entire table was done and clean... yet all the work was still on the table.
I then went to put everything away. This was going to be the first time that I ever had everything put where it belonged by the end of the day. Of all the times I had moved, this had never occurred before.
I went into the half bath. There was a tub with a shower and an alcove type place with a short wall with a small table and built in bench where a woman could sit and do her nails. I think there was a sink to wash hands, but I didn't see a toilet.
I had a red rubber bath mat slung over my arm and took it to the Master bathroom. It was a huge room. I saw rusted places on the walls and ceiling which needed patching and painting, and where the sink and mirror was, it needed more light... it was rather dim. But here there were two bathtubs with showers. One faced east...(the end where the shower was) The tub was long enough to need two full size shower curtain sets. Some of the curtains where hung and some not.
I saw no toilet in this bathroom either. That didn't seem to bother me...like I didn't need one. :-)
There was another tub and shower along the wall that had it's shower on the north end. Here were the other half of the shower curtains that matched the other set ... they were pale yellow with red and orange flowers on them. These shower curtains were hung normally in a couple panels, but had a couple panels completely wrapped around the rod... not hanging down.. and there were numerous yellow plastic clothing hangars hanging on the rod also where they had dried their laundry.
There was a window on the north wall facing a college of some type and a woman who came in told me that she sang in the choir over there and you could hear the sound of the choir on the winds in the evening.
~~~~~~~~~~~~~
1-28-00 - DREAM - I was taken to a small airport in the dark and requested to accompany a young woman who was a rather new pilot on a trip she had never made before in a plane she had never flown before. Rationally speaking this is a totally ridiculous thing to even consider, but in the dream, I spent a long time coming up with reasons not to make the flight with this woman who didn't want to do it herself. She could only do this if I went with her. At the same time, we knew we were being asked to haul drugs to an unknown location which would be told to us only at flight time. She and I did not speak to each other. She was expected to make this flight whether she wanted to or not. I was the one who could make or break this deal. I had time to go home and pack a small bag for the flight. I had a business card with the man's name on who made this request and I had to call him 10 minutes in advance if I wasn't going to do this. Finally, deciding that the reasons not to make the flight outweighed the reasons to do it and overcome my fear of flying, but feeling a load of guilt I reached for the phone to call it off.
I went into the bedroom to make the call. Firstly, the phone I was going to use was on a small square table rather behind the bed with an impossible tangle of wires on it that wouldn't even let me take the receiver off the hook. There was another phone on a smaller round table near the door but a young woman was talking on it. I told her I needed to use the phone and she reluctantly got off the phone to let me use it. I dialed the number and there was no answer on the other end.
At this point, the young woman decided that I owed her a big favor because she had done me a big favor. She decided she wanted me to feed her breakfast which I thought was not unreasonable. However, she took two bowls, filled them to overflowing with cereal which looked like corn flakes, poured milk on both of them, then proceeded to carry them both to a table where she spilled cereal and milk all over the table.
I was expected to keep the kitchen clean and of course had to clean up her mess and besides that she and I got into an argument over her attitude and I told her to get out of the apartment. I went to the door, telling her to get out and pushed her out into the hall. I tried to close the door but there was a man working on the lock system which wasn't working, so I couldn't lock her out. I had to stand there and hold the door shut while he worked on the lock. I could see through the door like it was a divided door. Only the bottom half was shut.
Eventually I had to go back into the kitchen and finish cleaning it. There were limp vegetables laying on the table which someone else had left behind. I carried these back to the serving area where a chef/businessman was standing. I was indicating that I was bringing these vegetables back to him to put into storage and he began to argue with me that he couldn't pay me for these vegetables or he would lose money. I tried to explain that I hadn't taken them out of storage in the first place, but he wasn't really listening, just explaining that he had 'sold' them to the person who took them out and he couldn't buy back limp vegetables and still stay in business and make a profit.
I wasn't even asking for money, I was just trying to put the vegetables back into storage so they weren't wasted but he wasn't getting it. He would rather I threw them away. I didn't want to waste the food. We couldn't come to a compromise even for free so I just let the vegetables lay on the counter for him to do something with. I had done my part.
I then went to another room with a woman who wanted to work with the men at some projects that were usually man's work . . . things that men were trained to do automatically in life but women never were. I understood that these things which were much more fulfilling to do because they were creative and kept the hands busy and I personally thought that women could do these jobs . . . they were just bench projects, not heavy work. I supported her thoughts on the matter. At the same time, there was a man there who preferred other types of work that just used the mind and was feeling guilty that he didn't like getting his hands dirty. I could understand that too. So eventually, the woman changed shirts with the man and everyone was happy.
Finally, I had two huge stacks of paperwork I needed to re-sort into two other piles . . . the ideas and thoughts I already knew and understood but hadn't been done yet, and a pile for things I had never seen before but needed to study. I was sorting through these things, seeing some software on CDs that were labeled TRIAD, which I knew I should probably look at first. I woke up while I was still sorting these stuff, still feeling the guilt for not making the drug run with the first woman and still rationalizing my thoughts on it as I woke up.
~~~~~~~~~~~~~
2-25-00 - DREAM - I worked in the school office and had projects to work on, and did research on school subjects to help out, but also did research on my own. I was in the middle of a project I was interested in and went home for lunch at noon. I took the 3 ring binder home with me, along with some newspaper clippings and a notebook in which I kept separate notes in chronological order which my friend Robb gave me the idea because he had started the notes.
I got home and decided I would wash and set my hair. My hair was short and blonde. I can't recall eating lunch, but I was again working on the project at the kitchen table. I looked at the clock and it was 5 minutes to 1 and realized I had to get back to work.
I started to get the project together and stacked up the 3 ring binder with newspaper clippings. Meanwhile, I realized my hair was set in rollers and pins and I had to comb it out. My hair was still damp a little, so I had to carefully unroll it and comb it out gently so it didn't go straight.
By this time is was 20 minutes past 1 p.m. and I was panicky that I was late for work and they would be wondering where I was. It was cold out so I needed a jacket to wear. I couldn't find my own jacket, so went to the closet and found a cleaner's bag with 3 jackets in it. The first jacket was kid size, the next one was medium green with a gold eagle on the back. It had stains on where someone's greasy hair had hung down and the cleaners couldn't get out, but I had to wear something. It was my size but the cuffs were buttoned and I had to struggle to get my big hands through the cuffs. By that time I was exhausted and had to check my hair again and went back to the mirror to comb it again.
I straightened my hair with the comb, then other people started coming in and saying that kids on the street were being harassed by drug dealers and one guy had made a wild swing with his arms and injected 'speed' into the arm of one of the girls on purpose just for spite. The girl was freaking out and everyone was upset.
I decided I had to call the cops and this meant I couldn't get back to work but it had to be done because the girl's mother would be really upset if I didn't stay home and help. So we dialed 911. The kids heard I was calling the cops and expected them immediately. They didn't show up quite that fast and I was sweating it that I had to get back to work and wasn't getting there.
By now I had taken the jacket off again because I was told that the eagle on the back of the jacket was a gang symbol and I didn't want the cops asking me questions about it. I don't even know why we had these jackets in cleaning bags in the first place. So I found another jacket that was my size which was plain green. This one fit me better but now my hair was messed up again and I had to stand in front of the mirror and comb it again. It was much less curly by now.
Now, other people in the house had problems which I had to advise them on and make them feel better. Time was passing fast and it was now after 4 p.m. and I still hadn't made it back to work, though I was still going to go even if everyone else left before I got there.
I headed for the door finally and went outside, carrying all my stuff for the project. However, when I got outside, it was dark out, and several men were making a pass at me. I ran back inside, noting in the mirror that my hair was now a blonde wig, had a big black ribbon pinned in the back and it was falling off. So, I had to stand in front of the mirror and pin this all back where it belonged because I couldn't keep it in place properly.
It was now 5:30 p.m. and I still hadn't made it back to work. Someone started showing me on a blue board (like a blackboard) what the teacher's next project was about. The kids were going to be studying the history and geography of Vietnam. A good project I thought, but that wasn't what I was working on.
The board either faded or I left the room, and I decided I was not going to help with that project research ... I was lucid by now and waking up. The dream was continuing, but I decided it was time to leave and as I was waking up it was 5:30 a.m. and Joe was leaving for work.
It was a loooong dream. :-)
~~~~~~~~~~~~
4-5-00 - DREAM - I was working in a factory type area but in the office. An older, small, dark haired woman came by. She was singing an operatic aria and was really good. I commented to her how good she was and she thanked me, then I told her I had always wanted to be a dancer because I love to dance, but outside of high school Modern Dance class I had never tried to be one. She said that one could be anything they wanted to if they only try.
I saw a TV that showed the same scene that I saw on the news yesterday about the testing of the train cars for examining damage so that trains can be improved for passenger safety. Then I saw a seashore scene where the waves crashed in so high, they went over the train tracks that ran alongside the shore. When I went outside, I was seeing the same scene, however realizing that both scenes had been shot with the same camera that had been left standing in one spot unattended. There were two train tracks alongside the ocean where the scare warnings came from.
A man came by whom I knew well. I'm thinking he may have represented my husband but I'm not sure. It was dark out now and we were on the way to the parking lot to get in the car when we saw that the lights were still on in the factory on the other side of the parking lot.
We went over there because the door was open and it shouldn't have been. As soon as we walked in, we saw a man crouched down way on the other end of an aisle. This was a really big place. While my husband went to talk to the guy, I went up the wooden stairs, hollering, "Hello? Hello?" I figured I would turn off the lights if no one was there. However I didn't because the man was downstairs and I didn't want to turn off all the lights while he was there.
I went back down the stairs and the man who had been crouching down came towards me. My husband may have still been back down the hall. I didn't see him. However, after what happened next, he may have been dead or hurt. The man came towards me and got between me and the door I was going to go out. He pulled out a metallic gadget that looked like a thick gun at first, then seemed to morph into a chain saw. He started to come towards me and I wasn't going to stand there and find out what his intentions were. I ran towards a set of double doors farther over, seeing at the last second that it was chained together with a thick chain.
I didn't let that stop me. I hit both doors running, and though the chain held the first time I hit them, I rammed them with my shoulder the second time and the chain came loose from the door and I was out of there. The man chased me half way down the block ... if it was me or him ... it wasn't going to be me and I practiced being a speed runner at that moment and got away.
I went back to work then and at my desk was a drug store bag with some pills in it and a note attached that we should write a check to the owner of these pills so he could pay for them. The policy was that he should pay for the pills and we would write a check to him to reimburse him. A technicality for sure, but we couldn't pay for the pills directly, just the reimbursement.
Next to this small bag of pills was a larger bag where a young girl had asked for the same thing ... a check to pay for her pills. I looked in that bag and there were two huge white, rectangular bottles of pills of some kind. I read the bottle and it said that there were 1002 pills in each bottle. I remarked to myself... "boy there must be a lot of money in drug running these days."
Another woman had an envelope with some money in that she wanted to put into a safety deposit box and needed help with the key to it. I went with her to assist, thinking what a good idea it was to hide money in the bank.
~~~~~~~~~~
6-5-00 - DREAM - I was going for a job interview in a brand new red truck. I had gone this way only once before but I was the passenger that time and hoped I'd remember how to get to this place.
I got to the intersection where the freeway started and had to make a right turn, go a block to the right, then the freeway started. I got to this spot, made the right turn and saw that a bunch of rescue vehicles were ahead of me with sirens and lights going so everyone else had to make way for them which we did. But, when we came to a stop as fast as we did, the truck in front of me had to stop really fast and as I came up behind him, I found that there was a huge green grass mower in front of my truck that wasn't attached and it swerved and ran into the back of the other truck.
The other truck was made of rubber so it didn't get scratched and it was a reminder to myself never to buy a truck made out of rubber. But, here I was with a loose grass mower on the front of my truck and would have to take it back home and miss the job interview.
As luck would have it, as I was standing there, trying to figure out what to do, my second husband Edward came along and I asked him if would mind taking the mower back home. He was walking, so it wouldn't be too difficult. I hadn't gone that far. He stood there and agreed to do this for me and smiled and said, "You know I dream about you a lot." I said, "Do you? That's nice!" Thanks for doing this for me." He said, "No problem!"
I then looked to see where my truck was and it had somehow gotten about a half a block ahead along the street and I would have to walk there.
There was an old man walking the same direction, with bent knees like an old man does. I started walking the same way ... with bent knees ... and stooped over. I thought to myself, "Oh no!... I don't have to walk like an old woman. Young woman walk with straight knees and not bent over and I made the effort to walk like a young woman. It took me a few more steps and I made myself walk straight with straight knees and springier step and I even felt younger when I did.
By then I was ahead of the old man and I don't know which way he went.
I got up to my truck which was now a van and when I got there, there were two women sitting in my truck and both of them looked exactly like me. The only problem was ... they were both dead. I shook them and shook them in case they were on drugs ... but neither of them moved.
I didn't know what to do at first. I couldn't just pull them out of my truck and go on my way. I was going to have to call the cops and deal with this.
I went up to the sidewalk and saw that several buildings in a row were burned out. Completely burned out inside. I was looking inside these houses along the street, looking to find someone home who could call the cops for me. Finally, a woman looked out the window and asked me if she could help. I told her my problem and that I would need to call the cops.
The woman said she would call and was trying to figure out what the number was to the police station. I said, "Just call 911. That will get them here the fastest." She said she would.
I then got into a conversation with the women and they invited me inside their building. It turned out to be a charity home of some kind and they were telling me how they needed money to remodel. They were showing me around and I saw that their basement floor needed repainting. It actually looked like a big contract written on the concrete with a fancy green edge and gold scrolling and the contract written on the concrete in the center of it. It looked pretty neat.
There were some workmen there and they told me that there was a problem with the electrical connections, so as a favor I decided I would help them because they were helping me and I got down on my knees to wash the floor for them and discovered all kinds of wire pieces and loose wire nuts and screws and other kinds of screw type connections that go on wires in buildings.
I got all the little pieces together and was picking them up with a paper towel and stood up with them to talk to a woman to show her what I found. Just then my first husband showed up and I thought maybe he could give me a ride to my job interview, but he just walked through and didn't want to hear about my problem. He rather looked at me like he was saying, "Don't tell me your problems, I have problems of my own."
He left and I was talking with the women who were now taking me into their confidences and telling me about the fires in the other buildings. I had managed large apartment complexes myself so I knew about the problems with loose wires and safety procedures and know how dangerous that can be.
One of the women said, "We would go to these other buildings when light bulbs went out and every time we did, a fire would start." And then she smiled. I thought to myself, "Oh oh! There is something wrong here. You don't get fires from loose or blown out light bulbs." I started to get the impression that the women who ran this place were scamming the insurance company for the money so they could remodel this building. That's why I was finding all these wires and screws on the floor when I washed it. They were about to do the same thing to this building.
I looked at the floor and their contract and knew that it would be easy to paint over the contract with white paint so someone else could get a contract. These women were just scam artists.
I went back out to my truck, hoping the cops were there by then and they hadn't arrived yet. However, I discovered that the two dead women weren't dead at all. They weren't even sitting in the same place as they had been when I looked in the truck the first time.
I grabbed one by the arm and dragged her out of the truck, asking her what they were doing, trying to pretend to be me. I was really angry that they were trying to use my truck to scam the insurance company just like they did with the buildings and the fires.
Now I was really angry. Not only did I find that these were women were scam artists and had to be dealt with, now I had to deal with the cops and prove who I was because these other women looked just like me and I was going to miss my job interview.
Bummer !!!!!
~~~~~~~~~~~~
7-17-00 - (I love this dream. It is so cool) DREAM - I was in New Berlin. It seemed like my house, but it was also like a shopping mall type place. I picked up some jewels ... similar to white Onyx ... similar shape to the jewels above, but white. There were 5 of them. Two of them actually belonged to a woman from church, but now that I had them, I was going to have them set into a ring for myself. I was also shown some painting skills like in a video but this was just in the air in front of me. I wanted to do some painting and was shown closeups on women's long fingernails and how the fingernails could be painted with tiny paintings. They were so cool ... so I went to the store part of the house to buy some fingernail painting gloss and brushes and to find someone to set my gemstones into a ring.
When I got to the store part of the house, my friend Nadia was there. (Nadia lives in New Jersey and actually just moved to Long Island, NY yesterday to be with her fiance. I had been thinking about her yesterday, wondering how her move went) Nadia told me that she always bought my jewels. I disagreed totally and told her I had my own credit card.
I left the store then, wanting to go to a drug store across town to buy some herbs to help me lose weight. (I had a discussion with another friend about this yesterday also) However, when I got outside I realized it was going to snow so it was better that I not go across town but just go to the New Berlin drug store and see if I could get the herbs there.
I was driving my first car ... a 1965 Ford. It was a large car, but when I got in it and started it, I found that the brakes didn't work very well. I could get the car 'almost' to a stop, but not quite, so I couldn't stop, I could only slow down. I noted that the snow was so bad in drifts that even people on snowboards and toboggans couldn't make headway, so how was I going to do this. I attempted to stop the car after I made the first right turn onto the road from the driveway, but I couldn't stop ... so I tried steering into the side of a small hill to stop myself.
This didn't work either. I managed to get the car slowed way down, but then it was like being in a boat on water in a river and when I bumped into the hill, the back end of the car started coming around and continued on down the road. I got the car around the next right turn onto National Avenue and continued on down that road.
Down the road aways, which was already past the New Berlin drug store and into West Allis, way out of control, I spotted an empty field with rocks on both sides. I knew that the Vietnamese had been ousted from the United States by Treaty just the past Saturday, so there was nobody in this field. I pulled my car into the field off the road, and got my car stopped by the rocks. Vietnamese had been removed from this field and placed on the other side of the road. I didn't actually see any of them ... I just knew this.
I thought I would be able to run back to the house and catch a ride with my husband but I knew it was too late, that he had already left the house. So, I walked quickly back through the field, and saw that men were standing on the edge of a precipice looking past the rocks like they were perhaps being thankful the Vietnamese had been removed ... but forgetting how it might have been if they had not.
I got back up on National Ave. and saw Joe. He was parked by the side of the road in a giant sized car that looked like a train engine from the 1930's. (He was born in 1939) He was having trouble driving it so had parked it by the side of the road. The train engine looked like it was in good condition ... almost like new ... shiny light green with a darker green roof. There were a couple men with him discussing why the train wasn't running properly.
There was a placard type sign on the front of the engine that said it was either owned by or managed by a man named 'FUDGE'. I knew that 'FUDGE' really meant ROV (He is an ET) But Joe said it was 'FUDGE' and I wasn't going to dissuade him from his beliefs.
I was told by someone that I was supposed to turn myself in to the Vietnamese camp but I knew that the Vietnamese had signed the treaty the Saturday before, and I was not about to turn myself into them now.
I pulled my credit card out of my pocket and it was like electronic and it clicked down to a credit balance of $750. ( I think it started with credit of $900)
~~~~~~~~~~~~
JOE MASON'S TRUE LIFE STORY ON THE TOPIC OF THE DRUG WAR WE AREN'T WINNING
This was posted on the Shadow Convention Posting Board.
by Joseph Mason Mon, 31 Jul 2000
Ten years ago the drug war arrived at our door. It took me a while to figure out what was going on. I have wanted to tell this story, so that others would come to see that the drug war is like a cancer that is totally corrupting our nation. Now is my chance, finally.
The police in our small California town began to harass my son and his high school friends. They were stopped in their cars and searched constantly. They were given "fix-it" tickets, jay walking tickets, and "no seat belt" tickets. In one case, the cop lied and gave my son a speed exhibition ticket. My son was taken to jail on another occasion for a supposed driving offense. A second time he was taken to jail from the sidewalk. The same cop who had lied about the ticket claimed that he smelled beer on his breath. He lost his driver's license.
My son's 19-year old friend, Cliff, was arrested for contributing to minors, while riding in his friends car. The friend had agreed to take two high school kids back to school around lunch time.
Six cop cars arrived for Cliff's arrest in front of the high school. The driver was also arrested. The cops twisted the handcuffs and squeezed them very tightly on Cliff's wrists. He sat for hours in pain at the jail, as the handcuffs were left on. After one court appearance, the chargers were dropped. He received a letter saying that he had not been arrested, but rather "detained." The letter explained that this was a new law that had been passed.
After a time, I learned that my son and his friends were suspected of being a "gang" of drug dealers. Our house had been "targeted" as a drug house. I doubted it, because I never saw any evidence for the charge, and the kids always had to borrow a buck for gas. The neighbor next door told me that the cops were planning a raid on our house.
The "gang" accusation came from a succession of events. There was a gang of Mexican "Reds" in the town. They constantly intimidated the other kids. If a high school kid was caught alone, he sometimes faced a beating. Some of the kids looked for protection from others, especially strong brave ones, such as my son. A collection of these kids, the weak and frightened and the strong and brave, began to hang out together. The liked the blue Detroit Tigers baseball hat that my son wore, and many of the kids began to wear the same kind. Stupid me! . . . I never even thought of "gang" when I saw the hats. They just seemed like normal kids to me.
A number of fights took place between the "red gang" and the boys with the blue hats, always instigated by the reds. No one was hurt seriously, but my son and others were threatened with knives and guns at various points.
I called the police lieutenant, the second in command. The man was totally "in my face," and very rude. He gave no explanation, nor would he listen to my side of the story.
Several times (perhaps six) the cops asked to come into the house. This was mostly to look for other kids they were searching for. I agreed each time, and the cops went through each room.
When I heard that our home was about to be raided, I worried that corrupt cops might plant drugs, as some of them were already proven liars to me. I called a private detective, who came over to the house. I asked him to search the house for evidence of drugs. I figured a clean bill of health from him might help, if it came to a trial. He told me that he did not need to search the house, he already knew that it was not a drug house. He was a former cop and knew what to look for, he said.
I started to explain the harassment to the detective, but he interrupted me. He said, "Your son is a good athlete, right?" I answered, "Right." He continued, "He is good looking and has pretty girl friends, right?" Again, I confirmed, "Right."
I asked how he knew these things. He said certain cops always did such things. He had witnessed it for years from the inside. If they could find a can of beer in a car, for example, and get the star quarterback kicked off the football team, it gave them a big thrill. It was some kind of power trip apparently.
The detective advised me to go see the Chief of Police. He said I should be very humble, and explain to the Chief that I was having problems with my son. He said such playing up to their power always worked. He used it as a technique in his private detective work. "You mean they are really that simple?" I exclaimed. "Yes," he answered, "they are just that simple."
He said that he was a police training teacher at one time. He taught policemen to make friends with some of the people in neighborhoods. It helped in their work, and once in a while, local people have saved cops who are being attacked by criminals.
After several hours, my youngest son and several of his friends came into the house. I introduced them to the detective. The detective said that the boys were not serious drug users. I asked how he knew this. He said that the boys were athletic, and very healthy looking. Serious drug users do not look like that, he said.
The detective normally charged 65 dollars per hour, but asked for nothing, after some four hours.
Various kids informed me about the "narc" at the high school. He looked for kids with long hair, ear rings, and such. He made friends, and offered to smoke a joint with them. After a time, he made the same offer, but asked the high school kid to provide the joint. He then held out a dollar, and said, "Here, take this." If the kid refused, he insisted that the kid take the dollar. Little did the kid know that this made him a drug dealer.
One day, two busses came to the school. The buses were filled up with all the drug dealers, who were taken to jail. My son and his friends were not among them. I knew some of these children, and they were not serious criminals. Apparently, when it comes to the great drug war, the entrapment laws no longer hold.
In an attempt to get support, I called a number of people. The local newspaper and outside newspaper people were no help. They did not believe me, apparently, or see that the scale of the problem was larger than my situation. One newsman said, "Why should we work for YOUR agenda?"
I called the ACLU in Sacramento. The woman on the telephone told me that she was getting similar calls from all over. They didn't have many lawyers, so they could do nothing.
I called a civil rights attorney. He said that I would need huge, huge evidence to go up against the police in court. I would need recordings, video tapes, massive witnesses, or the like.
One day my son talked to someone who knew the Mexican "Red gang" members. It was said that the cop who lied about my son, had tried to start a fight between the supposed gangs. After threatening an arrest of a "red gang" leader, then he said he would drop the charges if the boy would beat up a certain person (my son).
I have greatly simplified the story here. There were many ironies. For example, my son was in the local jail cell one night, then the next night, he was on the other side of the very wall, receiving the most inspiring player award at the football banquet!
Another irony was that I came home from work one day to find a certain 19-year old girl with my son, who was 17 at the time. I could smell marijuana smoke. The girl, an "adult," had brought it and given it to my son, a "minor." This girl was the daughter of a man, a lawyer, who was a main committee member of the people who targeted drug houses, including our house!
Yet another irony, is than my older son came to know the high school "narc" prior to the big bust. The 22-year old undercover policeman "narc" became the boyfriend of the sister of my older son's girlfriend. As requested, my son never told anyone prior to the big high school bust. He later saw some of his friends, including the best wrestler in the school, hauled off to jail as drug dealer, his scholarship lost, his life ruined.
It is also ironic that I had studied two years in junior college to become a policeman!
During this time, I became more and more angry. This began to feel like a blind fury that became so great, I began to worry more about myself than the police problem. I have wondered if I could have "gone postal," had I not been blessed with strong religious/moral convictions.
One day, I told my younger son what the detective had said about local people helping to save cops who were being attacked by criminals. My son thought for a moment, and then said, "Oh yeah, I would help a cop if he was being attacked." I was astonished! I said, "After all they have done to you, you would help a cop? Why!" "Well," he answered," if the cop was being attacked, it would probably be by a real criminal."
Later, while alone, I cried and cried, as my son had broken my fury and taught me about understanding, wisdom and compassion. It was a transformational lesson of a lifetime.
I eventually solved our problem by selling our house and moving to another town. I'm sure the police saw this as a victory in the great drug war. That was the apparent purpose of the harassment. Such strategy has been called "the leprosy colony syndrome." The idea is that it is like going into a leprosy colony and driving the lepers out. They do go somewhere, however, infecting others.
No drugs or even alcohol were ever found. No one ever faced an accuser. No trial ever took place. No police investigation ever took place. Apparently, a charge is made, and the police go straight to punishing harassment mode to drive the lepers out of town.
Along the way, I learned other things. The laws are being changed to help win the drug war. For example, if a guest at your house opens the door, the police can come in to search. If they want to search your house, all they have to do is find someone who knows you to visit and open the door. The person could be threatened with a crime charge, as intimidation to go along with the program.
Late one night, I saw an interview on TV. It was Michael Levine, who wrote "Deep Cover." See: http://www.amazon.com/exec/obidos/ASIN/0440208017/qid=964985264/sr=1-19/103-1269899-0499041
He was a long-time undercover agent working in South America. He was exposing the phony "drug war." He claimed that he was once ready to bust some of the biggest drug dealers in South America. He said that Ed Mease, President Regan's right-hand man, called the government of the South American nation, and exposed the bust.
The government, he claimed, did not want to end the drugs. He said that various government agencies feared loosing their budgets at the end of the cold war. The drug war was a way of maintaining the money, status and power.
The corruption was at all levels, he said. He once went undercover to a government agency, and bought a list of undercover agents. If he had been a real drug dealer, the agents would have been killed.
The biggest victims, he said, were the agents and police officers who died for the phony drug war.
Michael said that we should look to history for solutions. Years ago, in China and Japan , there were big drug problems. The governments treated the problems as medical/educational problems.
The problems were solved in a few years.
I could go on, but that gives the gist. Recent revelations in Los Angeles are but the tip of the iceberg. The cancer is still eating away. Our freedom is passing away. Cops are attacking innocent people in small towns and cities across America. They are helping to create gangs. The anger and fury is growing and growing. The friends of the government are becoming their enemies.
We have a criminal justice industry, rather than system. It is composed of police, lawyers, judges, jailers, prison guards, and other supporters. The lawyers become judges and politicians. These people thrive on human conflict and misery. They are not "bad" people, they think they are doing good, for the most part. Some few are "bad," and the entire industry as a whole stinks to High Heaven!
It seems we have not learned from history. Prohibition does not work when a large segment of society wants to take a substance considered a victimless crime. Power corrupts. Absolute power corrupts absolutely.
Just hope that the great drug war never arrives at your home.
3/13/2010
Dear Reader; I never thought the little village I was born in Provence, France would one day make international news…but it did! Read first what happened back in 1951 when I was only one year old and I will explain how lucky my entire family was to "escape" the scientist's abuses. If you read my book "Beyond The Secret" you already know about this sad story and what my dramatic youth was all about. http://www.drturi.com/books.php



My Dear Little Village

Pont-Saint-Esprit is famous as the town of origin of Michel Bouvier, a cabinetmaker, who was the ancestor off John Vernou Bouvier III, father of Jacqueline Kennedy. Amazing the connection from my little village with the USA and my own fate in this country! Yes I do remember these days when the famous motorcade came to visit our village a few times while I was growing up. I recall the very powerful people and the so many villagers waiting to glance at Jacqueline visiting her dad.
French bread spiked with LSD in CIA experiment?

A 50-year mystery over the 'cursed bread' of Pont-Saint-Esprit, which left residents suffering hallucinations, has been solved after a writer discovered the US had spiked the bread with LSD as part of an experiment.

Henry Samuel in Paris

Published: 7:00AM GMT 11 Mar 2010 An American investigative journalist has uncovered evidence suggesting the CIA peppered local food with the hallucinogenic drug LSD. In 1951, a quiet, picturesque village in southern France was suddenly and mysteriously struck down with mass insanity and hallucinations. At least five people died, dozens were interned in asylums and hundreds afflicted. For decades it was assumed that the local bread had been unwittingly poisoned with a psychedelic mould. Now, however, an American investigative journalist has uncovered evidence suggesting the CIA peppered local food with the hallucinogenic drug LSD as part of a mind control experiment at the height of the Cold War. The mystery of Le Pain Maudit (Cursed Bread) still haunts the inhabitants of Pont-Saint-Esprit, in the Gard, southeast France. On August 16, 1951, the inhabitants were suddenly racked with frightful hallucinations of terrifying beasts and fire. One man tried to drown himself, screaming that his belly was being eaten by snakes. An 11-year-old tried to strangle his grandmother. Another man shouted: "I am a plane", before jumping out of a second-floor window, breaking his legs. He then got up and carried on for 50 yards. Another saw his heart escaping through his feet and begged a doctor to put it back. Many were taken to the local asylum in strait jackets. Time magazine wrote at the time: "Among the stricken, delirium rose: patients thrashed wildly on their beds, screaming that red flowers were blossoming from their bodies, that their heads had turned to molten lead." Eventually, it was determined that the best-known local baker had unwittingly contaminated his flour with ergot, a hallucinogenic mould that infects rye grain. Another theory was the bread had been poisoned with organic mercury. However, H P Albarelli Jr., an investigative journalist, claims the outbreak resulted from a covert experiment directed by the CIA and the US Army's top-secret Special Operations Division (SOD) at Fort Detrick, Maryland. The scientists who produced both alternative explanations, he writes, worked for the Swiss-based Sandoz Pharmaceutical Company, which was then secretly supplying both the Army and CIA with LSD. Mr Albarelli came across CIA documents while investigating the suspicious suicide of Frank Olson, a biochemist working for the SOD who fell from a 13th floor window two years after the Cursed Bread incident. One note transcribes a conversation between a CIA agent and a Sandoz official who mentions the "secret of Pont-Saint-Esprit" and explains that it was not "at all" caused by mould but by diethylamide, the D in LSD. While compiling his book, A Terrible Mistake: The Murder of Frank Olson and the CIA's Secret Cold War Experiments, Mr Albarelli spoke to former colleagues of Mr Olson, two of whom told him that the Pont-Saint-Esprit incident was part of a mind control experiment run by the CIA and US army. After the Korean War the Americans launched a vast research programme into the mental manipulation of prisoners and enemy troops. Scientists at Fort Detrick told him that agents had sprayed LSD into the air and also contaminated "local foot products". Mr Albarelli said the real "smoking gun" was a White House document sent to members of the Rockefeller Commission formed in 1975 to investigate CIA abuses. It contained the names of a number of French nationals who had been secretly employed by the CIA and made direct reference to the "Pont St. Esprit incident." In its quest to research LSD as an offensive weapon, Mr Albarelli claims, the US army also drugged over 5,700 unwitting American servicemen between 1953 and 1965. None of his sources would indicate whether the French secret services were aware of the alleged operation. According to US news reports, French intelligence chiefs have demanded the CIA explain itself following the book's revelations. French intelligence officially denies this. Locals in Pont-Saint-Esprit still want to know why they were hit by such apocalyptic scenes. "At the time people brought up the theory of an experiment aimed at controlling a popular revolt," said Charles Granjoh, 71.

"I almost kicked the bucket," he told the weekly French magazine Les Inrockuptibles. "I'd like to know why."

DT - Continued - The outbreak of disease marked by acute psychotic episodes and various physical symptoms occurred August 16, 1951 in Pont-Saint-Esprit, which caused more than 250 cases, 7 deaths, and 50 persons interned in asylums. The "alimentary" intoxications, which affected other parts of France but were the most serious in Pont-Saint-Esprit, were traced to "damned bread" (pain maudit). Among the possible causes of the incident were a mass-poisoning via ergotism or due to consumption of seeds treated with Mercury. But why Pont Saint Esprit, why my little village was chosen and with it the death of so many people Mom knew? Well Jacqueline Kennedy had visited her dad many times over the years and as always the CIA and her entourage were always there. And during the cold war anything and everything was a go with the careless scientists of these days and my small village and its uneducated peasants were perfect candidate for yet another deadly test. After all French are better guinea pigs than Americans and if they had to choose disposable victims these people were it. The fact is during these days the CIA tested the use of LSD as a war weapon on the population of Pont-Saint-Esprit as part of their MKULTRA program that was producing LSD for the CIA at the time that Sandoz scientists pointed the finger at ERGOT or mercury. Sandoz pharmaceuticals, is a Swiss company, agrees to an exclusive contract with the US Government to deliver 100 grams a week of LSD, and not to provide any to communist countries. But back in 1962 the Army chemical corps.' Project Third Chance and Derby Hat, involve the involuntary testing of American military personnel and foreign nationals, respectively, at overseas sites. These projects were also (unsuccessfully) concealed from the CIA. Eating bread is a part of the French culture and this dramatic August 1951 my Mother decided NOT to go to Mr. Brian's "boulangerie" and get like she did for years the bread we needed to survive. Note also that the bakery was NEXT DOOR to our old house. She told me that this day she and my dad decided to take the bus with all of us to visit grandma in Callian another small village located in the VAR region about 200 miles South East. And without Mom and Dad's decision to take this trip there is a 100% chance for you to never read or even know about Dr. Turi. <!--[endif]-->

Note the Dragon's Tail in 1951 was in the sign of Virgo and this sign rules science while the head, luckily for the rest of us was in Pisces (poisoning/drugs/deception/madness) and a Uranic "shocking news" was in effect these days. Note the same window is still active as I am writing this yet FREE sample of my Cosmic Code newsletter. Join us don't miss my next VIP newsletter titled – "Is This Your True Love? Pisces" – and more natural valuable health tips to protect you against cancer – Sign up and get a FREE book too! http:www.drturi.com/orders3.html

Thus I kept the best for last for all my readers to realize how precise my predictive work WAS and still is as this "SHOCKING NEWS" (at least to me and those who read my book) came to light on the last day of my Uranic window - http://cosmiccode7.ning.com/events/sos-to-the-world-1
DID YOU MISS MY LAST RADIO SHOW?
Relax and listen
http://www.blogtalkradio.com/journeyintothelight/2010/03/12/dr-luis-turi-who-god-really-is-how-he-speaks-to-us-how-to-find-real-psychics
WASHINGTON HEMP EDUCATION NETWORK
DEES DREAMS AND VISIONS ARCHIVE PAGE