INDIA - A QUILTED NATION
compiled by Dee Finney
12-12-01
updated 7-11-06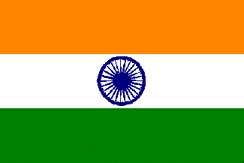 India
Formal Name
Republic of India

Local Name
Bharat
7-5-00 - DREAM - I was in a school. My friend Alyse called me on the telephone and told me she was in India at a place called the 'card sweeping center' or something like that. What the idea was, was to go to India to take your turn in the center which had a large 8-fold medallion in it, take a broom and sweep the loose paper out of the center. Each person in the world would have the opportunity to do this as part of their spiritual duty.

So, I went to India also, got a broom and took my turn sweeping the loose paper off of the 8-fold medallion.

I then went back home and spent time recruiting others to take their turn to sweep the 8-fold medallion so they too could have the opportunity to do their spiritual duty.
12-26-00 - Michelles DREAM - We were outside and I looked at the sun. The sun started to change and I pointed at it to everyone else and hollered, "look, look!"

The sun had many rainbows around it and then turned black in the center. The black part changed into a profile of an indian man. The indian man spoke, "My name is Shiva! I am the creator of the Universe. I'm here to tell you that a storm is coming and that you need to hide to survive it.!"

We all became frightened and ran into the house. The house was long and narrow and all the walls had picture windows in them. We could see outside and saw that it was getting windier and windier as we ran through the house. We were still running when I woke up.
12-12-01 - I was in a house with other people. We were in a bedroom and on the bed was a large quilt made of many different color earth-tone squares. The quilt was made in two layers, with the top layer shorter than the bottom layer.

In the upper left hand corner, the squares were arranged so that it looked like the flag of India. (The colors in the dream were red, green, and blue) I knew in the dream that this quilt represented India.

I saw that the bottom most row of the upper layer needed to be divided in half and then sewn back together in reverse order.

NOTE: On Dec. 14th, Joe and I watched a video that showed the
'lost tribe' of Manessah has an enclave in the upper border
section of India near the border of Burma. They wish to set up a separate State for their tribe within India. The flag they showed is red, blue, and green with the star of David in the center. It is
called Zale'n-Gam.

This area also has an unsettled population of other groups:

1.The Nationalist Socialist Council of Nagaland - Isaac and Muivah (NSCN-IM) advocate the ideology of 'Greater Nagaland'.

2.The Nagas of Manipur, in general, subscribe to the ideology.

3.The proposed map of Greater Nagaland includes the hill districts of Ukhrul, Tamenglong, Senapati and Chandel that are in the state of Manipur. This is based on the claim that the region is a part of Naga ancestral territory.

4.These districts have had a mixed population of Nagas and Kukis. The Kukis view the deliberations connected with Greater Nagaland as an act of aggression. In reaction, the Kuki National Organisation (KNO) has put forward a counter-claim: 'The Kukis have lived in the hills of Zale'n-gam, now in part known as Manipur, since time immemorial'. The sentiment is articulated in'Zale'n-gam: The Kuki Nation' (1998), a book written by the president of the KNO. In the book references are made to two Kuki kings of Manipur. They are Cho the Thangvai Pakhanagba who reigned in the period BC, and Taotinmang who reigned in the period AD. These are recorded in the chronicles of Manipur. The events related to the claim and counter-claim regarding land have notably taken place since the 1950s. This has entailed armed violence, culminating in the 1990s. Consequently, in the present decade alone the violence has claimed the lives of thousands of innocent victims. Hundreds of villages have also been uprooted and a considerable population rendered refugees. The stifications for ownership of land have been made in a variety of ways. The Nagas largely base it on the British colonial accounts of the late nineteenth and early twentieth-centuries. These accounts are considered biased by the Kukis. This is said to be so because the Kukis opposed colonialism, exemplified by the 'Kuki rising, 1917-1919' . Apart from the chronicles of Manipur and the Rajmala of Tripura State (also in Northeast India) that bear references to the Kukis in the region, the Kukis'claim to land is also based on the oral traditions, myths and folklore. Neither of the two communities have any known scripts of their own. With regard to land ownership dating to the pre-British period, further access to the local Meitei indigenous people's archives in Manipur is at the moment limited.
12-28-01 - DREAM - I was outside a house, picking up little boys clothing that was strewn around. A little boy, about age 7 came up to me. He didn't have a jacket or shirt on and it was cold outside so I told him to put on his jacket which was laying on the steps of the house. I handed him his jacket.

I could hear the little boy then, fighting with his brother inside the house. It was just words at first, but then I heard the other brother crying, "He hit me in the eye, he hit me in the eye."

Then I saw the other brother. He was a small, frail boy with no jacket or shirt on, but wearing just a black turban and dark pants. He was sitting in a decorative wooden cubicle made of wooden turned posts, at a small square table with a lamp stand on the table. The lamp had no shade on it. It was a gold lamp stand with three bulbs on it, one to each side and one on top.

The dream then showed me 5 such cubicles each the same scene, with the small boy sitting at the table with the lampstand.


Pakistan, India fire political rounds

By David Lamb and Paul Watson | Foreign correspondents
Posted December 28, 2001

ISLAMABAD, Pakistan -- As India and Pakistan moved more troops to their increasingly tense border, the nuclear-armed rivals exchanged diplomatic fire Thursday, with each ordering that the other's embassy staffs be cut by half.

Indian Foreign Minister Jaswant Singh made the first move Thursday night, announcing that the staff of Pakistan's New Delhi embassy, called a high commission, must be halved within 48 hours. In addition, he said, Pakistan International Airlines will not be allowed to fly to India, or through its airspace, as of Jan. 1.

Accusing Pakistani diplomats of spying in India and having "indirect involvement" with terrorist groups, Singh said the envoys' and their families' movements will be restricted to the New Delhi city limits.

Pakistan immediately responded in kind, ordering an identical reduction of the Indian staff in Islamabad and restricting the envoys' movements within the country. It also denied Indian Airlines access to Pakistani airspace -- a symbolic move because the airline ended its only flight to Pakistan last month.

The tit for tat came as India and Pakistan continued the largest military buildup along their shared border and in the bitterly disputed Kashmir region in more than a decade. In recent days, the two sides have exchanged fire across the so-called Line of Control, which separates the partitioned region. And both have issued hawkish statements about not backing down from confrontation.

The troop buildup in Kashmir -- long a flash point in Pakistani-Indian relations -- began after terrorists attacked the Indian Parliament in New Delhi on Dec. 13. Fourteen people died, including the five assailants. New Delhi accused Pakistan and its intelligence service of being behind the attack and demanded that Islamabad shut down terrorist training camps in India's Jammu and Kashmir state.

Washington has exerted heavy pressure on New Delhi and Islamabad to reduce military tensions in Kashmir, where India and Pakistan have fought two wars since their independence from Britain. An estimated 60,000 people have died in the Himalayan territory. At least half a dozen Muslim groups in Kashmir, some of whom want independence, are fighting Indian rule.

On Wednesday, Secretary of State Colin Powell announced that the two Pakistan-based organizations suspected of carrying out the Dec. 13 attacks, Jaish-e-Mohammed and Lashkar-e-Tayyaba, were being added to the U.S. government's list of terrorist groups.

On Thursday, the two groups dismissed their inclusion on the list and said they will continue their jihad, or holy war, in Kashmir.

"The American decision makes no difference for us," Aftab Hussain, a spokesman for Lashkar-e-Tayyaba, said in a statement from Muzzaffarabad in Pakistani-controlled Kashmir. "We do not need an American certificate to carry out our jihad. We started our jihad on Allah's order, and we will continue."

Pakistan has condemned the Parliament attack, and Foreign Ministry spokesman Aziz Ahmed Khan said Thursday: "We will crack down on any group that was responsible if India provides evidence these people were Pakistani. But so far, New Delhi has offered nothing -- not a shred of evidence."

On Tuesday, Pakistani President Gen. Pervez Musharraf responded to the foreign pressure by briefly detaining Jaish-e-Mohammed's leader and founder, Maulana Masood Azhar, and several of his associates. Two years ago, India released Azhar from prison in exchange for the safe release of the passengers on an Indian Airlines plane that had been hijacked to Kandahar, Afghanistan.

Western intelligence agencies think Azhar has links to both the Taliban, Afghanistan's recently toppled fundamentalist government, and the Pakistani intelligence service.

Pakistan, the Taliban's major backer until Musharraf threw his support behind the U.S.-led war on terrorism, has been one of Washington's most important allies in the anti-terrorism effort. Washington worries that increased tensions -- or war -- in Kashmir would force Musharraf into lessening his commitment to destroying the Taliban and the al-Qaeda terrorist network.

Musharraf's government has about 8,000 troops on the border with Afghanistan to prevent fleeing al-Qaeda members from entering Pakistan. But Musharraf is in a precarious position because he has already angered religious fundamentalists with his newfound friendship with the United States. He began a cautious crackdown on militant Islamic groups before the attack on India's Parliament, but if he acts with too much vigor, he might jeopardize his presidency and the stability of Pakistan, Western political analysts said.

Another potential destabilizing factor is Kashmir, particularly with the deployment of
thousands of troops and, reportedly, ballistic missiles along the India-Pakistan border
and the Line of Control.

Copyright © 2001, Orlando Sentinel
---
Friday December 28 6:52 AM ET

India, Pakistan Exchange Gunfire

By LAURINDA KEYS, Associated Press Writer

NEW DELHI, India (AP) - Indian and Pakistani troops shelled each other in disputed Kashmir overnight, sending villagers fleeing for safety and convincing many that war was getting closer.

The shelling, which broke up two days of relative calm, came after the nuclear-armed rivals on Thursday exchanged diplomatic and economic sanctions seen as the toughest since they last fought a war in 1971.

The latest surge in tension erupted after a Dec. 13 suicide attack on India's parliament that left nine Indians and five attackers dead. India accused Pakistan of supporting the attackers. Pakistan denied the charge.

The armies fired mortars at each other for five hours Thursday night in the Poonch sector along the cease-fire line that divides Kashmir between India and Pakistan, an Indian army official said on condition of anonymity.

He said there was also intermittent small arms fire across the border, but that the exchanges died down Friday morning. There was no immediate comment from Pakistan.

Villagers in the Indian-ruled portion of Kashmir fled their homes with cots, clothes and fears that India and Pakistan will go to war for the fourth time since they became independent from Britain and were separated in 1947.

``The war is about to break out,'' said Sumitra Devi, an elderly woman sheltering with her sons and grandsons at a dilapidated school at Koota in Jammu-Kashmir state.

Devi's house was demolished in the 1971 war with Pakistan, and she said she was already packed Thursday when soldiers came to her village, Mangoo Chak, and told people to evacuate.

Indian authorities say an estimated 10,000 people have left for safer areas since India and Pakistan began moving troops and weapons closer to their 1,100-mile border in the wake of a Dec. 13 attack on the Indian parliament.

Tens of thousands of soldiers, squadrons of fighter jets, artillery and ballistic missiles face each other along the border that reaches from the Himalayas in the north to the Arabian Sea in the south. Both sides say they don't want war, but each says it is ready.

``There is no measuring scale that we have to say how near or how far we are to war,'' Indian Foreign Minister Jaswant Singh said Thursday night. ``I will just say this: Don't worry. We are ready.''

A Pakistani government spokesman, Gen. Rashid Quereshi, responded in kind. ``We have the capacity to react and retaliate in all conceivable ways,'' he said.

India and Pakistan traded sanctions Thursday, each ordering half of the other's embassy staffs sent home and announcing bans on overflights by the other's national airlines.

The Bush administration urged the leaders of the two countries, which both possess nuclear weapons, to come to an understanding at a South Asia summit next week in Nepal. ``They need to resolve their differences through dialogue,'' State Department spokesman Philip
Reeker said.

Like two of the wars the neighbors have fought, the tension has its roots in Kashmir, a mostly Muslim province that is divided between Hindu-majority India and Muslim Pakistan but claimed by both.

India accuses Pakistan of fomenting violence in its part of Kashmir, where Islamic guerrillas have waged a separatist war that has killed tens of thousands of people since 1989. Pakistan denies the charge and calls it an indigenous struggle.

India accuses two Pakistan-based militant groups in the Parliament attack, which killed 14 people including five attackers, and says the Pakistani intelligence service was involved. Both militant groups and the Pakistani government have denied involvement.

India demands that Pakistan shut down the groups - Lashkar-e-Tayyaba and Jaish-e-Mohammed - and arrest and extradite their leaders. Pakistan says it will take action against the anyone whose involvement in the parliament attack is proven.

Pakistan said this week that it had frozen the bank accounts of the two groups and briefly detained the leader of Jaish and some of his followers.

India's foreign minister, Singh, called the moves ``cosmetic,'' saying that the Jaish leader was quickly freed and that the asset freeze was announced days in advance, allowing the groups to empty their accounts.

India's plans to halt to the train and bus service has jolted people in both countries who have maintained ties with family and friends across the border.

Tickets for the last few trains and buses were selling out as weeping passengers cut visits short and headed home.

``I had come here to stay for two months but now I'm going back just after seven days,'' an elderly Indian woman, Amina Begum, said as she boarded a train in Lahore, Pakistan. She held the hand of her brother, Tanveer Ahmad, 62, whom she had come to see after 53 years.

She had hoped Tanveer would someday attend her funeral in India.

``Now I don't think he will be able to see me after my death,'' she said, sobbing with her brother on the railway platform.
-
EDITOR'S NOTE: Munir Ahmad in Lahore, Pakistan, and Binoo Joshi in Koota, Jammu-Kashmir contributed to this report.
---
Deadly Shootout at Indian
Parliament

Thursday, Dec. 13, 2001

NEW DELHI, India (AP)
- A half-dozen gunmen in a car with sirens blaring stormed Parliament on Thursday, killing the gunmen and seven police in an attack with grenades, automatic rifles and a human bomb, the government said.

The car sped through a gate and one militant jumped out, blowing himself up, while the others opened fire on police and security guards, according to state-run Doordarshan television.

``This was an attack not just on Parliament house, but a warning to the entire country. We accept the challenge. We will foil every attempt of the terrorists,'' Prime Minister Atal Bihari Vajpayee said in a live television address.

In what is being called the worst breach of government security since the assassination of Prime Minister Indira Gandhi in 1984, Police Chief, Ajai Raj Sharma, said six police officers and an army commando had been killed when the intruders first opened fire.

After a 90-minute battle, Pramod Mahajan, India's parliamentary affairs minister, said ``all six terrorists have been killed.''

Officials at nearby Ram Manohar Lohia hospital said 17 people were being treated for injuries, including six in critical condition.

After three hours, when the Parliament members had been evacuated, police found and set off a remaining bomb in a controlled explosion. Sharma said several grenades were also defused.

The gunmen had driven through one of the Parliament complex's 12 gates in a white, Indian-made Ambassador car, of the kind used by government officials, said Doordarshan. A siren on the car was wailing and official stickers from Parliament and the Home Ministry were affixed to the windshield, the report said.

There was no claim of responsibility.

The U.S. Embassy condemned the attack as an ``outrageous act of terrorism.'' Foreign Secretary Jack Straw of former colonial ruler Britain said the ``brutal terrorist attack'' was an assault on ``the heart of India's democracy.''

Parliament had been adjourned, but most lawmakers and Cabinet officials were still inside at the time.

The office of Prime Minister Atal Bihari Vajpayee said he was safe. The Press Trust of India news agency reported that Vajpayee was just leaving when the attack occurred. Home Minister Lal K. Advani said all lawmakers were safe.

Journalists who were inside the building said there were bullet holes on the doorways inside.

Bodies were laying on the lawns and sidewalks near the gate as ambulances rushed to the scene. A television cameraman was also shot, and Star News said police were firing indiscriminately, including at journalists.

``Someone start shouting, `terrorists, terrorists,'' said lawmaker Khara Bela Swain. ``I couldn't understand anything. There was chaos.''

Some of the gunmen were in civilian dress. ``After three or four minutes of firing they started throwing grenades,'' and at least four exploded, Swain said. ``I started to run to save my life.''

Hundreds of rounds were fired as police hid behind cars, trees and the corners of the building. The dramatic standoff was broadcast live on most television stations.

``Today's attack is the most serious breach of top security in Delhi since Indira Gandhi's assassination in 1984,'' said political analyst Mahesh Rangarajan. Gandhi was killed by her Sikh bodyguards in revenge for sending her troops into the Sikhs' most sacred shrine, the Golden Temple in Amritsar.

Advani said the attack on the country's highest legislative body would spur the Indian people to fight off terrorism. ``This attack would cost our attackers heavily,'' he said.

Advani said that Thursday's attack was similar to one on the state assembly in Srinagar, the summer capital of the northern Jammu-Kashmir state, where Islamic militants for 12 years have been fighting for independence or a merger with Pakistan.

Forty were killed in the Oct. 1 attack when a car was rammed into the legislative building's gate, a suicide bomber blew himself up with the vehicle and several militants engaged in a gunbattle with police inside.

Pakistan's foreign ministry spokesman, Aziz Ahmed Khan, said Islamabad was shocked by Thursday's attack and strongly condemns it.

When asked who might have been responsible, Advani said: ``It may be one of the organizations which have been active in the country. Ever since this practice of suicide terrorism has been developed, anything can be attacked.''

Advani said he wasn't only referring to the Oct. 1 attack in Srinagar, but the Sept. 11 terrorist attacks on the World Trade Center in New York and the Pentagon in Washington.

Apart from Sikhs and Kashmiris, India has had to grapple with some 30 tribal groups seeking independence or greater autonomy in the seven northeastern states wedged between Bangladesh and Myanmar.
~~~~~~~~~~~~~~~~~~~~~~~~
India/Pakistan: Tensions Grow As Kashmir Conflict Heats Up

By Askold Krushelnycky

Tensions between Pakistan and India have increased in recent weeks over the disputed Kashmir territory. Each country has accused the other of sponsoring state terrorism in Kashmir. Two days ago, the two countries traded shells in a fierce artillery exchange. Today a senior Pakistani army officer announced that India had moved troops up to the line of control.

Islamabad, 17 October 2001 (RFE/RL) -- A senior Pakistani army officer, Major General Rashid Qureshi, interrupted a Pakistani Foreign Office press conference this afternoon to say that India was carrying out troop movements in Kashmir. Pakistan and India have fought two wars to date over the volatile region.

The announcement came two days after India initiated heavy shelling along the line of control that separates their portions of Kashmir.

"We have information wherein India has moved some troops and relocated some air force assets which may prove to be a threat. This action -- when seen in the context of the irresponsible remarks of the newly appointed [Indian] Defense Minister [Jaswant Singh] and the unprovoked firing of two days earlier against civilians in Azar Kashmir as well as the working boundary -- has become a cause of concern. The Pakistan armed forces are fully alive to the situation and are on a high state of alert, ready to thwart any attempt at mischief or misadventure."

On 1 October, Kashmiri militants drove a car packed with explosives into the parliament building in the capital Srinigar and then embarked on a shooting spree in the burning building. Thirty-eight people died. India blamed Pakistan for the attack, saying the guerrillas were trained in Pakistan or in Pakistani-financed camps in Afghanistan.

As U.S. Secretary of State Colin Powell arrived Monday (15 October) evening in Pakistan for talks with Pakistan's president, India launched a fierce artillery barrage at the town of Sialkot in Pakistani Kashmir. India called the shelling a "punitive" response to the terrorist attack in Srinigar. Pakistan said one civilian was killed and others were injured. The exchanges, the first outbreak of violence in 10 months, continued yesterday as another Pakistani was killed.

Qureshi would not say whether he felt an Indian attack was imminent but said Pakistan was ready for any possible action: "It has amply been made clear by the government of Pakistan on more than one occasion that while world attention remains focused on events in Afghanistan, no one would be allowed to exploit the situation to undertake any hostile or belligerent action against Pakistan."

He said that Pakistan would retaliate against any act of aggression by India. He also referred to recent widespread
demonstrations against the Pakistani government by Islamic fundamentalist groups opposed to Pakistan's cooperation with the U.S.-led coalition against terror: "The demonstrations organized by some extremist elements in the recent past may have conveyed an impression of weakness in Pakistan. Let me assure the Indians that Pakistanis come together whenever a threat emanates against the country."

The U.S. must tread a fine line in its efforts to retain the support of both countries in its campaign against terrorism. Pakistan was pleased that Powell had said during his stay that the Kashmir issue was "central to the relationship" between India and Pakistan, and that the U.S. would try to help broker a settlement. In turn, India has been dismayed by America's announcement that it will lift military sanctions against Pakistan in return for its cooperation with the U.S.-led antiterrorism coalition. American ally Britain has also said it will restore military aid.

Powell received a chilly reception when he arrived for talks in India yesterday (16 October). The Indian Foreign Ministry said that "terrorism" -- sponsored by Pakistan rather than by indigenous Kashmiris -- was at the heart of the problems between the two South Asian rivals.

The rivalry dates to the partition of the old British Indian empire into mainly Hindu India and the Islamic Republic of Pakistan in 1947. Although most of the inhabitants of Kashmir are Muslims, the bulk of the state's territory was taken over by India, following the request of its ruling prince.

Pakistan has not accepted the partition, and many Kashmiris want their area to become either part of Pakistan or an independent Muslim state. Two conventional wars have been fought over the region, both lost by Pakistan. But Muslim separatist groups have continued to challenge Indian rule.

A vicious guerrilla war has raged for more than a decade in Kashmir, with Muslim fighters carrying out attacks against the Indian army and killing non-Muslim civilians. India accuses Pakistan of financing the guerrillas and what it calls their terrorist activities.

In turn, Pakistan says the Indian army has formed death squads to assassinate Kashmiri militants and their supporters. Pakistan and India maintain huge military formations along their border. Both have produced nuclear weapons in recent years -- a fact that only increases the fear of a conflagration.
~~~~~~~~~~~~~~~~~~~~~~~~~

INDIA-POLITICS: Congress Turns to Gandhi Dynasty
By R. Dev Raj
NEW DELHI, Dec 30 (IPS) - Stricken by a wave of desertions, the Congress party is again counting on the charismatic Nehru-Gandhi political dynasty to win an election.
After the Italian-born, Rajiv Gandhi's widow Sonia broke a long silence to announce that she would campaign for the Congress party in mid-term polls, scheduled early next year, party leaders were seen dancing in the streets.

Kesri announced yesterday that he was grateful to the Gandhi widow her for ''coming to the party's rescue at a time when it was in danger.''

The Gandhi widow's decision is the best news for the Congress party since it pulled the rug from under the minority United Front government late November demanding ouster from the Cabinet of members belonging to a regional party indicted by a probe for links with Sri Lankan Tamil Tigers, the suspected assassins of her husband in 1991.

Prime Minister Inder Kumar Gujral resigned rather than drop the ministers from the Dravida Munnetra Kazhagam (DMK) party, which rules southern Tamil Nadu state. The Congress then found itself facing an election with little to commend it but a string of corruption cases.

Worse, Gandhi appeared to distance herself from party president Sitaram Kesri and even so-called Gandhi family loyalists within the faction-ridden party who had hoped to generate a voter sympathy wave over the DMK's indictment.

Sensing the party was in real trouble, several prominent Congress leaders like Suresh Kalmadi from southwestern Maharashtra state, abandoned ship. Most of them expressed anger with Kesri's inept leadership.

In the eastern border state of West Bengal, Congress rebel Mamata Bannerjee launched the ''Trinamul (grassroots) Congress'' to which even staunch Gandhi loyalists like Mani Shankar Aiyar and former Union minister Ajit Kumar Panja have flocked.

Kesri dismissed the defections as ''good riddance,'' but when these turned into a flood, the visbly alarmed octogenarian party chief appealed to dissidents not to use the Congress party ''like a railway station to catch a fast train out.''

Most of the deserters have either joined the party's arch foe the Bharatiya Janata Party (BJP) or struck deals with it.

Sonia Gandhi's entry could undermine Kesri's authority as her backers have been openly demanding that he make way for her as party chief. Prominent among the ''anti-Kesri, pro-Sonia'' faction are the regional satraps K. Karunakaran, Madhav Rao Scindia and Arjun Singh, along with influential leaders R K Dawan, Ghulam Nabi Azad and Arjun Singh, who are all members of the top party policy making Congress Working Committee (CWC).

The BJP has expectedly reacted to Sonia Gandhi's decision to campaign for the Congress by saying it would move to revive corruption allegations involving the Gandhi family. ''We will revive all cases touching Sonia Gandhi - including Bofors,'' said BJP spokesperson Sushma Swaraj, referring to the alleged payoffs in the 1986 deal by the then Gandhi government with the Swedish arms maker.

BJP leaders have also said they will make an issue of the fact that as a foreigner by birth, the Gandhi widow could not be the right choice to lead a national political party.

But Congress leader Azad had earlier defended Gandhi in a television show by saying that in India, a woman traditionally belongs to the family of her husband no matter what her origins.

Of the many scandals involving the Congress party, the Bofors deal to purchase artillery for the army has hurt the party most and led to the Gandhi government's fall in the 1989 election.

The Congress party, however, rode back to office on a sympathy wave following Gandhi's killing by a suspected Sri Lankan Tamil Tiger suicide bomber at a poll rally in Tamil Nadu May 1991.

The successor P.V. Narasimha Rao Congress government was also quickly mired in scams with no less than 15 of Rao's cabinet colleagues having to quit over corruption charges. Rao himself is undergoing trial on some of charges, including one of bribing opposition deputies to survive a confidence motion in July 1993.

Through his five years in office, Rao had uneasy relations with Sonia Gandhi, facing demands by party members that she, as heir to the Nehru-Gandhi legacy, take over the party.

The fortunes of the Congress party haves almost inextricably been linked, since Independance in 1947, with the ''dynasty''

which started with India's first Prime Minister Jawaharlal Nehru and was carried on by his daughter Indira Gandhi and grandson Rajiv Gandhi. (End/IPS/rdr/97)
~~~~~~~~~~~~~~~~~~~~~~~~~~~
Thursday December 13 9:37 PM ET
12 Dead After India Parliament Attack

By NIRMALA GEORGE, Associated Press Writer

NEW DELHI, India (AP) - Five suicide attackers in a car with government markings stormed Parliament with a barrage of grenades, explosives and rifle fire Thursday, killing seven other people in a bloody assault at the heart of the world's largest democracy.

Islamic militants, such as those fighting a 12-year insurgency in the disputed Himalayan province of Kashmir (news - web sites), were widely suspected of being behind the attack, which set off a 35-minute gunbattle outside the sprawling, red sandstone Parliament building.

Home Minister Lal K. Advani declared ``terrorists and their sponsors'' were to blame, and another official blamed mercenaries from Pakistan. The Pakistani government condemned the attack, but there was concern it could lead to an escalation of enmity between the South Asian nuclear rivals, who have fought two wars over Kashmir.

Prime Minister Atal Bihari Vajpayee, who reportedly was just leaving the Parliament building when the attack took place, delivered a live television address two hours after the gunbattle ended to reassure the nation.

``This was an attack not just on Parliament house, but a warning to the entire country. We accept the challenge. We will foil every attempt of the terrorists,'' Vajpayee said.

President Bush (news - web sites) telephoned Vajpayee with condolences and offered FBI (news - web sites) and State Department counterterrorism teams to help investigate.

At least 12 people were killed - a gunman who blew himself up; four colleagues who were shot and killed by security forces; four police officers; one unarmed parliament guard; a paramilitary constable and a gardener. It was unclear whether a sixth attacker was involved, officials said.

Eighteen people were injured, six critically.

No lawmakers or Cabinet officials were among the casualties. Parliament had just adjourned at the time of the attack, and most officials were still inside the building.

The midday attack began when the gunmen drove through one of the Parliament complex's gates in a white, Indian-made Ambassador car, of the kind used by government officials, state-run Doordarshan television reported. The car had official stickers from the Home Ministry affixed to its windshield, the report said.

One militant jumped out of the car and blew himself up, while the others opened fire on police and security guards. The attackers drove 50 yards inside the premises, then started getting out of the vehicle one by one.

A videotape obtained by Associated Press Television News showed the gunmen dressed in green sweaters, running toward the building, then back again behind a wall in the surrounding park, firing their rifles as they where shot by police.

Hundreds of rounds were fired as police hid behind cars, trees and the corners of the building. The gunfight was broadcast live on most television stations.

The tape also shows the body of the suicide bomber, without arms or legs, lying on a sunlit walkway in front of the building.

Police later found explosives in the car and in the turquoise knapsacks that the young, clean-shaven, black-haired gunmen had slung over their backs as they raced up the steps of the Parliament building, firing their assaults rifles with one hand.

The attackers never got past any of the 12 entry doors into the building, but managed to hit it with bullets.

Inside the building, there was panic.

``Someone started shouting, `terrorists, terrorists,' `` said lawmaker Khara Bela Swain. ``I couldn't understand anything. There was chaos.''

``After three or four minutes of firing they started throwing grenades,'' and at least four exploded, Swain added. ``I started to run to save my life.''

Bodies were lying on the lawns and sidewalks near the gate as ambulances rushed to the scene. A television cameraman was also shot, and private Star News said police were firing indiscriminately.

After Parliament members were evacuated, police found and set off a remaining bomb in a controlled explosion and defused several grenades.

There was no immediate claim of responsibility for the attack. Government officials refused to name any group as a suspect, but focused their attention on Islamic militants.

``The terrorists have flung a challenge at us,'' Advani said after a Cabinet meeting. ``The nation accepts this challenge. We will liquidate terrorists and terrorist organizations wherever they are and whoever they are.''

The attack came a week after Advani warned that a Bombay man was arrested Oct. 2 and told police that he had trained under Osama bin Laden (news - web sites)'s al-Qaida terrorism network, blamed for the Sept. 11 attacks on the United States. The suspect said al-Qaida had planned to attack Britain, Australia and the Indian Parliament, according to the home minister.

Referring to Thursday's attackers, India's junior trade minister, Rajeev Pratap Rudy, told The Associated Press ``it seems they were foreign mercenaries.''

``Where can the terrorists come from?'' he said. ``They are not coming here from Kenya or Africa. They're from Pakistan.''

Syed Salahuddin, head of the Hezb-ul Mujahedeen, the largest Pakistan-based militant group fighting in Kashmir, denied any involvement.

``No jihadi group is involved in this attack and it is the work of Indian authorities who want to divert the attention of the international community from the issue of Kashmir,'' he said from the Pakistani capital.

Vajpayee has often accused Pakistan and its military leader, President Gen. Pervez Musharraf, of sponsoring terrorist attacks in India.

Musharraf said he was ``shocked'' to learn of the attack and sent a message of sympathy to the Indian prime minister.

``My government strongly condemns the attack,'' Musharraf said in his message. He added that he was ``saddened by the loss of life and the injuries suffered by Indian security personnel.''

Thursday's attack was similar to one on the state assembly in Srinagar, summer capital of the northern Jammu-Kashmir state, where the Islamic separatists are fighting for independence or merger with Pakistan. Forty were killed in the Oct. 1 attack.

Advani said Parliament would meet as scheduled on Friday in the bullet-riddled building
---
7-11-06 - DREAM - I was seeing visions of 100's of little square newspaper or magazine column-ads. Each one said that is was about survival - and registered each one with the word QUEST or ING.
I thought perhaps it was about investing money because both names are about companies that handle money.
But today, on 7-11-06, a huge explosions took out 100's of travelers in India who were QUESTING
See below:
137 dead, 230 wounded as series of blasts rock Mumbai trains
Mumbai, Jul 11, 2006 (PTI) At least 137 people were killed and 230 injured in a string of seven terror blasts thar tore through first class compartments of suburban trains around 6PM during the peak hour traffic here today.
As the blasts ripped apart train compartments, mangled bodies of passengers fell on the tracks and survivors, many of them bleeding profusely, jostled to come out leading to chaotic scenes.
The blasts occurred between 6Pm and 6.30PM at Mahim, Bandra, Matunga, Borivili, Mira Road, Jogeshwari and Khar when people from offices were returning home.
Hospital authorities in the city have confirmed arrival of over 100 bodies by 8:30 pm. A large of injured people, including commuters of the blasts-hit trains were admitted to various government and private hospitals in various parts of the city.
Mumbai Police Chief A.N. Roy said ``We are busy in the rescue operation. Our first priority is to rescue the injured people,'' he said. However, heavy monsoon downpours were hampering the effort.(Reports AP)
Police were also reportedly carrying out raids across the country following the explosions, presumably in search of suspects. One television report said a suspect was in custody.
A senior Mumbai police official, P.S. Pasricha, said the explosions were part of a well-coordinated attack. The country's home minister told Indian television that authorities had information that an attack was coming but did not know the time or place.
Witnesses reported seeing body parts strewn about stations, and Indian television news channels broadcast footage of bystanders carrying victims to ambulances and searching through the wreckage for survivors and bodies. Some of the injured were seen frantically dialing their cell phones.
The force of the blasts ripped doors and windows off carriages, and luggage and debris were strewn about, splattered with blood. Survivors were seen clutching bloody bandages to their heads and faces. Some were able to get up and walk from the station on their own.
Pranay Prabhakar, the spokesman for the Western Railway, confirmed that seven blasts had taken place. He said all trains had been suspended in Mumbai, and he appealed to the public to stay away from the train stations of the city of 16 million, India's financial and commercial center and principal port on the Arabian sea.
There was no immediate claim of responsibility for what appeared to be bombings, but the blasts came in quick succession _ a common tactic employed by Kashmiri militants that have repeatedly targeted India's cities.
The first explosion hit the train at a railway station in the northwestern suburb of Khar, said a police officer who spoke on the condition of anonymity because he was not authorized to talk to the media.
India's CNN-IBN television news, which had a reporter traveling on the train, said the blast took place in a first-class car as the train was moving, ripping through the compartment and killing more than a dozen people
The Press Trust of India, citing railway officials, said all the blasts had hit first-class cars.
All of India's major cities were reportedly on high alert following the attacks, which came hours after a series of grenade attacks by Islamic extremists killed eight people in the main city of India's part of Kashmir.
Kashmir was divided between India and Pakistan in war after they gained independence from Britain in 1947, and they fought another full-scale conflict over the region in 1965.
Dozens of militant groups have been fighting Indian rule in Kashmir, demanding the mostly Muslim region's independence, or its merger with Pakistan.
India accuses Pakistan of aiding the militants, who run training camps on Pakistan's of Kashmir. Pakistan denies the charge.
After coming close to fighting a fourth war in 2002, Pakistan and India embarked on a peace process aimed at resolving their differences, including their conflicting claims to all of Jammu-Kashmir.
Sonia, Lalu, Patil rush to Mumbai
Congress president Sonia Gandhi, Home Minister Shivraj Patil and Railway Minister Lalu Prasad will leave for Mumbai tonight for an on-the-spot review of the situation in the wake of the serial blasts. (Reports PTI)
---
Call for calm after rail terror
7-12-06
Police stepped up security across India on Wednesday after bombs killed more than 160 people and wounded hundreds in packed commuter trains and stations in the financial hub, Mumbai.
"I urge people to remain calm, not to believe rumours and carry on their activity normally," Indian Prime Minister Manmohan Singh said, calling the seven explosions that took place during the evening rush hour on Tuesday a "shameful act".
There was no immediate claim of responsibility for the attacks but suspicion has fallen on Muslim militants fighting New Delhi's rule in disputed Kashmir, part of which is held by Pakistan, who have been blamed for bomb attacks in India in the past.
"Obviously a terrorist outfit is behind the blasts because a normal human being could not have done this," said Mumbai police commissioner AN Roy. Neighbouring Pakistan called it a "despicable act of terrorism".
Hours after the blasts, ambulances were still delivering the dead and injured to overwhelmed hospitals. Extra security was brought in countrywide both to prevent any further attacks and to guard against any possible backlash against the minority Muslim community.
The blasts brought worldwide expressions of outrage.
"We condemn thoroughly this terrible terrorist incident," US Secretary of State Condoleezza Rice said in Washington. "We will stand with India in the war on terror."
Police inspector Ashok Jadhav said the bomb blasts had killed 163 people and wounded about 460.
In the aftermath, hundreds of dazed passengers walked along railway lines and many helped pull bodies from mangled carriages and rush the injured to hospitals as monsoon rain fell.
"I took out at least 35 dead bodies from the trains," a middle-aged man told local TV, weeping uncontrollably. "There were people without hands and limbs and we took them to hospital."
A policeman was shown carrying two white, blood-stained bundles of what appeared to be body parts.
"Such acts cannot possibly be excused by any grievance," UN spokeswoman Marie Okabe said in New York.
Commuter panic
Commuters fled suburban rail stations in panic after the explosions and mobile phone lines were jammed. TV stations said an eighth bomb was defused in a Mumbai suburban station.
DK Shankaran, chief secretary of the state of Maharashtra, of which Mumbai is the capital, said the city would bounce back.
"Mumbai will be up tomorrow. Every single school, college and office will remain open," he said
But India's financial markets were expected to suffer on Wednesday, with analysts saying the attacks were likely knock foreign investor confidence.
Sonia Gandhi, leader of the ruling Congress party, expressed her grief before heading for Mumbai.
At the city's Sion hospital, relatives frantically searched for friends and relatives, poring over lists of the injured.
Haji Mastan sobbed as he told how he had spoken to his cousin Mukti Darvesh 10 minutes before he died: "Why did it have to end like this? He was young and he has children."
The blasts occurred on five trains and at two stations in Mumbai's western suburbs, which are linked to the downtown office and business areas mainly by an overground rail network used by some 6.5 million people each day.
All suburban train services in the city were suspended after the blasts but by late yesterday a limited service was running on the western line, along which the attacks took place.
The first attack took place at 6.24pm with the others following in quick succession.
Tourists killed
The Mumbai blasts came hours after suspected Islamist militants killed seven people, six of them tourists, in grenade attacks in Indian Kashmir's main city, Srinagar, police said, the most concerted targeting of civilians in months.
Kashmir has been split between India and Pakistan since shortly after the two countries gained independence from Britain in 1947, but both claim it in full.
Pakistan's Foreign Ministry said the leadership strongly condemned the "terrorist attack" in Mumbai.
A metropolis of about 17 million people formerly known as Bombay, the city has been hit by bomb blasts in the past decade.
More than 250 people died in a string of bomb explosions there in 1993 for which authorities blamed underworld criminal gangs. Those attacks followed the demolition of a mosque in the Hindu holy city of Ayodhya.
REUTERS
India- Politics by Other Means
DREAMS OF THE GREAT EARTHCHANGES - MAIN INDEX