September 24, 2007 - 5:57am.
VP wanted Isreael to attack Iranian nuke site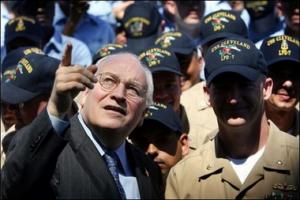 Vice President Dick Cheney: Another day, another controversy (AFP Photo)
US Vice President Richard Cheney has considered provoking an exchange of military strikes between Iran and Israel in order to give the United States a pretext to attack Iran, Newsweek magazine reported in its Monday issue.
But the weekly said the steady departure of neoconservatives from the administration over the past two years had helped tilt the balance away from war.
One official who pushed a particularly hawkish line on Iran was David Wurmser, who had served since 2003 as Cheney's Middle East adviser, the report said.
A spokeswoman at Cheney's office confirmed to Newsweek that Wurmser left his position last month to "spend more time with his family."
A few months before he quit, Wurmser told a small group of people that Cheney had been mulling the idea of pushing for limited Israeli missile strikes against the Iranian nuclear site at Natanz -- and perhaps other sites -- in order to provoke Tehran into lashing out, the magazine reported, citing two unnamed "knowledgeable sources."
The Iranian reaction would then give Washington a pretext to launch strikes against military and nuclear targets in Iran, Newsweek reported.
When Newsweek attempted to reach Wurmser for comment, his wife, Meyrav, declined to put him on the phone and said the allegations were untrue, the report said.
A spokeswoman at Cheney's office told the weekly the vice president "supports the president's policy on Iran."
Copyright © 2007 Agence France Presse
10-21-07
Cheney: Iran faces 'serious consequences' over nuclear drive
LANSDOWNE, United States (AFP) — Vice President Dick Cheney said Sunday the United States would not permit Iran to get nuclear weapons and warned of "serious consequences" if it refuses to stop enriching uranium.
Cheney, considered the US administration's toughest hardliner on Iran, did not mention the possibility of military action amid reports that President George W. Bush could be laying the stage for war with the Islamic republic.
"The Iranian regime needs to know that if it stays on its present course, the international community is prepared to impose serious consequences," he said in a speech to the Washington Institute for Near East Policy.
"The United States joins other nations in sending a clear message: We will not allow Iran to have a nuclear weapon," he said, after Bush warned last week that a nuclear-equipped Iran evoked the threat of "World War III."
"Our country and the entire international community cannot stand by as a terror-supporting state fulfills its most aggressive ambitions," Cheney said, accusing Iran anew of abetting attacks on US troops in Iraq.
Cheney's warning to Iran recalled UN Security Council resolutions in 2002 that Iraqi dictator Saddam Hussein faced "serious consequences" if he failed to come clean on his alleged stockpiles of weapons of mass destruction.
Speaking on CNN Sunday, Democratic Representative Jane Harman said the administration's threatening language against Iran was "very dangerous."
"We heard about mushroom clouds and other images before the military action in Iraq. I wish the president would avoid that," she said, calling for tougher UN sanctions on Iran instead of "war-mongering threats."
Unbowed by the morass faced now by the United States in Iraq, and by warnings that the US military is dangerously overstretched, the hawkish Cheney reportedly favors attacking Iran.
In a New Yorker article last month, celebrated investigative reporter Seymour Hersh said there was US planning for "surgical" raids against Iran's Revolutionary Guards, which Washington accuses of targeting its forces in Iraq.
On the campaign trail for next year's White House race, top Republicans and Democratic frontrunner Hillary Clinton also insist that they will never tolerate a nuclear-armed Iran menacing its neighbors and Israel.
Clinton last month voted for a Senate resolution that declared the Revolutionary Guards a terror organization -- a step that her Democratic rival Barack Obama said represented a "blank check" for Bush to wage war on Iran.
Iran, which insists it only wants peaceful nuclear energy, has brushed aside US warnings, and announced Saturday that its top nuclear negotiator Ali Larijani had resigned and was being replaced by an ally of hardline President Mahmoud Ahmadinejad.
In a gloomy speech that ranged over threats facing the United States from Islamic terrorism, and the need for Congress to renew controversial surveillance tactics, Cheney also said that Washington would not abandon Iraq.
"We're going to complete the mission so that another generation of Americans does not need to go back and do it again," he said.
Cheney also accused Syria of using "bribery and intimidation" to undermine Lebanon's upcoming presidential election and said the vote should go ahead "free of any foreign interference."
In May Cheney declared, from the potent venue of a US aircraft carrier steaming in the Gulf, that the United States would not let Iran acquire nuclear arms.
Middle East experts who spoke at the Washington Institute conference after Cheney's speech noted that US rhetoric against Iran was being sharply escalated.
"The language on Iran is quite significant," former Middle East presidential envoy Dennis Ross said. "That's very strong words and it does have implications."
Commenting on Bush's "World War III" warning, Jane's Information Group Alex Vatanka said: "The United States could take care of Iran militarily in short order.
"But it's still not useful for policymakers to use this kind of alarmist talk, even if Bush feels that Iran is an urgent issue that needs to be dealt with in his remaining time in office," he told AFP.
---
R E G I O N: 'Bush's World War III remark was rhetorical'
10-20-07
* Top military officer says US has the resources to attack Iran if needed despite Iraq, Afghanistan engagements

WASHINGTON: The White House says President George W Bush was simply making "a rhetorical point" when he suggested that if Iran could make nuclear weapons, it could lead to World War III.

"The president was not making any war plans, and he wasn't making any declarations," White House press secretary Dana Perino said Thursday. "He was making a point, and the point is that we do not believe - and neither does the international community believe - that Iran should be allowed to pursue nuclear weapons."

If Iran acquired nuclear weapons, she said, "that would lead to a very dangerous - a potentially dangerous situation, and potentially lead to a scenario where you have World War III. But he was using that as a rhetorical point, not, you know, making a declaration."

Bush, at a news conference on Wednesday, said, "I've told people that if you're interested in avoiding World War III, it seems like you ought to be interested in preventing them (Iran) from having the knowledge necessary to make a nuclear weapon." Iran denounced Bush's comment. "This sort of policy will jeopardize peace and security at the international level, and is a barrier for peace," the Iranian Foreign Ministry spokesman, Mohammad Ali Hosseini, said in a statement.

Hosseini said Bush was resorting to "warlike rhetoric" to divert the American public's attention from White House failures on international issues such as Iraq and Afghanistan.

'US capable of attacking Iran: While military action against Iran would be is a last resort, the United States has the resources to attack if needed despite the strains of wars in Iraq and Afghanistan, says the top US military officer. Navy Adm Michael Mullen, chairman of the US Joint Chiefs of Staff, said the focus now is on diplomacy to stem Iran's alleged nuclear ambitions and its support for insurgents in Iraq.

But, he told reporters, "there is more than enough reserve to respond (militarily) if that, in fact, is what the national leadership wanted to do." Defence Secretary Robert Gates said Iran's acquisition of nuclear weapons could set off an arms race in the Middle East. "The risk of an accident or a miscalculation or of those weapons or materials falling into the hands of terrorists seem to me to be substantially increased," he said.

Appearing together before reporters for the first time since Mullen became chairman on Oct 1, the two expressed unease about Iran and Turkey, hot spots commanding attention even as the military focuses on the fighting in Iraq and Afghanistan. Gates also said he believes that Russian President Vladimir Putin is serious about trying to play a constructive role in resolving the crisis over Iran's nuclear programme.

"President Putin takes Iran seriously as a security concern for Russia, and I think they are prepared to take some actions as befits that," Gates said. Mullen said the US military is working hard to stem the flow from Iran into Afghanistan of high-tech materials for roadside bombs. The military has said that parts from the armour-piercing bombs, which have killed hundreds of troops in Iraq, are now getting into Afghanistan.

Mullen said he is not aware of any high-level Iranian government connection to the weapons in Afghanistan, although officials have said that is a concern in Iraq. ap
---
19/10/2007
From Israel, it looks different
By Aluf Benn

This is the assessment of the situation at the top diplomatic and military levels in Israel: Iran is moving, unhindered, toward a nuclear bomb. Blocking it with economic sanctions has failed, mainly because Russia, Germany and Italy refuse to stop doing business with the Iranians. Two options remain on the table: to come to terms with Iran's nuclearization because there is no alternative, or to stop it by force.

The United States has military capability, but there is opposition within the administration to an action in Iran. The chances of an American attack appear small; the final decision will be taken by President George W. Bush. In Jerusalem they are finding it difficult to assess what will weigh most in the president's thinking - the strategic and political considerations against another war after the imbroglio in Iraq or his belief it is incumbent upon him to free the world from the nightmare of nuclear weapons in the hands of Iranian Supreme Leader Ali Khamanei and President Mahmoud Ahmadinejad.

Recent weeks have seen a lively debate in the U.S. about what should be done regarding Iran - either dialogue, which would mean coming to terms with the nuclear program, or war. American strategists are talking about "the Cuban missile crisis in slow motion" and are looking for a third way between attack and acceptance. In Israel, there is no such debate, except within a narrow circle of those who are knowledgeable and interested. Israel, it seems, is waiting for Bush's decision, which will be taken during the coming year, before it decides to attack Iran itself.

The public debate in America reveals the different outlooks of the decision-makers in Jerusalem and in Washington. From here, the Iranian threat looks much more palpable and scarier and the response much simpler and more focused. Presumably, Iran, like Iraq and Syria in their turn, will find it hard to respond. Perhaps it will launch some missiles at Israel plus Hezbollah rockets from Lebanon, and perhaps it will initiate a terror attack on an Israeli target abroad. This would be painful but bearable and would be perceived as a justified price for getting rid of an existential threat.

In American parlance, "attacking Iran" sounds like a World War III, as Bush warned on Wednesday: weeks of bombing Iran's military and civilian infrastructures, following attempts at dialogue and an open ultimatum that would be followed by the blocking of oil supplies to the West and acts of terror in which thousands of Americans are killed, if not an all-Muslim jihad against America that lasts for years. Of course, the danger of destabilizing the world order and economic destruction in the West seems excessive in the face of a few nuclear bombs in Iraq.

When Israelis talk about "the point of no return" in the Iranian nuclear program, they are referring to "crossing the technological threshold." That is, the moment the Iranian engineers and scientists get hold of the knowledge of how to produce nuclear weapons and are able to replicate it, even if the existing installations are destroyed by bombs or shut down in the wake of diplomatic negotiations. The American red line is the more distant date, when Iran has an operational bomb.

The differences in outlook are understandable. Someone who lives in Chicago or Miami can live comfortably with an Iranian bomb, just as he lived under the Soviet threat. An inhabitant of Tel Aviv, whom the president of Iran is threatening to deport to Alaska or Canada, must be far more worried.

"The world" is aware of these differences and in its refusal of sanctions and serious organization against Iran, it is quietly pushing Israel toward a decision to attack. The international silence that greeted the action in Syria could be interpreted as encouragement of Israeli muscle-flexing. The exchanges of threats between Israel and Iran have met indifference in the international community, at least until Bush's speech on Wednesday, in comparison to the concern and efforts focused on the Palestinian issue. Perhaps an American expert who has been following events for years was on target when he said: "You h ave a million and a half Palestinians in Gaza who could march on Tel Aviv tomorrow, and you're worried about nuclear weapons in Iran?"

However, from Israel it looks different: In the eyes of the decision-makers, we will manage somehow with the Palestinians. But the Iranian threat is perceived as intolerable. Anyone who thinks otherwise does not dare speak out openly, at least not until it emerges that either there is a way to stop the Iranians, or that it is already too late.
---
As Bush warns of WWIII, Peres and Putin in war of words
By Israel Insider staff
October 18, 2007
US President George W. Bush warned Wednesday that if Iran gains nuclear capability, there could be a third world war, according to the New York Times.

"We've got a leader in Iran who has announced that he wants to destroy Israel," Mr Bush told a White House press conference.

"So I've told people that, if you're interested in avoiding World War Three, it seems like you ought to be interested in preventing them from having the knowledge necessary to make a nuclear weapon."

Bush's remarks came as Russian Prime Minister Vladamir Putin met with Iranian President Mahmoud Ahmadinjad and expressed doubts that Iran was pursuing a nuclear arms program.

President Shimon Peres said that governments throughout the world have proof that Iran is pursuing a nuclear arms program, in a statement issued in response to Russian President's objection to imposing further sanctions on Iran.

"Even if [Russian President Vladimir] Putin says he is not convinced, that Iran is conducting nuclear development for the purpose of war, everyone know their true intentions, and many intelligence agencies throughout the world have proof that Iran is seeking to develop nuclear weapons for the purpose of war and death," Haaretz quoted Peres as saying.

Prime Minister Ehud Olmert announced on Wednesday that he is to meet with Putin as part of a plan to gain support to lobby the United Nations Security Council members for tougher sanctions on Iran.

Putin recently concluded a visit to Teheran to meet with Iranian President Mahmoud Ahmadinejad, marking the first time a Russian leader since Stalin visited Iran's capital. The president called for "direct dialogue" with Iran, saying it was the "more productive and is the shortest path to success, rather than a policy of threats, sanctions, and all the more so resolution by using force."

Opposition leader Binyamin Netanyahu echoed Peres' concern in a phone conversation with Olmert, stressing the urgency of the Iranian crisis.

"In Israel we are all united in the belief that Iran must not obtain nuclear arms. On this issue Israel has no coalition and opposition," Netanyahu told the prime minister, according to the Jerusalem Post.

Olmert, however, does not appear to need convincing. "We must not underestimate Iran's statements about annihilating Israel or moving it to Alaska," Olmert said Wednesday at a gathering of dozens of mayors from around the world.

"Sometimes we don't take [President Mahmoud Ahmadinejad's statements] seriously, but we must not forget who is making them. He is the president of a state with a population of 70 million, which has military and technological capabilities and advanced weapons," he continued.
---
Iran to fire '11,000 rockets in minute' if attacked
Oct 20 07:28 AM US/Eastern
Iran warned on Saturday it would fire off 11,000 rockets at enemy bases within the space of a minute if the United States launched military action against the Islamic republic.
"In the first minute of an invasion by the enemy, 11,000 rockets and cannons would be fired at enemy bases," said a brigadier general in the elite Revolutionary Guards, Mahmoud Chaharbaghi.
"This volume and speed of firing would continue," added Chaharbaghi, who is commander of artillery and missiles of the Guards' ground forces, according to the semi-official Fars news agency.
The United States has never ruled out attacking Iran to end its defiance over the controversial Iranian nuclear programme, which the US alleges is aimed at making nuclear weapons but Iran insists is entirely peaceful.
Iran has for its part vowed never to initiate an attack but has also warned of a crushing response to any act of aggression against its soil.
"If a war breaks out in the future, it will not last long because we will rub their noses in the dirt," said Chaharbaghi.
"Now the enemy should ask themselves how many of their people they are ready to have sacrificed for their stupidity in attacking Iran," he said.
Iranian officials have repeatedly warned the military would target the bases of US forces operating in neighbouring Iraq and Afghanistan in the event of any attack and already has these sites under close surveillance.
Chaharbaghi said that the Guards would soon receive "rockets with a range of 250 kilometres (155 miles)" whereas the current range of its rockets is 150 kilometres (91 miles).
"We have identified our targets and with a close surveillance of targets, we can respond to the enemy's stupidity immediately," Chaharbaghi added.
He said that the Guards' weapons were spread out throughout the country and so would not be affected by any isolated US strikes against military facilities.
---
"Powerful Iran" war game to be held
Tehran Times Political Desk

TEHRAN, Oct. 20 , 2007 (MNA) – A massive war game codenamed "powerful Iran" will be held near Qom on October 23-25, the Commander of Basij (volunteer) Forces in Ministries and Organizations Masoud Chinigar-Zadeh said on Saturday.
The maneuver in which ten thousand Basijs will participate is aimed at boosting the Basij forces' defense capabilities, Chinigar-Zadeh insisted.

The commander said the main characteristic of this war game is that it will be held far from capital Tehran and in the vicinity of Qom.

Through maneuvers Basijs show that they are always prepared to protect the country's borders against any possible invasion by the enemies, he pointed out


---
U.S. army chief: Iraq war has sapped ability to fight Iran
By Haaretz Service
10-21-07
The new chairman of the U.S. Joint Chiefs of Staff said in an interview published Monday that the prolonged military campaigns in Iraq and Afghanistan may have undermined the military's ability to fight wars against major adversaries - including Iran.

With the United States already heavily committed in wars in two Muslim countries, Joint Chiefs Chairman Admiral Mike Mullen told The New york Times that an offensive against Iran, a third Mideast Islamic state "has extraordinary challenges and risks associated with it." He counseled against an immediate attack on Iran, saying that the military option should be a last resort.

But Mullen warned Iran and other nations not to "mistake restraint for lack of commitment or lack of concern or lack of capability."
Because we have had such an intense focus on the Middle East and Iraq and Afghanistan, there is risk associated with those other parts of the world," Admiral Mullen said.

Asked whether the American military should aim at sites inside Iran if intelligence indicated that such action could stem the flow of bombs into Iraq, he said "the risks could be very, very high."

"We're in a conflict in two countries out there right now," he added. "We have to be incredibly thoughtful about the potential of in fact getting into a conflict with a third country in that part of the world."

Speaking of his visits to soldiers and marines in Iraq and Afghanistan in recent weeks, Mullen said: "They're tired. They've been doing unbelievably great work for our country. And we need to make sure we take care of them and their families."

Regarding prolonged and repeated deployments for the ground forces in Iran and Afghanistan, he said, "The ground forces are not broken, but they are breakable."

---
WHY SATURN? WHAT DOES IT MEAN?
ASTROTABLETALK

SATURN-NEPTUNE (YET AGAIN)
Saturn-Neptune Opposition again. The first crossing is in just a few days, so it's already happening, and I can see one theme at least that hadn't occurred to me in advance: film stars being brought down to earth! First we had Mel Gibson a few weeks ago, caught on tape, drunkenly blaming the Jews for all the wars on the planet. This could easily spell the end of his career. And now Tom Cruise has been sacked by Paramount, his film studio - and with a few barbs from Sumner Redstone, the boss, about Cruise's erratic behaviour, his 'creative suicide'. But, of course, a lot of it came down to money. Maybe this transit will bring about a re-adjustment of the power of individual stars vs the studios.

I predicted a few weeks ago that the transit could bring about a reality check on the consumer credit boom, due to a Venus-Jupiter Square being involved with the first moment of the Saturn-Neptune Opposition on 31st August. What I didn't think of was that this could work both ways - ie the lenders could get a reality check, and in the news today (in the UK) the banks are being given a hard time over their rates of credit card interest.

Then there is Iran, which today boasted of having opened a heavy water reactor, the next stage in its project to develop nuclear power - and, though it denies this, nuclear weapons (See my earlier blog on Iran, where the astrology strongly suggests its intention is to create weapons, as if we needed telling!)

Iran: 1 April 1979, 15:00, Tehran.

Iran's ASC/DESC axis is at 17 Leo/Aquarius, just one degree off the current Saturn-Neptune Opposition. The 7th House is the House of Open Enemies, and Neptune is entering it. So who is deceiving who? I really don't think that Iran is deceiving anyone. We all know exactly what they are up to, we just can't be quite sure of exactly how advanced they are in their intention to build nuclear weapons. So here is today's astrological insight: THE DECEPTION IS THEREFORE IRAN'S SELF-DECEPTION ABOUT HER ENEMIES, IN THAT IRAN THINKS THAT NO-ONE WILL STOP HER DEVELOPING NUCLEAR WEAPONS. Iran is certainly behaving as if it thinks that. As for today's announcement by Iran that Israel has nothing to fear: Iran has natal Mars square to Neptune, and transiting Mars square Pluto is currently hard-impacting that. The announcement was, astrologically, a declaration of war. Israel responded by saying it would prepare itself militarily.

Given that it is Iran that is deceiving itself about its enemies (for we are not deceived), we can therefore expect a surgical attack sooner or later to destroy its nuclear programme. OK, the USA is in a weakened position internationally, and may have to opt out. But for Israel it is a SURVIVAL issue. Israel will feel it has to act regardless of the international consquences, for Iran (in the person of its President) has vowed to wipe Israel off the map. (As has much of the rest of the Arab world).

Israel 14th May 1948 16:00 Tel Aviv

Saturn-Neptune is the main transit hitting Israel's Chart at the moment, hard aspecting its fixed Sun-Saturn/Pluto-Chiron t-Square. A pretty heavy natal configuration, that also has Mars at 28 Leo hovering in the wings, square to the Sun and Chiron. So it is easily roused to battle, and fearsome. Saturn-Pluto-Chiron indicates Israel's origins in the worst of what humans can do to each other - the 19th century pogroms as well as the holocaust - but also suggests that Israel itself is capable of the worst sort of behaviour. It will stop at nothing. So Iran be warned, especially as Israel's Saturn-Pluto in Leo sits close to Iran's Ascendant. This synastry has yet to be activated, but it may be Saturn-Neptune that does it.
The Guards are Iran's elite ideological army and responsible for its most significant weapons such as the longer range Shahab-3 missile which has Israel and US bases in the Middle East within its range.
FROM: http://astrotabletalk.blogspot.com/2006/08/saturn-neptune-yet-again_26.html
---