updated 7-23-03
LEONARD PELTIER
A.I.M.
Free Leonard Peltier
... no human being should ever have to fear for his or her life because of their political or religious beliefs. We are in this together, my friends, the rich, the poor, the red, white, black, brown and yellow. We share responsibility for Mother Earth and those who live and breathe upon her. Never forget that.
Leonard Peltier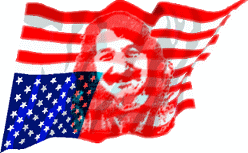 This page began because of a series of visions I had on Mar. 28, 1999.
First I saw a foot with a shoe on it that had three stripes of color over it. The top of the shoe disappeared so that I could see the top of the foot inside which also had 3 stripes of color over it.
I then saw a big piece of white plastic shaped like a big white eagle. It said, "National Park System" on the front but nothing else. I flipped it over to see if it said anything on the back but it didn't so I flipped it over to the front again. It said nothing but the title. The wings of this plastic bird were weak and limp.
A voice said, "We're going to work on this all day."
The next visions were of something wrong and dark with the National Park System. I saw a man leaving, carrying sort of a gas mask in his hand. He said, "You think I'm going to argue with them?"
The next vision was of what looked like tourist magazines but there seemed to be 5 or 6 problems as well. Then I saw a big white house and a young boy said, "I just dont want them to run the Black Hills!" and he ran off crying.
Next I saw a woman's long wide flowing sleeve with flowers on it. A voice said, "Freedom Rides!" And a voice said, "Bow tie! Bow tie!"
I next saw a man dressed all in green. He was in a dark bedroom sorting through clothing on a bed. He said, "It seems he took it!" I then saw a pair of green uniform work pants folded up in the pile. It seems he was accusing someone of doing something he really didn't.
The name Leonard Peltier popped into my head.
I felt a lot of anger around the case of Leonard Peltier. I heard a woman say, "They don't boost him! They look for easy ordinances!"
by Dee Finney
LATEST NEWS
From Leonard Peltier, #89637-132
U.S. Penitentiary - Leavenworth
P. O. Box 1000
Leavenworth, Kansas 66048-1000
Greetings Sisters, Brothers, Friends and Supporters,
I hope this letter finds you in excellent health and good spirits.
I want to thank you, friends, for your unwavering support. My feelings of happiness and love… well, you can't know how good it feels to know that, after nearly 28 years, you're still with me. (smile) Thank you.
I have good news. Oral arguments will be heard on September 19, 2003, on an appeal to the United States 10th Circuit Court of Appeals of the denial of my 1999 Habeas Corpus petition. For the first time, my legal team will be able to argue in a circuit other than the one in which I was convicted and where every subsequent appeal has been denied. The legal team is further heartened by the 10th Circuit Court's decision to hear oral arguments in this appeal. We consider this an opportunity for a fair and objective review of my petition.
What is this appeal about? I seek to overturn the U.S. Parole Commission's refusal to even consider me for parole until December 2008. The normal Commission guideline for prisoners convicted of homicide offenses is 200+ months served. This means that I should have been released from prison over one decade ago. The Commission, however, has repeatedly refused to consider setting a parole date until 2008 – when I will have served almost double the normal time. The Parole Commission explains its outrageous departure from its own guidelines by saying that I was involved in an "ambush" of the two FBI agents, and "executed" them at point blank range after the agents had been incapacitated. However, the Commission's argument is not supported by (1) my convictions, which the courts accept as having been based on an aiding and abetting theory; (2) other 8th Circuit Court of Appeals decisions on post-conviction petitions; and (3) the body of evidence before the Commission. The Commission's position is further undermined by the evidence exonerating me that the government improperly withheld at trial.
This appeal is not all we're working on. My legal team is examining all of the documents we've obtained from the U.S. government in the past year. We will, of course, continue our lawsuits to obtain the remaining documents still being withheld in my case. To find the evidence that will set me free, we hope to be able to use computers to analyze all of these documents. So, as you can see, there are other legal strategies we want to pursue should my Denver appeal be denied.
I can win my freedom, but I need your help to make it happen. We need funds for lawyers' travel expenses, materials development, public education efforts, event and public appearance costs, as well as for the purchase of hardware and software to assist with the document analysis project. A special fund has been established to meet these needs. Please partner with us to end the injustice. Contribute what you can. Throw down the blanket. No amount is too small. Please mail your donation to the Leonard Peltier Defense Committee (LPDC), P.O. Box 583, Lawrence, Kansas 66044-0583.
For more information on my appeal and other legal strategies currently underway, please don't hesitate to contact the LPDC. Call 1-785-842-5774 or send an e-mail to lpdc@freeleonardpeltier.org.
Stand for justice! Bring me home.
Mitakuye Oyasin.
In the Spirit of Crazy Horse,
Leonard Peltier
Please see the following site for the article "In the Spirit of Leonard Peltier" about the two day art auction and benefit to raise funds for Leonard's defense.
http://www.alternet.org/story.html?StoryID=16468
Please help by circulating Leonard's message and continuing to place him in the circle for prayers for healing and freedom.
Peltier blasts Clinton for not pardoning him
January 30, 2001
From staff and wire reports
WASHINGTON (CNN) -- Imprisoned Native American activist and convicted murderer Leonard Peltier blasted former President Clinton on Monday for refusing to include him among several other controversial figures pardoned on his final day in office.
Peltier is serving two consecutive life sentences for the murders of two FBI agents in 1975
Peltier was convicted in the slaying deaths of two FBI agents in a 1975 gunbattle on the Pine Ridge Indian Reservation in South Dakota. Peltier and his supporters say he was wrongly convicted.
"What Bill Clinton did to us was cruel," wrote Peltier in a two-page letter released by his legal defense committee. "The White House gave my attorneys indications that there was a good chance for my clemency to be granted. I had to prepare myself for being released because there was no sign that my petition would be denied."
Rumors that Clinton was considering a Christmas pardon for Peltier swept through the FBI, angering agents from coast to coast and prompting an unprecedented march of thousands of current and former FBI agents in Washington in December to demand that Peltier's clemency request be rejected.
Peltier, 56, is housed in the U.S. Penitentiary at Leavenworth, Kansas. He has been in federal custody since February 1976. In his letter, he accused Clinton of approving pardons because of political favors.
Clinton's most controversial pardon was granted to fugitive billionaire Marc Rich, who has been living in Switzerland since a 1983 indictment on charges of wire fraud, racketeering, tax evasion and trading with Iran in violation of a U.S. embargo. Rich's ex-wife, Denise Rich, was a major donor to the campaigns of both the president and his wife, New York Sen. Hillary Rodham Clinton.
Among Americans pardoned today by outgoing President Clinton were Henry Cisneros, Patricia Hearst, Susan McDougal, Roger Clinton
"We can see who was granted clemency and why," Peltier said. "The big donors to the President's campaign were able to buy justice, something we just couldn't afford."
"Meanwhile many political prisoners continue to languish unjustly, proof that this nation's talk about reconciliation is nothing but empty rhetoric."
Sources familiar with the process told CNN a Peltier pardon never appeared to be a likely action because of intense opposition from law enforcement agencies and prosecutors at all levels of government.
But human rights activists were equally vocal in their support of Peltier, who they say was wrongly convicted. His supporters argue that evidence that would have helped Peltier's case was kept from his defense attorneys.
Nobel Peace Prize winner Nelson Mandela leads a list of prominent figures in Africa and Europe who support Peltier's campaign for clemency.
FBI documents released in the early 1980s disclosed that ballistics tests that aided Peltier's defense had been concealed from his attorneys. About 6,000 pages of FBI documents in the Peltier case remain under seal, and his defense committee said it would pressure the U.S. government to declassify that information.
Reuters contributed to this report.
© 2001 Cable News Network. All Rights Reserved.
AIM, Russell Means, and Leonard Peltier

The following information comes from "CAN'T JAIL THE SPIRIT", Third Edition,
October, 1992; Editorial El Coqui, Publishers - 1671 N. Claremont, Chicago, IL 60647, 312-342-8027. Cost $12.00. VERY WELL worth the money!
LEONARD PELTIER - Native American Political Prisoner
Leonard Peltier is a 49-year-old Anishinabe/Lakota born on the Turtle Mountain Reservation in North Dakota. Peltier traces the roots of his political activism to the racism and brutal poverty which he witnessed growing up there. In 1958, during a period when the United States was attempting to "terminate" reservations (i.e. unilaterally abrogate the international agreements allocating these lands to Indian people) and relocate Indians to urban ghettos, Peltier joined his relatives in the Pacific Northwest. In 1970, an opportunity presented itself for him to express his aspirations to actively help his people. A group of Indians occupied Ft. Lawton, an abandoned military base in Seattle, Wash. The base was legally Indian land, and Peltier joined the occupiers who were demanding its return. It was here that Peltier first met American Indian Movement (AIM) organizers.
After the occupation ended, Peltier became increasingly active in AIM politics. In 1972, he helped to organize the Trail of Broken Treaties in the Milwaukee, Wis. area. The Trail, a march from reservations across the U.S. to Washington, D.C., intended to focus public attention on the oppression of Indian people, ended, due to dishonesty and incompetence on the part of federal officials, with the occupation and destruction of the Bureau of Indian Affairs headquarters. Peltier actively participated in the occupation, acting as security coordinator.
It was following the Trail of Broken Treaties that the FBI targeted the "AIM Leadership" for neutralization, either by embroiling them in endless, fabricated court cases or by outright assassination. Upon his return to Milwaukee, Peltier was brutally assaulted by two off-duty policemen and then charged with attempted murder for trying to defend himself. He spent five months in jail on the charges and went underground soon after making bond. He was later acquitted of the charges and the FBI was implicated in instigating the attack.
During 1973 and 1974, the Northwest AIM Group of which Peltier was a member became increasingly relied upon to provide security for AIM activities. In the spring of 1975, the group established an encampment on the land of the Jumping Bull Family near Oglala, S.D., on the Pine Ridge Reservation. Since 1972, Pine Ridge had been the scene of a massive paramilitary "peacekeeping" operation by then FBI Director William Webster; it was, like the British "peacekeeping" operation in Northern Ireland, actually counterinsurgency warfare. Carried out under FBI direction by the Bureau of Indian Affairs (BIA) police and a private army known as the GOONs, this large-scale terrorist operation was directly responsible for the deaths of more than sixty AIM members and supporters and for hundreds of assaults. The Jumping Bull camp was established at the request of Oglala organizers and traditional elders to protect their community from further GOON depredations.
The FBI found the presence of the camp and AIM interference with GOON activities intolerable, but noted that military force would be required to assault the camp. What they lacked was a justification. This was created on June 26, 1975, when FBI Special Agents Jack Coler and Ronald Williams entered the Jumping Bull property to, as one AIM member put it, serve a warrant they didn't have on someone who wasn't there for a crime over which they had no jurisdiction. This rash act precipitated a firefight which eventually involved more than 200 federal troops and left Coler, Williams, and AIM member Joe Stuntz Killsright dead. Despite a massive manhunt characterized by the U.S. Commission on Civil Rights as "an over- reaction which takes on the aspects of a vendetta ... a full-scale military invasion," the FBI was unable to find the participants in the firefight. Eventually, they charged three Northwest AIM members, Leonard Peltier, Bob Robideau, and Dino Butler in the deaths of the agents.
Butler and Robideau were tried in Cedar Rapids, Iowa, in July 1976. To the dismay of the FBI and federal prosecutors, the jury, horrified by evidence of FBI complicity in a large-scale campaign of terrorism, found the defendants not guilty on the grounds that they had acted in self- defense. The government vowed to ensure that this did not happen in the case of Leonard Peltier. He was fraudulently extradited from Canada in 1976 and run through a sham trial in the spring of 1977 in Fargo, N.D. Judge Paul Benson cooperated with the FBI in refusing to allow the jury to hear testimony of FBI misconduct and interfering with the cross- examination of prosecution witnesses who were clearly lying.
Peltier was found guilty of two counts of first degree murder on the basis of fabricated evidence and coerced testimony. He was sentenced to two consecutive life terms. His conviction has been upheld through two rounds of appeals despite the FOIA documents proving that the FBI lied concerning the most important evidence presented by the prosecution and an admission by DA Lynn Crooks that he "couldn't prove who shot those agents."
Peltier was sent directly to USP Marion, disproving recent media allegations that it is used only for prisoners who have committed crimes in prison. Peltier continued to function as an activist within the "super-max" prison. He, his family, and his supporters participated in the struggle for prisoners' rights and were in the forefront during the hunger strike, work stoppage, marches, and rallies of the early 1980s. In April 1984, Leonard, Standing Deer, and Albert Garza began a spiritual fast to call attention to the systematic denial of religious rights at Marion. Leonard was transferred to Springfield Medical Center and eventually to Leavenworth, where he remains today.
Peltier's uncompromising resistance fueled the growth of an international movement which has focused attention not only on his case but upon broader issues of indigenous land rights and POWs/political prisoners in the U.S. Millions of individuals have written letters and signed petitions demanding a new trial, including the Archbishop of Canterbury, Nobel Peace Prize winner Desmond Tutu, fifty members of the U. S. Congress, and fifty-one members of the Canadian Parliament. Mikhail Gorbachev evoked a wave of protest from the U.S. press when he responded to Reagan's "human rights agenda" by suggesting the U.S. clean up its human rights violations, citing Indians in general and Leonard Peltier in particular.
Currently, Peltier supporters are calling for a Congressional investigation into the FBI's criminal activity which led to his imprisonment. In light of recent revelations of FBI misconduct, public support for such an investigation is growing. As Leonard has recently said, "We still have a long way to go, but my heart is strong, knowing that one day I will be free, as will all political prisoners, as will all people."
WRITE TO BRO. LEONARD PELTIER:
Leonard Peltier, No. 89637-132, P.O. Box 1000,
Leavenworth, KS 66048
OUTSIDE CONTACT:
Leonard Peltier Defense Committee
P.O. Box 10044
Kansas City, MO 64111



Leonard Peltier's Pre-Sentencing Statement
June 1, 1977 - Fargo, North Dakota
TOP TEN REASONS LEONARD PELTIER
SHOULD BE FREED, IN THE WORDS OF THE GOVERNMENT...
Wisconsin Can Help Free Leonard Peltier
LEONARD PELTIER & AIM Information!

Russell Means

Bring Leonard Peltier Home!


The F.B.I.s War on Native Americans
American Indian Page and Human Rights

AIM Warrior Quotes
Looking back, I really believe that the broken hoop was mended at Wounded Knee, and that the was because being given to the sacred tree of life. Wounded Knee was an attempt to help the entire race survive.
-Dennis Banks, Anishabe Obibwa
If pro is the opposite of con… is the congress the opposite of progress?
- Russell Means, Oglala
"one of the things we have got to do, we can't just claim to be American Indian Movement members and we're concerned about people and every thing else. We have to really start doing stuff- build community gardens, chop wood, hauling water. Whatever they needed doing because that's what you responsibility is. Not just prancing around with a gun in your hand and thinking you're showing everybody your tough. In our society that's not a warrior role."
-Leonard Peltier, Chippewa/Sioux
"The violent rap that got laid on us. It was all out people. You don't see a long list of feds, death squad members or any of those other people, you don't see a long list of their dead, you see a long list of our dead and you look at that list and beside it is an Indian name almost exclusively."
-John Trudell, Santee
If you would like to comment or add to this page, please e-mail Dee777@aol.com