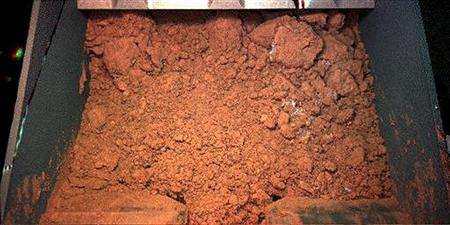 By Dan Whitcomb
LOS ANGELES (Reuters) - The Phoenix lander has returned the highest-resolution pictures ever taken of dust and sand on the surface of another planet as it prepares for its primary mission of searching for signs of life on Mars, NASA scientists said on Thursday.
The pictures were taken through an optical microscope and showed particles -- some as small as one-tenth the diameter of a human hair -- that were collected on a slide when Phoenix touched down on May 25 at the arctic circle of the Red Planet, kicking up dust from the surface.
"We have images showing the diversity of mineralogy on Mars at a scale that is unprecedented in planetary exploration," Michael Hecht of the U.S. space agency's Jet Propulsion Laboratory said at a media briefing.
One of the tiny grains shown in the pictures, taken largely to test the lander's instruments, was clear and whitish but the scientists said it was a mineral -- possibly salt -- and not likely ice, which they are eager to find as it is considered key to enabling life on the planet.
Other particles were reddish brown like the Mars surface or dark and glossy.
"What we're seeing in the microscope is almost certainly not ice," said Tom Pike, Phoenix geology team leader and a professor at Imperial College London, because a particle of ice that small would have melted before it could be photographed.
He said salt deposits, which are often found around ice, also would be intriguing to the Phoenix team.
Pike said the microscopic photos were never intended to seek out ice or other signs of water and life on Mars, and that the primary tool for that is a robotic arm.
The lander was again given commands to collect its first soil sample from the Martian surface after a communication glitch with an orbiting spacecraft delayed that experiment for a day.
Initial tests by the robotic arm scoop have uncovered a layer 1.5 inches deep near the landing site that intrigues NASA officials and they hope to study samples from that spot.
Phoenix's robotic camera has also sent back images of what appears to be exposed ice under the lander. But that area -- dubbed "Snow Queen" -- cannot be analyzed because it is out of the reach of the scoop.
The $420-million craft touched down on the arctic circle of Mars after a 10-month, 420-million-mile (680-million-km) journey from Earth.
NASA has searched Mars for the past decade for signs of water and conditions that might have supported life. It has used a fleet of orbiters and a pair of rovers on the planet.
The detection of subsurface water on Mars in 2002 by the Odyssey spacecraft prompted the Phoenix mission.
(Editing by Vicki Allen)
---
PHOENIX UPDATE:
Phoenix's oven is
full of martian soil
. For days, the clumpy red dirt had been stuck on a screen at the oven's door while engineers tried a variety of tricks to coax it onward. On June 10th, with little warning, the soil sifted through. "There's something very unusual about this soil," says Peter Smith of the University of Arizona. "We're interested in learning what sort of chemical and mineral activity has caused the particles to clump together." In the days ahead, Phoenix's mass spectrometer will "sniff" fumes from the oven and report the soil's composition. Stay tuned.
It is Phoenix's backshell, which held the parachute as Phoenix descended through the atmosphere. Just before jet-assisted touchdown, the backshell and 'chute were discarded and they landed some 300 meters downrange of Phoenix. "The parachute is not visible, probably because of the bumpy terrain," says graphic artist Patruck Vantuyne who created the anaglyph by combining right- and left-eye images from Phoenix's stereo camera. The complete panorama is a must-see; stare a while for full effect.
more anaglyphs: Arctic Vista, Mars Yeti, One small step..., Vines, Scoop Two.
6-15-08
NASA's 420-million-dollar lander has also possibly located ice and is half way to offering scientists on Earth a 360-degree view from its landing site in the Martian polar region, with rocks and hills fading into the dusty distance.
"We're getting about twice the data volume we were told to expect," said Peter Smith, Phoenix principal investigator at the University of Arizona.
The team is hoping to find evidence of the existence of water and life-supporting organic minerals in the polar region, on the basis that the similar areas on Earth preserve traces of climate change and signs of life.
For the past week, Phoenix's robotic arm, which looks like a back-hoe, has been digging into the soil around it and uncovered a bright surface about 2-2.5 inches (5-6 centimeters) below the soil that could be ice.
"Not everybody's sure that this is ice. There's been some debate within our team," said Smith. "The debate centers around perhaps there's a salt layer above the ice, which would be very bright and white also."
The team was pretty sure they would find ice, but not whether they had already found it, he explained during a televised briefing in Tuscon, Arizona, adding that scraping further into the surface was "really a high priority."
Some of the soil collected so far was be "very clumpy, its very sticky," Smith said, and initially got stuck on one of Phoenix's oven-like instruments, the Thermal and Evolved-Gas Analyzer (TEGA). Tests are now underway.
Other finer particles meanwhile have been collected in another testing instrument and reveal the history of soil on Mars, going from black glassy particles to more weathered ones, Phoenix team member Tom Pike said.
"What we're looking at here is a potted history of Martian soil," he said.
He described "black glassy particles that over millions, even billions of years have been slowly weathering down, becoming iron-enriched which gives the organic material its characteristic (red) color, and we're seeing that process captured on the variety of particles that we're looking at."
6-21-08-

This hard bright material is really water ice and not some other substance," said Phoenix Principal Investigator Peter Smith of the University of Arizona, Tucson, during a Friday news briefing to announce the confirmation of water ice.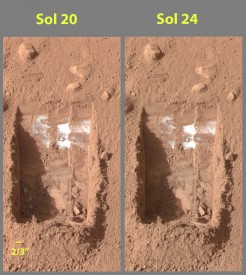 "The truth we're looking for is not just looking at ice. It is in finding out the minerals, chemicals and hopefully the organic materials associated with these discoveries," said Smith
The mission has the right instruments for analyzing soil and ice to determine whether the local environment just below the surface of far-northern Mars has ever been favorable for microbial life. Key factors are whether the water ever becomes available as a liquid and whether organic compounds are present that could provide chemical building blocks and energy for life. Phoenix landed on May 25 for a Mars surface mission planned to last for three months.
"These latest developments are a major accomplishment and validation of the Mars Program's 'follow-the-water' exploration framework," said Doug McCuistion at NASA Headquarters, Washington, director of the space agency's Mars Program. "This specific discovery is the result of an outstanding team working with a robust spacecraft that has allowed them to work ahead of their original science schedule."
The key new evidence is that chunks of bright material exposed by digging on June 15 and still present on June 16 had vaporized by June 19. "This tells us we've got water ice within reach of the arm, which means we can continue this investigation with the tools we brought with us," said Mark Lemmon of Texas A&M University, College Station, lead scientist for Phoenix's Surface Stereo Imager camera.
On the Net:
Phoenix Mars: http://phoenix.lpl.arizona.edu
NASA Scientists Confirm Mars Has Water
For the last ten years these files have claimed there is water and life on Mars.
Nasa scientists have revealed that the Phoenix Mars Lander has sent back the first definitive proof that there is water ice hidden beneath the surface of the planet.
NASA reports twenty days of scratching its way through the Martian top soil, the spacecraft uncovered a bright white layer just two inches below the surface. Four days after the white layer was first exposed to sunlight above, photographs taken by the lander's on board camera showed the white surface had disappeared. This proves, the scientists say, that the white layer was not salt as had been previously thought possible because it was melting. "It is with great pride and a lot of joy that I announce that we have found proof that this hard bright material is really water ice and not some other substance," said Peter Smith, from the University of Arizona, who is the principal investigator on the Phoenix mission. "We have found the proof that we've been seeking."
Chemical analysis of soil containing the white layer are still to be completed, but there is no doubt in the minds of Nasa scientists that they will further confirm the presence of water. Water generally means there is life as discovered by the Viking Lander in 1976
1. The 36 landscape photos from SOL 13 for June 8, 2008 are all relatively low-pixel-count photos - all of which seem to be slightly out-of-focus, and those which I have downloaded have all been available in JPEG only - which lend themselves to only a small degree of enlargement at which point "pixilation" effects take over and render the scene useless for any kind of meaningful study. Further, are only black-and-white images available from the lander, or are there color photos available elsewhere?
2. Most of the photos posted to the NASA web site for the 1976 Viking missions are of strikingly good quality, and are available in both TIFF and GIFF formats, and all seem to have been focused very well. Sections of most of those photos can be enlarged as much as 10X and still show fine detail of the items of interest with no pixilation effects at any level of magnification. And many of the photographs taken by the landers - and all the photos taken by the orbiters - are in good color (albeit modified before release to make most everything have a rust-brown color to it (even the sky).
3. QUESTION: How does it happen that - after 32 years of improvement in every aspect of imaging techniques and associated electronics - the photos of Mars from the Phoenix Mission made available to the public are of such lesser quality and usefulness? Are better quality photos to be made available as the Phoenix mission develops?
Your assistance in this area of inquiry is appreciated. Thanks to John E. Combest
---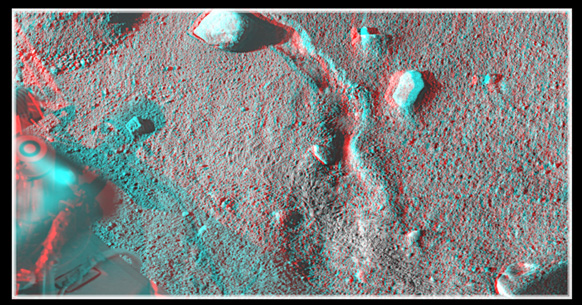 Graphic artist Patrick Vantunye of Belgium created the 3D anaglyph by combining right- and left-eye images from Phoenix's stereo camera. It shows a rock near the Mars lander's feet seemingly pushed some distance through the dusty soil. "It reminds me of the moving rocks of Racetrack Playa in Death Valley," says Vantuyne. Long held to be a mystery, those Death Valley rocks are now thought to travel by means of wind propulsion, skidding along a desert floor momentarily slick after rainstorms. What moved this Mars rock? Possibilities include Phoenix's landing thrusters, martian wind, a nudge from Phoenix's robotic arm, and of course the unknown.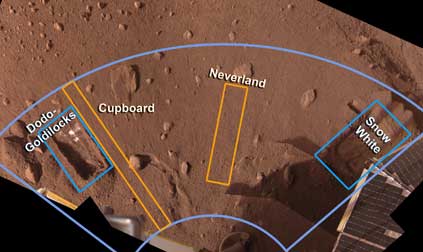 NASA's Phoenix Mars Lander Surface Stereo Imager shows four trenches
dug by robotic arm where definite H2O ice has been discovered. Image courtesy NASA.
August 1, 2008 - Phoenix Lander "Tastes Water" On Mars.
First confirmation of H2O water ice.
Where there is water, there might be life, if even microbial.
"We have water. We've seen evidence for this water ice before
in observations by the Mars Odyssey orbiter and in disappearing chunks
observed by Phoenix last month, but this is the first time Martian water
has been touched and tasted." - William Boynton, Ph.D.,
Univ. of Arizona and TEGA Lead Scientist
NASA: "Laboratory tests aboard NASA's Phoenix Mars Lander have identified water in a soil sample. The lander's robotic arm delivered the sample Wednesday, July 30, 2008, to an instrument that identifies vapors produced by the heating of samples. With enticing results so far and the spacecraft in good shape, NASA also announced operational funding for the mission will extend through September 30. The original prime mission of three months ends in late August. The mission extension adds five weeks to the 90 days of the prime mission."