THE MISSILES
THE DREAM AND THE REALITY
compiled by Dee Finney
5-30-2002 - DREAM PORTION - I must have done something minor because they weren't going to transfer me to the women's prison upstate, I would be staying right here in the city.
As it was, it was plenty scary. Right as we got there, some missiles were armed and stood at the ready to shoot at a moments notice. These missiles were painted red, white, and blue, and were about 6 feet long, thin and very pointy. I think there were 9 of them.
When the missiles came up on their stands, ready to shoot, I dropped to the floor so I'd be under any shooting that went on and so did some of the other women who were there. But nobody shot anything right then, and the female guard grabbed me by the hand and walked me up some steep concrete steps to the 2nd floor where my jail cell was.
The rest of the dream is on this page: IMPRISONED AND FREEDOM
.
.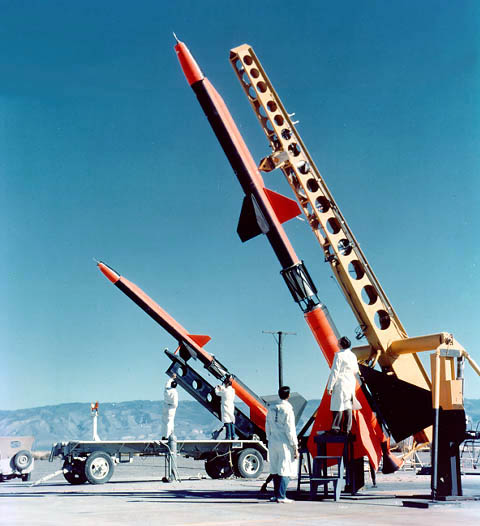 .
.
MISSILE TO BE TESTED ON FRIDAY, JUNE 7TH, 2002
.
. Successful unarmed missile launch from Vandenberg AFB
Published 3:45 a.m. PDT Monday, April 8, 2002
VANDENBERG AIR FORCE BASE, Calif. (AP) - An unarmed Minuteman III intercontinental ballistic missile was successfully launched Monday from Vandenberg AFB toward the Kwajalein Missile Range, the Air Force said. The missile, part of the Force Development Evaluation Program, lifted off at 2:29 a.m. and the re-entry vehicle traveled 4,800 miles in about 30 minutes hitting pre-determined targets in the western chain of the Marshall Islands in the Pacific Ocean, the Air Force said in a news release.
The mission was directed by the 576th Flight Test Squadron at Vandenberg. Maintenance was conducted by the 576th and the 90th Space Wing from F.E. Warren AFB, Wyo. An airborne launch control team from Offutt AFB, Neb. also participated, said Capt. Thomas Knowles.
The Force Development Evaluation Program's mission is to test missile launching systems and make missiles more accurate and reliable. The last FDEP Minuteman launch from Vandenberg was on Feb. 10, 1999.
---
Minuteman launch set for early Friday
http://www.lompocrecord.com/display/inn_news/news08.txt
By Janene Scully -- Staff Writer

6/5/02 For the second time this week, crews will test an unarmed intercontinental ballistic missile from Vandenberg Air Force Base.
The Minuteman 3 is scheduled to blast out of an underground silo on north base at 1:01 a.m. Friday, but the window remains open for six hours to accommodate possible delays caused by either weather or technical problems.
Weather officers predict no concerns for the launch. However, a return of the marine layer will blanket the base in low clouds and reduce visibility, according to the military's forecast.
Upon launch, the Air Force will track the weapon's three dummy warheads as they travel approximately 4,800 miles to the Kwajalein Missile Range in the central Pacific Ocean.
This test comes on the heels of a Peacekeeper ICBM launch early Monday from Vandenberg. The Force Development Evaluation Program, with flights of both Minuteman and Peacekeeper missiles, collects information on the reliability and accuracy of the weapon systems.
Minuteman 3 missiles cost $7 million when initially purchased, but have since received several upgrades toextend the life of the weapon, which went on alert in 1970. Today, some 500 nuclear-tipped Minuteman 3 missiles sit on alert in Montana, North Dakota and Wyoming.
Staff writer Janene Scully can be reached by e-mail at janscully@pulitzer.net
June 7 08:01 to 15:01Z?
Minuteman 3
SUBORBITAL - DELAYED FROM JUNE 5
Site: Vandenberg (U.S.) Vehicle: (GT-179GM)
Launch provider: U.S. Air Force
Payload: [Dummy Warheads]
Mission: Missile Test Flgiht
Operator: U.S. Air Force (U.S.)
Prime: Sandia National Laboratory
BACK TO: DREAMS OF THE GREAT EARTHCHANGES - MAIN INDEX