BEIJING (Reuters) - Torrential rain has killed at least 71 people in floods, house collapses and rockslides across southern China with more heavy rain predicted for much of this week, state media said on Monday.
About 643,000 people were evacuated and some 56,000 houses destroyed and 104,000 damaged, the official Xinhua news agency said, citing an unnamed official at the Ministry of Civil Affairs.
"We've got experience of floods, but I've never known a flood like this," Zhong Shizhan, a resident of Mei county in Guangdong province, was quoted as saying by the Southern Metropolis Daily.
The National Meteorological Centre forecast heavy rain south of the Yangtze, China's longest river, and continued downpours in the south of the country until Thursday.
One official said the rain had stopped in the northeastern Guangdong city of Meizhou where a local government Web site showed pictures of people standing waist deep in brown flood waters and others filling sandbags to keep the waters at bay.
Nearly 9 million people had been affected. Thirteen people were missing and 3.43 billion yuan ($446.8 million) of damage caused.
A total of 350,000 ha, or 1,350 sq miles, of crops had been damaged and 57,600 ha had been destroyed.
From Wednesday to Saturday, continuous rain, mudslides and floods hit the provinces of Hunan, Guangdong, Guangxi, Guizhou, Jiangxi and Fujian.
China's typhoon season is just getting under way in the south. Experts last month warned that the Yangtze could flood badly this year for the first time since 1998 when flooding killed more than 3,000 people.
Other parts of the country were reeling from intense heat, with the northeastern province of Jilin seeing temperatures soar above 40 degrees Celsius (104 Fahrenheit), Xinhua added.
Jilin's Tonyu county recorded temperatures of 41.6 degrees, the highest in local history, the report said.
---
June 12 2007
By Anis Ahmed

Dhaka - Floods and mudslides have killed nearly 100 people in Bangladesh, mostly in the port city of Chittagong where dozens of hillside homes were buried after monsoon rains, officials and rescuers said on Monday.

At least 84 people died in the city, including entire families, where hillside homes were swept away and many other houses collapsed in the worst such disaster in decades.

Much of the city of nearly five million people, Bangladesh's commercial capital, was flooded by waist to chest-high water, closing down businesses, offices and transport, city officials and witnesses said.
&nbsp
Rescuers including troops, firefighters, police and volunteers searched for people reported missing, but their efforts were hampered by flooded roads and no electricity after nightfall.

"It looks like we are living in a ghost city," one rescuer said. "Never before in my life I confronted such a calamity," said another.
The dead included five members of one family.

City officials said they were trying to supply dry or cooked food to stranded families, especially children.

President Iajuddin Ahmed and the head of the country's army-backed interim government, Fakruddin Ahmed, expressed deep shock at the loss of life and asked the district administration to do everything possible to ease victims' suffering.

"We are facing a hell of a situation here," one rescuer said by telephone. "It's still heavily raining and visibility has sharply declined. Roads are all under water," one rescuer said.

Weather officials said nearly 275mm of rain fell in Chittagong and neighbouring districts on Monday.

"The disaster caught us unawares, it struck suddenly," said Mokhlesur Rahman, Chittagong Divisional Commissioner.

Thunderstorms killed 15 people elsewhere in the country, including five in western Jhenaidah district alone, local officials told reporters.

Weather officials said heavy rains at the onset of the annual monsoon season have paralysed much of Bangladesh since Sunday, and raised fears of flash floods in low-lying areas.

The weather office said the monsoon, which officially began on Friday and will last until mid-September, was unusually active under the influence of a sea storm in the Bay of Bengal.

"Moderate to very heavy rain... is likely to batter the country for five more days," a weather department bulletin said. "The rain might trigger flash floods in the northern and eastern regions of the country."

Large areas along the Bangladesh coast have been submerged under 0.9-1.2m of water due to a moderate tidal surge triggered by the storm, officials said.

Some railway tracks between Chittagong and the capital Dhaka were also under water, although trains were still running with caution. Flights between Dhaka and Chittagong were suspended, aviation officials said.

Work at the country's main Chittagong port was partially disrupted, port officials said.

Additional reporting by Nizam Ahmed and Nazimuddin Shyamol in Chittagong.
---
4-Year Old Missing in Texas Flood
Publicado - Published: 20/06/2007
TEXAS.- A four-year-old girl is missing after flash-foods surged through a pair of mobile home parks in suburban Fort Worth, Texas today. Families were forced to their rooftops as the rising waters flooded about 100 mobile homes and washed many from their foundations
Deputy Fire Chief Fred Napp says at least one mobile home burned. He says there have also been reports of gas leaks. Napp says the predawn flood left confusion as neighbors took in children from other families fleeing the flood, making it hard to account for everyone.

Emergency officials say they'll thoroughly search the area for and make sure the mobile home park residents are accounted for.
---
Firefighters from across the state as well as the Texas National Guard are scouring areas of Texas inch by inch because the mud is so deep. They are searching for families torn apart by the deadly flood.
The water swept a grandmother and her 5-year-old granddaughter to their deaths in the Fort Worth suburb of Haltom City. The girl's 2-year-old sister remains missing after the family's mobile home was carried off.
"We are still searching for the 2-year-old," said Texas Department of Public Safety Trooper Rebecca Uresti.
The flood killed at least 5 people. Among them -- 4-year-old Alexandria Collins.
"This was the sweetest little angel, and now she's not with us any more,' said Collins' neighbor Dannelle Simms. "They didn't have a whole lot to begin with, and now they have absolutely nothing."
Despite the heartbreaking losses, rescue workers are proud of the fact that they were able to rescue more than a dozen people from rooftops as the water kept rising.
People and animals were rescued using boats and bulldozersand 120 elderly residents in a nursing home had to be evacuated. Some are just overwhelmed with joy that with the help of friends they survived.
"I am so glad my neighbor woke up -- so glad," said flood survivor Lorenza Herandez.
Flooding after heavy rain devastated parts of Sherman, Haltom City and Gainesville.
More than 300 people had to be rescued Monday in Grayson County.
---
More Rain Coming To Flooded Texas Towns
6-19-07
Driving rain brought a surge to rivers in northern Texas, causing flash flooding, and at least five deaths. And the weather pattern that brought the rain could persist for weeks.
As much as 10 inches of rain fell Monday in some areas, filling reservoirs and lakes to their brim and swelling streams and rivers over their banks.
The flooding is in stark contrast to wide swaths of the country held in the firm grip of a drought that has led to wildfires, crop damage and a variety of headaches for average citizens.
To see photos of Texas flooding submitted by The Daily Green community, or to upload your own photo, check out our Weird Weather Watch photoblog. Click here.
Sherman, TX Suffers Worst Flooding In 25 Years
(CBS 11 NEWS / AP) SHERMAN Sherman suffered its worst flooding in more than 25 years.

At least one person is dead after storms caused flooding in much of Grayson and Cooke Counties.

Patricia Beshears, 48, of Denison, was killed when her sport utility vehicle flooded with water while driving to work, Sherman Police Sgt. Bruce Dawsey said. No other injuries were immediately reported.

Sherman firefighters were among the rescue workers on the scene of a number of high water rescues.

Dump trucks also helped evacuate about 125 residents from a nursing home when authorities had no other vehicles that could plow through the flooded streets.

Near downtown, residents in a flooded row of apartment complexes were told to flee to the second story while they waited the arrival of overwhelmed rescue workers.

Two men were rescued from a tree after they were washed away from their stranded vehicle.

In Grayson County, a 74-year-old man died after driving into high water.

"Literally, we've had some miracles today," Grayson County Judge Drue Bynum said. "We've been very fortunate in spite of what's happened."

Initial reports indicate Grayson County received up to 5.5 inches of rainfall.

Numerous power outages were also reported.
---
Heavy rains drench areas of Central Texas - Would you believe 19 inches?
LISA SANDBERG
Copyright 2007 Austin Bureau AUSTIN — Rescue teams in helicopters and land vehicles were searching today for stranded Hill Country residents after some areas of Central Texas were drenched with as much as 19 inches of rain overnight.
In Marble Falls, a city 40 miles northwest of Austin that recorded 18 inches rain in six hours, "The helicopters were busy all night and are still in the air," said Lt. Dwight Harding, of the Burnet County Sheriff''s Department.
"In a lot of areas where the deputies could not get to, they're now checking," he added.
Three shelters were opened in Marble Falls alone.
No injuries or fatalities were reported in connection with the severe rains that washed away roads and left scores of people clinging to trees or stranded in vehicles or on rooftops.
Forty-five emergency rescues were reported in northwest Williamson County between midnight and 4 a.m., and 20 people were evacuated from an RV park there, said Sheriff's Department Detective John Foster.
The South San Gabriel River, normally full at nine feet, crested this morning at 32 feet, Foster said.
More rain was forecast for this evening.

Storm runoff is making its way to Central Texas lakes, causing major flooding in some areas, according to the Lower Colorado River Authority. Floodgates have been opened at several dams, raising the Colorado River's water level in Austin, Bastrop, Smithville, La Grange and Wharton. But officials did not expect the river to exceed flood stage.
The rains drenched North Texas as well, creating flooding along some creeks and rivers and forcing the evacuation of at least 50 homes in a subdivision near Lake Granbury about 60 miles southwest of Dallas. About 30 of those homes are destroyed, said Hood County Sheriff Gene Mayo.
About 25 people were rescued from the water, trees and rooftops in that subdivision about 10 miles south of Granbury, Mayo said. Authorities used boats and jet skis and waded through chest-high water with ropes to rescue stranded residents, he said.
"You name it and we had it last night," Mayo said today.
One deputy who slipped under water during a rescue was treated and released from a hospital, Mayo said. Nearly a dozen residents were taken to the hospital as a precaution, and they also were released, Mayo said. No fatalities were reported.
A number of flood warnings were issued throughout the state as rivers stretching from south of Austin to north of Dallas-Fort Worth were swollen by the rains.
The storms that have battered Texas for the past week and a half have killed at least 11 people, including a 13-year-old boy who died Tuesday night in the Dallas suburb of Garland after being washed down a flooded creek.
It's been an extremely wet spring and early summer for much of Texas, from the Oklahoma border to south of San Antonio, National Weather Service meteorologist Mark Lenz said.
It's the wettest year on record in Austin, where more than 30 inches of rain has fallen since January, and Dallas-Fort Worth, Waco and Wichita Falls have also received near record amounts of rainfall. The rainfall has more than compensated for a drought that much of Texas had been experiencing since 2005, Lenz said.
There's a fairly good chance of showers and thunderstorms into the weekend in Central Texas, Lenz said, though the rainfall shouldn't be as heavy as it has been. Still, even a small amount of rain could cause more flash flooding because the soil is saturated.
The Associated Press contributed to this report.
lsandberg@express-news.net
---
Hundreds evacuate as Plains rivers bulge
By ROXANA HEGEMAN, Associated Press Writer Mon Jul 2, 4:48 PM ET
COFFEYVILLE, Kan. - An oil spill added to the misery caused by widespread flooding Monday as thousands of evacuees in Kansas, Oklahoma and Texas waited for water to recede from their homes.
Kansas got a break from the weather Monday, but more rain was scattered over Texas and eastern Oklahoma, the latest in nearly two weeks of storms. It was the 20th straight day that rain had fallen in

Oklahoma City

.

"It's such a dynamic situation," said Parker County, Texas, spokesman Joel Kertok. "We get a break, and then it starts raining again."

A pumping malfunction during the weekend allowed 42,000 gallons of crude oil to escape from the Coffeyville Resources refinery into the swollen Verdigris River in south-central Kansas, producing a floating slick that could be seen and smelled from the air.

The federal Environmental Protection Agency had teams on the scene, said Jim Miller, Montgomery County emergency manager. About a third of the homes in Coffeyville and a quarter of homes in Independence had been evacuated, he said, and water intakes for Coffeyville, Independence and Elk City had been shut down.

"Until the river starts receding, all we can do is monitor the situation," Miller said.

"We're very concerned," said Coffeyville Mayor Virgin Horn, whose own home was submerged. "It's chemicals mixed with water."

The oil was floating downriver toward Oklahoma and that state's Lake Oologah, said Maj. Gen. Tod Bunting, the Kansas state adjutant. The lake, about 30 miles northeast of Tulsa, provides flood control, drinking water and recreation.

Oklahoma officials were optimistic the spill would

dissipate before it reached Oologah Lake.

"There are nine public water supplies along the Verdigris and the Oologah Lake, and none of them are currently affected," said Skylar McElhaney, a spokeswoman for Oklahoma's Department of Environmental Quality. Tulsa is among the cities that get water from Oologah.

The Verdigris River was more than 17 feet above flood stage at Independence at midday Monday and probably about 11 feet above flood stage at Coffeyville, said Janet Spurgeon, a National Weather Service hydrologist in Wichita. Forecasters don't expect the river to fall below flood stage until early next week, she said.

Elsewhere in Kansas, residents of Osawatomie were waiting for Pottawatomie Creek and the Marais des Cygnes River to recede. Forty percent of its 4,600 residents evacuated the city Sunday.

Emergency officials in northeast Oklahoma estimated 2,500 to 3,000 people were forced from their homes during the weekend around Bartlesville and Dewey because of flooding from the Caney River, said Kary Cox, Washington's County's emergency management director. The evacuees in Dewey included 58 nursing home residents, said Fire Chief Tom Smith.

The Caney was more than 8 feet above its 13-foot flood stage Monday, the weather service reported.

The

Neosho River

in northeast Oklahoma was at 22 feet on Monday morning, 7 feet above flood stage, and was expected to crest Tuesday at 28 feet, forcing people out of

Miami

and Commerce. "At 28 feet, there is very widespread flooding," said Bart Haake, a weather service meteorologist.

Hundreds of people in northern Texas were still unable to return to their homes near the Wichita and Brazos rivers because of flooding, power failures or fears of contaminated water.

In southwestern Missouri, flooding on the Marais des Cygnes has destroyed at least six homes near the community of Virginia.

Eleven deaths have been blamed on the storms and flooding in Texas, where two men are missing.

___

Associated Press writers David Twiddy in Kansas City, Mo., John Hanna in Coffeyville, Kan., Angela K. Brown in Fort Worth and Anabelle Garay in Dallas contributed to this report.
---
China rains claim 88 lives over a week
Web posted at: 7/8/2007 3:10:41
Source ::: REUTERS
BEIJING • Floods, landslides and other disasters triggered by torrential rain ravaged six Chinese provinces, killing 88 people and leaving 23 missing in the past week, the government said yesterday.
The disaster has affected 14.2m residents, completely destroyed 91,800 hectares (226,800 acres) of crops, while about 350,000 people have been evacuated and 32,300 houses damaged or destroyed, the Ministry of Civil Affairs said.
The worst-hit area was the southwestern province of Sichuan where 28 people were killed and 12 are missing because of rainstorms since Monday, the ministry said on its Web site (www.mca.gov.cn).
"Damage to crops, roads and telecommunication facilities has been serious," the statement said.
State television showed pictures of badly flooded streets in several cities in Sichuan.
At least 30 people were killed by heavy rains in the central province of Hubei since June 27, the ministry said.
Fall into volcano
kills woman
KINSHASA • A Chinese tourist who fell into the crater of a volcano in eastern Democratic Republic of Congo has died, a scientist at a local research centre said yesterday.
Cecilia Cheng Siuyan climbed over the crater rim of the Nyiragongo volcano near Congo's border with Rwanda on Friday to take a photo but slipped and fell more than 100 metres (300 feet) before coming to rest on a ledge above the lake of lava. "She is dead, but they haven't yet been able to remove the body," Celestin Kasereka, director of the volcanological observatory in the nearby city of Goma, told Reuters.
Siuyan initially showed signs of life and continued to move after the fall. But rescue efforts on Friday were called off due to poor visibility.
---

*Perilous Times and Global Warming

Severe Storm kills 15, brings 40,000 lightning strikes*

July 18, 2007 12:43pm
Article from: Reuters


A 16-HOUR storm unleashed more than 40,000 lightning strikes in China, killing 15 people, injuring more than 100 and bringing air, road and rail traffic to a halt, state media has said.

The storm, in the southwestern city of Chongqing, left five people missing and caused some 10,000 homes to collapse, the Beijing Times said.

It also left the landlocked and mountainous city almost cut off from the outside world as roads flooded, the airport closed, electricity was shut off and gas stations stopped working, the report added.

Railway lines were also blocked.

The storm killed 10 people in Chongqing and five people in neighbouring Sichuan province, the Beijing Youth Daily reported.

"The storm was too strong. It overwhelmed most of the city's drainage abilities," it quoted a city official as saying.

Large swathes of China have been hit by severe floods this summer which have killed more than 400 people.

---
More than 770 people have died as a result of this year's monsoon season
across India, Pakistan, Bangladesh and Afghanistan
Landslides kill 22 in India
10.39, Wed Jul 18 2007
At least 22 people were killed and around 4,500 left homeless after heavy monsoon rains triggered landslides in southern India.
In total, at least 143 people have been killed and more than 27,000 people have been forced to live in hundreds of relief camps since the monsoon broke over Kerala state in June.
Some of the worst-hit areas have been submerged beneath more than four times the usual amount of rain for this time of year that have damaged crops and infrastructure.
More rain is expected over the next three days
Up to a million hit by Indian floods
11.32, Tue Jul 10 2007
Hundreds of thousands of people remain stranded with little food and water for a seventh day in eastern India as heavy rains continue to pour.
At least 187 people have died and seven million have been affected by flooding caused by the annual June-September monsoon rains across eastern, western and southern parts of the country.
The rains, which have caused rivers and dams to overflow, swamping towns and villages, have killed around 770 people across India, Pakistan, Bangladesh and Afghanistan.
In India, hundreds of flooded villages in the eastern state of West Bengal remain cut off. Some residents have been left stranded in trees and on rooftops with only coconuts to eat.
"It was distressing to see so many people perched on rooftops and crying for help," said defence official Ramesh Kumar Das, who is helping the Indian Air Force distribute food to marooned villagers from helicopters.
Officials said 12 bodies, including a woman holding a child, had been found stuck in the mud on the banks of a river in the state's West Midnapore district.
Authorities in the neighbouring state of Orissa have handed out dry food packets to thousands of people marooned in remote districts. In the Balasore district, families used boats to escape submerged villages.
In the western state of Gujarat, 11 people drowned in floods and two others were killed when a house collapsed as rains poured down for the second day after a brief lull.
Several dams in the state were overflowing and 20,000 people were being moved to higher ground as a precautionary measure, officials said.
"We have to release water because the dams are overflowing and an alert has been sounded in this regard," a senior government rescue official said.
Weather officials in Gujarat said heavy rains would continue for at least the next 48 hours.
FACTBOX: The five Asian countries worst hit by monsoon floods
(Reuters) - Heavy rain and storms have triggered floods and landslides across large parts of Asia, killing hundreds of people.
Here is an overview of the five Asian countries worst affected by this year's monsoon weather.
INDIA, about 750 dead:
-- Heavy rains and landslides have displaced more than eight million people since the start of this year's monsoon season, authorities in the affected states say.
-- Northwestern Maharashtra state has been worst hit, with 362 recorded deaths. In southern Kerala state, 143 have been killed by floods and more than 27,000 displaced since the monsoon began in June.
CHINA, at least 400 dead:
-- Floods, landslides and lightning killed more than 150 people last week across vast tracts of China. More than 3 million have been displaced by this year's rain season.
-- In recent weeks, parts of China have suffered the heaviest rainfall since records began. Last year was the country's second deadliest for floods and typhoons, with 2,704 people killed, according to the China Meteorological Association. The worst year on record was 1998, when 4,150 died in summer floods.
PAKISTAN, nearly 350 dead:
-- South-western Pakistan suffered severe early rainy-season storms and flooding while flash floods killed people in northern Pakistan. A powerful storm killed about 230 people in the biggest city, Karachi, on June 23. Three days later, a cyclone and subsequent floods killed 119 people in the state of Baluchistan, leaving 250,000 people homeless and 204 people missing.
BANGLADESH, nearly 150 dead:
-- Nearly 130 people died in the port city of Chittagong and five million people across the country were either marooned or threatened by flooding in early June. In July, another 15 died and half a million were stranded in their homes by three days of relentless monsoon rains.
-- Bangladesh's monsoon season runs until mid-September. Two-thirds of the low-lying country is regularly inundated during the monsoon, as rain-swollen rivers and streams flow into Bangladesh from the hills of bordering east India.
AFGHANISTAN, about 100 dead:
-- Floods and landslides have killed scores of people, destroyed roads and damaged thousands of homes. Very heavy snow melt has caused flooding in the mountainous north, as swollen rivers burst their banks after winter.
Sources: Reuters
---
Sun finally out after heavy rain floods Texas
SAN ANTONIO, Texas (AP) -- The sun was finally out over south and central Texas on Sunday after days of torrential rain left an Amtrak train stranded, flooded roads and sent Boy Scouts on a camping trip fleeing for their lives
As much as 17 inches of rain fell in some areas between 10 p.m. Friday and 10 a.m. Saturday, said Pat McDonald, a National Weather Service forecaster. Dozens of people were rescued, some by helicopter, but no serious injuries were reported in the state's latest round of flooding.
Only isolated showers were forecast through Tuesday, but several central Texas rivers were either at flood stage or expected to reach that level Sunday night or Monday, McDonald said. The high water posed little threat to homes but was a problem for some recreational areas and ranches, he said.
A Boy Scout troop from suburban Fort Worth camping on the Guadalupe River had to make a quick getaway early Saturday when the water rose rapidly. No one was injured, but the troop lost five vehicles, including a 15-passenger van, to the waters north of San Antonio, Texas, the Fort Worth Star-Telegram reported.
Watch rescued mom who had to put her kids on roof »
"I've never seen water rise like that," Juan Ramirez, one of 15 Scouts on the outing, told the newspaper. "We barely got out of our tent."
An Amtrak train was halted Saturday morning in Knippa, Texas, a town about 75 miles west of San Antonio, after water covered the tracks, stranding 176 passengers.
Buses drove most passengers Saturday evening to El Paso, Texas, where they boarded another train and were under way by 10 p.m., Amtrak spokeswoman Vernae Graham said Sunday. A few passengers caught trains at other stops between San Antonio and El Paso, Graham said.
Don't Miss
Laura Delarosa, 30, of Dripping Springs, Texas, was arrested Saturday after rescue workers got her and the children -- a 9-year-old girl and a 7-year-old boy -- to safety.

Authorities say Delarosa drove a minivan around road barricades south of Austin, Texas, and became stuck in floodwaters with the two children. She was charged with child endangerment.

The National Weather Service confirmed a small tornado east of San Antonio near Seguin, Texas, on Saturday about 5:25 a.m. Four businesses and at least one house were damaged, Guadalupe County Sheriff's Cpl. John Batey said Saturday.

Meanwhile, mudslides in Colorado forced at least 125 people to evacuate their homes near Alpine, about 100 miles southwest of Denver, and roads into the area were closed.

At least 31 homes were damaged on two roads, said Page Croix, a dispatcher for the Chaffee County sheriff. "It was a deluge," she told The Denver Post. "Mostly cars are totally buried."

No injuries were reported, and a shelter was opened for displaced residents. The mudslides Saturday night were caused by several days of rain in the rugged, steep area. E-mail to a friend

Copyright 2007 The Associated Press. All rights reserved.This material may not be published, broadcast, rewritten, or redistributed.

---

More Than Foot of Rain Floods Texas
By APRIL CASTRO 06.27.07, 7:24 PM ET

Lashing storms dumped up to 18 inches of rain on parts of central Texas, flooding several towns and stranding dozens of people on rooftops, cars and in trees Wednesday.

No fatalities were immediately reported in the latest in a series of storms blamed for at least 11 deaths in the past week and a half. The downpour and winds were so treacherous early Wednesday that helicopters were forced to abruptly halt efforts to rescue people from rooftops.

The rain was heaviest in the Marble Falls area, about 40 miles northwest of Austin in the Texas Hill Country, where Mayor Raymond Whitman said there were 32 high-water rescues.

Much of the water had receded by Wednesday afternoon, but as much as 10 inches of rain was forecast to fall in the region overnight.

Residents in two subdivisions near Buchanan Dam, northwest of Marble Falls, were asked to evacuate their homes. About seven families were being evacuated by helicopter because the roads were not passable.

"The ground is fully saturated ... it could be severe," Whitman said. "If people do not pay attention and move to high ground, it is very possible that there will be fatalities."

Parts of Oklahoma also were soaked Wednesday, with rain falling on Oklahoma City for the 15th consecutive day, breaking a 70-year-old record. Flooding closed some roads in central and northeastern Oklahoma.

"Anytime it rains there's going to be the threat of heavy downpours, it's not out of the question for any one area to get three inches," weather service meteorologist Ty Judd said Wednesday in Norman, Okla.

In Texas, Whitman said three bridges were washed out in the Marble Falls area and the city water plant was damaged, leaving about two-thirds of the city without water. A temporary pump was being installed and city officials hoped water would be restored by Wednesday night.

"This is the worst I've ever seen it in my lifetime," said Whitman, 47, who has lived in the town his entire life.

Whitman Branch creek, typically just 2 to 3 feet wide in Marble Falls, stretched at least 100 feet across Wednesday. At least four Frito Lay trucks had washed away, spilling chips along the creek. One large truck emblazoned with the Doritos logo was stuck on its side in the still-running water.

Paul Irvin found his sheet metal shop near the creek under 6 feet of water.

"It was a sick feeling to see everything you've worked so hard for washing down," Irvin said.

The weather was so stormy during the early morning that helicopter crews had to abandon several rescue attempts, Austin-Travis County Emergency Medical Services spokesman Warren Hassinger. He said four rescue attempts were halted before dawn and he didn't know what happened to the people needing help.

One aborted rescue mission had attempted to get four people from the roof of a house in Granite Shoals, where water was about 4 feet from the top of the building. They had pulled a possible drowning victim from the water, Hassinger said.

One successful helicopter-assisted rescue plucked a Williamson County sheriff's deputy and another person from atop the lawman's car along the San Gabriel River near Georgetown, Hassinger said.

Whitman said some looting had been reported in flood-damaged areas, but he declined to elaborate. He said extra police officers would be on duty throughout the night and a curfew could be instituted if necessary.

The Texas National Guard sent about 150 troops and 50 vehicles to help in central Texas and other areas from the Oklahoma state line to the Rio Grande Valley. The storm runoff also caused flooding downstream and flood gates were opened at several dams, the Lower Colorado River Authority said.

In Parker County, west of Fort Worth, a county judge ordered mandatory evacuation of residential areas along the Brazos River after the U.S. Army Corps of Engineers opened the gates at the Possum Kingdom dam.

Rains also drenched North Texas, flooding some streams and rivers and forcing the evacuation of at least 50 homes in a subdivision near Lake Granbury, about 60 miles southwest of Dallas. There, about 30 homes were destroyed, said Hood County Sheriff Gene Mayo. About 25 people were rescued from the water, trees and rooftops, he said.

Ray Thomas and his wife fled their house on a peninsula between the North and South San Gabriel rivers at about 4:45 a.m., after hearing an emergency weather radio bulletin.

"We're lucky we got out," he said. "In September we were praying for rain. What worries me now is the rain that's still to come."

Copyright 2007 Associated Press. All rights reserved.



12-6-07
CHEHALIS, WASHINGTON, USA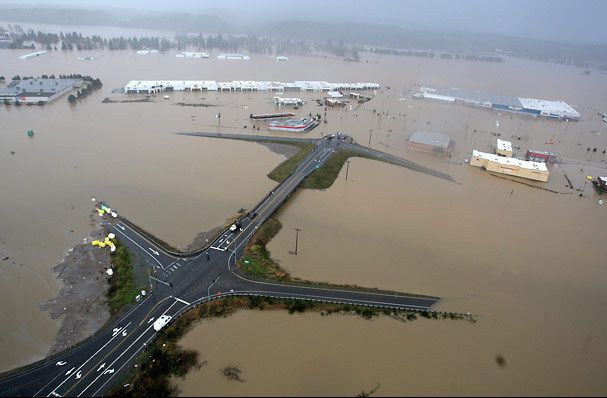 Chehalis River swallows up homes, residents airlifted out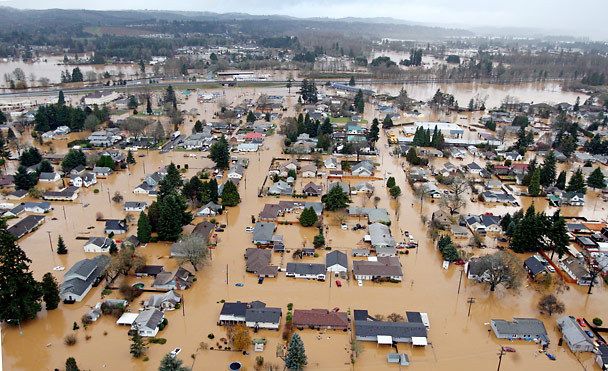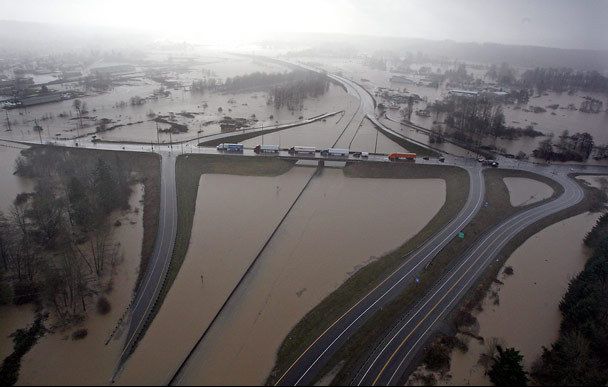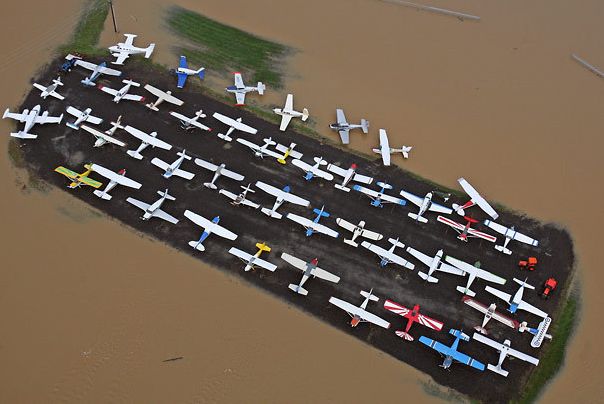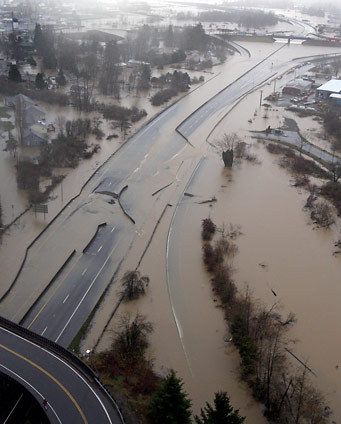 The barrier on Interstate 5 between the northbound and southbound lanes is swept away in places as the highway passes through Chehalis.



Here's What's Hot Today

Wicked Weather Resource Guide
RAW VIDEO: Family Rescued From Gainesville Rooftop
Death Toll Rising From North Texas Floods
RAW VIDEO: Front-End Loader Rescues 5 From Flood
SLIDESHOW: June 18 Flooding In North Texas
VIDEO: Heavy Rain Floods Haltom City Mobile Homes
SLIDESHOW: Stormy Skies
RAW VIDEO: Haltom City Crews Rescue Men From High Water
Flooding Kills 4-Year-Old Haltom City Girl
SLIDESHOW: 46 Weird Photos
RAW VIDEO: Half Of Gainesville Under Water
VIDEO: Trophy Club Roadway Damaged By Raging Waters
Get Severe Weather Alerts
(© 2007 CBS Broadcasting Inc. All Rights Reserved
---