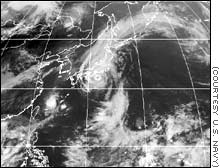 Fatal mudslide as typhoon nears Japan
September 10, 2001
TOKYO, Japan -- At least two people were killed in a mudslide as powerful typhoon Danas bore down on Japan Monday.
Whipping up violent waves and battering a wide swathe of the main island Honshu, Danas delivered torrential rains in the second such storm in less than a month.
About 9,600 rail passengers were stranded in central Japan after strong winds and lashing rains kept two dozen of the country's super-fast bullet trains from leaving stations, rail officials said.
Police in Gunma prefecture, north of Tokyo, said two highway maintenance workers died in hospital after being buried in a mudslide.
Public broadcaster NHK said several people had been reported missing, while Fire Agency officials put the number of missing at four, said Associated Press news agency.
Danas appeared likely to head north along the main island of Honshu and could directly strike land late on Monday, passing closest to Tokyo early on Tuesday morning.
Additionally, a waterlogged hillside gave way burying 20 parked cars in the town of Ootsuki, about 100 kilometers (62 miles) west of Tokyo, according to local police spokesman Tadashi Atobe. No one was injured.
Some highways throughout the region were also closed due to the stormy weather, public broadcaster NHK also reported.
By early afternoon, the typhoon, Japan's 15th of the season, hovered over the Pacific Ocean about 360 kilometers (220 miles) southwest of Tokyo, according to the Joint Typhoon Warning Center in Hawaii.
Packing maximum winds of 126 kilometers (78 miles) per hour, Dana was heading northwest at 10 kph (6.2 mph), the agency said.
The Dana 'experience'
The name Dana comes from the Tagalog word meaning "to experience." Tagalog is a major language in the Philippines.
It was expected to hit coastal areas of central and eastern Japan late Monday or early Tuesday.
Rainfall could reach 400 milliliters (16 inches) in some areas of the storm's path by Tuesday morning, the Meteorological Agency said.
By midmorning Monday, areas of Tokyo were already being inundated with up to 62 millimeters (2.5 inches) of rain an hour, the agency said.
After hitting land, the storm was forecast to head into northern Japan.
Separately, another storm hovered off Kumejima, one of the islands in the Okinawan chain in Japan's southernmost prefecture (state), Monday morning, the agency said.
Nari was packing winds up to 108 kph (67 mph), the agency said.