Cyclone Gonu blamed for 23 deaths
Kamran Jebreili
A man pushes his bike in the mud in Al Swadi area about 100km north west of Muscat, Oman, Thursday June 7, 2007. Residents of Muscat are recovering from the destruction after Cyclone Gonu battered Oman's coast on its path toward the world's most important crude oil tanker route.
Cyclone Gonu battered Oman's coast Thursday, flooding highways and tearing down trees and power lines but sparing the region's oil industry. At least 23 people were killed in deaths related to the cyclone - a rarity in the Middle East.
But as Gonu headed from Oman to the southeastern Iranian coast, it continued to lose steam, weakening to tropical storm strength, according to the U.S. military's Joint Typhoon Warning Center.
Oil analysts said the weakening storm's effect on the market was minimal.
The center predicted Gonu would make landfall on the southeastern Iranian coast late Thursday. But it was likely to spare Iran's offshore oil installations that are more than 120 miles to the west, the center and oil officials said.
At least 20 deaths were blamed on Gonu in Oman, including members of police rescue squads, and 24 were reported missing, said Royal Police spokesman Abdullah al-Harthi. Rescue teams searched devastated areas in helicopters and boats, he said.
Across the Gulf of Oman, Iranian state television reported that a resident of the port city of Bandar Abbas was killed in a car accident Wednesday due to poor visibility from the storm.
Two provincial government workers bringing emergency supplies to a flooded area also were killed when a river overflowed and their truck flipped in Jask, a town 155 miles southeast of Bandar Abbas, state TV's Web site said.
The storm caused little damage to Oman's relatively small oil fields. But raging seas had prevented tankers from sailing from Omani ports, effectively shutting down the country's oil exports, said Nasser bin Khamis al-Jashimi of the Ministry of Oil and Gas.
"It looks like Oman has taken its precautions and so far, really, I haven't heard of any disruption to the flow of oil," said Muhammad-Ali Zainy, senior energy analyst at London-based Center for Global Energy Studies.
Brent crude fell on confirmation that Oman's main oil port hadn't suffered major damage from Gonu. In London, July Brent crude futures dropped 17 cents to $70.85 a barrel on the ICE Futures exchange.
The port of Fujairah in the United Arab Emirates reopened Thursday after it suspended all refueling and ship-to-ship supply operations at the world's third-largest shipping fuel center.
On Thursday, the storm had sustained winds of 41 mph, less than half its strength of 95 mph just 24 hours earlier, the Joint Typhoon Warning Center said. It was centered about 98 miles north of Muscat and was projected to weaken as it moved through the Gulf of Oman toward Iran.
Even with the weaker winds, Gonu - which means a bag made of palm leaves in the language of the Maldives - is believed to be the strongest cyclone here since record-keeping started in 1945.
In the capital of Muscat, highways and yards were flooded, and downed trees and power lines were scattered in the high waters. Residents washed cars in the flooded streets, while others snapped pictures.
Muscat's mountain backdrop added to the problem. The torrential rain that poured onto the bone-dry peaks flowed into canyons and dry riverbeds that channeled the raging water directly into the city.
"The capital Muscat became a lake," al-Harthi told Oman TV.
In coastal city of Sohar west of Muscat, violent waves continued to crash the shore as several residents returned to their homes Thursday after being evacuated.
"We all went to the school last night, and I came back to look at the house. Twice the water came into my house, and maybe the tide will come in again," said fisherman Salem Hassan al-Mukblai, 40, as he and his two sons tried to tie a downed fruit tree to a fence surrounding their house.
Shareefa bint Khalfan, Omani minister of social development, said more than 20,000 people were evacuated Wednesday and housed in government-provided dwellings stocked with medicine and supplies. Oman's eastern provinces have been cut off, with heavy rains making the roads unusable and communication lines severed.
In Iran, authorities evacuated hundreds of people living in the port city of Chabahr on the coast of the Gulf of Oman, believed to be next in the cyclone's path.
But the heavy storm, which caused trees to fall and windows to smash, eased Thursday morning, subsiding into light rain and wind.
"Thanks to God, people are back in the bazaars and streets of the city," said Abbas Jafari, a 47-year-old taxi driver. "Yesterday was terrible. I had never seen such a storm in my life."
Iran's state broadcasting company said on its Web site that some small villages in Sistan and Baluchistan province, on the Gulf of Oman, were still encircled by floods and authorities used helicopters to drop emergency supplies to them.
The storm affected power and telephone lines elsewhere in the province, but caused no major damage, provincial governor Habibollah Dehmardeh told the official IRNA news agency.
As a precaution, the Bandar Abbas oil refinery, which supplies the local petroleum market, closed jetties that receive oil from tankers, the Web site of Iran's Oil Ministry reported. The refinery was working as usual Thursday, the report said.
Associated Press writers Nasser Karimi in Tehran, Iran, Hassan Sarbakhshian in Bandar Abbas, Iran and Kareem Shaheen in Dubai, United Arab Emirates contributed to this report
---
Gonu Cyclone keeps lashing southern Iranian islands, cities Tehran, June 7, IRNA - Strongest tropical storm to hit Persian Gulf region in decades, Cyclone Gonu, that originated over Sea of Oman, lashed that country, including its capital, hit Iran's islands and southern coast cities as of Wednesday afternoon.
Some storm experts in the region said the severeness of the storm in Chabahar and Konarak port cities had been unprecedented in past 30 years and the level of sea water, too kept on rising as the storm got momentum.
Some people took refuge in their cars when the storm hit, while others rushed to nearest shopping malls and markets.
The Islamic Republic of Iran Air Lines, HOMA, cancelled its entire flights from Konarak Port International Air Port for 48 hours due to unfavorable weather conditions, including one scheduled for Mashhad, one for Tehran, and one for Bandar Abbas.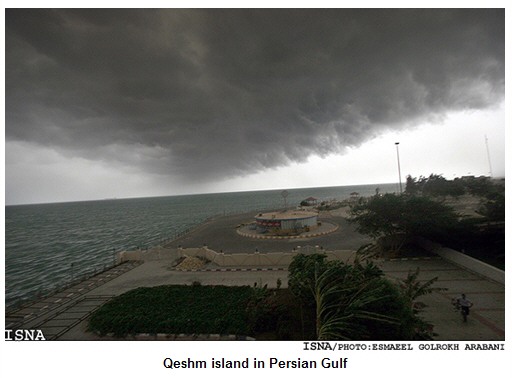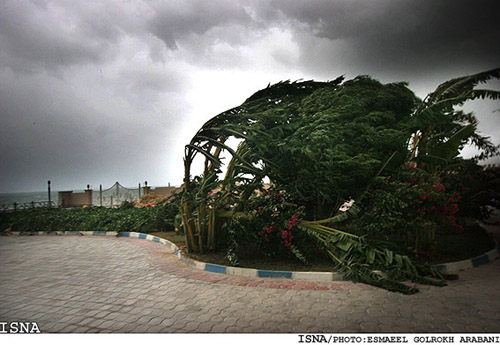 Trees blowing on Qeshm Island
In country's capital city, Tehran, the Health Ministry announced that the entire hospitals, health and medical centers in Sistan-o-Baluchestan and Hormuzgan provinces were on red alerts and ready to offer services to the cyclone victims.
Sufficient bottled drinking water, and medicine was rushed to the storm hit regions upon issuance of red alert warning by country's Natural Disasters Headquarters and necessary measures were adopted for erecting a number of field hospitals.
The electricity networks of Chabahar and Konarak port cities that were destroyed during the cyclone were reconstructed urgently by country's electricity technicians at Energy Ministry affiliated Tavanir Company hours later and the technicians are still working to restore the remainder of electrical reconstruction work.
Cyclone Gonu lashed Bandar Abbas port city and various parts of Hormozgan Province at around 17;45 pm Wednesday night with strong winds measured at 200 kilometers per hour, braking strong trees, cutting off electricity, and causing fires in some city locations.
Residents of Iran's Qeshm and Lark islands were evacuated and asked not to return to their cities at least till Thursday afternoon and in Jask torrential rains led to floods that filled at least forty residential homes.
In Kish Island, security measures were adopted and the islanders were warned to be alert, although the cyclone's route was not towards the island.
At around 20 pm Wednesday night Head of Hormuzgan Province Natural Disasters Headquarters warned Bandar Abbas port city residents that the second wave of the cyclone might hit their city at around midnight.
Yasser Hazbavi, all the same asked the city's bakeries to keep baking till midnight, providing bread for the storm hit victims.
Highway Patrol of the Islamic Republic of Iran, too, announced at 10:36 a.m. that Chabahar-Zarabad-Jask road in Sistan-o-Baluchestan has been blocked, announced phone number 882 55 555 (ten lines) for travellers seeking alternative routs round the clock.
Head of Kish Island Meteorology Organization, too, announced late Wednesday night that Gonu that originated over the Sea of Oman is not a Tsunami.
Mahmoud Bahrami added in an interview with IRNA, "Tsunamis take shape due to earthquakes at sea bottom, while this cyclone was formed due to sudden heat increase and over-evaporation of Indian Ocean water."
He said that the height of waves due to Gonu were as high as 12 meters at Oman shores.
Bahrami said that the speed of cyclone Gonu is decreasing and predicted that it would keep roaming and lashing southern Iranian coasts for the next couple of days.
He concluded arguing, "This storm keeps changing directions and no one knows where it would lash next."
... Payvand News - 6/7/07 ...
---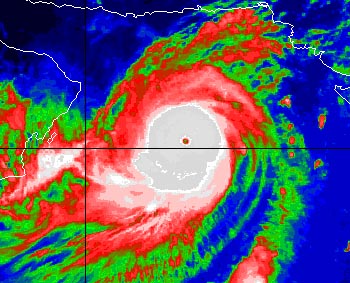 UPDATE 12:30AM EDT WEDNESDAY
The cyclone did indeed weaken yesterday. The latest update from the Joint Typhoon Warning Center has the intensity at the equivalent of a Category 1 hurricane. (There have also been news reports that the price of oil, after having risen a bit at word of the threat, had then fallen. I understand tropical cyclones better than oil prices, so back to the meteorology ...)
Even with the weakening, Gonu is still stronger than most tropical cyclones which affect Oman and there's none in the recent historical record to have persevered like this along this path along its northeast coast and in the Gulf of Oman. Powerful winds have been affecting the northeast tip of the country, and large waves are being produced from the Arabian Sea into the Gulf of Oman due to the cyclone's previous extreme intensity and still large-in-size circulation. Even before the center came anywhere near Muscat, people there got a sight they don't often see.
In regard to rainfall ... At the airport in Seeb, which is west of the city of Muscat, and the location of the one observation available from the midst of the cyclone, it's been raining hard the past few hours even though that's not in the area of deepest "convection," and this is a concern because historically Oman has been prone to flash flooding.
It doesn't take much accumulation of rainfall to be extreme relative to average there. As best as I can tell from limited climatological data I can find, the average annual rainfall in Muscat is only around 3 or 3 1/2 inches ... which is just a little more than the 2 1/3" in Death Valley, the driest place in North America!
That northward turn has meant that the center is squarely over water and so although Gonu is not nearly as intense as it was when it was of Category 5 strength, it has maintained hurricane intensity, and its circulation is still large in size which means the effects can be felt across a far-reaching area.
Dry desert air is nearby, but the cyclone is over water that is nearly the warmest on Earth, and there are other conditions that have been conducive to it staying potent (warm water alone is not enough), such as the upper-level outflow evident on the satellite image below (the high clouds streaming away to the northeast, and some outflow to the southwest too).
And aside from how strong it is wind-wise, Gonu still has tremendous rainfall-producing potential, given its size, rather slow movement, persistence of its moisture and "convection," and interaction with the topography of nearby land areas. The northward turn has already brought to Iran that capability to unleash torrential downpours. The rain, and wind, are now joining previously-generated waves that had already reached the Iranian coast.
The center is getting close to the coast of Iran; the storm's influence still extends well away from the center, and even though dry air is choking the system, the potential for it to produce locally heavy rain is not quite over yet, and the size of the wind field is such that it'll take awhile for the waves to setlle down as well.
Now the recovery from this cyclone and its damage begins, though, and as of the latest wire reports, the death toll has risen to 23 with others missing ... so not only was this a meteorological oddity and record-breaker, it has left tragedy in its wake.
---
Cyclone Yemyin kills 12 in Pakistan
26 Jun, 2007 l 2021 hrs IST

l

PTI

KARACHI: At least 12 people, including two Hindu pilgrims, were killed and thousands evacuated from their homes in Pakistan's Sindh and Baluchistan provinces due to a tropical cyclone which lashed the country's Arabian Sea coast with heavy rains and strong winds on Tuesday.

Cyclone Yemyin, packing winds of speeds up to 130 km per hour, has has hit the coast of southwestern Pakistan leading to torrential rains which would continue for the next 24 hours, said Qamar-uz-Zaman Chaudhry, Director-General of the country's meteorological department.

"A dozen people have died due to the cyclone-related incidents," said Raziq Bugti, a spokesman for Balochistan province government.

Two Hindu pilgrims drowned in a rainwater drain in Lasbella on the outskirts of Karachi while dozens more were missing, officials said.

After the initial impact at around 11 am (local time), the strength of the cyclone has started reducing, Chaudhry said.

Thousands of people were evacuated from the coastal areas of Gwadar, Pasni, Omara, Jivani in Balochistan which were directly in the path of the cyclone while emergency measures were also taken in Karachi to keep people away from the beaches. Small fishing villages on the outskirts of the port city were also being evacuated, officials said.

Cyclone hits Pakistan
26/06/2007 14:15 - (SA)
135 die in Bangladesh monsoons
'I've never seen so much water'
Cyclone death toll: 70
7 dead, 40 000 trapped in Iran
Cyclone Gonu death toll hits 32
Gonu leaves 35 dead
Kamran Haider and Zeeshan Haider
Karachi - A cyclone hit the coast of Pakistan on Tuesday, dumping torrential rain over a thinly populated region days after about 230 people were killed when a storm lashed the country's biggest city, Karachi.
Authorities in Pakistan and neighbouring India have evacuated thousands of people from low-lying areas after weekend storms and flooding killed nearly 400 people across the South Asian region.
Tropical cyclone Yemyin, packing winds of up to 130km/h roared over the Arabian Sea to the south of Karachi and hit the coast of the southwestern province of Baluchistan, said chief meteorologist Qamar-uz-Zaman Chaudhry.
"The cyclone hit land near Ormara and Pasni at 11:00 (06:00 GMT) and its strength has started reducing," Chaudhry said.
Ormara is a coastal town 250km west of Karachi. Pasni is 400km west of the port city of 12 million people where about 230 were killed at the weekend.
Officials in Baluchistan said they were having trouble communicating with the affected area. Very heavy rain was falling and there were unconfirmed reports some Hindu pilgrims had been killed, officials said.
A navy spokesperson said two fishing boats had been sunk but it was not known how many people were on board.
Two other trawlers were in trouble and a merchant ship had sent out a distress call. Two helicopters and a ship had been dispatched to help, the spokesperson said.
Thousands evacuated
At least six people were killed in severe weather in Baluchistan on Monday and authorities there said thousands of people were being evacuated from low-lying areas, including from near a dam where the water level had risen dangerously.
"We can see two threats, one from the cyclone in the coastal belt and the second from torrential rain as water in dams and canals has started touching dangerous levels," said Raziq Bugti, Baluchistan provincial government spokesperson.
"There are 200 000 to 250 000 people in the coastal belt and we've started evacuating them to safer sites. Thousands of people have been shifted," he said.
Police at the newly opened port of Gwadar, west of the point where the storm made landfall, said only light rain was falling.
Heavy rain fell in Karachi and traffic was thin on its gloomy streets as many people stayed at home. Paramilitary troops were directing traffic at intersections where traffic lights were still out of order after the weekend chaos.
In neighbouring India, authorities began evacuating tens of thousands threatened by flooding as the toll from havoc wrecked by the arrival of the rainy season topped 150.
Indian weather officials forecast heavy rain on both west and east coasts, with a storm in the Bay of Bengal due to hit Andhra Pradesh by Wednesday.
Hundreds are killed each year, and hundreds of thousands are forced from their homes, in the South Asian rainy season. Though deadly, the rain is vital for agriculture and national economies.
In 1965, a cyclone hit Karachi and killing 10 000 people.
Man-yi Hammers Japan's Ryuyku Islands
7/13/2007 9:48 AM