NIBIRU, 12TH PLANET VISIBLE TODAY & Mar 1st
Posted By: LAKE ZURICH
Date: Thursday, 22 February 2001, 5:09 a.m.
There was a mistake in the date of the second pass of Nibiru. The second pass will be this year, not 2003! RA
Thursday, February 22, 2001
All day.
These are the coordinates at which the so-called Planet X, 10th Planet, 12th Planet, Nemisis, nibiru or whatever you want to call it, is going to visible, with a telescope!
RA 5.16659 Dec 16.57897
February 22nd, 2001
RA 5.16653 Dec 16.56912
March 1st, 2001
RA 4.29741 Dec 9.96621
March 3rd, 2003
Get this out to all the astronomers you know. They will appreciate it!
Zurich
Re: Getting Ready for Impact with 1998 OX4?
09/25/00 at 3:01 am Pariah Paladin
I am probably going to get myself into a lot of trouble with the following monologue, but...something smells very fishy to me.
What you are about to read is in no way similar to the 76P fantasy (once it got away from science) - or like any of the other "chicken little" scare campaigns you may have read recently on various Boards. I am quoting from official Government sources of information (American, French and British)!
THE FOUR HORSEMEN OF THE APOCALYPSE - 76P
This first image is a SOHO C3 taken on June 3rd, 2000 as 76P approaches the ecliptic and Mars. 76P had already hit the edge of the ecliptic and the solar storm was in full force. The arrow shows the general direction that 76P traveled toward Mars. Mars is just coming on the very edge of the image to the far left above the arrow and the comet. The image can be clicked on to get the full image.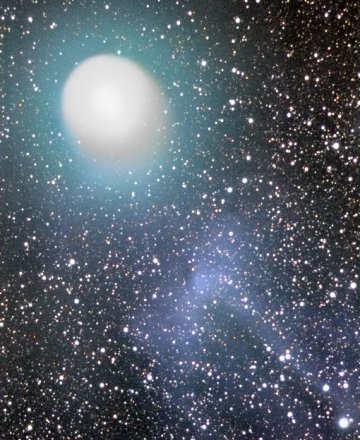 Some believe that they could see 76P as it passed Mars. The following image was sent to us with that idea in mind. It is not unusual for comets to regroup after being torn apart by the ecliptic. Actually even if the comet was still in parts in this image it could continue to appear to be whole at this distance. But the fact remains that no one has reacquired 76P following its passage of Mars.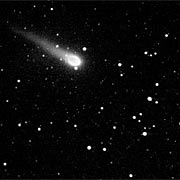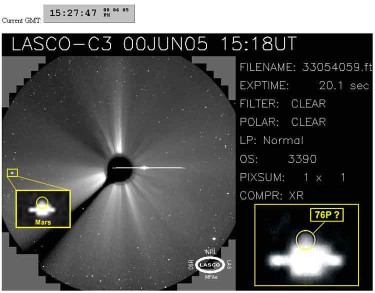 In both of the previous images there does not appear to be a star that coordinates with the position of the two objects pointed out
For some months now, Asteroid 1998 OX4 has been quietly identified on the NEODys system as having some real statistical possibility/probability of impacting the Earth this century. But, hey, so have three others (as was another one that was on, then off, the list).
You know, I found it more than a little strange that here we have a 300 to 400 meter wide Asteroid...predicted by NASA and other authorities to be on a COLLISION COURSE with Earth - and not a word in the media about it! After a while I just assumed, after the 1997XF11 fiasco (where some astronomer predicted a collision only to have to take it back a few days later), that the media wasn't going to jump on every prediction.
I mentioned here a few days ago that Great Britain had appointed a special Task Force and that they were about to identify Asteroid/Comet collisions as the number one natural hazard facing their nation today. Well, I have now read their entire report very carefully, and I believe that it might be a stepping stone communique designed to inch a little closer to making a public announcement...that a major asteroid impact is in our immediate future.
I won't get into ALL of the reasons I think this is a possibility in this post, as it would get too lengthy, but let me summarize as follows:
1) The report goes to great lengths describing impact damage and death tolls for various size and composition asteroids/comets.
2) It spends some considerable time talking about how, with enough advance warning, we could move large population segments away from the impact zone, thus saving some lives (but having to live with property destruction, fire storms, envirnomental impacts, etc., etc.)
3) It states more than once, that once it is known that an Asteroid will impact that we will know exactly where and when the impact will occur.
4) At about page 50 of the report, it then identifies three Asteroids whose collision with Earth cannot be ruled out - two of which are small enough to cause little or no damage on the ground. It leaves 1998 OX4 as being a PROJECTED IMPACT that "has not been ruled out", and then gives a series of possible impact dates.
According to their estimates, found elsewhere in the Report, this Asteroid...if it impacts...could:
1) be anywhere from a "Large sub-global event" to a "Low Global Effect Threshold" event.
2) leave an impact crater 6 to 8 Kilometers wide
3) be expected to kill "on average" somewhere between 500 thousand and 1.5 BILLION people.
4) totally destroy an area the size of Delaware
5) release energy equivalent to up to 1,000 Hydrogen bombs.
They give dates of 2014, 2038, 2044 and 2046 as possbile "impact years".
NEODys, by the way, lists these same years (with the exception of 2014). But NEODys also lists 2078 as being a year where this Asteroid's "Minimum Possible Distance" from the Earth could be .0000568AU. That's only 5,270 miles...from the CENTER of the Earth...which would plant it firmly INTO the planet!
Okay, now, its gets a little weirder from here.
This Asteroid, a double Earth crosser by the way, comes around about every two years (every 723 days).
a) The British report was released on Sept. 18, 2000.
b) 1998 OX4 made this year's "close" pass to the Earth on Sept. 20, 2000.
c) It will be back around in 2002, 2004 and 2006.
d) For some VERY STRANGE reason the British report lists the release of the movies Armageddon and Deep Impact, in 1998, among the events over the last 300 years that have led to increases in our understanding of Comets and Asteroids (huh?).
Now get this, and stay with me if you can (or want to maybe)...
The report repeatedly refers to a NASA probe, due to be launched in 2004, called...Deep Impact...that will chase Comet 9P Tempel 1 (so they say) and launch a solid copper projectile into the Comet's nucleus to see how big a hole it makes - and to see how much it alters its orbit - in 2005!
Okay (I SAID it was going to get weirder), in April of 2005 Comet Tempel 1 and Asteroid 1998 OX4 will be in exactly the same region of the Solar System.
Could it be that the Deep Impact probe is actually meant to intercept 1998 OX4 - a KNOWN future EARTH IMPACTOR - instead of Tempel 1? It would be the ideal time to deflect it, still being 17 months away from its next Earth encounter in 2006.
That is, if the "powers that be" actually expect a 2006 impact, and the deflection does not work, then we will have 17 months to implement the civil defence plans the Brits go on at length about.
From all offical Government accounts:
1) Asteroid 1998 OX4 has a high probability of impacting the Earth this century - and is openly projected to do so!
2) NASA is launching the Deep Impact probe in 2004 specifically to intercept and IMPACT (thus diverting) an NEO object in 2005. The official word now is that it will be Comet 9P Tempel 1...but 1998 OX4 WILL be in the same vicinity!
3) The British are publically calculating the economic costs of an Asteroid impact, making plans to deal with the resultant environmental, industrial and political issues, encouraging activities like the Deep Impact mission to "mitigate" the serious effects of an impact.
4) They (along with the other western powers) are engaging in a systematic program to "educate" the public about (desensitize?) the absolute certainty that an Asteroid/Comet will hit the Earth and cause significant damage and disruption. They enclose all kinds of merry little charts and figures to show that - "shucks folks we get hit every day", no big deal, its just the size of the incoming rocks that vary from year to year...and heck we've had some pretty big boomers over the last few years that most people didn't even notice (in other words, even when they finally make the formal announcement, there will be no need to panic or overreact...it's all perfectly normal and under control).
I apologize for this long post, but I think this may well be serious. If anyone wants additional info I will be glad to post it and discuss everybody's ideas and information.
As a "PS" something REALLY IS fishy here. Something is up for sure...but for all I know 1998 OX4 is just a bit more of the smokescreen, one more to be discarded maybe, before the real impactor is announced (if it isn't actually 1998 OX4).
PPS...I also do not think it was mere coincidence that NASA made a big deal about 2000 RD53 and 2000 QW7 - which were non-events. It is easy to speculate that they were a test of the media/internet "early warning system".
---
In a Washington Post article dated October 16, 2000 Harry Atkinson, the chairman of the British NEO Task Force was quoted as saying...and I am quoting:
"I would think the prospect of imminent death would concentrate the mind remarkably,"
Say WHAT Harry???
And how's this for something else to worry about...
1) 1998 OX4 was discovered on July 26, 1998.
2) It was identified as having a "non-zero" chance of impacting the Earth
3) It was confidently predicted that the odds of impact were only 1 in 10 million (what a relief)
4) The Asteroid has never been observed again (as recorded on the NEODys system) after August 4, 1998, because the very same people who predicted the low probablility of impact say they can't find it where their orbit predictions say it should be!!!
5) The discovery of this now "lost Asteroid" is what directly led to the very hasty formation of the British Task Force - and the lightning speed of its conclusions and recommendations!
A London Times article reported:
"Dr Mark Baily of Armagh Observatory says that...the lesson of 1998 OX4 is that, having found near-Earth objects, they should not be lost again...All these calculations show is that we should go on tracking it - if we knew where it was."
So, let's see if I have all of this straight.
1) 1998 OX4 was found and now it is lost
2) We can confidently predict it has a very low probability of hitting Earth, but our orbital calculations are off such that we CAN'T FIND IT ANYMORE!!!!
3) In spite of such a (supposedly) miniscule risk we convene a Task Force that publicly speaks of impact risks in very stark terms, continuing to name 1998 OX4 as the Earth Impactor "not ruled out" and calling for both domestic and international action.
And then, less than a month later, the chairman of that Task Force is quoted in the Washington Post (forgive me for repeating myself, but):
"I would think the prospect of imminent death would concentrate the mind remarkably,"
Can somebody - anybody - explain to me why this is still so low profile in the mass media?
Morgana's Observatory
The Solar Forum (Hosted by Phaeton)Asteroids and Comets (Hosted by Fannie & Tom)
Michael Thomas 09/30/00
Friday, September 29, 2000, Phoenix, Arizona. The local news media announced that there was an object on a direct collision course with earth. This was recited by The observeitory in Flagstaff, AZ (shoemaker-levy), Many of us have know of this large asteroid for some time now. As A member of the scientific community we have come up with a way to make sure that ox4 does not hit Earth. We must proceed with or holograph processor. This project has been perfected and is ready to be mass produced. Right now. We need funds, we need them and we need them now. For any further Information please goto www.holix.myweb.net
Michael Thomas
Re: Do we know where it may hit?
Phaeton [Author's Home Page] 09/30/00 at 10:28 am
Tom (09/30/00 at 8:20 am) wrote:
>>Down below, Steve Van Doorn asked if we know where the Asteroid may hit (if it is going to). I thought I would post my response here, as a separate thread. >>
>>Steve Van Doorn (09/29/00 at 8:35 pm) wrote:
>>>>Or better yet what latitude?
>>>>Assuming it does hit.
>>>>Thank you for your insight
>>...they're not saying just yet. Assuming for a moment, that they do have a fix on this (but not saying) one might be able to make an educated guess by using the English estimate of needing to provide about 120 million pounds per year to cover the insurance cost of the deaths that would occur in England.>>
>>But you would also have to make a really good guess on the year it is going to hit. If for example, you speculated it was going to hit in 2006, this might mean England expects to lose about 70-75,000 people - so that might put the strike a good distance away in the Atlantic (tsunami producing). >>
>>If the strike date is farther out, say 2014, then the expected death toll is much higher (120 million pounds per year for 14 years, plus interest), maybe at 250,000 - making the impact much closer to England. >>
>>So, my final answer is...I don't really know :) >>
>>While we are speculating, maybe Nostradamus knew...if you follow the Quatrains below, it suggests (to me anyway) quite strongly that an Asteroid will hit in the Aegean Sea (just off of the East coast of Greece). >>