COMET #5 - C/2004 Q2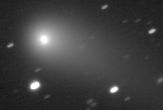 Comet c/2004 Q2 (Machholz) was photographed on Sept. 14 by Gianluca Masi and Franco Mallia,
as part of an educational project in Italy using the SoTIE telescope in Las Campanas, Chile. Newfound Comet Set for Winter Display

By Joe Rao
SPACE.com Night Sky Columnist
posted: September 17, 2004
06:30 am ET ET


Donald Machholz of Colfax, California, an optician who has been interested in astronomy since age eight, discovered nine comets from 1978 through 1994. He has since spent 1,457 hours scanning the skies for other comets, without any luck.

But his luck changed on the morning of Aug. 27, when he swept up his tenth comet.

It could become the fourth comet this year to excite backyard astronomers.

After a treat of three comets in the spring -- NEAT, LINEAR and Bradfield -- the first indications suggest Machholz's discovery will become easily visible in binoculars and small telescopes this winter and possibly to the unaided eye.

Comet brightness is notoriously difficult to predict, however, and it is too early to know whether this one will put on a memorable show.

The discovery

When Machholz first picked up the comet – officially designated c/2004 Q2 – it was a fuzzy 11th-magnitude object in the constellation Eridanus and drifting slowly southeast in the direction of the constellation Lepus. On this astronomer's scale, larger numbers represent dimmer objects. Under the darkest skies, the typical observer can spot with the unaided eye objects of magnitude 6.5 and brighter.

Machholz spotted the comet through the 30X eyepiece of his 6-inch f/8 Criterion Dynascope Newtonian reflector, a vintage telescope that was a mainstay among amateur astronomers during the 1960s and 70s. Machholz had purchased his back in 1968.

Several hours after Machholz's spotted the comet, Australian observers Gordon Garradd and Robert McNaught confirmed the discovery, capturing the comet in photographs using telescopes from Siding Spring Mountain. These CCD ("Charged Coupled Devices") images also showed a short, faint tail.

From 38 observations over a four-day period, Brian Marsden at the Minor Planet Center in Cambridge, Mass. calculated an orbit for the new Comet Machholz. It is on its way toward the vicinity of the Earth and the Sun, and during October and November, its projected path will appear to describe a small loop taking it into the constellations Lepus, Columba and Caelum. Since it will still be relatively far from both the Sun and Earth, its apparent motion -- in relation to the stars from night to night -- will be quite slow.

At the beginning of December it will return to Eridanus, at which point the comet's motion across the sky will abruptly turn northward and rapidly increase, making the comet well placed for Northern Hemisphere observers by the last week of December.

How bright?

According to Marsden's calculations, Comet Machholz could become as bright as fourth magnitude. It could possibly hover around at this brightness for about a month beginning right after Christmas. During this interval, the comet will move north of the celestial equator, tracking from southern Taurus on up into the constellation Perseus.

Fourth magnitude means that the comet should at be at least dimly visible to the naked eye in dark skies, though better seen in binoculars or telescopes. Urban skywatchers would not be able to see it without optical aids.

That kind of brightness would still make Machholz a very fine comet from the viewpoint of an amateur astronomer, especially in early January, when it will be approaching the Earth and will be well placed for viewing -- high in a dark sky. Given current information, it doesn't appear that this comet will become the kind of spectacle that Comet Hale-Bopp was in grabbing the public's attention.

Hard to predict

And although the script is still being written concerning Machholz's upcoming performance, be advised that comets are notoriously bad actors. As an example, the first brightness estimates for Comet NEAT had it possibly becoming as bright as first magnitude -- easily visible even from cities. Ultimately it became only as bright as third magnitude at best.

Comet Machholz could brighten up and give us a real surprise. Comets have surprised on the bright side before. Yet few celestial events have greater false-alarm potential than these interplanetary vagabonds.

The comet is predicted to come closest to Earth on the night of Jan. 5-6, 2005, when it will be just 32 million miles (51 million kilometers) away. On the evening of Jan. 7, it will conveniently pass just a couple of degrees to the west of the famous Pleiades star cluster.

Comet Machholz will reach perihelion -- its point closest to the Sun -- on Jan. 24, when it will be just under 112 million miles (179 million kilometers) from that blazing furnace. The comet will be more or less opposite the Sun all during this "flyby", and thus should be easily visible in a dark sky from Earth.


New Comet Now Visible to Naked Eye

By Robert Roy Britt
Senior Science Writer
posted: 07 December 2004


A comet discovered earlier this year has now moved close enough to be visible without binoculars or telescopes by experienced observers under dark skies. It is expected to put on a modest show this month and into January.

Comet Machholz will be at its closest to Earth Jan. 5-6, 2005, when it will be 32 million miles (51 million kilometers) away.

People with dark rural skies and a good map should be able to find it on Moon-free nights now into January.

Backyard astronomers have been watching Machholz for months through telescopes. It was spotted by naked-eye observers for the first time about three weeks ago from the Southern Hemisphere, said Donald Machholz, who discovered the frozen chunk of rock and ice in August.

"I saw it last night for the first time with the naked eye," Machholz told SPACE.com Friday.

Comets are made of rocky material and icy mixtures of water and various other chemicals. As a comet approaches the Sun, the surface is heated and essentially boils off. Scientists call the process sublimation. The gas and dust creates a head, also called a coma, and sometimes a tail. Sunlight reflects off the material, making some comets visible from Earth.

Comet Machholz, officially named c/2004 Q2, is not expected to produce the sort of spectacular display put on by comet Hale-Bopp in 1997 or the periodically stunning Halley's comet.

Astronomers cannot say exactly how bright Machholz will get, because it is notoriously difficult to predict the behavior of comets making their first observed close trip around the Sun. Scientists don't fully understand the composition of comets, nor their variety, so they don't know how much stuff will sublimate nor how fast.
The position of comet Machholz at 9 p.m.
local time from mid-northern latitudes on various nights.
Machholz is expected to reach magnitude 4.0, based on an early estimate. On this astronomers' scale, smaller numbers represent brighter objects. The dimmest things visible under perfectly dark skies are around magnitude 6.5. The brightest star, Sirius, is magnitude minus 1.42.
Recent observations suggest Machholz will do at least as well as first predicted.
"The comet is doing better than expected and is about 0.5 magnitudes brighter than expected," Machholz said. "So it will probably get brighter than the Andromeda Galaxy, brighter than magnitude 4.0."
The Andromeda Galaxy is the furthest object visible to the unaided human eye under dark skies. It is a magnitude 3.4 object.
If the comet were to become roughly magnitude 3.0, it would still appear common among the sea of stars available to dark-sky observers. City and suburban dwellers would likely not find it without optical aid. In either case, binoculars or a small telescope might reveal the comet as more of a fuzzy patch, and if it develops a significant tail, that could be visible too.
Machholz, who has found nine other comets, suggests looking for his latest discovery when the Moon is out of the picture, such as around Dec. 11 when it will be at its New phase.
"The comet can still be seen when the Moon is out, but it will be difficult," he said by email. "Use binoculars or a wide-field (low power) telescope, and/or get to a dark site."
The comet is low on the horizon now, where the atmosphere makes for poor viewing. By early January, the comet will be much higher in the sky, improving viewing conditions.
COMET MACHHOLZ
(HOPI BLUE STAR?)
HITS EARTH AXIS 7TH JAN
Posted By: ArchAngel_Michael <Send E-Mail>
Date: Sunday, 2 January 2005, 11:21 p.m.
'This Hopi Blue-green star appearing with the naked eye is echoed in the Dames borrowed R.V. team results as a time marker during a warring conflict when all would stop and historically ´look up in wonder´...
...could this be Comet C/2004 Q2 (Machholz)
the first comet to come this close to us and be clearly this color as observable in the Northern hemisphere coming into view from the 7th-15th trailing just behind the Earth from a southern angle up and reaching a solar system equatorial perihelion on 1/7/05?'
http://www.godlikeproductions.com/bbs/message.php?message=65281&mpage=
1&topic=3&showdate=1/2/05&PHPSESSID=deb76b74e03ffb8be0950eff7e66f1cb

'An ancient Hopi Indian prophecy states, "When the Blue Star Kachina makes its appearance in the heavens, the Fifth World will emerge". This will be the Day of Purification. The Hopi name for the star Sirius is Blue Star Kachina. It will come when the Saquasohuh (Blue Star) Kachina dances in the plaza(a place in the thoroughfare of our solar system?-around 7th January) and removes his mask.'
This following Nasa link shows the path of the comet arriving parallel to the Earth and Solar System around 7th January 2004
http://neo.jpl.nasa.gov/cgi-bin/db_shm?sstr=2004+Q2&group=all

'And this is the Ninth and Last Sign: You will hear of a dwelling-place in the heavens, above the earth, that shall fall with a great crash. It will appear as a blue star. Very soon after this, the ceremonies of the Hopi people will cease.'
'These are the Signs that great destruction is here: The world shall rock to and fro. The white man will battle people in other lands - those who possessed the first light of wisdom(The Middle East?). There will be many columns of smoke and fire such as the white man has made in the deserts not far from here.'
http://www.crystalinks.com/hopi2.html (Hopi Blue Star Prophecies)
---
COMET #6 - VENUS - James McCanney reported on his radio show on March 5th, that Venus went comet as it went behind the sun earlier this month.
http://www.jmccanneyscience.com/comet%20solar%20flare%20movie%2001072004.mpeg
This video is from 2002 - to show you how it works.
On the topic of changing weather patterns, James McCanney noted that Earth is "relaxing from a major event;" namely the passing of a celestial body (Venus), which temporarily blocked the sun's radiation and brought about the ice age. The electrical fields coming from the sun and weather on the sun itself also greatly affect Earth's conditions, he said. He believes that a number of weather manipulation methods are being tried out on our planet, but so far only over small regions.

McCanney also posited that the "mother continent" of Atlantis is located in the South China Sea and could have been submerged in a quick volcanic eruption. In sharing his research into Velikovsky's work, he said that his focus was on finding a world wide event that could be traced across cultures. Velikovsky concluded that Venus entering our solar system as a comet was such an event.

Venus
We're still waiting for the evening re-emergence of Venus from the glare of the Sun in May. On the 31st the planet is in superior conjunction. Then the Earth, Sun and Venus are lined up, with Venus on the far side of the Sun. Venus and Mercury are both too close to the sun to observe right now.

---
COMET #7
Comet put on list of potential Earth impactors
13:17 01 June 2005
NewScientist.com news service
David L Chandler
Related Articles
20 May 2005
11 December 2004
15 December 2004
Web Links
A comet has been added to the list of potentially threatening near-Earth objects maintained by NASA's Jet Propulsion Laboratory. Comet Catalina 2005 JQ5 is the largest - and therefore most potentially devastating - of the 70 objects now being tracked. However, the chances of a collision are very low.
The listing of Comet Catalina underscores the uncertainty in the knowledge of whether comets or asteroids pose a greater threat to Earth. Previous estimates of the proportion of the impact risk posed by comets have varied widely, from 1% to 50%, with most recent estimates at the lower end.
But comets are larger and faster-moving, on average, so their impacts could be a significant part of the overall risk to human life. And, unlike asteroids, they lie on randomly-oriented and usually highly elongated orbits. This makes them much more likely to remain undiscovered until they are very close to Earth.
Comet Catalina was found by the Catalina Sky Survey, one of the six current, large-scale and automated search programmes for near-Earth asteroids. It was initially designated as an asteroid when first spotted on May 6. But was reclassified as a comet when observers saw characteristic fuzziness in the image, indicating ice and dust streaming off.
Its size is estimated at about 1 kilometre but Steve Chesley of JPL told New Scientist that this "could be off by a factor of a few" in either direction. If there is enough dusty coma to increase its brightness significantly, the nucleus itself might only be a few hundred metres across. But if there is very little dust, then because comets are quite dark, the nucleus could be larger than estimated, perhaps a few kilometres across, Chesley said. "So 1 kilometre is pretty much in the middle of the reasonable range."
Collision course?
On 26 May, JPL's unique orbital calculation software determined that Comet Catalina was on what could possibly be a collision course with Earth, though the odds of such an impact were small: just 1 chance in 300,000 of a strike on June 11, 2085. Based on the 1 kilometre size estimate, that would produce a 6-gigaton impact - equivalent to 6 billion tonnes of TNT.
Astronomers expect the addition of further observations to the calculations to rule out any possibility of a collision, as happens with most newly- seen objects.
But that has not quite happened yet. With an extra week of data, the comet's predicted pathway actually drew even closer to making a perfect bull's-eye with the Earth - its predicted path passes within 400 kilometres of where the centre of our 12,700-km-diameter planet will be around that time.
However, uncertainty in the exact timing of the comet's pass through the line of Earth's orbit dropped the odds of an impact to about 1 in 120 million. That is very low, but the observations so far cannot categorically rule a collision out.
Forceful outgassing
Chesley adds that even the slim 1 in 120 million odds are an overestimate, because comets, unlike asteroids, can move in unpredictable ways because of the forceful outgassing that creates their dusty comas and tails. The odds therefore might be wrong "by a factor of two or so" he said. The cut-off for inclusion on the list is 1 in 10 billion.
The only other comet placed on the JPL list of near-Earth objects with possible collision paths was added in 2003. But additional observations ruled out a possible impact - that comet was removed from the list after less than a week.
Just one other comet, Swift-Tuttle, has been recorded with a non-zero possibility of impact. It was rediscovered in 1992 - after more than a century's absence - before the JPL list was created.
Additional observations during Swift-Tuttle's passage, thanks to the publicity surrounding the possible impact, made it possible to rule out the possibility of an Earth impact anytime in this millennium. However, Swift-Tuttle is on an orbit that will almost certainly cause it to crash into the Earth or the moon eventually.
---
THIS IS COMET #8 - MENTIONED IN THE NEWS
WHAT DID THEY DO WITH THE 'STARDUST' THEY DUMPED IN AMERICA?
Capsule Carrying Interstellar Samples Lands Safely
E. LEARY The night sky Sky Calendar. NightSky archives. SPACE.com. Published: January 16, 2006
A spacecraft that could be a time capsule carrying the history of the solar system made a predawn landing in a muddy Utah desert yesterday, completing a seven-year journey of almost three billion miles with a fiery, pinpoint descent to Earth.
The craft, a 100-pound sample container jettisoned from the Stardust explorer and bearing comet and star dust, landed at the Utah Test and Training Range of the Air Force, southwest of Salt Lake City, at 5:10 a.m. Eastern time after the sequential deployment of its two parachutes.
There was no initial indication that a small stabilizing chute had deployed after the container's flaming re-entry into the atmosphere, causing a few tense moments among the scientists and engineers awaiting the Stardust's return in the landing area and at mission control at the Jet Propulsion Laboratory of NASA in Pasadena, Calif.
When the main parachute opened on time at an altitude of 10,000 feet, however, it could be seen by long-range infrared cameras and some ground observers, resulting in applause and cheers among flight controllers.
"All stations, we have touchdown," announced Thomas Duxbury, the mission project manager.
Mr. Duxbury said at a later news conference: "This thing went like clockwork. To see that thing in one piece on the floor of the desert is very moving."
The landing was particularly tense because of memories of an earlier National Aeronautics and Space Administration probe, the Genesis, which crashed in the same area in 2004 when its parachutes failed to open. Both craft shared similar design and landing systems. The Genesis' collector plates, which trapped solar particles during the craft's two-year mission, were shattered and contaminated, but scientists remain hopeful they can salvage some of the science.
After the Stardust touched down on the salt flats of the Utah desert, a recovery helicopter flew to its location but could not immediately find the capsule in the early morning darkness. The sample vessel, however, was found shortly before 6 a.m., and recovery teams on two other helicopters swooped in to help secure it.
Technicians lifted the capsule into a transport cradle and enclosed it in two bags before the lead helicopter flew it to nearby Michael Army Air Field, where a "clean room" was set up in a hangar to reduce the chance of contamination. There, masked and suited workers opened the capsule and began preparing it for transport later this week to a laboratory at the Johnson Space Center in Houston.
At the news conference, elated engineers and scientists said it was hard to describe their feelings now that the sample capsule was safely back on Earth. "Inside this thing is our treasure, our sample of the edge of the solar system that truly contains star dust," said Donald Brownlee of the University of Washington, the mission's principal investigator.
"We visited a comet, grabbed a piece of it and it landed here this morning," Dr. Brownlee said. "It's an incredible thrill."
Scientists believe that about a million samples of comet and interstellar dust, most of them less than one-tenth the width of a human hair, are locked inside the capsule. Researchers around the world are awaiting the samples, hoping they will provide clues to the origin of the planets and other bodies in the solar system.
The grains are believed to be pristine remains of the birth of the solar system some 4.6 billion years ago. Studying comets not only provides clues to how the solar system was formed but also could help explain how certain materials and conditions combined to form life, researchers said.
Scientists said the capsule would be cleaned of contamination, including mud and salt from the landing area, and opened in a couple of days to remove the samples for initial examination before they are shipped to Houston.
Mr. Duxbury said the Genesis experience was "a blessing" for the latest mission because it forced the team to re-examine everything about the Stardust's design and testing, and draft strategies for dealing with a possible mishap.
"We take our hats off to Genesis for making us much, much smarter," he said.
This final stage of the $212 million Stardust mission began four hours before landing, when the main spacecraft released the sample capsule thousands of miles from Earth, severing cables and using a spring device to push it free. Later, the mother craft fired rockets that pulled it away and placed it into a new orbit around the Sun.
The canister entered the Earth's atmosphere at a speed of 28,800 miles per hour, the fastest speed any human-made object has achieved entering the atmosphere, causing it to reach peak temperatures around 4,900 degrees Fahrenheit.
After its launching in 1999, the Stardust circled the Sun three times and even flew by the Earth in 2001 for a gravity boost to rendezvous with the comet Wild 2 near Jupiter. The spacecraft came within 149 miles of the comet on Jan. 2, 2004, deploying shields to protect itself from cometary dust while extending a collector filled with a material called aerogel. This low-density silicon material, called "glass smoke" because it is composed of 99.8 percent air, gently slowed and trapped particles without significantly altering or damaging them.
During its long cruise periods, the Stardust also spent 195 days collecting the particles from stars that constantly flow through the solar system from far out in space.
"This has been a fantastic opportunity to collect the most primitive material in the solar system," Dr. Brownlee said. "We fully expect some of the comet particles to be older than the Sun."
~~~~~~~
Stardust: Comet "Treasure" is Retrieved
By A.J.S. Rayl
January 15, 2006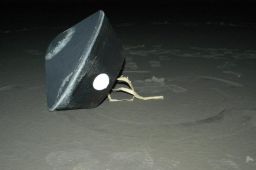 Stardust sample return capsule lands in Utah Stardust's sample return capsule successfully landed at the U.S. Air Force Utah Test and Training Range at 2:10 a.m. Pacific Standard Time, 3:10 a.m. Mountain Standard Time. The capsule contains cometary and interstellar samples gathered by the spacecraft during its 7-year journey. Color: True color. Created: 15 January 2006. Credit: NASA / JPL
The Stardust capsule – which holds the world's first samples from a comet ever returned to Earth – has been retrieved and is now in a clean room inside a hangar at the Michael Army Air Field.
The capsule, which was reported to have bounced five times before it settled down near the middle of its landing ellipse early this morning on the Air Force's Utah Test & Training Range, appeared to be in excellent shape, although the recovery crew did find pieces of the heat shield nearby.
The salt and mud the capsule picked up on landing and any other possible contamination will be cleaned off. Then, at some point in the next day or two, technicians will open the capsule and remove the samples for a cursory examination before they are packed for shipment Tuesday to a special repository at the Johnson Space Center (JSC).
"It's hard to describe what it feels like to be at this point," said Stardust principal investigator Don Brownlee at a post-landing press conference in Utah. "The most spectacular part of this mission for me happened about 5 minutes before it landed. We snuck outside and went down to the end of the fence, which is pretty far down range . . . and then we saw something up there and it looked like Mars, it was bright and a reddish color, but it was get brighter and moving . . . the Moon was up in the sky, a ghostly white color . . . but this other object was red by contrast . . . a meteor flying through the sky . . . and from our view, even though we knew this was coming from space it looked like it was climbing in the sky – and then we saw this glowing trail behind it."
Nodding to the video of the recovery team walking around the capsule at the landing site that playing on the monitors, Brownlee, of the University of Washington, Seattle, continued: "Inside this thing is our treasure – our sample from the early solar system, that truly contains stardust," "We traveled almost 3 billion miles in space. We visited a comet, grabbed a piece of it, and it landed here this morning. It's an incredible thrill."
At JSC, the team will further analyze, verify, and section the cosmic dust particles, which will be housed in the same building as the only other samples that we have brought back from another body – the Moon rocks, and other meteorites.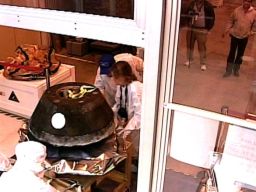 Stardust is wheeled into clean room at Michael Army Air Field
This NASA TV image shows the Stardust sample return capsule being wheeled into a temporary clean room at the Michael Army Air Field in Utah. Inside the capsule is precious cargo that includes cometary and interstellar samples gathered by the spacecraft. The capsule's science canister is safely stowed inside a special aluminum carrying case awaiting transportation to the Johnson Space Center, Houston, where it will be opened. Color: True color. Created: 15 January 2006. Credit: NASA / JPL
Since Wild 2 is believed to hail from the Kuiper belt, way out there close to the edge of the solar system, the comet samples are the world's first preserved samples of the fundamental building blocks of our solar system that formed 4.6 billion years ago. Unique chemical and physical data that may hold the record of the formation of the planets and the materials from which they were made are locked within these particles.
"We will open capsule in two days and remove first samples a couple of days later," Brownlee said. "What we want to compare [the samples] to most is the dirt that created meteorites . . . comparing the ones at edge of solar system and least changed to those that have come inside the solar system and have been modified by various processes. Here we've got samples for a comet that is least changed . . . it is a treasure . . . all the atoms in our bodies and Earth were in stardust before solar system formed . . . we are stardust . . . we're still amazed."
All told, team members expect, if they're lucky, they will get at least a thimbleful of the cosmic dust from the 101-pound capsule that is now the star of this $212 million dollar NASA Discovery mission. It sounds like an incredibly small amount, but inside that thimble-full the scientists are expecting to have about one million samples, most of them 10 to 20 microns in size. The scientists believe that in-depth terrestrial analyses of these samples will reveal not only a lot about comets, but about the earliest history of the solar system, and, perhaps -- because "we are all stardust" – a little something about ourselves.
Once the sample processing procedures are completed, a small number of the samples will be isolated for a preliminary study, and the rest to be made available to scientists around the world for research.
__________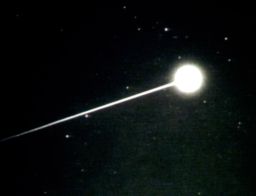 Stardust enters Earth's atmosphere
The Stardust sample return capsule flareed into a brilliant fireball as it entered Earth's atmosphere on January 15, 2006. This photo was captured by NASA's DC-8 Airborne Laboratory. Credit: NASA / Ames Research Center
The Stardust return capsule landed in pre-dawn darkness and windy conditions on the salt flats of the Utah range this morning at 3:10 a.m. local or Mountain Standard Time (MST) / 2:10 a.m. Pacific Standard Time (PST), two minutes early and intact.
"All stations, we have touchdown," announced Stardust Project Manager Tom Duxbury. You could hear the sighs of relief as they rippled out along the airwaves via the Internet and NASA TV.
It was the conclusion of a 7-year, 4.63 billion kilometer (2.88 billion mile) round-trip journey to comet Wild 2 (pronounced Vilt two), which took Stardust around the Sun three times, beyond Mars and the asteroid belt -- as far out as half-way to Jupiter, and back in time 4.5 billion years to gather its precious treasure from the comet's nucleus. At other points during its long cruise phases, Stardust spent 195 days collecting interstellar dust samples, particles from stars that flow from outer space into the solar system.
The most intense moments during Stardust's descent came when the instruments seemed not to show any indication that the stabilizing or drogue parachute opened when it should have at 32 kilometers (105,000 feet) – and no doubt minds raced back to September 2004 when Stardust's sister mission, Genesis, crash landed because its parachutes failed to deploy.
Stardust was literally on fire when it re-entered the Earth's atmosphere. Traveling at 12.8 kilometers or 8 miles per second, more than 10 times faster than a speeding bullet or fast enough to go from San Francisco to Los Angeles in one minute, at a velocity greater than any human-made object on record, the comet chaser reached peak temperatures of around 4,900 degrees Fahrenheit and set a new record as the fastest returning spacecraft.
Any fears that Stardust might also crash land, however, were laid to rest just minutes later when the main parachute opened on time at an altitude of about 3 kilometers (10,000 feet). The capsule's dramatic slow down – and the chute -- could be seen via the long-range infrared cameras, as well as some of the ground observers.
"All stations, the main chute is open. We're coming down slowly," announced Stardust Project Manager Tom Duxbury. At the landing area in Utah, and at the mission control room at the Jet Propulsion Laboratory (JPL) the cheers and applause drown the nominal silence. [As it turned out, later examination of the infrared video did clearly seem to clearly indicate the drogue chute had opened.]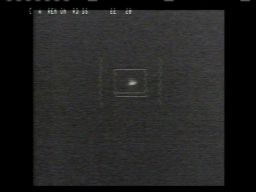 Stardust coming in
An infrared camera captured this image of the Stardust sample return capsule as it descended to the Utah Test and Training Range. Color: True color. Created: 15 January 2006. Credit: NASA / JPL
"Genesis was a big blessing for us," Duxbury said later at the press conference. "Based on Genesis' experience, we re-examined everything, looked at all designs and testing and verified for ourselves that everything was working. We take our hats off to Genesis for making us much smarter, and much more sure when we came in."
The first of three helicopters was sent in moments after Stardust landed to begin the recovery operation of the return capsule. Despite having the coordinates, infrared instruments to scan the desert floor, and on and off beacon contact with the capsule, recovery operations crew members had some difficulty homing in on it. The range is large and the capsule small, but within 30 minutes they had locked on to the spacecraft, and landed. The second helicopter followed minutes later and the third followed suit minutes after that and the recovery was in full swing.
The recovery team circled the capsule on foot, and visually examined it, then wrapped up or "bagged" it, lifted it onto a spacecraft gurney, and flew it to the clean room at the Michael Army Air Field, taking whatever precautions they could to reduce contamination. In the clean room, technicians were still examining the capsule when the press conference began.
Now that the team has the comet and interstellar dust samples, they are going to have to search the grids for the comet and interstellar dust particles before they can analyze them. But the grains are so few and so tiny that the scientists expect that they will be completely lost within the cracked and imperfect surface of the aerogel collector that has spent 7 years in space. In fact, they expect they will be so embedded that the scientists are asking for the public's help to search for the interstellar dust via an Internet-based project called Stardust@home, inspired by the long-running Seti@home.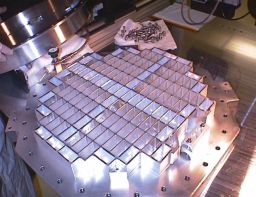 Aerogel sample collector on Stardust
Credit: NASA / JPL
Stardust@home will be a hands-on activity, however, unlike SETI@home where one's computer processed all the data. Scientists at the Space Sciences Laboratory at the University of California at Berkeley (UCB) will create "movies" of each tiny section of the aerogel collectors -- 1.6 million movies in all. Each of these movies will be sent electronically to volunteers around the world, who will inspect them for the telltale signs of interstellar dust particles. Since no one knows exactly what these dust tracks will look like, the human eye – and good old-fashioned human intelligence – will be better at spotting them than a computer program. Therefore, each volunteer scanner will need to pass a test by spotting tracks made in test samples. The Stardust@home team will also keep scanners vigilant by occasionally throwing into the mix a "ringer" – an artificially made track – to see if the volunteer scanners find it.
As an official collaborator in the project, The Planetary Society has put out an all-call to recruit users. To be part of be part of Stardust@home, you will need an easily downloadable "virtual microscope" and some basic online training, and a desire to really do the research, according to Bruce Betts, the Society's director of projects. The public can begin signing up with Stardust@home in mid-March.
Meanwhile, the Stardust "mothership," which performed a divert burn maneuver about 15 minutes after releasing the return capsule late Saturday night, is now in an orbit going around the Sun. Along for that ride is a microchip that contains the names of all Planetary Society members from around the world at the time of the mission's launch, the first such collection of names from the public to have made a round trip to space and back.
While that could be the end of it, the Stardust mothership could, theoretically, go back into the field and work some more, Duxbury and Brownlee said. Designed in the late 1980s, it features two complete sets of electronics – and, according to Duxbury, "probably has many years left." It's also still got 17 kilograms of propellant and thus could spend a lot of time in cruise mode, although it could not bring anything back because it's used the one return capsule. Its fate rests in the hands of NASA.
No matter what happens now, Stardust has met its mission objectives and delivered the bounty, an example, said Duxbury "of what a lot of hard work and a little luck" can achieve.
It's impossible at this point to truly understand the significance of these samples, but, as Brownlee noted, comets are "libraries" that store information. "And I expect textbooks in the future will have a lot more information on the formation of the solar system because of these samples."
FROM: http://www.planetary.org/news/2006/0116_Stardust_Treasure_is_Retrieved.html
---
COMET #9
C/2006 A1 (Pojmanski)
Orbital Elements
The following orbital elements are taken from MPC 55982:
C/2006 A1 (Pojmanski)
T 2006 Feb. 22.1810 TT                                  MPC
q   0.555403             (2000.0)            P               Q
                   Peri.  351.1865      -0.8401857      -0.1554298
                   Node   211.3418      -0.4164482      -0.4287357
e   1.0            Incl.   92.7398      -0.3473599      +0.8899591
From 121 observations 2006 Jan. 4-Feb. 17.

An explanation of the orbital elements is available.
See: http://cfa-www.harvard.edu/iau/Ephemerides/Comets/2006A1.html
This comet is seen near Mercury near sunset.
See it Now: New Comet Brightens Rapidly

By Joe Rao
SPACE.com Skywatching Columnist
posted: 24 February 2006
06:43 am ET

During the next couple of weeks skywatchers will be turning their attention to a newly discovered comet that has just swept past the Sun and will soon cruise past Earth on its way back out toward the depths of the outer solar system.
Astronomers, who attempt to forecast the future characteristics and behavior of these cosmic vagabonds, have found this new object to be a better-than-average performer.
The comet is now visible with a simple pair of binoculars, and it's also dimly visible to the naked eye if you know precisely where to look.
The discovery
The first word about this new comet (catalogued as C/2006 A1) came from the Smithsonian Astrophysical Observatory, Cambridge, Massachusetts, which serves as the clearinghouse in the United States for astronomical discoveries. The SAO also serves in that capacity as an agency of the International Astronomical Union.
On Jan. 2, Grzegorz Pojmanski at the Warsaw University Astronomical Observatory discovered a faint comet on a photograph that was taken on New Year's Day from the Las Campanas Observatory in La Serena, Chile, as part of the All Sky Automated Survey (ASAS). A confirmation photograph was taken on Jan. 4. Later a prediscovery image of the comet dating back to Dec. 29, 2005 was also found.
Interestingly, about seven hours after Pojmanski detected the comet, another astronomer, Dr. Kazimieras Cernis at the Institute of Theoretical Physics and Astronomy at Vilnius, Lithuania, spotted it on ultraviolet images taken a few days earlier from the SOHO satellite. Despite this, however, the comet bears only Pojmanski's name.
Getting closer
A preliminary orbit for the new comet was quickly calculated. At the time of its discovery, the comet was about 113 million miles (181 million kilometers) from the Sun. But orbital elements indicated that on Feb. 22 it would be passing closest to the Sun (called "perihelion") at a distance of 51.6 million miles—not quite half the Earth's average distance from the Sun.
At the time of its discovery, the comet shone at a feeble magnitude of roughly 11 to 12, which is about 100 times dimmer than the faintest stars that can be perceived with the unaided eye. In addition, Comet Pojmanski was buried in the deep southern part of the sky, among the stars of the constellation of Indus (the Indian), and accessible only to observers in the Southern Hemisphere.
But since its discovery, the comet has steadily been progressing on a northward path.
Finally, the comet is becoming poised for visibility for Northern Hemisphere skywatchers, and it is expected to put on its best showing during the last days of February and the first week of March in the dawn morning sky.
What to expect
Preliminary predictions indicated that the comet would dutifully brighten as it approached the Sun. At perihelion, the most optimistic forecasts had Comet Pojmanski attaining a magnitude of +6.5 (generally considered the threshold of naked-eye visibility).
The comet had other plans, however, and has been increasing in brightness at a much faster pace.
On Feb. 7, Andrew Pearce, observing from Nedlands in Western Australia, caught the comet already shining at magnitude +6.4. "This comet appears to be brightening rapidly," noted Mr. Pearce, adding that a faint tail was also becoming visible. Twelve days later, the comet had brightened nearly a full magnitude, according to Mr. Pearce, reaching +5.4. On February 20, Luis Mansilla at the Canopus Observatory in Rosario, Argentina was able to see the comet in 7x50 binoculars despite interference from the Moon and haze near the horizon. He estimated its brightness at +5.3.
Currently, Comet Pojmanski is shining at around magnitude 5, which is roughly about the same brightness as the faintest star in the bowl of the Little Dipper. Sharp-eyed observers in a dark, clear sky can actually glimpse it without any optical aid.
The comet is located in the zodiacal constellation of Capricornus, the Sea Goat. Beginning Feb. 27, skywatchers in the Northern Hemisphere can try locating it, very low above the horizon, somewhat south of due east about 90 minutes before sunrise. You can use Venus as a guide on this morning: the comet will be situated roughly 7 degrees to the left and slightly below the brilliant planet (the width of your fist held at arm's length and projected against the sky is roughly equal to 10 degrees).
As viewed from midnorthern latitudes, Comet Pojmanski will be positioned a little higher above the horizon each morning at the start of morning twilight. While it's only 5 degrees high on Feb. 27, this quickly improves to 10 degrees by March 2; 16 degrees by March 5 and 22 degrees (more than "two fists" up from the horizon) by March 9.
What you can see
In the early morning sky it can be readily picked up in binoculars looking like a small, circular patch of light with a bluish-white hue and an almost star-like center.
The comet will passing closest to Earth on March 5, when it be 71.7 million miles (115.4 million kilometers) away.
In small telescopes the comet's gaseous head or "coma" should appear roughly 1/6 of the Moon's apparent diameter as seen from Earth (an actual linear diameter of 209,000 miles or 335,000 kilometers). It will also likely display a short, faint narrow tail composed chiefly of ionized gases.
Well-known comet expert, John E. Bortle of Stormville, New York compares the view of Comet Pojmanski to that of an "apple on a stick; typical of dust-poor comets."
After March 5, the comet will be receding from both the Sun and Earth and rapidly fade as it heads back out into space, beyond the limits of the outer solar system.
Basic Sky Guides
---
Joe Rao serves as an instructor and guest lecturer at New York's Hayden Planetarium. He writes about astronomy for The New York Times and other publications, and he is also an on-camera meteorologist for News 12 Westchester, New York.
1 AU, or astronomical unit, is the distance from the Sun to Earth, or about 93 million miles.
Magnitude is the standard by which astronomers measure the apparent brightness of objects that appear in the sky. The lower the number, the brighter the object. The brightest stars in the sky are categorized as zero or first magnitude. Negative magnitudes are reserved for the most brilliant objects: the brightest star is Sirius (-1.4); the full Moon is -12.7; the Sun is -26.7. The faintest stars visible under dark skies are around +6.
Degrees measure apparent sizes of objects or distances in the sky, as seen from our vantage point. The Moon is one-half degree in width. The width of your fist held at arm's length is about 10 degrees. The distance from the horizon to the overhead point (called the zenith) is equal to 90 degrees.
Declination is the angular distance measured in degrees, of a celestial body north or south of the celestial equator. If, for an example, a certain star is said to have a declination of +20 degrees, it is located 20 degrees north of the celestial equator. Declination is to a celestial globe as latitude is to a terrestrial globe.
Arc seconds are sometimes used to define the measurement of a sky object's angular diameter. One degree is equal to 60 arc minutes. One arc minute is equal to 60 arc seconds. The Moon appears (on average), one half-degree across, or 30 arc minutes, or 1800 arc seconds. If the disk of Mars is 20 arc seconds across, we can also say that it is 1/90 the apparent width of the Moon (since 1800 divided by 20 equals 90).
COMET #10
Space Weather News for April 7, 2006
http://spaceweather.com

Dying comet 73P/Schwassmann-Wachmann 3 continues to break apart. Astronomers are tracking at least 20 fragments approaching Earth for a harmless but beautiful close encounter in May.

In particular, fragment B of the comet has brightened 15-fold since April 2nd. This signals a possible breakup of "73P-B" into even more fragments. Amateur astronomers with backyard telescopes and CCD cameras can monitor the ongoing disintegration. Visit Spaceweather.com for sky maps, images more information.

SEE INDIVIDUAL PAGE - COMET 73-P
---
COMET #11
INCOMING COMET 2006 (October 28, 2006)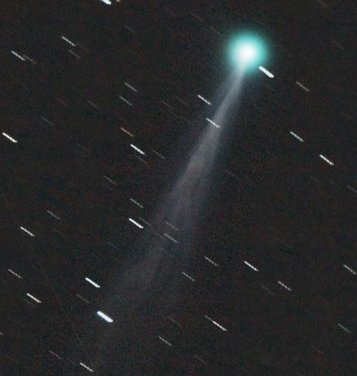 ---
COMET #12
New Comet Discovered by Slooh.com SkyGuide David Levy - Live Broadcast of the Comet & Special Edition of 'David Levy's Sky' Monday 10/9
CANARY ISLANDS, Spain, Oct. 5 /PRNewswire/ -- Renowned comet hunter David Levy discovered Comet C/2006 T1 on Monday, marking his twenty-second find. Soon after hosting his live web broadcast on Slooh.com, Levy turned his telescope towards Saturn and was astonished to find the unexpected object close by the ringed planet. The International Astronomical Union confirmed his discovery Tuesday.
Slooh will broadcast live images of the comet throughout the week -- culminating in a special edition of "David Levy's Sky" at 9:00PM EDT Monday, October 9. "I look forward to seeing the comet live thorough the Slooh Telescopes and sharing my story of discovery with its global membership," said Levy. "Slooh.com allows astronomy to be enjoyed as a true international sport."
The soon to be launched "Slooh Discovery Project" will empower everyday people to make their own amazing astronomical discoveries by expanding Slooh's telescope network to new continents, and coordinating with distinguished comet and supernova hunters worldwide.
Website: http://www.slooh.com/