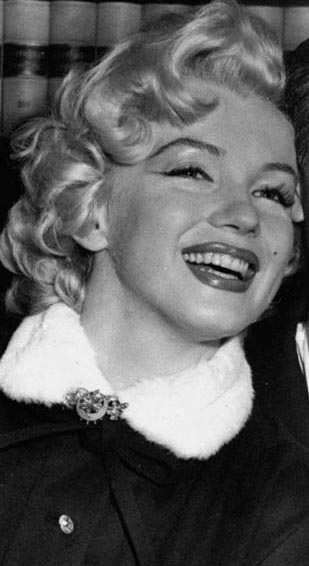 MARILYN MONROE
dee finney's blog
start date July 20, 2011
Today's date February 6, 2012
page 127
TOPIC: OBE - MARILYN MONROE - LESSONS
This is an odd combination, but they go togerther in my own mind for this reason. I was attempting to do an OBE and go to a specific p;lace which shall be unnamed to protect the person's privacy. A voice in my head said, "Just let go! Let go of the physical body. I thought I was but wasn't seeing what I was asttempting to see. All of a sudden, I saw an old photograph of Marilyn Monroe (she was wearing heavy lipstick but it wasn't movie makeup. It was an ld photograph either before she made it into the movies or a private photography from her own home. Then I heard a little girl say, "Daddy?" the little girl sounded like was about 4 years old. Then I saw a book cover - a black shiny book, with the word LESSONS on it very tightly spaced letters not one we would see published in book store. Then a voice said, "Sometimes the worst thing in life iis financial ruin."
I would agree with that last statement, but I've known several p;eople who have gone through that recently and still have a nicer life4 than I do and live in a much better house too.
First thing I want to do is find a copy of that photograph. I'm sure Ive seen it before. The photo at the top of the page is similar, but not the same one. I didn't find a natural photo of her on google.com images, nor on Yahoo.com images. I may have seen the photo in a book or on line at an earlier date after her murder.
Oh! Did I say murder? Yes! I said, Murder. There is too much evidence to call it suicide or accident. Sorry! But that's my own opinion.
SOME OF MY READERS WONN'T REMEMBER MARILYN LIKE US OLD FOLK DO, SO HERE IS THE WIKIPEDIA VERSION. I DIDN'T REALIZE SHE4 WS THAT MUCH OLDER THAN ME. HMMM. EVEN I GET SURPRISED SOMETIMES. I WONDER IF THAT VOICE I HEARD EARLIER WAS MARILYNS. HMMM~
Marilyn Monroe (
/mɒnˈroʊ/ or /mənˈroʊ/; born Norma Jeane Mortenson but baptized and raised as Norma Jeane Baker; June 1, 1926 – August 5, 1962)[1] was an American actress, singer, model and showgirl who became a major sex symbol, starring in a number of commercially successful motion pictures during the 1950s.[2]
After spending much of her childhood in foster homes, Monroe began a career as a model, which led to a film contract in 1946. Her early film appearances were minor, but her performances in The Asphalt Jungle and All About Eve (both 1950) drew attention to her—by now her hair was dyed blonde. By 1953, Monroe had progressed to a leading role in Niagara (1953), a melodramatic film noir that dwelled on her seductiveness. Her "dumb blonde" persona was used to comic effect in subsequent films such as Gentlemen Prefer Blondes (1953), How to Marry a Millionaire (1953) and The Seven Year Itch (1955). Limited by typecasting, Monroe studied at the Actors Studio to broaden her range. Her dramatic performance in Bus Stop (1956) was hailed by critics, and she received a Golden Globe nomination. Her production company, Marilyn Monroe Productions, released The Prince and the Showgirl (1957), for which she received a BAFTA Award nomination and won a David di Donatello award. She received a Golden Globe Award for her performance in Some Like It Hot (1959). Monroe's final completed film was The Misfits, co-starring Clark Gable with the screenplay written by her then-husband, Arthur Miller.
The final years of Monroe's life were marked by illness, personal problems, and a reputation for being unreliable and difficult to work with. The circumstances of her death, from an overdose of barbiturates, have been the subject of conjecture. Though officially classified as a "probable suicide", the possibility of an accidental overdose, as well as the possibility of homicide, have not been ruled out. In 1999, Monroe was ranked as the sixth greatest female star of all time by the American Film Institute. In the years and decades following her death, Monroe has often been cited as both a pop and a cultural icon as well as the quintessential American female sex symbol.[3][4][5]
Marilyn Monroe was born on June 1, 1926, in the Los Angeles County Hospital[6] as Norma Jeane Mortenson (soon after changed to Baker), the third child born to Gladys Pearl Baker (née Monroe) (May 27, 1902 – March 11, 1984).[7] Monroe's birth certificate names the father as Martin Edward Mortensen with his residence stated as "unknown".[8] The name Mortenson is listed as her surname on the birth certificate, although Gladys immediately had it changed to Baker, the surname of her first husband and which she still used. Martin's surname was misspelled on the birth certificate leading to more confusion on who her actual father was. Gladys Baker had married a Martin E. Mortensen in 1924, but they had separated before Gladys' pregnancy.[9] Several of Monroe's biographers suggest that Gladys Baker used his name to avoid the stigma of illegitimacy.[10] Mortensen died at the age of 85, and Monroe's birth certificate, together with her parents' marriage and divorce documents, were discovered. The documents showed that Mortensen filed for divorce from Gladys on March 5, 1927, and it was finalized on October 15, 1928.[11][12] Throughout her life, Marilyn Monroe denied that Mortensen was her father.[9] She said that, when she was a child, she had been shown a photograph of a man that Gladys identified as her father, Charles Stanley Gifford. She remembered that he had a thin mustache and somewhat resembled Clark Gable, and that she had amused herself by pretending that Gable was her father.[9][13]
Gladys was mentally unstable and financially unable to care for the young Norma Jeane, so she placed her with foster parents Albert and Ida Bolender of Hawthorne, California, where she lived until she was seven. One day, Gladys visited and demanded that the Bolenders return Norma Jeane to her. Ida refused, she knew Gladys was unstable and the situation would not benefit her young daughter. Gladys pulled Ida into the yard, then quickly ran back to the house and locked herself in. Several minutes later, she walked out with one of Albert Bolender's military duffel bags. To Ida's horror, Gladys had stuffed a screaming Norma Jeane into the bag, zipped it up, and was carrying it right out with her. Ida charged toward her, and their struggle split the bag apart, dumping out Norma Jeane, who wept loudly as Ida grabbed her and pulled her back inside the house, away from Gladys.[14] In 1933, Gladys bought a house and brought Norma Jeane to live with her. A few months later, Gladys began a series of mental episodes that would plague her for the rest of her life. In My Story, Monroe recalls her mother "screaming and laughing" as she was forcibly removed to the State Hospital in Norwalk.
Norma Jeane was declared a ward of the state. Gladys' best friend, Grace McKee, became her guardian. It was Grace who told Monroe that someday she would become a movie star. Grace was captivated by Jean Harlow, and would let Norma Jeane wear makeup and take her out to get her hair curled. They would go to the movies together, forming the basis for Norma Jeane's fascination with the cinema and the stars on screen. When she was 9, McKee married Ervin Silliman "Doc" Goddard in 1935, and subsequently sent Monroe to the Los Angeles Orphans Home (later renamed Hollygrove), followed by a succession of foster homes.[15] While at Hollygrove, several families were interested in adopting her; however, reluctance on Gladys' part to sign adoption papers thwarted those attempts. In 1937, Monroe moved back into Grace and Doc Goddard's house, joining Doc's daughter from a previous marriage. Due to Doc's frequent attempts to sexually assault Norma Jeane, this arrangement did not last long.
Grace sent Monroe to live with her great-aunt, Olive Brunings in Compton, California; this was also a brief stint ended by an assault (some reports say it was sexual)--one of Olive's sons had attacked the now middle-school-aged girl. Biographers and psychologists have questioned whether at least some of Norma Jeane's later behavior (i.e. hypersexuality, sleep disturbances, substance abuse, disturbed interpersonal relationships), was a manifestation of the effects of childhood sexual abuse in the context of her already problematic relationships with her psychiatrically ill mother and subsequent caregivers.[16][17] In early 1938, Grace sent her to live with yet another one of her aunts, Ana Lower, who lived in Van Nuys, another city in Los Angeles County. Years later, she would reflect fondly about the time that she spent with Lower, whom she affectionately called "Aunt Ana." She would explain that it was one of the only times in her life when she felt truly stable. As she aged, however, Lower developed serious health problems.
In 1942, Monroe moved back to Grace and Doc Goddard's house. While attending Van Nuys High School, she met a neighbor's son, James Dougherty (more commonly referred to as simply "Jim"), and began a relationship with him.[18][19][20] Several months later, Grace and Doc Goddard decided to relocate to Virginia, where Doc had received a lucrative job offer. Although it was never explained why, they decided not to take Monroe with them. An offer from a neighborhood family to adopt her was proposed, but Gladys rejected the offer. With few options left, Grace approached Dougherty's mother and suggested that Jim marry her so that she would not have to return to an orphanage or foster care, as she was two years below the California legal age. Jim was initially reluctant, but he finally relented and married her in a ceremony arranged by Ana Lower. During this period, Monroe briefly supported her family as a homemaker.[18][21] In 1943, during World War II, Dougherty enlisted in the Merchant Marine. He was initially stationed on Santa Catalina Island off California's west coast, and Monroe lived with him there in the town of Avalon for several months before he was shipped out to the Pacific. Frightened that he might not come back alive, Monroe begged him to try and get her pregnant before he left. Dougherty disagreed, feeling that she was too young to have a baby, but he promised that they would revisit the subject when he returned home. Subsequently, Monroe moved in with Dougherty's mother.
READERS CAN GET HER CAREER AND FILMOGRAPHY HERE: http://en.wikipedia.org/wiki/Marilyn_Monroe
Monroe and Joe DiMaggio were married in San Francisco on January 14, 1954. They traveled to Japan soon after, combining a honeymoon with a business trip previously arranged by DiMaggio. For two weeks she took a secondary role to DiMaggio as he conducted his business, having told a reporter, "Marriage is my main career from now on."[67] Monroe then traveled alone to Korea where she performed for 13,000 American Marines over a three-day period. She later commented that the experience had helped her overcome a fear of performing in front of large crowds.[68] Edward H. Comins (1932–2011) of Las Vegas, Nevada, the winner of a Bronze Star medal in the Korean War, reported having cooked for Monroe during one of her engagements abroad.[69]
One of Monroe's most notable film roles was shot in September 1954, a skirt-blowing key scene for The Seven Year Itch on Lexington Avenue at 53rd Street in New York City. In it, she stands with her co-star, Tom Ewell, while the air from a subway grating blows her skirt up. A large crowd watched as director Billy Wilder ordered the scene to be refilmed many times. Joe DiMaggio was reported to have been present and infuriated by the spectacle.[74] After a quarrel, witnessed by journalist Walter Winchell, the couple returned to California where they avoided the press for two weeks, until Monroe announced that they had separated.[75] Their divorce was granted in November 1954.
In May 1955, Monroe started dating playwright Arthur Miller; they had met in Hollywood in 1950 and when Miller discovered she was in New York, he arranged for a mutual friend to reintroduce them.[86] On June 1, 1955, Monroe's birthday, Joe DiMaggio accompanied Monroe to the premiere of The Seven Year Itch in New York City. He later hosted a birthday party for her, but the evening ended with a public quarrel, and Monroe left the party without him. A lengthy period of estrangement followed.[87][88] Throughout that year, Monroe studied with the Actors Studio, and found that one of her biggest obstacles was her severe stage fright. She was befriended by the actors Kevin McCarthy and Eli Wallach who each recalled her as studious and sincere in her approach to her studies, and noted that she tried to avoid attention by sitting quietly in the back of the class.[89] When Strasberg felt Monroe was ready to give a performance in front of her peers, Monroe and Maureen Stapleton chose the opening scene from Eugene O'Neill's Anna Christie, and although she had faltered during each rehearsal, she was able to complete the performance without forgetting her lines.[90] Kim Stanley later recalled that students were discouraged from applauding, but that Monroe's performance had resulted in spontaneous applause from the audience.[90] While Monroe was a student, Lee Strasberg commented, "I have worked with hundreds and hundreds of actors and actresses, and there are only two that stand out way above the rest. Number one is Marlon Brando, and the second is Marilyn Monroe."[90]
During filming in England he resented Monroe's dependence on her drama coach, Paula Strasberg, regarding Strasberg as a fraud whose only talent was the ability to "butter Marilyn up". He recalled his attempts at explaining a scene to Monroe, only to hear Strasberg interject, "Honey — just think of Coca-Cola and Frank Sinatra."[95] Olivier later commented that in the film "Marilyn was quite wonderful, the best of all."[96] Monroe's performance was hailed by critics, especially in Europe, where she won the David di Donatello, the Italian equivalent of an Academy Award, as well as the French Crystal Star Award. She was also nominated for a BAFTA. It was more than a year before Monroe began her next film. During her hiatus, she summered with Miller in Amagansett, New York. She suffered a miscarriage on August 1, 1957.[97][98]
With Miller's encouragement she returned to Hollywood in August 1958 to star in Some Like It Hot. The film was directed by Billy Wilder and co-starred Jack Lemmon and Tony Curtis. Wilder had experienced Monroe's tardiness, stage fright, and inability to remember lines during production of The Seven Year Itch. However her behavior was now more hostile, and was marked by refusals to participate in filming and occasional outbursts of profanity.[99] Monroe consistently refused to take direction from Wilder, or insisted on numerous retakes of simple scenes until she was satisfied.[100] She developed a rapport with Lemmon, but she disliked Curtis after hearing that he had described their love scenes as "like kissing Hitler".[101] Curtis later stated that the comment was intended as a joke.[102] During filming, Monroe discovered that she was pregnant. She suffered another miscarriage in December 1958, as filming was completed.[103]
Some Like it Hot became a resounding success, and was nominated for six Academy Awards. Monroe was acclaimed for her performance and won the Golden Globe Award for Best Actress - Motion Picture Musical or Comedy. Wilder commented that the film was the biggest success he had ever been associated with.[104] He discussed the problems he encountered during filming, saying "Marilyn was so difficult because she was totally unpredictable. I never knew what kind of day we were going to have... would she be cooperative or obstructive?"[105] He had little patience with her method-acting technique and said that instead of going to the Actors Studio "she should have gone to a train-engineer's school ... to learn something about arriving on schedule."[106] Wilder had become ill during filming, and explained, "We were in mid-flight – and there was a nut on the plane."[107] In hindsight, he discussed Monroe's "certain indefinable magic" and "absolute genius as a comic actress."[105]
By this time, Monroe had only completed one film, Bus Stop, under her four-picture contract with 20th Century Fox. She agreed to appear in Let's Make Love, which was to be directed by George Cukor, but she was not satisfied with the script, and Arthur Miller rewrote it.[108] Gregory Peck was originally cast in the male lead role, but he refused the role after Miller's rewrite; Cary Grant, Charlton Heston, Yul Brynner and Rock Hudson also refused the role before it was offered to Yves Montand.[109] Monroe and Miller befriended Montand and his wife, actress Simone Signoret, and filming progressed well until Miller was required to travel to Europe on business. Monroe began to leave the film set early and on several occasions failed to attend, but her attitude improved after Montand confronted her. Signoret returned to Europe to make a film, and Monroe and Montand began a brief affair that ended when Montand refused to leave Signoret.[110] The film was not a critical or commercial success
Monroe's health deteriorated during this period, and she began to see a Los Angeles psychiatrist, Dr. Ralph Greenson. He later recalled that during this time she frequently complained of insomnia, and told Greenson that she visited several medical doctors to obtain what Greenson considered an excessive variety of drugs. He concluded that she was progressing to the point of addiction, but also noted that she could give up the drugs for extended periods without suffering any withdrawal symptoms.[112] According to Greenson, the marriage between Miller and Monroe was strained; he said that Miller appeared to genuinely care for Monroe and was willing to help her, but that Monroe rebuffed while also expressing resentment towards him for not doing more to help her.[113] Greenson stated that his main objective at the time was to enforce a drastic reduction in Monroe's drug intake.[114]
In 1956, Arthur Miller had briefly resided in Nevada and wrote a short story about some of the local people he had become acquainted with, a divorced woman and some aging cowboys. By 1960 he had developed the short story into a screenplay, and envisaged it as containing a suitable role for Monroe. It became her last completed film. The Misfits, directed by John Huston and starring Clark Gable, Montgomery Clift, Eli Wallach and Thelma Ritter. Shooting commenced in July 1960, with most taking place in the hot Northern Nevada desert.[115] Monroe was frequently ill and unable to perform, and away from the influence of Dr. Greenson, she had resumed her consumption of sleeping pills and alcohol.[114] A visitor to the set, Susan Strasberg, later described Monroe as "mortally injured in some way,"[116] and in August, Monroe was rushed to Los Angeles where she was hospitalized for ten days. Newspapers reported that she had been near death, although the nature of her illness was not disclosed.[117] Louella Parsons wrote in her newspaper column that Monroe was "a very sick girl, much sicker than at first believed", and disclosed that she was being treated by a psychiatrist.[117] Monroe returned to Nevada and completed the film, but she became hostile towards Arthur Miller, and public arguments were reported by the press.[118] Making the film had proved to be an arduous experience for the actors; in addition to Monroe's distress, Montgomery Clift had frequently been unable to perform due to illness, and by the final day of shooting, Thelma Ritter was in hospital suffering from exhaustion. Gable, commenting that he felt unwell, left the set without attending the wrap party.[119] Monroe and Miller returned to New York on separate flights.[120]
Within ten days Monroe had announced her separation from Miller, and Gable had died from a heart attack.[121] Gable's widow, Kay, commented to Louella Parsons that it had been the "eternal waiting" on the set of The Misfits that had contributed to his death, though she did not name Monroe. When reporters asked Monroe if she felt guilty about Gable's death, she refused to answer,[122] but the journalist Sidney Skolsky recalled that privately she expressed regret for her poor treatment of Gable during filming and described her as being in "a dark pit of despair".[123] Monroe later attended the christening of the Gables' son, at the invitation of Kay Gable.[123] The Misfits received mixed reviews, and was not a commercial success, though some praised the performances of Monroe and Gable.[123] Despite on-set difficulties, Gable, Monroe, and Clift delivered performances that modern movie critics consider superb.[124] Many critics regard Gable's performance to be his finest, and Gable, after seeing the rough cuts, agreed.[125] Monroe received the 1961 Golden Globe Award as "World Film Favorite" in March, 1962, five months before her death. Directors Guild of America nominated Huston as best director. The film is now regarded as a classic. Huston later commented that Monroe's performance was not acting in the true sense, and that she had drawn from her own experiences to show herself, rather than a character. "She had no techniques. It was all the truth. It was only Marilyn."[123]
During the following months, Monroe's dependence on alcohol and prescription medications began to take a toll on her health, and friends such as Susan Strasberg later spoke of her illness.[126] Her divorce from Arthur Miller was finalized in January 1961, with Monroe citing "incompatibility of character",[126] and in February she voluntarily entered the Payne Whitney Psychiatric Clinic. Monroe later described the experience as a "nightmare".[127] She was able to phone Joe DiMaggio from the clinic, and he immediately traveled from Florida to New York to facilitate her transfer to the Columbia Presbyterian Medical Center. She remained there for three weeks. Illness prevented her from working for the remainder of the year; she underwent surgery to correct a blockage in her Fallopian tubes in May, and the following month underwent gallbladder surgery.[128] She returned to California and lived in a rented apartment as she convalesced.
In 1962, Monroe began filming Something's Got to Give, which was to be the third film of her four-film contract with 20th Century Fox. It was to be directed by George Cukor, and co-starred Dean Martin and Cyd Charisse. She was ill with a virus as filming commenced, and suffered from high temperatures and recurrent sinusitis. On one occasion she refused to perform with Martin as he had a cold, and the producer Henry Weinstein recalled seeing her on several occasions being physically ill as she prepared to film her scenes, and attributed it to her dread of performing. He commented, "Very few people experience terror. We all experience anxiety, unhappiness, heartbreaks, but that was sheer primal terror."[129]
On May 19, 1962, she attended the early birthday celebration of President John F. Kennedy at Madison Square Garden, at the suggestion of Kennedy's brother-in-law, actor Peter Lawford. Monroe performed "Happy Birthday" along with a specially written verse based on Bob Hope's "Thanks for the Memory". Kennedy responded to her performance with the remark, "Thank you. I can now retire from politics after having had 'Happy Birthday' sung to me in such a sweet, wholesome way."[130] (also see entry Happy Birthday, Mr. President)
Monroe returned to the set of Something's Got to Give and filmed a sequence in which she appeared nude in a swimming pool. Commenting that she wanted to "push Liz Taylor off the magazine covers", she gave permission for several partially nude photographs to be published by Life. Having only reported for work on twelve occasions out of a total of 35 days of production,[129] Monroe was dismissed. The studio 20th Century Fox filed a lawsuit against her for half a million dollars,[131] and the studio's vice president, Peter Levathes, issued a statement saying "The star system has gotten way out of hand. We've let the inmates run the asylum, and they've practically destroyed it."[131] Monroe was replaced by Lee Remick, and when Dean Martin refused to work with any other actress, he was also threatened with a lawsuit.[131] Following her dismissal, Monroe engaged in several high-profile publicity ventures. She gave an interview to Cosmopolitan and was photographed at Peter Lawford's beach house sipping champagne and walking on the beach.[132] She next posed for Bert Stern for Vogue in a series of photographs that included several nudes.[132] Published after her death, they became known as 'The Last Sitting'. Richard Meryman interviewed her for Life, in which Monroe reflected upon her relationship with her fans and her uncertainties in identifying herself as a "star" and a "sex symbol". She referred to the events surrounding Arthur Miller's appearance before the House Un-American Activities Committee in 1956, and her studio's warning that she would be "finished" if she showed public support for him, and commented, "You have to start all over again. But I believe you're always as good as your potential. I now live in my work and in a few relationships with the few people I can really count on. Fame will go by, and, so long, I've had you fame. If it goes by, I've always known it was fickle. So at least it's something I experienced, but that's not where I live."[133]
In the final weeks of her life, Monroe engaged in discussions about future film projects, and firm arrangements were made to continue negotiations on Something's Got to Give.[134] Among the projects was a biography of Jean Harlow filmed two years later unsuccessfully with Carroll Baker. Starring roles in Billy Wilder's Irma la Douce[135] and What a Way to Go! were also discussed; Shirley MacLaine eventually played the roles in both films. Kim Novak replaced her in Kiss Me, Stupid, a comedy in which she was to star opposite Dean Martin. A film version of the Broadway musical, A Tree Grows In Brooklyn, and an unnamed World War I–themed musical co-starring Gene Kelly were also discussed, but the projects never materialized due to her death.[134] Her dispute with 20th Century Fox was resolved, and her contract renewed into a $1 million two-picture deal, and filming of Something's Got to Give was scheduled to resume in early fall 1962. Marilyn, having fired her own agent and MCA in 1961 managed her own negoiations as President of Marilyn Monroe Productions. Also on the table was an Italian four film deal worth 10 million giving her script, director, and co-star approval.[136] Allan "Whitey" Snyder who saw her during the last week of her life, said Monroe was pleased by the opportunities available to her, and that she "never looked better [and] was in great spirits".[134]
Death and aftermath
On August 5, 1962, LAPD police sergeant Jack Clemmons received a call at 4:25 am from Dr. Ralph Greenson, Monroe's psychiatrist, proclaiming that Monroe was found dead at her home in Brentwood, Los Angeles, California.[137] She was 36 years old. At the subsequent autopsy, eight milligram per cent of Chloral hydrate and 4.5 milligram percent of Nembutal were found in her system,[138] and Dr. Thomas Noguchi of the Los Angeles County Coroners office recorded cause of death as "acute barbiturate poisoning," resulting from a "probable suicide."[139] Many theories, including murder, circulated about the circumstances of her death and the timeline after the body was found. Some conspiracy theories involved John and Robert Kennedy, while other theories suggested CIA or Mafia complicity. It was reported that the last person Monroe called was the President.[140][141]
On August 8, 1962, Monroe was interred in a crypt at Corridor of Memories #24, at the Westwood Village Memorial Park Cemetery in Los Angeles. Lee Strasberg delivered the eulogy. Joe DiMaggio took control of the funeral arrangements which consisted of only 31 close family and friends. Police were also present to keep the press away.[142] Her casket was solid bronze and was lined with champagne colored silk.[143] Allan "Whitey" Snyder did her make-up which was supposedly a promise made in earlier years if she were to die before him.[143] She was wearing her favorite green Emilio Pucci dress.[143] In her hands was a small bouquet of pink teacup roses.[143] For the next 20 years, red roses were placed in a vase attached to the crypt, courtesy of DiMaggio.[142]
In August 2009, the crypt space directly above that of Monroe was placed for auction[144] on eBay. Elsie Poncher plans to exhume her husband and move him to an adjacent plot. She advertised the crypt, hoping "to make enough money to pay off the $1.6 million mortgage" on her Beverly Hills mansion.[145] The winning bid was placed by an anonymous Japanese man for $4.6 million,[146] but the winning bidder later backed out "because of the paying problem". In 1992, Playboy magazine founder Hugh Hefner, who never met Monroe, bought the crypt immediately to the left of hers at the Westwood Village Memorial Park Cemetery.[145] He affirmed that the initial success of his magazine directly correlated with Monroe.[citation needed]
Administration
In her will, Monroe stated she would leave Lee Strasberg her personal effects, which amounted to just over half of her residuary estate, expressing her desire that he "distribute [the effects] among my friends, colleagues and those to whom I am devoted".[147] Instead, Strasberg stored them in a warehouse, and willed them to his widow, Anna, who successfully sued Los Angeles-based Odyssey Auctions in 1994 to prevent the sale of items consigned by the nephew of Monroe's business manager, Inez Melson. In October 1999, Christie's auctioned the bulk of Monroe's effects, including those recovered from Melson's nephew, netting an amount of $13,405,785. Subsequently, Strasberg sued the children of four photographers to determine rights of publicity, which permits the licensing of images of deceased personages for commercial purposes. The decision as to whether Monroe was a resident of California, where she died and where her will was probated,[148] or New York, which she considered her primary residence, was worth millions.[149]
On May 4, 2007, a New York judge ruled that Monroe's rights of publicity ended at her death.[150][151][152] In October 2007, California Governor Arnold Schwarzenegger signed Senate Bill 771.[153] The legislation, supported by Anna Strasberg and the Screen Actors Guild, established that non-family members may inherit rights of publicity through the residuary clause of the deceased's will, provided that the person was a resident of California at the time of death.[154][155] In March 2008, the United States District Court in Los Angeles ruled that Monroe was a resident of New York at the time of her death, citing the statement of the executor of her estate to California tax authorities, and a 1966 sworn affidavit by her housekeeper.[156] The decision was reaffirmed by the United States District Court of New York in September 2008.[157]
In July 2010, Monroe's Brentwood home was put up for sale by Prudential California Realty. The house was sold for $3.6 million.[158] Monroe left to Lee Strasberg an archive of her own writing—diaries, poems, and letters, which Anna discovered in October 1999. In October 2010, the documents were published as a book, Fragments.[159][160]
Personal life
Relationships
Monroe had three marriages, all of which ended in divorce. The first was to James Dougherty, the second to Joe DiMaggio, and lastly to Arthur Miller. Allegedly, she was briefly married to writer Robert "Bob" Slatzer. She is alleged to have had affairs with both John and Robert Kennedy. Marlon Brando, in his autobiography Songs My Mother Taught Me, claimed that he had had a relationship with her, and enduring friendship lasting until her death. She also suffered two miscarriages and an ectopic pregnancy during her three marriages.[161][162]
Monroe married James Dougherty on June 19, 1942, at the home of Chester Howell in Los Angeles. As a result of her modeling career, he began to lose interest in her and stated that he did not approve of her new job. Monroe then decided to divorce Dougherty. The marriage ended when he returned from overseas in 1946. In The Secret Happiness of Marilyn Monroe and To Norma Jeane with Love, Jimmie, he claimed they were in love, but dreams of stardom lured her away. In 1953, he wrote a piece called "Marilyn Monroe Was My Wife" for Photoplay, in which he claimed that she threatened to jump off the Santa Monica Pier if he left her. She was reported to have been furious and explained in 1956 interview that she confessed to having attempted suicide during the marriage and stated that she felt trapped and bored by Dougherty, even blaming their marriage on her foster mother.[163] In her autobiography, explaining the sudden dissolution of their marriage, Monroe stated, "My marriage didn't make me sad, but it didn't make me happy either. My husband and I hardly spoke to each other. This wasn't because we were angry. We had nothing to say. I was dying of boredom."[164]
Doc Goddard had plans to publish extra details about the marriage, citing that he hoped to clear up rumors about an arranged marriage, but decided against the publication at the last minute.[165] In the 2004 documentary Marilyn's Man, Dougherty made three new claims: that he invented the "Marilyn Monroe" persona; studio executives forced her to divorce him; and that he was her true love and her "dedicated friend for life".
Monroe eloped with Joe DiMaggio at San Francisco City Hall on January 14, 1954. In 1951, DiMaggio saw a photograph of Monroe alongside Chicago White Sox players Joe Dobson and Gus Zernial, prompting him to request a date with her in 1952. Of their initial meeting, Monroe wrote in My Story that she did not have a desire to know him, as she had feared a stereotypical jock.
During their honeymoon in Japan, she was asked to visit Korea as part of the USO. She performed ten shows in four days for over 100,000 servicemen. Maury Allen quoted New York Yankees PR man Arthur Richman that Joe told him that the marriage went wrong from then. On September 14, 1954, Monroe filmed the famed skirt-blowing scene for The Seven Year Itch in front of New York's Trans-Lux Theater. Bill Kobrin, then Fox's east coast correspondent, told the Palm Springs Desert Sun in 1956 that it was Billy Wilder's idea to turn the shoot into a media circus, and that the couple had a "yelling battle" in the theater lobby.[166] She filed for divorce on grounds of mental cruelty nine months after the wedding.
In February 1961, Monroe was admitted to the Payne Whitney Psychiatric Clinic. She contacted DiMaggio, who secured her release. She later joined him in Florida, where he was serving as a batting coach at the New York Yankees' training camp. Bob Hope jokingly dedicated Best Song nominee The Second Time Around to them at the 1961 Academy Awards. According to Allen, on August 1, 1962, DiMaggio – alarmed by how Monroe had fallen in with people he considered detrimental to her well-being – quit his job with a PX supplier to ask her to remarry him. After Monroe's death, DiMaggio claimed her body and arranged her funeral. For 20 years, he had a half-dozen red roses delivered to her crypt three times a week. In 2006, DiMaggio's adopted granddaughters auctioned the bulk of his estate, which featured two letters Monroe penned to him and a photograph signed "I love you, Joe, Marilyn."[167]
On June 29, 1956, Monroe married playwright Arthur Miller, in a civil ceremony in White Plains, New York. Monroe met Miller in 1950. During this filming of Bus Stop, the relationship between Monroe and Miller had developed, and although the couple were able to maintain their privacy for almost a year, the press began to write about them as a couple,[168] often referred to as "The Egghead and The Hourglass".[169] In reflecting on his courtship of Monroe, Miller wrote, "She was a whirling light to me then, all paradox and enticing mystery, street-tough one moment, then lifted by a lyrical and poetic sensitivity that few retain past early adolescence."[170]
The reports of their romance were soon overtaken by news that Miller had been called to testify before the House Un-American Activities Committee to explain his supposed communist affiliations. Called upon to identify communists he was acquainted with, Miller refused and was charged with contempt of Congress. He was acquitted on appeal.[171] During the investigation, Monroe was urged by film executives to abandon Miller, rather than risk her career but she refused, later branding them as "born cowards".[171]
The press began to discuss an impending marriage, but Monroe and Miller refused to confirm the rumor. In June 1956, a reporter was following them by car, and as they attempted to elude him, the reporter's car crashed, killing a female passenger. Monroe became hysterical upon hearing the news, and their engagement was announced, partly in the expectation that it would reduce the excessive media interest they were being subjected to.[169]
City Court Judge Seymour D. Robinowitz presided over the hushed ceremony in the law office of Sam Slavitt. (The wedding had been kept secret from both the press and the public.) Monroe and Miller wed again two days later in a Jewish ceremony before a small group of guests. Rabbi Robert E. Goldburg, a Reform rabbi at Congregation Mishkan Israel, presided over the ceremony.[172] Their nuptials were celebrated at the home of Miller's literary agent, Kay Brown, in Westchester County, New York. Some 30 friends and relatives attended the hastily arranged party.
Nominally raised as a Christian but before her 1956 conversion (to Judaism),[173] Monroe laughingly rejected Jane Russell's conversion attempts during the 1953 filming of Gentlemen Prefer Blondes, saying, "Jane tried to convert me (to religion) and I tried to introduce her to Freud".[174] She did convert to Judaism before marrying Miller.[175][176][177][178]
Less than two weeks after the wedding, the Millers flew to London, where they were greeted at Parkside House by Laurence Olivier and wife Vivien Leigh. Monroe created chaos among the normally staid British press. After she finished shooting The Prince and the Showgirl with Laurence Olivier, the couple returned to the United States from England and discovered she was pregnant. Tony Curtis, her co-star from Some Like It Hot, claims he got Monroe pregnant during their on-off affair that was rekindled during the filming of Some Like It Hot in 1959, while she was still married to Arthur Miller.[179][180][181][182]
Miller's screenplay for The Misfits, a story about a despairing divorcée, was meant to be a Valentine gift for his wife, but by the time filming started in 1960 their marriage was beyond repair. A Mexican divorce was granted on January 24, 1961, in Ciudad Juarez by Francisco José Gómez Fraire. On February 17, 1962, Miller married Inge Morath, one of the Magnum photographers recording the making of The Misfits. In January 1964, Miller's play After The Fall opened, featuring a beautiful and devouring shrew named Maggie. Simone Signoret noted in her autobiography the morbidity of Miller and Elia Kazan resuming their professional association "over a casket". In interviews and in his autobiography, Miller insisted that Maggie was not based on Monroe. However, he never pretended that his last Broadway-bound work, Finishing the Picture, was not based on the making of The Misfits. He appeared in the documentary The Century of the Self, lamenting the psychological work being done on her before her death.
On May 19, 1962, Monroe made her last significant public appearance, singing "Happy Birthday, Mr. President" at a birthday party for President John F. Kennedy at Madison Square Garden. The dress that she wore to the event, specially designed and made for her by Jean Louis, sold at an auction in 1999 for $1.26 million.[183] Monroe reportedly had an affair with President John F. Kennedy. JFK's reputed mistress Judith Exner, in her 1977 autobiography, also wrote about an affair that she said the president and Monroe had.[184]
Journalist Anthony Summers examines the issue of Monroe's relationships with the Kennedy brothers at length in two books: his 1993 biography of FBI Director J. Edgar Hoover, entitled Official and Confidential: The Secret Life of J. Edgar Hoover, and his 1985 biography of Monroe, entitled Goddess. In the Hoover book, Summers concludes that Monroe was in love with President Kennedy and wanted to marry him in the early 1960s; that she called the White House frequently; and that, when the married President had to break off their affair, Monroe became even more depressed, and then turned to Robert Kennedy, who visited Monroe in Los Angeles the day that she died.[185]
Patricia Seaton Lawford, the fourth wife of actor Peter Lawford, also deals with the Monroe-Kennedy matters in her 1988 biography of Peter Lawford, entitled The Peter Lawford Story. Lawford's first wife was Patricia Kennedy Lawford, a sister of John and Robert; Lawford was very close to the Kennedy family for over a decade, including the time of Monroe's death. In 1997, documents purporting to prove a coverup of a relationship between JFK and Monroe were discovered to be fraudulent.[186]
Psychoanalysis
Monroe had a long experience with psychoanalysis. She was in analysis with Margaret Herz Hohenberg, Anna Freud, Marianne Rie Kris, Ralph S. Greenson (who found Monroe dead), and Milton Wexler.[187]
Politics
In Monroe's last interview she pleaded with a reporter to end the article with the following quote: "What I really want to say: That what the world really needs is a real feeling of kinship. Everybody: stars, laborers, Negroes, Jews, Arabs. We are all brothers. Please don't make me a joke. End the interview with what I believe."[188]
Monroe was friends with Ella Fitzgerald and helped Ella in her career. Ella Fitzgerald later recounted, "I owe Marilyn Monroe a real debt...it was because of her that I played the Mocambo, a very popular nightclub in the '50s. She personally called the owner of the club, and told him she wanted me booked immediately, and if he would do it, she would take a front table every night. She told him – and it was true, due to Marilyn's superstar status – that the press would go wild. The owner said yes, and Marilyn was there, front table, every night. The press went overboard. After that, I never had to play a small jazz club again. She was an unusual woman – a little ahead of her times. And she didn't know it."[189]
Political discussions were recounted with Robert Kennedy as to policy towards Cuba, and President Kennedy. The latter said to have taken place at a luncheon with the Peter Lawfords. She was very pleased, as she had asked the President a lot of socially significant questions concerning the morality of atomic testing.[190] Monroe supported Peace Action, which was created from a merge of Committee for a SANE Nuclear Policy and the Nuclear Weapons Freeze Campaign.[191]
While in Mexico in 1962, she openly associated with Americans who were identified by the FBI as communists, such as Frederick Vanderbilt Field. The daughter of Monroe's last psychiatrist, Joan Greenson, said that Monroe was "passionate about equal rights, rights for blacks, rights for the poor. She identified strongly with the workers."[190]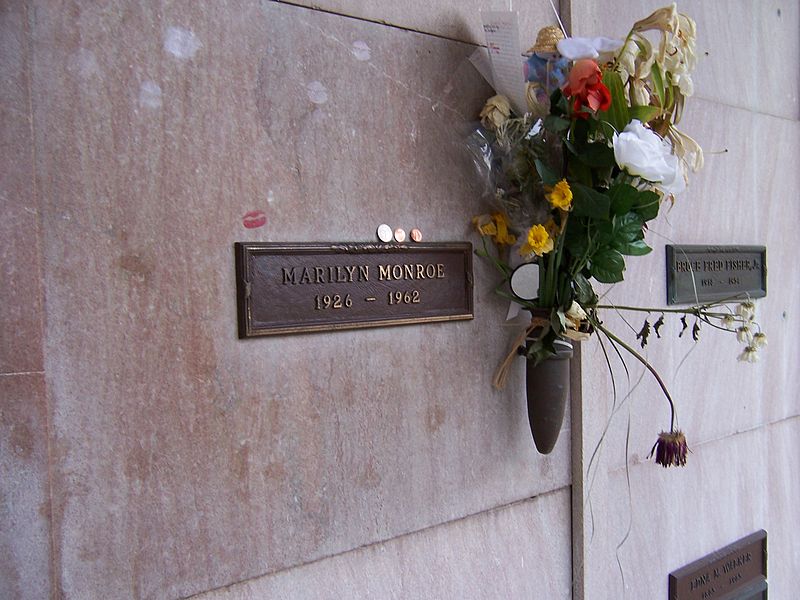 From Wikipedia, the free encyclopedia
Marilyn Monroe was found dead in the bedroom of her Brentwood home by her psychiatrist Ralph Greenson after he was called by Monroe's housekeeper Eunice Murray on August 5, 1962. She was 36 years old at the time of her death. Her death was ruled to be "acute barbiturate poisoning" by Dr. Thomas Noguchi of the Los Angeles County Coroners office and listed as "probable suicide". Many individuals, including Jack Clemmons, the first Los Angeles Police Department officer to arrive at the death scene,[1] believe that she was murdered. No murder charges were ever filed. The death of Monroe has since become one of the most debated conspiracy theories of all time.[2][3][4]
questions remain unanswered regarding the circumstances and timeline of Monroe's death after her body was found. Many elements of this timeline have often been brought into question. Most notable are the discrepancies in exactly what time Monroe either made or received her last phone call and at what time during the late night and early morning hours of August 4 and 5 her body was discovered.[5]
7:00–7:15 pm—Joe DiMaggio Jr., son of ex-baseball star Joe DiMaggio (and thus Monroe's former stepson) phones her about his broken engagement to a girl in San Diego.

[

6

]

DiMaggio Jr. said when interviewed that Monroe sounded cheerful and upbeat. On duty with the Marines in California, DiMaggio was able to place the time of the call because he was watching the seventh inning of a Baltimore Orioles-Los Angeles Angels game being played in Baltimore. According to the game's records the seventh inning took place between 10 and 10:15 pm Eastern Daylight Time; thus, Monroe received the call around 7 pm California time.
7:30–7:45 pm—Peter Lawford telephones Monroe to invite her to dinner at his house, an invitation she had declined earlier that day. According to Lawford, Monroe's speech was slurred and was becoming increasingly indecipherable. After telling him goodbye the conversation abruptly ends. Lawford tries to call her back again but receives a busy signal. Telephone records show that this is the last recorded phone call Monroe's main line received that night.
8:00 pm—Lawford telephones Eunice Murray, spending the night in Monroe's guest house, on a different line asking if the maid would check in on her. After a few seconds Murray returns to the phone telling Lawford that she is fine. Unconvinced Lawford will try all night long to get in touch with Monroe. Lawford telephones his friend and lawyer Milton A. "Mickey" Rudin, but is advised to keep away from Monroe's house to avoid any public embarrassment that could result from Monroe possibly being under the influence.
10:00 pm—Housekeeper Eunice Murray walks past Monroe's bedroom door and later testifies that she saw a light on under the door but decided not to disturb Monroe.
10:30 pm—According to actress Natalie Trundy (later Mrs. Arthur P. Jacobs), Monroe's agent Arthur P. Jacobs hurriedly leaves a concert at the Hollywood Bowl that he is attending with Trundy and with director Mervyn LeRoy and his wife, after being informed by Monroe's lawyer Mickey Rudin that she has overdosed. Trundy's timeline fits with undertaker Guy Hockett's (see below) estimation that Monroe died sometime between 9:30 pm and 11:30 pm
12:00 am—Murray notices the light under the door again and knocks but gets no reply. She tells police she immediately telephoned Dr. Ralph Greenson, Monroe's psychiatrist.
Dr. Greenson arrives and tries to break open the door but fails. He looks through the French windows outside and sees Monroe lying on the bed holding the telephone and apparently dead, so breaks the glass to open the locked door and checks her. He calls Dr. Hyman Engelberg. There is some speculation that an ambulance might have been summoned to Monroe's house at this point and later dismissed.
1:00 am—Peter Lawford is informed by Mickey Rudin that Monroe is dead.
4:30 am—Police are called and arrive shortly after. The two doctors and Murray are questioned and indicate a time of death of around 12:30 am. Police note the room is extremely tidy and the bed appears to have fresh linen on it. They claim Murray was washing sheets when they arrived. Police note that the bedside table has several pill bottles but the room contains no means to wash pills down as there is no glass and the water is turned off. Monroe is known to gag on pills even when drinking to wash them down. Later a glass is found lying on the floor by the bed but police claim it was not there when the room was searched.
5:40 am—The undertaker, Guy Hockett, arrives and notes that the state of rigor mortis indicates a time of death between 9:30 and 11:30 pm The time is later altered to match the witness statements.
6:00 am—Murray changes her story and now says she went back to bed at midnight and only called Dr. Greenson when she awoke at 3 am and noticed the light still on. Both doctors also change their stories and now claim Monroe died around 3:50 am Police note Murray appears quite evasive and extremely vague and she would eventually change her story several times. Despite being a key witness, Murray travels to Europe and is not questioned again.
The pathologist, Dr. Thomas Noguchi, could find no trace of capsules, powder or the typical discoloration caused by Nembutal in Monroe's stomach or intestines, indicating that the drugs that killed her had not been swallowed. If Monroe had swallowed the drugs, there should have been residue.[citation needed] If Monroe had taken them over a period of time (which might account for the lack of residue), she would have died long before ingesting the amount found in her bloodstream. Monroe was found lying face down, but lividity on her back[citation needed] and the posterior aspect of the arms and legs[citation needed] indicated she had died lying on her back. The body was covered in bruises[citation needed], all minor except for one on her hip. There was also evidence of cyanosis, an indication that death had been very quick. Noguchi asked the toxicologist for examinations of the blood, liver, kidneys, stomach, urine, and intestines, which would have revealed exactly how the drugs got into Monroe's system. However, the toxicologist, after examining the blood, didn't believe he needed to check other organs, so many of the organs were destroyed without being examined. Noguchi later asked for the samples, but the medical photographs, the slides of those organs that were examined and the examination form showing bruises on the body had disappeared, making it impossible to investigate the cause of death.
The toxicology report shows high levels of Nembutal (38–66 capsules) and chloral hydrate (14–23 tablets) in Monroe's blood. The level found was enough to kill more than 10 people. An examination of the body ruled out intravenous injection as the source of the drugs, leaving only an enema or suppository as a source.[citation needed] These sources were considered unlikely, so Noguchi reluctantly wrote that the drugs were swallowed. The coroner, Dr. Theodore Curphey, oversaw the full autopsy. Apart from the cause of death as listed on the death certificate, the results were never made public and no record of the findings was kept.
[edit]
The funeral
The funeral arrangements for Monroe were made by her second husband, baseball player Joe DiMaggio.
Marilyn Monroe was buried in what was known at that time as the "Cadillac of caskets" – a hermetically sealing antique-silver-finished 48-ounce (heavy gauge) solid bronze "masterpiece" casket lined with champagne-colored satin-silk; the casket had been manufactured by the Belmont casket company in Columbus, Ohio. Before the service, the outer lid and the upper half of the divided inner lid of her casket were opened so that the mourners could get a last glimpse of Monroe. Hollywood makeup artist Whitey Snyder had prepared her face, a promise he had made her if she were to die before him.
The service was the second one held at the newly built chapel at Westwood Village Memorial Park Cemetery in West Los Angeles,[7] and only 25 people were given permission to attend. Monroe's acting coach, Lee Strasberg, delivered her eulogy. An organist played "Over the Rainbow" at the end of the service.
Monroe is interred in a pink marble crypt at Corridor of Memories, #24. Hugh Hefner owns the rights to the crypt next to it. Monroe had visited the cemetery more than once as a struggling actress because Ana Lower, the adult to whom she had been closest during her juvenile years, had been buried there in 1948. Lower was related to Grace Goddard, Monroe's official guardian during much of her childhood. When Goddard committed suicide in 1953,[8] Monroe, by then wealthy, arranged for her burial at Westwood.
DiMaggio had a half-dozen red roses delivered to her crypt three times a week for the next 20 years. Unlike many people who knew her, DiMaggio never spoke publicly about his relationship with Monroe, and he never remarried.
[edit]
Publicity in the 1970s
In 1973, Norman Mailer received much publicity for having written the first bestselling book to suggest that Monroe's death was a murder staged to look like a drug overdose. (The 1968 book titled The Mysterious Death of Marilyn Monroe, authored by James A. Hudson and published by Volitant Books, had received very little publicity.)[9] The Mailer book has no footnotes and does not cite any interviews with witnesses, police officials or coroner Thomas Noguchi, who performed the autopsy, although there are many references to the Kennedy brothers. In a notorious 60 Minutes interview in August of that year, Mailer told Mike Wallace that he could not have interviewed Monroe's housemate Eunice Murray because Murray was dead before he started work on the book. Wallace said on-camera that Murray was alive and listed in the West Los Angeles telephone directory.
In a 1974 book on Monroe's death that was not publicized on television at the time, author Robert Slatzer made controversial claims about not only a conspiracy, but also his alleged brief marriage to Monroe in Tijuana, Mexico in 1952. (During that year her romance with Joe DiMaggio was reported by gossip columnists, although they did not marry until 1954.) Unlike Norman Mailer, Slatzer interviewed an authority whose name, which was unknown to the public at the time, appears in official documents from 1962. Slatzer's source was Jack Clemmons, a sergeant with the LAPD who was the first officer to report to the death scene. According to Clemmons' statements in Slatzer's book, Eunice Murray behaved suspiciously, doing laundry at 4:30 am and answering his questions evasively. When Slatzer approached Murray with questions, she denied any wrongdoing by herself or by Monroe's psychiatrist Ralph Greenson, who had hired Murray to watch the actress for signs of drug abuse or suicidal tendencies.
Greenson himself refused to talk to Robert Slatzer, having reacted with outrage to Norman Mailer's highly publicized book by doing interviews with Lloyd Shearer for Parade[10] and with Maurice Zolotow. The piece by Zolotow, author of a Monroe biography that had been published while she was alive, originated in the Chicago Tribune in four installments and was syndicated to other newspapers in 1973.[11] Zolotow quoted Greenson as saying Monroe was not sexually involved with either Kennedy brother "or with any other man" at the end of her life.[12] Most of Greenson's statements in 1973 had to do with the last time he saw Monroe alive, which was at her home in the late afternoon of August 4, 1962, and the instructions he gave to Eunice Murray (during his visit) about the circumstances under which she could allow Monroe to leave the house.[13][14] Greenson depicted Monroe as a loner after her divorce from Arthur Miller in January of 1961.
[edit]
BBC investigation
In 1985, the American media publicized an investigation by British journalist Anthony Summers. That year BBC viewers saw a documentary titled The Last Days of Marilyn Monroe that was narrated by Summers and based on his research. (Years later it was seen by Americans under the title Say Goodbye To The President.) The program contained soundbite interviews with, among others, Jack Clemmons and Eunice Murray, who was still alive 12 years after Norman Mailer's erroneous claim that she was dead. A former district attorney named John Miner is also seen being interviewed. He refused at the time to say anything about his interview with a grief-stricken Ralph Greenson in 1962, citing a policy of confidentiality at the district attorneys' office and Greenson's doctor/patient confidentiality. Summers also came out that year with the book Goddess, which quoted Miner as saying he was aware that Greenson was now dead, but their 1962 conversation was still confidential.[8]
A People Weekly cover story in 1985 reported that 20/20 had canceled a segment about Monroe's relationships with the Kennedys and the circumstances of her death. Barbara Walters, Hugh Downs and Geraldo Rivera were reported to have reacted angrily to the cancellation. The staffs of both the BBC and 20/20 had worked closely with Anthony Summers. All of these investigations had started after the 1979 death of Ralph Greenson. For the BBC program Eunice Murray initially repeated the same story she had told Robert Slatzer in 1973 and the police in 1962. She apparently noticed the camera crew starting to pack up and then said, "Why, at my age, do I still have to cover this thing?"[8] Unknown to her, the microphone was still on. Murray went on to admit that Monroe had known the Kennedys.[15] She volunteered that on the night of the actress' death, "When the doctor arrived, she was not dead."[15] Murray died in 1993 without revealing further details.
[edit]
21st century investigations of Monroe
[edit]
Rachael Bell of Court TV
According to a mini-biography of the events leading up to Monroe's death written by Rachael Bell for Court TV's Crime Library, a sedative enema might have been administered on the advice of Monroe's psychiatrist, Dr. Ralph Greenson, as a sleep aid and as part of Greenson's larger project to wean his patient off barbiturates.
Drawing on Donald Spoto's updated edition of his biography from 2001, Bell elaborates on the theory that Greenson was perhaps unaware of the fact that his patient's internist, Dr. Hyman Engelberg, had refilled Monroe's prescription for the barbiturate Nembutal a day earlier, and that the actress may very well have ingested enough Nembutal throughout the day such that it would lethally react with the chloral hydrate later given to her. Bell writes:
Spoto makes a very persuasive case for accidental death. Dr. Greenson had been working with Dr. Hyman Engelberg to wean Marilyn off Nembutal, substituting instead chloral hydrate to help her sleep. Mickey Rudin claimed that Greenson said something very important the night of Marilyn's death: "Gosh darn it! He gave her a prescription I didn't know about!"
Bell goes on to suggest that the suspicious circumstances surrounding Monroe's death are very possibly the result of an elaborate cover-up for what was, essentially, a tragic medical mistake.[16]
[edit]
John Miner's "tapes" assertion
On August 5, 2005, the Los Angeles Times published an account of Monroe's death by former Los Angeles County district attorney John Miner, who was present at the autopsy. Miner claimed that she was not suicidal, offering as proof his notes on audio tapes she had supposedly recorded for Greenson and that Greenson had played for him. Miner had refused to discuss them during Anthony Summers' 1980s investigation. In 2005, Miner did not explain why he was now willing to break the confidentiality agreement he had made with Greenson in 1962. The relationship of Greenson, an eminent figure in the history of psychoanalysis (he died in 1979), with Monroe is controversial (see L. Mecacci, Freudian Slips: The Casualties of Psychoanalysis from the Wolf Man to Marilyn Monroe, Vagabond Voices, Sulaisadiar 'san Rudha (Scotland), 2009, pp. 1–36, 181–183).
[edit] The CBS 48 Hours investigation
In April 2006, CBS's 48 Hours presented an updated report by Anthony Summers on Monroe's death. Through Summers, 48 Hours gained access to audio tapes of interviews conducted by the Los Angeles District Attorney's office in 1982.
According to Summers' sources, Monroe attended social events at actor Peter Lawford's beach home in Santa Monica, California, in the months before her death that also included President John F. Kennedy and Attorney General Robert F. Kennedy. The 48 Hours report quoted a former Secret Service agent as stating that it was "common knowledge" among his colleagues that there was an affair between Monroe and John Kennedy. Rumors of a relationship with Robert Kennedy were not confirmed.
According to newly released FBI documents, Monroe was considered to be a security risk. In February and March of 1962, Monroe and Eunice Murray visited Mexico on a vacation, where Monroe socialized with Americans who were openly communist, including Murray's brother-in-law and Frederick Vanderbilt Field. Subsequently the FBI started monitoring Monroe with the type of file that the agency used for possibly subversive people, including performers and artists who had been blacklisted during the McCarthy era. Summers stated in 2006 that, contrary to her public image as a dumb blonde, Monroe was passionate about politics and discussed atomic testing issues with President Kennedy just three months before the Cuban Missile Crisis.[citation needed]
According to the 48 Hours telecast, Lawford told police that he spoke to Monroe on the phone shortly before her death, that she sounded groggy and depressed, and that she said to him, "Say goodbye to Jack," and "Say goodbye to yourself." Phone records of her long distance calls that evening were lost, which was a cause of suspicion. Former Assistant District Attorney Mike Carroll, who conducted the 1982 investigation, said they found "no evidence of an intentional criminal act," and indicated that suicide was the most likely cause of death. He stated, "The bottles were there. She was unconscious. She had a history of overdose. In fact, she had a history of not only overdosing, but of being resuscitated."[17]
[edit]
FBI 2006 file release
In October 2006, under the FOI act, the FBI released thousands of pages of previously classified documents. In early 2007, writer Philippe Mora discovered a three page report among the papers titled Robert F. Kennedy that discussed Monroe's death. This report has since been included in the FBI index under Marilyn Monroe.[18]
Written by a former FBI agent (name is redacted from the report) working for the then governor of California Pat Brown, it details Robert Kennedy's affair with the movie star and claims that Kennedy had promised Monroe he would divorce his wife and marry her, but after the actress realised he had no intention of doing so, she made threats to make the affair public. The report claims that to silence Monroe, who had a history of staging publicity-seeking fake suicide attempts, she was deliberately encouraged to do so again but was this time allowed to die. The report implicates Robert Kennedy, Peter Lawford, her psychiatrist Ralph Greenson, her housekeeper Eunice Murray, and her secretary and press agent, Pat Newcomb, in the plot. The agent states in the report that he could not authenticate the information.[19]
Mora admits he is not sure what to make of the file.[20]
[edit]
References
[edit]
External links
Marilyn Monroe
www.CelebrityMorgue.com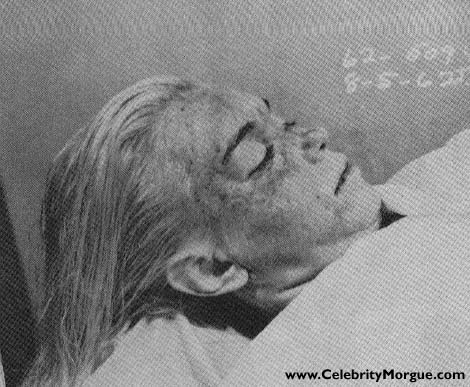 Norma Jean Baker
Marilyn Monroe was found dead from an overdose of sleeping pills on August 5, 1962, by her housekeeper Eunice Murray. She was naked, atop her telephone on her bed, with unhealthy levels of barbiturates in her bloodstream. But the typical signs of barbiturate overdose were completely absent.
Supposedly, Monroe had had an abortion at Cedars of Lebanon Hospital on the 20th of July. It has been said that she had as many as a dozen abortions over the years. But certainly it is well known that she was terminated by her job at Fox Studio. And there were problems with her relationship with Robert F Kennedy; he was not returning her calls.
Evidence is missing, including the original autopsy, her supposed suicide note (which mentioned suicide not at all), and original police report. Furthermore, the first officer at the death scene has publicly disputed the suicide finding.
In 1985, a 20/20 episode was to air where Robert Slatzer postulates that Monroe was killed by Bobby Kennedy, or was in his presence when she died. The show is cancelled.
Marilyn is buried at Westwood Memorial Cemetery.
[ return to celebrity morgue ]
Madness of Marilyn: The affair with JFK and the drug crazed paranoia that put her in a padded cell

Last updated at 1:11 PM on 29th August 2009



Read more: http://www.dailymail.co.uk/femail/article-1209783/Madness-Marilyn-Monroe-The-affair-JFK-drug-crazed-paranoia.html#ixzz1lcSejzDR

At the end of February 1962 the British actor Peter Lawford and his wife Pat - John F. Kennedy's sister - invited Marilyn Monroe to a dinner party in New York that was being held to honour the President.

'Jack' Kennedy loved Hollywood culture and celebrities, especially beautiful actresses, or, more specifically, beautiful blonde actresses - though he never tossed a brunette or redhead out of his bed either. Marilyn had actually met Kennedy twice before, once when their flirtatiousness was noticed by onlookers, but she did not have a chance to speak to him in depth.

Dinner was at eight, but at 9pm Marilyn was still sitting in front of her dressing-table mirror, putting the finishing touches to her make-up. Notoriously late for everything, she was happy to keep the President of the United States waiting

She eventually arrived at JFK's hotel, more than an hour late, with Lawford's business partner Milt Ebbins. She drew a deep breath, smoothed down her dress and said: 'OK, shall we?'


'When she walked in, it was like the parting of the Red Sea,' Ebbins recalled. 'There were about 25 people in there and the crowd divided into halves as she walked through the room.'


The actress Arlene Dahl, who was also at that party, said: 'Marilyn walked in and everything stopped, everyone stopped. It was magical, really. I've never seen anyone stop a room like that.


'The President turned around and you could see that he was immediately attracted to her. "Finally! You're here," he said, with a big smile. "There are some people here who are dying to meet you." Then she was descended upon. People just wanted to stand near her, smell her fragrance, breathe the same air.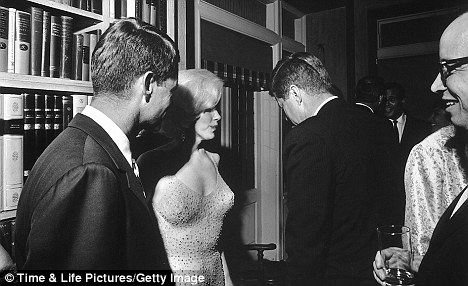 Inner circle: Marilyn with Robert (left) and his brother John F. Kennedy
JFK took Marilyn's arm and off they went to the table - but not before turning to Ebbins and giving him a wry little smile and a wink.

Before she left, JFK asked for her phone number. Of course, she gave it to him. He called her the very next day with a suggestion - he was going to be in Palm Springs on March 24, why not join him there? Oh, and incidentally, he told her: 'Jackie [his long-suffering and much cheated-on wife] won't be there.'
Philip Watson, a former Los Angeles county assessor, met Marilyn while she was with Kennedy at Bing Crosby's Spanish-style house in Palm Springs. He recalls that she seemed calm and relaxed, and was wearing what he described as 'kind of a robe thing' - which was not too out of place, as there were a lot of people by the pool.

'There was no question in my mind that Marilyn and the President were together,' he said. 'They were having a good time. She'd had a lot to drink. It was obvious they were intimate and that they were staying there together for the night.'

The tryst was to have unforeseen tragic consequences. While Marilyn became obsessed with the President, for him the weekend with the world's most desirable woman was simply another notch - albeit an impressive one - on his bedstead.

'Jack was pretty much done with her after Palm Springs,' said Florida Senator George Smathers, a good friend of Kennedy's. 'JFK told me that they were talking and he happened to say something to her like: "You're not really First Lady material, anyway, Marilyn." He said it really stuck in her craw. She didn't like hearing that.
'I think he only saw her one more time, and that was when she came into Washington unexpectedly and we - he, I and a few others - took her sailing on a motorboat down the Potomac River.
'We got back at 11.30 at night. She didn't stay at the White House, she stayed somewhere else. There was no hanky-panky between her and JFK that night. I know, because I asked him the next day and he would have happily said so.
'But, anyway, Jackie knew about that trip. In fact, we were dancing at a White House ball and she said to me: "Don't think
I'm naive about what you and Jack are doing with all those pretty girls, like Marilyn, sailing on the Potomac under the moonlight."
'She was accustomed to Kennedy's indiscretions, but this one bothered her. She knew from what she'd heard and read that Marilyn was a troubled woman. It wasn't so much that she was angry about it, more that she was just disgusted.'
Sadly, Jackie was the only person close to the President who had realised - or voiced concern about - Marilyn's vulnerability. Even the briefest glance at her psychological history should have set off alarm bells among Kennedy's aides that this was one woman not to be seduced and discarded like so many other of his conquests.
The scars of Marilyn's past were visible to anyone who chose to look, and her impulsive and drug-fuelled behaviour repeated itself throughout all her relationships.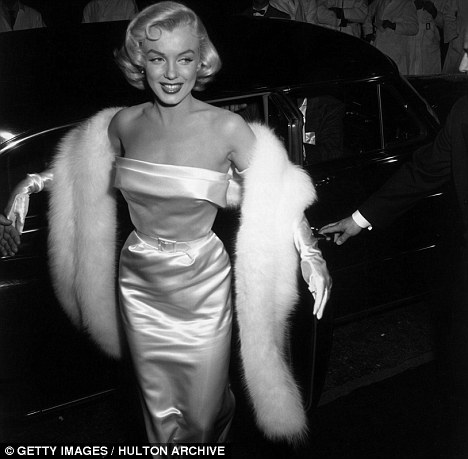 Marilyn was desperately looking for a father figure in her relationships and even called her first husband 'Daddy'
By 1962, the year she died, she was heavily dependent on prescription drugs and alcohol to control her emotional instability. She feared she had inherited her mother's paranoid schizophrenia and often heard 'voices' or claimed she was being followed.

Since childhood, she had been unable to cope with any form of rejection or criticism and, on a number of occasions, took pills in apparent suicide attempts. Insecure, needy and with three failed marriages, she was desperate to find a man to compensate for the lack of a father figure in her disrupted childhood.

Her first marriage, at the age of 16, had been to a neighbour's son, Jim Dougherty, whom she called, bizarrely, Daddy. In the early days of their marriage she told Jim she thought she was being followed, and she began to use threats of suicide to gain attention: 'If anything bad happens to our marriage,' she would warn him, 'I'll jump off a bridge, Daddy.'

The marriage failed when Marilyn's photogenic potential was spotted and she was encouraged to try her luck in the ruthless Hollywood studio system. She was noticed in 1949 by Johnny Hyde, a powerful agent with the William Morris agency. He became obsessed with her; she, in turn, saw him as a powerful father figure who, more importantly, had a way of fixing the voices she heard in her head.
He believed that barbiturates would help, and at his behest studio doctors began prescribing drugs to her on a regular basis. They did help - at least, in the short term. Her anxieties decreased and the voices became softer and bothered her less. It was the start of a lifelong relationship with medication.
But in December 1950 Johnny Hyde died of a heart attack. A couple of days after his funeral, Marilyn's acting coach Natasha Lytess found her collapsed in her bedroom. Horrified, Natasha rushed to her side and forced open her mouth. It was full of dissolving pills.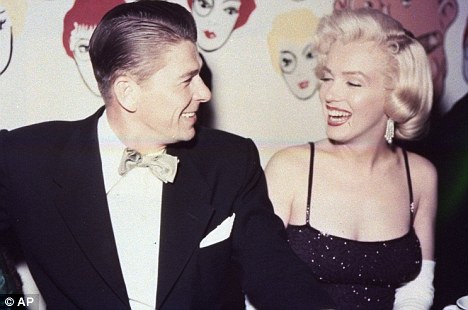 Hobnobbing: Marilyn shares a joke with Ronald Reagan
Her third marriage, in June 1956, was to yet another father figure - the intellectual playwright Arthur Miller, who, at 40, was older than her by a decade. But a miscarriage, followed by a heartless letter from her mentally unstable mother Gladys - telling her that along with motherhood came certain responsibilities, 'and you, dear child, are not a responsible person' - was the catalyst for Marilyn's increasing dependence on drink and drugs.

One night, Miller had a phone call from her while he was in a restaurant; she said he had to come home and save her. She had taken an overdose.

Edward Lovitz, a screenwriter who had known Miller for many years, said: 'Arthur told me that he thought she needed psychiatric help, that she would start to scream at him for no apparent reason. He wasn't sure if it was the drugs she was taking, the alcohol or just her mind breaking down on her.'

The end of her marriage to Miller resulted in the next big crisis in Marilyn's life. Alarmed by her suicidal obsession, her psychiatrist Dr Marianne Kris suggested that she check into a private ward at New York Hospital for some rest under medical supervision. Reluctantly, Marilyn agreed.

On Sunday, February 5, 1961, Dr Kris drove her to the hospital, where Marilyn checked in using the pseudonym of Faye Miller. However, when the time came to go to her room, she found herself being taken to another clinic on the premises.

Her journey involved passing through numerous steel doors, most of which required a key from both sides. Suddenly, it all became clear: those doors were meant to keep people in, not keep people out - she was in the Payne Whitney Clinic, the psychiatric division of the hospital.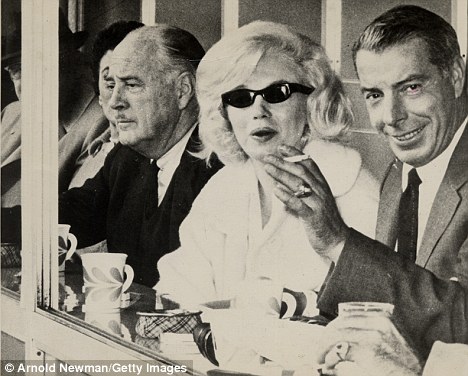 Freaked out: Monroe was rescued from an asylum her psychiatrist had tried to get her committed to by then-husband Joe DiMaggio
After a hysterical tantrum, she was forcibly thrown into a sparse padded room with barred windows. She banged her fists against the hard metal door until two nurses came. If she persisted, they warned her, she would be put into a straitjacket. They turned off the light, leaving their stunned patient in the dark - and without her medication.

She hurled a chair against the glass on the bathroom door, then extracted a small, sharp sliver from the cracked window. As a team of doctors and nurses burst into her room, she held the jagged glass to her wrist. 'If you don't let me out of here, I'll kill myself,' she threatened.

Monroe was taken to a floor for seriously disturbed patients, where a young doctor came in to see her. 'Why are you so unhappy?' he asked her. Marilyn answered: 'I've been paying the best doctors a fortune to find out the answer to that question, and you're asking me?'
On Thursday morning, she was allowed to make one phone call. She knew she would have to contact someone who would move heaven and earth to get her out of that place. Who was the most obstinate man she knew? Her former husband, baseball star Joe DiMaggio.

Their marriage hadn't ended well, but based on the kind of man he was, she knew she would be able to count on him.

His friend Stacy Edwards recalled: 'Joe told me he's sitting in his motel room in Florida having a cold beer and watching TV when the phone rings. It's Marilyn, sobbing that she's in a nuthouse in New York and she needs him to get her out of there.

'He thought it was a joke. He said she was making no sense at all and he thought it was a prank, or she was high on pills and delusional. But after he calmed her down, she told him she needed him. That was all he needed to hear. He jumped on the next plane.'
DiMaggio showed up at Payne Whitney that very night and demanded Marilyn be released into his custody the following morning or 'I swear to Christ I'll take this hospital apart brick by brick', he threatened.

Once out of there, DiMaggio convinced Marilyn to go to another hospital and she agreed on condition he came to visit her every day. She stayed there for three weeks and her first action was to contact her attorney, Aaron Frosch. She demanded that he draft a document that would prevent any one person from ever having the power to commit her again without first consulting DiMaggio.

This, then, was the turbulent background against which Marilyn's doomed friendship with the all-powerful Kennedy clan grew. Yet none of them seems to have wondered for a moment whether her instability would rebound on them.

The Kennedy connection was forged in the spring of 1960 while Marilyn was in Los Angeles. She met a woman who would not only go on to become a good friend but would actually alter the course of her life - Patricia Kennedy Lawford.

The sixth of Joe and Rose Kennedy's nine children and sister to JFK and Bobby, Pat's marriage to Peter Lawford was troubled almost from the start because of the actor's drinking habits, his serial infidelity and, later, his obsession with trying to fit in with Frank Sinatra's notorious Rat Pack.

Befriending Marilyn added more glamour to Pat's already high-flying lifestyle - but also gave her someone unique to introduce to her more successful siblings, especially Jack, by then President of the United States.

The dinner party invitation she issued in order for Marilyn to meet Jack led to the Palm Springs weekend. But my research shows that, contrary to decades of speculative reports of an intimate, protracted relationship, what Marilyn really shared with JFK was either one or two nights of probable passion.

As one Secret Service agent stated: 'We all knew about the weekend. It wasn't until she and the President were both dead that people started talking about an affair. Trust me, no one was saying anything about an affair in 1962.

'What we knew was that JFK and Marilyn had sex at Bing Crosby's, and that's it. We didn't think it was a big deal. He had sex with a lot of women. She was just one of many and it wasn't that noteworthy.

'If there was more to it between them, they somehow managed to keep it from us - and I don't think you can keep something like that from the Secret Service.'

The weekend in Palm Springs might have been no more to JFK than a thrilling conquest, but to Marilyn it meant much, much more. Afterwards she thought of little else and was obsessed with seeing him again.

Rupert Allan, Marilyn's publicist, recalled that she seemed 'fixated on the President. It started to become unclear as to what was going on between them, even though I thought it wasn't much. She was acting like she wanted more, though.'
Beneath the surface: Despite the happy exterior, Monroe was deeply troubled - her relationship with third husband Arthur Miller also did not last
One secret agent working for the Kennedy administration added: 'She was calling him a lot. She wanted to see him. Everyone knew it.'

But the interest wasn't mutual - he wasn't returning her calls to the White House. Sinatra's friend and valet George Jacobs enjoyed many conversations with JFK during the President's stays at the singer's home.

'I spent enough time with the man to know that no woman, not even his wife, was sacred to him,' he said. 'His need was like that of Alexander the Great: to conquer the world. To him, Marilyn was one more conquest, a trophy - maybe the Great White Shark of Hollywood, but still a record, not a romance.'
For Jackie Kennedy, Marilyn was a girlfriend too far. In fact, some months later Jackie made it clear to JFK that she was deeply unhappy about the televised Madison Square Garden concert in which Marilyn breathlessly sang 'Happy Birthday Mr President' to JFK. Jackie threatened to file for divorce immediately, before the next presidential campaign, thereby jeopardising his chances of being re-elected.

'But Jack was already done with Marilyn anyway, by that time,' said George Smathers. 'He had this other girl named Mary Meyer he was playing around with, and there was always [his mistress] Judith Exner... and there were others, one of whom was rumoured to be the actress Angie Dickinson.

'His view of Marilyn was that she was a verry sweet girl, but to him sweet girls were a dime a dozen and Marilyn was trouble. She began to ask for opportunities to come to Washington, to the White House, that sort of thing. But he told Jackie: "Look, it really is over. It was nothing anyway."

'Jack told me: "It's not worth it, George. I have a free ride here with Jackie. She gives me great latitude. So if this one is going to be an issue for her and cause me problems with respect to her dealing with the other women, then, fine, I can live without this one. No problem. So let's just end it with Marilyn before it's too late."

'So I called someone I knew, a friend of Marilyn's I could trust, and said: "I need you to put a bridle on Marilyn's mouth and stop her from talking so much about what's going on with Jack. It's starting to get around too much."

'That's all I did to end things, my little contribution. But I know what Jack did: he stopped taking her calls, if he ever took any. As far as he was concerned, he was done with her. But, Marilyn... well, she wouldn't be so easily got rid of, let's put it that way.'

Rupert Allan said: 'If Kennedy had handled Marilyn differently, things might not have turned out so badly. But just ducking her as he did - not good.'
Kennedy never personally told Marilyn it was over. Instead, he dispatched his brother Bobby, the Attorney General, to inform her that she was not to call the White House again.

He was told to make it clear that the relationship - or whatever it was she thought she had with him - was finished.

'Marilyn was a very obsessive and neurotic person,' said Diane Stevens, who worked for Marilyn's publicist John Springer. 'She was mentally ill, let's face it. She was on drugs and not thinking clearly and just went over the edge when it came to this man, and, truly, I do not know why. It [Palm Springs] had just been a weekend, after all.

'But for some reason it became, looking back on it now, the catalyst for her total ruination. The fact that he would not return her calls drove her mad.'

And before long, she would tip over the precipice.

Extracted from The Secret Life Of Marilyn Monroe by J Randy Taraborrelli, to be published by Sidgwick & Jackson on September 18, at £18.99. 2009 J Randy Taraborrelli. To order a copy (p&p free) for £17.10 call 0845 155 0720.


Read more: http://www.dailymail.co.uk/femail/article-1209783/Madness-Marilyn-Monroe-The-affair-JFK-drug-crazed-paranoia.html#ixzz1lccX1art


Who Killed Marilyn Monroe?
No celebrity death has raised more eyebrows than the supposed suicide of Hollywood's most beloved glamour girl, Marilyn Monroe. The sexpot starlet made a name for herself as the most alluring, seductive and coquettish woman of the big screen in such films as Niagara, Some Like It Hot and Gentlemen Prefer Blondes.
By 1962, as Monroe's career was faltering, she became romantically linked with some of the country's most powerful men – namely, President John F. Kennedy and his brother, U.S. Attorney General Robert F. Kennedy. As some people would have you believe, her association with the "boys from Camelot" may have contributed to her early death.
On Aug. 5, 1962, at approximately 4:45 a.m., Sergeant Jack Clemmons received a phone call from Dr. Hyman Engelberg informing him that Marilyn Monroe had died from an overdose of pills. Clemmons drove out to Monroe's modest bungalow in Brentwood. He had suspicions that it might have been a prank, but they were soon doused upon his arrival at her home.

Dr. Engelberg and housekeeper Eunice Murray led Clemmons into Monroe's bedroom. The officer found the actress facedown on her bed, nude, her left hand sprawled across the bed touching the telephone on the nightstand. He noticed several prescription bottles littered on top of the nightstand. He did not, however, notice a drinking glass in the room. Clemmons asked Murray about the bathroom. The maid informed the detective that there was no running water. Clemmons also noticed that Murray had done the laundry, so he questioned her `about her odd behavior. She nervously replied she knew the coroner would come to the house and seal it up for evidence, so she wanted to make sure everything was neat and tidy.

Clemmons further observed that Monroe's body was in an advanced state of rigor mortis, which indicated that she had been dead for at least six hours. The officer asked Murray what time she found Monroe's corpse. Murray claimed that she noticed Monroe's bedroom door was locked after midnight. Murray claimed she knocked on the door and did not hear a response from her employer. She got worried and telephoned Dr. Engelberg.

The doctor claimed to arrive at Monroe's bungalow and was unsuccessful in waking up Marilyn Monroe. The doctor and maid went outside to Monroe's window and saw the actress lying on her bed. Dr. Engelberg retrieved a fireplace poker and smashed the window to gain entry. Monroe, however, was already dead.

Instead of calling for police or paramedics immediately, Murray waited nearly four hours to contact authorities after discovering Marilyn Monroe's body. Murray also admitted to contacting some movie studios first, as well as some of Monroe's business associates. Clemmons knew it should not have taken four hours to complete these calls.

Despite all of the uncertainty surrounding Marilyn Monroe's death scene, Clemmons packed up his notepad, called the coroner's office, and headed back to the station to file a report. He was relatively new to the force and assumed a higher ranking detective would take over the case for him.
When Monroe's body arrived at the coroner's office, it quickly turned into a zoo. Reporters, insurance company representatives and curious onlookers flocked to the morgue. Monroe's dead body was put on display like a freak in a traveling circus sideshow. Medical examiners and their staff, studio heads, actors and politicians traipsed through to get a glimpse at the actress's body. One enterprising paparazzo even snapped a picture of Monroe's corpse.
Head coroner, Dr. Theodore Curphey, added to the aura of mystery surrounding Marilyn Monroe's death. Curphey stated, unequivocally, that Monroe died from an oral overdose of Nembutal and chloral hydrate. He estimated she had swallowed at least 50 pills in "one gulp," despite there being no water at the death scene.
Furthermore, Curphey was not dissuaded by the lack of some key evidence. Nembutal capsules, when digested, leave a yellow dye discoloration on the lining of the intestine. There was no such discoloration inside Monroe. There was no evidence that partially or undissolved capsules even existed in her digestive tract.
It seemed as if the coroner's office was determined to call Marilyn Monroe's death a suicide at all costs.
The question is, "Why?"

Why did the coroner fail to test her lower intestine for the tell-tale dye marks? If there was no liquid to swallow the pills, why didn't the coroner's office look at other methods of introduction, such as an injection or colonically? Why did the "official" death certificate list the cause of death as "Probable Suicide," with the former word penciled in?

Many theories abound. Some believed it was a simple case of suicide. Others believe Murray was angry for being fired earlier that day. Many more believed it had something to do with the Kennedy brothers.

In 1962, Monroe was had just come off two box office failures -- Let's Make Love and The Misfits. She had begun work on a new film with Dean Martin called Something's Got to Give. Her troubled history with drugs and depression reared its ugly head on the set as she constantly missed days of filming, flubbed her lines, and seemed dazed and confused. For the first time in her illustrious career, someone did not want Marilyn Monroe. The studio fired her.
That same year, her relationships with the Kennedy brothers heated up. On May 29, Monroe made her now legendary appearance at President John F. Kennedy's birthday party at Madison Square Garden, where she sang "Happy Birthday" to the president. Monroe's skintight dress and seductive voice caught the attention of the president's brother, Bobby, who became infatuated with the icon.

Allegedly, Monroe felt that Bobby was a better lover than his brother. She also fell in love with Bobby and believed he would divorce his wife for her. There were rumors that Monroe kept a diary of her late-night pillow talk with Bobby Kennedy -- a diary that supposedly contained detailed conversations about several top-secret political matters.

As the U.S. attorney general, one of Bobby Kennedy's objectives was to crack down on Mafia-controlled unions and their leaders, most specifically AFL-CIO head Jimmy Hoffa. The union leader was supposedly tipped off that Kennedy had been sleeping with Monroe. Hoffa wanted to get the goods on the president's pesky little brother so he allegedly wire-tapped Monroe's home, to record the couple's most intimate moments. When Bobby Kennedy's handlers found out about Hoffa's nefarious activities, they decided he had to dump Monroe, which he did.

What was Marilyn to do? According to one of her former lovers and friend, Robert Slatzer, she scheduled a press conference for Monday, Aug. 7, 1962. Monroe was planning to spill the beans on the Kennedy boys. She also made an appointment to meet with her attorney right before the press conference because she intended to revise her will.

Reportedly, Robert Kennedy was in Los Angeles on Aug. 4, the day Monroe died. His staff, however, claimed he was in San Francisco for the entire day and could not have been in Brentwood to kill Monroe.

However Marilyn Monroe died, her legacy has only grown over time.

Her legions of fans, from horny men to uber-feminists, find something positive in Marilyn Monroe to this day. Her sexuality, charm, innocence and wit have pulled in generation after generation of new fans. Her mysterious death only raises more questions and intrigues more people who want to know what really happened to America's favorite screen goddess.
FROM http://investigation.discovery.com/investigation/hollywood-crimes/monroe/marilyn-monroe.html
HOW DID MARILYN MONROE DIE?
Daniel Mallia is an HNN intern and an undergraduate student at Fordham University.

Marilyn Monroe is an American pop-culture icon, famous for her stunning looks and fashion, movie performances, free spirit, scandalous behavior and secretive involvement with John and Robert Kennedy. However, she is also remembered for the mysterious conditions surrounding her death, at age 36, on the night of August 4-5 1962. While the immediate cause of death may be relatively clear, the claim of suicide is not, and many wonder if her death had more to do with external forces than internal demons.

The generally accepted cause of Monroe's death at her Los Angeles home on that fateful evening is a lethal dose of barbiturates (sedatives), Nembutal and chloral hydrate. The initial autopsy, conducted by Dr. Thomas Noguchi, had indicated that this was the cause of death and the mode of death was ruled a probable suicide—there was no immediate investigation or criminal charges filed.

At first glance the ruling of suicide was not unreasonable given the circumstances. Marilyn apparently had been depressed, allegedly dealing with threatening calls earlier in the day from a female caller furious over Monroe's relationship with Robert Kennedy. Though Monroe seemed to be drugged (possibly suppressed by Nembutal that she had likely taken) and in poor temper towards the evening, Joe DiMaggio's son spoke with her shortly after 7:00 pm about breaking off his engagement. At that point she appeared to be in better spirits, a condition confirmed by her psychiatrist, Dr. Ralph Greenson, who spoke with her on the phone afterwards, and Eunice Murray, a housekeeper employed by Greenson to aid and watch over Monroe. But within the hour, Peter Lawford, Robert Kennedy's brother-in-law and the owner of the house where Monroe had met and spent time with the Kennedys, phoned her to invite her over but Monroe apparently sounded depressed and groggy, reportedly telling him: "Say goodbye to Pat [Newcomb—her agent and friend], say goodbye to the president, and say goodbye to yourself, because you're a nice guy." Monroe had been receiving psychiatric care since 1961 and had been on something of a downward spiral with her divorce from Arthur Miller and increasing problems of discipline with movie-making, culminating her dismissal from Fox. She was subject to mood swings, known to rely on alcohol and pills, and she had made multiple suicide attempts in the past. With the high levels of barbiturates in her system as a clear cause of death, the presence of the coordinating medication bottles in her room, as well as the absence of any clear signs of foul play on the body, pointed to the conclusion of suicide.

But was it suicide? Many factors point to an accident or worse, murder. No drink was found at the scene which Monroe could have used to swallow the pills, and there were no traces that the lethal dose had passed through her stomach. There was evidence that she was alive for hours while the Nembutal in her system was digesting, as well as high concentrations of chloral hydrate in the liver rather than in the blood, and signs that Monroe had died quickly, from an additional lethal dose rather than the Nembutal. Above all, there was damage to the colon. Could she have been given a lethal dose through an enema? Though Monroe was supposedly something of a fan of enema, if in fact that was the case it means that someone else was involved as she could not have administered it herself.

Further debatable evidence against the suicide theory comes in the form of tapes that Monroe made for Dr. Greenson. The only other person to have ever heard those tapes, was John Miner, a district attorney who served as an investigator after Monroe's death. John Miner himself promised not to reveal the contents of the tapes, of which he made a transcript, but he broke his promise to speak out against allegations that Greenson was responsible for her death. Based on those tapes, which he felt revealed that Monroe was optimistic about the future and anything but suicidal, Miner concluded that she must have been murdered. But Greenson is long dead—Miner believed that he destroyed the tapes before his death—and Miner himself died just last year, and any other secrets they knew about the tapes and Monroe's death are gone with them.

Who could have administered the lethal enema? The accident theory points to the possibility that Monroe's internist, Hyman Engelberg, and Greenson, both of whom were trying to wean Monroe off of Nembutal, did not coordinate their prescriptions. Engelberg gave Monroe the Nembutal, which she had been heavily indulging in that day and was in her system when someone, either Greenson (who didn't know about the Nembutal) or Murray (who didn't know of the adverse effects of mixing the drugs), gave her the enema of chloral hydrate, which in turn worked with the Nembutal to kill her. The problem is that this theory, of course, is dependent on Monroe being alive when the unknown person gave her the enema and it is here that one is lead to the almost undecipherable mess of the night of August 4-5.

The police were called at 4:25 am and they arrived to a scene that may have already been manipulated. Monroe's body seemed to have been moved and almost certainly was not in the position where she died. There are witnesses, including an ambulance officer, who have testified that Monroe was moved from the house but then died elsewhere and was returned back to the house as a part of a cover-up. Others suggest incriminating documents relating to the Kennedys had been removed, possibly under the direct orders of Robert Kennedy. The explanations initially offered by Murray and the doctors were not dependable and eventually changed. They began by saying that Monroe had been dead for hours, which corresponded with the time frame the undertaker projected for the time of death (9:30-11:30 pm) based on the advanced rigor mortis, but the story was soon changed. Murray began to claim that she only noticed something wrong at 3:30 am (she said she saw a light from under Monroe's locked door, but both of these aspects were later proven to be impossible), at which point she called Greenson. Engelberg was also contacted. Greenson arrived, pronounced Monroe dead, and then the three delayed for an unknown reason before calling the police. But years later in a BBC investigation in the 1980s, not knowing that a microphone was still recording, Murray offered that when Greenson arrived, Monroe was still alive.

There are endless theories and suggestions about what actually occurred on that night—about when Monroe actually died, at what time Murray, Greenson and Engelberg were dealing with her and what they did, whom Monroe telephoned, and who visited Monroe's house that afternoon and evening. It is all extremely unclear and is only made worse by her involvement with the Kennedys. Robert had a close friendship with Monroe, and though it is not known if that relationship became sexual, it is undeniable that she had a sexual relationship with JFK. If made public it could have become a major source of embarrassment and it was not quite an idle threat, as Monroe reportedly was upset over the realization that JFK was not going to leave his wife for her. Monroe had also apparently spoken to John on sensitive political issues and was even considered a threat to national security because of this and her association with some openly Marxist people in Mexico. Furthermore, Monroe is alleged to have had knowledge of the relations between the Kennedys and Sam Giancana and the mafia. (Some wonder if it was in fact the mafia who had Monroe killed as an act of revenge against the Kennedys). Australian film director Philippe Mora even discovered a questionable FBI file from 1964 that discussed a plot, allegedly drawn up under Robert's knowledge, to induce Monroe to commit suicide because of the national and political threats she posed. As a result there is extraordinary speculation about Monroe's phone calls that night and the activities of Robert Kennedy and Peter Lawford, who may have been secretively overseeing the execution of the plan. (Many doubt that is the case due to Robert's reputation of moral integrity).

Ultimately, the loss of tissue/organ samples after the initial autopsy (suspicious but apparently not uncommon), the absence of phone records, the destruction of police records (in accordance with procedure) and the great spectrum of confusing and often contradictory theories and testimonies have conspired to keep the truth a mystery.

Of course, there's always the very real possibility that Marilyn Monroe did simply commit suicide.
FBI INVOLVEMENT
The FBI file consisted only of local press clippings of the accident, and a report from the FBI's Boston bureau.

The report said Edgartown police chief Dominic Arena "confidentially advised that driver of the automobile was Senator Edward M. Kennedy who was uninjured. Stated fact Senator Kennedy was driver is not being revealed to anyone."

One of the files reports a rumor from an informant that the Mafia was plotting to use associates of singer Frank Sinatra to attack the character of the Kennedy brothers and their brother-in-law Peter Lawford.

"In the convoluted rumor, both Frank Sinatra and Marilyn Monroe were to be involved," the FBI said.
It said the bureau "did not consider the rumor solid, and no other mention of it appears in the file, suggesting that the informant did not supply any corroboration to the st
New Chapter In The Mystery Of Marilyn:
Her Own Words?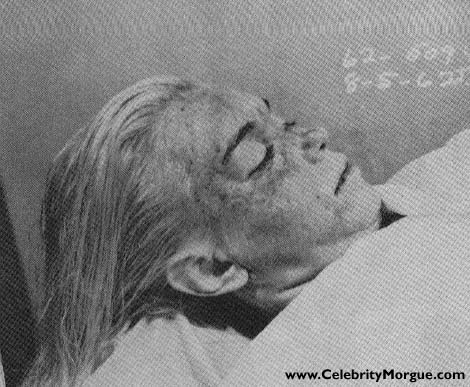 by Robert W. Welkos, August 5, 2005
It remains one of Hollywood's most compelling, and unforgettable, mysteries.
On August 5, 1962, the body of Marilyn Monroe was found in the bedroom of her Brentwood home. The 36-year-old movie star was naked and facedown on her bed.

An autopsy conducted by Dr. Thomas Noguchi, then deputy medical examiner, concluded that death was due to acute barbiturate poisoning, and a psychiatric team tied to the investigation termed it a "probable suicide.
"
Today, 43 years later, fans from around the world will gather, as they have for decades, near Monroe's crypt at Westwood Village Memorial Park to celebrate her life and mourn her death. John W. Miner, 86, will mourn too.

But there is bitterness and frustration as well for the former Los Angeles County prosecutor, who was at her autopsy and was one of those looking into her death. He didn't believe that the actress took her life in '62 and he doesn't believe it now, and Miner says he's heard secret tapes that Monroe made in the days before she died that prove the actress was anything but suicidal.

Whether Monroe died by her own hand has been debated and dissected by books, documentaries, conspiracy theorists, and Hollywood and Washington insiders alike for years.

Enough credence was given to the various reports that in 1982, the Los Angeles County district attorney's office reexamined the case. Miner, by then in private practice, was among those interviewed.

The resulting report notes that Miner mentioned the tapes. However, he did not say he had a transcript. Although the report concedes that "factual discrepancies" and "unanswered questions" remained in the case, it did not find enough evidence to warrant launching a criminal investigation.

As head of the D.A.'s medical-legal section when Monroe died, Miner had met with the actress' psychiatrist, Dr. Ralph Greenson. During the interview, Miner says, Greenson played the Monroe tapes, but only on condition that the investigator never reveal their contents.

Miner said he took "extensive" and "nearly verbatim" notes, and only broke the promise years after Greenson's death, when some Monroe biographers suggested that the psychiatrist be considered a suspect in her death. Miner recently gave a copy of the transcript to The Times.

Miner's transcript shows Monroe obsessing about the Oscars, describing a sexual encounter with Joan Crawford, craving a father's love from Clark Gable, yearning to be taken seriously as an actress by contemplating doing Shakespeare, and speaking candidly about why her marriages to baseball slugger Joe DiMaggio and playwright Arthur Miller ended in divorce.

At one point, she describes standing naked in front of her full-length mirror assessing the body that captivated the world, knowing that she is slipping into middle age, and commenting that "my breasts are beginning to sag a bit" but "my waist isn't bad" and her buttocks are still "the best."
"You are the only person who will ever know the most private, the most secret thoughts of Marilyn Monroe," she tells Greenson, according to Miner's transcript. "I have absolute confidence and trust you will never reveal to a living soul what I say to you."

Miner contends that anyone reading the transcript would conclude that "there was no possible way this woman could have killed herself. She had very specific plans for her future. She knew exactly what she wanted to do. She was told by [acting coach] Lee Strasberg, maybe ill-advisedly, that she had Shakespeare in her and she was fascinated with the idea."

Miner has shown the transcript to several authors in recent years. In British author Matthew Smith's book "Marilyn's Last Words: Her Secret Tapes and Mysterious Death," the excerpts cover the early portion of the tapes, which have Monroe musing on Freud and free association, orgasms, Gable and her agent, Johnny Hyde. Seymour M. Hersh included a short reference to the late President Kennedy in "The Dark Side of Camelot."
Miner was also interviewed for a 1997 ABC documentary called "Dangerous World: The Kennedy Years," but ultimately no excerpts from the transcript were used.

The previously unpublished portions of the transcript include descriptions of her feelings for her ex-husbands, a dissection of why her marriages failed, a racy catalog of supposed sexual encounters, details of her dispute with 20th Century Fox, her friendship with Frank Sinatra, and her complaints about housekeeper Eunice Murray, who would discover her body.

Smith and Hersh, along with the documentary's producer, Mark Obenhaus, said in interviews this week that they found Miner credible.
But to accept Miner's story, one must make a leap of faith - he is the only one still alive who claims to have heard the tapes. Greenson died in 1979, and Miner believes that he destroyed the tapes.

"It's like a one-sourced story," Obenhaus said. "You have one guy; he's a credible guy, but he's just one guy."
Smith, who said he paid Miner a fee, which he declined to disclose, for use of the Monroe transcript, added: "I believe he is a man of integrity. I've looked at the contents of the tapes, of course, and, frankly, I would think it entirely impossible for John Miner to have invented what he put forward - absolutely impossible."

Ronald H. "Mike" Carroll, a former L.A. County deputy district attorney who conducted the 1982 review of Monroe's death, said he and a D.A.'s investigator interviewed Miner for their report and, although he mentioned that Greenson had tapes of the actress, there was no hint that Miner had a transcript.

Carroll, the No. 3 prosecutor in the D.A.'s office at the time, who has since retired, said that had he any inkling that Miner was harboring the transcript, he would have obtained a grand jury subpoena to force Miner to hand them over so that he could include them in his report.

Miner said he couldn't speak about the transcript then because of his promise to Greenson. "Greenson … was absolutely committed to protecting the privacy of his patients," Miner recalled. "He felt he could not let me see what she had said if there was any possibility that her privacy would be violated." So Miner gave his word.

When some suggested that Greenson himself was the actress' killer, Miner went to the psychiatrist's widow and asked for permission to be released from the promise.

Greenson's widow, Hildegard, told The Times this week that she didn't know if the tapes existed and never heard her husband discuss them. Still, she does not discount that Monroe may have given her husband such tapes and that he played them for Miner.

"That seems like something my husband would do," she said. "He might want to play it to show how she felt and what was going on with her." At the time of the recordings, Monroe was living an unsettled life. There was the rumor of a romance with Kennedy, fueled by her appearance at a birthday tribute on May 19 at Madison Square Garden where she sang the now legendary "Happy Birthday, Mr. President." Studio bosses at 20th Century Fox had dropped her from the film "Something's Got to Give" because of chronic lateness and drug dependency.

No one has established the exact date that the recordings were made, although the JFK reference would put it after her singing tribute, a little more than two months before she died.

Smith says his research suggests that Monroe gave the psychiatrist the tapes Aug. 4. According to Miner, Greenson's sole purpose in playing the tapes for him was to help establish her state of mind at the time of her death, "so they were made pretty close to the time she died."
Hollywood columnist James Bacon, now 91, who met Monroe when she was an unknown in 1949 and would later become a close friend, was at Monroe's house five days before she died.

"She was drinking champagne and straight vodka and occasionally popping a pill," Bacon told The Times. "I said, 'Marilyn, the combination of pills and alcohol will kill you.' And she said, 'It hasn't killed me yet.' Then she took another drink and popped another pill. I know at night she took barbiturates."
But Bacon added: "She wasn't the least bit depressed. She was talking about going to Mexico. She had a Mexican boyfriend at the time. I forget his name. This was the first house she ever owned. She was going to buy some furniture. She was in very good spirits that day - of course, the champagne and vodka helped."
In the transcript, Monroe uses what therapists call "free association," saying whatever came into her mind. "Isn't it true that the key to analysis is free association?" she says. "Marilyn Monroe associates. You, my doctor, by understanding and interpretation of what goes on in my mind, get to my unconscious, which makes it possible for you to treat my neuroses and for me to overcome them."

"And you are going to hear bad language," she warns Greenson.

Although Monroe often came across on screen as a ditzy blond, in her tapes, she discusses Freud's "Introductory Lectures" ("God, what a genius," she remarks. "He makes it so understandable"), and author James Joyce ("Joyce is an artist who could penetrate the souls of people, male or female"), and says she has read all of Shakespeare.

She talks about her admiration for Gable, her co-star in "The Misfits": "In the kissing scenes, I kissed him with real affection. I didn't want to go to bed with him, but I wanted him to know how much I liked and appreciated him."

And she lambasted members of the Academy of Motion Picture Arts and Sciences for not giving Gable an Oscar for "Gone With the Wind," noting that never was an actor on screen more romantic. She says she cried for two days after learning that Gable had died.
Her love for DiMaggio was undimmed. "I love him and always will," she says. "But Joe couldn't stay married to Marilyn Monroe, the famous movie star. Joe has an image in his stubborn Italian head of a traditional Italian wife. She would have to be faithful, do what he tells her, devote all of herself to him. Doctor, you know that's not me."

It was different with Miller. "Marrying him was my mistake, not his. He couldn't give me the attention, warmth and affection I need. It's not in his nature. Arthur never credited me with much intelligence. He couldn't share his intellectual life with me. As bed partners, we were so-so."
Of her one-night affair with Joan Crawford, she said: "Next time I saw Crawford, she wanted another round. I told her straight-out I didn't much enjoy doing it with a woman. After I turned her down, she became spiteful."

In the tapes, Monroe heaps praise on Kennedy, and there is no suggestion that the two were ever lovers. "This man is going to change our country," she says of JFK, adding, "He will transform America today like FDR did in the '30s."

As for the president's brother, Robert F. Kennedy, the U.S. attorney general at the time: "As you see, there is no room in my life for him. I guess I don't have the courage to face up to it and hurt him. I want someone else to tell him it's over. I tried to get the president to do it, but I couldn't reach him."
In the transcripts, Monroe says she needs Greenson's help in getting her housekeeper another job. "Doctor, I want you to help me get rid of Murray…. I can't flat out fire her. Next thing would be a book 'Secrets of Marilyn Monroe by Her Housekeeper.' She'd make a fortune spilling what she knows and she knows too damn much."
As he listened to Monroe's voice that day in 1962, Miner said, he became "very moved."

"You'd have to be without capacity for empathy or emotion" if you weren't moved, he said.

Miner, who collaborated with Dr. Seymour Pollack to create the USC Institute of Psychiatry, Law and Behavioral Science in 1963 and taught there over the years, said he would like to see a "re-autopsy" conducted to clear up medical questions that he noticed in the original.

"The autopsy clearly shows that the barbiturates - of a massive amount - that entered her body came in through the large intestine," he said. "How do we know that? We know that because there is no indication, in fact there is contraindication, that the capsules were swallowed."

He believes that had Monroe swallowed 30 or more capsules, "she would have absorbed enough of the barbiturates to kill her before it was all dissolved."
He also discounts the possibility that she was given a "hot shot" injection of the drugs since neither he nor Noguchi could find any sign of needle marks on her body. (Both the original autopsy report and the 1982 review came to the same conclusion.)

Miner had hoped to get Noguchi's support for another autopsy. Noguchi's attorney, Godfrey Isaac, said the former coroner was traveling in Asia and could not be reached for comment.

It is Miner's theory that the actress took or was given chloral hydrate to render her unconscious - possibly in a soft drink - and someone then dissolved Nembutal in water by breaking open 30 or more capsules and administered the lethal solution by enema.

He said that he and Noguchi noticed a discoloration of the large intestine in the original autopsy and that there is a possibility that if the body were exhumed, tissue samples could be taken to determine if she had been given an enema filled with enough drugs to be toxic.

Carroll said he had no objections to another autopsy and stressed that he had "no vested interest" in the outcome.

But he noted that in his review, he talked to an independent expert, Dr. Boyd G. Stephens, former chief medical examiner-coroner for the city and county of San Francisco, who said the amount of Nembutal in the liver was about twice as much as in the blood, suggesting that the person lived for "quite a period of time" after ingesting the drugs.

Carroll told The Times that if Monroe had an enema containing the drugs, it would have gotten into her system rapidly and "you wouldn't expect it to have that ratio in the liver."

The D.A.'s review concluded that "the cumulative evidence available to us fails to support any theory of criminal conduct relating to her death."
Source: http://tinyurl.com/7o4zt

xoxoxoxo
Monroe's Sworn Enema?
by Joal Ryan

Marilyn Monroe was killed by what she loved: An enema.

Such is the conclusion of a former Los Angeles County prosecutor who has long suspected the film goddess was murdered, and has gone public with transcripts of audio recordings he says she made that back up his argument.

Excerpts of John W. Miner's transcripts were published in the Los Angeles Times on Friday, the 43rd anniversary of Monroe's death. The complete transcripts, minus "the most graphic words and passages," but with their praise of Clark Gable, orgasms and enemas, and their detailing of a one-night stand with Joan Crawford intact, can be found online at LaTimes.com.

The nude body of Monroe was found in her Los Angeles home on Aug. 5, 1962. The autopsy, which Miner attended, showed the clinical cause of death was barbiturate overdose; the somewhat inconclusive conclusion was that the 36-year-old actress probably took her own life.

"Marilyn Monroe bears the stigma of suicide," the 86-year-old Miner writes in a blow-by-blow accounting of the case, also posted on the Times' Website. "That is wrong and must be corrected."
Miner argues that it was unlikely that Monroe received her lethal dose of drugs orally (no traces in the stomach, he said) or via injection (no needle marks, he said). To him, that leaves an enema as the likely conduit. According to Miner's theory, Monroe was slipped a "Mickey Finn" in order to knock her out, and then administered an enema bag loaded with Nembutal by "person(s) unknown."

The rumor mill long has been churning out murder suspects with regards to the Monroe death--from CIA operatives to the Kennedys, the latter fueled by Monroe's reputed affairs with both President John F. Kennedy and his brother, then-Attorney General Robert F. Kennedy. In his writing, Miner himself doesn't name names. His Monroe transcripts don't offer any hints of enemies, either.

To Miner, the transcripts are evidence not of Monroe's killers, but of her state of mind--her optimistic state of mind. "She had too many plans to fulfill, too much to live for, and had, at last, found the physical satisfaction that she so missed for all of her life," the Times-posted treatise says.
Among the highlights of Miner's supposed Monroe transcripts:

The actress, addressing her psychiatrist, Dr. Ralph Greenson, riffs her way from James Joyce's Ulysses to Jews in Hollywood. "What is a Jew?" Monroe asks. "I have met and [unknown--the Times edited out the presumably offending word or words] more Jews than I can count, and boy have I been screwed by some of them."


Monroe credits Greenson with instructing her on how to "stimulate myself," and achieve orgasm.

Prior to Greenson's advice, Monroe says she was an expert at faking orgasms, and should have won an Academy Award for her performances.
Crawford, who won an Academy Award for Mildred Pierce, "had a gigantic orgasm and shrieked like a maniac" during her one night of passion with Monroe. Later, Crawford turned nasty when Monroe rejected the older woman's advances for "another round."

Most of Monroe's big-screen brethren lived for, and loved, enemas, although Mae West is the only enema enthusiast Monroe names--excluding herself. "Yes, I enjoy enemas," she says. "So, what!"

Monroe says she loved working with Gable on The Misfits, dreamed he asked her to star with him in a sequel to Gone with the Wind, and cried for two days when he died in 1960.

Monroe loved Frank Sinatra, but didn't want to marry him. She loved former husband Joe DiMaggio, but he didn't want to be married to her screen persona. She made a mistake marrying playwright Arthur Miller.

Monroe vowed to be the highest-paid actress in Hollywood--"double what they pay [Elizabeth] Taylor"--and then use her clout to launch the "Marilyn Monroe Shakespeare Film Festival."
The "Commander-in-Chief," presumably President Kennedy, is a great man; "Bobby," presumably Robert Kennedy, is a puzzle--"Doctor, what should I do about Bobby?"
According to Miner, Monroe made the audio recordings at Greenson's home--possibly in 1962, the Times suggests. An author who used Miner's transcripts as the basis for a 2004 book on Monroe told the Times he believes Monroe handed over the tapes to Greenson on Aug. 4, 1962, the day before her death.
The author, Matthew Smith, and Pulitzer Prize-winning journalist Seymour M. Hersh, said to have referenced the transcripts in his 1998 book on the Kennedys, are among those who told the newspaper they believe Miner to be a credible source. Such endorsements are key as Miner claims Greenson, who died in 1979, destroyed the Monroe tapes, and that he is the only living human who has heard them. He told the Times his transcripts are based on "extensive" and "nearly verbatim" notes of the recordings.

For what it's worth, a psychiatry professor who bills himself as a "pioneer in past-life regression therapy," and has a client he is convinced is the reincarnation of Monroe, says he thinks the transcripts sound like the late actress.

Dr. Adrian Finkelstein told E! Online on Monday that while he has yet to ask his subject, identified as recording artist Sherrie Lea, about the transcripts, from what he has gleaned from the Times report, they "most probably" are Monroe's words.

Finkelstein even agrees with Miner's basic conclusion, to a point. Based on his interviews with the purportedly reincarnated Monroe, conducted while his subject was under hypnosis, he explained, the original Monroe did not kill herself--at least not intentionally.

"She didn't want to die," Finkelstein said, "but she realized she took too much. It was an accidental overdose."
Monroe was reborn 11 months later, Finkelstein said. He is vowing to introduce her reincarnation to the public on August 13 in New York.
Mystery may yet surround Monroe's death, but according to Finkelstein, her reincarnated version, at least, has found peace.
Said the doctor of his client: "She is relieved."
Source: http://tinyurl.com/bfe46
xoxoxoxo
Ex-Prosecutor Claims Monroe Wasn't Suicidal
Says He Has Notes Of Her Secret Confessions To A Psychiatrist

On the anniversary of Marilyn Monroe's death, a former prosecutor has unveiled what he says are notes of her secret confessions to a psychiatrist that show her as anything but suicidal.

"There was no possible way this woman could have killed herself," John Miner told the Los Angeles Times for a story published Friday. "She had very specific plans for her future. She knew exactly what she wanted to do."

Miner, 86, said he would like to see another autopsy performed on Monroe and believes the large dose of barbiturates found in her body may have been administered by someone else.
Meanwhile, fans were holding their annual gathering Friday near her crypt at Westwood Village Memorial Park to honor the star of movies such as "Some Like It Hot."
Conspiracy theories about Monroe's Aug. 5, 1962, death have become part of her legend. Many continue to doubt the official conclusion of "probable suicide" reached after the 36-year-old actress was found naked and face down on a bed in her Brentwood home.

Miner is the former head of the Los Angeles County district attorney's medical-legal section. He provided the Times with notes he says he took of audiotapes made by Monroe's psychiatrist.

Miner said they show a motivated actress who wanted to do Shakespearean plays and promised her psychiatrist that she had thrown all her "pills in the toilet," a possible reference to her reported drug dependency.

The notes, which Miner called "extensive" and "nearly verbatim," also show Monroe obsessing about the Oscars, alleging she had a one-night stand with Joan Crawford and speaking candidly about the failures of her marriages to baseball star Joe DiMaggio and playwright Arthur Miller.

There has been no independent confirmation of the tapes, which Miner said he believes may have been made close to the time of Monroe's death. Miner said the psychiatrist, Dr. Ralph Greenson, played the tapes for him in 1962 on condition that he never reveal their contents, and that Greenson may have destroyed them before his 1979 death.

Miner said years after Greenson's death, he broke the promise after some biographers suggested that Greenson might be considered a suspect in Monroe's death.

Greenson's widow, Hildegard, told the Times that she did not know whether the tapes existed and never heard her husband discuss them.
According to Miner's notes, Monroe praised President John F. Kennedy but never indicates she slept with him. She does mention his brother, Robert F. Kennedy, saying "there is no room in my life for him."

"I want someone else to tell him it's over," she says, according to Miner's notes.

Miner has shown his notes to several people in recent years and excerpts appeared in Matthew Smith's book "Marilyn's Last Words: Her Secret Tapes and Mysterious Death."

However, the Times received previously unpublished parts from Miner.

The district attorney's office re-examined Monroe's death in 1982 and interviewed Miner but determined there wasn't enough evidence to open a criminal investigation.

At the time, Miner mentioned that Greenson had the taped interviews but never said he had notes of them, said Ronald Carroll, a former deputy district attorney who conducted the review.

If Miner had mentioned the notes, Carroll said he probably would have sought them through a grand jury subpoena.
Source: http://msnbc.msn.com/id/8841843
xoxoxoxo
Here is what the 1992 best-selling book, Double Cross: The Explosive, Inside Story Of The Mobster Who Controlled America had to say about Marilyn Monroe's murder on pp. 314-315:

Bobby Kennedy finally did appear at Marilyn's home, late on Saturday, accompanied by another man. Listening in on the conversation, Giancana's men ascertained that Marilyn was more than a little angry at Bobby. She became agitated - hysterical in fact - and in response, they heard Kennedy instruct the man with him, evidently a doctor, to give her a shot to "calm her down." Shortly thereafter, the attorney general and the doctor left.

The killers waited for the cover of darkness and, sometime before midnight, entered Marilyn's home. She struggled at first, it was said, but already drugged by the injected sedative, thanks to Bobby's doctor friend, their rubber-gloved hands easily forced her nude body to the bed. Calmly, and with all the efficiency of a team of surgeons, they taped her mouth shut and preceded to insert a specially "doctored" Nembutal suppository into her anus. Then they waited.

The suppository, which [Charles] Nicoletti said had been prepared by the same Chicago chemist who concocted the numerous chemical potions for the Castro hit, had been a brilliant choice. A lethal dosage of sedatives administered orally, and by force, would have been too risky, causing suspicious bruising during a likely struggle, as well as vomiting - a side effect that typically resulted from ingesting the huge quantities necessary to guarantee death.
Using a suppository would eliminate any hope of reviving Marilyn, should she be found, since the medication was quickly absorbed through the anal membrane directly into the bloodstream. There'd be nothing in the stomach to pump out. Additionally, a suppository was as fast acting as an injection, but left no needle mark for a pathologist to discover. In short, it was the perfect weapon with which to kill Marilyn Monroe.

Indeed, within moments of insertion, the suppository's massive combination of barbiturates and chlorylhydrate quickly entered her bloodstream, rendering her totally unconscious. The men carefully removed the tape, wiped her mouth clean, and placed her across the bed. Their job completed, they left as quietly as they had come.

It as at this point that Giancana had hoped "Act Two" of the drama would begin - that next, Bobby Kennedy's affair with the distraught, love-scorned starlet would be exposed.
FROM: http://marilyn-monroe.net/
THIS BLOG CONTINUED ON PAGE 128
http://www.earthmountainview.com