COMET PAN-STARRS UPDATE: Comet Pan-STARRS (C/2011 L4), widely expected to become a naked-eye object in early March, is now closer to the sun than Venus. Solar heating is vaporizing the comet's icy core and creating a wide, fan-shaped tail visible through binoculars in the southern hemisphere. Ignacio Diaz Bobillo sends this picture from Buenos Aires, Argentina:
"I saw Comet Pan-STARRS just before daybreak in the constellation Grus," says Bobillo. "This is what it looked like through a small telescope, imaged with an exposure time of 8x2 minutes."
In early March, Comet Pan-STARRS will make its closest approach to the sun inside the orbit of Mercury; at that time it could brighten to easy naked-eye visibility. No one knows exactly what will happen, however, because it is a fresh comet being exposed to solar heating for the first time. Experts discuss the possibilities in this video from Science@NASA.
More:3D orbit, ephemeris, light curves, NASA story.
SEE THE CURRENT COMETS PHOTOS:
http://spaceweather.com/gallery/index.php?title=comet
COMET C 2012 F6 - LEMMON
COMET C 2012 S1 - ISON
COMET C 2012 T5 - BRESSI
COMET C 2011 L4 - PAN-STARRS
THESE PHOTOS WILL CHANGE AND BE UPDATED AS THE DAYS GO BY AND MORE PHOTOS COME IN
UPDATE 3-3-2013
NAKED-EYE COMET: Comet Pan-STARRS (C/2011 L4) is now inside the orbit of Mercury and it is brightening as it approaches the sun. Observers in the southern hemisphere say the comet can be seen with the naked eye even through city lights. Currently, it is about as bright as the stars of the Big Dipper (magnitude +2 to +3). The comet could become even brighter when it moves into northern hemisphere skies in the second week of March. Check http://spaceweather.com for current images and updates.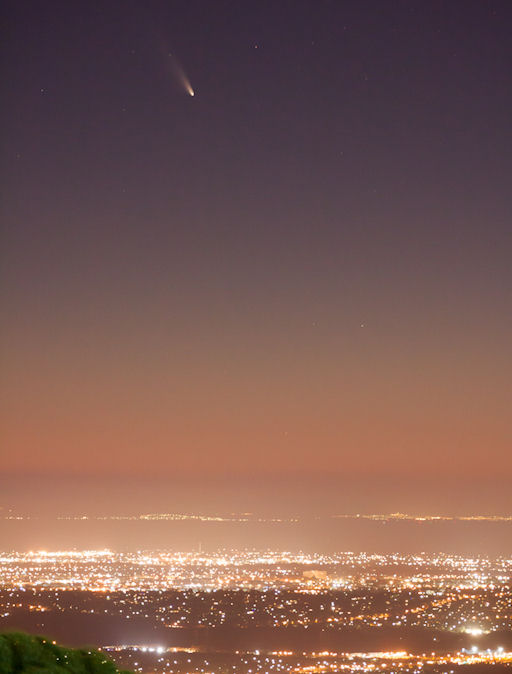 Photo details: Canon 50D, 140mm, f4.0, ISO1600, 3.2s exposure
"Despite bad light and smog pollution, the comet's nucleus was clearly visible to the naked eye as well as a small part of the tail," says Gruber. Light curves show the comet is approaching 2nd magnitude, about as bright as the stars of the Big Dipper.
Several important dates are approaching. On March 5th, Comet Pan-STARRS makes its closest approach to Earth (1.09 AU), followed on March 10th by its closest approach to the sun (0.3 AU). As Comet Pan-STARRS passes the sun, solar glare will make it difficult to see even as the nucleus vaporizes and brightens. By March 12th and 13th, the comet will reappear in the sunset skies of the northern hemisphere not far from the crescent Moon; think photo-op! Check the realtime comet gallery for the latest images.
More about Comet Pan-STARRS: NASA video, 3D orbit, ephemeris, light curves.
page 15
Aug. 3, 2011
COMET ELENIN
PREVIOUS PAGES ON COMET C-2012 S1 - ISON
http://www.greatdreams.com/blog-2012-3/dee-blog326.html

page 370
November 10, 2012
updated 11-28-12
MOSES RED HAND OF DEATH
On February 19, 2013 there were
1382
potentially hazardous asteroids.
Notes: LD means "Lunar Distance." 1 LD = 384,401 km, the distance between Earth and the Moon. 1 LD also equals 0.00256 AU. MAG is the visual magnitude of the asteroid on the date of closest approach.
page 72
Dec 1, 2011
MARS
ASTEROID
YU-55
PHOBOS
SHEMSU-HOR