Now 13 years later, a newly discovered, real-life comet named Elenin is racing toward our home planet.
No, it's not an asteroid, and no, it's not on a crash course, but it is expected to be at its closest point to us – some 21 million miles – during the culmination of God's annual holy days mentioned in the Bible.
It's coming!" thunders Paul Begley, a preacher at Community Gospel Baptist Church in Knox, Ind., in a YouTube video. "It's on its way and right in the middle of the Feast of the Trumpets, it is going to come through and get in between the Earth and the sun."
Begley wondered aloud what sort of physical effect the comet might have.
"Will there be some type of magnetic pull? Will the poles shift? Will there be some type of pull of gravity that creates earthquakes and tsunamis and volcanoes and hurricanes and tornadoes and cyclones and mudslides, forest fires? What's gonna go on?"
"I'm here to tell you right now, we're getting closer and closer and closer and closer to the Second Coming of Jesus Christ," Begley said.
In the New Testament, Jesus predicted celestial signs concerning the end of this current age and His return to Earth to govern the kingdom of God.
"And the stars of heaven shall fall, and the powers that are in heaven shall be shaken. And then shall they see the Son of man coming in the clouds with great power and glory." (Mark 13:25-26)

"And great earthquakes shall be in divers places, and famines, and pestilences; and fearful sights and great signs shall there be from heaven." (Luke 21:11)
"Ironically, the inconspicuous nature of this comet plays into some of the conspiracy theories," Morrison told Space. "For people who are convinced the comet did cause the earthquakes, this proves that Elenin is not a comet at all, but a much more massive, and dangerous, interloper."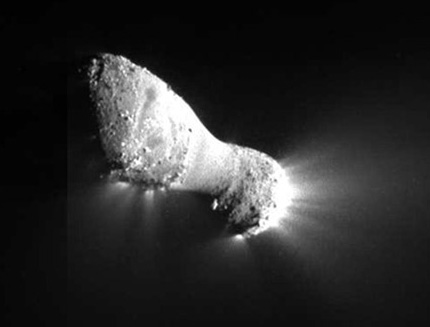 Elenin's nucleus could resemble that of Comet Hartley 2 seen here by NASA's Deep Impact mission.
Others agree.
"If the moon can't cause the poles to tip, cause massive tidal floods or earthquakes, Comet 2010 X1 Elenin won't. We've been closer to other comets before with no ill effect," Musgrave said.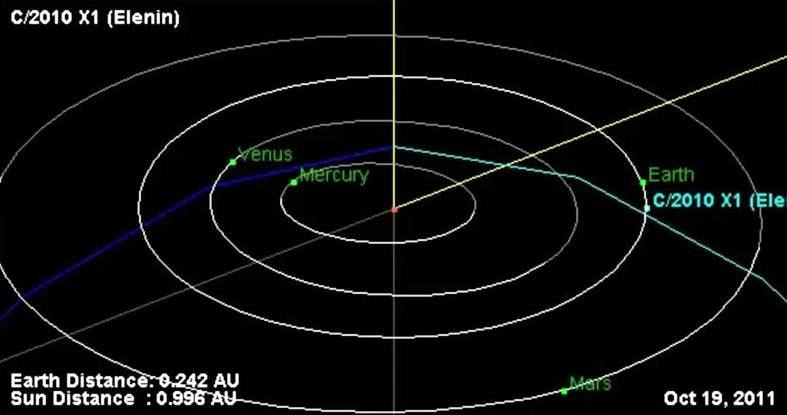 Comet Elenin will be at its closest point to Earth in October, during the culmination of God's holy days. (courtesy: Discovery)
"The effects of the comet on Earth at closest approach will be as inconsequential as that of a mosquito slamming head-on into an ocean-going supertanker."
This is certainly not the first time some in the Christian community have made connections between the biblical feast days and events in outer space.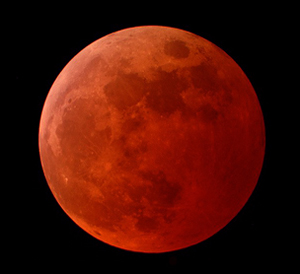 Total lunar eclipses often make the moon appear red
He says during this century, tetrads occur at least six times, but what's interesting is that the only string of four consecutive blood moons that coincide with God's holy days of Passover in the spring and the autumn's Feast of Tabernacles (also called Succoth) occurs between 2014 and 2015 on today's Gregorian calendar.
"The fact that it doesn't happen again in this century I think is very significant," Biltz explained. "So then I looked at last century, and, believe it or not, the last time that four blood red moons occurred together was in 1967 and 1968 tied to Jerusalem recaptured by Israel."
He then started to notice a pattern of the tetrads.
"What's significant to me is that even before 1967, the next time that you had four blood red moons again was right after Israel became a nation in '48, it happened again in 1949 and 1950 ... on Passover and Succoth. You didn't have any astronomical tetrads in the 1800s, the 1700s, the 1600s. In the 1500s, there were six, but none of those fell on Passover and Succoth."
When checking the schedule for solar eclipses, Biltz found two – one on the first day of the Hebrew year and the next on the high holy day of Rosh Hashanah, the first day of the seventh Hebrew month. Both of these take place in the 2014-2015 year.
Biltz says, "You have the religious year beginning with the total solar eclipse, two weeks later a total lunar eclipse on Passover, and then the civil year beginning with the solar eclipse followed two weeks later by another total blood red moon on the Feast of Succoth all in 2015."

The Hubble Space Telescope observed a mysterious, X-shaped debris pattern and trailing streamers of dust that may have been the result of a head-on collision between two asteroids. Click image for larger view.

"The truth is, we're still struggling to understand what this means," comet expert David Jewitt at UCLA told Britain's Daily Mail. "It's most likely the result of a recent collision between two asteroids."
---
---