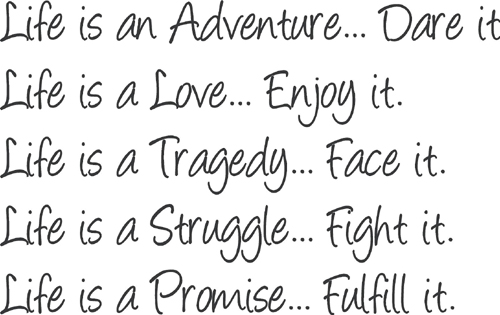 Dee Finney's blog
start date July 20, 2011
today's date August 1, 2014
page 721
TOPIC: THIS IS LIFE
8-1-14 - DREAM I seemed to be in a school room, looking at a board. A man was with me who was the teacher. He was moving numbered letter symbols around the upper part of the board, which seemed like a number with one or two letters.
When he was done moving them around, he said, "Now! THAT is living!"
NOTE: While I was researching this, a voice in my head said. "That's what is important to a Father. You totally missed it!"
I'm sure he was referring to my Father's decision not to have me educated to go to college. He just wanted me to get the kind of education that would get me a job, because as he said to me. "Girls only go to college to find a man and get married."
I got that message loud and clear. At age 13, I wanted to be a teacher and a librarian, which is why I'm obsessed with books and educating myself on many subjects, and when I worked, I went to night school for many different parts of my job, and the company paid for those courses.
In business, the companies want their personnel to be educated. So I have a whole drawer full of certificates, and a house full of books on every imaginable topic you can think of.
NOTE: BY THE TIME I GOT DOWN TO THE BOTTOM OF THIS PAGE, I WAS ASKING QUESTIONS OF MYSELF, WHY ARE WE CREATING MORE AND MORE RADIOACTIVE ISOTOPES WITH A HALF LIFE OF MERE MILLISECONDS AND WHO FUNDS LIVERMORE AND OTHER LABS LIKE THEM. WE SHOULD BE FINDING NEW WAYS TO HEAL DISEASES, NOT HOW MANY WAYS CAN WE KILL MANKIND AND HOW FAST CAN WE DO IT!
en.wikipedia.org/wiki/Lawrence_Livermore_National_Laboratory -

Lawrence Livermore National Laboratory (LLNL) is a federal research facility in ... it is primarily funded by the United States Department of Energy (DOE) and ...

https://www.llnl.gov/ - Similarto Lawrence Livermore National Laboratory (LLNL)

National security laboratory aiming to ensure the safety, security, and reliability of the U.S. nuclear deterrent, reduce threats to national and global security, ...
NOTE: Those of us who really pay attention to what is going on in the world, know that there are MORE elements than those listed here.
Here is element 115, which we heard of first when John Lear and his buddy Bob Lazar were hanging out at Area 51 some years ago.
www.greatdreams.com/John-Lear.htm

John Lear, retired airline captain, with over 19,000 hours of flight-time, has flown in over 100 different types of planes in 60 different counties around the world.

www.greatdreams.com/joe-lear.htm

Nov 2, 2003 ... John Lear says he knows it all - other people say they know it all, but nobody else knows it. If he knew it all, they would have killed him, wouldn't ...
AND MY UFO INDEX http://www.greatdreams.com/ufos.htm
Ununpentium is the temporary name of a synthetic superheavy element in theperiodic table that has the temporary symbol Uup and has the atomic number115.
It is placed as a heavier homologue to bismuth and the heaviest member of group 15 (VA). It was first observed in 2003 and about 50 atoms of ununpentium have been synthesized to date, with about 25 direct decays of the parent element having been detected. Four consecutive isotopes are currently known, 287–290Uup, with 289Uup having the longest measured half-life of ~200 ms. On August 27, 2013, researchers at GSI from Lund University in Sweden reported confirming the existence of the element. On September 10, 2013, researchers from the same research group working in Darmstadt, Germany reported synthesis as well.
HERE IS ELEMENT 118
THIS IS WHERE I POST WHAT I'M DOING AND THINKING
BLOG INDEX 2011
BLOG INDEX 2012 - page 1
JANUARY THRU APRIL 2012
MAY THRU AUGUST 2012
SEPTEMBER THRU DECEMBER
BLOG INDEX 2013
BLOG INDEX - PAGE 2 - 2013
BLOG INDEX - PAGE 3 - 2013
BLOG INDEX 2014
BLOG INDEX - PAGE 2 2014