Dee Finney's blog
start date July 20, 2014
today's date September 2, 2014
page 740
TOPIC: THE SHEMITAH RAISES IT'S UGLY SIDE
HERE ARE PREVIOUS PAGES THAT EXPLAIN WHAT THE SHEMITAH WAS, IS, AND WILL BE. IT SUPPOSEDLY STARTS ON SEPTEMBER 25TH 2014, BUT PEOPLE IN ATLANTIC CITY COULDN'T WAIT THAT LONG. THEY STARTED CLOSING THEIR BUSINESSES NOW AND CUT THEIR LOSSES.
THE SHEMITAH YEARS - REMEMBER THEY ARE BASED ON THE HEBREW MOON CALENDAR, NOT ON THE CHRISTIAN SUN CALENDAR
-

Similarto

Shemitah

101 - The Sabbatical

Year

-

Shemitah

- Chabad.org

By counting sevens from then, we see that the next shemitah year will be the year 5775 after Creation, which runs from Sept. 25, 2014 through Sept. 13, 2015.

-

Similarto When is the next Sabbatical

Year? -

Shemitah

- Chabad.org

The year following the destruction of the second Holy Temple (3829 from creation , equivalent to 68-69 CE) was the first year of the seven-year Sabbatical cycle.

en.wikipedia.org/wiki/Shmita - Similarto Shmita - Wikipedia, the free encyclopedia

[edit]. It is still discussed among scholars of the Ancient Near East whether or not there is clear evidence for a ...
www.wnd.com/.../israel-rediscovers-shemitah-in-time-for-blood-moons/

Jun 25, 2014 ... Another small portion of the budget will be used for the special ceremony that marks the end of the Shemitah year Sept. 13, 2015 or Elul 29 on ...

www.charismanews.com/.../44452-blood-moons-the-shemitah-and-prophetic -impl...

Jun 26, 2014 ... In the Torah, the Sabbath concept isn't limited to the seventh day of the week; it also applies to every seventh year—also known as the ...

www.myjewishlearning.com/.../Sabbatical_and_Jubilee_Years.shtml - Similarto Sabbatical Year (Shemitah) and Jubilee Year (Yovel) - My ...

The seventh year, during which the fields were to be left fallow (Leviticus 25:1-7) and debts released (Deuteronomy 15:1-11) [is called in] Hebrew Shemitah ...
www.nydailynews.com/.../atlantic-city-close-2-casinos-lose-5-000-jobs-3- days-ar...

1 day ago ... ATLANTIC CITY, N.J. — A time few could imagine during the glory days of casino gambling has arrived in Atlantic City, where two casinos and ...

mashable.com/2014/09/01/revel-casino-atlantic-city/

1 day ago ... ATLANTIC CITY, N.J. — It's the most spectacular and costly failure inAtlantic City's 36-year history of casino gambling: the $2.4-billion Revel ...

newyork.cbslocal.com/.../revel-casino-hotel-starts-closing-in-atlantic-city/

1 day ago ... Atlantic City's newest casino and its costliest failure has begun its two-day shutdown. The $2.4 billion Revel Casino resort closed its hotel at 11 ...
www.cbsnews.com/.../revel-casino-atlantic-citys-2-billion-flop-closing/

18 hours ago ... September 1, 2014, 6:43 PM |Atlantic City's Revel Casino is closing its doors after opening just two years ago. It was hoped that the $2.4 billion ...

www.nj.com/south/.../atlanticcity_gamblers_at_closing_casinos.html

2 days ago ... ATLANTIC CITY - If Labor Day weekend was supposedly the death knell for two of the three closing casinos, it sure didn't feel like it. Families ...

2 days ago ... The Mardi Gras-themed casino shut down Sunday after 27 years on theAtlantic City Boardwalk. It was one of three casinos closing within the ...
www.nytimes.com/.../a-casino-shuts-down-amid-tears-and-questions-about-a- citys-...

1 day ago ... ATLANTIC CITY — One casino here closed on Sunday and another will be shuttered this week, the latest signs of the reckoning underway for ...

www.csmonitor.com/.../Why-three-Atlantic-City-casinos-are-closing

3 days ago ... The Trump Plaza, The Showboat, and Revels in Atlantic City, N.J. will allclose in the next few days, leaving more than 5000 people out of work.

news.yahoo.com/revel-starts-shutdown-monday-just-2-years-062427015. html

1 day ago ... From Yahoo News: The most spectacular and costly failure in Atlantic City's36- year history of casino gambling began to play out Monday when ...
Atlantic City Map, 1877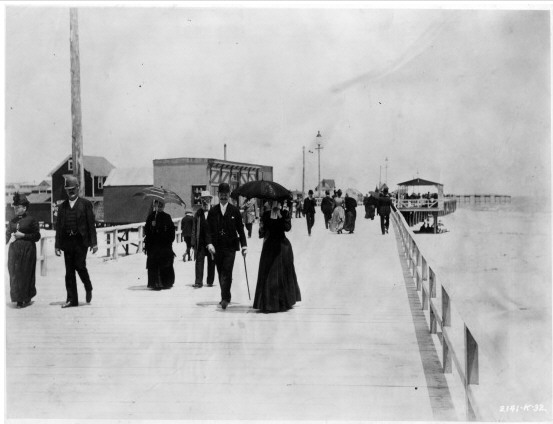 VISITORS TO ATLANTIC CITY BOARDWALK IN THE EARLY DAYS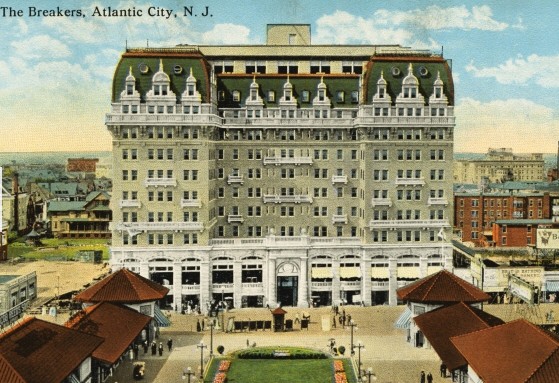 THE NEW BREAKERS HOTEL
In 1918 there were approximately 1200 hotels in Atlantic City, however only about 30 with a prestigious boardwalk address. The city claimed to lead every resort in the world in the number and splendor of its hotels.
The Monopoly Board Game spaces were named after some of these same locations.
MORE HOTELS http://www.monopolycity.com/ac_earlyhotels.html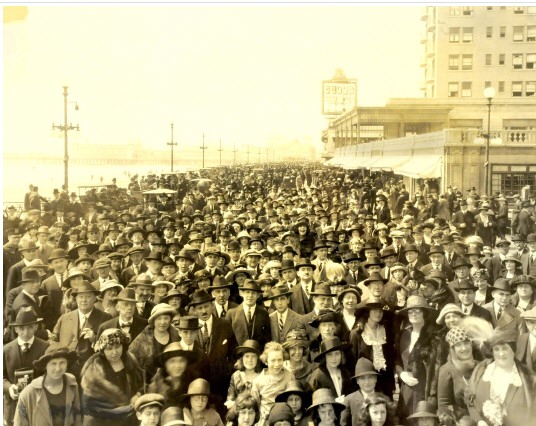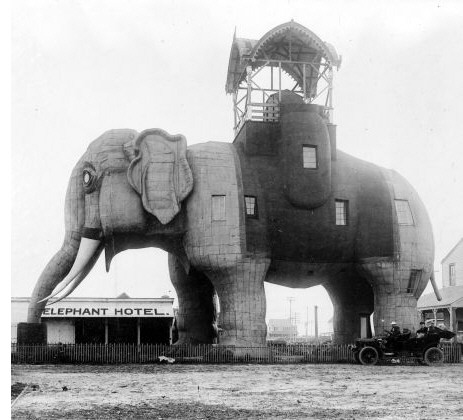 Lucy the Elephant is a novel attraction that is not actually in Atlantic City, but about 5 miles south
in Margate City. In July, 2012 Lucy celebrated her 130th birthday.
Lucy is a 90 ton, 65 feet long, 38 feet tall, steel and wooden elephant that towers over Margate City.
She was built in 1881 by James Vincent dePaul Lafferty, Jr., a landowner from Philadelphia. The purpose was to enhance the value of his real estate holdings that were then in Southern Atlantic City, but which is now Margate City.
In 1902, Lucy was the summer home of an English physician, and later became a tavern. She almost burned down in 1904 when an oil lamp in the tavern was overturned.
In the 1960s, Lucy fell into disrepair, but a "Save Lucy" effort restored her. She now has become a National Historic Monument.
Based on the shape of her head, Lucy was apparently meant to be an Asian elephant. However, female Asian elephants don't have tusks. Nevertheless, Lucy is considered female.
For her birthday, Lucy had her toes painted green.
MORE DETAILS http://www.monopolycity.com/ac_lucy.html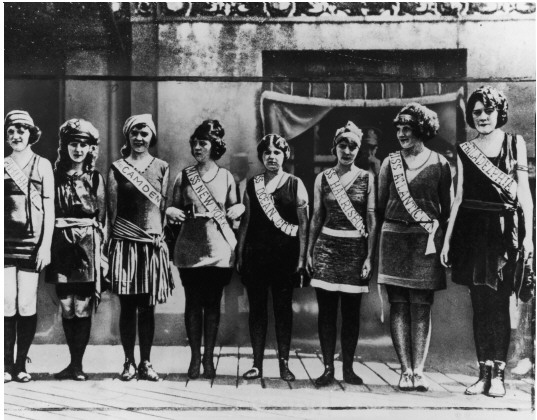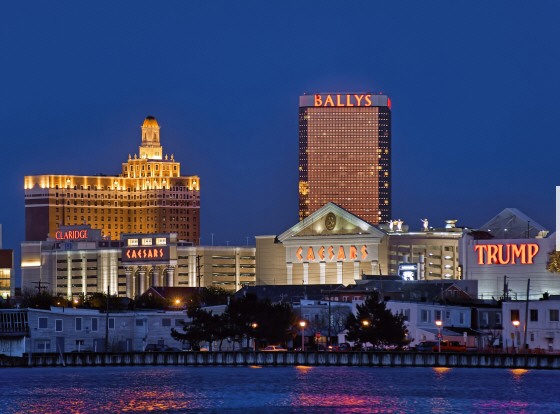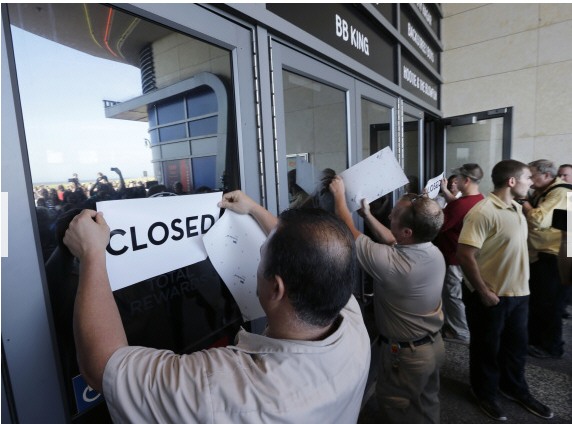 A POSITIVE SPIN ON A BAD DOWNTURN
By
Eric Sandler
"First rule of politics, kiddo: Never let the truth get in the way of a good story." - ​Nucky Thompson, 'Boardwalk Empire'
Betrayal. That's what some are calling it. Over this past weekend, more than 5,000 people lost their jobs in Atlantic City as Showboat closed on Sunday, followed by Revel on Monday and Trump Plaza coming on September 16,
according to the Associated Press
.
Unprecedented. That's what others are calling it. Since the city was incorporated in 1854, it has year after year been considered a hub of opportunity, jobs, excitement, entertainment and most of all, revenue. And yet,
as this year is witness
, the gross gaming revenue has hit a downward slope it is unable to rise out of.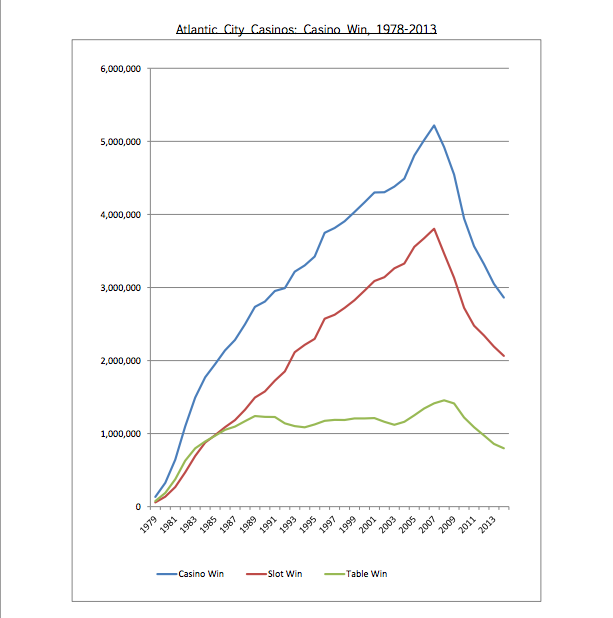 http://gaming.unlv.edu/reports/ac_hist.pdf
Atlantic City's gaming industry is experiencing a severe contraction -- though that is "exactly what the city needs to survive,"
say some experts
. With too many competitors rising up and not growing the overall pie, profits were continually sliced smaller and smaller each of the past few years.
With the three most recent closures, Atlantic City's list of casinos shrinks to just a fraction of what it started with at the beginning of 2014 -- and with that maybe hope for a future according to some.
As the fate of the once-mighty city hangs in the balance, scroll through the pictures above to watch
Atlantic City
transform from its rise all the way through until today.
www.greatdreams.com/political/assassinations-2008.htm THIS WAS A SHEMITAH YEAR AS WELL

Aug 13, 2008 ... The charter jet, flying from Atlantic City, N.J., to Owatonna, a town of 25,000, went down in a cornfield northwest of Degner Regional Airport, ...

www.greatdreams.com/blog-2012-3/dee-blog349.html

Oct 24, 2012 ... Atlantic City Electric has more than 178,000 customers without power. New York. LILCO reports more than 937,000 customers on Long Island ...
THAT WAS THE BEGINNING OF THE DOWNFALL OF ATLANTIC CITY
www.cbsnews.com/news/showboat-casino-closes-doors-atlantic-city-residents -...

1 day ago ... All bets are off at one of Atlantic City's landmark casinos. The Showboat casino closed its doors today after a quarter century on the Boardwalk.

www.nj.com/news/.../showboat_casino_closes_doors_as_atlantic_city_ gambling...

1 day ago ... Atlantic City could see four casinos close this year. ... ATLANTIC CITY — Gamblers cashed out for the last time at Showboat Casino Hotel today, as the 27- year-old gambling house closed its .... Newspaper stories and photos.

www.nj.com/news/index.ssf/2014/09/revel_casino_closes.html

9 hours ago ... ATLANTIC CITY — The gleaming $2.4 billion Revel Casino Hotel began shutting down today, leaving many of its workers wondering what ...
eater.com/archives/2013/02/04/atlantic-city-part-one.php - Similarto Atlantic City Post-Sandy: The Myths and Facts of Hurricane ...

Feb 4, 2013 ... Eater's Amy McKeever recently went to Atlantic City, New Jersey, to talk with chefs, restaurateurs, and city representatives to learn their ...

www.nj.com/atlantic-city.../atlantic_citys_garden_pier_re-opens_after_ dama...

Jun 17, 2014 ... Atlantic City's Garden Pier has been closed since October 2012 due to damage suffered during Hurricane Sandy. Mayor Don Guardian is ...
Jan 27, 2014 ... Does anyone have any recent information on New Jersey / the Jersey Coast after being hit by Hurricane Sandy and then the boardwalk fire in ...

www.huffingtonpost.com/tag/hurricane-sandy-atlantic-city/

As Hurricane turned Superstorm Sandy moves away from the coast and the damage is surveyed, we're saddened to see the fate of Atlantic City's iconic bo.

www.huffingtonpost.com/tag/atlantic-city-hurricane-sandy/

As Hurricane turned Superstorm Sandy moves away from the coast and the damage is surveyed, we're saddened to see the fate of Atlantic City's iconic bo.
www.nbcnews.com/.../six-months-after-sandy-atlantic-city-betting-comeback -...

Apr 27, 2013 ... People walk on the Atlantic City boardwalk looking south from CaesarsAtlantic City on Thursday.Half a year after Hurricane Sandy flooded ...

-

Similarto

Hurricane Sandy

Destroys Section of

Atlantic City

Boardwalk - ...

Oct 30, 2012 ... Editor's Note: This story was updated on November 8 to include more recent information and reflect the specific areas of damage. It's hard to ...

www.npr.org/2012/12/06/.../post-sandy-atlantic-city-wants-its-touris... - Similarto Post-Sandy: Atlantic City Wants Its Tourists Back : NPR

Dec 6, 2012 ... A month after Hurricane Sandy pounded the New Jersey Shore, Atlantic City is back in business. Even though most of the casinos, restaurants ...
Oct 30, 2012 11:15am
Editor's Note: This story was updated on November 8 to include more recent information and reflect the specific areas of damage.
It's hard to imagine anything challenging the iconic images of the Atlantic City boardwalk, with its rough and tumble lifestyle glamorized in shows like HBO's "Boardwalk Empire."
But as Hurricane Sandy made landfall last night around 8 p.m., the boardwalk that fronts Absecon Inlet quickly fell prey to the storm's damaging winds and heightened sea level. And while the surge burst through the streets, small shops, towering hotels and normally bustling casinos were exposed to "the perfect storm," suffering hit after hit.
"I imagine these buildings are going to have a lot of flooding. Especially the lower floors," Dr. Alan Blumberg, Stevens Institute of Technology oceanographer, told ABC News. "Atlantic City will look very different tomorrow and the next few days than it did yesterday and the day before. This is just a major situation, major damage."
WATCH: Superstorm Sandy: Atlantic City Coast Hit
A beachfront saltwater taffy shop named Berkeley was completely pummeled by the surge, with its store sign crumbling and falling apart in the wind gusts even before Sandy made landfall.
ABC News' Ginger Zee came across debris that she discovered was actually sections of the boardwalk that had lifted and flew more than two and half blocks. However, none of the famed boardwalk in front of the casinos was damaged.
"The Atlantic City Boardwalk that was washed out by Hurricane Sandy is an area limited to the Boardwalk fronting the Absecon Inlet only," Thomas R. Gilbert, District Commander of the Atlantic City Tourism District, told ABC News following our initial report on the damage. "That small section of the Boardwalk is located in South Inlet, a prominent residential section of Atlantic City."
The expansive beachfront is what experts are predicting will see the most lasting damage. Experts predict the 125 feet of sand on the Atlantic City beachfront will be reduced to just 25 feet after the storm.
"If you are at a hotel looking down at the boardwalk, some of the boardwalk is still there but there are massive sections that have washed away never to be seen again," Blumberg said. "Atlantic City will never look the same."
Gilbert, however, says, "The entire oceanfront Boardwalk in front of the Atlantic City casinos is undamaged with all dunes and lights intact. There is minimal-to no-visible damage to the casinos and other businesses fronting the boardwalk along the ocean."
PHOTOS: Hurricane Sandy Hits East Coast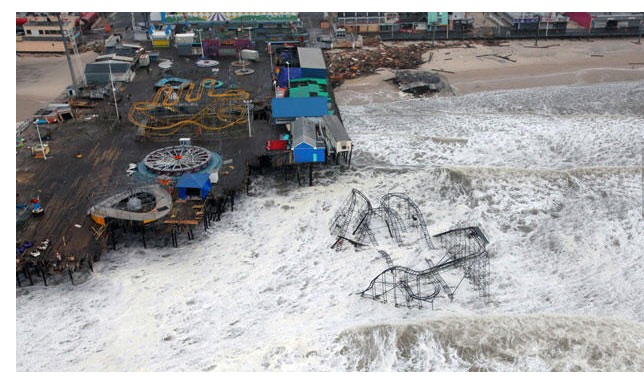 ATLANTIC CITY BOARDWALK AFTER HURRICANE SANDY
AFTER HURRICANE SANDY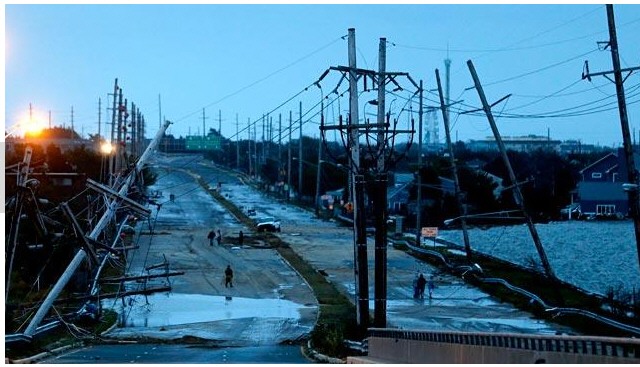 AFTER HURRICANE SANDY
THIS IS WHERE I POST WHAT I'M DOING AND THINKING
BLOG INDEX 2011
BLOG INDEX 2012 - page 1
JANUARY THRU APRIL 2012
MAY THRU AUGUST 2012
SEPTEMBER THRU DECEMBER
BLOG INDEX 2013
BLOG INDEX - PAGE 2 - 2013
BLOG INDEX - PAGE 3 - 2013
BLOG INDEX 2014
BLOG INDEX - PAGE 2 2014
BLOG INDEX - PAGE 3 2014