MORE TROUBLE IN CHINA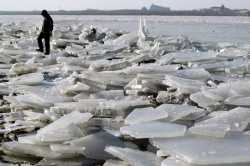 A man walks on the ice-covered Songhua River in Harbin, in northeast China's Heilongjiang province, Friday 25 November 2005. The official figures say the nitrobenzene in the water reached 0.58mg/l, 33.15 times over the state tolerance standard. EPA/NIU YIXIN
Hundreds of thousands used 'lethal' water
By Peter Goff in Harbin
(Filed: 27/11/2005)
Hundreds of thousands of people living in towns and villages along the upper reaches of the Songhua river were allowed to continue using toxic water for more than a week, even though authorities knew that benzene levels were lethally high, Chinese officials have admitted.
Anger was growing in Jilin and Heilongjiang provinces as new details emerged of how officials lied to conceal the fact that a potentially deadly 50-mile long slick was slowly flowing through cities, towns and villages.
The sprawling city of Harbin remained the centre of containment efforts this weekend, with its water cut off for a fifth day.
But the authorities revealed that millions of people who live closer to the chemical plant where a huge blast occurred two weeks ago, releasing cancer-causing compounds, were kept in the dark for 10 days - despite the fact that some drew water regularly from the polluted river.
A water official in Jilin province said the decision not to reveal that in some places benzene levels were 108 times above the safety level was made because "we did not want to panic the public".
The official, who asked not to be named, revealed that the water supply had also been cut off from 100,000 homes in Songyuan, upstream of Harbin, for six days, but householders were not told the true reason.
"We announced we were doing maintenance on the system," he said. As a result, he admitted, it was likely that farmers and people in rural areas drank and used polluted water from the river.
The debacle has shaken trust in China's rulers. "We were not told anything, not a word," said Xu Chun, a businesswoman who lives near Songyuan.
"People used the water as usual. The first thing we heard about this was a few days ago. The news said there was dangerous pollution heading towards Harbin. So then we knew it must have already gone through our city."
Hundreds of thousands of people draw their water from the river along the 170-mile stretch upstream of Harbin, many of them manually, according to Chinese environmentalists, and would not have known it was unsafe.
The explosion at the state-owned PetroChina plant in Jilin province occurred on November 13 and authorities immediately emptied an entire reservoir into the river in an effort to dilute the 100 tons of benzene compounds that had been released, while insisting that there was no environmental threat.
Jilin officials waited six days before telling their neighbours in Heilongjiang province, downstream of the explosion, about the potential disaster.
On November 21 the authorities in Heilongjiang decided to shut off Harbin's water supply, also pretending that they were carrying out "repair and inspection work", but their hopes of quelling panic backfired.
No one believed that the government would choose the first days of winter to begin routine repairs. Amid rumours that an earthquake was imminent, the city descended into chaos and thousands of people began to flee.
The governor of the province, Zhang Zuoji, told a meeting of 400 officials to continue lying until the authorities in Beijing gave permission for the truth to be divulged, according to a report in China Newsweek.
On Tuesday, nine days after the explosion, Beijing finally gave the go-ahead, condemning the deceit and announcing that the culprits would be brought to justice, in an attempt to limit the political damage.
China's tightly restrained domestic media was allowed to publish vitriolic attacks on those directly behind the cover-up and expose details from behind the scenes. By Friday, however, the central government was reining in the media again.
One national newspaper reporter said: "We had a fun time for a couple of days. Beijing needed to show the people they were taking this seriously. But then they were afraid the reports would make people angry. It could cause instability, so they told us all to go home."
But the damage to the ruling Communist Party's credibility has already been done. "How could they not tell us anything when people's lives are in danger?" Ms Xu asked. "It's disgraceful."
Wu Guoqiang, a retired doctor from the city of Zhaoyuan, which also sits on the banks of the Songhua river, said that after the explosion people had been using the water as normal for days.
"Of course, people were drinking it and fishing in it and washing with it," he said. "They only stopped when the reports of the pollution came out. But by then it was too late. The pollution had come and gone.
"It is a problem in China. The officials try to hide the truth. They are afraid of having to pay compensation, or of losing their jobs if they report accidents to their superiors. That attitude has to change."
On the chilly streets of Harbin things have begun to return to relative normality, despite the fact that the city of 3.8 million people is now in its fifth day without running water or flushing lavatories.
Yesterday officials said concentrations of benzene had fallen to safe levels, but nitrobenzene levels were still three times too high. There are fears that contaminants could be trapped longer term, as the river has started to freeze over.
On Friday night, the Blues Club in the centre of the city was packed with young revellers. Wang Mengying, a 24-year-old office assistant, said: "We just have to get on with life. The pollution should pass in a day or two and things will get back to normal. But it's funny to be here tonight and see hundreds of people dancing, lots of them looking so cool, when you know nobody has had a shower for four days."
On the streets, grumpy queues of elderly people with pots, buckets and kettles waited for tankers and fire engines to bring clean water. Many were beginning to realise that they were luckier than those people upstream, who had not been told of the danger in time.
One woman, Chen Xiaoying, said she feared for her younger sister, who lived near Zhaoyuan city with her husband and 10-year-old girl, Li Li.
"They used the water all the time," she said. "It's OK for the government to say sorry and sack some people. But what will happen if the child gets sick? People say this poison can make you really ill, even kill you. Who will pay for that? They could never pay for that."