MAMMOTH LAKE SHAKES
AND THE EARTH MOVES
View Full Screen for Best Viewing
updated -09-18-04
300 quakes in 2 days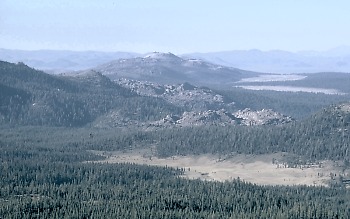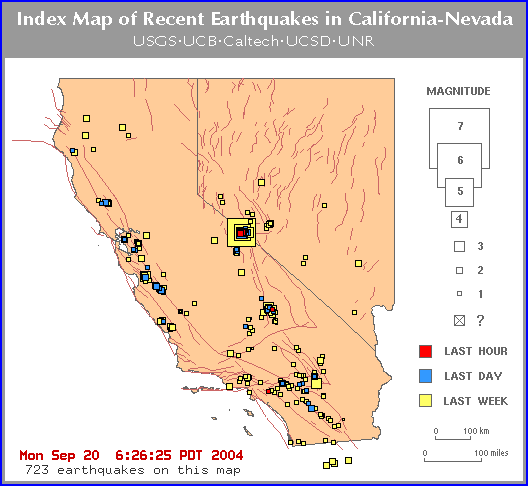 Sat Sep 18, 9:48 PM

MAMMOTH LAKES, Calif. - A swarm of earthquakes - one a magnitude-5.5 - jolted a remote, sparsely populated area along the eastern Sierra Nevada on Saturday, authorities said.

A Mono County sheriff's dispatcher said there were no immediate reports of any injuries or damage from the temblors centered along the
California-Nevada line about 30 miles northeast of Mammoth Lakes.

David Oppenheimer, a seismologist for the U.S. Geological Survey in Menlo Park, said most of the 70 quakes in the sequence that began
12:02 a.m. Saturday were magnitude-2 or less. The magnitude-5.5 temblor that struck at 4:02 p.m. was followed by a magnitude-5.4 quake at 4:43 p.m., he said. The moderate quakes were the biggest in the swarm and the biggest on the fault in more than a decade.

"It's been quite a robust sequence," Oppenheimer said. "It's not clear how it'll play out. There could be more magnitude-5s or it could die off in an
hour or two."

Some of the quakes were felt 35 miles away in Hawthorne, Nev. "They (quakes) just felt like a hit and a rolling sensation," said Mineral
County sheriff's dispatcher Lorraine Haight. "Of course, it's scary when you don't expect it."

Dennis Bauer of Lake Forest, Calif., was inside a small Mono Lake information center near Lee Vining when one of the temblors shook.
"It was like someone was leaning on the building and pushing it back and forth," he said.

The eastern Sierra has been a seismically active area. A similar sequence was centered in the same area over a one-week period in 1980, Oppenheimer said. The activity died down in 1984 before picking up again in 1992. "For whatever reasons this fault seems to make a lot of noise," Oppenheimer said. "It pops off every once in a while."

The Great Basin that covers most of Nevada and Utah is pulling part, causing the quakes, he said.

Long Valley Caldera at a Glance
The Caldera. Long Valley Caldera a 15- by 30-km oval-shaped depression located 20 km south of Mono Lake along the east side of the Sierra Nevada in east-central California. This area of eastern California has produced numerous volcanic eruptions over the past 3 million years, including the massive caldera-forming eruption 760,000 years ago. The most recent eruption occurred just 250 years ago in Mono Lake at the north end of Mono-Inyo Craters volcanic chain.
Volcanic Unrest. In May of 1980, a strong earthquake swarm that included four magnitude 6 earthquakes struck the southern margin of Long Valley Caldera associated with a 25-cm, dome-shaped uplift of the caldera floor. These events marked the onset of the latest period of caldera unrest that continues to this day. This ongoing unrest includes recurring earthquake swarms and continued dome-shaped uplift of the central section of the caldera (the resurgent dome) accompanied by changes in thermal springs and gas emissions.
USGS Monitoring. In 1982, the U.S. Geological Survey under the Volcano Hazards Program began an intensive effort to monitor and study geologic unrest in Long Valley caldera. The goal of this effort is to provide residents and civil authorities in the area reliable information on the nature of the potential hazards posed by this unrest and timely warning of an impending volcanic eruption, should it develop. Most, perhaps all, volcanic eruptions are preceded and accompanied by geophysical and geochemical changes in the volcanic system. Common precursory indicators of volcanic activity include increased seismicity, ground deformation, and variations in the nature and rate of gas emissions.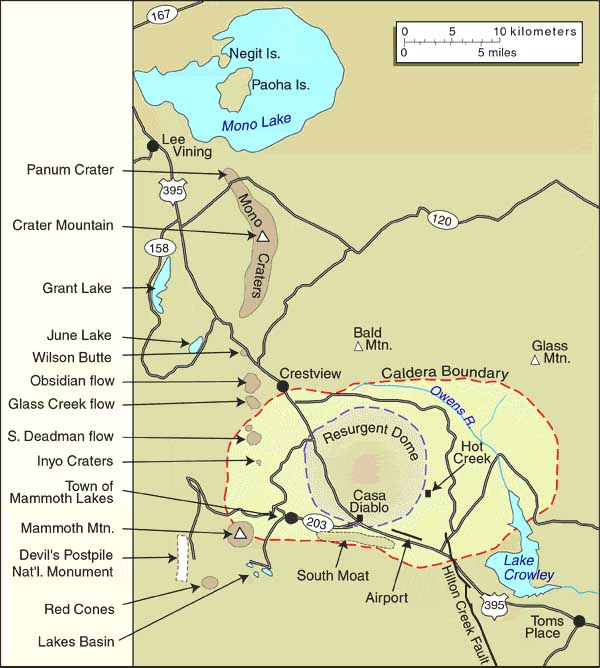 9-25-2002
Seismic trend: Earthquake activity within and adjacent to the caldera has remained low since mid-1999 averaging just five to 10 earthquakes per day with magnitudes less than M=2 and an occasional event as large as M=3
Deformation trend: The gradual deflation of the resurgent dome that began in early 1999 flattened out in early 2002. For the past several months, the resurgent dome has shown gradual inflation. Overall changes since early 1999 are small, and the center of the resurgent dome remains roughly 80 cm higher than in the late 1970's
Activity this week
Updated at 9:05 AM (PDT) on September 25, 2002:
The realtime computer system detected and located just one small earthquake in Long Valley caldera and vicinity since the last update at 9:10 AM on Tuesday, September 24. This was a magnitude M=1.4 earthquake at 3:14 AM on the 25th located in the Sierra Nevada 1 miles south of McGee Mountain (7 miles west of Tom's Place).
Updated at 9:10 AM (PDT) on September 24, 2002:
The realtime computer system detected and located just one small earthquake in Long Valley caldera and vicinity since the last update at 8:45 AM on Monday, September 23. This was a magnitude M=2.2 earthquake at 1:49 AM on the 24th located in the Sierra Nevada beneath the east shore of Grinnell Lake (11 miles SW of Tom's Place).
Updated at 8:45 AM (PDT) on September 23, 2002:
The realtime computer system detected and located five small earthquakes in Long Valley caldera and vicinity since the last update at 9:10 AM on Sunday, September 22. None had magnitudes as large as M=2.0.
Subj: Fwd: (Vision of) Danger in the West
Date: 98-01-17 09:10:56 EST
-------------------------------------
Special Delivery: A Warning of Mammoth Proportions Perhaps?
Posted by Mark on Monday, 12 January 1998, at 11:41 a.m.
I had another vision last night that I have to share with you all. Normally I don't come off like this saying "vision" and all that stuff. But, hey, let's call a spade a spade now...
What I saw:
I saw the earth shaking in the western U.S., and I saw people trying to leave those shaking areas very very quickly -- as in grab what you can and haul ass right now, this instant.
I saw masses of people all trying to find a preferred method of transportation -- buses, cars, trains, and airplanes, as expected. Because of road conditions, and some "source" telling the people that driving is extremely dangerous, many people opted for buses, trains, and airplanes, leaving their cars behind.
My perspective was like that of a 10,000 foot view from above, looking down on the earth. I saw planes landing at various airports. One airport in particular was somewhere with mountains very nearby (in the midwest by the Rockies), and I saw literally thousands of distressed people all over that airport. It had become their new home temporarily since they had nowhere else to go. No motel/hotels; no apts; no vacant homes; no tents to buy; nada, zip, nothing. They had to stay at the airport for shelter, sleeping on the floors where ever they can find space on the floor.
I heard someone's mind saying, "look at them all coming here like good little sheep" and this person had a huge grin on their male face while overlooking the situation developing at the airport.
It got over-crowded really fast too. Suddenly people are walking and heading themselves in a certain direction in the airport, like they're headed towards something they need: shelter and food they think. They're taken to transport cars, like a mini-rail system, and taken below ground. I don't think the people really know they're headed underground, per se. When they get to where they're going, there are massive areas of open space, and plenty of that chain link fence stuff all around, creating holding areas. The people are herded in to those holding areas. They are not free here, and never will be again I suspect. I pick up the incredibly distinct feeling of deception all around. Everyone's jaw is basically on the ground so-to-speak in disbelief.
They will not stay here in these initial holding araes. They will be moved again to other areas of the country, and this movement will also be underground on rail transports. Many many people never see the light of day again.
They're prisoners now, and apparently, this was the plan from square one. "They" (those who seek to control) knew this would happen. It was in fact planned this way. They knew 100's of thousands of people would head to the airports, so that's one reason they built "bases" at airports: to collect these people very easily once they arrived.
From this vision, I have to say that were I any of you, and the shit hit the fan in regards to volcanos and earthquakes, I would not venture towards an airport, and I would not under any circumstances allow myself to be "guided by the government" to what might be called "safe shelter". Don't do it.
Don't do it. Don't do it. Take care of yourself up front. If you live in those areas likely to experience quakes, make plans for relocation now so when the time comes, you'll have a place to try and go to. I say try, because I see many people not making it to where they're going in the heights of the ensuing caos.
In particular, this year, please stay away from Mammoth California at all costs. This was the warning I was given and felt compelled to share. Mammoth will shake very hard this year, destroying large areas in its wake. It starts a chain reaction of quakes. That's part of what I saw, and it wasn't pretty.
End of the vision -- I had this vision while driving on the freeway (doh!), and someone cut right in front of me right during the vision, and my attention was diverted back to the cause at hand: manuevering my speeding ehicle.
Afterthought: May 98 marks the beginning of something huge. It has to do with the Illuminati, a very major anniversy to them. After this time, hell breaks loose. See my additional thoughts below that I posted on another Web message base.
Mark, also known as "three"
----
In april of this year, the final preparations will have been completed for the celebration of an anniversary. those celebrating think of themselves as those in the light, the illuminated ones. the key to their Self deception lies in their chosen name, which reflects the primary deception they have followed ever since: "those in the light" for those in the light never realize that they ARE the light. Look for your Illuminati to gather this year in May. look for their weak attempts to gather the energy of the moments. they have plans that will take action during these times and after, and their machines will break your world. this they must do, for they fear their masters who have instructed them to destroy your eco systems. Now, in this end times for them, they have nowhere to run, no where to hide. As the reality they have created confronts them, they have little choice but to follow through. for if they stand up and admit their actions to the world, they will be slaughtered, and if they disobey their masters, they will be enslaved. they have "made their bed" and now they must "lay in it", It is too late for escape for them. in your times directly ahead, always be the Light, and you'll never find need to mistakenly stand in It.
in love,
three.
****************
5-15-99
U.S. GEOLOGICAL SURVEY NATIONAL EARTHQUAKE INFORMATION CENTER
World Data Center A for Seismology
The following is from the United States Geological Survey, National Earthquake Information Center: Preliminary hypocenter for earthquake of 1999 May 15, CALIFORNIA-NEVADA BORDER REGION: latitude 37.5 degrees north, longitude 118.8 degrees west, origin time 13 22 10.0 utc, depth shallow, magnitude 6.0 ML. The earthquake was felt in many parts of central california as far north as Placerville and south to Valencia. It is the largest earthquake in this general area since a magnitude 6.5 on July 21, 1986. There have been no reports of damage from today's earthquake. The hypocenter for today's earthquake has been furnished by the USGS Northern California Seismic Network and the UCB Berkeley Digital Seismic Network.
****************
5-15-99
Saturday May 15 11:51 AM ET
Moderate Earthquake Hits Central California
SAN FRANCISCO (Reuters) - A moderate earthquake measuring 6.0 on the open-ended Richter scale struck a sparsely populated area of California's central Sierra Nevada Saturday, but there were no reports of damage or injuries.
Pat Jorgensen, a spokesperson for the United States Geological Service office in Menlo Park, California, said the quake struck at 6:22 a.m. PDT (9:22 a.m. EDT) (1322 GMT) and was centered about 15 miles (24 km) south of the town of Mammoth Lakes.
*******************
``The only thing that would keep me from coming here is if the mountain explodes . . .''
DREAMS OF THE GREAT EARTH CHANGES

JIM BERKLAND EARTHQUAKE PREDICTIONS
1ST EARTHQUAKE PREDICTION MESSAGE BOARD
Posted by Jim Berkland on May 15, 1999 at 10:17:40:
Folks,
The 6.0M near Mammoth this morning was centered about 180 miles away (40 miles beyond the predicted 140 mile radius from San Jose) but the ground SHOOK in San Jose and knocked things off shelves in Foster City.
This is the day of the New Moon Syzygy, with the perigee being only 3 hours away.
The San Jose missing birds just hit an all time high yesterday, and the dog and cat ads were at a monthly high a couple of days earlier.
We were warned!
job
Major Swarm at Mammoth Lakes 05.15.99
A major swarm of seismic activity began today near Mammoth Lakes [Long Valley Caldera] along the California-Nevada border. Just days ago, only 15-20 tremors per day were occurring.
Along with an unusually strong 5.6 at 13:22 UTC this morning, there have been over 200 quakes recorded in the region so far today. Out of those 200 quakes, there have been many 3-4 magnitude quakes as well. All of the reported events have been very shallow at between 1-8 km in depth.
This level of swarming [especially the magnitudes] may require condition yellow or red alerts to be issued for the area around the caldera.
a complete list of earthquakes.
---
Click here to go to: index map | all earthquakes list | top page
Special maps: Long Valley || Los Angeles || San Francisco
Data Sources:

MAMMOTH LAKES, Calif. (AP) - A swarm of 2,000 earthquakes in the past 10 days wasn't enough to keep 15-year-old snowboarder Brandon Keene away from Mammoth Mountain Ski Area.
``The only thing that would keep me from coming here is if the mountain explodes,'' Keene declared.
Residents doubt it will come to that, though the nation's second-largest ski area behind Vail, Colo., is located next to an ancient volcano. But they do worry all the shaking that's been going on around here has rattled the resolve of visitors on the eve of Thanksgiving, when the first big crowds of the ski season usually show up.
``What's bad is that they're going to scare all the tourists away and it could ruin our business this weekend,'' said Kevin Schueller, assistant manager at Sandy's Ski and Sports. ``We rely on Thanksgiving to get us into Christmas. If it's dead, we don't have the money to buy the new equipment we order between now and then.''
While a few people who booked rooms for this weekend canceled, hotel bookings remained solid at two-thirds of capacity, said Pam Murphy, marketing director of Mammoth Mountain.
Earthquakes are nothing new for the Mammoth Lakes area, which is inside the Long Valley Caldera created by a volcanic eruption 760,000 years ago. The earthquake swarms that continue today - there were 500 on Nov. 13 and 1,000 over the weekend - date to 1979, powered by the churning of magma deep within the earth.
The last actual eruption in the area happened 500 to 600 years ago.
Three magnitude 6 quakes hit Mammoth Lakes in May 1980, the same time Mount St. Helen's erupted in Washington state and killed 57 people. Local quakes since then haven't been as strong, but three of at least magnitude 4.5 and 27 others in the range of magnitude 3 were felt in town during last weekend's cluster.
Chair lifts were briefly closed Saturday after a magnitude 4.8 quake. ``Normally they don't bother me,'' Schueller said, ``but the consistency of them kind of gave me the creeps. It didn't seem to stop shaking.''
``They really scared me,'' hotel worker Scott Faamausili told a British couple as they checked in. ``I thought I was going to die. I called my grandmother to tell her I was OK.''
Still, many locals are quick to point out that seismologists have a good volcano warning system, that no damage was done and that no one has been killed in 100 years of quakes here, unlike in San Francisco and Los Angeles, 250 miles to the south.
``And that's what you care about,'' Murphy said. ``More people die on the freeways in Los Angeles.''
Skiers hitting the slopes Tuesday expressed concern about the quake activity, but it wasn't enough to keep them from their favorite sport.
``I was a little worried about it,'' said Michele Roy as she slipped on ski boots. ``But I got here and talked to some locals and they didn't seem to think it was big deal.''
Officials in the tourism-dependent town of 5,000 said they were more worried about getting snow from above than the rumblings below. They were reluctant to say if business has been hurt by the quakes.
``We are very anxious to get good snow,'' said Tracy Fuller, the manager of the town where more than 300 inches of snow falls each year. ``We view Thanksgiving as a gift for good snow.''
The U.S. Geological Survey closely watched the area over the weekend and declared no immediate risk even before the swarm died down Monday. But seismologist Dave Hill warned that the caldera - 20 miles long and 10 miles wide - has been slowly rising upward, with about 2 inches of movement since May. That means quake activity should come and go.
``It's rock and roll,'' quipped Wally Hofmann, publisher of the Mammoth Times Weekly, which lists daily seismic activity above magnitude 2.4 like a daily crime report in big city newspapers. ``It is what we are.''
"I arrived in Mammoth at about 4pm on Sunday, 11/23. The receptionist at the motel said that the Govt. visited the schools & passed out flyers to take home. The flyers warned of an earthquake prediction for the next 2 weeks, of magnitude > 6. The flyers went home to the parents.
While there, we had 3 strong shakers, ~4:40pm on 11/23 & 2 on Monday morning from 1am to 6am.
If you have any questions or comments,
please e-mail dee777@aol.com