Dutch TV Exposing 2007 BILDERBERG Meeting
Aaron Dykes / JonesReport | April 24, 2007
This may well prove to be the biggest year yet for press coverage of the Bilderberg group, much to the chagrin of its secretive and overly-influential members, as evidenced by this Dutch TV piece reporting on the upcoming meeting in Istanbul.
This is at least the second major report just leaking the location, following an interview in the Turkish paper Referans, where Paul Wolfowitz outed the location of the meeting, bragging about his involvement, as Prison Planet previously reported.
Last year's meeting in Ottawa was considered to be a breakthrough in a long-standing blackout on Bilderberg, particularly in American media, despite near-perfect attendance to the meetings by the Washington Times editors and a number of other mainstream newspapers (survey the 2006 attendees list for more information).
Canadian media made Bilderberg a front page story during the Ottawa conference in both mainstream press and tabloids alike; it also garnered some TV coverage.
This TV report covers Bilderberg's history as well. They interview Spanish journalist, author and long-time Bilderberg reporter Daniel Estulin about the group's agenda-- and while they cite the vision for a one world government with a unified currency and a cashless society as "conspiracy," they ask intelligent questions and manage not to snicker, except at the mention of a Dutch politician not considered to be influential as the clip ends.
The Dutch reporters also highlight the group's secretive nature, its refusal to make public announcements and it's influential role as kingmaker-- at least in the cases of Clinton and Blair
The clip includes interesting archive interviews with both David Rockefeller and Prince Bernhard discussing the secretive group and its 'charismatic' former leader, Bernhard himself, who interests are now looked after by Queen Beatrix

Jose Barroso, President of the European Commission, announced several months ago during the unveiling of the new European energy policy that the time has come for a "post-industrial age." To bring the world into the post industrial age, you first need to destroy the world´s economic base and create another Great Depression. When people are poor, they don´t spend money, they don´t travel, and they don´t consume.
Bilderberg 2007: Welcome to the Lunatic Fringe
21-05-2007
In 1954, the most powerful men in the world met for the first time under the auspices of the Dutch royal crown and the Rockefeller family in the luxurious Hotel Bilderberg of the small Dutch town of Oosterbeck. For an entire weekend they debated the future of the world. When it was over, they decided to meet once every year to exchange ideas and analyze international affairs. They named themselves the Bilderberg Club. Since then, they have gathered yearly in a luxurious hotel somewhere in the world to decide the future of humanity.
In more than fifty years of meetings that brings together unprecedented power and money in the same time and place, never has any information been leaked as to what subjects were debated during the Bilderberg Club meetings. Bilderberg, one of the world's most powerful secret organizations is run out of an 18m2 offices, staffed by one person, using one telephone line and a single fax number. There is no web page and no brass name plate on the door. The independent press has never been allowed in, and no statements have ever been released on the attendees' conclusions nor has any agenda for a Bilderberg meeting been made public. How, in God's name, can this be possible when Bilderberg´s elite membership list includes all of the most powerful individuals who run the Planet?
Leaders of the Bilderberg Club argue that this discretion is necessary to allow participants in the debates to speak freely without being on the record or reported publicly. Otherwise, Bilderbergers state, they would be forced to speak in the language of a press release. Doubtlessly, this discretion allows the Bilderberg Club to deliberate more freely, but that does not respond to the fundamental question: What do the world's most powerful people talk about in these meetings?

Any modern democratic system protects the right to privacy, but doesn't the public have a right to know what their political leaders are talking about when they meet the wealthiest business leaders of their respective countries?
What guarantees do citizens have that the Bilderberg Club isn't a centre for influence trafficking and lobbying if they aren't allowed to know what their representatives talk about at the Club's secret gatherings? Why are the Davos World Economic Forum and G8 meetings carried in every newspaper, given front page coverage, with thousands of journalists in attendance, while no one covers Bilderberg Club meetings even though they are annually attended by Presidents of the International Monetary Fund, The World Bank, Federal Reserve, chairmen of 100 most powerful corporations in the world such as DaimlerChrysler, Coca Cola, British Petroleum, Chase Manhattan Bank, American Express, Goldman Sachs, Microsoft, Vice Presidents of the United States, Directors of the CIA and the FBI, General Secretaries of NATO, American Senators and members of Congress, European Prime Ministers and leaders of opposition parties, top editors and CEOs of the leading newspapers in the world. It is surprising that no mainstream corporate media outlets consider a gathering of such figures, whose wealth far exceeds the combined wealth of all United States citizens, to be newsworthy when a trip by any one of them on their own makes headline news on TV.
The delegates at Bilderberg 2007: Istanbul, Turkey May 31-June 3
This year's delegation will once again include all of the most important politicians, businessmen, central bankers, European Commissioners and executives of the western corporate press. They will be joined at the table by leading representatives of the European Royalty, led by Queen Beatrix, the daughter of the Bilderberg founder, former Nazi, Prince Bernhard of the Netherlands and Bilderberger President, Etienne Davignon, Vice Chairman, Suez-Tractebel from Belgium. According to Bilderberg Steering Committee list which this author had access to, the following names have now been confirmed as official Bilderberg attendees for this year's conference (In alphabetical order):
George Alogoskoufis, Minister of Economy and Finance (Greece); Ali Babacan, Minister of Economic Affairs (Turkey); Edward Balls, Economic Secretary to the Treasury (UK); Francisco Pinto Balsemão, Chairman and CEO, IMPRESA, S.G.P.S.; Former Prime Minister (Portugal); José M. Durão Barroso, President, European Commission (Portugal/International); Franco Bernabé, Vice Chariman, Rothschild Europe (Italy); Nicolas Beytout, Editor-in-Chief, Le Figaro (France); Carl Bildt, Former Prime Minister (Sweden); Hubert Burda, Publisher and CEO, Hubert Burda Media Holding (Belgium); Philippe Camus, CEO, EADS (France); Henri de Castries, Chairman of the Management Board and CEO, AXA (France); Juan Luis Cebrian, Grupo PRISA media group (Spain); Kenneth Clark, Member of Parliament (UK); Timothy C. Collins, Senior Managing Director and CEO, Ripplewood Holdings, LLC (USA); Bertrand Collomb, Chairman, Lafarge (France); George A. David, Chairman, Coca-Cola H.B.C. S.A. (USA); Kemal Dervis, Administrator, UNDP (Turkey); Anders Eldrup, President, DONG A/S (Denmark); John Elkann, Vice Chairman, Fiat S.p.A (Italy); Martin S. Feldstein, President and CEO, National Bureau of Economic Research (USA); Timothy F. Geithner, President and CEO, Federal Reserve Bank of New York (USA); Paul A. Gigot, Editor of the Editorial Page, The Wall Street Journal (USA); Dermot Gleeson, Chairman, AIB Group (Ireland); Donald E. Graham, Chairman and CEO, The Washington Post Company (USA); Victor Halberstadt, Professor of Economics, Leiden University; Former Honorary Secretary General of Bilderberg Meetings (the Netherlands); Jean-Pierre Hansen, CEO, Suez-Tractebel S.A. (Belgium); Richard N. Haass, President, Council on Foreign Relations (USA); Richard C. Holbrooke, Vice Chairman, Perseus, LLC (USA); Jaap G. Hoop de Scheffer, Secretary General, NATO (the Netherlands/International); Allan B. Hubbard, Assistant to the President for Economic Policy, Director National Economic Council (USA); Josef Joffe, Publisher-Editor, Die Zeit (Germany); James A. Johnson, Vice Chairman, Perseus, LLC (USA); Vernon E. Jordan, Jr., Senior Managing Director, Lazard Frères & Co. LLC (USA); Anatole Kaletsky, Editor at Large, The Times (UK); John Kerr of Kinlochard, Deputy Chairman, Royal Dutch Shell plc (the Netherlands); Henry A. Kissinger, Chairman, Kissinger Associates (USA); Mustafa V. Koç, Chariman, Koç Holding A.S. (Turkey); Fehmi Koru, Senior Writer, Yeni Safek (Turkey); Bernard Kouchner, Minister of Foreign Affairs (France); Henry R. Kravis, Founding Partner, Kohlberg Kravis Roberts & Co. (USA); Marie-Josée Kravis, Senior Fellow, Hudson Institute, Inc. (USA); Neelie Kroes, Commissioner, European Commission (the Netherlands/International); Ed Kronenburg, Director of the Private Office, NATO Headquarters (International); William J. Luti, Special Assistant to the President for Defense Policy and Strategy, National Security Council (USA); Jessica T. Mathews, President, Carnegie Endowment for International Peace (USA); Frank McKenna, Ambassador to the US, member Carlyle Group (Canada); Thierry de Montbrial, President, French Institute for International Relations (France); Mario Monti, President, Universita Commerciale Luigi Bocconi (Italy); Craig J. Mundie, Chief Technical Officer Advanced Strategies and Policy, Microsoft Corporation (USA); Egil Myklebust, Chairman of the Board of Directors SAS, Norsk Hydro ASA (Norway); Matthias Nass, Deputy Editor, Die Zeit (Germany); Adnrzej Olechowski, Leader Civic Platform (Poland); Jorma Ollila, Chairman, Royal Dutch Shell plc/Nokia (Finland); George Osborne, Shadow Chancellor of the Exchequer (UK); Tommaso Padoa-Schioppa, Minister of Finance (Italy); Richard N. Perle, Resident Fellow, American Enterprise Institute for Public Policy Research (USA); Heather Reisman, Chair and CEO, Indigo Books & Music Inc. (Canada); David Rockefeller (USA); Matías Rodriguez Inciarte, Executive Vice Chairman, Grupo Santander Bank, (Spain); Dennis B. Ross, Director, Washington Institute for Near East Policy (USA); Otto Schily, Former Minister of Interior Affairs; Member of Parliament; Member of the Committee on Foreign Affairs (Germany); Jürgen E. Schrempp, Former Chairman of the Board of Management, DaimlerChrysler AG (Germany); Tøger Seidenfaden, Executive Editor-in-Chief, Politiken (Denmark); Peter D. Sutherland, Chairman, BP plc and Chairman, Goldman Sachs International (Ireland); Giulio Tremonti, Vice President of the Chamber of Deputies (Italy); Jean-Claude Trichet, Governor, European Central Bank (France/International); John Vinocur, Senior Correspondent, International Herald Tribune (USA); Jacob Wallenberg, Chairman, Investor AB (Sweden); Martin H. Wolf, Associate Editor and Economics Commentator, The Financial Times (UK); James D. Wolfensohn, Special Envoy for the Gaza Disengagement (USA); Robert B. Zoellick, Deputy Secretary of State (USA); Klaus Zumwinkel, Chairman of the Board of Management, Deutsche Post AG (USA); Adrian D. Wooldridge, Foreign Correspondent, The Economist.
Amongst the names appearing on the initial list of invitees which this journalist had access to in January 2007 stand out the names of the now disgraced John Browne, British Petroleum's Chief Executive Officer and the disgraced and fired former chief of the World Bank, Paul Wolfowitz. It will be interesting to see if either of these men makes an appearance at Bilderberg 2007. The Bilderbergers have no trouble accepting criminals into the fold as long as their misdeeds are conducted away from public spotlight and scrutiny. Once exposed, the culprits are generally discarded. Lord Conrad Black, former chief executive of Hollinger media group is a case in point.
Two others names on the original January 2007 list should raise a few eyebrows. One of them is Bernard Kouchner, the newly appointed Minister of Foreign Affairs in the right wing Nicolas Sarkozy government in France. Kouchner is a former founder of ONG Doctors without Borders. He was absent from Bilderberg 2006 in Ottawa, Canada. Could his government position been arranged prior to the French national elections? For my money, the surprise appearance of year award should go to Mahmood Sariolghalam, Associate Professor of International Relations, School of Economic and Political Sciences, National University of Iran. What is an Iranian doing at a NATO alliance controlled Bilderberg conference? We will know soon enough. Bilderberg 2007 is indeed a good time to look behind the scenes.
What will be discussed at Bilderberg 2007?
Aside from the Irak quagmire, energy problems continue to dominate Bilderberger discussions. Oil and natural gas are finite, non-renewable resources. That's because once used up it cannot be replenished. As the world turns, and as oil and natural gas supplies dwindle while demand soars dramatically, especially with Indian and Chinese booming economies who want all the trinkets and privileges of an American way of life, we, as the Planet, have crossed the midpoint of oil production and discovery. From now on, the only sure thing is that supply will continue to diminish and prices will continue to increase. In these conditions world conflict is a physical certainty. End of oil means end of world's financial system, something which has already been acknowledged by Wall Street Journal and the Financial Times, two full time members of the Bilderberger inner circle. Goldman Sachs oil report, [another full time member of the Bilderberger elite] published on March 30, 2005 increased the oil price range for the year 2005-6 from $55-$80 per barrel to $55-$105. During 2006 meeting, Bilderbergers have confirmed that their short range price estimate for oil for the 2007-08 continues to hover around US$105-150/barrel. No wonder Jose Barroso, President of the European Commission, announced several months ago during the unveiling of the new European energy policy that the time has come for a "post-industrial age." To bring the world into the post industrial age, you first need to destroy the world´s economic base and create another Great Depression. When people are poor, they don´t spend money, they don´t travel, and they don´t consume.
As the economic impact sinks in, and as the after effects of Peak Oil become evident in the face of breakdown of civilization, the United States will be forced to challenge Europe, Russia and China for the hegemony of control and the ever depleting hydrocarbon, non-renewable reserves most of which are contained in the Middle East. That will be point number two on the Bilderberg 2007 agenda.
Third item on the agenda is European relations with Russia not only in Europe but also in Central Asia. With Moscow making a deal with Kazakhstan and Turkmenistan over the transport of gas to Europe, the US geo-strategic goal of driving a wedge between the Central Asian countries and Russia lies in shambles. While the US says this is "not good for Europe", the Europeans are divided. Iran, overnight has become America's last hope in the energy war.
Iran war, after two years of huffing and puffing by the Bush government is definitely off the table. Furthermore, with France, Russia, Japan and China investing heavily in Iran, the world has drawn a line in the sand and the U.S. will be told at the conference not to cross it. There is blood in the water, and blood in the water usually leads to a good fight.
That notwithstanding, the United States needs to control the region, not only for its oil reserves but, most importantly to help it sustain world economic hegemony. Under this strategic design, regional states will be turned to weak domains of sectarian sheikhs with little or no sovereignty and, by implications, a pathetic agenda of their economic development. Regional chaos favours the spread of Islamic fundamentalism, which in turn reinforces the process of political and social disintegration supported by the Bilderbergers.
With Blair leaving, the UK will be told yet again, that they must, at all cost, do what is necessary to integrate the country into the European Community.
Finally, with Wolfowitz resigning from the World Bank, Bilderberg luminaries will try to come to a consensus on how best to overhaul not only the bank but its sister organization, the International Monetary Fund (IMF), led by a Spaniard, Rodrigo Rato. Wolfowitz became entangled in controversy seven weeks ago after World Bank whistleblowers leaked to the Washington-based non-governmental organization Government Accountability Project (GAP) documents that showed Wolfowitz pushing a high pay raise in a secondment deal to the US State Department for his girlfriend.
We, as a society, are at a crossroads. In almost every corner of the planet, stress points are beginning to fracture. The roads we take from here will determine the very future of humanity. It was former British Prime Minister, Benjamin Disraeli, who stated that "the world is governed by very different personages from what is imagined by those who are not behind the scenes."
It is not up to God to bring us back from the "New Dark Age" planned for us. IT IS UP TO US. Whether we go into the next century as an electronic global police state or as free human beings depends on the action we take now. Forewarned is forearmed. We will never find the right answers if we don't ask the proper questions.
http://www.danielestulin.com/?op=noticias&noticias=ver&id=318&idioma=en
Subj: FW: Why Miami is A Strategic Moment
Date: 10/9/2003 2:22:29 PM Pacific Daylight Time
From: Starhawk <stella@mcn.org>
From Cancun to the Miami FTAA Mobilization:
Victory¹s Strategic Momentum
By Starhawk
Those of us who went to Cancun to protest the World Trade Organization¹s ministerial came back with pinkeye, exhaustion, deep coughs, and heat rashes, but the rosy flush of victory made all the rest worthwhile. Sweet victory is rare in progressive, political work. Generally, we end a mobilization reminding ourselves that we are working for long term change, while the policies we are contesting remain in force. Seldom do we get to dance in the streets, celebrating an immediate collapse of some undemocratic negotiation or unjust institution.
Cancun was a double victory. First, the collapse of the WTO ministerial, occasioned by the walkout of countries from the global south, instigated by Kenya. The many actions inside and outside the conference center, in the streets and around the world, and the powerful act of protest by Lee Hyung-Hai who took his own life at the barricades, created an atmosphere in which the delegates from developing countries could take a strong stand strong. Only because of the actions, delegates told us, did they feel they had the support they needed to resist the bullying tactics of the U.S. and E.U, who refused to consider the agricultural issues which are vital to the survival of farmers and indigenous cultures throughout the south, but were pushing for expanded access for investors to the resources of the developing world. The investment rules under discussion could have opened Mexico¹s forests to unbridled logging, removed the ecological certification that many indigenous communities in the area have worked hard to achieve, privatized communal lands, fisheries and energy resources, and opened services, and water resources to further privatization. The walkout prevented the WTO from opening new rounds of agreements that would have even more deeply undermined the rights of countries to enact regulations protecting their environment and resources, and labor force.
Second, Cancun brought together activists from the global south and the more affluent north, from a broad spectrum of groups‹campesinos, workers, indigenous people, Mexican students, NGOs, peace and ecology groups, and internationals. These groups had different organizing styles, political cultures, histories, cultures and languages. Vast differences in privilege and painful historical relationships of oppression separated some of us, yet we were able to take action together, support each other, and come away with strengthened alliances and deepened respect.
To understand the depth of this victory, we need to think back to the political climate just four years ago, before the Seattle ministerial. At that time, the WTO and the forward march of neoliberal policies seemed unstoppable, and to question them at all was to ally with flat-earthers and others who just didn¹t get Progress. Now, the most ambitious institution of globalization, the WTO, has been stopped in its tracks.
Yet there were some progressive voices who warned against shutting down the ministerial. George Monbiot, writing in The Guardian on September 2, said, "The combination of (the rich countries) broken promises and their outrageous terms could force the weaker governments to walk out of the trade talks in Cancun, just as they did in Seattle in 1999. They must know that this will mean the end of the World Trade Organization. And this now appears to be their (the U.S. and E.U.) aim. Subverted and corrupted as the WTO is, it remains a multilateral body in which the poor nations can engage in collective bargaining and, in theory, outvote the rich."
He admits, however, that "This never happens, because the rich nations have bypassed its decision-making structures."
A subverted, corrupted, institution, which continually promises advancement to the poor while actually making rules that favor the rich, is not an effective instrument for advancing the agenda of developing countries or anyone else except profit-making transnationals. Holding on to some faint hope of its transformation would be a waste of energy and expose the world to the grave danger that the WTO would continue to extend its destructive policies while we await its potential democratic moment.
But Monbiot¹s warnings should not be ignored. Cancun will not be a victory for developing countries if they are left to the tender mercies of Robert Zoellick, U.S. Trade Representative, or Senator Charles Grassley, head of the Senate Finance Committee, who have promised to shut dissenters out of U.S. favor. Poorer countries can be picked off one by one, maneuvered into bilateral or regional agreements in which they have limited bargaining power. It will not be a victory for working people, farmers, students, or the rapidly eroding middle classes of the U.S. if corporations remain free to Œrace to the bottom,¹ roaming the globe in search of the lowest labor costs and most lax environmental standards.
The upcoming summit in Miami November 19-21 for the Free Trade Area of the Americas, the FTAA, will be the next major test of the global corporate agenda. With the failure to achieve a global corporate governance through the WTO, regional trade agreements become even more important. To build on and extend the victory of Cancun, we need a major mobilization in Miami.
The FTAA would extend NAFTA, the North American Free Trade Agreeement, throughout the hemisphere. Its draft includes the same extension of investors¹ power that was under dispute in the WTO, the same push toward privatization and commercialization of services, and a clause which allows corporations to sue governments if they enact environmental, labor or safety standards or other regulations which cut into profits.
The same splits between rich and poor, north and south, exist in the FTAA as were present in Cancun. Brazil is already talking about a counter-draft. The developing countries may pressure for reforms or revisions, but they could also walk out of the negotiations. If they do, the FTAA too can be derailed before it is ever put into place.
What happens on the street in Miami is vitally important. A second walkout, so soon after Cancun, would change the global configurations of power. It would be another strike against the Bush administration¹s falling prestige, and a heavy body-blow to the whole project of corporate globalization. For developing countries to take this step that could provoke enormous retaliation from Bush¹s bully boys, they need to know that there is strong opposition within the north and especially, the U.S. The place to effectively demonstrate that opposition is on the street.
We need numbers: masses of people in Miami itself, gathering together where they can be seen and counted, where the media will be focued, and where they can directly affect the delegates and the summit. And along with legal, permitted marches and forums, we need actions that go beyond: acts that directly withdraw our consent from the summit and the policies it represents, broad based nonviolent direct actions that attempt to disrupt and derail these undemocratic proceedings.
Such a mobilization is indeed underway. United for Peace and Justice, the huge antiwar coalition that formed in opposition to the invasion of Iraq, is calling on its membership to join in mass nonviolent direct action. Labor is mobilizing, and expressing support for direct action as well as for a massive march. The broad range of groups that have continued to organize around global economic issues, from NGOs to anti-capitalists, will be there. Miami has the potential to surpass Seattle in the breadth and depth of a mobilization that can reunite Œteamsters and turtles¹ and link different facets of the movement, forge new alliances and strengthen old ones, deepen the commitment of those awakened to activism by the Iraq war and reenergize those who have been on the front lines for years.
Mobilizations are also crucibles, where we forge the tools to build that new world we keep saying is possible. We enact our vision of what that world would be. We provide food, shelter, medical care, legal support, education and access to information. We carry our creativity into the street with drums and puppets and dance. In mobilizing, we claim an autonomous space, in which we create a temporary but real new society that makes visible the world we want to create.
Miami will not be an easy place to mobilize. We are likely to face hostility from local reactionary forces and possible police repression. Already the city council is considering an ordinance that would outlaw everything from bandannas to puppets to cameras.
But our movement has matured in the four years since Seattle. We have vastly more experience in organizing these actions and in facing potential repression. We have learned hard and important lessons about how to hold the tension of our differences and still act together in solidarity.
And because we have allies inside, our job is strategically easier. In fact, just by showing up in Miami, we create a dilemma for the opposition.
For if we are allowed to carry out our actions without repression, we will make a strong statement to the delegates inside and to the world, and create a climate of support for the developing countries to walk out of the negotiations.
But if the delegates are sequestered behind steel fences in a militarized zone, every closed gate and checkpoint will put the lie to the myth that these policies promote democracy or general well being. Every blow of a police baton, every cloud of tear gas, will strengthen the world¹s perception that the U.S. can only carry out these policies by using brute force to quell dissent.
That is not always of immediate comfort if you are the one on the wrong side of the police baton. What does help, in the face of violence, is preparation and training, which we will offer to all who come, the support of our companero/as and the strength of our group solidarity. In Miami, we have time to prepare, to orchestrate the political and practical support we need. We encourage people to form affinity groups now, to come with your friends and allies, or to come early and form groups there that can stand together in action.
And it is also possible that we will not face major police violence. In Cancun, we expected police repression. Two years before, students protesting the World Economic Forum were brutally beaten. This time, police avoided beating or arresting demonstrators, and treated us overall with respect.
The Miami mobilization will include safe and legal ways to protest. Direct action also requires support people, to play vitally important roles that do not expose them to the risk of arrest or police violence.
And when we refuse to be intimidated, when we stand up to fear, we claim back political space in which democracy can flourish. We announce to Bush, Ashcroft, and all the rest of them that they cannot take away our rights, sell off our resources, take away our livelihoods and undermine our communities without a struggle. We feel good about ourselves, and we provide an example of courage that can inspire others.
So come to Miami if you can, November 17-21. If you don¹t think you can, think again. If work or school responsibilities are keeping you away, consider whether you will continue to have a job or whether any public support for education will be left if these policies go unchallenged. If you can¹t afford to come, ask your community to chip in money to help with your transportation and living expenses. If you truly cannot come yourself, help someone else to get there, from your home community or from the global south.
And after Miami, go on to Fort Benning Georgia to protest the School of the Americas, November 22-23, where the U.S. military trains torturers and assassins for Latin America.
Miami is a strategic moment to make a stand. We have every chance of building on the victories of Cancun and Seattle, and extending them to deepen the alliances we need to build a fair and democratic system in the U.S. and around the globe.
Check the following websites for information: www.unitedforpeace.org
Resources for nonviolent direct action training: www.rantcollective.org
NGOs organizing educational and permitted events:
Feel free to post and forward this article widely. Starhawk reserves all rights.
WTO in Seattle
Bilderberg Groupies: Who's Who in the US Media
by URI DOWBENKO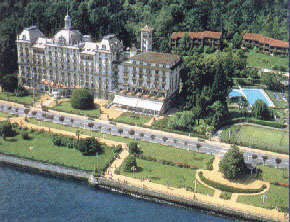 (Photo shows the Grand Hotel des Iles Borromees in Stresa, Italy,
where the Bilderberg Cabal,is having its meeting, June 3-6, 2004.)

Who's working for a One World Government in the United States?

The Media Blackout ensures you won't read these names in Associated
Propaganda outlets (the ubiquitous AP or Associated Press,
as they so coyly call themselves).

The Bilderberg Group is an invitation-only secretive
Global Cabal of Illuminati Gofers, Politician-Minions and
Mega-Corporate Honchos who are sworn to secrecy
not to reveal the conspiracy which binds them all.
From: CONSPIRACY PLANET.COM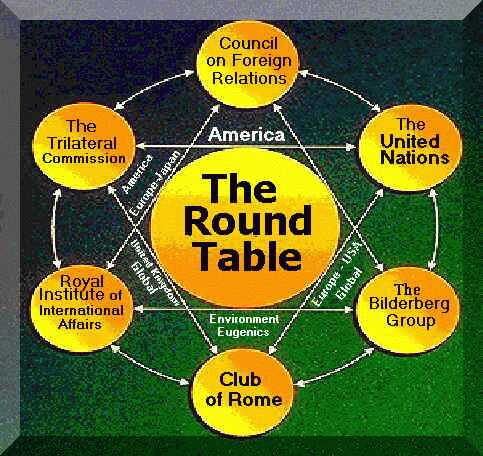 .
The Bilderbergers and the Bilderberg Group
Trilateral Commission
Bohemian Club
Prescott Bush - Wall Street & Hitler
Conrad Black, chairman, The Telegraph
William F. Buckley, National Review
(also a Skull and Bones member,
as is his son novelist Christopher Buckley)
Council on Foreign Relations [CFR]
Thomas L. Friedman, New York Times columnist
Gun Control, threats to the Constitution
David Rockefeller
Jim Hoagland, Washington Post
Surviving the coming Economic Collapse
NATO
Peter Jennings, ABC World Tonight
St. John of Jerusalem - Knights of Malta
Bolshevism
Hellfire Clubs
Mont Pelerin Society
Joseph Kraft, political columnist
William Kristol, editor/
publisher Weekly Standard
The Round Table
The Fabians
German Marshall Fund
The Cini Foundation
Club of Rome
The Zionists
The Federal Reserve - not federal, with no reserves
The Illuminati
Rosicrucians Definition Adam Weishaupt
Are the Illuminati and Masons Connected?
Implantable Biochips and Biometrics
Priory of Sion
George Stephanopoulos, media pundit
Arthur Sulzberger, editor New York Times
Lesley Stahl, CBS 60 Minutes
The James Bay and the massive Grand Canal Project
Vince Foster
The coming Continental and Hemispheric Unions
MKULTRA
The Rhodes Scholarships and Cecil Rhodes' plan for a Federal World State
Mind Control
The Crackdown on "Terrorism" and the Internet
United Nations [UN]
The Order Of The Solar Temple
The Knights Templars
The coming Global Food Shortage
The Black Nobility
NSA/GCHQ/CSE and communications surveillance
Bill Clinton - The Dark Side
The planned U.S. and Canadian Concentration Camp program
Bill Clinton Library
Report From Iron Mountain and the great UFO deception
Bill Clinton Biography
FEMA and its underground bases and presidential Executive Orders [EO's]
Conspiracy Theory and Theories
The link between Environmentalism and the New World Order
Waco
The Royal Institute for International Affairs, Chatham House
Gorbachev in America
The CIA and Drug Importation through Mena [Arkansas]
Smart Cards
The World Economic Forum
The BATF-The Official Site
Population Control and Reduction
Black Helicopters
The Oklahoma City bombing
Biblical Prophecy
China - the coming Superpower
Quebec Separation
Bosnia and the Balkan War
Conrad Black
Skull and Bones Society
Masons [Freemasonry]
The New World Army
Secret Societies
Operation Garden Plot #2 #3
Henry Kissinger
Operation Cable Splicer
The death of Ron Brown
James Reston, political columnist
War Pages on greatdreams.com
William Colby
European Monetary Union [EMU]
The downing of TWA800
The Wildlands Project
The Great Soviet Deception
Personal Survival Skills
The Global Mafia
National Identity [ID] Cards
Non-lethal Weapons
The planned Breakup of Canada
The Constitutional Militia
The Ten U.S. Federal Regions
The European Union [EU]
Chemtrails
Our Global Neighbourhood - the Report of the Commission on Global Governance
The World Conservation Bank
Mort Zuckerman, chairman US News and World Report
George Will, Political columnist
CONSPIRATOR'S HIERARCHY: THE STORY OF THE COMMITTEE OF 300
EXTREMELY URGENT * EXTREMELY URGENT
THE POWER OF THE UN
Date: 10/10/1999
From: APFN@lv.rmci.net (APFN)
++++ NETWORK FAR AND WIDE++++
PDD 25 http://mikenew.com/pdd25.html
EXTREMELY URGENT * EXTREMELY URGENT
Toll free to the US Congress: 1-888-449-3511 or 1-800-449-3511
Pay for call at: 202-224-3121 OR 202-225-3121
Rep. Chris Smith blocks Rep. Ron Paul's "American Sovereignty Restoration Act" (H.R. 1146) which will get the US out of the United Nations.
It has been boldly stated by former U.N. Secretary General Boutros Boutros-Ghali that "The time of absolute and exclusive sovereignty, however, has passed..." That's the real danger of the United Nations. And that's why the United States must get out of the United Nations. To achieve that, we must break Rep. Smith's roadblock and DEMAND that hearings be held on H.R. 1146.
IMMEDIATE ACTION REQUIRED:
1. Write or call Rep. Chris Smith and demand that hearings be held on H.R. 1146. His office number is (1-888-449-3511 OR 1-800-449-3511
Pay for call at: 202-224-3121 OR 202-225-3121 His address is:
Honorable Chris Smith
United States House of Representatives
Washington, DC 20515.
2. Write or call the office of the International Operations and Human Rights Committee and demand that hearings be held on H.R. 1146 at (202) 225-5748. The address is
B358 Rayburn
House Office Building
Washington, DC 20515.
3. Call your congressman and urge him to cosponsor H.R. 1146.
The Capitol Hill House Switchboard phone number is: 1-888-449-3511 or 1-800-449-3511 Pay for call at: 202-224-3121 OR 202-225-3121.
4. Call Speaker Hastert and urge GOP leadership to demand hearings on H.R. 1146. Ph: 1-888-449-3511 or 1-800-449-3511 Pay for call at: (202) 225-0600.
***************************************************************
--------------------YOU MUST CHOOSE -----------------------
US SOVEREIGNTY OR U.N. DICTATORSHIP.
THE INACTION ON THE PART OF INDIVIDUAL US CITIZENS
WILL IN FACT BE A VOTE FOR UN DICTATORSHIP.
For more detail on the United Nations plans for individual Americans and OUR LAND please consult the following documents.
1. The United Nations plan to separate the child from the parent and make the child a ward of "the state." For details on "--- this new concept of separate rights for children with the Government accepting responsibility for protecting the child from the power of parents], economic exploitation and social neglect." read the UN document: The U.N. Convention On The Rights Of The Child at http://www.vvm.com/~ctomlin/A12.htm
2. The U.N. plan to control the eduation of "YOUR" children. http://www.unesco.org
3. The U.N. plan to control "YOUR" Mental Health. http://www.vvm.com/~ctomlin/a70.htm
4. The U.N. plan for a U.N. Cop On Every Corner In America??: http://www.vvm.com/~ctomlin/a46.htm
5. The U.N. plan to control "YOUR" Community http://www.vvm.com/~ctomlin/a71.htm
"Inside Yellowstone, the U.S. Park Service is shutting down campgrounds as the park is being prepared to become the core of a huge biosphere reserve, as part of the United Nations global biodiversity plan," he said. "Once established, no human activity will be permitted in the area," even though U.S. taxpayers must continue to fund the maintenance and upkeep of Yellowstone and other popular outdoor tourist sites. For detail information please refer to: United Nations Educational Scientific And Cultural Organization (UNESCO) Convention Concerning The Protection of The World Cultural And Natural Heritage (WHC-98/CONF.203/18) (Paris, 29 January 1999). To read the full text of this plan click on the following.
http://www.unesco.org/whc/nwhc/pages/home/pages/homepage.htm
Due to the extreme urgency of this matter The Christian Alert Network (TCAN) respectfully requests that this ALERT be forwarded to the maximum extent possible by all organizations and individuals.
TCAN further urges all individual US citizens to make the above contact IMMEDIATELY and CONTINUE to make that contact until H.R.1146, has been successfully debated in the US House of Representatives.
****
Rev. "Curt" Tomlin
President
The Christian Alert Network,Inc.
POB 11746
Killeen, Tx 76547-1746
Ph: 254-628-7043
Fax: 254-628-7894
Web Site: http://www.vvm.com/~ctomlin
In 1932 William Z. Foster, then National Chairman of the Communist Party, USA, restated point one of the Communist Manifesto; "The abolition of private property". Then in terms specifically applicable to the U.S., Foster said, "The establishment of an American Soviet government will involve the confiscation of large landed estates in town and country, and also, the whole body of forests, mineral deposits, lakes, rivers and so on". USA Communist Party Chief Gus Hall stated, "...The battle will be lost, not when freedom of speech is finally taken away, but when Americans become so 'adjusted or conditioned' to getting along with the 'group' that when they finally see the threat, they say, 'I can't afford to be controversial".
Are we now so established or just on the way there? Realize the real agenda and what is happening before it's too late! We are almost there!
___________________My last postscript of the day____________________
End Federal and UN occupation of State lands by BLM, Fish and Wildlife, Forest and Park Services, UNESCO et al. Demand your State Legislatures to call for Congress to cede the so-called Public/Federal lands to your State as is Constitutional. It's either them or us.
Mary Denham, State Coordinator
Take Back Arkansas, Inc. Fax:
501/521-3530
2167 N. Porter Rd. Fayetteville
AR 72704
Ph: 501/521-1933
TBA website http://www.nwark.com/~tbark
(page no longer available)
NOTE: In accordance with Title 17 U.S.C. section 107, any copyrighted material herein is distributed without profit or payment to those who have expressed a prior interest in receiving this information for non-profit research and educational purposes only. For more information go to:
http://www.law.cornell.edu/uscode/17/107.shtml (page non-responsive on 1-4-2002)
=================================================================
// APFN // apfn@lv.rmci.net
+++ UN - UNITED NATIONS +++
PDD 25 http://mikenew.com/pdd25.html
UN - DISARM AMERICA STATE DEPT 7277
http://harvest-trust.org/7277.htm
(Bill Coopers website has been disabled)
NOTE: Bill Cooper was shot to death by U.S. Marshalls in December, 2001
UN Heritage Sites in the USA.
http://www.nwi.org/Maps/Heritage.html
UN - Alabama Committee to get us out of the UN
http://themustardseed.home.mindspring.com
UN - United Nations Vehicles On U.S. Soil! (Posted 7/21/98) These photos are of actual United Nations vehicles on the soil of America. These vehicles are coming into our ports -- namely Port Beaumont, Texas--at a staggering rate.
UN Vehicles Just Off The Port
http://www.newswatchmagazine.org/unvehpict/unveh1.htm
Rear View of the Vehicles
http://www.newswatchmagazine.org/unvehpict/unveh2.htm
Close-up
http://www.newswatchmagazine.org/unvehpict/unveh3.htm
Another close-up
http://www.newswatchmagazine.org/unvehpict/unveh4.htm
Transport through City
http://www.newswatchmagazine.org/unvehpict/unveh5.htm
Convoy of Trucks
http://www.newswatchmagazine.org/unvehpict/unveh6.htm
UN Ambulance 1
http://www.newswatchmagazine.org/unvehpict/unambul1.htm
UN Ambulance 2
http://www.newswatchmagazine.org/unvehpict/unambul2.htm
UN Bus
http://www.newswatchmagazine.org/unvehpict/unbus.htm
Missle Launcher Truck
http://www.newswatchmagazine.org/unvehpict/missltr.htm
East German Vehicles
http://www.newswatchmagazine.org/unvehpict/germveh.htm
U.N. TREATY DATABASE
http://www.unhchr.ch/html/50th/50anniv.htm
Who's Who in the United Nations Drug Control Apparatus
http://www.lindesmith.org/news/background.html
Alabama Committee to get us out of the UN
http://themustardseed.home.mindspring.com
New World Odor
- Paul Revere's second ride: The UN is coming! The UN is coming! One page, but with links to back up its argument.
A Collection Of Photos Showing The Infrastructure Of The NWO
NEWSPAPER DATABASE - READ THE NEWS ONLINE
NEWS OUTPOST - DEFENDING THE FRONTIER OF TRUTH
THE TRILATERAL COMMISSION - 1973
The History and Significance of the New World Order
HITLER'S TWISTED CROSS - The New World Order: a web of lies
THE UNDERGROUND NAZI INVASION OF THE UNITED STATES
THE ILLUMINATI OUTLINE OF HISTORY - 1776 C.E. - 1920 C.E.
THE TIMELINE OF HISTORY - 1861 TO 1973
THE ROOTS OF RACISM IN WALDORF SCHOOLS
The Road To Socialism and the New World Order
Antisemitism and the Extreme Right in Spain (1962–1997)
Ordo Templi Orientis - The Order of Oriental Templars
GENERAL CHRONOLOGY OF EVENTS - 1900 - 1929
AMAZING AND ACCURATE EXPOSÉ OF THE NEW AGE BY A SECULAR JEW
The Unknown Hitler:-Nazi Roots in the Occult
New World Order-Novus Ordo Seclorum
Bilderberg - 'The High Priests of Globalization'
Was the Constitution for the united States of America Suspended?
CREATING ENEMIES FOR THE COLD WAR
CENTER FOR HOLOCAUST, GENOCIDE AND PEACE STUDIES
MAITREYA CONSIDERED A FRONTRUNNER
Modernity under the New Order: The Fascist Project for Managing the Future
THE PATRIOTISM PROJECT - THE FUTURE OF AMERICA
TERMINAL FROST - by The John Birch Society
FREEMASONRY - CHRISTIAN OR ANTI-CHRISTIAN?
EARTH HANGING IN THE BALANCE - WEATHER WARFARE
UNITED NATIONS - SATAN'S LAST STAND PART I
UNITED NATIONS - SATAN'S LAST STAND PART II
UNITED NATIONS - SATAN'S LAST STAND PART III
TO COMMUNIZE - TO SOCIALIZE AMERICA
THE POWER OF SECRET SOCIETIES IN WORLD HISTORY
SATAN'S AGENTS TO ORGANIZE THE WORLD
THE NATIONAL AND WORLD COUNCIL OF CHURCHES, WHAT PART IN GOVERNMENT?
SHADOW GOVERNMENT OF THE UNITED STATES AND THE DECLINE OF AMERICA
UNDERSTANDING THE NEW WORLD ORDER - THE TRI-LATERAL COMMISSION
(Some of the 311 members named)
INTRO -- Understanding the New World Order
utnwo1a.txt - PLUTOCRACY
utnwo2a.txt -THE COUNCIL ON FOREIGN RELATIONS
utnwo2b.txt - Elites & Power:OLIGARCHY
utnwo2c.txt -THE TRI-LATERAL COMMISSION
utnwo3a.txt -FRANKENCORP -- A SYNTHETIC PERSON WITH A DISEASED CRIMINAL BRAIN
utnwo3b.txt -BUSINESS IS BUSINESS ---[ Son of Frankencorp ]
utnwo3c.txt -THE VILLAGERS ARE AFTER FRANKENCORP
utnwo4.txt - THE CFR IN THE MILITARY
utnwo5a.txt -THE CFR IN THE MEDIA
utnwo5b.txt - HE WHO PAYS THE PIPER, CALLS THE TUNE
utnwo6.txt -BY WHAT AUTHORITY IS THE CFR MAKING POLICY FOR THE USA ,THE MID-EAST, AND THE WORLD?
utnwo7a.txt -CONSPIRACY, CONSPIRACY THEORY, AND THEIR USE AS PROPAGANDA
utnwo7b.txt -CONSPIRACY THEORIES' AND CLANDESTINE POLITICS
utnwo7c.txt -EARLY HISTORY OF PROPAGANDA
utnwo7d.txt -CONSPIRACIES IN CHRISTIAN AMERICA
utnwo9a.txt -AS THE WORLD SPINS --- PUBLIC RELATIONS
utnwo9b.txt -AS THE WORLD SPINS -- BURSON-MARSTELLER: PR FOR THE NEW WORLD ORDER
utnwo9c.txt -AS THE WORLD SPINS ---In "A DIFFERENT FORM OF CAPITALISM"
utnwo10a.txt - WHY THE RICH MUST OWN THE GOVERNMENT
utnwo10b.txt -WHY THE RICH MUST OWN THE WORLD ---Imperialism 101
utnwo10c.txt -"HE'S GOT THE WHOLE WORLD IN HIS HANDS..."
utnwo11a.txt -WOULD YOU LIKE SOME FRIES WITH YOUR BILDERBERGERS ?
utnwo12.txt -The NAFTA
utnwo13.txt -Sovereignty: MORE: Bye Bye Ms. American Pie ---
utnwo14a.txt - DUSTY RHODES REVISITED
THE ILLUMINATI MILLENNIUM RITUALS
Congress Approves Religious Monitoring Using HR 2431
Listen to United Broadcasting Network

The SPOTLIGHT The Spotlight newspaper online
The Washington Times The Washington Times online
General Services Administration The government has your number, READY!
Media Bypass :great magazine
Thomas Legislative Invormartion on the Internet Congress should read HALF of what's on this site
Sovereign's WWW Content Page : News and information you won't hear in the "mainstream" media, or on Rush Limbaugh.
The New American Magazine: The John Birch Society's magazine with excellent articles
John Birch Societies official home page
The Reagan Information Interchange: National radio talk show host's WWW site of important political information
Anguish in Oklahoma City: What you didn't know about the bombing in Oklahoma City
The Electronic Gun Shop: The 2nd amendment comes alive in cyberspace
Second Amendment Stuff: Information on the right to keep and bear arms
The Constitution Society:
Excellent site of Constitutional information
The Center for Public Integrity:Who OWNS the candidates?
"On March 29, 1996, The Fletcher Roundtable on a New World order", the UN's plan for global government
Patriots for a Constitutional America
Vote fraud: Help break the coverup
Who is your master?Governments, Conspiracy, New World Order, Constitution, Common Law, Militia, F.B.I., C.I.A., U.N., Vatican, MULTI-National BANKERS, FreeMason
PERFECT TAX AVOIDANCE FOR CITIZENS
Freedom Site, Canadian patriots
Orbit 7 Radio Network Patriot related radio
The New World Order Intellegence Update
Free America Lot's of good articles
NewMax America's News Page Many informative articles
The Drudge Report Bubba Klinton hates this guy
Jeff Rense's Radio Program Various topics from NWO to UFO's

PHONY SEALS
TWENTY-FIVE RULES OF DISINFORMATION - THE POLITICIANS CREDO

NEWS THEY NEVER TOLD YOU

BOMBS, SECRET TRIALS AND OTHER ATROCITIES

NAZI DEVELOPED PROPAGANDA

THE GOVERNMENT'S WAR ON YOUR LIFE AND PROPERTY

FREEDOM TO SLAVERY 1 of 4

CONSPIRACY TO DISARM

WHEN PHOTO ID ISN'T ENOUGH

FEDS STEALING BUSINESS RECORDS AT WILL, WITH NO SEARCH WARRANT OR REASONS GIVEN. Ever! I'ts getting downright scary.

SURVEILLANCE TECHNOLOGY

A TEST FOR YOU COWARDS OUT THERE

A DEFECTOR WARNS AMERICA

THE TRUTH BURIED BY THE FANTASIES

PERSONAL EXPERIENCES WITH FASCISM

THE ABSOLUTE LATEST NEWS ONLINE FROM REUTERS AND HOLLYWOOD

THE BATTLE FOR YOUR MIND

HANDLING THE EVERYDAY RISKS

VEHICLE SURVEILLANCE

MEDIA AND DECEPTION

FBI FBI FBI

GOVERNMENT WANTS TO CONTROL YOUR SOUL

WEED OUT INFORMANTS AND AGENT-PROVACATEURS

SPY INDEX

FBI STILL KEEPING THE LID ON EYEWITNESS REPORTS

UNDERGROUND FACILITIES~~ BASES~~TUNNELS

CIA's ROLE IN THE STUDY OF UFOs, 1947-90

HAARP

CIA DIRECTOR RICHARD HELMS ON BRAINWASHING
PRIVACY? Hahahahaha!

THE SECRET GOVERNMENT

CONCENTRATION CAMPS IN AMERICA
WHO IS IN CONTROL OF OUR MIND?
THE CENTRAL INTELLIGENCE AGENCY
THE SHADOWS

THE ANCIENT ONES

THE NEW AGE

BILDERBERG AND SYSTEMATICS

CFR and TRILATERAL

THE BANKING SCAM

CORPORATE TRANSNATIONALISM

NATIONAL SOCIALISM

COMMUNISM

GLOBAL SOCIALISM

RACISM AND EUGENICS

A CENTURY OF GENOCIDE

THE DISARMAMENT AGENDA

THE NATIONAL EMERGENCY

COMPUTER GLITCHES

EROSION OF MILITARY READINESS

THE MEDIA

EROSION OF INDIVIDUAL PRIVACY

THE WEB OF FOUNDATIONS

HUMILIATING A NATION

AN UNPRECEDENTED STONEWALL

MURDER Inc.

A BLUEPRINT FOR RECOVERY

INSTITUTIONAL MEDIA, EAGER CONSPIRATORS

INDOCTRINATION - Part 1

INDOCTRINATION - Part 2 - Shoehorning the Public

MANUFACTURING MADNESS

WAR, DRUGS, BIO-WEAPONS AND PLAGUES

THE DRUG WARS

SOCIAL DECAY AND LAWS GONE MAD - Part 1

SOCIAL DECAY AND LAWS GONE MAD - Part II

ECO-PSYCHOS
EROSION OF SOVEREIGNTY

ENGAGING RED CHINA - Part I

ENGAGING RED CHINA - Part II

ENGAGING RED CHINA - Part III
EROSION OF MILITARY READINESS - Part I

EROSION OF MILITARY READINESS - Part II
---
Read these lately?
If not, maybe you should. Couldn't hurt.
| | |
| --- | --- |
| GET INVOLVED !!!Send E-Mail to the U.S. Congress Vote Smart | |
| ALL THINGS POLITICAL | An alternative look @ Washington from the citizen's perspective |
| Alt.Current-Events.Clinton.Whitewater | Alt.Current-Events.Clinton.Whitewater |
| Conspiracy Nation | Conspiracy Nation |
| Thomas Government Site | Wealth of legislative information |
| Ben's Links to Alternative News | Ben's Links to Alternative News and Political Resources |
| RIE Homepage | WHO'S WHO of the ELITE |
| Ruling Class, Conspiracy, Control | Ruling Class, Conspiracy, Control |
| Scandals of the Clinton Administration | Scandals of the Clinton Administration |
| MORE!!!Clinton,Drugs,Bush,CIA,Mena, | FTP Site full of info... |
| Skolnick:The COMMENTARIES | Skolnick:The COMMENTARIES (FTP) |
| The Insiders | The Insiders by John F. McManus |
| Whitewater scandal home page | Whitewater Scandal home page |
| 50 Greatest Conspiracies of All Time | 50 Greatest Conspiracies of All Time |
| The Washington Weekly | The U.S. national politics electronic newsmagazine |
| Armed Robbery | Armed Robbery? Who becomes a witness? |
| Austin Chronicle | Written to inspire controversy |
| Black List of Internet Advertisers | Out to stop inappropriate advertising |
| Media Watch | Media Watch |
| NRA.org (National Rifle Association) Home Page | NRA.org (National Rifle Association) Home Page |
| Speedtrap Registry | Fight the abuse & misuse of RADAR |
| Voter's Telecom Watch | Voter's Telecom Watch |
| Wiretap Web Site | Wiretap Web Site |
| Home Page of J. Orlin Grabbe | Tons & Tons of interesting stuff |
| American Spectator | Welcome to the most fearless magazine! |
| CORRUPTION IN AMERICA Sites | Information "They" Don'T Want You To Know |
| RiseUP | The Official Website of the Revolution |
| The Spotlight | Expertly exposed government corruption, media distortion,scandals, corporate rip-offs |
| Richard Osborn Report | Richard Osborn Report |
| Sovereign Patroits WWW Page | What the media would never be allowed to print, Tons of info and Links!!! |
| DisInformation | Everything that you know is WRONG |
| Project Vote Smart | Project Vote Smart |
| Social Security Info | Social Security Info |
| U.S. Bureau of the Census Home Page | U.S. Bureau of the Census Home Page |
| Travel-Advisories | World Wide Travel Warnings |
| For The 21st Century | Social Economic and Political Forum |
| American Spectator | American Spectator Online |
| In Search Of... | In Search Of...professional research, analysis and reporting |
| BeachBum | More Clinton Stuff |
| The New World Odor Links | DEATH TO THE NEW WORLD ODOR!!! |
| Michael Reagan Show | THE REAGAN INFORMATION INTERCHANGE |
| Media Bypass | Media Bypass |
| Friends of Bill | Body count |
| Gun Owners of America | "The only no-compromise gun lobby in Washington." |
| Conservative Org. | Check to see House & Senate Votes!!! |
| Frugal Squirrel's | Homepage for Patriots, Survivalists, and Gun Owners |
| Ken's Survival BBS | Survival and Firearms Files |
| Bookmarks for Frugal Squirrel | Survivalists Bookmarks |
| Neal Boortz Radio show | Radio show talk host |
| Free Republic | News, Links and Clinton info! |
| Executive Orders Links | Executive Orders Links |
| "Global plantation" | New World Order Intelligence Update |
| BILDERBERGER REPORT | Fom John Whitley Research |
| Quinn in the morning | Dicuss the New World Order |
| BILDERBERGER | History and links |
| Bilderberg Conferences | Secret meetings of western 'power elite' exposed |
| UFO Center | NATIONAL UFO REPORTING CENTER |
TO CONSPIRACIES AND MIND CONTROL
TO UFO ABDUCTION AND IMPORTANT SUPPRESSED UFO INFORMATION