PEAS, BEANS, AND BARLEY ... OHHHHH!

THE DREAMS AND THE REALITY

BY DEE FINNEY

Oats, Peas, Beans, and Barley Grow
Oats, peas, beans, and barley grow
Oats, peas, beans, and barley grow
Can you or I or anyone know
How oats, peas, beans, and barley grow?
9-21-00 - This whole thing started on 9-20-00 when I suddenly got so tired, it was either lay down and take a nap or fall on my face.

The dream I had seemed rather dumb. It didn't start to make sense until the next morning and I turned on the news.

9-20-00 - DREAM - I was in a house where other people lived. I had a small kettle of various type and size peas and beans (like lima). Each of these peas represented an event and time. (I've dreamed this before). All these peas and beans were in a kettle full of water. I was going to put it on the stove to cook because raw peas and beans don't count. However, I spilled some water on the floor under the sink. I then saw that it was dusty under the sink which meant I had to wash the floor.

It wasn't enough to just wash the floor, it had to be scrubbed. There were little square indentations on the floor like it was a big grid ... it wasn't smooth. So the floor had to be flooded and then scrubbed. So, I had to flood the floor, then scrub it.

I didn't want to use a white rag or towel because the floor would have turned it black. But the floor was blue, so I flooded it with water, then scrubbed it with a large dark blue towel which didn't show the dust (dirt) so much.

In the dream I knew that the number of peas and beans I had meant these events were going to all take place and be done by the year 2012.

NOTE: I have several other dreams of peas and beans, but none with the reference of 'time'. I tried to remember how many peas and beans there were. I would say less than a hundred. They were all floating and of various sizes.

***********************

9-21-00 - 3:00 a.m. - VISION - I saw a solitary person standing in the blast of a nuclear wind. It was said to be a 1.58

**********************

9-21-00 - 4:28 a.m. - VISION - I saw a tree about 8 feet tall with a single green olive or lima bean hanging from a branch above my head. (It was that color)

NOTE: I was going through my files and found this: 2-20-98 - VISION - There were some objects floating down river. They were referred to as 1.58 fractals.

I don't know if this is connected or not since I assigned the number myself:

158. The Law of Unconditional Love. This is a condition as well as a law of third dimension living. Loving ourselves and other people as they are, is honoring self and another's self and soul path. It is loving without judgement or reservation, an awareness we are all part of God or the All. When we love without condition or restraint we connect in a profound manner with our own higher self. We notice that we say the right things at the right time in our communication with others while loving unconditionally. Life and events seem to flow to us in a more joyous and agreeable manner. Everything seems easy when living in unconditional love.
When I woke up that morning, we turned on the television about 5 a.m. and there was news of a missile attack in England on a building which hit it on the 8th floor. I knew that this was the first event.
Date: Thu Sep 21, 2000
Subject: Fwd: MI6 bomb attack Britain
In this story: Rail, roads, returning to normal
Witnesses heard two blasts
LONDON, England -- Police have found part of a rocket-propelled grenade launcher near the scene of a missile attack on the headquarters of Britain's foreign intelligence service, MI6.
No one was injured in the explosion on Wednesday and damage was limited to one window and two wall panels on the building's eighth floor.
But the audacious attack on the high-security building has raised fears of a renewed spate of terrorist attacks in London, with police saying they believed Northern Ireland republican dissidents may be to blame.
The grenade launcher component was found in a nearby park on Thursday during a forensic search but police said they where not certain if the missile had been fired from that spot.
Earlier, police said they thought the missile was fired from between 200 and 500 metres from the MI6 building.
Assistant District Commissioner Alan Fry, head of Scotland Yard's Anti-Terrorist Branch, said similar weapons had previously been discovered in both the north and south of Ireland and similar devices were freely available from Russia and the former Yugoslavia.
He said police were keeping an open mind but, "clearly the sort of weapon we believe was used in this attack is known to be in the hands of certain groups. They will be uppermost in our minds."
"It was an audacious attack in a busy part of London and we will be looking to hunt down those responsible. You can be assured that no stone will be left unturned," he added.
He said there was no warning of the attack, nor any claims of responsibility for it.
Rail, roads, returning to normal
Police issued an urgent appeal for anyone who saw suspicious activity in the area of the building, on the south bank of the River Thames, or elsewhere.
The search for the weapon caused widespread disruption to rail and road services, including Eurostar trains to Paris and Brussels.
The police chief said the missile attack had caused little damage and had not disrupted the work of the Secret Intelligence Service (SIS).
He said the projectile did not appear to have been a mortar shell. "In all probability I would doubt it is a mortar -- I would have expected more substantial damage."
The futuristic green glass MI6 building on the south bank of the River Thames, less than a mile from parliament and the main government offices in Whitehall, is probably one of the most secure and closely guarded compounds in Britain.
The building is already famous for having featured in the last James Bond film "The World is not Enough."
A series of bombs planted in London earlier this year have been blamed on republican splinter groups opposed to the Northern Ireland peace process.
Northern Irish republican paramilitary groups have a long history of bomb attacks in Britain.
In 1991, the Irish Republican Army attacked the prime minister's Downing Street office with home-made mortars launched from a van parked nearby.
Although the IRA is now observing a ceasefire, dissidents are believed to be responsible for a bomb attack that damaged London's Hammersmith Bridge in June, and for a bomb planted at a west London railway station in July.
Witnesses heard two blasts
On Wednesday night, witnesses reported hearing two loud blasts at the top of the large multi-tiered structure that houses the espionage service.
"I heard two large bangs," said Sridharan Balakrishnan, an employee of a Texaco gas station behind the MI6 building. "It was very loud and hurt my ears. Then I saw smoke coming from the MI6 building."
James Trott was crossing Vauxhall Bridge in a minibus when he heard the bangs, and saw shattered glass littering the ground on the Thames side of the building.
"I was just scared," he said. "You're terrified when that sort of thing happens, because you think there might be something else."
Witness Alex Frank said he heard two explosions from his bedroom across the railway tracks from the MI6 building.
"I heard two distinct explosions and massive white clouds over the railway tracks," he said.
"There were definitely two explosions of the same strength. They were loud enough to shake the building I'm living in."
Earlier this year MI6, which deals with foreign intelligence, warned that its ability to gather intelligence could be compromised by security lapses.
In March, a laptop computer that contained missing training information for one of Britain's spy agencies was mislaid and recovered by police two weeks later.
The Foreign Office, which has responsibility for the service, refused to comment on the incident, other than to say that security procedures had been tightened and an investigation launched.
Britain's spy agency was formed in 1921, when it was known as Military Intelligence, section six -- or MI6 for short.
Its heyday came during the Cold War, and since the breakup of the former Soviet Union, the agency has been redefining its role.
It is thought to cooperate closely with the domestic security service MI5 in keeping track of paramilitary-military groups in Northern Ireland.
The high-tech spy headquarters bristles with security features, including an extensive closed-circuit television system, and bomb- and bullet-proof walls and windows.
Much of the complex is below street level to protect the most sensitive areas from terrorist attacks.
Historian Donald Cameron Watt, a former intelligence agent, said an attack had been on the cards since MI6 moved into its high-profile headquarters in 1994 from several locations around the city.
"A lot of people, myself included, thought it was stupid," he said. "I thought that secret services were supposed to be secret."
The Associated Press & Reuters contributed to this report.
~~~~~~~~~~~~~~
http://www.thesun.co.uk/news/13023025
By TREVOR KAVANAGH and JOHN KAY
BRITAIN was on red alert for a wave of bombings last night after the MI6 attack.
Security forces were put on full stand-by following the missile strike at the secret service HQ.
Intelligence chiefs fear Wednesday's blast in London was a rehearsal for a series of outrages - including a re-run of the 1984 Brighton bomb horror.
They believe IRA rebels are plotting an atrocity involving party leaders Tony Blair and William Hague or other political and military targets - who have all been warned they are targets.
Delegates gather in Brighton tomorrow for Labour's annual conference, which opens on Sunday.
The Sussex resort was the scene of the IRA's notorious attempt to wipe out Margaret Thatcher's Cabinet at the Grand Hotel 16 years ago.
And the Tories meet in Bournemouth for their conference the week after Labour.
Missile launch ... how grenade was fired by shoulder-held launcher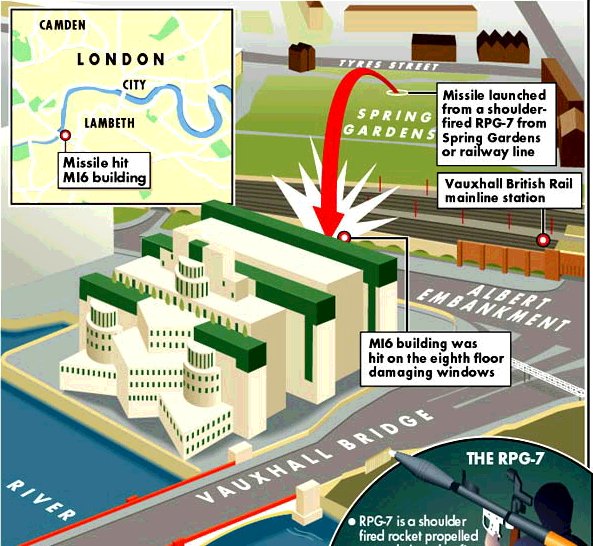 Special Branch and anti-terrorist officers are going through the hotels to be used by Tony Blair and his ministers with a fine-tooth comb.
A security source warned: "The attack on MI6 cannot be under-estimated.
"It shows they know what they are doing and they have the capacity to strike from a safe distance.
"All major hotels and the conference centre itself are close to the beach. It would be appalling if there was a repeat of the 1984 bomb."
Audacious strike ... damaged window and panels at MI6
Security was already tight for both conferences despite the ceasefire in Ulster.
Intelligence experts fear the splinter group Real IRA has two active service units operating in Britain.
The rebels have access to two arms dumps holding enough Semtex and other explosives for 30 bombs.
They also have stockpiles of highly sophisticated timing devices and detonators.
Last night MI5 and the RUC were checking the known locations of Real IRA suspects to see if any have crossed into mainland Britain.
The strike at MI6 - base of Britain's real-life James Bonds - was the most daring mainland attack since the IRA mortar blitz on 10 Downing Street in 1991.
The £236million fortress beside the Thames was hit by a rocket-propelled grenade which damaged armoured glass and metal frames.
It was fired from up to 500 yards away using a launcher which can be bought in ex-Iron Curtain countries for £200.
Leading security expert Chris Dobson said: "The attack was a spectacular publicity coup but amounted to little more than that.
"What groups like the Real IRA want is a devastating hit on a prestige target.
"And they don't come much bigger than the Labour Party conference with the Prime Minister in attendance.
"The Real IRA wants to wreck the Good Friday agreement and a bomb at Brighton would surely achieve that.
"Security will be stepped up to unprecedented levels at all the hotels."
Mr Dobson said it was "supremely ironic" that Patrick Magee, who planted the Brighton bomb, was freed from prison this year under the Good Friday agreement.
Magee has since admitted he was glad his attack, which left five dead and 30 injured, did not kill Mrs Thatcher.
Shaken but not stirred
All in the line of duty ... MI6 night workers stayed calm during missile strike
By NICK PARKER, IAN HEPBURN and ADAM LEE-POTTER
SECRET service staff were shaken but not stirred when a rocket-propelled grenade slammed into their HQ.
Scores of night shift workers were in the heavily-fortified MI6 building when the Real IRA's missile blew up.
But as pandemonium erupted outside, they calmly stayed at their posts monitoring vital messages from agents across the globe. And there was NO emergency evacuation.
Last night the staff's James Bond-style coolness won praise from their bosses, police chiefs and politicians.
Deputy Assistant Commissioner Alan Fry, head of Scotland Yard's anti-terrorist branch, said: "The work of the security service has not been hampered at any stage."
Foreign Secretary Robin Cook said he had spoken to MI6 chief Richard Dearlove, and added: "He confirmed there was no damage inside the building.
"I asked him to commend Secret Intelligence Staff for maintaining business as usual."
Security expert Chris Dobson said: "It would have been a great temptation to scramble for the exits once the building came under attack.
"But they are under orders not to leave their posts in case they miss something disastrous happening elsewhere in the world that could affect our national security, such as the assassination of a political leader."
The £236million HQ was featured in the most recent 007 film The World Is Not Enough. Ironically, it was "blown up" by terrorists.
A two-man team sent in by Irish Republican rebels is thought to have been responsible for Wednesday night's chilling real-life attack.
They are believed to have used a Russian-made RPG7 rocket grenade launcher.
And they positioned themselves either on the main rail line that runs by the HQ in Vauxhall, Central London, or more probably in a small park named Spring Gardens just south of the track.
Praise ... police chief Alan Fry
One man would have raised the 3ft launcher to his shoulder while his accomplice loaded the rocket.
The firer, crouching on one knee for stability, squeezed the trigger. Then the pair simply ducked away and vanished into the night.
Their missile screamed across the wide Albert Embankment road into the eighth floor of the distinctive green and cream HQ - dubbed Babylon-on-Thames due to its lavish looks and riverside location.
The grenade appeared to "bounce" off the building in a flash of sparks.
And it only damaged two panes of triple-layered armoured glass.
Witnesses who reported TWO explosions heard the loud bang of the missile's burner igniting just after launch, followed an instant later by the 3lb warhead hitting the HQ.
Homeless Phil Roberts, 32, told how the ground shook as the grenade thudded home.
Phil, who was in a van taking him to a hostel, said:
"We'd stopped at traffic lights after crossing the Thames at Vauxhall Bridge when I saw a trail of orange sparks, then heard two ear-splitting bangs.
"I knew instantly that it was a bomb and was absolutely terrified.
"It seemed to shake everything around us and we just got clear as quickly as we could.
"Police and fire engines arrived within seconds and there was pandemonium with people running in all directions."
Katie Geale, 35, who runs a small urban farm in Spring Gardens, said: "I heard two deafening explosions and thought a bomb had gone off in the park. I didn't see anyone running off afterwards and if they launched it from the park they must have been keeping very low. Within seconds there was chaos with police everywhere."
Lethal ... a shoulder-fired RPG7
Rachel Read, 23, was in a second floor room above the Royal Vauxhall Tavern when the terrorists struck - and dashed to the window to see the air filled with debris.
She said: "There was a flash and what looked like smoke floating towards the pub from across the railway tracks.
"It was very frightening to have something like that happen so close."
Homeless Mick Kane, 27, said: "I was sleeping on a bench by the park when I heard an almighty bang. I looked up and saw a flash of light arcing over the rail bridge. It hurt my eyes.
"There was another even louder bang, followed by a second's silence and then shouting and sirens.
"When the police came I scarpered. I didn't want to get involved."
Police forensic scientists and explosives experts yesterday descended on a vast area within a 500-yard radius of the HQ. They were looking for tell-tale traces of chemicals released when the rocket ignited and scorch marks on the ground which would pinpoint the launch site.
Exhaustive checks began on CCTV footage from cameras on and around the hi-tech spy centre.
Officers searching for more witnesses made house-to-house calls.
And anti-terror chiefs begged anyone who saw anything suspicious to come forward.
The search is likely to continue for several days.
MI6 day staff reported for duty as normal yesterday - many covering their faces with their hands or newspapers as they went in.
But there was traffic chaos for miles around the building as police closed Vauxhall Bridge, Albert Embankment and several other nearby roads. Commuters still reeling from the petrol crisis faced long delays.
And even the Queen was held up for 15 minutes as her limo was caught in heavy traffic while she headed to the Commonwealth Parliamentary Conference in Westminster.
Train timetables were also shot to pieces.
Waterloo and Vauxhall stations were closed until mid-afternoon, delaying commuters as London-bound services terminated at Wimbledon or Clapham Junction.
Eurostar trains were forced to operate from Ashford in Kent - and special links to London had to be set up.
Police chief Mr Fry described the attack as one of the most daring launched in the capital - and warned that more could follow.
He said: "We have a genuine threat of terrorism in London and that is against a number of targets."
~~~~~~~~~~~~~~~
I found this online during a search for the number 1.58
HL: 1.58 million - Collective Human Rights
http://mineral.umd.edu/hl/archive/1201-1600/0095.html
Dear Colleagues,
1) Jozsi Balazs asked, if it would be appropriate to round up the 1.58 million figure in our correspondence?
My reason for using this number is that this is the number published in the 1990 United States Census and I have no right to tamper with it.
On the other hand, if this feels too pedantic to you, by all means use the term "over 1.5 million" or "almost 1.6 million." The only thing I would advise against, is to use a round figure up, without stating that it has been.
2) The Voice of America devoted a full report to the study: "The Road To Peace: Collective Human Rights." I am very glad of the response to this essay, because it shows, that Americans do care about minority rights, that they are on the side of the underdog, that the negative response to the Hungarian-Hungarian Summit, was caused by the unfortunate and sloppy language of the Declaration and NOT because the United States is against collective human rights. Hungarian politicians have a lot to learn and I am very glad to see, that they are beginning to do that. One example is the excellent letter, which Laszlo Surjan wrote to Congressman Smith. If the Summit Declaration was written like that, this unfortunate episode would not have occured. What is still unfortunate and has not changed is:
a) The tragic trend in which internal politics is entering the foreign policy of Hungary. This must be stopped! Internally, we can have our differences, but it is our duty to show a united front to the outside!
b) It is just as tragic, that the Western Hungarians were once more unrepresented at the second Hungarian-Hungarian Summit at Papa. It is very sad, that there is jelousy, distrust (kibicnek kuss) and more importantly, that they still do not realize, that our 40-year existence in the West is a historically unprecedented asset and that our contacts and knowledge of the inner workings of world politics are of value and therefore should be used.
Let us hope, that while we learn slowly, we will learn from this unfortunate episode.
Best regards: Bela Liptak
Clinton Unveils Cyber-Terror Plan
Pentagon Reveals Weapons Locations