EVIDENCE SHOWS THAT BIN LADEN HAS A TERRORIST CELL GROUP IN BOSTON, MASS.
EVIDENCE FOUND THAT TWO TERRORISTS, POSSIBLY BROTHERS, TRAVELED TO BOSTON FROM CANADA.
PEOPLE DIED BECAUSE THEY WERE TOLD THEY WERE SAFER ON THEIR OWN FLOORS. NOBODY KNEW WHAT WAS REALLY GOING ON
September 12, 2001
New York City
"Louie Cacchioli, 51, is a firefighter assigned to Engine 47 in Harlem.
We were the first ones in the second tower after the plane struck. I was taking firefighters up in the elevator to the 24th floor to get in position to evacuate workers. On the last trip up a bomb went off. We think there was bombs set in the building. I had just asked another firefighter to stay with me, which was a good thing because we were trapped inside the elevator and he had the tools to get out.
There were probably 500 people trapped in the stairwell. It was mass chaos. The power went out. It was dark. Everybody was screaming. We had oxygen masks and we were giving people oxygen. Some of us made it out and some of us didn't. I know of at least 30 firefighters who are still missing. This is my 20th year. I am seriously considering retiring. This might have done it. "
Carl Cunneff, 36, an oil broker who works at the World Financial Center, located across the street from the WTC.
I was taking cover beneath the overhang of a building when I saw this big booklet fall from the sky and land on the sidewalk. I picked it up. It was a spreadsheet book with the name Cantor Fitzgerald. It's a financial company where some of my friends work on the 102nd floor. I thought, "That floor must be gone."
Police guided us across the West Side Highway, then we heard a loud roar and looked up to see a second jet headed right for the south tower. We heard the engines speed up as it turned sideways and hit the corner of the building head on. It looked like it melted into a fireball. We thought there might be other planes. So we all started running toward the Hudson River to the ferry service to New Jersey. The ferry was packed with people crying and hugging one another, not knowing if their co-workers were dead or alive.
September 12, 2001
New York City
"There was a wave of people running down the street," says Bruce Gomez, who had just gotten off the subway. "I heard a policeman say, 'Run, the smoke will get you.' "
Garban-ICAP broker Dan Monchek, who was working in the World Trade Center at the time of the first terrorist bombing in 1993, was at his computer screen on the 26th floor of 1 World Trade just before the first plane hit.
This was far worse: I remember in 1993 feeling very secure -- "Hey, we got out" -- but this time I'm down there in the lobby and it looks like something you'd see in the Third World. It didn't seem like New York, American at all. In 1993 we had smoke, a little bit of shake. This was a lot scarier. Last time you got the sense that everything was going to be okay. This was like an action flick without the heroes. There's no happy ending.
Empire Blue Cross and Blue Shield manager David Schnitzer, 59, made his way down from the 24th floor of World Trade Tower 1.
I managed to get to the ferry to New Jersey in lower Manhattan. Everybody was crowding onto the boat -- there were hundreds of people down there, and I thought the dock was going to sink. Going across to New Jersey, we watched the towers burn. I've been in New York through blackouts. I was in the Army during the Vietnam era. But this surpassed all of that. I just kept thinking, "It's a terrible world." Meanwhile, I'd been trying to call my wife on my cell phone and finally got through. She was worried sick and had been trying to call me for an hour. I just told her, "I'm alive." She picked me up at the train station, and when I walked over to her, my knees were shaking.
September 12, 2001
New York City
All of a sudden the building shook, then it started to sway. We didn't know what was going on. I ran towards the reception area. It was completely collapsed, but the receptionist was able to crawl out from under it. People started to panic. We got all our people on the floor into the stairwell, and then people began to calm down. At that time we all thought it was a fire. Someone was joking, "I hope it wasn't another bomb." Everyone was trying to keep things up-tempo. We got down as far as the 74th floor, and someone there pulled us into their office. They had a TV on, and we saw that a plane had crashed into the building. Then there was another explosion, so we left again by the stairwell.
It took about 40 minutes to get to the bottom. We were trying to get out through the building's lower level when all of a sudden the power shut off and the lights went out. The police yelled, "Run!" Then something behind me collapsed. The building was starting to come down. All you saw was black, it was so dark. Now everybody was screaming. I got out with a coworker, I grabbed his hand and we headed out together. Once we got outside, he went back in to assist, but I was so messed up, I just kept on walking. A detective came up to me and asked me if I was okay. I had an asthma attack and I had debris in my eyes, but I was okay.
Bob Borski, 32, a financial director at the AIG insurance organization, with offices six blocks from the World Trade Center, was standing on the 15th floor with his boss, watching as the first tower burned. Then he saw United Airlines Flight 175 heading for the second tower.
It just doesn't fit into your mind -- I'm used to seeing planes and helicopters disappear behind the building. And then they come out the other side. But this was so low and it literally disappeared into the building. You think, well, what would that look like? Would it bounce off? But it's like the building swallowed up the plane. It was a swift explosion, it wasn't resounding. It was boom -- like a door shutting. Quick and loud. That silvery shiny plane, just going right into the building -- I'll replay it in my mind over and over.
At about 9 a.m., investment banker Richard Egües, 34, emerged from the downtown 2 subway line to walk toward his office at the World Financial Center.
On the street I saw crowds of people looking south. I looked up and saw gaping holes in both towers. As you looked more closely you began to see little things flying down, and then you realized they were bodies of people who had jumped from the building. I saw the somersaults, the floating bodies. It was like they were in slow motion, sort of turning around. You had to think there must have been such total desperation.
Rescuers: Expect thousands dead
September 11, 2001 Posted: 11:36 PM EDT (0336 GMT)
(CNN) -- The rubble at the World Trade Center may yield thousands of bodies of people killed in a terrorist attack Tuesday, police and emergency specialists said.
They reached that grim assessment Tuesday afternoon as the death toll from coordinated assaults in New York and Washington hours earlier continued rising.
Just how extensive the fatalities might be was not known as damaged gas lines, fires and cascading concrete prevented rescuers from entering the area to look for the injured and dead, officials said.
At least 266 people were confirmed dead in four separate crashes of hijacked planes -- two at the World Trade Center in lower Manhattan, one at the Pentagon and a fourth near Shanksville, Pennsylvania, about 80 miles southeast of Pittsburgh, Pennsylvania.
According to flight records, 233 were passengers, 25 worked as flight crew and eight were pilots.
The toll also rose in city hospitals, where at least five were reported dead Tuesday afternoon. Witnesses at the World Trade Center reported seeing at least six people jump or fall from the 1,300-foot towers.
Almost 300 emergency personnel -- 78 missing police officers and 200 firefighters -- are presumed dead.
The toll began at 8:45 a.m. EDT when American Airlines flight No. 11 from Boston, Massachusetts, to Los Angeles, California, rammed the World Trade Center's north twin tower.
At 9:03, a second jetliner, United flight No. 175, from also en route from Boston to Los Angeles, sliced through the south tower, exploding on impact.
On a daily basis, at least 50,000 people and visitors occupy the twin towers where the commuter rail lines connecting Manhattan to New Jersey operate from the base of the buildings.
Hospitals cope, ask for blood
U.S. Department of Health and Human Services dispatched 300 emergency medical and mortuary professionals to New York and Washington to help local health and emergency care providers. HHS also sent additional medical supplies to the cities.
Lenox Hill Hospital in New York was taking patients with burns and lacerations, the hospital's director of public relations said. Beth Israel Medical Center in Manhattan received about 100 patients with injuries ranging from respiratory stress and minor injuries.
"What's happening now is that EMS has had the appropriate response, had triaged those that they could downtown and we are now getting those patients," said Jim Mandler, speaking for Beth Israel.
Tom Swozzi, mayor of the city of Glen Cove on Long Island, New York, ordered high-speed ferries put to use to transport paramedics, emergency medical technicians, nurses and doctors to relieve New York doctors.
Hospitals in New York and Washington reported severe blood shortages and asked people throughout the United States to donate blood.
Subj: [earthchanges] Why the twin towers collapsed
Date: 9/12/2001 11:52:18 PM Pacific Daylight Time
From: shivai@socal.rr.com (shivai)
Reply-to: earthchanges@yahoogroups.com
Why the twin towers collapsed
By Roger Highfield, Science Editor
(Filed: 13/09/2001)
THE "steel tube" design of the World Trade Centre proved a key factor in the catastrophe, confining the collapse of its twin towers to a relatively small area and providing an opportunity for around half of the occupants to escape.
After the centre was bombed in February 1993, killing six people, it emerged that the terrorists had hoped for even greater carnage than seen this week: on his arrest, Ramzi Yousef, the mastermind of the bombing, said he had intended to kill 55,000 people by causing the building's South Tower to topple on to its North Tower.
On Tuesday, the 110-floor twin towers collapsed on to a relatively small footprint, said John MacArthur of Arup consulting engineers in London.
"Thank God they came down on top, rather than tilted over. Obviously it was catastrophic but it could have been worse if they went sideways."
Designed by the late architect Minoru Yamasaki and Emery Roth and Sons, the facades of each tower formed, in effect, a tube consisting of a lattice of prefabricated steel that supported each floor but was mostly designed to absorb wind forces, providing increasing support towards the base of the building.
Central steel columns also took the gravity loads of each floor. A network of steel trusses ran between the two sets of columns, holding up each concrete floor, and a set of plates ran among the trusses to dampen the stress.
The towers could deal with ordinary fires, minor earthquakes and hurricanes but not the world's worst terrorist attack. They were rocked first by the impact of each plane, then explosions and finally intense jet fuel blazes. Each plane was on a cross-continental route and would have been carrying heavy fuel loads.
The impacts were relatively high up on the towers, stymieing firemen's ability to contain the ensuing blaze. Because the steel tube design is weaker at higher floors, greater damage would have resulted than at the sturdier ground levels.
However, Prof Chris Wise of Imperial College said that the impact forces were no more than 20 per cent of the wind forces the towers could handle, so without the fires it is unlikely that the towers would have collapsed.
"The most amazing thing is that the buildings stood up at all. Because the buildings did not collapse for at least an hour after impact, there is a fighting chance that maybe half the people got out." Had they collapsed immediately, which probably would have happened without this external steel skeleton, the death toll would have been higher, he said.
However, the towers were eventually felled when temperatures reached around 1,000C in the heart of the buildings.
The skyscrapers had fire defences, said Jon Magnusson, chairman of Skilling Ward Magnusson Barkshire in Seattle, a firm that worked on the original design. But layers of insulation sprayed on to the steel beams could have been breached by the initial crash and the sprinkler systems may have been disabled or useless in the heat of the jet fuel fire.
Prof Wise, who designed the tallest building in Europe, Commerzbank's headquarters in Frankfurt, said that temperatures were highest in the core of the towers, where interior steel columns failed first.
They buckled and the collapse of the top of the building overloaded floors below, causing a progressive floor-by-floor collapse. Although it could not prevent the collapse, the steel tube design did contain it.
Another approach in use in London, such as at Canary Wharf, is to construct an inner concrete core, containing services, staircase and so on, which provides all the support. Mr MacArthur said it was conceivable that concrete could have fared better, providing more protection for escape routes.
However, Prof Wise said that in this case all of the lateral stability is concentrated in the core and, in a similar accident, he felt that, "you would be in trouble" and one side of such a building "could come down straight away".
Modern buildings are designed to cope with bombs and the impact of light airplanes. But "no structure could have sustained this kind of assault", said Richard Kielar, a spokesman for Tishman Realty and Construction Company, the construction manager for the original project.
The disaster will trigger discussion about what more can be done to protect skyscrapers as well as new research, based on a detailed autopsy of the collapse and computer simulations.
Prof Wise pointed out that, given the huge numbers of people within and around the centre, and how almost a million tons of debris rained down when the towers collapsed, "it is arguable that those buildings should not be designed with the same safety factors as smaller buildings because the consequences of failure are so severe. At the moment most of the structural regulations are the same."
Wednesday September 12 2:21 AM ET
Report: Five Suspects Identified in NYC Attack
Coordinated Terrorist Attack
NEW YORK (Reuters) - Authorities in Massachusetts have identified five Arab men as suspects in Tuesday's attack on New York City and have seized a rental car containing Arabic-language flight training manuals at Logan International Airport, a source told the Boston Herald newspaper.
Two of the men were brothers whose passports were traced to the United Arab Emirates, the unidentified source told the Herald. One of the men was a trained pilot, the paper reported on its Web site on Wednesday.
The paper said investigators suspect the two brothers were aboard hijacked United Airlines flight 175, which pilot union officials said was one of the aircraft that crashed into the World Trade Center.
Flight UA 175 left from Boston en route to Los Angeles with 56 passengers on board. American Airlines flight 11 from Boston to Los Angeles crashed into the other World Trade Center tower. Another aircraft hit the Pentagon (news - web sites) and a fourth aircraft crashed in Pennsylvania.
At least two other suspects flew to Logan on Tuesday from Portland, Maine, where authorities believe they had traveled after crossing over from Canada recently, the Herald reported.
Authorities were informed about the rental car by a civilian who got into a fight with several Arab men as they were parking their car, the paper reported.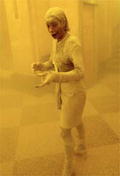 People still alive in Trade Centre, says mayor
The mayor of New York City says some people are alive in the World Trade Centre.
Rudolph Giuliani said people trapped in the basement had been making mobile phone calls to relatives and the emergency services.
Meanwhile three men have been arrested in a van in New Jersey, initially in connection with Tuesday's explosions.
However, no explosives were found, but they are being questioned by police. No other details are available.
The rescue operation is steadily getting under way, and the City's fire department says there are around 300 firefighters missing, including senior officers.
The police department are said to be looking for more than 78 missing officers. Two officers have been freed from the wreckage.
Story filed: 04:03 Wednesday 12th September 2001
1,400 feared dead: Toll will climb
September 12, 2001 Posted: 10:23 AM EDT (1423 GMT)
Ambulances line the street in front of Chelsea Piers, where a triage center was set up for victims of the World Trade Center attacks, late Tuesday.
NEW YORK (CNN) -- The city that never sleeps struggled to wake up from its unimaginable nightmare, one day after bearing the brunt of the deadliest terrorist attack ever in the United States.
The wife of the nation's Solicitor General. The fire chief of New York. A young man calling his mother, moments before his plane crashed.
The fatalities from the Tuesday calamity will reach well into the thousands, but authorities cautioned that the final number will not be known for weeks, if then.
Whatever the ultimate death toll, it will be "more than any of us can bear," said New York Mayor Rudy Giuliani, hours after the horrific attacks.
Victims jumped from the burning World Trade Center. Died in the inner ring of the Pentagon. Made farewell calls from the air. And fell under avalanches of rubble as they tried to rescue others.
'Horrific' scenes
The scant figures available the day after the assault hardly give meaning to the horror. But a handful of preliminary numbers offer a semblance of perspective:
10,000 -- Early number given by U.S. Rep. Jim Moran of the possible dead in the World Trade Center. An estimated 30,000 to 50,000 might have been in or near the center's twin towers when they were hit by hijacked jetliners Tuesday morning. How many of them escaped before the 110-story buildings collapsed soon after remained unknown.
800 -- High estimate for fatalities at the Pentagon, where fires raged for hours after a commercial jet slammed into it.
300 -- Firefighters feared dead in New York, most engulfed by the collapsing hulks of the twin towers of the World Trade Center, as they attempted to help victims out of the burning buildings. The total could climb much higher.
266 -- Persons aboard four jetliners, transformed by hijackers into suicide bombs, two aimed at the World Trade Center, one at the Pentagon, and one that crashed in rural Pennsylvania, which appeared to have fallen short of a target near Washington, D.C. No survivors expected.
85 -- New York City police officers thought to have died during early emergency efforts in lower Manhattan.
7 -- Known dead at New York hospitals late Tuesday. The small number provided little consolation to city authorities. Most of the dead never made it to hospitals.
In all, as many as 1,400 or more are known or presumed dead, with thousands more unaccounted for and feared dead. Some 1,400 injured were admitted to New York area hospitals, many in critical condition with extensive burns.
"They're charred. Their skin is coming off. There's tremendous suffering," one emergency doctor said.
There were sporadic reports of survivors in the rubble. But in general, the macabre scene in lower Manhattan proved disheartening to rescue workers.
Sifting through the rubble, they saw thousands of body parts strewn about. A National Guardsman collapsed in anguish, his head in his hands as he sat on the curb.
Said one man leaving the scene: "You don't want to know. You don't want to know the things we stepped over. It was horrific."
Blitzkrieg hijackers
The coordinated attack was over within an hour.
American Airlines Flight 11 slammed into the north tower of the World Trade Center in Manhattan shortly before 9 a.m. EDT. The Boeing 767 carried 81 passengers and 11 crew members en route from Boston to Los Angeles.
About 15 minutes later, United Airlines Flight 175, also en route from Boston to Los Angeles, crashed into the south tower. Also a 767, it carried 56 passengers and nine crew members.
Near Washington, American Airlines Flight 77 plowed into the Pentagon about 9:40 a.m., collapsing part of an outer wall and sparking fires still burning Wednesday morning. The Boeing 757 was en route from Washington's Dulles Airport to Los Angeles with a crew of six and 58 passengers.
A fourth aircraft, United Airlines Flight 93 from Newark, New Jersey, to San Francisco, slammed into a wooded area near Shanksville, Pennsylvania. Police said there were no survivors. There were 38 passengers and seven crew members.
The doomed airliners included prominent passengers, including Barbara Olson, a conservative commentator and frequent guest on CNN.
Using a cell phone, Olson contacted her husband, U.S. Solicitor General Ted Olson, and described the in-air crisis. Olson said his wife had booked a Monday flight but delayed her trip to celebrate his birthday Tuesday.
In New York, among those feared dead when the twin towers collapsed included Fire Chief Pete Ganci and Deputy Fire Commissioner William Feehan, longtime veterans of the department.
"I don't know what to say. We lost people who had given over 40 years," said Thomas Von Essen, the fire commissioner, fighting back tears. "We believe that many of them are still gone. We'll keep looking."
Alice Hoglan, the mother of a passenger on one of the crashed planes, received a call from her son Mathew Bingham in the air after his flight had been hijacked. He told her that if he didn't see her again, he wanted her to know that he loved her.
Wednesday September 12 2:28 AM ET
Pakistan Paper Says Bin Laden Denies U.S. Attack
Coordinated Terrorist Attack
ISLAMABAD (Reuters) - A Pakistani newspaper said on Wednesday that Saudi militant Osama bin Laden had denied responsibility for the terror attacks in the United States.
``The terrorist act is the action of some American group. I have nothing to do with it,'' the newspaper Khabrain quoted bin Laden as saying through ``sources close to the Taliban.''
The Urdu-language newspaper has a reputation for sensational reporting and there was no independent confirmation of the claim.
Two hijacked U.S. commercial planes slammed into the twin towers of the World Trade Center on Tuesday, causing both 110-story landmarks to collapse and killing thousands. Another hijacked plane crashed into the Pentagon in Washington.
Bin Laden, who commands Islamic fundamentalists willing to die attacking the United States which they see as the ultimate enemy, has been the target of a massive U.S. manhunt since 1998 when bomb attacks on the U.S. embassies in Kenya and Tanzania killed 224 people and injured 4,000.
Bin Laden is believed to live amid tight security near the Taliban's spiritual capital in the southern Afghan town of Kandahar or in the eastern town of Jalalabad, and the Taliban have rebuffed all attempts from abroad to secure his deportation.
The English-language News described the U.S. attacks as ''Doomsday for U.S.''
The paper said the attacks provided an occasion for the United States and other countries to ponder their foreign policy.
``For the rest of world it is time that a policy review is undertaken on all major flash-points -- the Middle East -- followed by South Asia where Kashmir and Afghanistan ...provide justification to militants to adopt violent ways to seek justice,'' the paper said.
~~~~~~~~~~~~~~~~~~~~~~~
Bin Laden link name found on passenger list
Investigators checking the passenger list of the four hijacked jet planes have found the name of a supporter of Osama bin Laden on one of them.
Five Arab men - one of them a pilot - have been identified as suspects, the Boston Herald reports.
Police have seized a rented car containing Arabic-language flight training manuals at Logan International Airport, a source told the newspaper.
Two of the men were brothers whose passports were traced to the United Arab Emirates.
One of the men was a trained pilot, the paper reports.
The paper says investigators suspect the two brothers were aboard hijacked United Airlines flight 175, which crashed into the World Trade Centre.
At least two other suspects flew to Logan yesterday from Maine, where authorities believe they had travelled after crossing over from Canada recently, the Herald reports.
Police were told about the rented car by a civilian who got into a fight with several Arab men as they were parking their car, the paper reported.
Story filed: 04:51 Wednesday 12th September 2001
~~~~~~~~~~~~~~~~~~~~~~~~
Bin Laden issued warning three weeks ago, says editor
09/12/2001
South China Morning Post
. Saudi dissident Osama bin Laden warned three weeks ago that he and his followers would carry out an unprecedented attack on the US for its support of Israel, an Arab journalist with access to him said yesterday.
Editor of the London-based al-Quds al-Arabi newspaper, Abdel-Bari Atwan, said Islamic fundamentalists led by bin Laden were "almost certainly" behind the attack. "It is most likely the work of Islamic fundamentalists. Osama bin Laden warned three weeks ago that he would attack American interests in an unprecedented attack, a very big one," he said.
"We received information that he planned very, very big attacks against American interests. We received several warnings like this. We did not take it so seriously, preferring to see what would happen before reporting it."
Atwan has interviewed bin Laden, one of America's most wanted men, and maintains close contacts with his followers. Bin Laden was certainly the name on the lips of Americans from the shell-shocked streets of Manhattan to the White House situation room as people grappled with one question - who could be responsible for the most horrific terrorist attack in US history?
As the White House was evacuated, word leaked out that the Islamic fundamentalist was the number one suspect.
Bin Laden has been under constant watch by America's giant intelligence network - from CIA agents probing his latest hiding place to National Security Agency computers scanning global communications for key words related to his group.
"Destroying the World Trade Centre with hijacked aircraft and driving planes into the Pentagon - that sound's like bin Laden's ultimate fantasy," one official in the administration of President George W. Bush said.
"The sweep and the scale of what has been attempted rules out many fringe groups. This man was bent on creating the bloodiest havoc possible and he may have finally achieved it."
The State Department has issued periodic warnings for American's overseas as rumours and intelligence point to unspecified attacks. The most recent came last month, but initial reports suggested the US authorities had nothing pointing to such an orchestrated and devastating attack. For many Americans, simultaneous strikes on New York and downtown Washington amount to their worst fears.
From several mountain hideouts in southern Afghanistan, bin Laden runs al-Qaeda, one of the world's most feared terrorist organisations. He is wanted by a US court for masterminding the bombing in 1998 of two US embassies in East Africa in which 224 people died.
In August 1996 he issued a "declaration of war" against the US, because of what he saw as its position as a secular superpower and because of the presence of US troops in Saudi Arabia.
Born in Jeddah in 1955, bin Laden is the son of a construction magnate. In the 1980s he used his inherited wealth to run the "Services Office", which provided fighters and money for Afghanistan's war against Soviet occupation.
Bin Laden is believed to be responsible for an attempted assassination attack on Sunday against Ahmad Shah Masood, Afghanistan's most senior opposition commander and the only force still resisting the Taleban.
Taleban leaders have refused to hand bin Laden over for trial but insist he cannot command an international terrorist organisation from his hideouts. Taleban Information Minister Maulvi Qudratullah Jamal has described him as a "good man" who "doesn't want to harm anyone".
Few Western analysts agree.
Wednesday September 12 12:05 AM ET
Malaysia Towers Cleared After Threat
By SEAN YOONG, Associated Press Writer
KUALA LUMPUR, Malaysia (AP) - The world's tallest buildings, Kuala Lumpur's Petronas Twin Towers, were evacuated Wednesday morning following a bomb threat.
The threat came during morning working hours, some 12 hours after terrorists attacked the World Trade Center in New York and the Pentagon in Washington.
Police confirmed that a threat had been phoned in from a public telephone to Petronas' building management about 8:30 a.m. and that the caller said that a bomb would explode at 9 a.m.
Police said that people would be allowed to return to work once the building was declared safe.
Police officials said that no chances were being taken in the wake of the attacks in New York and Washington, where a hijacked jetliner was also crashed into the Pentagon.
Workers and witnesses said that thousands of people in both the 1,483-foot towers were told to leave the buildings. When they reached the ground, they were told there had been a bomb threat.
``We were told on the P.A. system that there was an emergency situation at the towers, so we were asked to evacuate,'' said Tarajit Singh, a finance supervisor for Petronas, the national oil company.
``We had to walk down and leave the building,'' Tarajit said. ``I walked down 58 floors. Only those who were sickly or expecting got to use the elevators.''
About 2,000 people milled around the wide esplanade and park around the building. Police and fire crews were on standby.
Wednesday, September 12 12:00 PM SGT
Up to 800 dead in Pentagon explosion: reports
WASHINGTON, Sept 11 (AFP) -
Up to 800 people are believed to have been killed at the Pentagon building when a hijacked plane slammed into it earlier Tuesday, US media reported.
The reports quoted an unnamed Arlington County official as giving the unofficial toll, as rescue crews continued to dig through debris following the attack that destroyed a section of the building.
About 20,000 people work at the Pentagon.
According to NBC News, fire officials had put the number of dead at about 800, including the 64 people on the hijacked plane that rammed the complex.
Rumsfeld Predicted More Attacks
By Robert Burns
Tuesday, Sept. 11, 2001; 6:49 p.m. EDT
WASHINGTON –– Inside the Pentagon, Defense Secretary Donald Rumsfeld had just raced to his office after hearing of the World Trade Center attack. On a house porch a little more than a mile away, Ralph Banton, 79, was enjoying a crystal-clear morning.
Then Banton heard a jet flying directly overhead, very low.
"It sounded like it was jetting instead of slowing down," he said.
Seconds later, American Flight 77, hijacked while carrying 64 people from Washington to Los Angeles, tore into the side of the Pentagon in a shocking terrorist attack aimed at the building that represents America's military power worldwide.
The Pentagon burst into flames, sending a huge cloud of smoke up into the blue sky, visible for miles. And a part of the western side of the five-sided building in suburban Arlington, Va., collapsed.
By Tuesday night, officials were still fighting the fire and were not sure how many people might be dead or injured inside.
The area hit by the aircraft was under renovation, and thus some offices may not have been occupied, officials said. Overall, 24,000 people work in the Pentagon.
"If we're lucky ... it would have been more lightly populated than normal," said Rear Adm. Craig Quigley, a Pentagon spokesman. He talked to reporters at a gasoline station across the street from the massive building as an intense fire burned.
Local hospitals reported receiving 40 victims of the attack, with seven patients in critical condition admitted at one hospital for treatment of burns.
When the attack came at 9:40 a.m. EDT, "the whole building shook" with the impact, said Terry Yonkers, an Air Force civilian employee at work inside the Pentagon at the time. "There was screaming and pandemonium."
On a nearby road, debris hit several cars. Cab drivers watched, stunned, as hundreds of people poured out the doors of the huge building.
Rumsfeld was in his office when the aircraft hit on the opposite side of the building. He had just run there after hearing of the Trade Center attack while at a meeting on missile defense in his private dining room.
U.S. Rep. Christopher Cox, R-Calif., also at the meeting, said Rumsfeld had just predicted that the United States would face another terrorist incident at some point.
"He said, 'Let me tell ya, I've been around the block a few times. There will be another event.' And he repeated it for emphasis," Cox said. "And within minutes of saying that, his words proved tragically prophetic."
After the Pentagon attack, Rumsfeld went "running down to the site where the aircraft hit, was helpful in putting some of the injured onto some stretchers," Quigley said.
The defense secretary then went to the National Military Command Center in the lower floors of the Pentagon, where "he has been ever since and will remain" for the time being, the spokesman said.
© Copyright 2001 The Associated Press
Tuesday September 11 11:50 PM ET
Japan Intelligence on Hunt for U.S. Attackers-Source
TOKYO (Reuters) - Japan's intelligence authorities have joined forces with U.S. counterparts in trying to identify those responsible for attacks on the financial and political centers of the United States, a Japanese intelligence source said on Wednesday.
``We are now coordinating efforts with U.S. authorities to try to identify and hunt down the culprits,'' the source told Reuters, calling them ``terrorists.''
The source, who declined to be identified, added there were no visible signs so far of similar attacks in Japan.
``Still, we have to be fully vigilant.''
The source said Japanese intelligence officials were investigating whether there was any link between Tuesday's attacks and unconfirmed information that the U.S. embassy in Tokyo had received last week of a possible terrorist attack.
Last Friday, the U.S. embassy in Japan warned its citizens that it had received unconfirmed information of a possible attack against U.S. military facilities or places in Japan frequented by U.S. military personnel.
``We still believe that the threat came from a group of Islamic fundamentalists. But the specific group has yet to be identified,'' the source said.
There are about 48,000 U.S. military personnel in Japan, according to the embassy. The Japanese Justice Ministry said about 40,000 civilians are registered as residents.
Washington declined to say whether the threat came specifically from Saudi dissident Osama bin Laden, wanted by Washington for the 1998 attacks against two U.S. Embassies in Africa and in connection with the October 2000 attack on the USS Cole warship in Yemen.
Afghanistan's Taliban rulers moved quickly to deny that bin Laden, whom they are sheltering, was capable of causing Tuesday's colossal terror assault on the United States. Thousands are reported to have died in the air attacks, which demolished New York's World Trade Center and destroyed parts of the Pentagon.
Taliban supreme leader Mullah Mohammad Omar and other officials of his hardline Islamic movement condemned the attacks as terrorist acts and said they were too complex to have been organized by bin Laden from Afghanistan.
Wednesday, September 12 2:50 AM SGT
"Bullseye," say Egyptians as they celebrate anti-US attacks
CAIRO, Sept 11 (AFP) -
Egyptian students, taxi drivers and shopkeepers crowded round television sets stacked up in electrical store windows in downtown Cairo Tuesday evening, celebrating a string of elaborate attacks on New York and Washington.
"Bullseye," commented two taxi drivers as they watched footage of the twin towers of the World Trade Center in New York shrouded in plumes of smoke after two presumably hijacked planes slammed into them earlier in the day.
Another Egyptian man, Gawish Abdel Karim, told AFP he was pleased with the wave of violence in which another plane crashed into the Pentagon in Washington, the heart of the US defence establishment.
"Nice work," said Abdel Karim, who drives a car for an Asian embassy.
"The Americans have forgotten that God exists. They have us by the throat and now they find themselves in a science fiction film scenario, but this time Rambo's not there to save the White House."
Anti-US sentiment has mushroomed on the streets of Egypt and other Arab countries over its widely-perceived support for Israel over the Palestinians in the past 11 months of violence in the Middle East.
As with other US facilities around the world, workers at US government offices and Egyptian citizens were taking security precautions, with only "non-essential" operations set to be covered on Wednesday.
However, US officials said there had been no credible or specific threat against US citizens or interests here.
Abdel Karim hailed the attacks as "the best thing that's happened since the October War," referring to the October 1973 Arab-Israeli war when Egyptian forces made a surprise attack on the Israeli army across the Suez Canal.
"Mabruk! Mabruk! (congratulations)", shouted a crowd of people huddled round the shop window.
Egypt, considered one of the "moderate" countries in the Middle East, is one of the United States' strongest allies in the region, being the first Arab country to sign a peace treaty with Israel in 1979.
But people on the streets do not necessarily see themselves as US allies.
"The Americans are cowards. They use other countries to hit us. They don't have the courage to meet us face to face," said Khalil Matar, 43, who works in a state-run soap factory. "The myth of the indestructible United States has gone up in smoke."
Polytechnic student Amira Ryad also vented her anger.
"We saw the tower crash down," she said, referring to one of the two towers of the World Trade Center, both of which were razed by the attack.
"I only wish (US President) George Bush and his dear little baby (Israeli Prime Minister Ariel) Sharon had been buried in there too," she added.
Fellow student Murad went as far as speculating that the United States was behind the attacks, "to find an excuse for the National Missile Defence system" that Bush wants to deploy to protect the United States from so-called rogue states, despite widespread global opposition.
"Those people are capable of killing their own people to prove they're right," he said.
Egyptian President Hosni "Mubarak should know that the people can no longer be humiliated, but of course he'll never declare war" on Israel, the student said.
Another taxi driver said he was going to make special prayers to thank him for the attacks against the US.
Subj: [earthchanges] Bin Laden Prim Suspect in Attacks
Date: 9/11/2001 11:20:06 PM Pacific Daylight Time
From: mythisis@aol.com
Bin Laden a Prime Suspect in Attacks
By GEORGE GEDDA
.c The Associated Press
WASHINGTON (AP) - From the outset, the culprit seemed obvious. Who else but Osama bin Laden had the means, the organization and the fanaticism required to pull off the terrorist acts at the World Trade Center and the Pentagon?
And indeed, by late afternoon Tuesday, the Bush administration confirmed that bin Laden and his al-Qaeda organization were prime suspects.
He is widely regarded as the world's most dangerous man. He is thought to have been behind the twin bombings of U.S. embassies in East Africa in 1998 that claimed the lives of 224 people, including 12 Americans.
Those numbers pale alongside the anticipated toll from Tuesday's attacks on symbols of American commercial and military might.
Sen. Orrin Hatch, R-Utah, the top Republican on the Senate Judiciary Committee, said FBI and intelligence officials told him the attacks were ``well-planned over a number of years, planned by real pros and experts. ... Their belief is, at least initially, that this looks like Osama bin Laden's signature.''
Rep. Bob Barr, R-Ga., asked whether bin Laden's group is the likely perpetrator, said, ``I don't know if there's any other organization that had the capability to carry out such a coordinated series of attacks.''
Bin Laden's obsessive anti-Americanism has never been in doubt. ``I'm fighting so I can die a martyr and go to heaven to meet God. Our fight now is against the Americans,'' bin Laden was once quoted as saying.
He has declared all U.S. citizens to be legitimate targets of attack. CIA Director George Tenet has said bin Laden has demonstrated a capability to plan ``multiple attacks with little or no warning.''
His road to international pariah status has been helped along by his strong organizational skills and a warchest inherited from the family construction company.
Born in Saudi Arabia in 1957, bin Laden drew inspiration from Iran's Islamic revolution in 1979. He had dreams of similar revolts in other Muslim countries.
Less than a year later, the Soviet invasion and occupation of Afghanistan provided another turning point. He despised the notion of people he considered to be infidels controlling a Muslim country and joined forces with the Afghan resistance.
Ironically, this commitment put him on the same side as the United States, which shared bin Laden's contempt for the Soviets and spent millions trying to liberate Afghanistan from them.
The Afghanistan experience enabled bin Laden and the many followers he recruited to hone the skills they needed for future struggles once the Soviets were evicted in early 1989.
His disdain for the monarchy in his Saudi homeland turned into outright opposition in 1990 when the kingdom invited hundreds of thousands of American and other foreign troops into the country after the invasion of Kuwait by Iraq.
Saudi Arabia was betraying the faith by accepting help from western infidels, bin Laden believed, and he set about to drive the United States from the Middle East.
He lived a nomadic existence for several years, having been deported by a number of Islamic countries before finding a haven in Afghanistan. President Bush said Tuesday the United States ``will make no distinction between the terrorists who committed these acts and those who harbor them.''
Operating from damp caves infested with scorpions and rats, he plotted against the world's only superpower. Aside from the 1998 embassy bombings in Africa, he also is believed by U.S. officials to be responsible for the 1993 attack on the World Trade Center and last year's bombing of the USS Cole in Yemen.
He has proved to be an elusive target. President Clinton was so eager to liquidate bin Laden that he ordered more than 70 sea-launched Tomahawk cruise missiles at his hideaway in Afghanistan in 1998. All fell wide of the mark. A $5 million FBI bounty on his head has yet to produce results. And despite two rounds of U.N. Security Council sanctions, the Taliban rulers in Afghanistan refuse to turn him in.
EDITOR'S NOTE: George Gedda has covered foreign affairs for the Associated Press since 1968.
AP-NY-09-12-01 0210EDT
The nation reels
Terrorist attacks against the World Trade Center and Pentagon challenge aspects of America's core identity
By Peter Grie
Staff writer of The Christian Science Monitor
On a Tuesday like any other, with fall coming on and the kids settling into school, the United States of America was struck by a series of terror blows so searing they could change the nation's sense of itself as profoundly as did Pearl Harbor or the worst days of the Vietnam War.
The US is used to feeling invulnerable. Bombs, smoke, and a banshee chorus of rescue vehicles were for other, weaker, less prosperous places.
Now the very idea of America, as expressed in its symbolic buildings, has been successfully attacked. Going forward, one overarching debate will likely involve how that idea - of openness, of freedom of movement, of confidence in itself - may change.
"The big issue here is how much we will feel forced to close down our society now," says Stansfield Turner, former director of the Central Intelligence Agency.
The scale of the attacks was such that they were difficult to put into perspective. They created a whole new historical context of their own.
The terrible efficiency with which they were executed astounded even hardened terrorist experts. Two hijacked airliners slammed into the twin towers of the World Trade Center within minutes of each other. Shortly thereafter, another hijacked craft hit the Pentagon.
"To be able to make these attacks within an hour [of each other] - that shows an incredible degree of organization or skill," says Stanley Bedlington, a retired senior analyst at the CIA counterterrorism center.
The terrorist organization responsible must have been planning the attack for some time. That makes it unlikely the hijackers entered the country recently.
The implication: terrorist cells of long-standing organization are likely at work within the United States.
"They were seeded here and waiting," says a former CIA counterintelligence officer who asked not to be named.
President Bush vowed that whoever carried out the deeds will be punished.
"The resolve of our great nation is being tested. But make no mistake: We will show the world that we will pass [the test]," President Bush said.
But in the short run, the explosions shut down the nation's political and economic nerve centers. They accomplished the first task of any terrorist: that of sowing fear and panic among civilians.
The two 110-story towers, a defining aspect of New York's skyline, collapsed shortly after they were struck. At the time of writing, American Airlines said it was missing two aircraft, carrying a total of 156 people. United Airlines was also missing two jetliners. One had crashed outside Pittsburgh, according to airline officials, and the other had crashed in a location not immediately identified.
Hijackers of American Airlines Flight 11 bound for Los Angeles were heard by air-traffic controllers instructing the pilots in English from inside the cockpit, according to a flight controller in the regional air-traffic-control facility handling the flight.
"One of the pilots keyed their mike so the conversation between the pilot and the person in the cockpit could be heard," the controller says. "The person in the cockpit was speaking in English. He was saying something like, don't do anything foolish. You're not going to get hurt."
Also overheard was a request for a flight path to Kennedy - but the controller, who was not controlling the plane himself, is unsure whether the pilot or hijacker made the request. Shortly afterward, as aircraft was making its turn toward New York City, the plane's transponder was turned off. With its transponder off, its altitude became a matter of guesswork for the controllers, although the plane was still visible on radar, he says.
Ominously, but not understood by controllers at the air-traffic-control facility at the time, he says, was a statement by the person in the cockpit to the pilot in which the individual said: "We have more planes, we have other planes."
Two F-15 jets also were reportedly scrambled from Otis Air Force Base, a response to the hijacking. But by that time, either just before or after the military planes were getting off the ground, the controllers heard a report that it had crashed into a building. They did not know it was apparently the World Trade Center.
Another anomaly: The pilots apparently did not punch in the four-digit hijack code air traffic control into the transponder, the controller says because the radar facility never received any transmitted code - which a pilot would normally send the moment a hijack situation was known.
It may have been that the transponder was deactivated in order to keep a pilot from notifying the ground that the plane had been hijacked, he speculates. "
Obviously somebody knew about the transponder," he says. "They either had the pilot turn it off, or they did it themselves."
The emotional impact of handling the last minutes of American Airlines Flight 11 was difficult for the controllers.
"The guys who handled that flight were traumatized," he says. "You have a special relationship with everyone, every plane you work. They heard what was happening in the cockpit, and then they lost contact."
One side of the Pentagon also collapsed in the attacks. Federal buildings throughout Washington were evacuated. All air traffic in the nation halted.
"Nothing of this magnitude has happened anywhere, ever," says Arthur Hulnick, a retired CIA agent who is now an associate professor of international relations at Boston University,
If nothing else, the nation is now awake to its internal security weaknesses.
A generation ago, the first spate of airliner hijackings created the security check-point system which is now a feature of daily air travel around the world. The question now is if some other layer of security will be inserted into the nation's nomal commerce.
For a long time, the nation's anti-terror policies have centered on protecting against what one expert calls a "fantasy attack" of chemical or biological warfare.
Tuesday's events show that nothing that extensive is needed to wreak havoc on an unprecedented scale.
"It should create an entirely new approach to how we deal with anti-terrorism in this country," says Peter Chalk, a security and terrorism expert at Rand Corp.
Nor did traditional deterrance - the knowledge the America's military might would surely be unleashed if pepetrators were identified - work in this case.
That means that a defense budget of hundreds of billions of dollars, thousands of nuclear warheads, and a military more powerful than the armed forces of the rest of the world combined, were not sufficient to protect the nation from more civilian casualties than it suffered in all the world wars of the twentieth century.
Nor were the nation's ocean barriers of any help against what one scholar calls "the contamination" of bitter world unrest.
"What's happening is extremely disconcerting ... this is a real dramatic perception shift for Americans," says Richard Immerman, director of Temple University's Center for the Study of Force and Diplomacy.
The United States began to come together as a nation during its early wars with Tripoli pirates, notes Kevin Starr, a historian in California. Two hundred years later, it finds itself again at war with the new millenium's pirate equivalents.
The country won't stop, but security will increase - with a corresponding effect on civil liberties. "America will never be the same," says Starr.
• Reported by staff writers Abraham McLaughlin and Dante Chinni in Washington, Daniel B. Wood in Los Angeles, and Faye Bowers and Mark Clayton in Boston.
Wednesday September 12 2:10 AM ET
Shocked China Boosts Security at U.S. Embassy
By Jeremy Page
BEIJING (Reuters) - China beefed up security around U.S. diplomatic buildings on Wednesday as state-run media and ordinary Chinese reeled with shock at the suicide attacks with hijacked aircraft on the World Trade Center and the Pentagon.
At least one Chinese national was injured in Tuesday's terror attacks in New York and the fate of roughly 30 others was unknown on Wednesday morning, China's Foreign Trade Ministry said.
China had 14 companies with offices in the building at the heart of the global financial center, the ministry said in a statement on its Web site.
Chinese paramilitary police blocked off the road past the U.S. embassy in Beijing to all but American embassy cars and personnel and doubled the number of guards to about 30, a police lieutenant told Reuters.
``We are here to protect the safety of embassy personnel and U.S. citizens,'' said the lieutenant, who declined to be identified. ``China is utterly opposed to terrorist activities.''
The U.S. embassy and the consulate in Shanghai said they were open for business.
Analysts said the attacks might encourage China to step up cooperation with the West in combating international terrorism.
But some said Beijing might use them to argue against U.S. intervention overseas and U.S. plans to build a missile defense shield which critics say will not prevent terrorist attacks.
SCRAMBLING FOR INFORMATION
Chinese newspapers delayed their morning issues by at least an hour to change their front pages, journalists said.
Most carried front-page pictures of the World Trade Center billowing smoke into the sky over Manhattan but stuck to factual reports provided by the official Xinhua news agency.
``Terrorists Attack the United States!'' screamed a headline in the Beijing Youth Daily, one of the first to hit the streets.
Ordinary Chinese scrambled for more information, with many trying to access foreign news web sites, mostly blocked in China.
Many condemned the attacks, first reported on the main state channel China Central Television around midnight on Tuesday.
``It doesn't matter who did it or what they were upset about, but taking that many innocent lives is a price that's barbaric,'' said Chen Xiao, who works for a Beijing publishing firm, as she bought a morning newspaper.
Feng Changlin, 63, owner of a downtown hardware store in Shanghai, said the world would never be the same again.
``This is just a cowardly act by terrorists,'' he said. ``No matter what problems you might have with another country, you should never resort to such tactics.''
SOME BLAME U.S.
But some Chinese said Washington had brought the attacks on itself.
Anti-U.S. sentiment has been simmering since the NATO (news - web sites) bombing of the Chinese embassy in Belgrade in 1999, which killed three Chinese journalists, and this year's April 1 collision between a U.S. spy plane and Chinese fighter, whose pilot died.
``My initial reaction is they deserve it because the U.S. is just bad,'' said a middle-aged taxi driver in Shanghai.
``Their economy is too developed, so it's bound to arouse the envy and hatred of others.''
A traffic warden in Beijing agreed. ``Some things America has done are a little bit extreme... like hitting our aeroplane,'' the traffic warden, who gave her last name as Wu, said.
``America has attacked other countries. It bombed the Chinese embassy. China would not bomb any country and is peaceful with every country.''
However, Zhu Feng, associate professor and director of the international security program at Peking University, said the attacks should also serve as a warning to China.
``If we don't stand up to fight against such terrorism, maybe one day we'll also get such stuff,'' he said. ``We could come together with the States and other Western countries to fight against such mass terrorism.''
``It's a little bit early to say, but I think, personally, the events really increase the Chinese understanding and the Chinese sympathy for the United States.''
He said China would support retaliation against Saudi exile Osama bin Laden (news - web sites) if it were proven he was responsible, as some U.S. officials have suggested.
Security was also tightened at a forum in Beijing on China in the 21st Century, where former world leaders and government officials condemned the attacks.
STOCK MARKET REACTION
China's normally insulated stocks markets dropped sharply on Wednesday, with hard currency B shares down nearly four percent at the lunch break.
Chinese investors, who routinely ignore everything from U.S. Fed rate cuts to tumbling Asian bourses, would be unable to shrug off the attacks, brokers and analysts said.
Xinhua said all four scheduled flights from China to the United States on Wednesday had been canceled.
Air China flight CA985 to San Francisco and China Eastern flight MU583 to Los Angeles were both diverted to Vancouver on Tuesday night and China Eastern cargo flight MU5787 was sent to an American military airport in Anchorage, Alaska, Xinhua said.
Chinese President Jiang Zemin (news - web sites) sent a message of sympathy to President Bush (news - web sites) within hours of the attacks.
Jiang also expressed condolences to the family members of the victims of the attacks and ``grave concern'' for the safety of tens of thousands of Chinese in the United States.
Foreign Ministry spokesman Zhu Bangzao said the Chinese people were ``deeply shocked'' by the attacks.
``The Chinese government has consistently condemned and opposed all manner of terrorist violence,'' Zhu said.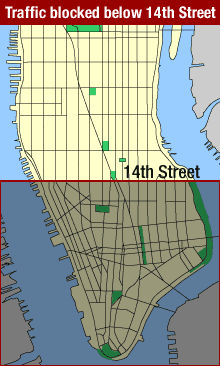 Survivors pulled from Manhattan rubble Wednesday
September 12, 2001 Posted: 10:21 AM EDT (1421 GMT)
Rescue workers and firefighters survey rubble left by the collapsed World Trade Center towers.
NEW YORK (CNN) -- Emergency rescue workers on Wednesday pulled survivors from the debris of the World Trade Center, six firefighters and a policeman who was said to be seriously burned.
Meanwhile in Washington, officials said Wednesday they did not expect to find any more survivors in the rubble of the damaged west side of the Pentagon, a day after a jetliner slammed into it.
Eight specially trained urban search and rescue teams were dispatched to New York and another four to Washington, where more than 100 people and perhaps as many as 800 were unaccounted for.
J.H. Schwartz, assistant fire chief for Arlington, Virginia, told The Associated Press that rescuers had pulled about 80 bodies from the building so far but it was too early to know how many more could be retrieved Wednesday.
New York's twin towers collapsed shortly after 10 a.m. EDT Tuesday, about an hour after they were hit by separate hijacked jetliners. Mayor Rudolph Giuliani said the estimated death toll would be in the thousands.
Late Tuesday, three people, a man and two police officers, were rescued after making just such a call. They first attempted to call the emergency operator in New York but were unable to make a connection.
The man then called his sister in Pennsylvania, who called 911 and was able to convey enough information about the whereabouts of the trio to bring about their rescue, authorities said.
"It was a rare positive note to a sad and tragic day," a local 911 official said.
Approximately eight stories of the World Trade Center's northeast tower were twisted but standing, while the rubble of the other tower smoldered. Rescuers are focusing their efforts on those eight floors, using a walkway around the first level of the building in an attempt to gain access to the floors above.
Searching in darkness
Into the early hours of Wednesday, emergency rescuers using bulldozers and other heavy equipment began digging through twisted steel, broken glass and other debris. The dark night was lit by generators powered from a nearby building.
The World Trade Center's twin towers held offices for 50,000 workers and facilities that embrace as many as 200,000 visitors a day. Famed brokerage firm Morgan Stanley occupied 50 floors at the World Trade Center and employed 3,500 people there: Many were still unaccounted for early Wednesday.
At St. Vincent's Hospital in Manhattan, Dr. Charles Feldman said hospital workers were prepared for patients with a wide range of serious injuries.
"There are thousands of people to dig out, and all of them are going to have some sort of an injury. And basically, since we're so close to the World (Trade) Center, they'll be coming our way," he said.
New York's Fire Department, which rushed to the scene after the planes slammed into the buildings, suffered horrendous losses when the buildings collapsed. Among those presumed dead was the department's chief, Pete Ganci.
"We've got over 300 people that are missing and we cannot account for," Fire Commissioner Thomas Von Essen said. "We believe that many of them are gone. We'll keep looking."
Others reported killed were Deputy Fire Commissioner William Feehan, a 40-year veteran; Special Operations chief Ray Downey, who led a team New York firefighters sent to help after the 1995 Oklahoma City bombing; and Rev. Michael Judge, a chaplain with the fire department.
The dead and missing came from the first wave of specialized crews that entered the towers after the initial plane crashes, said Andrew White, spokesman for the International Association of Fire Chiefs.
At least 33 New York police officers were killed, and dozens more were missing and feared dead.
Hijackers 'knew what they were doing'
September 12, 2001 Posted: 8:32 AM EDT (1232 GMT)
(CNN) -- To pull off the coordinated aerial attack on the World Trade Center and Pentagon on Tuesday, the hijackers must have been extremely knowledgeable and capable aviators, a flight expert said.
All four commercial jetliners seized in the air for the deadly assaults had just started transcontinental flights, ensuring that they carried the maximum amount of fuel.
One of the planes, United Airlines Flight 93, for example, could have carried as much as 200,000 pounds of the highly explosive fuel, according to one source, a veteran pilot.
By seizing four planes, diverting them from scheduled flight paths and managing to crash two into the twin towers of the World Trade Center and a third into the Pentagon, they must have had plenty of skill and training.
"They know what they were doing," said the source, a pilot with a major carrier for more than 30 years.
It was not known how the hijackers slipped through airport security checkpoints with their weapons.
How soon after departure the hijackers took over the planes remains unclear. But a handful of crew members and passengers managed to call authorities and loved ones on the ground, informing them that the planes had been commandeered, in some cases with deadly force, by assailants brandishing knives and who claimed to have bombs.
An open microphone on one of the flights recorded sounds of distress, according to reports.
There are no indications that any of the airline crews activated a four-digit code alerting ground controllers that a hijacking was in progress.
Former president offers moral support
September 12, 2001 Posted: 10:17 AM EDT (1417 GMT)
BRISBANE, Australia (CNN) -- Former U.S. President Bill Clinton ended his visit to Australia on Wednesday and said he planned to return to the United States as soon as possible because of the tragedies in New York, Washington and Pennsylvania.
Clinton offered his moral support to help in the aftermath of the plane crashes at the World Trade Center, the Pentagon and southeast of Pittsburgh.
"I think it's important that we concentrate now on all those rescue operations and the Americans that support them in whatever way we can," Clinton told reporters.
Clinton also offered his support to his successor, President George W. Bush.
"I thought the president made a fine address to the country," Clinton said. "I agree with what he said and I think it's absolutely imperative that the American people demonstrate to the whole world our unity.
"A lot of innocent people were killed by an evil force and we're going to stand together against it until justice is done, accountability is had," Clinton said.
Subj: [RMNEWS2] This is not crime, this is war ~ Charles Krauthammer
Date: 9/11/2001 11:06:08 PM Pacific Daylight Time
From: rayelan@mindspring.com (Rayelan)
----- Original Message -----
From: Phil Dragoo
Sent: Tuesday, September 11, 2001 10:32 PM
Subject: This is not crime, this is war ~ Charles Krauthammer
Charles Krauthammer
http://www.townhall.com/columnists/charleskrauthammer/ck20010912.shtml
September 12, 2001
This is not crime, this is war
WASHINGTON--This is not crime. This is war. One of the reasons there are terrorists out there capable and audacious enough to carry out the deadliest attack on the United States in its history is that, while they have declared war on us, we have in the past responded (with the exception of a few useless cruise missile attacks on empty tents in the desert) by issuing subpoenas.
Secretary of State Colin Powell's first reaction to the day of infamy was to pledge to ``bring those responsible to justice.'' This is exactly wrong. Franklin Roosevelt did not respond to Pearl Harbor by pledging to bring the commander of Japanese naval aviation to justice. He pledged to bring Japan to its knees.
You bring criminals to justice; you rain destruction on combatants. This is a fundamental distinction that can no longer be avoided. The bombings of September 11, 2001, must mark a turning point. War was long ago declared on us. Until we declare war in return, we will have thousands of more innocent victims.
We no longer have to search for a name for the post-Cold War era. It will henceforth be known as the age of terrorism. Organized terror has shown what it can do: execute the single greatest massacre in American history, shut down the greatest power on the globe, and send its leaders into underground shelters. All this, without even resorting to chemical, biological or nuclear weapons of mass destruction.
This is a formidable enemy. To dismiss it as a bunch of cowards perpetrating senseless acts of violence is complacent nonsense. People willing to kill thousands of innocents while they kill themselves are not cowards. They are deadly, vicious warriors and need to be treated as such. Nor are their acts of violence senseless. They have a very specific aim. To avenge alleged historical wrongs and to bring the great American satan to its knees.
Nor is the enemy faceless or mysterious. We do not know for sure who gave the final order but we know what movement it comes from. The enemy has identified itself in public and openly. Our delicate sensibilities have prevented us from pronouncing its name.
Its name is radical Islam. Not Islam as practiced peacefully by millions of the faithful around the world. But a specific fringe political movement, dedicated to imposing its fanatical ideology its own societies and destroying the society of its enemies, the greatest of which is the United States.
Israel, too, is an affront to radical Islam, and thus of course must be eradicated. But it is the smallest of fish. The heart of the beast--with its military in Saudi Arabia, Kuwait, Turkey and Persian Gulf; with a culture that ``corrupts'' Islamic youth; with an economy and technology that dominates the world--is the United States. That is why we were struck so savagely.
How do we know? Who else trains cadres of fanatical suicide murderers who go to their deaths joyfully. And the average terrorist does not coordinate four hijackings within one hour. Nor fly a plane into the tiny silhouette of a single building. For that you need skilled pilots seeking martyrdom. That is not a large pool to draw from.
These are the shock troops of the enemy. And the enemy has many branches. Hezbollah in Lebanon, Hamas and Islamic Jihad in Israel, the Osama bin Laden organization headquartered in Afghanistan, and various Arab ``liberation fronts'' based in Damascus. And then there are the governments: Iran, Iraq, Syria and Libya among them. Which one was responsible? We will find out soon enough.
But when we do, there should be no talk of bringing these people to ``swift justice,'' as Karen Hughes dismayingly promised mid-afternoon Tuesday. An open act of war demands a military response, not a judicial one.
Military response against whom? It is absurd to make war on the individuals who send these people. The terrorists cannot exist in a vacuum. They need a territorial base of sovereign protection. For 30 years we have avoided this truth. If bin Laden was behind this, then Afghanistan is our enemy. Any country that harbors and protects him is our enemy. We must carry their war to them.
We should seriously consider a congressional declaration of war. That convention seems quaint, unused since World War II. But there are two virtues to declaring war: It announces our seriousness both to our people and to the enemy, and it gives us certain rights as belligerents (of blockade, for example).
The ``long peace'' is over. We sought this war no more than we sought war with Nazi Germany and Imperial Japan or cold war with the Soviet Union. But when war was pressed upon the greatest generation, it rose to the challenge. The question is: Will we?
©2001 Washington Post Writers Group
Phil's Note: Krauthammer is trained as a doctor (MD) and put into a wheelchair yet no writer has a keener mind nor a fiercer sense of justice. To me, justice will be the murderer's head on our bayonet. It will be an effective deterrent: he will murder no more of us.
Subj: [RMNEWS2] World must fight terror threat - Straw
Date: 9/12/2001 5:59:37 AM Pacific Daylight Time
From: sekhmet@zoom.co.uk (Enheduanna)
Wednesday, 12 September, 2001, 08:46 GMT 09:46 UK
World must fight terror threat - Straw
http://news.bbc.co.uk/hi/english/uk_politics/newsid_1539000/1539562.stm
Security measures have been stepped up across the UK
Foreign Secretary Jack Straw says the international community can only defeat the kind of terrorism seen in the US attacks by working much more closely together.
Mr Straw was speaking before joining Tony Blair, senior ministers, intelligence chiefs and defence staff for a summit to review security measures for the UK.
That meeting in Downing Street broke up at about 0915 BST on Wednesday and the foreign secretary is now travelling to Brussels for emergency talks with the other European Union foreign ministers.
Mr Straw said: "This is an event that has not only shaken the world but also tragically has changed the world."
Interviewed on BBC Radio 4's Today programme, Mr Straw said the attacks would have to mean security of the kind seen in Northern Ireland across Britain.
"This kind of terrorism is international and it exploits what it sees as the weakness of democracy - which is its great strength - freedom, and we have to work our way round that.
"There is no question that we can only defeat this kind of terrorism by much, much further co-ordinated international action."
While US President George W Bush has hinted he will take retaliatory action, Mr Straw said he could not get into the "realm of speculation" but spoke of Britain's solidarity with America in its "hour of need".
"Of course, we will be looking at ways in which we can move our expressions of moral support and outrage into more tangible methods of support."
Restrictions have been placed on UK airspace with private planes banned from flying and no flights allowed over central London.
All government buildings, military bases and financial institutions have been placed on red alert and British people abroad have been advised to take extra precautions over their personal safety.
About 1,000 extra police officers have been deployed on the streets of London "to reassure the public".
Metropolitan Police Commissioner Sir John Stevens said "all necessary precautions" were being taken to prevent similar attacks in the UK.
Further security measures
Mr Blair is keen to see a co-ordinated international response to the outrages.
He spoke on Tuesday night to German Chancellor Gerhard Schroeder, French President Jacques Chirac, French Prime Minister Lionel Jospin and Russian President Vladimir Putin about how to respond to terror attacks.
Hijacked planes crashed into World Trade Center
No details have yet emerged of the meeting of the cabinet's Civil Contingencies Committee (CCC) held by Mr Blair early on Wednesday but it was expected to examine whether further security measures were needed.
Mr Straw, Home Secretary David Blunkett, Defence Secretary Geoff Hoon and Chief of Defence Staff Admiral Sir Michael Boyce were at the summit, as well as intelligence chiefs from MI5 and MI6.
The agenda for the EU meeting to be held later in Brussels is likely to include discussions on how Europe could help the US Government, as well as common security measures for Europe.
Disruption warning
No transatlantic flights will take place on Wednesday between the UK and the US.
The Foreign Office has issued a warning to Britons overseas to be on alert for possible "heightened tension and disruption worldwide."
Emergency number
For Britons worried about friends and relatives in the US: 020 7008 0000
"There may be demonstrations and violence, particularly in Muslim countries", it said, warning too of a "strong risk of further atrocities" in the US.
Mr Blair said on Tuesday, as then scale of the attacks became clear: "This mass terrorism is the new evil in our world today.
"It is perpetrated by fanatics who have no respect for the sanctity or value of human life and we, the democracies of this world, must come together to defeat it and eradicate it."
An emergency number for Britons worried about friends and relatives has also been issued: 020 7008 0000.
By MICHAEL DAVIS
Copyright 2001 Houston Chronicle Terrorist attacks Tuesday put the energy industry on red alert, with tighter security at Strategic Petroleum Reserve sites, evacuations of oil company offices and searches of cars entering some plants. Although traders initially panicked, there was no real threat to the nation's energy infrastructure or supplies. Refineries and chemical companies along the Houston Ship Channel were wary but continued to operate. Reports late in the day indicated that oil inventories rose more than expected last week. "We've heightened security at all of our facilities. Our plants are on alert," said Phil Anastasio, spokesman for Occidental Chemical Corp. The company has six facilities in Deer Park, La Porte and Pasadena. Chemical company Rohm & Haas did the same at its facilities in Deer Park and Bayport. "We've put our employees on high alert," said Jack Coe, a spokesman for Rohm & Haas. The markets were also anxious, with oil prices jumping by $3.60 a barrel in London markets before closing up by half that much as the panic eased late in the session. U.S. markets were closed Tuesday morning after the attack that brought down several buildings in the World Trade Center complex. "Unless something else happens involving an oil-producing country, I don't see this having a long-term impact," said Adam Sieminski, oil analyst with Deutsche Bank Alex. Brown in Baltimore. The Organization of the Petroleum Exporting Countries would almost certainly move immediately to increase output to calm panicked markets and to show support against the terrorist acts if asked to do so, Sieminski said. "If I were Saudi Arabia, I would have already cabled President Bush saying, `What can we do?' " Sieminski said. "If Saddam Hussein tried to take advantage of this, I think OPEC would be there in a minute." The entire commercial airline fleet in the United States was grounded Tuesday, chopping fuel consumption. As long as the grounding continues, it reduces demand by about 10 percent of the nation's daily supply of refined products. Oil futures initially rose in London trading amid fears that the attacks will escalate hostilities in the Middle East and disrupt oil supplies from there. The energy industry reacted quickly after the airliners hit the World Trade Center towers. The New York Mercantile Exchange, the largest energy exchange, which is near the World Trade Center, was evacuated and will be closed until further notice, said Nachamah Jacobovits, a spokeswoman. Exchange officials could not say when trading would resume, she said. Security was intensified at the Strategic Petroleum Reserve facility at Bryan Mound in southern Brazoria County. The facility is the largest single cache of federally owned oil, containing 215 million barrels. Inspections were increased and visitors were limited at the underground facility near Freeport and others near Beaumont, Baton Rouge, La., and Lake Charles, La., said Cindi Nelson, spokeswoman for DynMcDermott, the private management and operations company that oversees the Strategic Petroleum Reserve locations for the U.S. Department of Energy. "We have not received any specific threats to our facilities," she said. At Dow Chemical Co. near Freeport, operations continued as usual. An employee at the Dow plant, who did not want to be named, said authorities were taking the unusual move of inspecting all vehicles entering and leaving the plant. Operations were not suspended because there has been no indication that Dow or the petrochemical industry as a whole have been targeted, a spokeswoman said. In Texas City, which has a large concentration of petrochemical plants, heightened security procedures were enacted, but authorities would not give details. Baytown police were asked to increase their patrols in the area of the huge Exxon Mobil refinery, said Officer Jack Erikson, a police spokesman. Oil prices spiked up shortly after the attacks but moderated somewhat by day's end. Brent Blend futures hit a peak in London trading of $31.05 a barrel, its highest level since December last year, before closing at $29.06, up $1.61, or nearly 6 percent on the day. Oil last traded for more than $31 a barrel onDec. 1. Trading in the New York futures markets will be closed again today. Much of downtown Houston was evacuated as a precaution. One of the city's largest oil companies, Shell Oil Co., was evacuated, said Kitty Borah, spokeswoman for the company. She said the company's personnel in New York City were believed to be safe. "Shell leadership is deeply concerned about all possible ramifications of the apparent terrorist attack in New York and Washington, D.C.," the company said in a statement. BP evacuated its west side facilities as a precaution, said Howard Miller, spokesman for the company. He said it was undetermined whether the facility will reopen today. Although the New York Mercantile Exchange did not open Tuesday, traders were able to trade with Enron Online up until about 9:30 a.m., said Warren Tashnek, vice president with Fimat Futures USA in Houston. "This is going to affect the price of oil more than anything else," Tashnek said. The secretary-general of OPEC, Ali Rodriguez, said the Arab-dominated cartel would ensure world oil supplies and price stability. "OPEC member countries are committed to their promises to guarantee sufficient oil supplies," Rodriguez told Reuters after the attacks. "None of these things change OPEC's decision to guarantee the stability of the oil market." Rodriguez said he hoped the United States will not make "blind retaliations" for the attacks "that instead of resolving the problems, will aggravate them."
OLD NEWS BUT SCARY
October 12, 1998
Islamic Extremists: U.S.-Financed, Enflamed, Seeking Revenge
by William F. Jasper
On August 27th, Reuters published excerpts of an interview Osama bin Laden had given to the French daily newspaper France Soir in 1995. In it he explained how U.S. and Pakistani officers had trained the volunteers he had recruited at his base in Pakistan to fight the Soviet invaders in Afghanistan. "I created my first [military] camps, where these volunteers underwent training led by Pakistani and American officers," the Saudi exile said. "The arms were supplied by the Americans and the money by the Saudis.... Our objective was the Islamic Revolution, no matter who our allies were.... American objectives were not to play a major role."Bin Laden, a complete unknown to most Americans a few months ago, is now recognized by most as one of our country's deadliest adversaries. He has issued a fatwa calling on other Muslims to kill Americans as their religious duty.
Circumstantial evidence links him to a number of major terrorist acts and plots in the past few years.
Building the Monster It is common for liberal-left commentators to cite bin Laden's virulently anti-American terrorist network, and the equally radical Taliban regime in Kabul which supports him, as examples of "blowback" — unintended negative fallout from U.S. covert operations. According to this analysis, it was our irrational, anti-communist impulse — as implemented by the "Cold War-mentality" in the CIA — which is responsible for our present terrorism predicament. Because of our hysterical aversion to communism, goes the line, we are now faced with "Islamic fundamentalism," the new global threat we must prepare to battle.Leading this chorus are the same Council on Foreign Relations (CFR) operatives in government and the media who have done the most to make the "Islamic threat" a self-fulfilling prophecy. Some of the loudest voices declaiming against the scourge of "militant" and "fundamentalist" Islam belong to the very strategists who are most responsible for the policies and actions (both past and present) that have built the most fanatical, anti-American "Islamic fundamentalist" regimes and organizations in the world today. These regimes and organizations are serving a hidden — though increasingly visible — purpose. Iran, Iraq, Syria, Libya, Algeria, Sudan, the Muslim Brotherhood, Taliban, and a host of others in the extremist camp have been built into menacing perils to, among other things, justify the transformation of the UN's blue helmets into global gendarmes capable of enforcing UN dictates on all peoples and nations.Iran was the first major victim in this scheme. Iran under Shah Reza Pahlavi was the West's strongest ally in the region and a force for moderation, modernization, and advancement of human rights. But to President Jimmy Carter and the CFR cabal who ran his Administration, Iran was to be the starting domino in a chain reaction designed to usher in the new world order. Khomeini's "fundamentalists" didn't overthrow the Shah, as the media mythmakers would have you believe; Carter and company did that. While the Establishment media cartel smeared the Shah as a latter-day Hitler, the Carter Administration pulled every deception and dirty trick imaginable to undermine the Pahlavi rule. U.S. Ambassador to the UN Andrew Young (CFR) added to the media image of Ayatollah Khomeini (then in exile) as a great holy man, declaring that "he will be hailed as a saint" when he returns to Teheran. In the final act, General Alexander Haig (CFR) sent his deputy commander, General Robert Huyser, to warn the Iranian military against supporting their emperor.
Saddam the "Savior"
No sooner was the U.S.-led Iranian coup completed than the CFR brain trust in our foreign policy establishment cited "balance-of-power" imperatives to justify pouring hundreds of millions (and then billions) of dollars of aid, technology, and military assistance into Saddam Hussein's Iraq. The CFR double-domes in the Reagan and Bush Administrations assured us that Saddam would be our protection against the Khomeini strain of virulent Islam. During the eight-year Iran-Iraq War, Washington sold weapons to both sides, but clearly "tilted" toward Iraq. When the shooting started in Operation Desert Storm, President Bush's CFR coterie had us bedding down with Assad of Syria, Saddam's rival for the title of "Maximum Terrorist Leader."The bombing of New York City's World Trade Center signaled the rise of a new terrorist center — Kabul, Afghanistan. The Arab bombers in the case, who were tied to Sheik Omar Abdul Rahman, received their training during the Afghan War from mujahedeen groups trained and supplied by the CIA. The Sheik has been closely allied with Gulbaddin Hekmatyar, leader of one of the most radical anti-American elements of the Afghan mujahedeen, and the one most favored by U.S. intelligence.President Carter's ousting of the Shah and the installation of Khomeini in February 1979 was the signal that set in motion the Soviet invasion of Afghanistan later that year. Of the seven mujahedeen parties that made up the Afghan allied resistance, U.S. aid flowed overwhelmingly to the three most virulently anti-Western, anti-American parties: Hez-i-Islami (Party of Islam), led by Gulbaddin Hekmatyar; Jamiat-i-Islami (Islamic Society), led by Professor Burhanuddin Rabbani and his military commander Ahmed Shah Masood; and Ittehad Islami (Islamic Unity), led by Professor Abdul Rasul Sayyaf. All of the above had become involved in the radical "Pan-Islam" movement of the Ikhwan ("Muslim Brotherhood") during the 1960s and '70s at Kabul University.The forces of Hekmatyar and Masood not only received the lion's share of Western aid (as well as assistance from Khadafi and Saddam Hussein), but were the undisputed favorites of the U.S. Information Agency (USIA) and the CFR-controlled media. Sibgratullah Mojadidi, a respected Islamic theologian and religious leader who was elected president of the Afghan government-in-exile by the mujahedeen during the Soviet occupation, tried repeatedly without success to warn U.S. leaders of this "folly."
Mojadidi complained bitterly that the lopsided support for Hekmatyar was immoral and counterproductive since Hekmatyar was murdering his mujahedeen "allies," collaborating with the communists, and undermining the authority of the mujahedeen government.Independent observers and journalists like Kurt Lohbeck, author of the important 1993 book Holy War, Unholy Victory:
Eyewitness to the CIA's Secret War in Afghanistan, also warned repeatedly against the U.S. favoritism toward Hekmatyar. He was repeatedly told that the favoritism would end. It didn't. Lohbeck records in his book a meeting he had with then-U.S. Ambassador to Pakistan Robert Oakley (CFR) in 1988 at which Oakley assured him that aid to Hekmatyar would cease. One year later at a press briefing Oakley stated categorically that Hekmatyar's aid had been stopped completely. About one week later, Lohbeck followed a 50-truck convoy of U.S. weapons and supplies from the Peshawar airport — to Hekmatyar's camp.After the Red Army pulled out in 1989, the Soviets continued massive support for their surrogate regime under Najibullah and his "militia" of brigands commanded by General Abdul Rashid Dostam. The U.S. cut off aid to the mujahedeen — with the exception of Hekmatyar's group, even though by this time Hekmatyar's double-dealing and assassination of fellow mujahedeen leaders had thoroughly discredited him even among many of his erstwhile admirers in the Western media.In 1992, following the fall of the hated Najibullah regime, Masood joined forces with General Dostam's KGB-backed militia to drive his long-time rival, Hekmatyar, from Kabul. Masood installed his mentor, Burhanuddin Rabbani, as president, and himself as Minister of Defense. At the same time, Pakistan was providing support (from the U.S., Russia, and China) to the rising Taliban, which now effectively controls most of Afghanistan. Mullah Mohammad Omar, Taliban's equivalent of Iran's Ayatollah Khomeini, has been closely associated with Osama bin Laden and is reportedly married to bin Laden's 18-year-old daughter.
Subj: [RMNEWS2] Metal Exchanges and records destroyed with COMEX
Date: 9/12/2001 10:02:45 AM Pacific Daylight Time
From: cropolis@your-net.com (Spider Piglet)
Metal Exchanges and records destroyed with COMEX
Posted By: loki
Date: Wednesday, 12 September 2001, 10:27 a.m.
Follow the money!!!!
from: http://www.copvcia.com/stories/sept_2001/special_alert.html
FTW SPECIAL ALERT 09-11-2001
U.S. ECONOMY MAY BE TURNED UPSIDE DOWN AS A RESULT OF ATTACKS. ALL PRECIOUS METAL EXCHANGES DESTROYED WITH THE COMEX AT WORLD TRADE CENTER.
(c) COPYRIGHT 2001 - FTW PUBLICATIONS -- WWW.COPVCIA.COM
The most immediate results of the terrorist attacks on the World Trade Center and the Pentagon may be felt throughout the U.S. economy within the next 3-5 days and certainly in the next three weeks. As FTW has been noting in special subscriber bulletins within the last week, the eve of the terrorist attacks was marked by incredible instability in U.S. financial markets including the DOW.
FTW had clearly predicted a highly unstable economic situation marked by long-term artificially suppressed gold prices and a $30 trillion derivatives bubble on the verge of exploding as the DOW was poised for a simultaneous epochal implosion.
Initial indicators show that the London gold price rose by more than 5% in just the first two hours after the bombings before the London markets closed. FTW predicts that trading will be suspended on the NYSE for the immediate future and that a run on US banks is a distinct possibility. Limited martial law is virtually a certainty and, if coupled with a run on the banks, might produce even more severe restrictions of civil liberties.
It is important to avoid speculation at present but one of the least understood immediate effects of these attacks will be on the U.S. economy. The COMEX, the centralized trading floor for all precious metals -- along with NY representative offices for every major foreign national bank -- was destroyed as the World trade center collapsed. So were all the records of gold pricing and sales.
Investor confidence and world confidence in US markets and the U.S. economy will inevitably be impacted negatively. We must leave aside speculation about motive for the moment. But if Osama bin Laden is officially named as the culprit, a host of unpleasant questions will dog the U.S. government. Not the least of these is how the CIA will explain that bin Laden was and is a CIA creation from the Afghan conflict of the 1980s. FTW reported major holes in the government's official position vis a vis bin Laden in 1998.
The logistical and financial infrastructure required for this attack was, in my opinion, far beyond any known capability of any known terrorist organization. I immediately rule out the Palestinians as suspects because it would be a suicidal move on their part. As politicians like Kissinger and McCain call this "an act of war" one glaring inconsistency jumps out: Who is the enemy and where are they? Henry Kissinger was talking about retaliatory attacks even before there is ANY idea of where or whom to attack.
With such a mentality the only place to attack is against the American people by restricting civil liberties.
At this point FTW advises against panic and against a run on banks or food stores. The most important thing we can do is to sit down with paper, pen and computers and document every news report on every news agency, especially those overseas. We already know that the major media cannot be relied upon to tell us the whole truth. Perspectives from both the left and the right have given us a multitude of past stories where the truth has been hidden rather than told.
The most important thing to watch now is the world economy and to rely on our own ability to research, document, record and think for ourselves.
Mike Ruppert
Publisher/Editor
"From The Wilderness"
www.copvcia.com
Bush gets strong support from Congress, NATO
September 12, 2001 Posted: 6:34 p.m. EDT (2234 GMT)
WASHINGTON (CNN) -- The shape of the U.S. response to the World Trade Center and Pentagon terrorist attacks will be defined by President Bush's declaration Wednesday that "they were acts of war" against the United States.
The president won bipartisan support Wednesday from both houses of Congress, which passed a resolution declaring the nation was "entitled to respond under international law."
The lawmakers, meeting at the Capitol for the first time since the attacks, also expressed solidarity with the president in his efforts to track down and punish those responsible.
NATO has taken an unprecedented step by invoking Article Five of its charter, which states that any armed attack against one of its members is considered an attack against all of them.
As one official put it: "A hit for one is a hit for all."
By invoking Article Five, NATO members agreed to aid the United States in any response it may make to the attacks.
The United States would have to go back to NATO to ask for specific kinds of support, but officials said invoking Article Five provides an "expedited basis" for use of airspace by the allies and makes other kinds of assistance available, such as military and intelligence sharing.
Congress is working on measures to provide funding for efforts to rescue survivors, help victims and their families and for steps to improve U.S. security and defense.
Latest developments
• One Liberty Plaza in World Trade Center complex partially collapses, the fourth building to be destroyed. It housed the Nasdaq's new headquarters. Rescue workers are being pushed back. There are concerns that Building Five of the complex is in danger of collapsing.
• Police in Hamburg, Germany, search an apartment at the request of the FBI, seeking a connection to terrorism attacks in the United States. Although the apartment was empty, a police spokesman said five people of "apparently Arab descent" had been using it until February.
• Top U.S. officials say they know the identities of many of the hijackers on each of the four flights that crashed in attacks. Identifications made through passenger manifests.
• New York Stock Exchange and Nasdaq will remain closed through Thursday. It could reopen Friday, but will reopen no later than Monday, officials said.
• Relatives of a passenger on the plane that crashed in rural Pennsylvania said he related during a phone call that men on board voted to try to overpower the three hijackers. Shortly after that call, the plane went down, as it appeared headed for Washington.
• Police in Coral Springs, Florida, say they accompanied FBI agents to the home of a man authorities believe may have been one of the hijackers involved in Tuesday's attacks.
• The search for survivors continues in the rubble at New York's World Trade Center and the Pentagon in Washington, D.C.
• The White House and Air Force One may have been targets of the terrorists responsible for the Pentagon attack, according to White House officials. That is why President Bush was flown from Florida to several military bases until his security in Washington could be guaranteed. Officials say the jet that slammed into the Pentagon may have been originally destined for the White House. (Full story)
• Maine's Department of Public Safety says officials seized a rental car at the Portland jetport, believing two of the hijackers may have used the car to travel between Portland and Boston.
• The Federal Aviation Administration has given clearance for flights diverted after Tuesday's terrorist attacks to continue on to their final destination Wednesday, but ordered all other commercial air traffic to remain grounded.
• 80 bodies have been removed from the Pentagon. "Scores" of bodies have been located but not removed.
• Defense Secretary Donald Rumsfeld admonished U.S. government officials for revealing classified data because it could "reduce the chances that the U.S. has to track down and deal with the people...who have killed so many Americans."
• A car is seized in Daytona Beach, Florida, with information relating to Osama bin Laden.
• The owners of a flight school in Venice, Florida, say that the FBI is investigating whether two former students were involved in the attacks.
• New York Mayor Rudy Giuliani says that "the best estimate" for the number of dead could approach "a few thousand people ... in each building." As many as 300 firefighters and police officers are missing and feared dead.
• Brokerage firm Morgan Stanley reports the "vast majority" of its 3,500 employees at the World Trade Center got out safely.
• The Taliban, who control 90 percent of Afghanistan, appeal to the United States to refrain from attacking their country.
• Intelligence sources tell CNN that at least two phone calls were intercepted between members of an organization connected with suspected terrorist Osama bin Laden. Phone calls mentioned that two targets had been hit.
• Secretary of State Colin Powell says the coalition being formed will not stop at getting the people responsible for the attack, but will go after terrorists wherever they are found.
• The aircraft carrier USS George Washington has moved into New York Harbor
• New York rescuers are searching for two other people who have been in contact with authorities; six firefighters and three policemen were rescued early Wednesday, two other police officers were rescued Tuesday night.
• Boston's Logan International Airport announces tightening of security. Among them: the airport will discontinue curbside baggage check-in and remove vehicles standing within 300 feet of front entrance. Car found at the airport, where two of the hijacked planes originated, contained a flight manual written in Arabic. Police and FBI investigators are examing the car.
• New York City is closed to the public south of 14th Street.
White House, Air Force One possible targets
Administration considering how to strike back
September 12, 2001 Posted: 6:02 PM EDT (2202 GMT)
WASHINGTON (CNN) -- The White House said Wednesday it has "reasonable and credible" information that the White House and Air Force One were targets of Tuesday's terrorist attack on the nation's capital.
"We have real and credible information that the airplane that landed at the Pentagon was originally intended for the White House," White House press secretary Ari Fleischer said in a late Tuesday afternoon briefing.
Fleischer also said Bush was pleased NATO had invoked "Article 5," which states that any attack on an alliance member is an attack on the alliance as a whole.
"It is a message of solidarity," Fleischer said, and "indicates a unified response." He refused to quantify what that means.
Air Force One was diverted several times to keep the president out of harm's way and to keep potential assailants guessing about his whereabouts, Fleischer said.
"The manner in which Air Force One operated maintained the security of Air Force One at all times," Fleischer said.
He refused to detail how the White House, the military and the intelligence community may have received such information. He said only that the threat was divulged Tuesday morning after the president departed Sarasota, Florida.
Officials told CNN earlier that Bush was diverted on his return trip to Washington because they had received information that either the White House or the residential jet may have been targeted by those flying two hijacked airliners toward Washington.
Rather than return directly to Washington from Sarasota, Bush was routed through Barksdale Air Force Base near Shreveport, Louisiana, and Offutt AFB near Omaha, Nebraska.
One airliner, out of Dulles International Airport outside Washington, slammed into the Pentagon. The other, a 757 out of Newark, New Jersey, crashed under mysterious circumstances in rural Pennsylvania.
The White House said Wednesday afternoon Bush planned to personally assess the damage at the Pentagon later in the evening.
Coalition building
Bush's discussions with his top national security advisers turned Wednesday toward potential U.S. responses to the numbing terror attacks in New York City and Washington.
Without detailing the evidence they have gathered since Tuesday's attacks, senior officials told CNN that "everything points" to the al Qaeda network established by Saudi fugitive Osama bin Laden.
The United States believes bin Laden and al Qaeda were responsible for the 1998 bombings of two U.S. embassies in Africa. The network also is suspected in the 2000 bomb attack on the USS Cole in a Yemeni port.
The officials cautioned that nothing will be decided immediately. President Bush, in a brief statement Wednesday morning, said the U.S. would be "patient."
There "are no absolutes yet," an official said.
Bush vowed earlier Wednesday the United States would spend as much money as needed to aid in search-and-rescue efforts following Tuesday's attacks.
He said the government would exert every effort to fight a war against an unseen enemy that "hides in shadows."
Bush sat grim-faced in the center seat of a White House conference table Wednesday morning, surrounded by senior national security advisers.
They had just briefed him on the latest from lower Manhattan and from South Arlington, Virginia, where the southwest perimeter of the Pentagon still expelled columns of the thick gray smoke.
Official Washington began Wednesday to assess the magnitude of the previous day's violence. While recovery efforts continued in both locations, the administration quietly considered how and against whom it would retaliate.
The hijacking of four airliners, the attack on the Pentagon and the destruction of Manhattan's World Trade Center were nothing short of a declaration of war, Bush said.
"The deliberate and deadly attacks, which were carried out yesterday against our country, were more than acts of terror. They were acts of war," Bush said in measured tones.
He said the nation had to realize the enemy it now faces is not defined by force, strength or by national borders -- but by its brutality.
"This enemy hides in shadows and has no regard for human life," Bush said.
"This is an enemy who preys on innocent and unsuspecting people, then runs for cover, but it won't be able to run for cover forever," he said.
"This is an enemy that tries to hide, but it won't be able to hide forever. This is an enemy that thinks its harbors are safe, but they won't be safe forever," he said.
"The United States of America will use all our resources to conquer this enemy," he said. "We will rally the world. We will be patient. We'll be focused, and we will be steadfast in our determination. This battle will take time and resolve, but make no mistake about it, we will win."
The first order of business would be to ask Congress for quick approval of a special appropriation to cover the expense of rescuing survivors and recovering perhaps thousands of bodies from both locations, Bush said. Cost of the clean-up in Manhattan alone is expected to be in the millions.
Bush maintained a steady public profile Wednesday and immediately followed his morning security briefing by sitting down with members of the congressional leadership. He attended another security briefing later in the day.
Congress reconvened Wednesday after adjourning in haste Tuesday when fears arose that the Capitol building would be targeted by a skyjacked aircraft.
Expressions of sympathy, solidarity
During the day Bush took time to speak with British Prime Minister Tony Blair, Canadian Prime Minister Jean Chrétien, Russian President Vladimir Putin and Chinese President Jiang Zemin.
In addition, officials said, more than a dozen nations have directly contacted senior U.S. officials to offer condolences and assistance.
They said a major goal of the president and Secretary of State Colin Powell was to use this list as the foundation for building an international coalition committed to "deeds, not just words" in the war on terrorism. "Out of this horror could come a little momentum," said one senior official involved in the discussions.
Among the nations that have offered condolences and help are:
France, Germany, the United Kingdom, Italy, Japan, Canada, Russia, Belgium, Spain, Israel, China, Slovenia, Pakistan and Romania.
The NATO alliance and the European Union also have had representatives contact Washington offering help.
The White House also maintained an active hand in security arrangements for the downtown Washington area.
There was a stepped-up police presence at the White House, with snipers still deployed on nearby rooftops. Officers were seen up Pennsylvania Avenue to the Capitol complex.
Airports in Washington are still closed to passenger traffic. The White House said late in the morning it would have to sign off on any decision made by aviation officials to reopen Reagan National and Dulles International airports.
National Airport is situated less than a mile from the Pentagon. Dulles is 25 miles west of Washington in suburban Virginia.
-- CNN Senior White House Correspondent John King and Ian Christopher McCaleb contributed to this report.
Wednesday September 12 5:45 PM ET
Death Toll Estimates Lowered at Pentagon
By Charles Aldinger
WASHINGTON (Reuters) - The U.S. military's massive Pentagon (news - web sites) headquarters, scarred by a terrorist strike, reopened for limited business on Wednesday as rescue teams searched through rubble for up to 200 or more missing defense workers.
Dozens of firemen finally put out a stubborn roof fire on the blackened concrete structure more than 24 hours after a hijacked fuel-laden airliner slammed into a corner of the five-sided building.
Defense Secretary Donald Rumsfeld told reporters on Wednesday that earlier estimates by fire officials that as many as 800 workers could be unaccounted for were apparently much too high.
``From everything that we currently know, the estimate that has been widely reported is considerably high. I hope and pray that it is,'' he said at a Pentagon news conference.
``It is folly to try to pretend there is a number before there is a number,'' Rumsfeld added after officials of the armed services said privately that perhaps about 200 military and civilian workers were missing in addition to 64 passengers and crew on the airliner.
DEADLY CRASH AND EXPLOSION
The Defense Department said in a statement that the area where the aircraft struck and burned sustained such catastrophic damage that ``anyone who might have survived the initial impact and collapse could not have survived the fire that followed.''
White House spokesman Ari Fleischer said on Wednesday the United
States had ``credible evidence'' that the American Airlines 757 jet, hijacked shortly after taking off from nearby Dulles International Airport for Los Angeles, was supposed to crash into the White house instead of the Pentagon.
He declined to give any details.
One section of the five-story building, built during World War Two and never attacked during the decades of the Cold War, collapsed and burned when the aircraft sliced into the outer wall.
Four special ``Urban Search and Rescue Teams'' of about 60 members each began moving into parts of the damaged area of the Pentagon on Wednesday's afternoon to shore up unstable wreckage and allow for a thorough search for possible survivors.
The hijacked jetliner's ``black box'' instrument package, containing data on its flight path was still buried in the rubble.
``It's like a game of pick-up sticks,'' Chief Mike Tamillow of the First Fairfax County Fire and Rescue Department told Reuters. ``If you pull out the wrong one they could all come crashing down. That's exactly what we're were trying to prevent.''
SOME RETURN TO WORK
The Pentagon, the world's largest government building across the Potomac River in Virginia, was evacuated after Tuesday morning's devastating strike, but several thousand of the 23,000 military and civilian workers who normally work at the Pentagon returned to the job on Wednesday.
Shortly before noon (1600 GMT), with concern growing that the fire might spread further in the wooden structure under the slate roof, many people began to leave the building on what Pentagon officials called a ``false alarm'' that an order had been given to evacuate. Those who had left quickly returned.
Rescue workers ran briefly from the damaged area outside at about the same time when an unidentified aircraft was reported to be approaching Washington. But that, too, was a false alarm
Tuesday's attack coincided with other hijackings that toppled the twin towers of the World Trade Center in New York City, where thousands are believed to have perished.
Nearly half of the 17 miles (27 km) of Pentagon corridors remained shut for safety reasons, however, and officials said many of the 23,000 military and civilians who work there daily would not report on Wednesday because of damage to a large wedge of the building.
``The Pentagon is up and functioning,'' Clarke told a news conference. But other officials said that a major portion of the building was shut down for safety.
Those officials said privately that it was important to Rumsfeld that the military of the world's only superpower was seen unbowed by the terrorist strike.
Arlington County, Virginia, Fire Chief Edward Plaugher, coordinating the firefighting operation, told reporters that it would take ``many, many days'' to search for possible survivors and recover the bodies of the dead.
Retaliation will be swift, experts say
by Jules Crittenden
Wednesday, September 12, 2001
As America put herself on a war footing against terrorist attackers, experts predicted that the nation's military response to yesterday's massive air assaults will be swift and terrible - if the culprit can be identified and tracked down.
``It was a terrorist declaration of war,'' said Brandeis University professor Jacob Cohen. ``The president is under immense . . . responsibility to find and name the people who did this and respond in some way that is emotionally appropriate.''
`The American public will be looking for a forceful, proportionate response to this,'' said Michele Malvesti, a former Pentagon terrorism analyst now at Tufts University's Fletcher School of Law and Diplomacy.
But Malvesti said the past pattern of ``bombing empty buildings'' with cruise missiles will be unacceptable.
Retired Army Gen. John Reppert of Harvard's John F. Kennedy School of Government said that internationally, the United States probably will have a free hand to act with maximum force once the guilty party is identified.
``If it is a nation-state, and it can be established with adequate evidence, the choice of the United States to take deliberate and unilateral action will be accepted, and it will be horrendous,'' Reppert said. ``If it was a terrorist group, it would be eliminated, and there would be no repercussions.''
But if a terrorist organization is involved, Reppert said the use of elite commandos to root out the terrorists may be more effective than cruise missiles. He said the American public and policymakers are likely to be more willing to accept U.S. combat losses in any action retaliating for yesterday's terrorist acts than they have been in recent decades.
But Reppert said the United States risks frustration.
``It's likely the terrorist group that did this knows the consequences and has scattered,'' he said.
Uri Ra'Anan, a Boston University international relations professor, said he believes retaliation should not wait for the results of any exhaustive investigation. But he said that a military strike should be withheld if international consensus can be reached on isolating a rogue nation until the culprits are surrendered.
Ra'Anan said he believes the degree of sophistication required to organize the multi-pronged attack suggests a foreign government was behind it. He said U.S. authorities can demand that all communications and trade with a suspect nation be cut off with the warning, ``We give you 48 hours to act with us. If you don't, we take military action.''
But Ra'Anan said he fears policymakers will dither and lose the ability to act decisively by letting too much time pass.
``There will be an enormous impetus to gain time, which means losing time,'' Ra'Anan said.
But former Justice Department terrorism expert Juliette Kayyem said legal bans on assassinations may limit the U.S. response against terrorist groups.
``If we find any state had anything to do with it, trust me, it will not look the same tomorrow,'' she said. But, she added, ``I think the likelihood of this is pretty minimal.''
Yesterday, the initial military response was a series of defensive measures. F-15 fighters were seen patrolling the otherwise empty skies over Boston, New York and Washington, D.C., where a military convoy was also seen snaking through the streets. In Norfolk, Va., Navy officials announced that ships were being dispatched to New York and Washington, D.C., while military bases around the world were put on a high state of alert.
``We have been attacked like we haven't since Pearl Harbor,'' Adm. Robert J. Natter said at the Norfolk Navy base. Natter, commander of the U.S. Atlantic Fleet, said the ships include aircraft carriers, amphibious ships, guided missile cruisers and guided missile destroyers that are capable of responding to threats from the air and sea. The amphibious ships were carrying Marines and sailors to provide security, surgical teams and limited hospital bed capacity.
Meanwhile, President Bush ordered the nation's military to ``high-alert status,'' and vowed to ``hunt down and punish those responsible'' for the attacks, which were expected to carry a high death toll.
The North American Aerospace Defense Command was also on its highest alert.
``We have all of our air sovereignty aircraft - fighters, surveillance and other support aircraft - ready to respond,'' NORAD said in a statement.
Pennsylvania Crash Site Black Box Crucial To Investigation
Rep. Murtha Lauds 'Heroic Effort'
Posted: 3:13 p.m. EDT September 12, 2001
SHANKSVILLE, Pa. -- FBI assistant special agent in charge Roland Corvington said Wednesday that finding Flight 93's black box was the key to investigating Tuesday's terrorist attacks on the World Trade Center and Pentagon -- a plan which apparently included the hijacking of Flight 93.
Meanwhile, presidential press secretary Ari Fleisher said that the White House and Air Force One were the intended targets of Tuesday's terrorist attack. Apparently, the plane that struck the Pentagon was intended for the White House.
Mapping and graphing of the United Airlines Flight 93 crash scene in Somerset County continued in preparation for what officials say will be a massive, lengthy search.
The plane departed from Newark and was headed to San Francisco, but diverted from its flight pattern and crashed nose-first in a large field about 60 miles outside Pittsburgh and 80 miles from Camp David, Md.
All 38 passengers and seven crew members were presumed dead.
"The importance of finding the black box cannot be overstated," said Corvington, who told reporters that the device would have recorded any conversations and struggles on the plane.
Corvington said an effective mapping job was necessary so evidence could be recovered in the search of the rural area, which he said would likely take three to five weeks. Toward that end, National Transportation Safety Board representatives planned a Wednesday afternoon fly-over to help "assess the scope" of the scene, Corvington said.
Anywhere from 130 to 150 troopers would guard the scene at one time, according to Lt. Col. Robert Hickes.
Cellular telephone calls placed from the doomed plane led to suggestions Wednesday that a group effort to crash the craft and stop the attackers from reaching whatever may have been their intended target may have taken place.
"It sure wasn't going to go down in rural Pennsylvania," U.S. Rep. John Murtha, D-Pa., said Wednesday. "The target was Washington, D.C. Somebody made a heroic effort to keep the plane from hitting a populated area.
"I would conclude there was a struggle and a heroic individual decided 'I'm going to die anyway. I might as well bring the plane down here.'"
At least one call from the plane supported that scenario. Thomas Burnett told his wife, Deena, "I know we're all going to die -- there's three of us who are going to do something about it," according to a San Francisco Chronicle report quoting Burnett family priest Rev. Frank Colacicco.
Burnett told his wife, "I love you, honey" and the call ended, Colacicco said.
The plane first flew near Cleveland but quickly turned around, reportedly flying erratically and losing altitude.
"It certainly suggests a struggle," said Joseph Szyliowicz, a professor of international studies and founder of the Intermodal Transportation Institute at the University of Denver. "That would be my guess."
Witnesses reported seeing military aircraft in the air just after the crash, and there were rumors that Flight 93 was shot down. Secretary of State Donald Rumsfeld said that was not the case, according to Murtha.
As Flight 93 approached Cleveland, radar showed the plane banked left and headed back toward southwest Pennsylvania. Cleveland Mayor Michael R. White said air traffic controllers reported hearing screams on a plane with which they had communicated.
John Murtha Johnstown-Cambria County Airport tower chief Dennis Fritz said his tower, located about 20 miles from the crash site, got a warning call from Cleveland Air Traffic Control.
The Cleveland tower said the plane had done some unusual maneuvers, including a 180-degree turn away from Cleveland, and was flying at a low altitude. Johnstown tower controllers also could not see the plane from their tower, leading them to believe the plane was already very low and perhaps obscured by the surrounding topography.
Jet Crash Victims' Stories Start To Emerge
Loved Ones Describe Lives, Last Contacts
_____America Under Attack_____
The Pentagon has asked that all Navy and Marine personnel who were in the building at the time of the attack to call in to a toll-free number so that the services can put together a roster. That number is 1-877-663-6772.
Army personnel assigned to the Pentagon should call 1-800-984-8523.
Family members may contact service representatives at the following numbers:
• Army: 1-800-984-8523 or 703-428-0002
• Navy and Marine Corps: 1-877-663-6772
• Air Force: 1-800-253-9276
____Flight Information_____
Families of passengers on the following flights may call the airlines for information at the numbers below:
• American Airlines: 1-800-245-0999
• United Airlines: 1-800-932-8555
The following flights were used in the attacks:
• American Airlines Flight 11: A Boeing 767 en route from Boston to Los Angeles.
• American Airlines Flight 77: A Boeing 757 en route from Dulles Airport near Washington to Los Angeles.
• United Airlines Flight 93: A Boeing 757, crashed southeast of Pittsburgh while en route from Newark, N.J. to San Francisco.
• United Airlines Flight 175: A Boeing 767. The flight was bound from Boston to Los Angeles.
By Amy Goldstein and Cheryl W. Thompson
Washington Post Staff Writers
Wednesday, September 12, 2001; Page A06
Lauren Grandcolas had taken a few days off from her sales job at Good Housekeeping magazine in San Francisco so she could attend her grandmother's funeral in New Jersey. Now, she was on her way home from Newark when her husband received the phone call.
"We have been hijacked," she told her husband, Jack, from United Airlines Flight 93. "They are being kind. I love you." Then she hung up.
Soon after, Grandcolas, in her mid-thirties and living in lovely Marin County across the Golden Gate Bridge, became one of 266 people aboard four aircraft -- and a roster of hundreds if not thousands in Arlington and Manhattan -- who perished in yesterday's choreography of terrorism.
The victims included a 76-year-old Roman Catholic priest, the Rev. Francis E. Grogan, who had been bound for a vacation with his younger sister in Ramona, Calif., before assuming a new position as the chaplain of a retirement home for Holy Cross brothers in Upstate New York.
And Garnet "Ace" Bailey, 53, a hockey player who had become director of scouting for the Los Angeles Kings. A member of two Stanley Cup-winning teams, he was returning to Los Angeles from Boston with one of his assistants in time for the opening of the team's training camp today.
And David Angell, the executive producer of the television show "Frasier," who was traveling on the American flight to Los Angeles with his wife, Lynn, on their way back from their summer home in Chatham, Mass.
And, presumably, John O'Neill, a 31-year FBI veteran and head of counterterrorism in the New York field office who retired last month and went to work as director of security at the World Trade Center.
Even as the identities of the first known victims slowly emerged during the day and into the night, yesterday was -- as much as anything -- a period of uncertainty over who the violence had claimed.
Officials at TJX of Framingham, Mass., which operates the TJ Maxx and Marshall's department stores, said that seven of its employees had tickets for the American Boston flight. Officials had no confirmation they were on the plane, but the chain closed its stores early yesterday and offered its workers counseling.
At a Hilton hotel next to Logan Airport, relatives arrived throughout the day at a relief center hastily set up by the Massachusetts Port Authority. It was staffed by counselors, members of the clergy and FBI agents, who interviewed families in individual rooms. Some families arrived at the hotel in search of an answer, others in search of solace. A Red Cross volunteer said one FBI agent inside, based in Boston, had told her he'd lost two friends who left yesterday morning -- one on the United flight, the other on the American flight -- and planned to meet in Los Angeles to treat themselves to a spa.
Other families worried in private. Sharif Chowdhury, of Lorton, and his wife were in tears yesterday, unable to reach their daughter, Shakila Yasmin, who worked on the World Trade Center's 97th floor, as they dialed her phone numbers at work and home and her cell phone 60 or 70 times.
"Every moment, we are calling to her. We are not getting any information," Chowdhury said of his 26-year-old daughter, who had moved to New York 1 1/2 years ago when she married a co-worker at Marsh USA, an insurance company with offices on the North Tower's upper floors.
Chowdhury said he had last spoken with his daughter at midnight the night before, just after she came home, excited, from a first visit to a friend's new baby. "She was happy," her father said.
The World Trade Center attack claimed some of those who sought to minimize the deaths. New York officials said that about 265 firefighters had been killed in the rescue efforts. Some 78 New York police officers also were reported to have died.
O'Neill, the Trade Center's new security director, is believed to have managed to work his way outside after the attack, said Robert Blitzer, a former top FBI counterterrorism official and a close friend. But then he went back into one of the towers and is assumed to have died.
Major employers at the enormous towers were trying to measure what -- and who -- they had lost.
The largest tenant, the investment company Morgan Stanley, occupied nearly 25 floors. It had 3,500 workers in the complex, including 2,500 in the South Tower, which housed its retail operations, and 1,000 in the North Tower. The company opened a toll-free line for people seeking information about its employees.
London-based Cantor Fitzgerald International, as well as eSpeed International, an electronic trading service spun off by Cantor, employed 1,000 workers on the 101st and 103rd to 105th floors.
In San Francisco, Henrik Slipsager of ABM Industries Inc., said his company employed more than 800 engineers, janitors and lighting technicians at the World Trade Center. "It is, of course, far too early for us to assess the human and financial toll of this tragedy," Slipsager said.
As the afternoon wore into evening, doctors and nurses at St. Vincent's Medical Center, the major trauma center closest to the towers, were advised to grab an early dinner, to be ready for new casualties as rescue workers made headway in prying people from the building's wreckage. As of last evening, the hospital had treated 319 patients injured in the attack. Fifty were in critical condition. Three of them had died -- two from smoke inhalation and one who had been fatally crushed, a hospital physician said.
Across the Hudson River from the smoldering towers, seven New Jersey hospitals treated 600 people who fled the catastrophe on tugs, ferries and police boats, said Jerry Cala, the director of Jersey City's Office of Emergency Management. As of last night, several patients at those hospitals were listed in critical condition, but none had died, said Mary Beth Ray-Simone, vice president for emergency management at the Jersey City Medical Center.
While the injured poured into hospitals in the New York and Washington areas, there was no evidence that any of the passengers or crew members of any of the four planes had survived.
The Boston-based crew of American Flight 11 had included the captain, John Ogonowski, 52, of Dracut, Mass., and co-pilot, Tom McGuinness, of Portsmouth, N.H. Late in the afternoon, Ogonowski's younger, brother, Jim, spoke with reporters outside the pilot's house, saying that his brother was married, had three children and loved agriculture and open spaces. "I consider my brother a hero for many reasons," Jim Ogonowski said.
The passengers included Danny Lewin, 31, on his way to a business meeting for Akamai Technologies Inc., the Boston-based computer company he co-founded three years ago with one of his professors at the Massachusetts Institute of Technology. Born in Denver and raised in Jerusalem, Lewin was an officer in the Israel Defense Forces, and he had won awards in Israel and at MIT for his work in computer science.
Edmund Glazer, 41, the chief financial officer for the fiber optics firm MRV, was also on the flight. His wife, Candy, said last night from their home in Wellesley, Mass., that he had called her from the runway to say he had just made it onto the flight. She said she was talking to counselors about how to break the news to their 4-year-old son, Nathan.
Angell, the producer of the award-winning NBC show, and his wife had attended a family wedding last weekend and were on board, even though they had originally planned to take a later flight.
His brother, Kenneth, the bishop of the Roman Catholic Diocese of Burlington, Vt., still believed his brother and sister-in-law had been spared when he led a Mass yesterday to mourn the victims of the attack. Later, he learned from relatives that the couple had boarded the earlier flight.
© 2001 The Washington Post Company
Relatives wait for news as rescuers dig
September 12, 2001 Posted: 3:13 PM EDT (1913 GMT)
NEW YORK (CNN) -- After the drama of the explosions, the fireballs, the unbelievable sight of collapsing skyscrapers and mushrooming clouds of smoke and ash, many of the relatives of those still unaccounted for were left to wait and wonder Wednesday.
New Yorkers searching for missing loved ones had to go from hospital to hospital to check the names of those being treated from the disaster. The New York health authorities have issued a list of 21 different area hospitals where the wounded were taken.
Daphne Bowers of Brooklyn arrived at Bellevue carrying a picture of her daughter Veronique, 28, who had gone to work at the World Trade Center on Tuesday.
"She called me when the building was on fire," Bowers told The Associated Press. "She called me and said, 'Mommy, the building is on fire, there's smoke coming through the walls. I can't breathe.' The last thing she said was, 'I love you, Mommy, good-bye.' And that was at 9:05."
With thousands missing and a relatively small number of people admitted to hospitals, it was clear that most of the people in search of survivors Wednesday would be disappointed, hospital officials told the AP.
"I wish I could go and dig myself," one woman whose missing husband worked in one of the upper floors of a World Trade Center tower told National Public Radio.
"He could be dying, and I'm not there to hold his hand," she said, choking on tears. "He could be in pain, and I can't help him."
The rescuers digging through the rubble of the collapsed World Trade Center towers also were grieving and wondering as they worked.
Hundreds of New York firefighters and dozens of police officers are missing. Many of them had entered the towers to help evacuate people before the buildings collapsed.
"I can't find anybody from five rescues and seven squads," said New York Fire Commissioner Thomas Von Essen, his voice cracking. "It's a devastating thing. The fire department will recover, but I don't know how."
Three top fire department officials were among those lost, including Ray Downey, the chief of special operations command, who led one of the rescue teams after the 1995 bombing of the Murrah Federal Building in Oklahoma City.
A few survivors were rescued from the collapsed buildings, and at least one cell phone call made from the rubble offered hope of finding more.
Mayor Rudolph Giuliani said rescue workers were in voice contact with at least one person trapped in the debris. "They are trying to rescue him and get him out," he said.
Frantic phone calls from the air
Others know all too well that their loved ones are gone. They shared their final horrifying moments through frantic phone calls made from the hijacked airliners.
Alice Hoglan of San Francisco, California, said her 31-year-old son, Mark Bingham, called her by air-phone on United Airlines Flight 93, 15 minutes before the Boeing 757 crashed in a field in Shanksville, Pennsylvania.
Hoglan said her son told her that the plane had been taken over by three men who claimed to have a bomb.
"He said, 'I love you very, very much,' " Hoglan said.
Hoglan said her conversation with her son took place soon after two jetliners plowed into the World Trade Center and a third one into the Pentagon.
"He was forward in the aircraft, could probably be in full view of everything that was going on, probably saw what happened in the cockpit," she said.
Another call from Flight 93 was made by Thomas Burnett of San Ramon, California.
During the call to his wife, Deena, Burnett said that one of the passengers had been stabbed, the family's priest, the Rev. Frank Colacicco, told the San Francisco Chronicle.
"He said, 'I know we're all going to die -- there's three of us who are going to do something about it,' " Colacicco said. "He then said, 'I love you, honey,' and that was the end of the conversation."
Burnett, 38, was a father of three and the chief operating officer for a company that deals in medical devices.
Barbara Olson, the wife of U.S. Solicitor General Theodore Olson, called her husband from American Airlines Flight 77 to describe how the passengers and crew had been forced into the back of the plane by hijackers. The plane crashed into the Pentagon shortly after she made the call.
Theodore Olson told CNN that his wife had booked a different flight but changed it at the last minute so that she could be with him on his birthday.
Cheryl O'Brien dropped off her 71-year-old mother, Thelma Cuccinello, at the bus stop Tuesday so that she could go to the airport and catch American Airlines Flight 11 from Boston to Los Angeles to visit her sister.
But Cuccinello's trip ended in a dramatic crash into the World Trade Center's north tower.
"I was the last one to see her," O'Brien said. "I got to kiss her, say, 'I love you,' and 'Have a nice trip.' "
Subj: [RMNEWS2] Fw: Special Jerusalem Report
Date: 9/12/2001 10:16:53 AM Pacific Daylight Time
From: btweeksmd@mindspring.com (Dr. Byron Weeks)
----- Original Message -----
From: For Your Glory
To: Dr Byron Weeks
Sent: Wednesday, September 12, 2001 5:37 AM
Subject: Special Jerusalem Report
Author: Barbara Richmond
ISRAEL DECLARES DAY OF MOURNING IN SOLDARITY WITH USA
Prime Minister Sharon expressed his condolences and declared today to be a day of mourning throughout the nation of Israel for the horrendous attacks of yesterday in New York and Washington and the thousands of victims, dead and injured. Israeli flags are flying at half mast and Prime Minister Sharon has sent an elite IDF search and rescue team to New York to help in the rescue operation at the World Trade Center ruins. Throughout the day and even this morning, numerous emails of support, love and sympathy have poured into our office from friends and acquaintances in Israel, addressed not just to me but to all Americans. I will include a few of these at the end of this report.
At least two Israelis were aboard the hijacked planes yesterday and lost their lives. United Airlines spokesman confirmed that Alona Avraham, a resident of Ashdod, was a passenger aboard United Airlines Flight 75, the second hijacked plane to crash into the World Trade Center in New York. She was in her mid-twenties and had recently finished university studies. Avraham had spent a few days in Boston with friends and was heading for Los Angeles for a two-week visit, to include Rosh Hashanah. Israeli Daniel Levin, 31, was also reported to be on one of the hijacked planes that was forced down by terrorists, Army Radio reported. The Israeli embassy in Washington, the consulate in New York and the office of Foreign Ministry in Jerusalem have all set up hotlines for Israelis and American Jews who are searching for missing loved ones. The Foreign Ministry in Jerusalem has so far received the names of 4,000 Israelis believed to have been in the areas of the World Trade Center and the Pentagon at the time of the attack. The list is made up of people who have not yet made contact with friends or family, Army Radio reported.
Meanwhile, Israeli troops entered the town of Jenin overnight and destroyed Palestinian buildings in the city that has come to be known as "suicide city" since most of the suicide bombers go to their tasks from this city. Palestinian Authority reported nine Palestinians died in the conflict with Israeli troops.
OUTRAGE AT PALESTINIAN "CELEBRATIONS"
Israelis are outraged along with Americans at video clips aired on American and Israeli television of Palestinians dancing in the streets and celebrating the tragedy in our nation. Egyptians, who are supposed to be our allies, were also celebrating and rejoicing at the devastation in America. Egyptian students, taxi drivers and shopkeepers crowded round television sets stacked up in electrical store windows in downtown Cairo Tuesday evening, celebrating a string of elaborate attacks on New York and Washington. "Bullseye," commented two taxi drivers as they watched footage of the twin towers of the World Trade Center in New York shrouded in plumes of smoke after two hijacked planes slammed into them earlier in the day. Another Egyptian man, Gawish Abdel Karim, told AFP he was pleased with the wave of violence in which another plane crashed into the Pentagon in Washington, the heart of the US defence establishment. "Nice work," said Abdel Karim, who drives a car for an Asian embassy. Abdel Karim hailed the attacks as "the best thing that's happened since the October War," referring to the October 1973 Arab-Israeli war when Egyptian forces made a surprise attack on the Israeli army across the Suez Canal. "Mabruk! Mabruk! (congratulations)", shouted a crowd of people huddled round the shop window. Khalil Matar, 43, who works in a state-run soap factory, said "The myth of the indestructible United States has gone up in smoke." Polytechnic student Amira Ryad also vented her anger. "We saw the tower crash down," she said, referring to one of the two towers of the World Trade Center, both of which were razed by the attack. "I only wish (US President) George Bush and his dear little baby (Israeli Prime Minister Ariel) Sharon had been buried in there too," she added, as reported by Cairo's newspaper.
Will Americans finally wake up to the truth that I and so many others have been saying for months - that the Islamic Agenda is filled with hate, not only towards Israel but also towards Americans? Is this tragedy enough to silence those who have refused to believe the magnitude of the threat of Islamic Fundamentalism to the free world?
A group of more than 500 Americans, including many New Yorkers, is visiting Israel this week. They struggled to get in touch with their relatives and loved ones after hearing about the terrible events in their hometowns yesterday. Several of them commented, "Now we feel like Israelis...now we truly understand."
UP TO 800 FEARED DEAD AT THE PENTAGON
Late last night, Fox News reported that Arlington, VA police chief said that up to 800 people are feared dead at the Pentagon. This shocking announcement followed a day of repeated shocks and we await anxiously today, tomorrow and over the next few days for a final death toll both in Washington and in New York. Pray diligently for the rescue workers whose task is enormous and who, in carrying out their responsibilities, will surely face some horrendous scenes.
NOT OVER YET - CAR BOMB DISCOVERED ON GEORGE WASHINGTON BRIDGE
American security services overnight stopped a car bomb on the George Washington Bridge connecting New York and New Jersey. The van, packed with explosives, was stopped on an approach ramp to the bridge. Authorities suspect the terrorists intended to blow up the main crossing between New Jersey and New York, Army Radio reported.
FIVE SUSPECTS NAMED IN NEW YORK BOMBING
Authorities in Massachusetts have identified five Arab men as suspects in Tuesday's attack on New York City and have seized a rental car containing Arabic-language flight training manuals at Logan International Airport, a source told the Boston Herald newspaper. Two of the men were brothers whose passports were traced to the United Arab Emirates, the unidentified source told the Herald. One of the men was a trained pilot, the paper reported on its Web site on Wednesday. The paper said investigators suspect the two brothers were aboard hijacked United Airlines flight 175, which pilot union officials said was one of the aircraft that crashed into the World Trade Center. A manifest from one of the ill-fated jets included the name of a suspected bin Laden supporter. The Boston Globe reports this morning that investigators found the bag of one of the suspected hijackers of American Airlines Flight 11. The Globe reports the bag contained a copy of the Koran, an instructional video on flying commercial airliners and a fuel consumption calculator.
At least two other suspects flew to Logan on Tuesday from Portland, Maine, where authorities believe they had traveled after crossing over from Canada recently, the Herald reported. Authorities were informed about the rental car by a civilian who got into a fight with several Arab men as they were parking their car, the paper reported.
While our military remains on highest alert, and more than 250 NY firefighters and nearly 100 NY police are still missing and presumed dead, U.S. officials investigating the series of attacks Tuesday in New York and Washington are setting their sights on Osama bin Laden, the millionaire Saudi fugitive who has been blamed for past terrorist attacks against American targets and who threatened a "surprising and unprecedented attack" on the US just three weeks ago on a video he circulated to his followers. "There are good indications that persons linked to Osama bin Laden may be responsible for these attacks," an intelligence official told CNN.
Terrorism experts, after reviewing the magnitude of the attacks, said few groups in the world would have the resources to carry out such a highly coordinated sequence of destruction. One of those organizations, they said, would be the Al Quaida group headed by bin Laden, who also is the suspected mastermind of the 1998 bombings of two U.S. embassies in Africa.
In a briefing to members of Congress, sources told CNN, Attorney General John Ashcroft said the hijackers were working in groups of three to five members, armed with knives. Investigators will be combing passenger lists, airport videotapes and cockpit voice recorders to piece together the events leading up to the attacks. They also will review lists of suspected terrorists known to be able to fly commercial aircraft, sources said.
INFORMATION BEGINNING TO BE REVEALED
Terrorists who hijacked American Airlines Flight 11 out of Boston Tuesday morning slit the throats of two female flight attendants who tried to bar them from entering the cockpit, an American Airlines employee told WorldNetDaily in an exclusive interview. The terrorists then forced their way into the locked cockpit and commandeered the Boeing 767 to New York, where they slammed it into one of the World Trade Center towers. The flight, carrying 81 passengers, was bound for Los Angeles. A third stewardess aboard the nine-crew flight used her cell phone to alert another American Airlines stewardess back at Logan Airport about the hijacking and murders. The terrorists were armed with knives and box-cutters. "It was horrific," said the senior American Airlines employee, who works at Logan and said goodbye to the crew at the terminal. "They were trying to stop them from getting inside the cockpit."
The plane left the gate at about 7:45 a.m. The cell phone call was placed about 30 minutes later, the source says. The jet crashed into the World Trade Center building at about 8:45 a.m. Soon after, a United Airlines jet sliced through the twin tower.
According to the American source, the American captain managed to turn on the cockpit intercom, apparently without the terrorists knowing, allowing flight controllers to pick up cockpit conversation. The terrorists had turned off the plane's transponder, the equipment that identifies the plane and provides other information to flight controllers tracking it by radar. As part of their investigation, FBI agents and Massachusetts state troopers have interviewed American Airlines employees and Logan airport workers, including custodians working the morning shift, to rule out an inside job.
FINALLY....FOR NOW
This message to all of us is from a dear friend of mine whom some of you know, Rani Levy in Israel. Rani is one of the advisors to Prime Minister Sharon. He wrote:
My dear American brothers, Jews and Christians alike,
We are in total shock, pain and anger, in the disaster that has hit your Nation. The feeling here in Israel, is of a National mourning, as if this happened right here in Tel-Aviv. Its' like almost you feel like you want to call home, to see if everyone is ok, only this time, it is thousands of miles away. We know the sounds, we know the smell, and we know the anger. We were always with you in this war, but now, unfortunately, you are with us too. We were always with you, but now, you know it.
Be strong.... There's nothing else to do. Dont' let those pirates change your travel plans, or think twice where to go to. And please, please dont' show restraint, and please dont' worry about the 'cycle of violence'. Chase, crush, shread and destroy -mercilessly, the canibals that are behind this.
Painfully yours,
Raanan (Rani) Levy
Adviser to the Prime Minister
Jerusalem, ISRAEL
From Miriam Feinburg Vamosh, our regular tour guide, whom many of you also know.
Dear Friends,
Together with you, I am overshelmed with shock and horror on this black day by the obscenity of the terrorist attacks upon so many innocent people in New York City and Washington. I hope that you, your loved ones, and all your acquaintences and associates are safe, and I pray together with you for the rescue and speedy recovery of the injured.
I sense that the people of our two nations are standing together as one in disbelief and grief during this catasrophic hour, and we must honor the memories of the victims in the only way we can, by standing together in every way we can to insist that our governments take every measure necessary to uproot terrorism in all its manifestations. My thoughts and prayers are with you.
Shalom,
Miriam
Many of you, I know, will join me in watching throughout the day the emerging news and praying that the living who are trapped in the rubble will be found and rescued. Let us also NOT FORGET to pray for Israel in the midst of our own tragedy as the stated agenda, repeated often in recent weeks, has been to "distract America" in order for terrorists to mount an increasing wave of attacks against Israel while the US is preoccupied with "its own problems." Intercessors, don't let down on the intercession now....it's absolutely vital. Pray also that our nation will turn to God in a deep and heartfelt way that will not "wear off" in a few days. In that light I recomment that you go to http://www.worldnetdaily.com/ and read Joseph Farah's article entitled: HONOR GOD, FIGHT TO WIN.
Shalom,
Barbara
A grandmother's trip ends suddenly, awfully
September 12, 2001 Posted: 3:22 PM EDT (1922 GMT)
By Christy Oglesby
CNN
(CNN) -- Everybody called her "Grammy," but her name was Thelma Cuccinello, and she was 71.
Hanging on the quilt rack in her home in Wilmot, New Hampshire, are pieces of cloth -- waiting for Grammy to assemble. It is labeled "Emily" and slated for the youngest of Cuccinello's 10 grandchildren.
Completed personalized covers wait for her other grandchildren, the names proof of a grandmother's love: Patrick. Shane. Keith. Bryan. Caroline.
"She'd put them away in different places of the house," her daughter, Cheryl O'Brien, recalled Wednesday, a day after her mother's flight slammed into the north tower of the World Trade Center.
"She was saving them for when they were older."
Her care extended to Albert, her husband of more than 50 years and O'Brien's father. "There are meals now in the freezer for my dad, labeled for each day for the week she'll be gone," O'Brien said.
Cuccinello was on her way to visit her 75-year-old sister in California. They'd lived on opposite sides of the country for much of their lives but alternated visiting one another, O'Brien said.
Tuesday, it was Grammy's turn to make the trip.
"She wanted to spend more time with her sister because she was getting older and wasn't sure how much more time they would have," O'Brien said.
Cuccinello had lived in Lexington, Massachusetts, most of her life before moving to Wilmot 10 years ago. Still, she often returned to Lexington, usually squeezing in a visit to nearby Bedford, where her daughter and grandchildren lived.
"If my kids cut their fingers, she was there," O'Brien recalled.
O'Brien's proximity to Logan International Airport was another plus. Whenever she traveled, Cuccinello would arrive at her daughter's home the day before the flight, spending a night with her brood before heading skyward. Monday was no different.
Nor was Tuesday morning. Daughter took mother to the bus before daylight. She had a confirmed seat on American Airlines flight No. 11, scheduled to lift off from Boston at 7:59 a.m. Destination: Los Angeles.
"I was the last one to see her," O'Brien said. "I got to kiss her and say 'I love you' and 'Have a nice trip.'"
9-12-2001
Bay Area Passengers May Have Fought Hijackers
The PIXPage Staff
The FBI now believes that passengers aboard Bay Area-bound Flight 93 may have fought with their hijackers.
San Francisco resident Mark Bingham was able to reach his mother by cellular phone before the plane crashed outside of Pittsburgh.
His mother told CBS's Early Show that she believes her son played a role in saving lives of people on the ground.
"He was calm. He was frightened. He was composed," Alice Hoglan said. "He was trying to convey a message, an urgent message, and not draw attention to himself."
Hoglan told the Early Show that even though he was quiet while talking to her, she thinks that her son took action.
"He was sitting forward in the aircraft … I know from past experience with him, that he will try to act in a situation that is an emergency situation. He'll do something," she said. "You note that Flight 93 was the only flight that did not make it to some target destination. I'm hoping … passengers did have a role in that, and that Mark was able to take an active roll in stopping these people from killing people on the ground."
~~~~~~~~~~~~~~~~~~
Wednesday September 12, 6:25 pm Eastern Time
SOURCE: Newsweek
Extra Edition: 'America Under Attack'
Flight 93 Passenger Told Wife He and Others Were Thinking of Making a Rush 'To Jump the Hijackers'
U.S. Intelligence 90 Percent Certain Osama Bin Laden Behind Attacks on U.S.; Picked up Message Among Bin Laden Associates: 'We've Hit the Targets'
Information Received Last June May Have Been Leaked by Bin Laden Operatives, To Test 'Where and How We Picked up Information - And What Were the Things We Missed'
NEW YORK, Sept. 12 /PRNewswire/ -- United Airlines passenger Jeremy Glick, on Flight 93, bound from Newark to San Francisco, called his wife Lyz from the plane and asked if it were true that two planes had already plunged into the twin towers of the World Trade Center. ``He did not sound panicked,'' Lyz told Newsweek in an exclusive interview.
``Maybe he was just trying to be strong for me. He was pretty clearheaded.''
She told him it was true. Glick then told his wife that the plane had been seized by three ``Iranian-looking'' men wearing red headbands and brandishing a red box which, they claimed, contained a bomb, reports Assistant Managing Editor Evan Thomas. Glick told his wife he and a few other passengers were thinking of making a rush to ``jump the hijackers.''
Lyz handed the phone to her father, but there was silence on the line, according to law enforcement sources. Then screams. Then silence. Then screams. Then nothing, according to a report in an extra edition of Newsweek, on newsstands worldwide Thursday, September 13.
The flight path of Flight 93 shows it turning around near Cleveland and heading south and east -- directly toward Washington D.C. Instead, at 10:10 a.m. the plane plunged into a field in rural Pennsylvania.
In a separate report, by the end of Tuesday, U.S. intelligence officials said, most people inside the federal government were about 90 percent certain that Saudi exile Osama bin Laden and his global organization were behind the terrorist attacks on the U.S. One key reason: shortly after the suicide attacks, a source with access to U.S. intelligence tells Newsweek, U.S. intelligence picked up communications among bin Laden associates relaying a message: ``We've hit the targets.''
In the extra issue, Newsweek reports that on Wednesday, the FBI detained several people whom they are now describing as ``material witnesses'' in Boston and south Florida. A British intelligence source tells Newsweek that ``two brothers, working on United Arab Emirates passports, one of them a trained pilot, have been placed at the Boston airport,'' reports Foreign Editor Michael Hirsh. Even so, investigators had only just begun to ferret out the full dimensions of the plot. ``We're in Oklahoma mode now,'' said one FBI counterterrorism agent, referring to the frenzy of police work that followed the 1995 Oklahoma City bombing. He added: ``This is a rubble pile that makes Oklahoma City look like a sandbox.''
Hirsh also looks at how the sophisticated attacks could have been carried out and whether the bombers could have been stopped. Newsweek has learned that while U.S. intelligence received no specific warning, the state of alert had been high during the past two weeks, and a particularly urgent warning may have been received the night before the attacks, causing some top Pentagon officials to cancel a trip. ``There is a giant accountability issue starting today,'' former Afghanistan CIA station chief Milt Bearden tells Newsweek, ``and in the midst of legitimate accountability there will be a lot of scapegoating. They're going to start looking for the modern-day equivalent of General Short and Admiral Kimmel [the armed-forces commanders at Pearl Harbor], and they're going to find them.''
Hirsh also reports that some counterterrorism officials now speculate that intelligence picked up by U.S. agencies about possible terrorist attacks on Americans last June may actually have been leaked by operatives associated with bin Laden. Now it appears the terrorists ``may have been testing where and how we picked up information -- and what were the things we missed,'' says a U.S. investigator based in the Persian Gulf. ``They saw where we reacted, and presumably also where we didn't react.'' ``They not only know how to plan, but they know how to test,'' said this source, ``and they know, obviously, where the gaps are.''
(Articles attached. Read Newsweek at http://www.Newsweek.MSNBC.com)
Subj: [RMNEWS2] Many were told to stay put -- that buildings were safe
Date: 9/14/2001 8:12:54 AM Pacific Daylight Time
From: ps2003@excite.com
NY TIMES
http://www.nytimes.com/2001/09/13/nyregion/13TOWE.html?pagewanted=all
Instincts to Flee Competed With Instructions to Remain
By MICHAEL MOSS and CHARLES V. BAGLI
When the first jet struck 1 World Trade Center at 8:48 a.m. on Tuesday, the people in 2 World Trade Center with a view of the instant inferno across the divide had the clearest sense of what they, too, must do: get out fast.
Katherine Ilachinski, who had been knocked off her chair by the blast of heat exploding from the neighboring tower, was one of those. Despite her 70 years, Ms. Ilachinski, an architect working on the 91st floor of 2 World Trade Center, the south tower, went for the stairs. Twelve floors above her, Judy Wein, an executive, screamed and set off too.
But others up and down the 110 floors, many without clear views of the damage across the way and thus unclear about what was happening, were not so sure. And the 15 minutes before the next plane would hit were ticking off.
Friends and colleagues, each offering a version of expertise or calm, debated the wisdom of leaving. Amid the uncertainty about what was the best thing to do, formal announcements inside the south tower instructed people to stay put, reassuring them that the building was sound and the threat was limited to the other tower.
Some left, others stayed. Some began the climb down and, when met with more announcements and other cautions to stop or return, went back up. The decisions made in those instants proved momentous, because many who opted to stay were doomed when the second jet crashed into the south tower, killing many and stranding many more in the floors above where the jet hit.
Two of those caught in indecision were executives at Morgan Stanley Dean Witter and Fuji Bank USA.
Nat Alcamo of Morgan Stanley had been on the phone with his fiancée, who told him to flee his 60th floor office, and as he made his way down he ignored the official with the bullhorn on the 44th floor who said he was just as safe there as outside.
Moments later, his tower was struck, and "I went down three steps at a time, flying," he said.
Richard Jacobs of Fuji Bank left the 79th floor with all of his colleagues, but on the 48th floor they heard the announcement that the situation was under control. Several got in the elevators and went back up, two minutes or so before the plane smashed into their floor.
"I just don't know what happened to them," Mr. Jacobs said.
The picture of what took place inside the two towers from the moment the first plane hit until the awful collapse of the south tower is continuing to emerge. It is clear that roughly an hour elapsed, and that some of the decisions people made during those 60 minutes helped determine if they perished or lived.
People who made it out depict a scene of carnage, calm and some confusion about what to do. Without question, particularly at 1 World Trade Center, the north tower, the evacuation of thousands of people went well, with people helping each other with acts of courage great and modest.
People on floors as high as the 88th at the north tower, stepping over rubble, made the full trip to safety. In the packed stairwells, people stepped aside to let burn victims speed past. Firefighters rushed upward, assisting as they climbed.
Port Authority officials say that considerable numbers of people were evacuated within an hour, 30 minutes less than even their drills, and that several safety improvements made after the trade center was bombed in 1993, like a backup electricty line, played a critical role in smoothing the exodus. Then, even the stairwells had gone pitch black, lacking emergency lights.
Yesterday, Ernesto L. Butcher, chief operating officer of the Port Authority, refused to discuss evacuation procedures at the World Trade Center. But other Port Authority executives said the towers were under the command of the trade center's new operator, Larry Silverstein.
Executives like Alan L. Reiss, the director of the World Trade Center, had been working on a transition team with Silverstein Properties that was to last for three months. But in recent weeks, agency executives said, Silverstein Properties asked Mr. Reiss to let it more fully operate everything from safety systems to tenant relations.
Mr. Silverstein would not comment yesterday on any aspect of the disaster. In response to questions concerning announcements made by security guards in the south tower advising tenants that it was safe to return to work, he issued a statement saying: "We are investigating this situation carefully. At this time, we do not know whether a statement was issued, or, if it was, who issued it."
At the north tower, the evacuation began after an explosion and rain of debris as low as the 88th floor, just below where the first jet slammed into the tower. Dorene Smith, a Port Authority executive assistant, had been standing at her desk there with a colleague when parts of the ceiling caved in.
"We're going to be fine," they told each other as they grabbed their pocketbooks and moved through the rubble to the stairway.
Confusion reigned for a few moments, and she called home to say she was trapped. Then someone led the way to an open stairway, and she sped through the stairwell.
At the 78th floor, she saw a woman whose hair and clothing had been largely burned off. "I couldn't hold her, so I held a sweater around her waist and guided her down."
Several hundred others stepped out of the way to let them pass, and they made it to the street in 15 minutes.
Lt. Andy Desperito of the Fire Department and four colleagues were among those heading the other way. About the eighth floor, they heard the heavy rumble of the south tower collapsing and were told to get out. But Lieutenant Desperito stopped to help other rescuers and told the others to go on.
Less than four minutes later, the building collapsed with Lieutenant Desperito inside. His body was pulled from the crater later in the day.
In the south tower, the choices for tenants had been less clear, and, as it turned out, there was less time available for them to make a choice, for it was the first to collapse.
Arthur Doscher, an Allstate insurance agent, rushed to get an employee in the bathroom after he saw debris fly past the 24th floor windows. "I wasn't going to take any chances, and when I banged on the door, he thought I was nuts," Mr. Doscher says.
Once outside, they stood guard to stop their secretary, who had not yet arrived, from going into the building.
When the 85th floor swayed, April Alberts, a paralegal, fled despite an announcement that a fire in the other tower had been contained and that those in her tower should go back to where they had been.
Some went back up.
Among the fortunate of those was Arturo Domingo of Morgan Stanley. The descent had been calm and orderly, much better than after the 1993 blast, he said. But when he reached the 44th floor, he said, a man with a megaphone told people there was no problem.
"His exact words were, `Our building is secure. You can go back to your floor. If you're a little winded, you can get a drink of water or coffee in the cafeteria,' " said Mr. Domingo. He and a group of other Morgan Stanley employees rode an elevator back up to the 60th floor and returned to their desks. "How stupid were we," he says.
When the second plane smashed into his tower right above his floor, throwing a filing cabinet into his back, he headed for the exit again and passed the same man with the megaphone, now assuring people they would get out alive.
Others who went back up or simply stayed were not so lucky. On a floor above where the plane hit, only a handful of workers had decided to leave before the building was struck, and dozens who stayed are believed to have perished.
Bill Saffran of Aon Corp., says his colleagues faithfully carried out the fire drills held every few months to plan their escape from the 103rd floor in the south tower. "They show us where the exit is, and you assume it goes down," he says.
Mr. Saffran was not at the trade center on Tuesday. But later, a woman who escaped told him that the plan developed a horrific problem. The designated exit stairwell came to a dead end on the 78th floor, where she and three other Aon employees were forced to exit into a lobby.
"There were tons of people," he said she told him. "The elevators were still running, but they were overloaded, and then the second plane hit. Many people were thrown to the floor, injured."
Mr. Saffran said only two of the four employees found the stairwell that continued down. Two did not. "One was badly injured," he said. "The other for some reason did not want to go down."
Those two, he says, are now among the missing and presumed dead.
Anthony G. Cracchiolo, a Port Authority executive, said he would have ignored the announcements made inside the south tower. "It may have been a reasonable thing to say," he said of the announcement encouraging people to stay put. "Nobody could have foreseen what happened. But personally, I would have evacuated anyway. The best thing would be out of the building."
For those who did get out, whatever evacuation plans the twin towers had ended hard at the front door, a fact acknowledged by Port Authority officials. "We don't have an evacuation plan for once you are in the streets," one senior official said.
Skolnick - US Government - Had Prior Knowledge Of Emergency