2-9-06 - DREAM - I was on a farm somewhere and the farmer had plowed an oval path and filled it with water in the winter to make a skating rink for the local kids.
I put on my skates too and was skating around and around, watching the kids. Then it snowed abut 4" and another woman skated by. She was upset that the farmer didn't come and plow the snow off the ice. She asked me if this was a category 4 ice rink.
I said, "Yes! It is!"
She skated away, mad about that.
Then I noticed that the snow and ice was melting along the edges of the ice rink and the water was running into the culverts and kids were falling in and drowning.
The people were rushing to rescue the kids and pulling them out of the water.
I skated back to the place where I had put my skates on to change back into my shoes. There was a lot of black people on that end of the rink, just putting on their skates.
I noticed that the ice had melted at least 5 feet from the time I had put my skates on.
Now where there had been snow, the ground was so dry and parched from the sun, the plants were dying.
I had a hard time believing that the ice could disappear that fast and turn to drought as quickly.
The only way to rescue the plants was to put them into pots and water them individually, which is what I did.
Feb. 10, 2006, 7:36PM
Panel: Drought May Bring Arizona Problems
TUCSON, Ariz. — The lack of rain or snow across Arizona may be fueling a perfect storm in terms of dramatic drought, devastating wildfires and heavy groundwater demand, weather scientists and water specialists said Friday.
"Certainly the conditions are there for it," said David Modeer, the director of Tucson Water, during a briefing at the University of Arizona. "It just depends on how things progress through the balance of the summer season."
"There's definitely a potential for this to be a fire season like none of us has ever remembered before," added Sarah Davis, a spokeswoman for the Coronado National Forest in southeastern Arizona.
Experts say the drought is worst in Arizona, followed by New Mexico and then Southern California.
"It's not the whole West; it's primarily the Southwest, with Arizona much worse than New Mexico right now, but certainly if it continues on, New Mexico will be in the same situation," said Glen Sampson, meteorologist in charge of the National Weather Service's Tucson forecast office.
Jeff Phillips, a U.S. Geological Survey water resources specialist, said the drought began in Arizona in 1996. Several of the researchers said last year's snow and rainfall was simply an aberration.
Modeer said that lack of rainfall and higher temperatures than normal have forced Tucson to use more groundwater daily than planned to augment its Central Arizona Project-supplied water.
Average daily use has been about 98 million gallons a day, versus about 67 to 68 million gallons a day normally this time of year. Both amounts exceed the 50 million gallons of CAP water accessible daily.
Even so, he said Tucson has more than sufficient groundwater supplies and will not have to impose restrictions.
Sampson said all of Arizona is either abnormally dry or in extreme drought. Tucson experienced its driest September-through-January ever and is in the running to record the driest winter, with just .01 of an inch so far. In 1999-2000, .29 of an inch of rain fell.
A weak La Nina weather pattern, created by cooler water temperatures in the central Pacific Ocean, has decreased the likelihood of winter storms through Arizona and is expected to continue for three to six months, according to Sampson.
He said that even if summer monsoonal rains are normal, Arizona would wind up with below-average rainfall because of virtually none this winter.
On top of that, the lack of snowpack in the state's northern mountains is dramatic, said Gregg Garfin, program manager of Climate Assessment for the Southwest and the UA's Institute for the Study of Planet Earth.
In the Upper Colorado River Basin, which contributes to the CAP water that flows into Arizona, snowpack has been about 100 percent of average "whereas in Arizona it's about 13 percent," Garfin said.
As a result, Lake Powell may fill up a bit, forecast for 105 percent of average streamflow. But the Upper Gila River, for instance, is only expected to receive only 24 percent of average streamflow. Garfin said if that occurs, "there would be some implications for riparian areas."
On northeastern Arizona's Mount Baldy, only about an inch of snow has fallen; 11 inches fell last year. "If we get no snow, that has implications down the line," Garfin said.
And David Breshears, an ecologist in the UA's School of Natural Resources, said severe drought can trigger major tree mortality.
Davis said Arizona's fire season will be longer, start sooner and be more severe, given the anticipated abnormally warmer temperatures through the summer, poor tree condition and heavy undergrowth after last year's precipitation that has dried out and is ready to burn.
History Making Drought Continues
By Mike Pieleck
February 09, 2006
Oklahoma's prevailing drought has just made history. And this bit of history isn't something to cheer about.
Ty Judd, meteorologist at the National Weather Service's Norman office, said the period between September and January has been the third driest of all time, with records dating back 116 years to 1890.
Only 28 percent of normal rainfall fell in Oklahoma City between September and January, according to National Weather Service data. Normally, 12.9 inches of rain can be expected during this time period. However, this year only 3.61 inches of rain fell.
"We would normally be dry this time of year, but not nearly this dry," Judd said.
Judd said the 0.29 inches of rain that have fallen in Norman since Jan. 1 have helped somewhat in the near term, but about 12 inches of rain are needed to overcome the dry conditions, Judd said.
Judd said the abnormally dry weather has been due to the fact that weather systems coming through central Oklahoma have been abnormally constructed, Judd said.
Normally, weather systems coming through the region will gather moisture from the Gulf of Mexico. Moisture is usually gathered over Oklahoma, giving the state rain or snow.
"The systems are coming through too fast to gather moisture this year," Judd said.
The systems moving through have only brought strong winds and warmer-than-average temperatures, while moisture return has not occurred until the systems reach far eastern Oklahoma or Arkansas, Judd said.
James Fullingim, deputy fire chief in Norman, said warmer-than-average temperatures and high winds have been the culprit of the abnormally severe fire season this year.
"Strong winds drive the wild land fires," Fullingim said.
Fullingim said higher temperatures, such as the ones we have seen this winter, cause relative humidities to drop, which aids in starting fires, Fullingim said.
Fullingim said that even though the fires have not been as severe as they were in January, the risk is still very high for wildfires.
Fullingim said OU students have been very cooperative by adhering to the statewide burn ban issued by Gov. Brad Henry.
"We've had good cooperation throughout the city," Fullingim said.
The city will issue a citation to a first-time offender, with penalties of up to $750, Fullingim said.
Judd said meteorological tools are available to help firefighters combat the fires.
Judd said smoke plumes and the direction they are flowing are visible on Doppler radar, he said. He also said some satellites can monitor fire hot spots.
Wednesday, saw only 19 acres were burned in the state, which is not a lot compared to other days. A total of 1,863 fires have charred 437,195 acres since Nov. 1, according to Oklahoma Forestry Service data.
Even with the small amount of acres burned Tuesday, the fire danger is still high.
"We can not let our guard down yet," John Roberts, incident commander at the Shawnee incident command post, said in a press release Wednesday.
According to the National Weather Service, There is a slight chance of rain Friday; however winds are forecasted to gust up to 32 miles per hour, according to the National Weather Service.
Drought may worsen in US Southwest, Plains: NOAA
Thu Mar 16, 2006
By Christopher Doering
WASHINGTON (Reuters) - Drought that has shriveled crops and sparked fires in bone-dry forests will persist and could even worsen across the Southwest and central and southern Plains through at least June, U.S. government forecasters said Thursday.

The National Oceanic and Atmospheric Administration said in its spring weather forecast that these regions, which have already seen thousands of acres go up in flames, should brace for a "significant" wildfire season in 2006 as conditions become more severe.

"We need to monitor this drought situation very closely," said David Johnson, director of NOAA's National Weather Service division.

The return of La Nina, an unusual cooling of Pacific Ocean surface temperatures which is the flip side of El Nino, could make the Atlantic tropical storm season especially dangerous.

Indeed, some forecasters have already warned that the number of storms may top the record set just last year.

La Nina developed during the winter and has contributed to the dryness plaguing much of the southern United States.

"It's showing no signs of declining...and the odds that it's going to last into late summer have gone up," said Ed O'Lenic, meteorologist with NOAA's Climate Prediction Center.

He said La Nina tends to enhance weather "favorable to the development of hurricanes and tropical storms in the Atlantic."

Last year was the busiest Atlantic hurricane season on record, with 27 named storms and 15 hurricanes. NOAA previously warned that the hurricane season -- which typically peaks between August 1 and late October -- could be active again in 2006.

SEVERE DROUGHT TO LINGER

Severe drought is blanketing the Southwest into the southern Plains and northward into Kansas. Heavy rains have eased dryness for now in Illinois, Iowa and extending south to Arkansas

But weather forecasters said "ongoing drought concerns may linger."

A scarcity of rain since last fall has parched hard red winter wheat and dried up stock ponds and pastures in the southern Plains. A storm expected to drop up to 2.5 inches of rain this weekend in the Great Plains could be too late to save the winter wheat crop, government forecasters said.

"It kind of remains to be seen how much recovery there will be in wheat. Some of that wheat is getting to...frankly the point of no return" said Brad Rippey, a USDA meteorologist.

"But for just about everything else including pre-planting moisture for summer crops, pasture revival, wildfire control, the rain is nothing but good," he added.

Improved soil moisture will bode well for U.S. soft red winter areas while providing much-needed relief for corn and soybean crops later this spring.

Spring also will bring above normal temperatures for the Southwest eastward into the Southeast with cooler-than-normal conditions for the northern Plains and northern Rockies.

Below-normal precipitation is expected for much of the central and southern Plains, as well as the Southeast and Gulf Coast. Above normal precipitation is favored across the northern Plains and Great Lakes region.

http://today.reuters.com/news/newsarticle.aspx?type=domesticNews&storyid
=2006-03-16T195303Z_01_WBT004992_RTRUKOC_0_US-WEATHER-NOAA-OUTLOOK.xml&rpc=22


CALIF. HEAT KILLS 25,000 CATTLE/700,000 FOWL
A heat wave baking California since mid July has killed 25,000 cattle and 700,000 fowl, prompting emergency measures and crippling the sector for months to come, analysts said.

Central California between Bakersfield and Redding is home to approximately 2.5 million cattle. Roughly 25,000 died because of the triple-digit temperatures since July 14, according to Andy Zylstra, president of the California Dairy Campaign.

"The timing is horrendous," he told AFP. "The price of milk is down 30 percent while feed, fuel, electricity prices are all up, and now we have these tremendous losses. It's just a kick in the head."

The losses amount to 1,500 to 2,500 dollars per head.

Milk production in central California is also down. Tulare-based Land O' Lakes Creamery normally produces 1.6 million gallons (6.0 million liters) of milk daily. The company has been reporting losses of 400,000 gallons (1.1 million liters) a day, according to Zylstra.

Disposal of the cattle creates another economic drain on strapped dairy farmers, and the sheer numbers of carcasses heading to the rendering plants has forced some counties to declare a state of emergency. Normally outlawed as a disposal method in California, many of the dead cattle are buried in landfills or composted on site.

Though not sustaining the losses of the dairy industry, poultry farmers are also disposing of millions of pounds of chickens and turkeys in landfills. Most central California poultry farms house their birds in ventilated, water-cooled barns that keep the temperature at 76 degrees F (24 degrees C), according to Bill Mattos, President of California Poultry Association.

"But when the temperatures reach over 100 degrees F (38 degrees C), it can be devastating to the smaller producer," Mattos told AFP. He estimates that 700,000 birds have been lost in the summer heat.

*SNIP*
Coroner looking into dozens of 'heat' deaths
Posted: 7/28/2006 2:17:16 PM
The Fresno County Coroner's Office says it's on the verge of a crisis situation as dozens of people are dying in the extreme heat wave sweeping the Valley.
Coroner Lori Cervantes says they're looking into dozens of possible heat-related deaths.
The morgue, which can only hold up to 50 bodies, is over capacity. At one point, the coroner says they had to accommodate 60 bodies, meaning some were stacked on top of one another.
In addition to the lack of space, workers are plagued by sweltering temperatures because there is no air conditioner in the room where they perform autopsies
In California, Heat Is Blamed for 100 Deaths
FRESNO, Calif., July 27 — A searing heat wave nearly two weeks old is responsible for more than 100 deaths across California, the authorities said Thursday. So overwhelmed is the local coroner's office here that it has been forced to double-stack bodies.

Most of the deaths have occurred in the landlocked Central Valley, the state's agricultural spine, where triple-digit temperatures have lately been the norm. The heat has been linked to at least 22 deaths here in Fresno County, whose funeral homes have offered to help with the corone';s backlog.
We're just trying to catch up",; said Joseph Tiger, a deputy coroner in Fresno. "I have been here 10 years, and I have never seen it this bad. Our boss has been here over 20, and he hasn't seen it this bad either. For the last two weeks it has just been unbearable hot."

The Governor's Office of Emergency Services said the heat wave had been confirmed as the cause of death among at least 53 people around the state. Pending autopsies, heat-related causes are presumed in the death of scores of others, said Roni Java, a spokeswoman for the emergency services office.

Many of these suspected heat deaths have been among the elderly, who often live as shut-ins and will not open windows, said Loralee Cervantes, the Fresno County coroner.
The toll of such casualties has no recent precedent in California. According to data provided by the California Department of Health Services, the greatest number of heat-related deaths in the state since 1989 had been 40, in 2000. A department spokeswoman, Patti Roberts, said data prior to 1989 were unavailable.

Among the dead here were a 38-year-old worker found in a field, an unidentified man around 40 who made it to a hospital emergency room where his body temperature was recorded at 109.9 degrees and a 58-year-old man who was found drunk. Statewide, Ms. Java said, the youngest person killed by the heat has been a 20-year-old man from San Diego, and the oldest a 95-year-old man in Imperial County, on the Mexican border.

A doctor and his assistant toiled here on Thursday in the coroner's office, which recently grew to 50 beds from 25 after getting a bioterrorism grant but has rarely had 25 bodies. On Thursday morning there were 58.

The morgue was converted from an eyeglass factory several years ago and has no air-conditioning in crucial areas. Decomposition has been a problem, Ms. Cervantes said, and bodies have piled up because of the lack of space.

"This has been our biggest challenge," Ms. Cervantes said in an interview. "It's frustrating."

While the Central Valley is used to temperatures crackling in the triple digits at this time of year, the evenings tend to be cooler. But temperatures in recent days have been lingering in the 80's after sunset, mixed with humidity far higher than this region is accustomed to.

By midday Thursday the mercury had hit 112 in Fresno, though temperatures elsewhere had dropped and weather forecasters were predicting a break in the heat almost everywhere in the state by Friday.

In the meantime, Gov. Arnold Schwarzenegger said, state workers are doing everything possible to prevent additional deaths.

"The summer heat wave continues to be dangerous as California has seen record-breaking, consecutive days of triple-digit temperatures," Mr. Schwarzenegger said in a statement. "A mobilized force of local workers will continue to knock on doors and make phone calls to protect our vulnerable residents who may be exposed to the relentless heat."

The record temperatures have also hit farmers hard, with roughly 16,500 cows, 1 percent of the state's dairy herd, dying of the heat, according to California Dairies, the state's largest milk cooperative. Further, panting, miserable cows, which lack the benefit of sweat glands, have yielded 10 percent to 20 percent less milk than usual, said trade groups and dairy farmers in the region. California produces more milk than any other state in the country, providing about 12 percent of the American supply.

Six counties have declared states of emergency because of the large number of dead livestock, and the California Department of Food and Agriculture has waived a regulation requiring haulers of dead animals to transport them to rendering plants in eight counties in the Central Valley. The waiver frees the haulers to leave the carcasses in landfills.

"It is just a bad, bad situation," said Larry Collar, the quality assurance manager for California Dairies. "In 25 years in Southern California, this is the most extreme temperatures we have ever seen and the most extreme length of time we have seen."

The high temperatures have also caused problems with field crops around the state.

"We have been having trouble mainly in the Central Valley with the walnuts," said Ann Schmidt-Fogarty, a spokeswoman for the California Farm Bureau. "The intensity of the sun and heat actually burns them inside the shell."

In addition, she said, the weather has caused delicate fruits like peaches, nectarines and plums to ripen unevenly.

At the Te Velde dairy farm in Bakersfield, about 100 miles south of here, 16 cows have perished in the last 11 days, and 12 more have been sent to slaughter because they could not handle the heat, said Ralph Te Velde, 59, who has run that family farm for three decades.

The rest of his 1,600 cows sought relief under a patch of water misters Thursday morning, but by 9:30 a.m. some were already showing signs of distress, their fat pink tongues dangling to their chins.

One of the herd, her five-minute-old calf being licked by a neighboring cow a few feet away, was being hosed down by Mr. Te Velde's son. At the end of the lot, dead cows were piled up, their carcasses a twisted black and white mass.

Mr. Te Velde and other dairy farmers have struggled to get rendering companies to come and get dead livestock. "The main challenge is a disposal challenge in the Central Valley," said Steve Lyle, a spokesman for the Department of Food and Agriculture.

Dino Giacomazzi, a dairy farmer in Hanford, between Fresno and Bakersfield, said he had been watching Yahoo! Weather for days, hoping to see the last of the heat.

"We spend a lot of time and money making sure these cows are comfortable all the time," Mr. Giacomazzi said. "Because uncomfortable cows don't make milk."

Fire Threatens Transmission Lines

SACRAMENTO, July 27 (AP) — A wind-driven wildfire near the Oregon border is threatening the major power transmission lines between California and the Pacific Northwest, though California grid operators said Thursday that they could reroute electricity if the lines went dead.

State and federal air tankers, ground crews and equipment are being diverted from other areas to fight the fire, which is burning among three transmission lines about a mile and a half apart. The fire is paralleling the lines, which together carry about 4,200 megawatts between the Bonneville Power Administration, in Washington, and California.

The fire, caused by lightning, was discovered Tuesday and had grown to more than 400 acres by Thursday.

Last modified: July 28. 2006 12:00AM
More Than 60 Percent of U.S. in Drought
Mark Svoboda, climatologist for the National Drought Mitigation Center, "reluctant to say how bad the current drought might become"
July 30, 2006

By James Macpherson, Associated Press Writer

Seattle Post Intelligencer

STEELE, N.D. -- More than 60 percent of the United States now has abnormally dry or drought conditions, stretching from Georgia to Arizona and across the north through the Dakotas, Minnesota, Montana and Wisconsin, said Mark Svoboda, a climatologist for the National Drought Mitigation Center at the University of Nebraska at Lincoln.

Photo: Drought stricken corn withers in a field in Linton, N.D., Wednesday, July 26, 2006. Fields of wheat, durum and barley in the Dakotas this dry summer will never end up as pasta, bread or beer. What is left of the stifled crops has been salvaged to feed livestock struggling on pastures where hot winds blow clouds of dirt from dried-out ponds. (AP Photo/Will Kincaid)

An area stretching from south central North Dakota to central South Dakota is the most drought-stricken region in the nation, Svoboda said.

"It's the epicenter," he said. "It's just like a wasteland in north central South Dakota."

Conditions aren't much better a little farther north. Paul Smokov and his wife, Betty, raise several hundred cattle on their 1,750-acre ranch north of Steele, a town of about 760 people.

Fields of wheat, durum and barley in the Dakotas this dry summer will never end up as pasta, bread or beer. What is left of the stifled crops has been salvaged to feed livestock struggling on pastures where hot winds blow clouds of dirt from dried-out ponds.

Some ranchers have been forced to sell their entire herds, and others are either moving their cattle to greener pastures or buying more already-costly feed. Hundreds of acres of grasslands have been blackened by fires sparked by lightning or farm equipment.

"These 100-degree days for weeks steady have been burning everything up," said Steele Mayor Walter Johnson, who added that he'd prefer 2 feet of snow over this weather.

Farm ponds and other small bodies of water have dried out from the heat, leaving the residual alkali dust to be whipped up by the wind. The blowing, dirt-and-salt mixture is a phenomenon that hasn't been seen in south central North Dakota since the Dust Bowl of the 1930s, Johnson said.

North Dakota's all-time high temperature was set here in July 1936, at 121. Smokov, now 81, remembers that time and believes conditions this summer probably are worse.

"I could see this coming in May," Smokov said of the parched pastures and wilted crops. "That's the time the good Lord gives us our general rains. But we never got them this year."

Brad Rippey, a federal Agriculture Department meteorologist in Washington, said this year's drought is continuing one that started in the late 1990s. "The 1999 to 2006 drought ranks only behind the 1930s and the 1950s. It's the third-worst drought on record - period," Rippey said.



Svoboda was reluctant to say how bad the current drought might eventually be.

"We'll have to wait to see how it plays out - but it's definitely bad," he said. "And the drought seems to not be going anywhere soon."

Herman Schumacher, who owns Herreid Livestock Auction in north central South Dakota, said his company is handling more sales than ever because of the drought.

In May, June and July last year, his company sold 3,800 cattle. During the same months this year, more than 27,000 cattle have been sold, he said.

"I've been in the barn here for 25 years and I can't even compare this year to any other year," Schumacher said.

He said about 50 ranchers have run cows through his auction this year.

"Some of them just trimmed off their herds, but about a third of them were complete dispersions - they'll never be back," he said.

"This county is looking rough - these 100-degree days are just killing us," said Gwen Payne, a North Dakota State University extension agent in Kidder County, where Steele is located.

The Agriculture Department says North Dakota last year led the nation in production of 15 different commodity classes, including spring wheat, durum wheat, barley, oats, canola, pinto beans, dry edible peas, lentils, flaxseed, sunflower and honey.

North Dakota State University professor and researcher Larry Leistritz said it's too early to tell what effect this year's drought will have on commodity prices. Flour prices already have gone up and may rise more because of the effect of drought on wheat.

"There will be somewhat higher grain prices, no doubt about it," Leistritz said. "With livestock, the short-term effect may mean depressed meat prices, with a larger number of animals being sent to slaughter. But in the longer run it may prolong the period of relatively high meat prices."

Eventually, more than farmers could suffer.

"Agriculture is not only the biggest industry in the state, it's just about the only industry," Leistritz said. "Communities live or die with the fortunes of agriculture.

"

Susie White, who runs the Lone Steer motel and restaurant in Steele, along Interstate 94, said even out-of-state travelers notice the drought.

"Even I never paid attention to the crops around here. But I notice them now because they're not there," she said.

"We're all wondering how we're going to stay alive this winter if the farmers don't make any money this summer," she said.

---

On the Net: National Drought Mitigation Center: http://drought.unl.edu/

http://seattlepi.nwsource.com/national/1110AP_Northern_Plains_Drought.html
2007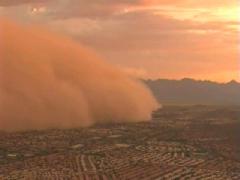 7-16-07
PHOENIX -- A large Arizona dust storm caused visibility to drop near zero in some places on Monday.
The storm had winds gusting up to 50 mph as it churned toward the cities of Chandler, Gilbert and Phoenix.
Temperatures in the area fell 18 degrees in one hour -- from 109 degrees to 91 degrees.
Officials said the dust reduced visibility so much that people were not able to see in front of themselves.
No accidents were reported as a result of the storm, authorities said.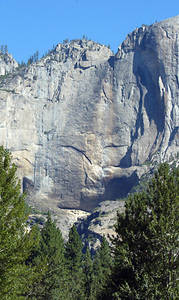 MARK CROSSE/THE FRESNO BEE -
Drought, fire risk extend from valley to high country
August 27, 2007
Water and fire carved Yosemite over the eons. This summer, with the park's streams down to a trickle and its woods crackling dry, those capricious elements are reminding humans that nature holds the upper hand.
The winter's stingy snowpack, 24 percent of normal by the end of April, set the stage for the thirsty summer. Waterfalls in Yosemite Valley peaked in mid-April, six weeks earlier than usual. The fire season was declared a month early.
The impact is visible across the 1,200-square-mile national park. Drinking water is being packed in by mules to Sunrise High Sierra Camp. Showers are rationed in Tuolumne Meadows. The fountain is turned off at the Wawona Hotel, where the rolling lawns are brown. Campers in Wa-wona use portable privies instead of flush toilets.
In Yosemite Valley last week, the Merced River meandered under Pohono Bridge at 23 cubic feet per second, one-third the normal flow for this time of year.
Even so, bathers can find swimming holes in the languid river. Yosemite Falls may be just a damp streak, but Bridalveil manages a gossamer sheen. And the valley's majestic cliffs still tower, oblivious to the demands of human hygiene below.
"It's dry, but it's still beautiful," said Yosemite ranger Adrienne Freeman. "One of the beauties of Yosemite is that it is a wild, natural place. We'll continue to manage whatever nature throws at us. Every year there's something. In 2005-06, remember, the snowpack was 200 percent of normal."
Freeman said that facilities in Yosemite Valley, with a good source of groundwater, are not in danger of running dry. Meanwhile, stringent conservation in Wawona apparently has stabilized the situation there. And there's probably enough water in Tuolumne Meadows for the short high-country summer.
This year's low snowpack was followed by hot weather in June; the valley's average high was 85.5, 4 degrees above normal. July rainfall, half of normal,dampened Yosemite Valley just two days of the month, said Chris Stachelski of the National Weather Service.
As a result, wildfire lurks in the wings.
The fuel-moisture level of vegetation, a predictor of the potential for fire, is at a record low across the Sierra, said Daniel Berlant, spokesman for the California Department of Forestry and Fire Protection.
"That low moisture level means the chance of fire, and fire burning quickly, is greatly increased," he said. "There is the extreme potential for big fires this year."
For popular woodland haunts such as Yosemite, he said, Labor Day weekend is an especially dangerous period because of unattended campfires and smoldering cigarettes.
But the most perilous part of the fire season is yet to come, according to Berlant.
"People think summer is over and kids go back to school and that's that," he said. "But we actually see most of our large fires at the end of September and the beginning of October, before the fall rains come."
In 1990, lightning lit the fuse for a Yosemite wildfire that burned 24,000 acres and left the burned village of Foresta a sad parody of its name. This summer, the park has experienced one sustained electric storm. It hit the night of July 10 and ig- nited six fires, according to ranger Freeman.
"We suppressed two of those fires and managed the other four," she said, explaining that suppressed fires are doused as quickly as possible, while managed fires are allowed to burn. "Generally, we only suppress naturally caused fires if they endanger developed areas or access. But we suppress every human-caused fire; they're not natural."
The outlook for the rest of the 2007 fire season is uncertain, she said.
"The fire danger remains to be seen; it depends a lot on the weather," Freeman said. "We're ready. We will react quickly and strongly. But this ecosystem needs naturally caused fires, just like it needs rain and snow. Fire is a natural process."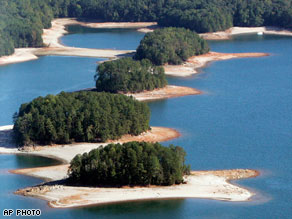 LAKE LANIER, Georgia (CNN) -- Georgia Gov. Sonny Perdue on Saturday declared the northern region of Georgia in a state of emergency as its water resources dwindled to a dangerously low level.
He also sent a letter to President Bush, asking him to declare North Georgia a major disaster area.
"I have declared an emergency in 85 of Georgia's counties due to the threat of water supply in the northern part of our state," Perdue said on the shore of receding Lake Lanier.
"Drought is a natural disaster. We are experiencing the single worst drought in North Georgia's history."
Rainfall in the area is far below normal for the year. Lake Lanier, the main water source for the Atlanta area's 5 million residents, is nearing historically low levels.
Perdue said the state would seek an injunction forcing the Army Corps of Engineers to reduce the flow of water from the lake.
"The Corps is sending 3.2 billion gallons of water downstream out of Georgia reservoirs every day," Perdue said. "That's enough to fill three-and-a- half Olympic-size swimming pools every minute."
Watch Gov. Perdue blast the Endangered Species Act and the Army Corps of Engineers »
The Corps -- under an agreement reached in the 1980s with U.S. Fish and Wildlife Service -- releases 5,000 feet of water per second from the dam between the manmade lake and the Chattahoochee River.
The released water is used by power plants in Florida and Alabama and helps keep endangered mussels and sturgeon alive.
"What we've learned from this is what a blunt weapon the Endangered Species Act has become, where some obscure bureaucrat in Fish and Wildlife and some obscure judge can decide that mussels are more important than our children and grandchildren," said U.S. Rep. John Linder, R-Georgia, who spoke after Perdue at Saturday's news conference.
The region -- which has an annual average rainfall of about 50 inches -- had only 20 inches of rain from January to August this year, according to the National Weather Service.
Water levels in Lake Lanier have dropped about 15 feet and have left a ring of red clay around what was once the shoreline of the 1,040-square-mile lake.
Businesses have suffered as marinas settled on baked Georgia clay, keeping tourists and weekenders away.
Georgia has banned outdoor water use in the region, but Lt. Gov. Casey Cagle warned the lack of drinking water is a situation "we cannot conserve our way out of."
Perdue blasted what he called the "silly rules" governing the water situation, noting that even if the state got replenishing rains, it could not by law conserve those and must release the water to run downstream.
"We are also mired in a frustrating manmade disaster of federal bureaucracy," Perdue said.
"The actions of the Army Corps of Engineers and the Fish and Wildlife Services are downright dangerous, and Georgia cannot stand for this negligence."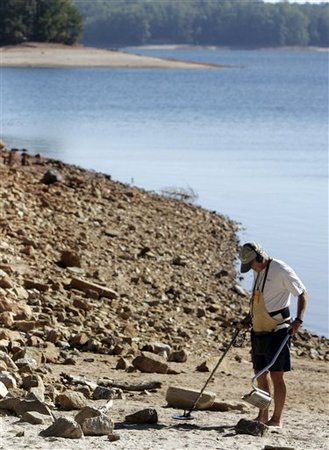 Tony Davis uses a metal detector scan the exposed lake bed at West Bank Park on Lake Lanier in Buford, Ga., Thursday, Oct. 11, 2007. About 26 percent of the Southeast is now covered in an "exceptional" drought, the National Weather Service's worst drought category, which extends like a dark cloud through most of Tennessee, Alabama and the northern half of Georgia, as well as pieces of North Carolina, South Carolina, Kentucky and Virginia. (AP Photo/John Bazemore)

No Backup if Atlanta's Faucets Run Dry

10-19-07
by Gregg Bluestein
ATLANTA (AP) - With the South in the grip of an epic drought and its largest city holding less than a 90-day supply of water, officials are scrambling to deal with the worst-case scenario: What if Atlanta's faucets really do go dry?
So far, no real backup plan exists. And there are no quick fixes among suggested solutions, which include piping water in from rivers in neighboring states, building more regional reservoirs, setting up a statewide recycling system or even desalinating water from the Atlantic Ocean.
"It's amazing that things have come to this," said Ray Wiedman, owner of an Atlanta landscaper business. "Everybody knew the growth was coming. We haven't had a plan for all the people coming here?"
Georgia Gov. Sonny Perdue seems to be pinning his hopes on a two-pronged approach: urging water conservation and reducing water flowing out of federally controlled lakes.
Perdue's office on Friday asked a Florida federal judge to force the Army Corps of Engineers to curb the amount of water draining from Georgia reservoirs into Alabama and Florida. And Georgia's environmental protection director is drafting proposals for more water restrictions.
But that may not be enough to stave off the water crisis. More than a quarter of the Southeast is covered by an "exceptional" drought - the National Weather Service's worst drought category. The Atlanta area, with a population of 5 million, is smack in the middle of the affected region, which extends like a dark cloud over most of Tennessee, Alabama and the northern half of Georgia, as well as parts of North and South Carolina, Kentucky and Virginia.
State officials warn that Lake Lanier, a 38,000-acre north Georgia reservoir that supplies more than 3 million residents with water, is already less than three months from depletion. Smaller reservoirs are dropping even lower, forcing local governments to consider rationing.
State water managers say there is more water available in the lake's reserves. But tapping into it would require the use of barges, emergency pumps and longer water lines. And some lawmakers fear if the lake is drained that low, it may be impossible to refill.
The Corps, which manages the water in the region, stresses there's no reason to think Atlanta will soon run out of water.
"We're so far away from that, nobody's doing a contingency plan," said Major
Daren Payne, the deputy commander of the Corps' Mobile office. "Quite frankly, there's enough water left to last for months. We've got a serious drought, there's no doubt about it, anytime you deplete your entire storage pool and tap into the reserve."
But, he said, any calls to stockpile bottled water would be "very premature."
Still, some academics and politicians are proposing contingency plans in case the situation worsens.
Atlanta Mayor Shirley Franklin said the region should explore piping in additional sources of water - possibly from the Tennessee or Savannah rivers. She even suggested desalinating sea water from Georgia's Atlantic coast.
"We need to look beyond our borders," she said.
Former Gov. Roy Barnes, a Democrat who was defeated in 2002, told reporters this week that he had planned to offer grants to fix leaks that waste millions of gallons of water each year. He also said he planned to build three new state reservoirs in north and west Georgia to help insulate the state from a future water crisis. But those plans died when he left office.
"Los Angeles added 1 million people without increasing their water supply," he told reporters. "And if Los Angeles can do it, I'll tell you Georgia can."
It seems the idea of building state reservoirs is gaining steam in the Legislature as Georgia's battle with the Corps over federal reservoirs heats up.
Lt. Gov. Casey Cagle said he favors building more regional reservoirs shared by multiple communities to harness the 50 trillion gallons of water that fall over Georgia each year.
"You can see that if we can just manage the rainfall and utilize that and make sure that we have abundant storage for it, we can take care of our needs well into the future," said Cagle, a Republican from Gainesville, the largest city on Lake Lanier.
Some academics say Georgia should start using more "purple water" - waste water that is partially treated and can be used for irrigation, fire fighting and uses other than drinking. That would conserve lake water and help replenish the water-supply system.
Such measures could make Georgia "drought-proof," said Todd Rasmussen, a professor of hydrology and water resources at the University of Georgia.
"People have got to start thinking in this direction," said Rasmussen. "You can't wear out water. It's clearly an opportunity that needs to be explored."
The drought has led to extreme conservation measures.
Virtually all outdoor watering across was banned across the northern half of the state, restaurants were asked to serve water only at a customer's request and the governor called on Georgians to take shorter showers. Carol Couch, the state's environmental director, said it's "very likely" new limits on water usage are needed.
Scorching summer temperatures and a drier-than-normal hurricane season fueled the drought. State climatologist David Stooksbury said it will take months of above average rainfall to replenish the system. He is now predicting the drought could worsen if "La Nina" conditions develop and bring little winter rainfall.
"I tell people we need 40 days and 40 nights," he said with a sigh.
On the Net:
Georgia Drought: http://www.georgiadrought.org

This year the drought has hit home, causing alarm among the community of ... The ongoing drought, which has affected 20% to 50% of the land area of the ...
www.greatdreams.com/drought_and_heat.htm

Water, Drought and Preparedness ... 11th Palmer Drought chart http://www.agribiz.com/weather/palmerdr.html shows parts of Oregon, Kentucky and Indiana in ...
www.greatdreams.com/weather-deaths.htm
Drought is computed based on the _averages_ for a given area. ... At least 50% of each the following states are in "moderate drought": California, Utah, ...
www.greatdreams.com/drought.htm
The drought gripping Australia could be a catalyst for sparking the nation's worst ... Mr Gould said that the problems had been exacerbated by the drought ...
www.greatdreams.com/drought_2002.htm

Drought is a natural part of cyclical weather patterns in North America, . ... 11th Palmer Drought chart http://www.agribiz.com/weather/palmerdr.html shows ...
www.greatdreams.com/weather/weather_anomalies.htm
Then there is the drought. That too is a sad situation. ... Too much wind, too much water, too much sun, too much drought - nothing in moderation. ...
www.greatdreams.com/spirit_message16.htm
DREAMS OF THE GREAT EARTHCHANGES - MAIN INDEX