THE MASONIC UNITED STATES OF AMERICA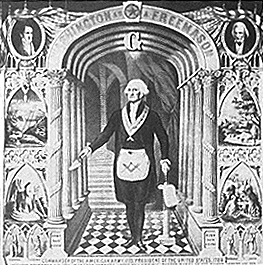 "Of the fifty-six signatories of the Declaration of Independence, only nine can definitely be identified as Freemasons, while ten others may possibly have been. Of the general officers in the Continental Army, there were so far as documentation can establish, thirty-three Freemasons out of seventy-four. Granted the known Freemasons were, as a rule, more prominent, more instrumental in shaping the course of events than their unaffiliated colleagues...
St. John's Lodge in Philadelphia, known as "Libre B," has its first entry dated June 24, 1731. The first lodge in Boston was constituted July 30, 1733, at the house of Edward Lutwych, an inn at the Sign of the Bunch of Grapes in King Street. In 1736, Solomon Lodge No. 1 of Charleston, South Carolina, held its first meeting; by 1738 there is evidence of Masonry in Savannah, Georgia, and New York City, and 1739 saw the meeting of the lodge at Portsmouth, New Hampshire. Very quickly Masonic lodges spread throughout the colonies and established themselves as accepted adjuncts of civic responsibility.
In 1776 a group of African-American Masons in Boston began meeting as a lodge; they were formally chartered by England in 1784 as African Lodge No. 459. African Lodge and its descendants developed a separate Grand Lodge system, known as Prince Hall Masonry (after the first Master of African Lodge) which continues today.
While Freemasonic aspects of the American Revolution are sometimes exaggerated, they should not be overlooked. The federalist design of the American government would never have been attempted without some precedent -- the revolutionaries were not about to throw away their hard-fought victory on a method of governance with no proven stability. But where in the world had such concepts as separating the chief executive's office from the officeholder and using regular, orderly elections to elect that executive ever been practiced?
The system was lifted from Masonic lodges.
The way the constitution united the states in a federal structure, according to one Masonic writer quoted by Baigent and Leigh "is identical to the federalist system of Masonic government."
Anti-Masonic party
American political party founded to counter the supposed political influence of FREEMASONRY. It arose in W New York state after the disappearance (1826) of William Morgan, a former Mason who had written a book purporting to reveal Masonic secrets. Freemasons were said, without proof, to have murdered him. At Baltimore, in 1831, Anti-Masons held the first national nominating convention of any party, and issued the first written party platform. In 1834 they helped form the WHIG PARTY.
William Morgan, was widely believed at the time to have been murdered by a coterie of Masons after his mysterious disappearance from the steps of the Canandaigua Jail in 1826. Rumored to have been killed for what he exposed in this book, Captain Morgan details the first three degrees of Freemasonry. Though a body was found on the shore of Lake Etie in Canada and positively identified by Morgan's widow, another woman forward and claimed it was her son. Thus it remains a mystery whether the body was Morgan or not.
The accounts of Masons and anti-Masons differ greatly in the events which followed, but it is agreed that Morgan was kidnapped by a group of Masons, was taken to the Canadian border and held for several days, and then disappeared. Anti-Masons charged that Morgan had been murdered according to the provisions in his oath, but no body was ever found. Masons responded that they had simply paid him to leave the country.
A Masonic Disclaimer of the case
The Anti-Masonic Party
From the 1820's through the 1840's there was an official political party in the United States called the Anti-Masonic Party, which existed for the primary purpose of trying to eliminate Freemasonry in the U.S. This political party was an outgrowth of a very strong moral and religious movement attaching Masons, and this party was actually very successful. It almost destroyed Freemasonry, and had a lasting impact.
Because of the William Morgan disappearence and cover-up, and the popular feeling that Masons held themselves above the law and formed a secret government, plus other factors, combined to produce a huge public campaign against Freemasonry. Charges were added that Masonic secrecy was used to hide illegal and immoral activities, that Masonic oaths were unlawful and "bloody," and that Masons sought to subvert American political and religious institutions to provide more benefits for themselves. Women joined the anti-Masonic fervor, and were very successful in convincing husbands to resign, because of their exclusion from Masonry.
Prominent politicians, including some Masons, supported the Anti-Masonic party. Former President John Quincy Adams, William A. Seward (who later became a founder of the Republican Party and Secretary of State during the Civil War), Thaddeus Stevens (who became almost the dictator of the U.S. House of Representatives after the Civil War), and prominent politicians such as Daniel Webster and former Grand Master of Kentucky Henry Clay made public Antimasonic comments. The Anti-Masonic party candidate for President in 1832 was a former Mason who said he now realized the Masons were a threat to the country.
The number of U.S. Masons probably dropped from 100,000 to 40,000 in 10 years. New York went from 20,000 to 3,000 Masons and from 480 to 82 lodges, and Freemasonry was similarly devastated in Vermont, Pennsylvania, Massachusetts, Rhode Island, Connecticut, and Ohio. In several States, Grand Lodges ceased to meet, Grand officers resigned and no new ones could be found, and no initiations took place for many years. The numerical effects on Masons were probably surpassed by the devastating psychological effects. Most Masons gave up the Craft, and those who remained were frightened. Even though Freemasonry started to build up again starting in the 1840's and 1850's, it stayed quieter than ever before. Antimasonry started again in politics in the late 1860's, and since then it has been a simmering social and political force in the U.S.
Books on the topic:
The Anti-Mason Party in the United States 1826-1843, by William Preston Vaughn, published 1983
"Anti-Masonry" article, in Coil's Masonic Encyclopedia, published in 1961 (new edition now in process)
Anti-Masonry, by Alphonse Cerza article in AQC (journal of the Masonic research lodge in London)
The Whig Party
One of the two major political parties of the United States in the second quarter of the 19th century
As a party it did not exist before 1834, but its nucleus was formed in 1824 when the adherents of John Quincy Adams and Henry Clay joined forces against Andrew Jackson. This coalition, which later called itself the National Republican party, increased in strength after the election of Jackson in 1828 and was joined in opposition to the President by other smaller parties, the most notable being the Anti-Masonic party. By 1832, Jackson had also earned the enmity of such diverse groups as states' rights advocates in the South, proponents of internal improvements in the West, and businessmen and friends of the Bank of the United States in the East. This opposition was built up and correlated by Henry Clay in the election of 1832. Two years later, in 1834, all the various groups were combined in a loose alliance.
Party Successes
In the 1836 presidential election the Whigs were not unified or strong enough to join behind a single presidential candidate; instead several Whig candidates ran for office. The most prominent were Daniel Webster in New England, William Henry Harrison in the Northwest, and Hugh Lawson White in the Southwest. The election went to the Democrat, Martin Van Buren, but in opposition the Whigs grew steadily stronger.
The two great leaders of the party were Clay and Webster, but neither was ever to head a victorious national ticket.
Here is a list of Presidents who were Masons.:
George Washington James Monroe Andrew Jackson James Polk James Buchanan Andrew Johnson
James Garfield William McKinley Theodore Roosevelt Howard Taft Warren Harding

Franklin Roosevelt Harry Truman Gerald Ford George Bush William Clinton
Freemasons are sworn to protect their brother Freemasons should they engage in
immoral or criminal conduct. The royal arch mason swears, "I will aid and assist a
companion royal arch mason, when engaged in any difficulty, and espouse his cause,
so far as to extricate him from the same, if in my power, whether he be right or wrong
. . . A companion royal arch mason's secrets, given me in charge as such, and I knowing
him to be such, shall remain as secure and inviolable, in my breast as in his own, murder
and treason not excepted."
Excerpted from: Masons and Mystery at the 33rd Parallel
1963: The Kennedy Assassination
1963 JFK Sr. was shot from the front and killed in Dealey Plaza in Dallas, Texas near the 33rd Parallel on 11/22/63 (11 + 22 = 33). Dealey Plaza is the site of the first masonic temple in Dallas. The Masons who co-ordinated the assassination were traitors to their guest, United States President John F. Kennedy Sr. An article in the Realist, 1991, suggests that George Bush was taped in a telephone conversation with [Masons] Lyndon Johnson, J. Edgar Hoover, Allen Dulles, Nelson Rockefeller, and J. Edgar Hoover, in which the parties discussed the assassination of John F. Kennedy. Some Masons who were involved in the cover-up of the Kennedy assassination are as follows:
Johnson had received the Entered Apprentice Degree in Johnson City Lodge No. 561, Texas, on October 30, 1937. Johnson, as next in line for the Presidency, was the most direct beneficiary of JFK's death. He was a Mason who hated JFK, a Catholic. One of Johnson's first acts as President was to call the Dallas Police to order them to stop the investigation because they had their man, Oswald. This was an illegal order because the President has no authority to tell city police how to conduct a homicide investigation. President Johnson also ordered the Federal Bureau of Investigation to check every aspect of the assassination. This was a whitewash. The F.B.I. was headed by J. Edgar Hoover, who had become a member of Federal Lodge No. 1, District of Columbia, on November 9, 1920.
The public wanted more answers concerning the murder of the President than the Masonic-controlled F.B.I. could provide. So, on November 29, 1963, President Johnson issued an executive order creating the Warren Commission, named after the man President Johnson had chosen to lead it, United States Supreme Court Chief Justice Earl Warren. Warren, a Past Grand Master of Masons in California, was joined on the Commission by two other known Freemasons: Senator Richard B. Russell, a member of Winder Lodge No. 33, Georgia, and Representative Gerald R. Ford of Michigan. John Sherman Cooper, Hale Boggs, Allen W. Dulles, and John J. McCloy were the others on the Commission. Allen W. Dulles had been Director of the C.I.A. until JFK fired him. Louisiana Democratic Congressman Hale Boggs, who later publicly expressed doubts about the Warren Commission Report, disappeared in a plane between Anchorage and Juneau, Alaska on October 16, 1972.
Masons representing many interests may have conferred and reached a consensus on Kennedy's fate, as occurred in the Morgan case in 1826, each knowing their discussions would be held in confidence. Their motives would probably be to protect and advance business interests and their social positions. These would include:
Taking the presidency for Freemason Lyndon B. Johnson,
Protecting Freemason J. Edgar Hoover's control of the F.B.I.,
Eliminating Kennedy's softening position on communism, a threat to a wide variety of American
business interests overseas,
Slowing the progress of the civil rights movement, an irritation to the KKK and other racists, and
Eliminating Kennedy's challenges to the CIA's leadership; he'd fired CIA
Director Allen Dulles (another Warren Commission member) and Deputy Director Charles Cabell.
Another motive was a violent reaction to Catholicism. At that time Kennedy's Church, Catholicism,
condemned membership in Freemasonry "under pain of excommunication".
The Warren Commission, accomplished its mission to cover up the truth. It concluded that Lee Harvey Oswald acted alone in killing JFK in 1963
The Kennedy assassination appears to have been part a campaign of assassinations against a generation of leaders who posed challenges to the entrenched power structure. The death toll included John F. Kennedy, Robert Kennedy, Martin Luther King, Jr. and Malcolm X. Viewed as a whole, these assassinations lead to the conclusion that anyone who promotes serious social reforms geared toward sharing the wealth and power will not be tolerated in a leadership position.
Kennedy was planning to withdraw from Vietnam "by the end of 1965." Shortly after JFK's death, Freemason Lyndon Johnson reversed Kennedy's policy toward Vietnam. The escalating involvement in the Vietnam conflict was driven by the Freemasons who solidified their control of the United States government after the assassination of President Kennedy. The War in Vietnam profited the arms makers and drug runners. Both the American and Vietnamese peoples have paid dearly in both squandered resources and lost lives to pursue the dubious objectives of the illegitimate Masonic leadership.
1990 - Mason/ Skull and Bones member George Bush, the 41st United States President, provoked a war with Saddam Hussein. On July 25, 1990, the United States Ambassador to Iraq, April Glaspie, told Hussein that the Iraq/Kuwait dispute was an Arab matter, not one that affects the United States. On August 2, 1990, believing that the United States' Ambassador's word meant something, Hussein invaded Kuwait. In "retaliation" for the invasion he had orchestrated through his Ambassador, Mason George Bush organized Desert Storm, which concerned a border dispute between Kuwait and Iraq at the 33rd Parallel. Shortly after Desert Storm began, Mason George Bush pronounced that this the beginning of a "New World Order."
1991 - January: During his State of the Union message during the Gulf War, President George Bush stated: "What is at stake is more than one small country, it is a big idea - a new world order. . . to achieve the universal aspirations of mankind. . . based upon shared principles and the rule of law. . . . The illumination of a thousand points of light. . . . The winds of change are with us now." Bagdad, Iraq's capital, and the United Nations-enforced "no fly zone" are at the 33rd degree of north latitude.
Soon? - In the New Testament book of Revelation, Megiddo is identified as the site of the last great battle of the world, Armageddon, a corruption of the Hebrew "Har Megiddo." Revelation 16:16 (NIV) states: "Then they gathered the kings together to the place that in Hebrew is called Armageddon."
See also : Project Megiddo
President George W. Bush's comments on becoming a Christian (Remember his father is a famous Mason)
George W. Bush Biography

detailed bio from George W. Bush Campaign webpage

Full name: George Walker Bush
Party: Republican
Status: Announced candidacy June 12, 1999 in Des Moines, Iowa
Age on Inauguration Day 2001: 54
Born: July 6, 1946 in New Haven, Connecticut
Residence: Austin, Texas
Education: M.B.A. in business administration, Harvard (1975); B.A. in history, Yale (1968)
Family: Married to Laura Welch Bush; have twin daughters, Barbara and Jenna
Religion: Methodist
Political experience: Governor of Texas (1995-present); Adviser and speechwriter for father's presidential campaign (1987-88); Republican nominee for U.S. Representative from Texas' 19th district (1978)
Professional experience: Managing General Partner, Texas Rangers Baseball team (1989-94); Consultant, Harken Energy Corporation (1986); President, Spectrum Corporation (1984-86); Founder/CEO, Bush Exploration (1975-84)
Military service: Pilot in the Texas Air National Guard (1968-1973)
December 13, 2000 - George Bush Jr. Becomes the 43rd President of the United States. Confirmed member Skull and Bones. George W. Admits to being a Member of The Skull and Bones to Time Magazine Also a member of the Council On Foreign Relations. Sworn in on the same Masonic Bible as George Washington. 2000- Vice President Dick Cheney. His secretary of state, Colin Powell. Confirmed Mason. His defense secretary, Donald Rumsfeld. (also chaired the RAND board at one time, and was a drug-company CEO) Attorney General designate John Ashcroft and Interior Secretary designate Gale Norton. Chief of Staff Andy Card (was the leading lobbyist for the auto industry.) Health and Human Services Secretary designate Tommy Thompson (took more than $70,000 from Philip Morris and opposed smoking restrictions as governor of Wisconsin.) National security adviser Condoleezza Rice (was a corporate director of Chevron.) Treasury Secretary Paul O'Neill, (headed Alcoa and the board of RAND.) Attorney general John Ashcroft.
George W. Bush admits to being a member of the Skull and Bones Society
More on the Skull and Bones Society and the Political Connection
George W. Bush nominates Colin Powell to be Secretary of State: A confirmed Mason
Former President George Bush - Unauthorized Biography - On Line
1989-1993 George H. W. Bush, 41st. President of the United States (R) Confirmed Mason. Also a Skull & Bones member, and of the Anti-American organization known as the Council of Foreign Relations (CFR), and The Trilateral Commission. Ex Director of the CIA. George Bush is a recent member of The Order Of The Garter (which is the core leader of The Committee of 300) Bush was knighted by Queen Elizabeth II who is the leader of the Order of The Garter, on December 20, 1993, as a Knight Grand Cross of the Most Honorable Order of the Bath. This was for his leadership in the Gulf War, when he sent American solders to die for England's interest of their petroleum in Kuwait. General Colin Powell and General Norman Schwarzkopf were given also lower order of knighthoods. Was also a member of the all-male ultra-exclusive Bohemian Club to which every Republican President since Herbert Hoover has belonged. Secret Societies, Bohemian Club Vice President James D. Quayle III. The Order of Skull and Bones * The Bush Body Count
We have to assume that Dad will be advising the son, if not in the oval office, either on the telephone or in the livingroom.
1993-2000 William J. Clinton, 42nd. President of the United States (D) Confirmed Mason. Clinton, A Rhodes Scholar, a CFR member, a Trilateral Commission member and a Bilderberger participant. He joined the Council on Foreign Relations in 1989, attended a Bilderberg meeting in 1991 and was a current member of the Trilateral Commission at the time of his nomination. Pam Harriman is the person behind Bill Clinton. She is tied in with the Collins of the satanic group Hell Fire Club. Wife Hillary is known to practice Shamanism witchcraft. Vice President Al Gore 1993-2000. Confirmed Mason.
The Melodies of the Washington Monument
Is America A Christian Nation?
A SECOND OPINION ON FREEDOM IN THE UNITED STATES
ARE YOU GIVING UP YOUR FREEDOMS FOR SECURITY?