Violence based on religious bias was widely reported in 2007—2008, with attacks on people of diverse confessions, on homes and property, and on places of worship, including Catholic, Protestant, and Mormon churches, mosques and prayer rooms of Islamic community centers, and synagogues.
In many cases, religious bias combined with racism and xenophobia. Jews victimized by antisemitism were targeted for both their religion and their identity as a people. Muslims were sometimes victimized because of both their religion and their ethnicity—with some anti-Muslim attacks targeting non-Muslims due to misperceptions. Churches with majority black congregations were attacked because of racist antipathy toward the attendees. Catholic churches were sometimes attacked for providing support to Hispanic immigrants.

In the report on 2006, the Federal Bureau of Investigation registered 1,462 "religious bias" incidents, a 19 percent rise from 2005. These incidents constituted 1,597 offenses, and resulted in 1,750 victims—a 25 percent rise over the 1,404 victims in 2005. Religious bias data is broken down further into "anti-Christian," "anti-Jewish," and "anti-Muslim" and categories, with the FBI recording increases in antisemitic and anti-Muslim incidents.
A. Antisemitic Violence
Antisemitic crimes in 2007 and 2008 included assaults on individuals and attacks on synagogues, schools, and Jewish community centers, and on the homes and automobiles of Jewish families. There were a number of particularly serious assaults on community leaders.

The FBI's 2006 hate crime data identified 967 incidents of "anti-Jewish" bias (up from 845 in 2005), and 1,027 offenses (up from 900). There were 1,144 reported victims, in contrast to 977 in 2005). Of the 324 crimes against persons (31 percent of the total offenses), there were 22 cases of aggravated assault, 58 of simple intimidation, and 244 of intimidation. There were 703 crimes against property, of which 672 were classed as destruction/damage/vandalism," and 8 arson.

The Anti-Defamation League (ADL) reported a decline in antisemitic incidents for the third consecutive year in 2007. The ADL registered 1,460 incidents for the year, a decline of 6 percent from the 1,554 in 2006, and down from a peak of 1,821 in 2004. There were 699 incidents of vandalism (which included cemetery desecration, graffiti, and other forms of property damage), and 761 of harassment (which in the ADL typology includes "physical or verbal assaults directed at individuals or institutions"). The ADL's annual report also cited high levels of antisemitic harassment and vandalism at U.S. schools and universities.
Serious Assaults, Threats, and Harassment

In a disturbing number of cases, Jews were victims of antisemitic violence and intimidation at their homes, in the streets, and at community centers. Attacks on people who were "visibly Jewish," in particular Jews wearing distinctive or religiously prescribed dress, were reported in many parts of the country.
On February 15, 2007, Nobel Peace Prize winner Eli Wiesel, a Holocaust survivor and human rights activist, was physically assaulted at his hotel in San Francisco, California. In July 2008, court found 24-year-old Ethan Hunt, a reportedly self-proclaimed holocaust denier, guilty of a felony charge of false imprisonment as a hate crime and of misdemeanor counts of battery and elder abuse. Hunt was sentenced to two years imprisonment.
In Los Angeles, California, on August 23, 2007, two Orthodox Jewish Yeshiva students were reportedly harangued with antisemitic remarks and shot with a pellet gun. One student was hit in the neck, and the other in a shoulder, but neither suffered a serious injury. No arrests were made, but public authorities denounced the attack as a hate crime. Los Angeles Councilman Jack Weiss called the attack "an absolute outrage" and made a promise to find the attackers. Mayor Antonio Villaraigosa had likewise condemned the crime.
On October 9, 2007, Orthodox Rabbi Mordechai Moskowitz was beaten with an aluminum baseball bat in Lakewood, New Jersey. The 53-year-old victim was hospitalized with head injuries in critical condition; the alleged perpetrator, a man with a history of mental illness, was detained.
On December 11, 2007, four college students returning home from a Hannukah celebration were verbally abused, spat upon, and physically assaulted on a New York City subway train. Twenty-year-old Hassan Askari, a Muslim of Bangladeshi origin, intervened to protect them. Askari was then himself attacked. Police responded and arrested eight men and two women, aged 19 to 20, who were arraigned on charges of assault, menacing, harassment, and inciting a riot. Police were investigating whether the incident should be considered a hate crime.
Attacks on Places of Worship and Cemeteries
As in past years, synagogues were a frequent target of attacks in 2007-2008, with vandalism and hateful graffiti targeting specific congregations and threatening the broader Jewish community. Cemeteries were also a major target of antisemitic vandalism.
In the year 2007, the Anti-Defamation League (ADL) found the swastika present "in hundreds of attacks against buildings, synagogues, cemeteries and private homes." In one case profiled by the ADL, in Brooklyn, New York City, a single vandal was alleged in September 2007 to having spray-painted swastikas and antisemitic slogans "in at least 23 different locations in Brooklyn Heights, including on two synagogues, an apartment building, several homes and cars." The alleged perpetrator, Ivaylo Ivanov, was arrested in January 2008 and charged with hate crimes in connection with the incidents.
In San Francisco, California, a swastika was found painted on the synagogue of Congregation Emanu-El on April 2, 2007.
In August 2007, a synagogue in Boca Raton, Florida, was defaced with a swastika."
On May 13, 2007 vandals in Chicago, Illinois, damaged tombstones at the Rosemont Park Jewish Cemetery and marked a swastika on a tomb at the entrance to the cemetery.
On September 5, 2007, more than two dozen grave markers were toppled at Jewish cemeteries in Springfield, Massachusetts.
In July 2007, vandals attacked a synagogue on three occasions over several weeks, breaking 17 windows, in the Bronx, New York City.
In April 2007, in Eugene, Oregon, intruders entered an Orthodox synagogue and damaged prayer books and two Torah scrolls. Four men were subsequently arrested and indicted for burglary; police said there was insufficient evidence to charge them with a hate crime.
In November 2007, grave markers in a Jewish cemetery were defaced with swastikas and profanity in Collingdale, Pennsylvania.
In June 2007 in Victoria, Texas, antisemitic graffiti, including swastikas, Nazi, and profane messages, was spray-painted on the front the historic Temple B'Nai Israel.
Violence at Schools and Universities
The Anti-Defamation League's annual audit for 2007 identified 197 antisemitic acts that were reported at K-12 schools nationwide; "these incidents took the form of swastikas and hate graffiti painted or written on desks, walls and other school property, name-calling, slurs, mockery, bullying and assaults, with some directed at teachers, as well as at Jewish students."
Antisemitism was also present on college and university campuses. The ADL reported 81 antisemitic incidents on college or university campuses in 2007, down from 88 in 2006. Incidents ranged from graffiti on the dormitory room doors of Jewish students and on Jewish fraternity houses to swastikas scratched into automobiles.

On January 3, 2008, and again on January 6, vandals targeted the Wheaton Woods Elementary School and surrounding areas in Montgomery County, Maryland, by spray-painting racist and antisemitic epithets around school property. Police said they were investigating the acts of vandalism as hate crimes.
In June, 2007, vandals in Worcester, Massachusetts, smashed eight windows at the New Jewish Academy and painted a nearby public school with antisemitic graffiti. The Jewish school had been spray-painted repeatedly with antisemitic graffiti over the previous two weeks.
In Minnesota, antisemitic graffiti and threatening drawings appeared on the campus of the St. Cloud State University in December, 2007. Swastikas were carved into doors of a multicultural center, and drawings of burning crosses and Ku Klux Klan hoods were found in the Student Center. Police were investigating the incidents.
B. Violence Against Muslims
Hate crime attacks on Muslims and Muslim institutions, including mosques and community centers, continued to be reported in 2007 and 2008. The prejudices underlying anti-Muslim violence are often a combination of racism, xenophobia, and religious intolerance. But the true numbers of incidents involving anti-Muslim religious bias are difficult to assess, not least because national and local monitoring systems that register bias attacks on individual Muslims tend to classify such attacks as founded primarily on racist or ethnicity/national origin bias. Most official monitoring systems make no practical provision for logging an incident as involving both racist and antireligious bias, and accordingly register each case as one or the other. Classification of crimes as anti-Muslim bias cases is generally reserved for that minority of cases involving Muslims who were targeted for wearing traditional dress or while attending a mosque, who were subjected to expressly anti-Muslim epithets, and others in which a religious bias was both explicit and unambiguous.

In a number of serious crimes committed in 2007 and the first half of 2008, the expressly antireligious/anti-Muslim dimension of attacks was shown in the selection of targets, notably in attacks on mosques and Muslim-owned businesses, and in the epithets used by the attackers.
The FBI's 2006 data on hate crimes included a category of "anti-Islamic" crimes, registering 156 incidents (up 22 percent from the 128 in 2005) and 191 offenses, with 208 victims (up 38 percent from 151 in 2005).

The FBI monitoring system does not identify specific Middle Eastern, South Asian, or East Asian minorities in statistical breakdowns of victims of attacks motivated by anti-Muslim bias. Consequently, official statistics do not reflect either the true extent of anti-Muslim bias in hate crimes, or the levels of victimization of particular population groups that are predominantly Muslim.

Assaults on non-Muslims, notably members of the Sikh community, are commonly accompanied by anti-Muslim and anti-Arab epithets, and can accordingly be logged as anti-Islamic/anti-Muslim attacks. In other cases, attacks on Muslims of South Asian origin may be classified as anti-immigrant incidents. As bias attacks on Arabs, South Asians, Sikhs, and other important demographic groups in the United States are not expressly reflected in disaggregated statistics in the hate crime statistics, such incidents are often categorized as "other ethnic/national origin" bias crimes.
Two nongovernmental organizations in the United States undertake regular monitoring and advocacy on behalf of victims of racial and religious violence and harassment from the Arab-American and Muslim communities.

In a 2008 report, the American-Arab Anti-Discrimination Committee (ADC) looked at hate crimes and discrimination targeting Arab-Americans from 2003 to 2007, following up on a previous report on the "backlash" violence that came in the immediate aftermath of the 9/11 terrorist attacks. The ADC found that although hate crimes had diminished from the extraordinary levels reported immediately after the terror attacks, but "serious incidents are occurring at . . . a greater frequency than during the late 1990's and 2000." According to the ADC, high levels of violence and intimidation are found to occur in the context of growing anti-Arab and anti-Muslim discourse in American "popular and political culture."
Personal Assaults

On September 11, 2007, tires were slashed on two vehicles belonging to the family of Samira Hussein, a school family services worker in Gaithersburg, Maryland. Hussein, who runs cultural sensitivity training programs for new public school teachers, is well-known as a speaker on the stereotyping of Arab and Muslim Americans. Ongoing attacks on the family reportedly date back to the 1990's.
On June 20, 2008, a group of men mocked and taunted a local Muslim businessman and his son at a gas station in Cleveland, Ohio, after hearing the victims say a prayer in Arabic. One of the assailants shot Fazliddin Yakubov three times in the abdomen; the incident was captured by a surveillance camera. Local police sought the assistance of the FBI, which was investigating the attack as a hate crime, and an arrest was made on July 3. Police subsequently reported that a man had been charged for the attack.
Attacks on Places of Worship
In a number of cases in 2007 and 2008, Islamic centers and mosques were the target of violent hate crimes:
In October 2007, in Bakersfield, California, windows were broken, cars smashed, and two worshippers received minor injuries when two drunken men entered the Islamic Center of San Joaquin Valley and disrupted a Ramadan prayer service. The FBI was assisting local authorities in an investigation of the attack as a hate crime.

On August 12, 2007, arsonists in Antioch, California, set fire to the Islamic Center of the East Bay, largely destroying the center's mosque. It was reported that the front windows of the mosque had been destroyed three times during the year and that the incidents had come in the context of repeated threatening phone calls.

On April 12, 2007, the Islamic Education Center of Tampa, Florida, was set alight, destroying much of the interior. The ten-year-old mosque and community center had previously been vandalized, and FBI investigators were assisting local police and fire safety officers in the investigation.
On the night of February 9, 2008, a group of men attacked the Islamic Center Mosque in Columbia, Tennessee, spray-painting three swastikas and the slogans "White Power" and "We run the world" on the walls, and then setting the building alight. The attackers threw a brick through a window and hurled two Molotov cocktails into the interior; the fire had completely destroyed the structure. Three men were detained in relation to the attack the same night, according to federal officials. In March 2008, Federal prosecutors brought charges under federal civil rights statutes and legislation specific to attacks on places of worship. On March 26, a federal grand jury indicted three men with "conspiracy to violate civil rights, destroying a house of worship, possession of a destructive device, use of fire to destroy a building and use of fire to commit a felony." Federal officials said the accused had planned for a week to burn down the Islamic Center.
Attacks on Muslim-owned Business Establishments
Muslim-owned businesses were also attacked:
On March 26, 2008, in Lenexa, Kansas, two men attacked a Muslim-owned Conoco gas station and a nearby convenience store with Molotov cocktails. In the initial attack, a man went into the gas station store and asked the clerk "if he was a Muslim." The man proceeded to verbally harass the clerk and to throw a brick and a Molotov cocktail through the window. Police said the bomb "fizzled" before landing inside the store and that no fire damage resulted. A second attack on a nearby convenience store occurred as police investigated the incident. A suspect was detained and charged with "attempted aggravated arson and felony criminal damage" in relation to both incidents.

In January 2008, three men entered the Blaine Dairy, a convenience store in Blaine, Minnesota, and threw a flaming Molotov cocktail at the Egyptian-born owner. The owner ducked behind shelves and suffered minor burns to his left hand, cuts, and bruises, fleeing through smoke and flames only after he was sure the attackers had left. The building was heavily damaged. In March, the FBI said it was investigating whether the attack was a hate crime, making no further comment.
C. Violence against Christians
The FBI's 2006 data on hate crimes against Christian denominations were broken into anti-Catholic bias (76 incidents, 81 offenses, and 86 victims) and anti-Protestant bias (59 incidents, 52 offenses, and 65 victims), together accounting for 8.6 percent of victims.
Hate crimes targeting Christian denominations, generally involving vandalism and threatening graffiti, targeted Protestant, Catholic, and other churches. Vandals desecrated and destroyed religious statues in Catholic churches, while causing severe damage to the interiors of churches of several denominations. There were also numerous incidents of arson targeting places of worship, often accompanied by antireligious and racist graffiti. In a number of cases, members of the Church of Jesus Christ of Latter-day Saints (Mormons) suffered personal assaults motivated by bias against their religious beliefs and practice. Attacks on churches were also reported in which racism and anti-immigrant bias and xenophobia combined, including attacks on traditionally black churches and churches attended by Americans and immigrants of Hispanic origin.
Physical Assaults and Murder
A number of attacks were reported on individuals. Members of minority religions were also subjected to physical assaults.
In Phoenix, Arizona in May, 2008, two teenagers attacked two Mormon youths with a pellet gun while shouting anti-Mormon epithets. Two teens, aged 15 and 16, were charged "with suspicion of aggravated assault, disorderly conduct and underage drinking."
On July 27, 2008, in Knoxville, Tennessee, a man armed with a semi-automatic shotgun entered the Tennessee Valley Unitarian Universalist Church and opened fire on members of the congregation. The gunmen killed one person and seriously injured five others, one of whom subsequently died in the hospital. Two others received minor injuries. The attack was being investigated as a hate crime, with the assistance of the FBI: police said a letter from the attacker, who was detained at the scene, showed that the attack targeted the church's "liberal views."
Church Vandalism, Arson, and Desecration
The Church Arson Prevention Act makes it a federal crime to commit attacks on religious property or to obstruct persons in the exercise of their religious beliefs. The law extends to racially motivated church burnings and bombings as well as acts of desecration motivated by religious animus.
Attacks on churches involving vandalism and destruction of property occurred across the United States. In some of the most serious incidents in 2007 and 2008, churches were vandalized and then severely damaged or destroyed by fire.
In January 2008, two young men reportedly attacked four local churches in and around Phoenix City, Alabama. Over the course of four dats, the vandals set alight the Greater Peace and Goodwill Church in Crawford, the Concord Baptist Church in Salem, Greater Bethelpore Baptist Church Smiths Station, and the Woodland Baptist Church in Phoenix City. A federal, state, and local multiagency task force announced the arrests of two 21-year-olds. In June 2008 Geoffrey Tyler Parquette pleaded guilty to "arson, burglary and criminal mischief" and was awaiting sentencing; a second defendant awaited trial for arson.

In early 2008, two churches were damaged with firebomb attacks in the San Fernando Valley area of California. On March 6, a Molotov cocktail caused limited damage to the Arleta Assembly of God Church. On April 20, a Molotov cocktail reportedly caused damage to the roof of the Church of the Nazarene in Panorama City.

On September 30, 2007, vandals in Miami, Florida, broke into a church with a large congregation of Haitian immigrants, sprayed racial slurs on the building, and set it alight. Police said they were investigating the arson as a hate crime.

In Portland, Oregon, in May 2007, vandals painted obscenities and ethnic slurs on cars, street signs, and the front door of a Mennonite church. Four young men were arrested and charged with "first-degree criminal mischief."

In Fulton Township, Pennsylvania, on January 29, 2008, vandals desecrated the Wakefield Bible Church, painting satanic and antireligious slogans and symbols on the walls, tearing up bibles, defacing religious paintings, and setting fire to a hymnal. A state policeman said "the vandalism falls into the categories of hate crimes and desecration of venerated objects, increasing the seriousness of the crime." A 17-year-old boy and a 15-year-old girl were subsequently charged with institutional vandalism, ethnic intimidation and burglary.

In August 2008, unknown vandals defaced the entrance to the historic First Baptist Church of Chesterbrook, Virginia, with a racial epithet directed at its African-American congregation. Fairfax police reported the action and said it was investigating this and similar graffiti, possibly by the same person, on a nearby elementary school.

In West Jordan, Utah, three arson attempts were reported on two churches in May and June 2008, targeting the St. Joseph the Worker Catholic Church and a Latter-day Saints church.
FROM: http://www.humanrightsfirst.org/our-work/fighting-discrimination/2008-hate-crime-survey/usa/iii-violence-based-on-religious-bias/


NOTE FROM DEE: THERE YOU HAVE MALE DOMIATED RELIGION AND WHAT IT DOES.
WE ALSO SEE VERY CLEARLY WHAT ROLES WOMEN ARE NOT ALLOWED TO DO WITHIN RELIGIOUS GROUPS:
In the beginning God created the heavens and the earth, the garden of Eden, and Adam and Eve. He put Adam in the garden and gave him the authority to name all the animals. Afterwards, God made Eve as a helper to Adam.1 This is an important concept because Paul refers to the order of creation in his epistle to Timothy when he discusses the relationship between men and women in the church context. Let's take a look.
"But I do not allow a woman to teach or exercise authority over a man, but remain quiet. For it was Adam who was first created, and then Eve. And it was not Adam who was deceived, but the woman being quite deceived, fell into transgression," (1 Tim. 2:12-14 -- all quotes from the Bible are from the NASB).

This passage has several interesting areas of discussion, but for our purpose we will focus on authority. At the very least, there is an authority structure set up by God. The woman is not to have authority over the man in the church context. But this does not extend to the political/economic world. In the Old Testament Deborah was a judge in Israel over men. Also, in the New Testament, Phoebe played an important role in the church at Cenchrea (Romans 16). There is no doubt that women supported Paul in many areas and were great helpers in the church (Acts 2:17; 18:24; 21:8). But what Paul is speaking of in 1 Tim. 2 is the relationship between men and women in the church structure, not in a social or political context.
When we look further at Paul's teachings we see that the bishop/overseer is to be the husband of one wife (1 Tim. 3:2) who manages his household well and has a good reputation (1 Tim. 3:4-5, 7). Deacons must be "men of dignity" (1 Tim. 3:8). Paul then speaks of women in verse 11 and their obligation to receive instruction. Then in verse 12, Paul says "Let deacons be husbands of one wife..." Again, in Titus 1:5-7, Paul says, "For this reason I left you in Crete, that you might set in order what remains, and appoint elders in every city as I directed you, namely, if any man be above reproach, the husband of one wife, having children who believe, not accused of dissipation or rebellion. For the overseer must be above reproach as God's steward..." Notice that Paul interchanges the word 'elder' and 'overseer'.

In each case, the one who is an elder, deacon, bishop, or overseer is instructed to be male (See article There were deaconesses, so there can be female elders and pastors). He is the husband of one wife, responsible, able to "exhort in sound doctrine and to refute those who contradict" (Titus 1:9). We see no command for the overseers to be women. On the contrary, women are told to be "dignified, not malicious gossips, but temperate, faithful in all things" (1 Tim. 3:11). Why is it that it is the men who are singled out as the overseers? It is because of the created order of God that Paul references (Gen. 1-2; 1 Tim. 2:12-14). This is not merely a social custom that fell away with ancient Israel.
&

Additionally, in the Old Testament in over 700 mentions of priests, every single one was a male. There is not one instance of a female priest. This is significant because priests were ordained by God to hold a very important office of ministering the sacrifices. This was not the job of women. Therefore, from what I see in Genesis 1-2, 1 Timothy 2, and Titus 1, the normal and proper person to hold the office of elder/pastor is to be a man.
What About Galatians 3:28?

"There is neither Jew nor Greek, there is neither slave nor free man, there is neither male nor female; for you are all one in Christ Jesus," (Gal. 3:28).
This verse is often used to support the idea that women can hold the offices of elder and pastor because there is neither male nor female in Christ. The argument states that if we are all equal, then women can be pastors.

Unfortunately, those who use this verse this way have failed to read the context. Verse 23 talks about being under the Law "before faith came" and how we are brought closer to Jesus and have become sons of God by faith. We are no longer under law, but grace and we are "Abraham's offspring, heirs according to the promise," (v. 29).2 The point of this passage is that we are all saved by God's grace according to the promise of God and that it doesn't matter who you are, Jew, Greek, slave, free, male, or female. All are saved the same way, by grace. In that, there is neither male nor female.
This verse is not talking about church structure. It is talking about salvation "in Christ." It cannot be used to support women as pastors because that isn't what it is talking about. Instead, to find out about church structure and leadership, you need to go to those passages that talk about it: 1 Timothy 2 and Titus 1.
Being a Pastor or Elder is to be in Authority
God is a God of order and balance. He has established order within the family (Gen. 3:16; 1 Cor. 11:3; Eph. 5:22-33; Col. 3:18-21 ) and the church (1 Tim. 2:11-14; 1 Cor. 11:8-9). Even within the Trinity there is an order, a hierarchy. The Father sent the Son (John 6:38) and both the Father and the Son sent the Holy Spirit (John 14:26; 15:26). Jesus said, "For I have come down from heaven, not to do My own will, but the will of Him who sent Me," (John 6:38). It is clear that God is a God of order and structure.
In creation, God made Adam first and then Eve to be his helper. This is the order of creation. It is this order that Paul mentions in 1 Tim. 2:11-14 when speaking of authority. Being a pastor or an elder is to be in the place of authority. Therefore, within the church, for a woman to be a pastor or elder, she would be in authority of men in the church which contradicts what Paul says in 1 Tim. 2:11-14.
But Doesn't This Teaching Belittle Women?
No, male leadership does not belittle women. Jesus was given his authority by God the Father (Matt. 28:18). He was sent by God (John 6:38). He said the Father was greater than He (John 14:28). Did this belittle Jesus? Of course not. Women are of great value in the church and need to be used more and more according to the gifts given them.
Does the wife's submission to the husband mean that she is less than the husband, less important, or belittled? Again, not at all. Not having a place of leadership in the church does not mean a woman is less of a person, less important to God, or inferior. All are equal before God whether it be Jew, Gentile, free, slave, male, or female. But in the church, God has set up an order the same way he set one up in the family. The chain of command is Jesus, the man, the wife, and the children.
What About Women Who Say They are Called By God to Be Pastors?
There are women pastors in the world who love their congregations and have stated that they are called by God to be pastors. Of course, I cannot agree with this considering the previous analysis of the biblical position. Instead, I believe they have usurped the position of men and gone against the norm of scriptural revelation. Additionally, those who state that they are called by God because of the great job they are doing and the gifting they have received are basing their theology upon experience and not scripture.

The issue is simple: are they submitting to the word of God or are they making the word of God submit to their desires?




In 1 Tim. 2:9-13 Paul tells us that women should be modestly dressed. He uses the example of the then present day adornment as an example of what not to do. This is a culturally based assessment by Paul. Notice that Paul emphasizes good works and godliness as a qualifier (as does Peter, see 1 Pet. 3:2). This is not a doctrinal statement tied to anything other than being a godly woman in appearance as well as attitude.

In verse 11, Paul says that a woman should quietly receive instruction. Please note that "The word, heµsychia, translated "quietness" in 1 Timothy 2:11 and silent in verse 12, does not mean complete silence or no talking. It is clearly used elsewhere (Acts 22:2; 2 Thes. 3:12) to mean "settled down, undisturbed, not unruly. A different word (sigaoµ) means "to be silent, to say nothing" (cf. Luke 18:39; 1 Cor. 14:34)."3 Paul is advocating orderliness in this verse.

Then in verse 12-13, Paul says, "But I do not allow a woman to teach or exercise authority over a man, but to remain quiet. 13 For it was Adam who was first created, and then Eve." Notice that Paul directly relates the authority issue with the created order. He does not do this with the woman's dress code. Therefore, the dress code is cultural and the authority issue as doctrinal since the latter is tied to the creation order and the dress code and authority issue are not.


EXERPTED FRIRN http://carm.org/should-women-be-pastors-and-elders

NOTE FROM DEE: I DELIBERATELY LEFT OUT THE WRITER'S CONCLUSIONS WHICH ARE DIFFERENT THAN MINE BECAUSE I WANT TO COMP;ARE PAUL'S TEACHINGS WITH THE GOSPEL OFO THOOMAS WHICH WAS LEFT OUT OF THE BIBLE BECAUSE IT FAVORS WOMEN:



The Gospel According to Thomas, commonly shortened to the Gospel of Thomas, is a well preserved early Christian, non-canonical sayings-gospel discovered near Nag Hammadi, Egypt, in December 1945, in one of a group of books known as the Nag Hammadi library. The Gospel of Thomas was found among a collection of fifty-two writings that included, in addition to an excerpt from Plato's Republic, gospels claiming to have been written by Jesus' disciple Philip. Scholars have speculated that the works were buried in response to a letter from Bishop Athanasius who for the first time declared a strict canon of Christian scripture.[1]

The Coptic language text, the second of seven contained in what modern-day scholars have designated as Codex II, is composed of 114 sayings attributed to Jesus.[2] Almost half of these sayings resemble those found in the Canonical Gospels, while it is speculated that the other sayings were added from Gnostic tradition[3]. Its place of origin may have been Syria, where Thomasine traditions were strong.[4]

The introduction states: "These are the hidden words that the living Jesus spoke and Didymos Judas Thomas wrote them down."[5] Didymus (Greek) and Thomas (Aramaic) both mean "twin". Some critical scholars suspect that this reference to the Apostle Thomas is false, and that therefore the true author is unknown.[6]

It is possible that the document originated within a school of early Christians, possibly proto-Gnostics.[7] Some critics further claim, that even the description of Thomas as a "Gnostic" gospel is based upon little other than the fact that it was found along with Gnostic texts at Nag Hammadi.[8] The name of Thomas was also attached to the

Book of Thomas the Contender, which was also in Nag Hammadi Codex II, and the Acts of Thomas. It is important to note, however, that while the Gospel of Thomas does not directly point to Jesus' divinity, it also does not directly contradict it, and therefore neither supports nor contradicts Gnostic beliefs. When asked his identity in the Gospel of Thomas, Jesus usually deflects, ambiguously asking the disciples why they do not see what is right in front of them. This is similar to passages in the canonical gospels like John 12:16 and Luke 18:34. The text itself, however, continuously reflects Gnostic teachings by continuously referring to Jesus' sayings as "secret" and "mysterious", which were common Gnostic catchphrases.

The Gospel of Thomas is very different in tone and structure from other New Testament apocrypha and the four Canonical Gospels. Unlike the canonical Gospels, it is not a narrative account of the life of Jesus; instead, it consists of logia (sayings) attributed to Jesus, sometimes stand-alone, sometimes embedded in short dialogues or parables. The text contains a possible allusion to the death of Jesus in logion 65 [9] (Parable of the Wicked Tenants, paralleled in the Synoptic Gospels), but doesn't mention crucifixion, resurrection, or final judgement; nor does it mention a messianic understanding of Jesus.[10][11] Since its discovery, many scholars see it as a proof for the existence of the so-called Q source, which might have been very similar in its form as a collection of sayings of Jesus without any accounts of his deeds or his life and death, a so-called "sayings gospel".[12]

Eusebius included it among a group of books that he believed to be not only spurious, but "the fictions of heretics".[13]

AWWl http://en.wikipedia.org/wiki/Gospel_of_Thomas FOR THE WHOLE ARTICLE:

GOSPEL OF THHOMA
The "Scholars' Translation" of the Gospel of Thomas

by Stephen Patterson and Marvin Meyer
These are the secret sayings that the living Jesus spoke and Didymos Judas Thomas recorded.
1 And he said, "Whoever discovers the interpretation of these sayings will not taste death."
2 Jesus said, "Those who seek should not stop seeking until they find. When they find, they will be disturbed. When they are disturbed, they will marvel, and will reign over all. [And after they have reigned they will rest.]"
3 Jesus said, "If your leaders say to you, 'Look, the (Father's) kingdom is in the sky,' then the birds of the sky will precede you. If they say to you, 'It is in the sea,' then the fish will precede you. Rather, the kingdom is within you and it is outside you.
When you know yourselves, then you will be known, and you will understand that you are children of the living Father. But if you do not know yourselves, then you live in poverty, and you are the poverty."
4 Jesus said, "The person old in days won't hesitate to ask a little child seven days old about the place of life, and that person will live.
For many of the first will be last, and will become a single one."
5 Jesus said, "Know what is in front of your face, and what is hidden from you will be disclosed to you.
For there is nothing hidden that will not be revealed. [And there is nothing buried that will not be raised."]
6 His disciples asked him and said to him, "Do you want us to fast? How should we pray? Should we give to charity? What diet should we observe?"
Jesus said, "Don't lie, and don't do what you hate, because all things are disclosed before heaven. After all, there is nothing hidden that will not be revealed, and there is nothing covered up that will remain undisclosed."
7 Jesus said, "Lucky is the lion that the human will eat, so that the lion becomes human. And foul is the human that the lion will eat, and the lion still will become human."
8 And he said, The person is like a wise fisherman who cast his net into the sea and drew it up from the sea full of little fish. Among them the wise fisherman discovered a fine large fish. He threw all the little fish back into the sea, and easily chose the large fish. Anyone here with two good ears had better listen!
9 Jesus said, Look, the sower went out, took a handful (of seeds), and scattered (them). Some fell on the road, and the birds came and gathered them. Others fell on rock, and they didn't take root in the soil and didn't produce heads of grain. Others fell on thorns, and they choked the seeds and worms ate them. And others fell on good soil, and it produced a good crop: it yielded sixty per measure and one hundred twenty per measure.
10 Jesus said, "I have cast fire upon the world, and look, I'm guarding it until it blazes."
11 Jesus said, "This heaven will pass away, and the one above it will pass away.
The dead are not alive, and the living will not die. During the days when you ate what is dead, you made it come alive. When you are in the light, what will you do? On the day when you were one, you became two. But when you become two, what will you do?"
12 The disciples said to Jesus, "We know that you are going to leave us. Who will be our leader?"
Jesus said to them, "No matter where you are you are to go to James the Just, for whose sake heaven and earth came into being."
13 Jesus said to his disciples, "Compare me to something and tell me what I am like."
Simon Peter said to him, "You are like a just messenger."
Matthew said to him, "You are like a wise philosopher."
Thomas said to him, "Teacher, my mouth is utterly unable to say what you are like."
Jesus said, "I am not your teacher. Because you have drunk, you have become intoxicated from the bubbling spring that I have tended."
And he took him, and withdrew, and spoke three sayings to him. When Thomas came back to his friends they asked him, "What did Jesus say to you?"
Thomas said to them, "If I tell you one of the sayings he spoke to me, you will pick up rocks and stone me, and fire will come from the rocks and devour you."
14 Jesus said to them, "If you fast, you will bring sin upon yourselves, and if you pray, you will be condemned, and if you give to charity, you will harm your spirits.
When you go into any region and walk about in the countryside, when people take you in, eat what they serve you and heal the sick among them.
After all, what goes into your mouth will not defile you; rather, it's what comes out of your mouth that will defile you."
15 Jesus said, "When you see one who was not born of woman, fall on your faces and worship. That one is your Father."
16 Jesus said, "Perhaps people think that I have come to cause peace upon the world. They do not know that I have come to cast conflicts upon the earth: fire, sword, war.
For there will be five in a house: there'll be three against two and two against three, father against son and son against father, and they will stand alone.
17 Jesus said, "I will give you what no eye has seen, what no ear has heard, what no hand has touched, what has not arisen in the human heart."
18 The disciples said to Jesus, "Tell us, how will our end come?"
Jesus said, "Have you found the beginning, then, that you are looking for the end? You see, the end will be where the beginning is.
Congratulations to the one who stands at the beginning: that one will know the end and will not taste death."
19 Jesus said, "Congratulations to the one who came into being before coming into being.
If you become my disciples and pay attention to my sayings, these stones will serve you.
For there are five trees in Paradise for you; they do not change, summer or winter, and their leaves do not fall. Whoever knows them will not taste death."
20 The disciples said to Jesus, "Tell us what Heaven's kingdom is like."
He said to them, It's like a mustard seed, the smallest of all seeds, but when it falls on prepared soil, it produces a large plant and becomes a shelter for birds of the sky.
21 Mary said to Jesus, "What are your disciples like?"
He said, They are like little children living in a field that is not theirs. when the owners of the field come, they will say, "Give us back our field." They take off their clothes in front of them in order to give it back to them, and they return their field to them.
For this reason I say, if the owners of a house know that a thief is coming, they will be on guard before the thief arrives and will not let the thief break into their house (their domain) and steal their possessions.
As for you, then, be on guard against the world. Prepare yourselves with great strength, so the robbers can't find a way to get to you, for the trouble you expect will come.
Let there be among you a person who understands.
When the crop ripened, he came quickly carrying a sickle and harvested it. Anyone here with two good ears had better listen!
22 Jesus saw some babies nursing. He said to his disciples, "These nursing babies are like those who enter the kingdom."
They said to him, "Then shall we enter the kingdom as babies?"
Jesus said to them, "When you make the two into one, and when you make the inner like the outer and the outer like the inner, and the upper like the lower, and when you make male and female into a single one, so that the male will not be male nor the female be female, when you make eyes in place of an eye, a hand in place of a hand, a foot in place of a foot, an image in place of an image, then you will enter [the kingdom]."
23 Jesus said, "I shall choose you, one from a thousand and two from ten thousand, and they will stand as a single one."
24 His disciples said, "Show us the place where you are, for we must seek it."
He said to them, "Anyone here with two ears had better listen! There is light within a person of light, and it shines on the whole world. If it does not shine, it is dark."
25 Jesus said, "Love your friends like your own soul, protect them like the pupil of your eye."
26 Jesus said, "You see the sliver in your friend's eye, but you don't see the timber in your own eye. When you take the timber out of your own eye, then you will see well enough to remove the sliver from your friend's eye."
27 "If you do not fast from the world, you will not find the kingdom. If you do not observe the Sabbath as a Sabbath you will not see the Father."
28 Jesus said, "I took my stand in the midst of the world, and in flesh I appeared to them. I found them all drunk, and I did not find any of them thirsty. My soul ached for the children of humanity, because they are blind in their hearts and do not see, for they came into the world empty, and they also seek to depart from the world empty.
But meanwhile they are drunk. When they shake off their wine, then they will change their ways."
29 Jesus said, "If the flesh came into being because of spirit, that is a marvel, but if spirit came into being because of the body, that is a marvel of marvels.
Yet I marvel at how this great wealth has come to dwell in this poverty."
30 Jesus said, "Where there are three deities, they are divine. Where there are two or one, I am with that one."
31 Jesus said, "No prophet is welcome on his home turf; doctors don't cure those who know them."
32 Jesus said, "A city built on a high hill and fortified cannot fall, nor can it be hidden."
33 Jesus said, "What you will hear in your ear, in the other ear proclaim from your rooftops.
After all, no one lights a lamp and puts it under a basket, nor does one put it in a hidden place. Rather, one puts it on a lampstand so that all who come and go will see its light."
34 Jesus said, "If a blind person leads a bind person, both of them will fall into a hole."
35 Jesus said, "One can't enter a strong person's house and take it by force without tying his hands. Then one can loot his house."
36 Jesus said, "Do not fret, from morning to evening and from evening to morning, [about your food--what you're going to eat, or about your clothing--] what you are going to wear. [You're much better than the lilies, which neither card nor spin.
As for you, when you have no garment, what will you put on? Who might add to your stature? That very one will give you your garment.]"
37 His disciples said, "When will you appear to us, and when will we see you?"
Jesus said, "When you strip without being ashamed, and you take your clothes and put them under your feet like little children and trample then, then [you] will see the son of the living one and you will not be afraid."
38 Jesus said, "Often you have desired to hear these sayings that I am speaking to you, and you have no one else from whom to hear them. There will be days when you will seek me and you will not find me."
39 Jesus said, "The Pharisees and the scholars have taken the keys of knowledge and have hidden them. They have not entered nor have they allowed those who want to enter to do so.
As for you, be as sly as snakes and as simple as doves."
40 Jesus said, "A grapevine has been planted apart from the Father. Since it is not strong, it will be pulled up by its root and will perish."
41 Jesus said, "Whoever has something in hand will be given more, and whoever has nothing will be deprived of even the little they have."
42 Jesus said, "Be passersby."
43 His disciples said to him, "Who are you to say these things to us?"
"You don't understand who I am from what I say to you.
Rather, you have become like the Judeans, for they love the tree but hate its fruit, or they love the fruit but hate the tree."
44 Jesus said, "Whoever blasphemes against the Father will be forgiven, and whoever blasphemes against the son will be forgiven, but whoever blasphemes against the holy spirit will not be forgiven, either on earth or in heaven."
45 Jesus said, "Grapes are not harvested from thorn trees, nor are figs gathered from thistles, for they yield no fruit.
Good persons produce good from what they've stored up; bad persons produce evil from the wickedness they've stored up in their hearts, and say evil things. For from the overflow of the heart they produce evil."
46 Jesus said, "From Adam to John the Baptist, among those born of women, no one is so much greater than John the Baptist that his eyes should not be averted.
But I have said that whoever among you becomes a child will recognize the kingdom and will become greater than John."
47 Jesus said, "A person cannot mount two horses or bend two bows.
And a slave cannot serve two masters, otherwise that slave will honor the one and offend the other.
"Nobody drinks aged wine and immediately wants to drink young wine. Young wine is not poured into old wineskins, or they might break, and aged wine is not poured into a new wineskin, or it might spoil.
An old patch is not sewn onto a new garment, since it would create a tear."
48 Jesus said, "If two make peace with each other in a single house, they will say to the mountain, 'Move from here!' and it will move."
49 Jesus said, "Congratulations to those who are alone and chosen, for you will find the kingdom. For you have come from it, and you will return there again."
50 Jesus said,
"If they say to you, 'Where have you come from?' say to them, 'We have come from the light, from the place where the light came into being by itself, established [itself], and appeared in their image.'
If they say to you, 'Is it you?' say, 'We are its children, and we are the chosen of the living Father.'
If they ask you, 'What is the evidence of your Father in you?' say to them, 'It is motion and rest.'"
51 His disciples said to him, "When will the rest for the dead take place, and when will the new world come?"
He said to them, "What you are looking forward to has come, but you don't know it."
52 His disciples said to him, "Twenty-four prophets have spoken in Israel, and they all spoke of you."
He said to them, "You have disregarded the living one who is in your presence, and have spoken of the dead."
53 His disciples said to him, "is circumcision useful or not?"
He said to them, "If it were useful, their father would produce children already circumcised from their mother. Rather, the true circumcision in spirit has become profitable in every respect."
54 Jesus said, "Congratulations to the poor, for to you belongs Heaven's kingdom."
55 Jesus said, "Whoever does not hate father and mother cannot be my disciple, and whoever does not hate brothers and sisters, and carry the cross as I do, will not be worthy of me."
56 Jesus said, "Whoever has come to know the world has discovered a carcass, and whoever has discovered a carcass, of that person the world is not worthy."
57 Jesus said, The Father's kingdom is like a person who has [good] seed. His enemy came during the night and sowed weeds among the good seed. The person did not let the workers pull up the weeds, but said to them, "No, otherwise you might go to pull up the weeds and pull up the wheat along with them." For on the day of the harvest the weeds will be conspicuous, and will be pulled up and burned.
58 Jesus said, "Congratulations to the person who has toiled and has found life."
59 Jesus said, "Look to the living one as long as you live, otherwise you might die and then try to see the living one, and you will be unable to see."
60 He saw a Samaritan carrying a lamb and going to Judea. He said to his disciples, "that person ... around the lamb." They said to him, "So that he may kill it and eat it." He said to them, "He will not eat it while it is alive, but only after he has killed it and it has become a carcass."
They said, "Otherwise he can't do it."
He said to them, "So also with you, seek for yourselves a place for rest, or you might become a carcass and be eaten."
61 Jesus said, "Two will recline on a couch; one will die, one will live."
Salome said, "Who are you mister? You have climbed onto my couch and eaten from my table as if you are from someone."
Jesus said to her, "I am the one who comes from what is whole. I was granted from the things of my Father."
"I am your disciple."
"For this reason I say, if one is whole, one will be filled with light, but if one is divided, one will be filled with darkness."
62 Jesus said, "I disclose my mysteries to those [who are worthy] of [my] mysteries.
Do not let your left hand know what your right hand is doing."
63 Jesus said, There was a rich person who had a great deal of money. He said, "I shall invest my money so that I may sow, reap, plant, and fill my storehouses with produce, that I may lack nothing." These were the things he was thinking in his heart, but that very night he died. Anyone here with two ears had better listen!
64 Jesus said, A person was receiving guests. When he had prepared the dinner, he sent his slave to invite the guests. The slave went to the first and said to that one, "My master invites you." That one said, "Some merchants owe me money; they are coming to me tonight. I have to go and give them instructions. Please excuse me from dinner." The slave went to another and said to that one, "My master has invited you." That one said to the slave, "I have bought a house, and I have been called away for a day. I shall have no time." The slave went to another and said to that one, "My master invites you." That one said to the slave, "My friend is to be married, and I am to arrange the banquet. I shall not be able to come. Please excuse me from dinner." The slave went to another and said to that one, "My master invites you." That one said to the slave, "I have bought an estate, and I am going to collect the rent. I shall not be able to come. Please excuse me." The slave returned and said to his master, "Those whom you invited to dinner have asked to be excused." The master said to his slave, "Go out on the streets and bring back whomever you find to have dinner."
Buyers and merchants [will] not enter the places of my Father.
65 He said, A [...] person owned a vineyard and rented it to some farmers, so they could work it and he could collect its crop from them. He sent his slave so the farmers would give him the vineyard's crop. They grabbed him, beat him, and almost killed him, and the slave returned and told his master. His master said, "Perhaps he didn't know them." He sent another slave, and the farmers beat that one as well. Then the master sent his son and said, "Perhaps they'll show my son some respect." Because the farmers knew that he was the heir to the vineyard, they grabbed him and killed him. Anyone here with two ears had better listen!
66 Jesus said, "Show me the stone that the builders rejected: that is the keystone."
67 Jesus said, "Those who know all, but are lacking in themselves, are utterly lacking."
68 Jesus said, "Congratulations to you when you are hated and persecuted;
and no place will be found, wherever you have been persecuted."
69 Jesus said, "Congratulations to those who have been persecuted in their hearts: they are the ones who have truly come to know the Father.
Congratulations to those who go hungry, so the stomach of the one in want may be filled."
70 Jesus said, "If you bring forth what is within you, what you have will save you. If you do not have that within you, what you do not have within you [will] kill you."
71 Jesus said, "I will destroy [this] house, and no one will be able to build it [...]."
72 A [person said] to him, "Tell my brothers to divide my father's possessions with me."
He said to the person, "Mister, who made me a divider?"
He turned to his disciples and said to them, "I'm not a divider, am I?"
73 Jesus said, "The crop is huge but the workers are few, so beg the harvest boss to dispatch workers to the fields."
74 He said, "Lord, there are many around the drinking trough, but there is nothing in the well."
75 Jesus said, "There are many standing at the door, but those who are alone will enter the bridal suite."
76 Jesus said, The Father's kingdom is like a merchant who had a supply of merchandise and found a peal. That merchant was prudent; he sold the merchandise and bought the single pearl for himself.
So also with you, seek his treasure that is unfailing, that is enduring, where no moth comes to eat and no worm destroys."
77 Jesus said, "I am the light that is over all things. I am all: from me all came forth, and to me all attained.
Split a piece of wood; I am there.
Lift up the stone, and you will find me there."
78 Jesus said, "Why have you come out to the countryside? To see a reed shaken by the wind? And to see a person dressed in soft clothes, [like your] rulers and your powerful ones? They are dressed in soft clothes, and they cannot understand truth."
79 A woman in the crowd said to him, "Lucky are the womb that bore you and the breasts that fed you."
He said to [her], "Lucky are those who have heard the word of the Father and have truly kept it. For there will be days when you will say, 'Lucky are the womb that has not conceived and the breasts that have not given milk.'"
80 Jesus said, "Whoever has come to know the world has discovered the body, and whoever has discovered the body, of that one the world is not worthy."
81 Jesus said, "Let one who has become wealthy reign, and let one who has power renounce ."
82 Jesus said, "Whoever is near me is near the fire, and whoever is far from me is far from the kingdom."
83 Jesus said, "Images are visible to people, but the light within them is hidden in the image of the Father's light. He will be disclosed, but his image is hidden by his light."
84 Jesus said, "When you see your likeness, you are happy. But when you see your images that came into being before you and that neither die nor become visible, how much you will have to bear!"
85 Jesus said, "Adam came from great power and great wealth, but he was not worthy of you. For had he been worthy, [he would] not [have tasted] death."
86 Jesus said, "[Foxes have] their dens and birds have their nests, but human beings have no place to lay down and rest."
87 Jesus said, "How miserable is the body that depends on a body, and how miserable is the soul that depends on these two."
88 Jesus said, "The messengers and the prophets will come to you and give you what belongs to you. You, in turn, give them what you have, and say to yourselves, 'When will they come and take what belongs to them?'"
89 Jesus said, "Why do you wash the outside of the cup? Don't you understand that the one who made the inside is also the one who made the outside?"
90 Jesus said, "Come to me, for my yoke is comfortable and my lordship is gentle, and you will find rest for yourselves."
91 They said to him, "Tell us who you are so that we may believe in you."
He said to them, "You examine the face of heaven and earth, but you have not come to know the one who is in your presence, and you do not know how to examine the present moment.
92 Jesus said, "Seek and you will find.
In the past, however, I did not tell you the things about which you asked me then. Now I am willing to tell them, but you are not seeking them."
93 "Don't give what is holy to dogs, for they might throw them upon the manure pile. Don't throw pearls [to] pigs, or they might ... it [...]."
94 Jesus [said], "One who seeks will find, and for [one who knocks] it will be opened."
95 [Jesus said], "If you have money, don't lend it at interest. Rather, give [it] to someone from whom you won't get it back."
96 Jesus [said], The Father's kingdom is like [a] woman. She took a little leaven, [hid] it in dough, and made it into large loaves of bread. Anyone here with two ears had better listen!
97 Jesus said, The [Father's] kingdom is like a woman who was carrying a [jar] full of meal. While she was walking along [a] distant road, the handle of the jar broke and the meal spilled behind her [along] the road. She didn't know it; she hadn't noticed a problem. When she reached her house, she put the jar down and discovered that it was empty.
98 Jesus said, The Father's kingdom is like a person who wanted to kill someone powerful. While still at home he drew his sword and thrust it into the wall to find out whether his hand would go in. Then he killed the powerful one.
99 The disciples said to him, "Your brothers and your mother are standing outside."
He said to them, "Those here who do what my Father wants are my brothers and my mother. They are the ones who will enter my Father's kingdom."
100 They showed Jesus a gold coin and said to him, "The Roman emperor's people demand taxes from us."
He said to them, "Give the emperor what belongs to the emperor, give God what belongs to God, and give me what is mine."
101 "Whoever does not hate [father] and mother as I do cannot be my [disciple], and whoever does [not] love [father and] mother as I do cannot be my [disciple]. For my mother [...], but my true [mother] gave me life."
102 Jesus said, "Damn the Pharisees! They are like a dog sleeping in the cattle manger: the dog neither eats nor [lets] the cattle eat."
103 Jesus said, "Congratulations to those who know where the rebels are going to attack. [They] can get going, collect their imperial resources, and be prepared before the rebels arrive."
104 They said to Jesus, "Come, let us pray today, and let us fast."
Jesus said, "What sin have I committed, or how have I been undone? Rather, when the groom leaves the bridal suite, then let people fast and pray."
105 Jesus said, "Whoever knows the father and the mother will be called the child of a whore."
106 Jesus said, "When you make the two into one, you will become children of Adam, and when you say, 'Mountain, move from here!' it will move."
107 Jesus said, The kingdom is like a shepherd who had a hundred sheep. One of them, the largest, went astray. He left the ninety- nine and looked for the one until he found it. After he had toiled, he said to the sheep, 'I love you more than the ninety- nine.'
108 Jesus said, "Whoever drinks from my mouth will become like me; I myself shall become that person, and the hidden things will be revealed to him."
109 Jesus said, The (Father's) kingdom is like a person who had a treasure hidden in his field but did not know it. And [when] he died he left it to his [son]. The son [did] not know about it either. He took over the field and sold it. The buyer went plowing, [discovered] the treasure, and began to lend money at interest to whomever he wished.
110 Jesus said, "Let one who has found the world, and has become wealthy, renounce the world."
111 Jesus said, "The heavens and the earth will roll up in your presence, and whoever is living from the living one will not see death."
Does not Jesus say, "Those who have found themselves, of them the world is not worthy"?
112 Jesus said, "Damn the flesh that depends on the soul. Damn the soul that depends on the flesh."
113 His disciples said to him, "When will the kingdom come?"
"It will not come by watching for it. It will not be said, 'Look, here!' or 'Look, there!' Rather, the Father's kingdom is spread out upon the earth, and people don't see it."
[Saying added to the original collection at a later date:] 114 Simon Peter said to them, "Make Mary leave us, for females don't deserve life." Jesus said, "Look, I will guide her to make her male, so that she too may become a living spirit resembling you males. For every female who makes herself male will enter the kingdom of Heaven."
Scholars Version translation of the Gospel of Thomas taken from *The Complete Gospels: Annotated Scholars Version.* Copyright 1992, 1994 by Polebridge Press. Used with permission. All rights reserved.
SEE:OTHER TRANSLATIONS: http://www.earlychristianwritings.com/thomas.html
HOW DO WE BECOME CONSCIOUS CO-CREATORS WITH GOD?
THE HOPIS . NAVAJOS AND LAKOTAS KNOW IT BEST: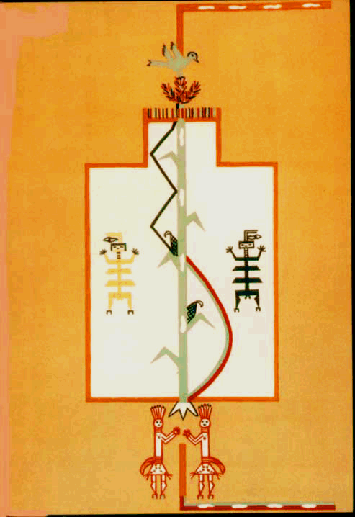 THIS IS THE NAVJO SAND PAINTING
The above Navaho sand painting is used in a blessing ceremony. Joseph Campbell wrote: "The conformity of the imagery of this particular sand painting to the sense and symbolised experiences of the yogic sushumna is certainly astonishing, but not more so than many other concordances in the myths and ritual arts of peoples across the world."
He explained that the bounded area parallels archetypal symbols of the "enclosed park," such as the interior of a temple, or an Earthly Paradise. The word, "paradise," comes from the Greek "paradeisos, meaning "enclosed park." The Old Persian word, "pairi," means "around," and "daeza," means "wall," giving "pairidaeza," meaning "enclosure."
The sand painting shows a corn plant with seven markers, which, according to Joseph Campbell, correspond to the seven chakras. From the bottom-upward, they are marked by the root, the five leaves, and the tassel. The two leaves marking the third and fourth chakras also show ears of corn. A lightning bolt from above strikes at the fourth marker, which is in the center. This corresponds, he wrote, to the vajra, "the thunderbolt of enlightenment" of Hindu and Buddhist iconography, which exactly fits with the fourth chakra, anahata, "where the sound is heard that is not made by any two things striking together."
Joseph Campbell continues:
"In Navaho myths and legends the god known as Sun Bearer, Tsohanoai, possesses lightning-arrows. His domicile is above, in the sky, and when his twin sons, conceived of him by an earthly virgin, Changing Woman, arrived to receive from him the power and weapons with which to rid the world of monsters, the solar power of which they then became possessed was so great that when they returned to earth it had to be modified by a deity known as Hastyeyalti (Talking God), maternal grandfather of the pantheon, in whom male and female powers are combined. In the sand painting the realm of operation of this second god is represented by a modified rainbow of two colors, red and blue, symbolic respectively of solar energy and of water and the moon. The high place onto which the twins descended from the heavenly house of their father to earth was the central mountain of the world (locally, Mt. Taylor in New Mexico; height, 11,302 feet) and the corresponding station in the painting is at Chakra 4, anahata. Moreover, the root of the corn plant is threefold, like Yuktatriveni in the muladhara. The pollen path commences lower right and is of two colors, like the modified rainbow (or like the moon, which is of both matter and light). But at the turn between the Spirit Bringers the path becomes yellow and single (like the fire of blended breaths exploding to ascend the sushumna; after which, in a sacred way, to an accompaniment of chants and prayer, the sanctuary is entered."
The footprints show the path taken by initiate. The two figures below the enclosure are the guardian Spirit Bringers, which are similar to portal guardians in other traditions. Their hands suggest that the center path of the three roots is preferred, which leads along the stalk of the corn plant. The roots correspond to the root chakra, chakra 1, which is known as Yuktatriveni, "Three River Junction." The rainbow with the same two colors indicate an alternate path of unbalance of the duality attributes, yet meets the central path at the key marker, the heart chakra. Above the heart center, the path remains single, the color of pollen. The rainbow seems to correspond to concepts in the eastern tradition of Yoga. The subject breathes out of one nostril and breathes inward with the other. The breaths are imagined to go out one spine channel (or "snake)" and then back in through the other channel. The channels (or "spine snakes), called Ida and pingala, are said to interlace like a double-helix, around the chakra centers. The two channels are associated with sun and moon, or male and female.

The two figures inside the enclosure are spiritual messengers, known as "Dontso, "big Fly," and in his second aspect, "Little Wind." The black and white colors represent male and female energies.
During the Pollen Path ceremony, the Navaho chant:
In the house of life I wander
On the pollen path,
With a god of cloud I wander
To a holy place.
With a god ahead I wander
And a god behind.
In the house of life I wander
On the pollen path.
Joseph Campbell speaks of the normal course of a lifetime, according to the yogic psychological schedule . . .
"the biological urges generated from these three pelvic spinal centers (the lower three chakras) mature naturally in succession as the body develops through its first three and a half decades. These alone, have supplied the motivations of historical man, his effective moral systems, and his nightmare of world history. They are the centers of the basic urges, furthermore, that mankind shares with the beasts - namely, (1) to survive alive by feeding on other lives, (2) to generate offspring, and (3) to conquer and subdue. Unrestrained by any control system, these become devastating, as the history of the present century surely tells. For as declared in the Indian Arthasastra, Textbook on the Art of Winning: 'When uncontrolled by virtue (dharma) and the big stick (danda), men become wolves unto men.'

"The elevation of the human will to aims transcendent of this bestial order of life requires, according to the yogic model, an awakening that will not be of the pelvic region, but of chakra 4, which is of the heart."

Joseph Campbell also pointed out that Jesus was about thirty-five years of age at the time of his crucifixion, as was The Buddha when he was awakened under the Bodhi Tree. Thus, thirty-five years in the life of a man of "threescore years and ten," as the Bible speaks of seventy years, (such as in Genesis 46:27) may be yet another symbol of the chakras and the midpoint.
Joseph Campbell gave other examples of this symbolism in the book and explained them at length. It seems this is indeed an elementary idea found all over the world.

I was surprised when I happened to read Isaiah 52:12. The verse is strikingly similar to the Pollen Path chant of the navaho:
"For you shall not go out in haste,
and you shall not go in flight,
for the Lord will go before you,
and the God of Israel will be your rear guard."
&
A significant verse is Revelation 6:5, 6 -

"When he opened the third seal, I heard the third living creature say, 'Come!' And I saw, and behold, a black horse, and its rider had a balance in his hand; and I heard what seemed to be a voice in the midst of the four living creatures saying, 'A quart of wheat for a denarius, and three quarts of barley for a denarius, but do not harm oil and wine?'"

The "balance," I believe, is a balance scale, such as depicted by the Egyptians. Notice also, that the verses refer to money being exchanged, a hint, perhaps of the karmic or judgment function.

I remembered that a verse in Genesis speaks of the heart. I found it again . . . In Genesis 8:21 -

"And when the Lord smelled the pleasing odor, the Lord said in his heart, 'for the imagination of man's heart is evil from his youth; neither will I ever again destroy every living creature as I have done'"
&
The Weighing of the Heart
The Book of the Dead of Kenna
1405-1467 BC
Proverbs 21:2 -

"Every way of a man is right in his own eyes, but the Lord weighs the heart."

Yet another example is Daniel 5:27 -

". . . TEKEL, you have been weighed in the balances and found wanting; . . . "

Putting this together with the "balance" held by the black horse rider of Revelation, it seems quite in line with the ancient Egyptian beliefs.
Black Elk's Great Vision
I read Black Elk Speaks around October, 1990. I had some dreams about it, and a number of coincidences happened. I came to see his great vision as having many similarities to the Book of Revelation. The part that seems to correlate to the heart chakra symbolism is on pages 32-33. He was only nine years old, when he fell unconscious for some two weeks. The vision was very extensive, and he never forgot any part of it. Below is an excerpt from the book. At this point in his vision, he is riding his horse in the storm clouds. There are twelve horses with riders from each of the four directions. The black horse riders are from the West, the White horse riders are from the North, the red horse riders are from the East, and the Yellow horse riders are from the South.
"Now the earth was bright again as we rode. I could see the hills and valleys and the creeks and rivers passing under. We came above a place where three streams made a big one - a source of mighty waters - and something terrible was there. Flames were rising from the waters and in the flames a blue man lived. The dust was floating all about him in the air, the grass was short and withered, the trees were wilting, two-legged and four-legged beings lay there thin and panting, and wings too weak to fly.

Then the black horse riders shouted 'Hoka hey!' and charged down upon the blue man, but were driven back. And the white troop shouted, charging, and was beaten; then the red troop and the yellow.

And when each had failed, they all cried together 'Eagle Wing Stretches, hurry!' And all the world was filled with voices of all kinds that cheered me, so I charged. I had the cup of water in one hand and in the other was the bow that turned into a spear as the bay and I swooped down, and the spear's head was sharp lightning. It stabbed the blue man's heart, and as it struck I could hear the thunder rolling and many voices that cried 'Un-hee!,' meaning I had killed. The flames died. The trees and grasses were not withered any more and murmured happily together, and every living being cried in gladness with whatever voice it had. Then the four troops of horsemen charged down and struck the dead body of the blue man, counting coup; and suddenly it was only a harmless turtle."
The Hopi Creation Myth of Spider Grandmother

I saw a depiction of the Hopi Creation myth in 1990, and read the story. It struck me that the diagram had a similarity to some crop circle formations.

The three images above compare the Hopi depiction Creation myth (top) with two crop circle formations. The lower left crop circle formation appeared in 1990. It was called, "The First Pictogram," because it was the first formation known to appear that had glyphs other than simple circles and rings. The crop formation on the lower right appeared near the end of the summer in 1990. It was called "The Alton Barns Multiple Agriglyph." Other, similar formations appeared that year, and in the years since.


I later learned of Solara's suggestion that the rectangles in some of the crop circle formations, such as "The First Pictogram," represent the "11:11 Doorway."


Much later, I realized that the Hopi depiction also fit well with the 3 1/2 symbolism. Three chambers are shown underground, connected by vertical tunnels. From the top chamber, another tunnel leads straight up to the surface of the ground. Insects are shown in the bottom chamber, animals in the middle chamber, and humans in the upper chamber. The chambers and tunnels, along with leaves at the top, resemble a large plant. A large spider with a cross on its back is depicted at several places. Near the upper chamber, various birds, a tree, and a twelve-petal sunflower are depicted inside rectangles. Seven human figures are shown climbing in the tunnel from the third chamber to the surface. A small group of humans are shown standing on the surface, with rays of light from the sun striking them. A giant rooster is also standing on the surface.


The text next to the depiction tells the Hopi creation story. The Creator placed insects in the earth and told them to figure out the meaning of life. After a time, the insects still had not found the meaning, so Spider Grandmother was sent to help. She helped them move up to the next chamber, where they became animals. Again, they could not find the meaning of life, so Spider Grandmother came again, and helped them to travel up to the third chamber, where they became human beings. After more time passed by, and the humans had not figured out the meaning of life, Spider Grandmother came again, this time assisted by birds. The people climbed up to the surface, and then Spider Grandmother taught them how to weave.

Sometime after I read the Hopi story of creation, a young lady told me about a dream of a spider, and how her friend had the very same dream on the same night. Other dreams and coincidences concerning spiders and weaving followed. After experiencing the coincidences concerning the Joseph Campbell book, I realized at some point that the Hopi myth fit well, because the key point is after the third chamber, or 3 1/2. By 1993 I realized several other things in the Hopi myth fit even better with the ideas. I will speak of those connections in their place, as I continue telling my story.


SEE: http://www.greatdreams.com/plpath1.htm FOR THE WHOLE STORY

for lots more about conscious co-creation see: http://search.yahoo.com/search;_ylt=A0oGdSdYyh1P5CAAivFXNyoA?p=site%3Agreatdreams.com%20conscious%20co-creation&fr2=sb-top&fr=slv8-att



---