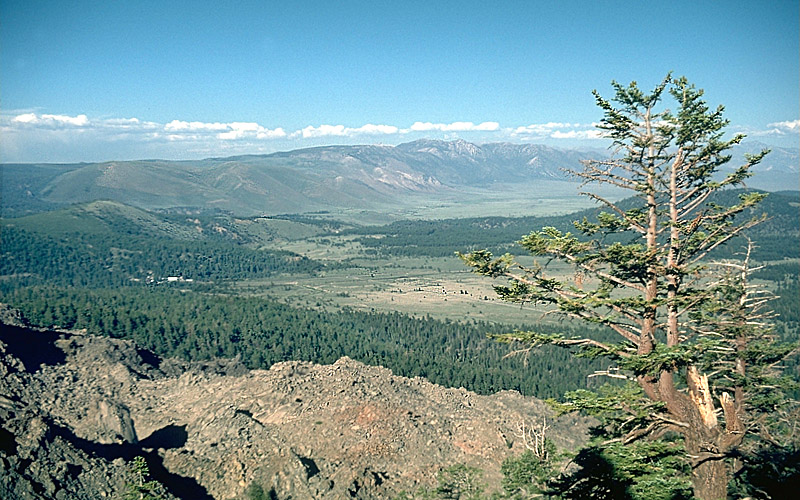 long valley caldera
Dee-Finney's blog
start date July 20, 20125.
Today's date March 14, 2012
updated 2-15-14
page 169
TOPIC: HIGHWAY 175 IN CALIFORNIA - THE TRIALS AND TRIBULATIONS
NOTE: I DON'T KNOW WHY THIS WAS SHOWN TO ME WHILE I WAS TRYING TO TAKE A NAP TODAY. ALL OF A SUDDEN I WAS AT A LARGE INTERSECTION WHERE HIGHWAYS MEET AND THE LARGE GREEN SIGN WITH AN ARROW POINTING LEFT WAS IN THE FOREGROUND AND IT SAID 175. I ALSO SAW A SIGN IN THE BACKGROUND POINTING TO THE RIGHT THAT SAID 175, SO I WAS ON THE HIGHWAY THAT CROSSED THAT HIGHWAY.
I COULDN'T RESIST LOOKING THIS UP SINCE I'VE BEEN WAITING FOR THE GO AHEAD SIGNAL AFTER HAVING A DREAM OF CROSSING A RAILROAD TRACKS AND A GATE COMING DOWN AND BEING TOLD ON THE RADIO THAT THE LAST WOMAN WHO WENT THROUGH THE GATE LOST AND ARM AND BOTH LEGS.
I CAN ASSSURE YOU I AM NOT GOING TO DRIVE ON HIGHWAY 175 AS I AM TOLD, ITS THE MOST DIFFICULT HIGHWAY IN CALIFORNIA TO DRIVE ON AND VEHICLES LONGER THAN 39 FEET ARE BANNED FROM IT BECAUSE OF ITS MANY HAIRPIN TURNS ON IT.
SO HERE WE GO - HIGHWAY 175 AND ITS ADVENTURES. THIS IS EARHTQUAKE COUNTRY. THERE ARE QUAKES THERE VIRTUALLY EVERY DAY.
HERE IS A PREVIOUS PAGE ABOUT MAMMOTH LAKE http://www.greatdreams.com/mammoth.htm
2-15-14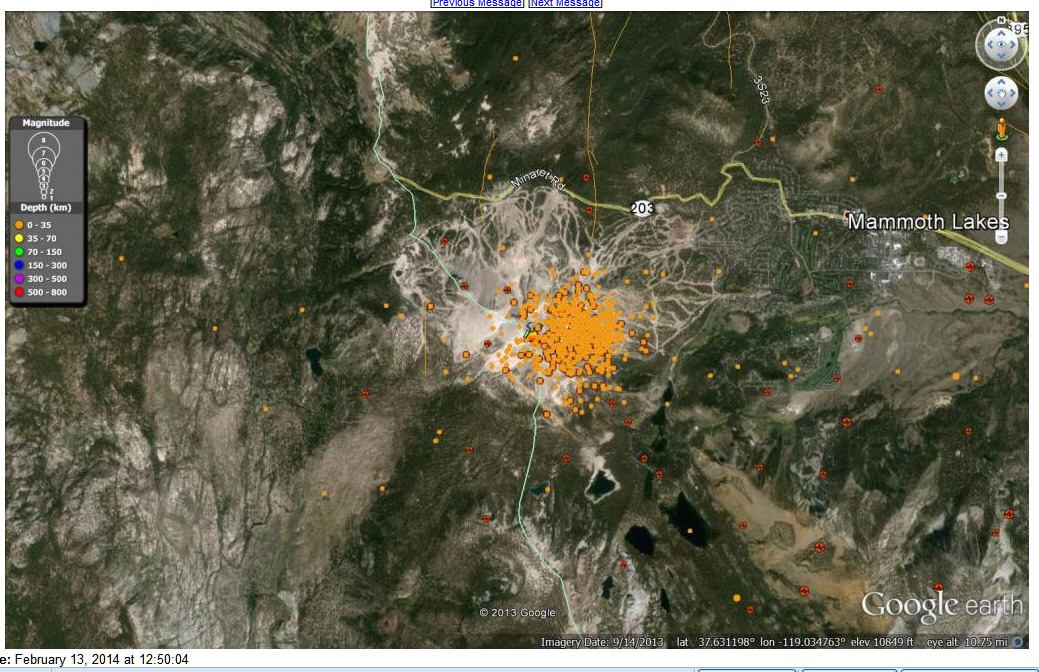 The area where the current quake swarm is occurring is not a stranger to swarms.

From Jan. 1998 to July 1998 there were 10,000 quakes within a 25-mile radius. I used the ANSS catalog to search for the quakes. I didn't expand on the search. I figured if there were that many quakes in a 7-month period a few more weren't going to make much difference.

It was during this time that the flank of Mammoth Mountain started venting CO2, which resulted in the tree kill. It was also about this time that they detected He3, which comes from fresh magma.

The biggest problem that had with all of these quakes was that they didn't know what kind they were. They didn't know if they were Double-Couple quakes, or Non-Double -Couple quakes. To resolve the questions about the mechanisms of micro earthquakes at the caldera, the U.S. Geological Survey and Duke University installed and operated a temporary network of 65 three-component digital seismometers in the area from mid-May to late September 1997. An unusually complete seismic data set was obtained for these swarms, covering earthquakes down to moment magnitudes of less than 1.

The derived focal mechanisms show that most of the earthquakes have volume increases, and therefore involve processes other than shear faulting. In other words they were Non-Double-Couple quakes.


High-resolution relative earthquake locations further show that the failure geometry of some events is close to that expected for tensile faulting, but the mechanisms require an accompanying volume-compensating process, probably involving rapid fluid flow.

This swarm does not mean a larger quake could occur, but it doesn't reduce the chance of a large quake occurring. You would need more than 1 million of them occurring one right after the other to release the same amount of energy as one 6.0Mw quake.

None of the seismographs that I have been able to view show harmonic tremors or long period quakes. All of the quakes appear to be tectonic in nature. Because there are no "first motion mechanism", "Moment tensor solutions" it can't be said unequivocal there are no volcanic quakes. However one moderate or strong quake could change all of that such as what occurred at Mount Saint Helens in 1980.

The swarm is 1.3 miles north of the tree kill area and ½ mile east of Mammoth Mountain. Mammoth Mountain is an active volcano that is sleeping at present time. The way I see it for now is that I'm going to sit back, put my heels up and wait and see what happens next. Take Care...Don

catalog=ANSS
start_time=2014/01/01,00:00:00
end_time=2014/02/13,20:07:40
minimum_magnitude=0.1
maximum_magnitude=10
event_type=E
delta=0 km to 04 km from (37.631,-119.025)

list posted at: http://earthboppin.net/talkshop/geology/messages/60379.html
Long Valley Caldera is a depression in eastern California that is adjacent to Mammoth Mountain. The valley is one of the earth's largest calderas, measuring about 20 miles (32 km) long (east-west) and 11 miles (18 km) wide (north-south). The elevation of the floor of the caldera is 6,500 feet (2,000 m) in the east and 8,500 feet (2,600 m) in the west. The elevation of the caldera walls reach 9,800–11,500 feet (3,000–3,500 m), except in the east, where the wall rises only 500 feet (150 m) to an elevation of 7,550 feet (2,300 m).
Long Valley was formed 760,000 years ago when a huge volcanic eruption released very hot ash that later cooled to form the Bishop tuff that is common to the area. The eruption was so colossal that the magma chamber under the now destroyed volcano was emptied to the point of collapse. The collapse itself caused an even larger secondary eruption of pyroclastic ash that burned and buried thousands of square miles. Ash from this eruption blanketed much of the western part of what is now the United States. Geologists call topographic depressions formed in this manner calderas.
Near the center of the caldera there is a mound called the "resurgent dome" that was formed by magmatic uplift. Though the area is still volcanically active, the caldera itself is extinct: seismic mapping has shown the magma body deep underground is mostly crystallized and not molten anymore. There is a hydrothermal power plant near the resurgent dome. The Bishop tuff is the oldest normally magnetized tuff (that is, it was formed when the Earth's magnetic north was near the north pole – as it is today). In the geologic past, water gathered in the Long Valley caldera and overtopped its rim, forming the Owens River Gorge.
Notable geothermal areas in Long Valley include Casa Diablo Hot Springs at the base of the resurgent dome; and Hot Creek, which is about 5 miles (8 km) from Casa Diablo and cuts into part of the resurgent dome. Hydrothermal activity has altered many rocks in the caldera, transforming them into travertine and clay. At the Huntley clay mine white chalky clay called kaolinite is mined; the kaolinite is exposed on the resurgent dome and appears as a brilliant white band.
Mammoth Mountain (11,050 ft (3,370 m)), is a composite volcano made up of about 12 rhyodacite and quartz latite domes extruded along the southwest rim of Long Valley Caldera from 200,000 to 50,000 years ago. Mammoth Mountain is one of the eruptive centers that developed late in the evolutionary cycle of the Long Valley Caldera complex.
The history and deposits of the Mono and Inyo Craters overlap with Long Valley Caldera in time and space. The Mono-Inyo Craters volcanic field developed along a 30-mile-long (50 km) fissure system that extends northward from Mammoth Mountain on the southwestern rim of the caldera to Mono Lake.
Hot Creek has cut into the floor of the caldera and passes through hot springs. The warm water of Hot Creek supports many trout, and is used at the Hot Creek Fish Hatchery. Hot Creek is part of a stream that follows part of a fault line and is well known for its hydrothermal pools and for the contrast swimmers experience between the cold stream water and either the occasional plume of very hot water (which can scald swimmers' feet and can on rare occasions cause more serious injury) or even long and very strong upwellings of hot water when enough water is in the hydrothermal system. The creek was closed to swimming in 2006 after geothermal activity in the area increased, and was still closed as of August 2010. There are a number of other hot springs in the area, some of which are open to bathers.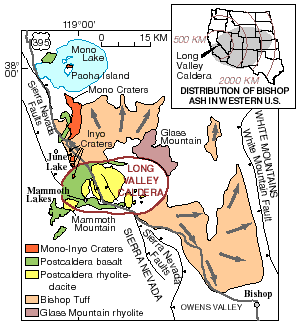 The tectonic causes of the Long Valley volcanism are still largely unexplained and are therefore a matter of much ongoing research. Long Valley is not above a hotspot as is Yellowstone or Hawaii, nor is it the result of subduction such as that which produces the volcanism of the Cascades.
The known volcanic history of the Long Valley Caldera area started several million years ago when magma began to collect several miles below the surface. Volcanic activity became concentrated in the vicinity of the present site of Long Valley Caldera 3.1 to 2.5 million years ago with eruptions of rhyodacite followed by high-silica rhyolite from 2.1 to 0.8 million years ago. After some time a cluster of mostly rhyolitic volcanoes formed in the area. All told, about 1,500 square miles (4,000 square kilometers) were covered by lava.
All but one of these volcanoes, 1–2 million year old Glass Mountain (made of obsidian),[2]:264 was destroyed by the major eruption of the area 760,000 years ago, which released 600 cubic kilometers of material from vents just inside the margin of the caldera (the 1980 Mount St. Helens eruption was 1.2 km³). About half of this material was ejected in a series of pyroclastic flows of a very hot (1,500 degree Fahrenheit or 800 degree Celsius) mixture of noxious gas, pumice, and ash that covered the surrounding area hundreds of feet deep. One lobe of this material moved south into Owens Valley, past where Big Pine, California now lies. Another lobe moved west over the crest of the Sierra Nevada and into the drainage of the San Joaquin River. The rest of the pyroclastic material along with 300 km³ of other matter, was blown as far as 25 miles (40 km) into the air where winds distributed it as far away as eastern Nebraska and Kansas. However, much of the material ejected straight into the air fell back to earth to fill the 2 to 3 km deep caldera two-thirds to its rim.
[edit]
Eruptions
Subsequent eruptions from the Long Valley magma chamber were confined within the caldera with extrusions of relatively hot (crystal-free) rhyolite 700,000 to 600,000 years ago as the caldera floor was upwarped to form the resurgent dome followed by extrusions of cooler, crystal-rich moat rhyolite at 200,000-year intervals (500,000, 300,000, and 100,000 years ago) in clockwise succession around the resurgent dome. The declining volcanic activity and increasingly crystalline lava extruded over the last 650,000 years, as well as other trends, suggest that the magma reservoir under the caldera has now largely crystallized and is unlikely to produce large-scale eruptions in the future.[3]
The Long Valley volcano is unusual in that it has produced eruptions of both basaltic and silicic lava in the same geological place.[4]
Water from the Owens River filled the caldera to a depth of 1,000 feet (300 m) as of 600,000 years ago. At that time, the lake surface was at an elevation near 7,500 feet (2,300 m).[5] The lake drained sometime in the last 100,000 years after it overtopped the southern rim of the caldera, eroded the sill, and created the Owens River Gorge. A human-made dam in the gorge has created Lake Crowley, a partial restoration of the original lake. Since the great eruption, many hot springs developed in the area and the resurgent dome has uplifted.
During the last ice age, glaciers filled the canyons leading to Long Valley, but the valley floor was clear of ice. Excellent examples of terminal moraines can be seen at Long Valley: these moraines are the debris left from glacial sculpting. Laurel Creek, Convict Creek, and McGee Creek all have prominent moraines.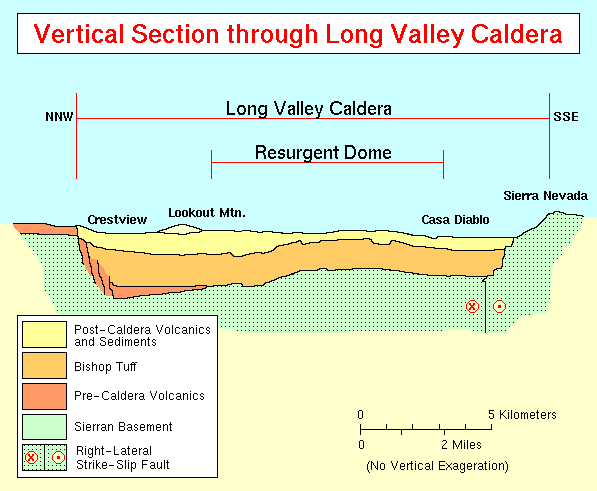 In May 1980, a strong earthquake swarm that included four Richter magnitude 6 earthquakes struck the southern margin of Long Valley Caldera associated with a 10 inch (25-cm), dome-shaped uplift of the caldera floor.[6][7] These events marked the onset of the latest period of caldera unrest that continues to this day.[6] This ongoing unrest includes recurring earthquake swarms and continued dome-shaped uplift of the central section of the caldera (the resurgent dome) accompanied by changes in thermal springs and gas emissions.[6] After the quake another road was created as an escape route. Its name at first was proposed as the "Mammoth Escape Route" but was changed to the Mammoth Scenic Loop after Mammoth area businesses and land owners complained.
In 1982, the United States Geological Survey under the Volcano Hazards Program began an intensive effort to monitor and study geologic unrest in Long Valley Caldera.[6] The goal of this effort is to provide residents and civil authorities in the area reliable information on the nature of the potential hazards posed by this unrest and timely warning of an impending volcanic eruption, should it develop.[6] Most, perhaps all, volcanic eruptions are preceded and accompanied by geophysical and geochemical changes in the volcanic system.[6] Common precursory indicators of volcanic activity include increased seismicity, ground deformation, and variations in the nature and rate of gas emissions.[6]
The Long Valley Caldera hosts an active hydrothermal system that includes hot springs, fumaroles (steam vents), and mineral deposits. Hot springs exist primarily in the eastern half of the caldera where land-surface elevations are relatively low; fumaroles exist primarily in the western half where elevations are higher. Mineral deposits from thermal activity are found on an uplifted area called the resurgent dome, at Little Hot Creek springs, Hot Creek Gorge, and other locations in the south and east moats of the caldera.[8]
Hot springs discharge primarily in Hot Creek Gorge, along Little Hot Creek, and in the Alkali Lakes area. The largest springs are in Hot Creek Gorge where about 250 liters per second of thermal water discharge and account for about 80% of the total thermal water discharge in the caldera. At the other extreme are springs at Hot Creek Fish Hatchery which contain a small component (2–5%) of thermal water that raises water temperatures about 5 °C higher than background temperatures. Use of the warm spring water in the hatchery has increased fish production because trout growth rates are faster in the warm water than in ambient stream temperatures in Long Valley.[8]
In hydrothermal systems the circulation of groundwater is driven by a combination of topography and heat sources. In Long Valley Caldera, the system is recharged primarily from snow-melt in the highlands around the western and southern rims of the caldera. The meteoric water infiltrates to depths of a few kilometers where it is heated to at least 220 °C by hot rock near geologically young intrusions. Upflow occurs in the west moat where the heated water with lower density rises along steeply inclined fractures to depths of 1–2 km. This hydrothermal fluid flows laterally, down the hydraulic gradient, from the west to the southeast around the resurgent dome and then eastward to discharge points along Hot Creek and around Crowley Lake. Reservoir temperatures in the volcanic fill decline from 220 °C near the Inyo Craters to 50 °C near Crowley Lake due to a combination of heat loss and mixing with cold water.[8]
Hot Creek has been a popular local swimming hole for decades. Over a dozen people have died in Hot Creek since the late 1960s but most of these deaths happened to individuals who ignored the numerous warning signs and attempted to use the hydrothermal pools as hot tubs (like the stream portion of the creek, these pools alternate in temperature but the eruptions in the pools are of super-heated water in already very hot water). Recent geothermal instability has led to its temporary closure for swimming. Officials are unsure of when (if ever) Hot Creek will officially reopen for swimming.
For the history and ecology of the caldera, see
Owens Valley
.
[edit]
See also
CLEAR LAKE which is nearby has a history of numerous earthquakes:
HERE IS TODAY'S MAP: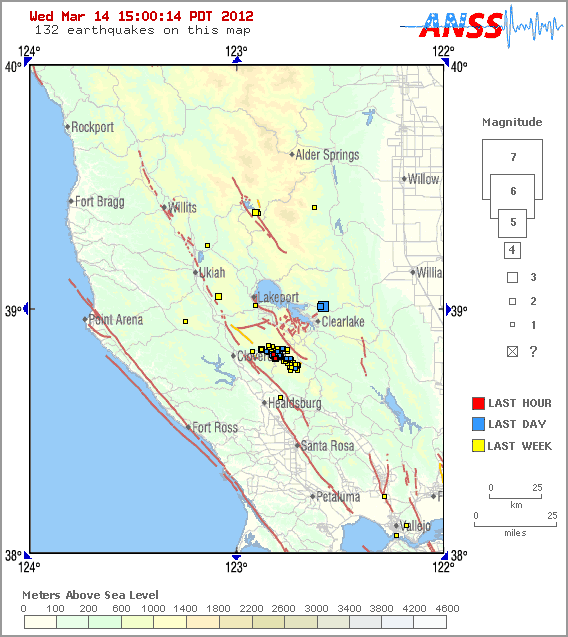 here is the real time california earthquake map http://earthquake.usgs.gov/earthquakes/recenteqscanv/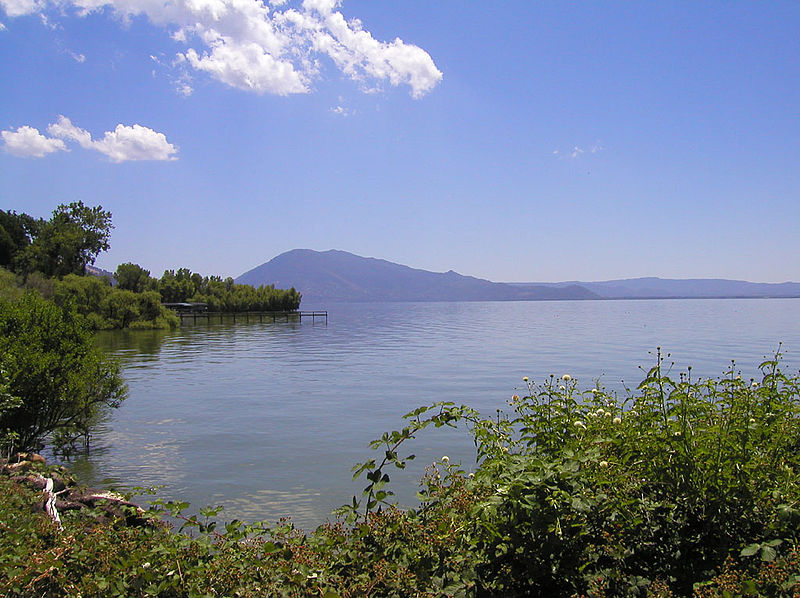 CLEAR LAKES CALIFORNIA
Clear Lake is the largest natural freshwater lake entirely in California, and has the largest surface area of any freshwater lake entirely in California, the tenth largest by capacity. It is located in Lake County and is fed by runoff flowing into many streams as well as springs in Soda Bay. Its sole outlet is Cache Creek. There is a dam on Cache Creek to increase the lake's capacity and to regulate outflow.
Clear Lake is 19 mi (31 km) by 8 mi (13 km) at its widest point, with surface area of 43,785 acres (17,719 ha) and a 1,155,000 acre·ft (1.425×109 m3) capacity. Average depth is 27 ft (8.2 m), maximum is 60 ft (18 m), lake elevation is 1,329 ft (405 m), average water temp is 40 °F (4 °C) in winter and 76 °F (24 °C) in summer.
Clear Lake is believed to be one of the oldest lakes in North America, due to a geological fluke. The lake sits on a huge block of stone which slowly tilts in the northern direction at the same rate as the lake fills in with sediment, thus keeping the water at roughly the same depth. Core samples of the lake's sediments, taken by U.S. Geological Survey geologists in 1973 and 1980, indicate that the lake is at least 480,000 years old. Some experts feel that Mono Lake, to the east of the Sierra Nevada in California, is older than Clear Lake. However, the sedimentary history of Clear Lake is unbroken, while Mono Lake's sediments have been disturbed by past eruptions of the Long Valley Caldera and associated volcanoes.
The geology of Clear Lake is chaotic, with numerous small faults being present in the south end of the lake as well as many old volcanoes, the largest being Mount Konocti, sitting at the middle of the lake's south shore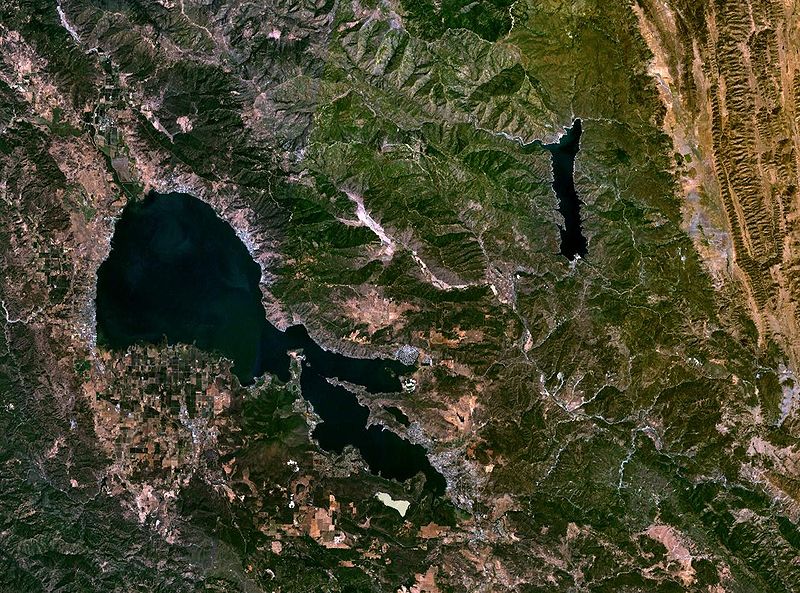 CLEAR LAKE IN INDIAN VALLEY
At one time Clear Lake was even bigger than it is now, and included the Blue Lakes (to the northwest of Clear Lake). Volcanic eruptions and subsequent landslides changed the landscape dramatically, forever separating Clear Lake from the Blue Lakes and from its former westward drainage into the Russian River.
Archaeologists believe that the Clear Lake basin has been occupied by Native Americans for at least 11,000 years. Evidence of this has been found at nearby Borax Lake and on Rattlesnake Island in the lake's south arm. Abundant fish, game and waterbirds made Clear Lake an oasis in the otherwise harsh conditions of Northern California's mountains. The native Clear Lake hitch, Lavinia exilicauda, was once so abundant that millions of hitch clogged the lake's feeder streams in dry months. When the Spanish missionaries came to California, they found that thousands of Native Americans lived in the Clear Lake Basin, primarily Pomo, Yuki, and Wappo with some Lake Miwok.
European settlers arrived, starting around 1845. Frequently they abused and exploited the native Pomo people. One of the most notorious incidents was the Bloody Island Massacre of spring 1850 [3]. A number of Pomo were enslaved and abused by settlers Andrew Kelsey, whose name is attached to the town of Kelseyville today, and Charles Stone. The Pomo finally revolted and killed Kelsey and Stone. A United States Army contingent under Gen. Nathaniel Lyon cornered as many as 200 Pomo on an island in Clear Lake, and slaughtered most of them—including scores of women and children. The historical marker for Bloody Island is on Highway 20 between Upper Lake and the Robinson Rancheria.
Later, the Pomo were forced to live in small "rancherias" set aside by the federal government. For most of the 20th century, the few Pomo people left had to live on these tiny reservations in poverty. Ironically, today the fastest-growing businesses around Lake County are the gambling casinos presently operated by four Pomo rancherias, with more casinos planned.
Clear Lake was used as an outlying seaplane base for Alameda Naval Air Station during World War II and the early years of the cold war. Flying boats could land on Clear Lake when landing conditions were unsafe on San Francisco Bay.[1]
Exhibits and programs about the region's culture and history are maintained and presented by rangers and docents at Clear Lake State Park and at Anderson Marsh State Historic Park. Lake County has two county museums, the Lake County Museum in Lakeport and the Lower Lake Historical Schoolhouse Museum in Lower Lake. There are also numerous state and local historical landmarks identified throughout the county.
[edit]
Heavy metal contamination
The lake is heavily contaminated with mercury from the nearby Sulphur Bank Mercury Mine.[2][3] The nearby abandoned mine was declared a Superfund site in the early 1990s [4][5][6] and is still undergoing cleanup. The California Department of Fish and Game presently recommends that women of childbearing age and children limit their consumption of certain fish from Clear Lake, due to the presence of methylmercury compounds in lake sediments.[7]
The Clear Lake basin attracts large quantities of waterfowl, including mallards, Western grebe, coots, various species of geese, ospreys, plovers, mergansers and many others. Wild turkeys, black-tail deer, gray squirrels, ground squirrels, skinks, river otter, raccoon, mink, and muskrat. There have been occasional sightings of mountain lion and ringtail. Opossums, red-tailed hawks, turkey vultures, and other species are also common. The endangered northern spotted owl is seen occasionally. Common reptiles and amphibians include the northwestern pond turtle, California king snake, pacific gopher snake, garter snakes, northern pacific rattlesnake, common bullfrog and the rare giant salamander among many others. Much of the shoreline is developed but parks, reserves, miles of open water and private land also exist allowing many opportunities for observing and enjoying nature. The county also hosts a growing population of the rare Tule elk, recently reintroduced after being locally hunted to extinction 100 years before. A large colony of bald eagles is found in the Cache Creek canyon.
In addition to the native Clear Lake hitch[8] Lavinia exilicauda (called chi by the native Pomo), the lake hosts Channel catfish, White catfish, Brown bullhead, crappie (both black and white species), and other native fish species, as well as Florida strain largemouth bass and carp placed by the Department of Fish and Game for sporting purposes. Along the shoreline and creeks there are aquatic growths of tule, cattail, willow, cottonwood, box elder, and many other types of riparian plant life[9], as well as the massive cyanobacteria blooms that peak in late summer.
The streams feeding Clear lake contain Sacramento pike minnow, California roach, and rainbow trout. Pacific brook lamprey are present in at least one stream, Kelsey Creek. Prior to the construction of a dam on the outlet of Clear Lake, both steelhead and Pacific lamprey ascended Cache creek to spawn in Clear lakes tributaries.[10]
The rugged coastal mountains surrounding Clear Lake are covered with thick stands of oak-madrone forest, manzanita, sage shrubs, chaparral, grasses etc. Most common trees include blue oak, valley oak, interior live oak, pacific madrone, California scrub oak, plus very occasional coast redwoods and tanoak. Large stands of Western White Pine may be seen in the higher elevations. The heavy forestation and ruggedness of this part of California has helped prevent wholesale real-estate development or farming. On the northeast slope of Mount Konocti is a heavily forested area known locally as the "Black Forest", because it never gets direct sunshine. This area has some Douglas fir in very heavy stands.
Clear Lake is well-known among entomologists for the Clear Lake gnat (Chaoborus astictopus) and historical control efforts. This species of "phantom midge" (so called because the larvae are transparent and very difficult to see) measures less than 1/4" long and resembles a tiny mosquito, but is non-biting. Clear Lake gnat hatches start anytime from March through June, depending on weather. Before pesticide use began in the 1940s (Refer to Rachel Carson's book Silent Spring, chapter 4), the gnat was so abundant around the lake in the summer that large piles of dead gnats appeared beneath streetlights, looking like dirty snow. The gnat swarms were so thick that people driving along the edge of the lake reported stopping every 1/4 mile to clean off the gnats off the windshields and headlights of their cars so they could see, and pedestrians tied kerchiefs over their faces to avoid inhaling the gnats. In 1949, as part of an effort to boost tourism and improve the local economy, DDD (dichlorodiphenyldichloroethane) was applied to the lake in heavy doses to eradicate the gnats that were driving summer tourists away from the lake. The treatment succeeded in controlling the gnats that year and for the following year, however in 1953 the gnat population rebounded, prompting another application in 1954. The final application of DDD to Clear Lake was made in 1957 (Cook 1963). Numbers of Western grebe were found dead, their tissues containing high concentrations of DDD. The effects were devastating to the local ecology. From 1962 to 1975 carefully planned applications of methyl parathion were made for Clear Lake gnat control.[11] The gnat still occurs in Clear Lake, but at much lower numbers than in the 1940s-1970s. The Clear Lake gnat's population is believed to be kept in check now by two introduced fish species (the Threadfin Shad (Dorosoma petenense) and the Inland Silverside (Menidia beryllina)) that compete with the Clear Lake gnat for its preferred zooplankton for food.

CLEAR LAKE TAKEN FROM HIGHWAY 175
CA Route 175 connects U.S. Route 101 at Hopland to State Route 29 near Lakeport through the Mayacamas Mountains. From there it joins Route 29 until Kelseyville, where it loops out until meeting Route 29 again at its end at Middletown. The section between Hopland and Lakeport is also known locally as the "Hopland Grade", or "Hopland Pass."
Originally constructed in the early 1920s, it is one of the steepest and most difficult to drive of any California state highway. Indeed, until recently it was called the "crookedest road in California". Vehicles more than 39 feet (12 m) in length are banned from the Hopland Grade, due to its many tight hairpin turns and curves.
Note: Except where prefixed with a letter, postmiles were measured in 1964, based on the alignment as it existed at that time, and do not necessarily reflect current mileage. The numbers reset at county lines; the start and end postmiles in each county are given in the county column.
This blog page continues on page 170 for another famous highway 175 thrugh yellowstone caldera country
[edit]
Recreation