CORNPLANTER
CURRENT U.S. NATIVE AMERICAN POLICY
compiled by Dee Finney
3-29-02 - CORNPLANTER DREAM -
I was dreaming about reading several paragraphs on a web page about the Native American - Cornplanter.
Then the dream went into another scene where I was reading or at least scan-reading a magazine put out by a religious group about President George Bush and President William Clinton and their political relationship and police and the Native American during their terms of office.
The magazine was written in 3 columns to a page, with many of the paragraphs in the center column highlighted with extra-large parentheses ( ) which stuck out into the other columns next to it on each side.
When I finished looking at the magazine, I found myself in a building which was owned by a very conservative women's religious group.
I was in the hallway with President Clinton and a man who did not look like, but I thought it was Al Gore.
President Clinton left and I spent some time talking to Al Gore about what had been written about him and mentioned that there was nothing written about him that pointed to anything sexual about him, and the article seemed deliberately slanted that way.
I was not able to go home because the room where my coat was hung had a meeting going on of all conservative religious women and I couldn't interrupt them.
So Al Gore and I went into another room and sat down on adjacent chairs to discuss the magazine article. Al Gore was more interested in me than he was in the article. I saw that the page he was turned to was the classified ads in the back of the magazine.
Three young men came into the room and were throwing a football to each other, but deliberately close to me to intimidate me. They noticed how close I was to Al Gore and commented on the color of my clothes which was a brilliant glowing Royal blue with a red and blue paid skirt.
The three young men were trying to blackmail me and Al Gore, trying to make it out that we had an illicit relationship, which we didn't. At the same time, they were holding us hostage.
In a kitchen-like area of this room, we suggested to the young men that we have a party in order to get them off the track. So we sent them to the store to buy some cherry soda and Sloe gin (which is also red) I told them to get two of each because they were using my money out of my purse which they had stolen.
I was glad to get them off the track, while the young men were running around, gathering up the old liquor and soda bottles from the whole building, to take back to the store to get a refund and recycle the bottles. I was walking around the room, gesticulating with my right arm, yelling, PARTEEEE!!!!! PARTEEEE!!!!
---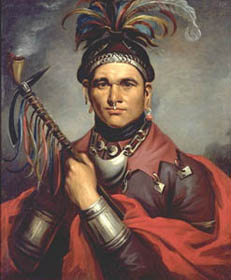 CORNPLANTER (c.1736-1836)
Ki-On-Twog-Ky
(GY-ANT-WA-CHIA)
Cornplanter was a great war captain of the Seneca nation, a member of the Iroquois Confederacy. During the American Revolution, the Iroquois warrior Cornplanter rose to prominence, becoming a principal Seneca leader. He was also known as John O'Bail after his Dutch trader father. After the Revolution, Cornplanter quickly decided that keeping the peace with the new Americans was the best way to help his own people. Although his mission as a peacekeeper was often unpopular and difficult, he negotiated the best possible terms for his people on numerous occasions when he traveled as a statesman to Philadelphia.
NOTE: Another website reports this: He was a rival of Red Jacket, another Seneca, but Cornplanter was born before the birth of Red Jacket, and he lived several years after Red Jacket died. The birth date of Cornplanter, or Ki-on-twog-ky, has not been definitely determined, but it was between 1732 and 1740. He was born at Connewaugus, on the Genesee River in New York. His mother was a fullblood Seneca, and his father is thought to have been an Irishman named O'Bail. The name has sometimes been used as O'Beale, and Cornplanter has been referred to as John O'Beale. Recently however, I have had the good fortune of receiving mail from a descendant of Cornplanter who tell me that Cornplanters father was a Dutch man who went by the name of Abeel not an Irish man as mentioned before. From: http://members.aol.com/circofire/cornplan.html
The American Revolution split this Confederacy, destroying its New York bulwark against the whites. Most of the Iroquois, including Cornplanter's tribe, sided with the British against the Americans. To eliminate any threat from the Senecas, the most powerful member of the Iroquois Confederacy, in 1779 General George Washington dispatched General John Sullivan, along with four thousand men, to lay waste and devastate the Iroquois homeland. During this invasion of Seneca territory, the only full-scale military engagement between the Senecas and U.S. soldiers to take place in Yates County occurred at Kashong Creek. The devastation inflicted upon the Senecas, in terms of lives and property lost, was immense. Over forty villages were wiped out, and more than one-hundred and fifty thousand bushels of corn were destroyed, resulting in starvation for the survivors. Defeated, Cornplanter signed the Treaty of Fort Stanwix (1784) with the government, ceding land to the United States. This disgraced him in the eyes of his people, but made him a favorite of whites, including Thomas Jefferson, with whom Cornplanter became friendly.
In gratitude for his assistance in keeping the Seneca neutral during the Indian wars in Ohio, Cornplanter was given a grant of land on the western bank of the Allegheny River, where he lived to a very old age. In 1791, the grateful Commonwealth of Pennsylvania established Cornplanter's Grant. In 1789 the recommendation was made that Chief Cornplanter be given a grant of 1500 acres of land in western Pennsylvania. By act of the Pennsylvania assembly passed February 1, 1791, he was granted lands for which the patents were issued March 16, 1796. The final gift, an area of about 700 acres, was the Cornplanter Grant, located in Warren County about three miles below the southern boundary of New York state. There were three separate units in this grant, Planter's Field and the town of Jennesedaga on
the mainland along the Allegheny River, and two adjacent islands, Liberality and Donation.
His views were opposed by the energetic Red Jacket but supported by Handsome Lake (Cornplanter's half brother).
Cornplanter was reputed to be about a hundred years old at the time of his death.
The Salvation of the Seneca Culture
The Legends of the Iriquois as told by Cornplanter
Governor Blacksnake - Nephew of Cornplanter
---
CHURCH WOMEN UNITED
Public Policy and Witness
Washington D.C. Office
United Nations Office

Making the World Safer for Women and Children

One of the strengths of Church Women United is the social policy that has been developed by the organization over a period of its life -- nearly 60 years. We celebrate our 60th birthday in the year 2001. We have a policy base that has been established by careful discussion and deliberation over the years. We pay attention to that. We add new resolutions, new policies from time to time. We have developed a new policy setting process, which we are currently using. Our Native American policy was developed in collaboration with a number of Native American women, with broad participation around the country. Our Violence Policy has been developed in the same way. It went out for discussion in units around the country and we got excellent feedback. A number of units studied the policy and made suggestions to strengthen it.

It is a policy that looks at violence in a very broad way. Instead of just personal and psychological violence against women, but militarism as a form of violence, economic insecurity as a form of violence, and many
broad based approaches to looking at at some of the root causes of violence, what our scriptural and theological understanding of violence against women helps inform us. We are very pleased that the process of developing those policies is very participatory.
"American Baptist Churches Resolution in Support of American Indian Religious Freedom
6/81 - 8066:6/81 AMERICAN BAPTIST RESOLUTION IN SUPPORT OF
AMERICAN INDIAN RELIGIOUS FREEDOM. Prior to the settlement of this country by
Europeans, Indian people lived and roamed in many areas of this continent. Some, more
sedentary, became skilled... "
http://www.abc-usa.org/resources/resol/amind.htm
Amelia Stone Quinton 1833 to 1926
Native American Rights Activist
---
THE TREE OF LIFE
The way the magazine was set into three columns, with the pertinent highlighted sections of information spreading out into the other columns reminds us of the 'Tree of Life' which is also aligned in three columns.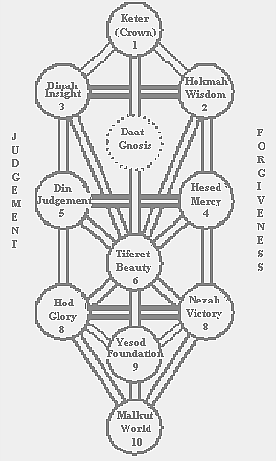 Please note the names of the Sephiroth
NATIVE AMERICAN POLICY
DURING THE YEARS OF GEORGE BUSH, SR. AND WILLIAM J. CLINTON
Executive Orders (Note: All links with the initials (BIA) in them have been pulled off the

web by court order due to a law suit. They should be back up when the suit is finished.

Hopefully that will be soon)


Official American Indian Policy - 1994

Presidential Documents

Presidential Proclamations
1994 Administrator's Action Memorandum on Tribal Operations

1991 Memorandum of Understanding (MOU) (28.5KB PDF File)

BILL CLINTON'S OUTGOING PARDON SCANDAL:

The most serious of the scandals that broke over pardons granted by the President on that last day in office. There was none for the American Indian activist Leonard Peltier - whose challenge against a dodgy conviction had become the cause of an entire people - but clemency generously bestowed on what quickly emerged as a rogues' gallery. There was a clutch of shady characters, including a heroin trafficker, for whom the First Couple's embarrassing respective brothers, Roger Clinton and Hugh Rodham, had lobbied (for money, of course). But most damaging was the odious figure of Marc Rich. Rich was a fugitive living in a gated palace under the protection of Swiss banking and extradition laws, wanted by the FBI for fraud and other misdemeanors of the super-rich.

---

GEORGE W. BUSH, JR. SPEAKS ON NATIVE AMERICAN POLICY WHILE RUNNING FOR OFFICE:

The federal government and tribal governments must work together, government to government, to ensure that the American dream is accessible to Native Americans. That dream begins with a quality education. Tragically, schools on tribal lands are often in poor physical condition and lack basic resources. The federal government
has a frontline responsibility to fix these schools and provide an environment in which children can learn.

Enrollment in BIA schools is growing and has increased by 25 percent since 1987. While more children are attending BIA schools, these children are doing so in physical environments that are among the worst in the nation. In fact, according to a December 1997 report by the Government Accounting Office (GAO), when
compared to schools around the nation, BIA schools are: Generally in poorer physical condition, with inadequate roofing, framing and floors, plumbing, heating and lighting; Have more unsatisfactory
environmental factors, such as indoor air quality, energy efficiency, ventilation and physical security;
More often lack critical capabilities, such as libraries, science labs, and support activities (day care, health care
services, areas for counseling and testing) to meet requirements for education reform; and are less able to support computer and communications technology, lacking telephone lines, electric wiring and power.

Indian schools also often fail to meet basic safety, fire and health codes, and typically do not provide
access to individuals with disabilities. The GAO report also highlighted the fact that many of the BIA educational facilities are two or three times beyond the acceptable period for their use. One-fifth of the buildings are more than 50 years old, and half are more than 30 years old. Many of these facilities have been placed on the "Historic Register," thus complicating any attempt to modernize or improve these facilities. For example,
100-year-old pueblo-style buildings that are registered as historic sites can hamper the ability of school
officials to install energy-efficient windows or make other changes that would alter the character of the
buildings

Some schools are so poorly maintained that many students must now attend classes in mobile units. In North Dakota, for example, children of the Ojibwa Indian School on the Turtle Mountain Reservation have to attend classes in trailers because the main school building has been condemned.

In the Baca Consolidated Community School near the Navajo reservation in northwest New Mexico, 170 children attend classes in closet-sized structures and play on a concrete slab that serves as their gymnasium.

All told, BIA schools are in need of serious attention.

In July 2000 on the Senate Floor, Senator Byron Dorgan (D-ND) stated, "the worst school facilities in
the Nation are those on the Indian reservations."

The age and poor condition of the buildings, coupled with the consistent lack of funding, has led to a backlog of more than $802 million for renovations and repairs.

In addition, the BIA is still awaiting $126 million to replace six schools:

Tuba City Boarding School in Arizona; Zia Day School in New Mexico; Baca Consolidated Community School in New Mexico; Lummi Tribal School in Washington; and Wingate Elementary School in New Mexico.

Government-to-Government Relationship

Federal Indian policy, broadly expressed in terms of "trust relationships," "legal duties," and "moral obligations," revolves around the special relationship between the U.S. Government and individual Indian tribes. As such, much of our federal Indian policy has been developed in the context of treaties, the Constitution,
statutes, and court decisions. Currently, there are 556 federally recognized Tribes in the United States. According to the 1990 Census, there are approximately 2 million Native Americans living in the United States.

The federal government has a special responsibility, ethical and legal, to make the American dream accessible to Native Americans. Unfortunately, many of the resources that the United States holds in trust for them, financial
and otherwise, have been misused and abused. While many tribes have become energetic participants in the mainstream of American life, the serious social ills afflicting some reservations have been worsened
by decades of inattention and mismanagement from Washington.

I believe that these principles should guide Native American policy:

Tribal governments are best situated to gauge the needs of their communities and members. The federal government has an affirmative obligation to meet its trust obligations, including education. Political self-determination and economic self-sufficiency are twin pillars of an effective Indian policy. High taxes and unreasonable regulations stifle new and expanded businesses and thwart the creation of job opportunities and prosperity. I will strengthen Native American self-determination by respecting tribal sovereignty, encouraging economic development on reservations and Indian lands, and working with Native Americans to reorganize the Bureau of Indian Affairs and the Indian Health Service to better serve their needs.

I will also uphold the unique government-to-government relationship between the tribes and the United States and honor our nation's trust obligations to them.

The Federal Government's Responsibility for Indian Schools

In treaties dating back to the 1800's and the legislation starting with the Synder Act of 1921, the Federal
government has assumed a trust responsibility to provide an education to Indian children, including through the construction and maintenance of schools. These Bureau of Indian Affairs schools are the sole responsibility of the federal government, and as such the federal government has an obligation to maintain their structural soundness. Native American children deserve to have the basic structures, resources and tools to enable them to learn.

As recently as February 2000, the U.S. Department of the Interior stated in its budget report for fiscal year 2001:

The 185 Indian schools managed by BIA compose one of only two school systems managed by the Federal government. Many of these school facilities have serious health and safety deficiencies that pose a real threat to student learning. Many schools have leaking roofs, peeling paint, overcrowded classrooms, and inadequate
heating and cooling systems. At many schools, students attend class in aging portable classrooms.

In addition, many Indian students lack access to computer and science labs, gyms, and other basic resources that are critical to ensuring the success of the younger generation.

Despite this recognition, the Administration has failed to provide sufficient funding to honor the federal responsibility to Indian schools and the children who attend them. There have been those in Congress who have advocated for the federal government to meet its responsibility to Indian schools. Senator Pete Domenici (R-NM) has stated, "the real problem here is that if we do not rebuild the Indian schools that are run by the Government and put them under some management and maintenance, nobody will. They don't belong to anyone else. They are not being run by the State of Georgia, or the school board of Bernalillo County, Albuquerque... either we do it or the Indian young people go to school in buildings that are not fit for occupancy, much less for Indian education."

In order to renew our commitment to educating Indian children in safe and structurally sound schools and
to fulfill the federal government's unique responsibility, as President, I will: Establish the Tribal School Capital Improvement Fund: I will provide an immediate infusion of $928 million to eliminate the current backlog of needed repairs and maintenance, as well as to fulfill the promise to replace six schools. The Bureau of Indian Affairs will administer this fund.

Schools with the most urgent needs will be given priority in the funding requests.

Modernize Schools and Maintain Historic Character: In addition, I will work with the Bureau of Indian Affairs, the National Trust for Historic Preservation, and tribal governments to make needed capital improvements while preserving the historic character of many of the Indian schools.

Restoring the Trust - Native American Schools

Lawsuit Seeks to Block BushCheney Plans to Drill Utah Federal Lands
07-Dec-01, 2001
Environment

"Environmentalists have sued the Bush administration in an effort to block the president's [sic] efforts to accelerate energy exploration on federal land. The lawsuit claims the Bureau of Land Management and its parent agency, the Interior Department, broke the law by not assessing the environmental and cultural damage that could be done or consulting with Indian tribes before opening a dozen parcels in southern Utah to oil and gas exploration. The environmental groups that filed the lawsuit Thursday in U.S. District Court in Washington said the administration was trying to cut corners to speed up processing of oil and gas leases. In doing so, the Bush administration has 'embarked on an aggressive stealth campaign to open up public lands for resource development,' said Johanna Wald, attorney with the Natural Resources Defense Council, which filed the lawsuit in conjunction with the Southern Utah Wilderness Alliance."

Native American Documents Project

American Indian Environmental Office

Department of Energy American Indian Policy

ENVIRONMENTAL POLICY AND CONFLICT RESOLUTION ACT OF 1998
File Format: www.ecr.gov/pdf/PL_105-106.pdf PDF/Adobe Acrobat - View as HTML
... The Morris K. Udall Scholarship and Excellence in National Environmental and Native
American Policy Act of 1992 (20 USC 5601 et seq.)

Reagan's 1983 Indian Policy (28.8KB PDF File)

Nixon's 1970 Indian Policy (11.9KB PDF File)

EPA Policies and Initiatives

Internships Available for American Indian Students

American Indian & Alaska Native Tribal Government Policy
File Format: PDF/Adobe Acrobat - View as HTML -- text version of this document.
... protective of tribal sovereignty and trust resources. The DOE released its Indian
Policy in 1992 and subsequently issued DOE Order 1230.2 that established the ...

History of the Committee of Indian Affairs

Documents of United States Indian Policy

National Congress of American Indians, Washington, D.C., (202) 546-9464

Native Americans for a Clean Environment, Tahlequah, OK, (918) 458-4322
Native American Policy Networks, Miami, FL, (305) 899-3473
Native American Rights Fund, Boulder, CO, (303) 447-8760

Government Indian policy in Canada, history
... The goals of official Indian policy have been to remake Indian people in the image
of European manners and values eventually eliminating their separate culture ...

Tribal Governments
· Bureau of Indian Affairs (BIA)

o Links to U.S. Government Agencies, Tribal Organizations and Electronic Libraries
that have information about Native Americans

· BIA List of Federally Recognized American Indian Tribes and Alaska Natives

Links to Public Laws and other legal conventions governing American Indian Religious Freedom, artifacts, gravesites, and land trespass.

"The National Park Service and Native American Rights: Mission, Legacy, Business,
Acreage, Legal Criteria, Local Support, Stewardship, Field Offices, Parks, Native American
Rights in Parks Legislation, American Indian Religious Freedom Act, 1978."
http://www.nps.gov/legacy/leg_natv.html

"Legal Mandates from the National Archeological Database
Final Regulations, 43 CFR 10 [Dec. 04, 1995]
http://www.cast.uark.edu/other/nps/nagpra/nagpra.dat/lgm005.html
Part 10--Native American Graves Protection and Repatriation Regulations -
Updated (Full Text of the 43 CFR Part 10 regulation as amended January 13,
1997 and August 1, 1997 and published in the Code of Federal Regulations
October 1, 1997) [Oct. 01, 1997]"
http://www.cast.uark.edu/other/nps/nagpra/nagpra.dat/lgmc08.html

National Indian Gaming Association official site with links to history of Indian gaming, gaming
compacts with the states, statistics of employment and dispersal of revenues, current
controversies, sovereignty issues, and more: http://www.dgsys.com/~niga/
http://www.indiangaming.org/

Also see http://www4.law.cornell.edu/uscode/25/2710.html

"CONSULTATIONS WITH NATIVE AMERICAN INDIAN TRIBES - Cultural
Resources and Consultations with Native American Indian Tribes. The General Services
Administration (GSA) and the Department of Commerce (DoC) developed a process for
consultation with Native American sovereign governments."
http://boulder.noaa.gov/updates/tribes.html

University of New Mexico Law Library with links to American Indian Law sites
http://www.unm.edu/~unmlaw/library/indlaw.html

National Indian Child Welfare Act (NICWA)
http://www.nicwa.org/policy/sectionb.htm
See also the National Indian Child Welfare Association for additional information
about implementation of the NICWA: http://www.nicwa.org/

Indian Arts and Crafts Act of 1990 (P.L. 101-644)
http://www.artnatam.com/regist.html
Signed on November 29,1990, "to promote and protect the domestic Native American Artists and Crafters by providing meaningful deterrents to those who misrepresent their products. November 20, 1996 is the effect date of the Final Rule for 'The Indian Arts and Crafts Act of 1990'. 'The law is essentially a truth-in-advertising law designed to prevent products from being marketed as 'Indian Made' when the products are not, in fact made by Indians as defined in the Act.' To be considered an Native American Artist, the individual must be a member of an Indian Tribe or be certified as an Indian Artisan by an Indian Tribe.

---

DEES DREAMS AND VISIONS ARCHIVE PAGE