DEES DREAMS AND VISIONS
DECEMBER 2013
12-1-13 - DREAM - It seemed to be winter time and cold, but there was no snow on the ground.. The city seemed to be Milwaukee.
There was going to be a play, done in costume, and I was helping with it.
I had to take apart the web page it was advertised on with all the people, which I did, but it was easily put back together by downloading the original base page to fix it again.
However, in real life, there seemed to be a plane crash, and it took out a whole building in the dark, and there was no putting it back together.
I was there, and my son Bill was going to this play and the back of his pants was torn apart, and I helped stitch his pants back up.
I didn't hear of any people being killed, just a lot of damage to the building.
***************************
12-1-13 - DREAM - SEQUEL. I was still at the play - facing the stage. On the stage were two tables, one with a gold cloth over it, and the other with a red cloth over it.
When I left the auditorium, I was helping someone hang a long dark green cloth from the ceiling which reached to the floor and it had dried weeds dragging off the bottom of the cloth.
When I looked out the window, it looked like it had rained because everything was wet and the fields on the other side of the road were saturated with water. In the field was a lot of debris from something that was broken into small pieces - like a building.
Then a dark bright green plastic looking truck came along, pulling a dark bright green plastic looking wagon, and a man got out and picked up some of the debris and put it in his wagon and took it with him, but didn't take it all - just some of it.
In another room, I saw two women, who had been in the play that was now over. One was a young woman, and one was an older white-haired woman. Both of them had their hair shorn very short, but not done well, because the hair behind their ears was cut very badly - part shaved and part cut.
The two women were trying decide whether to live in Mexico or just go home, but they didn't want to go home because they would be all alone. Nobody else was there.
*****************************
12-1-13 - MEDITATION: I had been reading a couple pages about receiving the anointing to preach for Jesus - from a book written by a young Jewish girl who had turned Christian and was full of JOY all the time.
I knew what that Joy felt like because I felt that yesterday after being visited by Jesus in a dream that showed him helping me hang lights from the ceiling of the lobby of a hotel I worked in.
That was followed by a vision in which Jesus came and injected me with a hypodermic needle in my heart.
I didn't know if that was good or bad and expected to feel pain or something but I didn't. But later in the day, after listening to music about angels, I started to feel that JOY I expected. But it didn't last overnight like I hoped it would.
In this meditation dream, I was sitting at a round table with a few birds that looked like sparrows who were living in bubbles made of plastic the thickness of Saran wrap.
I noticed that these bubbles had water in the bottom, and the bird I was holding in my hand I thought I would puncture the bubble on the bottom and drain the water out, thinking it was like bird pee. But I didn't realize that when the water drained out of the bubble, the air would also come out and collapse the bubble around the birds beak and it wouldn't be able to breathe.
So, when I pricked the bottom of the bubble and released the water, the bubble collapsed over the bird's beak, but I had a scissor handy and I grabbed the bird to cut the bubble's plastic wrap along its mouth so the bird could be released from the bubble, as soon as I touched the plastic bubble by its mouth, the bird was completely free of the plastic bubble. It was free to fly wherever it wanted to go.
I knew then I could do the same for all the other birds on the table.
As I woke up, I realized as I was told by spirit right then, that this is how its going to be at the end of the END-TIMES.
HIS EYE IS ON THE SPARROW: http://www.padfield.com/2001/sparrow.html
*************************
12-1-13 - MEDITATION DREAM - I was seeing on a screen what looks like a poem, and I was going to underline a line at the end, and I could no longer see it - and I know this is the third time I've seen that poem in a dream, and each time it ends the same - I cannot remember what it said and it vanishes before I can read it or underline it.
apparently spirit really wanted me to know this because I had the dream twice more.
The line I was supposed to underline was: COUNTRIES DESTROYED BECAUSE OF MONEY
This time I know where I was as well. I was in a large basement, and the only way up was through a hole in the ceiling that was too small for me to fit through.
en.wikipedia.org/wiki/Money_burning - Similarto Money burning - Wikipedia, the free encyclopedia

Money burning or burning money is the purposeful act of destroying money. ... However, according to the quantity theory of money, because it reduces the supply of ..... EU countries must remove the currency from circulation and reimburse the ...

en.wikipedia.org/.../Destruction_of_country_houses_in_20... - Similarto Destruction of country houses in 20th-century ...

There, 378 architecturally important country houses have been destroyed, ..... " Legacy Duty" was a tax payable on money bequeathed from a personal estate. ..... but also in part due to the aforementioned high-profile Destruction of the Country ...

www.imf.org/external/np/exr/center/mm/eng/mm_dr_01.htm - Similarto Money Matters, an IMF Exhibit -- The Importance of Global ...

Combat and bombing had flattened cities and towns, destroyed bridges and ... in human lives and suffering, countries spent more money on World War II than in ...
www.unitypublishing.com/Government/IMF.htm - Similarto IMF / World Bank Destroying Countries - Unity Publishing

For over 150 years they have planned to take the world over through money. ... Because you have riot, all the capital runs away from your country and that gives ...
See: http://www.greatdreams.com/blog-2013-3/dee-blog603.html
************************
12-2-13 - MEDITATION VISION - Since I had read some articles that were channeled from the CC's or Cassiopeans, I decided I wanted to see what they looked like as they are said to be 6th density beings.
So, I raised my vibrations and asked to go to the 6th density to meet a Cassiopean.
I found myself sitting a white round table with two men. One on the left side and one directly across from me.
I didn't see their faces clearly, but I got the impression they looked human.
The man across from me had dark hair on top of his head, and though his face was blurred from me, he said, "Well, this is the way it is," and his scalp and skull started lifting off the top of his head. It was all sticky inside and I could see that his brain was white and as his skull lifted off his head, strings of brain were strung from the skull to the brain itself.
At that point, I decided to open my eyes and end the session. I was a little nonplussed to be sure.
**************************
12-3-13 - DREAM - I don't know why I did this, but I created a game out of cards, each one with a picture of a human on it, the cards were about 4 inches by 2 inches or so, and all connected to each other with string sewn into the edge of the card in all four directions except the edge ones which were only sewn together three ways. I counted the cards - 20 cards in one direction and 20 in the other. So there were 400 cards all together and none of them could spin out of control, every card was controlled by 4 other cards - except the edge ones.
****************************
12-3-13 - DREAM - I seemed to be in Washington State on a city street, walking with a man. We didn't want to get rained on and saw a dark cloud in the sky. Along the sidewalk was sitting an actor I evidently knew well. He seemed to be sitting there at a table getting drunk.
I remember his face very clearly, but I haven't been able to identify him.
I ended up taking him into my arms and holding him because he was so drunk.
****************************
12-3-13 - DREAM - I was working on a page of writing and trying to paste a prayer into the proper spot and couldn't quite get it right.
I woke up to the word ECCLESIASTICUS
I think this may be the right one though it seems a bit long
Ecclesiasticus
Chapter 3
3Children must honor and help both their parents. 21We may not desire to know all things. 26The incorrigible must perish.30Almsgiving is rewarded.
1Hear me your father, O children,
and do thereafter, that ye may be safe.
2For the Lord hath given the father honor over the children,
and hath confirmed the authority of the mother over the sons.*
3Whoso honoreth his father maketh an atonement for his sins,
4and he that honoreth his mother is as one that layeth up treasure.
5Whoso honoreth his father shall have joy in his own children;
and when he maketh his prayer, he shall be heard.
6He that honoreth his father shall have a long life,
and he that is obedient unto the Lord shall be a comfort to his mother.
7He that feareth the Lord will honor his father,
and will do service unto his parents, as to his masters.
8Honor thy father and mother both in word and deed,

that a blessing may come upon thee from them.*
9For the blessing of the father establisheth the houses of children,*
but the curse of the mother rooteth out foundations.
10Glory not in the dishonor of thy father,
for thy father's dishonor is no glory unto thee.
11For the glory of a man is from the honor of his father,
and a mother in dishonor is a reproach to the children.
12My son, help thy father in his age,
and grieve him not as long as he liveth.
13And if his understanding fail, have patience with him;
and despise him not when thou art in thy full strength.
14For the relieving of thy father shall not be forgotten,
and instead of sins it shall be added to build thee up.
15In the day of thine affliction it shall be remembered;
thy sins also shall melt away, as the ice in the fair warm weather.
16He that forsaketh his father is as a blasphemer,
and he that angereth his mother is cursed by God.
17My son, go on with thy business in meekness;
so shalt thou be beloved by him that is approved.
18The greater thou art, the more humble thyself,
and thou shalt find favor before the Lord.*
19Many are in high place and of renown,
but mysteries are revealed unto the meek.*
20For the power of the Lord is great,
and He is honored by the lowly.
21Seek not out the things that are too hard for thee,
neither search the things that are above thy strength.*
22But what is commanded thee, think thereupon with reverence;
for it is not needful for thee to see with thine eyes the things that are in secret.
23Be not curious in unnecessary matters,
for more things are shown unto thee than men understand.
24For many are deceived by their own vain opinion,
and an evil suspicion hath overthrown their judgment.
25Without eyes thou shalt lack light;
profess not the knowledge therefore that thou hast not.
26A stubborn heart shall fare evilly at the last,
and he that loveth danger shall perish therein.
27An obstinate heart shall be laden with sorrows,
and the wicked man shall heap sin upon sin.
28In the punishment of the proud there is no remedy,
for the plant of wickedness hath taken root in him.
29The heart of the prudent will understand a parable,
and an attentive ear is the desire of a wise man.
30Water will quench a flaming fire,
and almsgiving maketh an atonement for sins.*
31And he that requiteth good turns is mindful of that which may come hereafter;
and when he falleth, he shall find a stay.
***********************
12-3-13 11 pm
I was sitting at my computer and music was in my heart and head at the same time
THERE IS A SONG IN MY HEART
I've gotta song in my heart
And a feeling just for you
So good that, we can't tear apart
A love that's positively true
Can't stop these feelings I got
Cause I've been trying to get thru
I've gotta song in my heart
And a feeling just for you
Oh, it's time that we show
just what one means, to the other
take my hand, and you'll know
We got a whole world to discover
Oh, I, I've gotta song in my heart
And a feeling just for you
I've gotta song in my heart
And feeling, feeling
Once in a lifetime you feel
this ringing in the air
Something delightful and real
Is something we can share
Now that we've started a spark,
there's light that's peeping thru
I've gotta song in my heart
and a feeling just for you
Smile, love will show
a wonderful blessing for believers
And what you're giving me, I'm giving right back
Right back to you, try giving up, planting a reason
for deceiving
Love, it gives a touch
and love is pleasing and receiving
Oh, I, I've gotta song in my heart
and a feeling just for you


Read more:

Earth Wind & Fire - Song In My Heart Lyrics | Metro Lyrics



Doris Day - With A Song In My Heart





With a song in my heart, I behold your adorable face




Just a song at the start but it soon is a hymn to your grace




When the music swells, I'm touching your hand




It tells me you're standing near, and





At the sound of your voice, heaven opens its portals to me




Can I help but rejoice that a song such as ours came to be




But I always knew I would live life through




With a song in my heart for you





But I always knew I would live life through


With a song in my heart for you

http://www.youtube.com/watch?v=KrRPQxF33WU&feature=youtu.be EARTH WIND AND FIRE


http://www.youtube.com/watch?v=b1pX40QIXVA
MARIO LANZA



http://www.youtube.com/watch?v=Q4drJR9Ueb0
SUSAN HAYWARD


http://www.youtube.com/watch?v=s0DeeWJ5bWk
FRANK SINATRA


http://www.youtube.com/watch?v=_HzuqaQnNPs
DORIS DAY AND HARRY JAMES


http://www.youtube.com/watch?v=N9zgFipsToA THE COMMODORES
http://www.youtube.com/watch?v=B4dl6JSf-bc THE COMMODORES - THREE TIMES A LADY
http://www.youtube.com/watch?v=4N-D-Yfisn0 LIONEL RITCHIE - KENNY ROGERS - LADY
http://www.youtube.com/watch?v=gUuH7jL8xfg LIONEL RITCHIE - KENNY CHESNEY - MY LOVE
http://www.youtube.com/watch?v=jWzIUQKcM4I LIONEL RITCHIE - KENNY ROGERS - SHE BELIEVES IN ME
http://www.youtube.com/watch?v=C3BuITOx3Cs KENNY ROGERS - SHEENA EASTON - WE'VE GOT TONIGHT
http://www.youtube.com/watch?v=JOU4TWGSxZM KENNY ROGERS - KIM CARNES - DON'T FALL IN LOVE WITH A DREAMER
http://www.youtube.com/watch?v=LY3MRReGYeM BARRY GIBB - OLIVIA NEWTON JOHN - ISLANDS IN THE STREAM
http://www.youtube.com/watch?v=2dU30WgHHbs LIONEL RITCHIE- BLAKE SHELTON - YOU ARE THE ONE
http://www.youtube.com/watch?v=chUxDxeTi8Q SARA EVANS - MARC ANTONY - LIONEL RITCHIE - ENDLESS LOVE
http://www.youtube.com/watch?v=Cq5XBzZcZNc LIONEL RITCHIE - JASON ALDEAN - SAY YOU - SAY ME
http://www.youtube.com/watch?v=nLFQGRNedTw LIONEL RITCHIE - JENNIFER NETTLES - HELLO
http://www.youtube.com/watch?v=94y-YpgEppk LIONEL RUTCHIE - DARIUS RUCKER - STUCK ON YOU
MY COMPUTER DECIDED TO QUIT AT THIS POINT :-(
I'M STILL SINGING WITH CELINE DION - THE ALBUM IS "A NEW DAY HAS COME"
IT'S 12:33 am
**************************
12-4-13 - I was up all night working.
MEDITATION: I saw a series of words, one was Psychic Wonder
I really appreciated that.
After I came back fully to consciousness and I accidently kicked a book that had fallen on the floor. It was called CHANNELING,
written by my friend Mikki.
*********************************
12-5-13 - DREAM - I don't know where I was, but I was upstairs somewhere, working with a few other people, and we had lists of books in triplicates.
In the beginning, we were diligently triple checking the list of books against the actual books, making sure they were there.
The job was so cumbersome and complicated, we finally whittled it down to two lists, one against another one.
Finally, we just gave up and ripped up the third list.
Then, even that got to be too difficult, and we gave up altogether.
I decided to go downstairs and the door was locked to the downstairs, and I couldn't even kick the door in to go through it so I could go home, so I had to wake up instead.
It was a frustrating job. There were just too many books.
**********************
12-5-13 - MEDITATION CHANNELING OF 'THE LORD OF ISRAEL'
THIS IS EXACTLY AS IT WENT:
" I AM THE LORD OF ISRAEL'
"EARLY ON I WIPED OUT 8 MILLION"
(his voice was a high pitched male sounding like he was from Kentucky) (I thought to myself, he is definitely not Jehovah)
(I was trying to write down what he was saying so I wouldn't forget)
He said, "YOU CAN WRITE DOWN ANYTHING I TELL YOU, AMIN!"
(The name Amin means 'faithful and trustworthy'. It's a male name.)
"MANY MILLIONS HAVE BEEN WIPED OUT AND STOOD BACK UP AGAIN. THIS TIME 'NOT'!
THIS TIME I MEAN BUSINESS. THIS TIME IT'S SERIOUS AND THIS TIME, WE ARE NOT KIDDING AROUND! WE MEAN BUSINESS! YOU EITHER STAND UP AND STAND YOUR GROUND OR YOU SIT DOWN AND SHUT UP WHILE I ROLL OVER YOU! DO YOU HEAR ME?"
"I said, I hear you!"
He said, "OKAY! THE LETS GET DOWN TO BUSINESS!"
"YOU WANTED TO CHANNEL AND NOW YOU ARE CHANNELING ME AND I'M TELLING YOU WAHT WE ARE GOING TO DO. WE ARE GOING TO GET RIGHT WITH GOD AND STAND UP AND SERVE HIM."
I said, "How do we do that?"
He said, "FIRST YOU PRAY - YOU PRAY FOR SALVATION. IF YOU ARE SAVED, YOU CAN GO THROUGH ANYTHING!
YES, I AM JEHOVAH! I AM LORD. I DON'T ALWAYS SOUND THE SAME.
LAST TIME I TOLD YOU THAT I WANTED THE JEWS TO BECOME CHRISTIAN. SOME HAVE! THEY DON'T HAVE TO WAIT UNTIL THE SECOND COMING OF JESUS. THAT WILL TAKE TOO LONG. I WANT THEM NOW! NOW IS THE TIME. NO TIME IS TOO SOON.!
GET BUSY AND PREACH THE WORD. THE TIME IS NOW!
I WILL TELL YOU HOW! FOLLOW MY LEAD!
MORE ON THE 'MORROW'
GOOD NIGHT!
ADONAI!"
JUST SO YOU KNOW WHERE I'M COMING FROM, IS THAT I'VE BEEN VISITED PERSONALLY BY JEHOVAH
( JEHOVAH TOLD ME WHO HE WAS IN NO UNCERTAIN TERMS WITH HIS LOUD BOOMING VOICE, THAT HE WANTED THE JEWS TO BECOME CHRISTIANS! (I WAS AFRAID HE WAS GOING TO TELL ME TO GO TO ISRAEL AND TELL THEM PERSONALLY, BUT HE DIDN'T!
THIS WAS IN 2004:
I heard a booming male voice which said: "ISRAEL: THE MARRIAGE BOND!"
"Jehovah! Is very hurt. He has built a nation which is being destroyed from inside. He would appreciate help from the United States to turn it around and Christianize it."
DREAM / VISION GIVEN TO ME BY JEHOVAH
When Jehovah gave me a vision about Peace - he showed me that the only way Earth can ever achieve Peace - is to remove every human and animal and bug from the face of the Earth.

How sad is that? But we never stop working to achieve that elusive wish for humanity.
THE DREAM - Feb. 5, 2007 I looked out the window , and saw the countryside and a mountain in the distance. At the base of the mountain were many trees, cars, houses, trucks, and people.
All of a sudden, a pure white arm came down from the sky - long and stretchy it seemed and its hand picked up everything off the earth but the mountain. There was nothing left.
I woke up and the voice of JEHOVAH boomed into my left ear loudly - "PEACE!!!"
TO THAT END, I DID THIS WEB PAGE:
www.greatdreams.com/sacred/three_covenants.htm -
2-7-08 - DREAM - I was shown that the time had run out on A______________ ( a type of blessing covenant) that Allah had given to the people. I saw it as three pink emanations ...
**********************
12-6-13 - I was in the basement of a house, which was like a long concrete hallway about 8 feet wide, painted light green. I was with a man dressed in a heavy weight work suit all of one color - kind of pale grey - built on the stocky side - about the same height as I was.
We got down to the end of this hallway, and he went to open a heavy weight door and I KNEW he was going to do something bad to me if I allowed him to take me into whatever room was behind that door, so I turned and ran back down the hallway, screaming as loud as I could, which wasn't working very well - like my throat was closed - probably trying to scream out loud in my dream.
I got half way down the hallway and another man appeared - built like the other guy, but he was telling me how escape was possible, and showed me that the house above was built about a foot wider than the basement and over hung the concrete.
However, the bad part was that on the outside of the concrete hallway on the outside was all water - either a moat or the house was built on an island right on the level of the water.
I don't know what was on the other side of the hallway - as I wasn't told that and didn't see any doors on that side either - just at the end.
I was trapped down in that long concrete hallway, with that moat or lake outside of it.
***********************
12-7-13 - DREAM - I was downtown in a very large city, with 4 other young women, and I was a young woman as well. I had invited them to come to a church that had 4 large wooden doors on the front that were about 12 feet tall. These doors were not double doors, but individual doors side by side.
The plan was that I was going to get married at this church the following day, but I didn't tell them all this, just the one young woman, that I was going to pay for their dinner after the ceremony the following day. I told her not to tell the others that I was going to pay for their dinner. Only she and I were in the church when I told her that - the other three women didn't know this.
Evidently, only the 4 young women were going to attend the wedding for me. I and the groom would not be going to dinner with them. We would have left the church ourselves to go elsewhere alone.
After I told the young woman I was going to pay for their dinner, it became apparent that they weren't going to go to McDonalds, and I was going to have to figure out where they would want to eat, and I would give my credit card number to the restaurant in advance and then they could order whatever they wanted when they got there.
I'd figure that out the following day.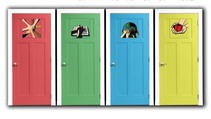 REVELATION 3
7 And to the angel of the church in Philadelphia write: These things saith he that is holy, he that is true, he that hath the key of David, he that openeth and none shall shut, and that shutteth and none openeth:
8 I know thy works (behold, I have set before thee a door opened, which none can shut), that thou hast a little power, and didst keep my word, and didst not deny my name.
9 Behold, I give of the synagogue of Satan, of them that say they are Jews, and they are not, but do lie; behold, I will make them to come and worship before thy feet, and to know that I have loved thee.
10 Because thou didst keep the word of my patience, I also will keep thee from the hour of trial, that hour which is to come upon the whole world, to try them that dwell upon the earth.
11 I come quickly: hold fast that which thou hast, that no one take thy crown.
12 He that overcometh, I will make him a pillar in the temple of my God, and he shall go out thence no more: and I will write upon him the name of my God, and the name of the city of my God, the new Jerusalem, which cometh down out of heaven from my God, and mine own new name.
13 He that hath an ear, let him hear what the Spirit saith to the churches.
14 And to the angel of the church in Laodicea write: These things saith the Amen, the faithful and true witness, the beginning of the creation of God:
15 I know thy works, that thou art neither cold nor hot: I would thou wert cold or hot.
16 So because thou art lukewarm, and neither hot nor cold, I will spew thee out of my mouth.
17 Because thou sayest, I am rich, and have gotten riches, and have need of nothing; and knowest not that thou art the wretched one and miserable and poor and blind and naked:
18 I counsel thee to buy of me gold refined by fire, that thou mayest become rich; and white garments, that thou mayest clothe thyself, and that the shame of thy nakedness be not made manifest; and eyesalve to anoint thine eyes, that thou mayest see.
19 As many as I love, I reprove and chasten: be zealous therefore, and repent.
20 Behold, I stand at the door and knock: if any man hear my voice and open the door, I will come in to him, and will sup with him, and he with me.
21 He that overcometh, I will give to him to sit down with me in my throne, as I also overcame, and sat down with my Father in his throne.
22 He that hath an ear, let him hear what the Spirit saith to the churches.
Four Doors that Lead to Faith Development
By
Cary S. Miller
People arrived at church for the first Sunday of a four-week stewardship emphasis. They were surprised to see a door with a door frame in the sanctuary, as if workers had neglected to take it to its intended location. But the door was there for a purpose and would stay for each of the next four weeks. Then one additional door and frame appeared each successive Sunday. The doors served an important function. They symbolized what the church had been studying for the past twelve months. During the past year, the congregational focus had been on the "four doors" that lead to faith development. Now, for four Sundays, members were asked to make their personal commitments for the coming year or to "step through each of the four doors as God is leading you."
Door One: Commit to weekly participation in worship.
We worship together because corporate worship provides a different experience than worshipping alone. There is strength in numbers. That one hour a week spent in worship is an hour that is solely focused on God, our relationship with God, and on the organization that exists to carry out God's work. The church should ask people to commit at least one hour a week to communal worship.
Door Two: Commit to weekly participation in spiritual development.
Christianity, like all faiths, is taught not caught. We aren't born as Christians. Even those born into and reared in Christian environments must study what it means to be a Christian and practice the faith. My son, an accomplished musician, informed me as he headed off to college that he no longer needed to go to church because he was comfortable with his understanding of God. I asked him how often he practiced his musical instrument. He said he practiced a minimum of six hours a day. Since we were on the subject of his finding and participating in a church, he got the point of my question! People cannot grow in faith if they do not devote time to fostering that growth. The church must challenge people to spend a minimum of one hour a week in personal spiritual development and provide them with appropriate resources and opportunities.
Door Three: Commit to giving time in service to others each week.
If you want to know people's priorities, look first at their calendar and then at their checkbook. Our priorities are reflected in how we spend our time. You cannot truly be a good Christian (and a good steward of the resources with which God has blessed you) without giving of your time in service to others. Once again, a good starting point is to challenge people to give a minimum of one hour a week in service to others. The church relies on such contributions of time to carry out its vital mission, as do many other worthwhile community organizations.
Door Four: Commit to contributing financially to God's work through the church.
All churches ask members and constituents to contribute financially. But few teach people how to give. Biblical stewardship is based on proportionate giving — giving in relationship to receiving. Members should be asked to commit a proportion of what they receive, after a time of prayer and discernment. Instead of asking people to make a financial commitment based on an aggregate amount, people should be asked to base their commitment on a proportion or percentage.
Articulating expectations clearly
Strong relationships are dynamic and always changing. This is true of relationships with other people, with organizations, and most especially our relationship with God. The church exists to help us grow in our relationship with God and others through Christian discipleship.
There is a reciprocal quality to strong relationships. Church members have a right to expect things of the church, and the church has a right to expect things of its members. Many churches fear that articulating clear expectations will drive people away. But this is not true! A worthwhile relationship involves giving and receiving. The church cannot help people grow in faith if it is unwilling to ask them to engage actively in the practices that lead to spiritual growth. The image of four doorways helps communicate the expectations the church has of its people in constructive and positive ways.
Measuring Progress
Anyone who works for a large organization probably goes through an annual review — a yearly assessment of how well they are performing their assigned duties and tasks. In a similar manner, the church should encourage members to appraise their spiritual progress regularly, asking:
Are you participating in worship regularly?
Are you experiencing ongoing spiritual growth?
Are you putting faith into action through service to others?
Are you giving to the church financially in proportion to what you have received?
These four "doorways" are the portals that lead to a fuller relationship with God and God's church.
The Rev. Cary S. "Buddy" Miller is the founder of Stewardship Consulting Services, LLC, which helps churches through capital stewardship campaigns and stewardship enhancement initiatives.
*****************************
12-7-13 - DREAM - My Father told me that my brother was going to jail and he threatened all of us not to get in the way.
I told him that I was going to walk with my brother to the door and give him a big smile and wish him well, and my Father backed up and allowed me to do that.
************************
12-7-13 VISION: I received a letter from the government dated December 17, 2013. It had just one small square paragraph in the center of it, but I don't know what the paragraph said. It could be Yay or Nay! Either way, at least I would know something.
***********************
12-8-13 - DREAM - I was standing at the top of a mountain and helping hundreds of people and urging them onward to join me at the top of the mountain I had already climbed.
*************************
12-8-13 - NAP DREAM - I was in a two person car (a one seater - bench type) and I planned to go out to lunch two friends and my baby (he grows fast) and was in a car seat, and we had all three people and the baby car seat in the front seat of this car.
We got to the restaurant, which was not in the best of neighborhoods, but with very wide streets, and the restaurant was not open.
There was a bunch of rowdy teens in the streets and hanging around the front door of the restaurant, trying to get them to open, but nothing was happening.
I needed to go to the bathroom, and wished the restaurant would open, but it didn't, so the male driver (a rather small, slim man, my friend, also a peewee of a girl, decided to go elsewhere. The baby was still in the car seat, so they got into the car, leaving me to squeeze into the small space they managed to save me up against the door, which opened two ways - both towards the front and the back at the same time.
I had to close the back door first, and then the front door, which i managed to do okay, and then asked them to pass the baby over to me, and I was going to hold him on the ride home so the driver could actually drive the car without the baby bumping up against him all the way.
I had to pee so bad, I had to wake up.
Otherwise, it would have been interesting to find out what city I was in.
**************************
12-8-13 - 11:33 PM. DREAM - I evidently was in Milwaukee, and ended up in the attic where I found a box of saved old mail, and one of the envelopes was large and contained the x-ray documents of David Russo. (He is deceased many years).
Before that though, I saw in the hallway downstairs, a dear friend who has a lot of curly white hair. He was just going out for the evening and tucked his hair into a baseball cap so nobody would recognize him. We agreed to meet later on.
There was another man with me at the time, but I can't remember who he was at all.
I think he was an actor from television - perhaps Jack from The Bold and the Beautiful.
***************************
12-9-13 - VISION - I heard the word TERROR and 8 windows opened up and showed me 8 different ways people can be terrorized.
As of 12-17-13 - there was a bombing in Syria , school shooting in Colorado, a hospital shooting in Reno, NV
***************************
12-11-2013 - MEDITATION DREAM - I was on a ranch somewhere. There were quite a few people there, but not in large groups.
Each person there was expected to leave a legacy.
While I was there, someone left me $75,000 but I hadn't yet received it. I was overjoyed and I knew exactly how I was going to invest it forward.
I saw a beautiful dark haired woman there. She was in process of learning something and it involved speaking, but instead of speaking she retreated to a very small cabin to be quiet and meditate on whatever it was she was to learn.
After some conversation about the legacy I was going to get from this other person, I tiptoed outside to meet up with this beautiful woman to see what I could learn from her.
****************************
12-12-13 - RANCH EXPERIENCE 2:00 am
I knew I couldn't go see Brian because I don't have permission, so I asked spirit to take me to The Ranch and see if anyone there wanted to talk to me.
When I got there, I met a tall black haired, black eyed man, wearing a black suit. He was sitting on a chair.
Just then, the woman I saw earlier today at the ranch was there, she also has black hair, and she was wearing a tight black, long-sleeved dress, but it had a cinched waist and long dress that was flouncy in black and white print. I can't say the print was diamonds, but it was something like diamonds. It was hard to tell because she was walking away from us and the dress was moving with her movements.
The man said, "Let me play a video for you." and he reached over and pressed a black button on the desk.
I wasn't particularly interested in watching a video, but the Queen Music "Somebody to love started to play."
I said to the man, "I only want Brian, and nobody else."
A voice in my head said, "I want you!"
and I repeated, "I only want Brian. and nobody else."
I started to feel sensations in my body, like before... and started to get turned on like before as well.
However, I could feel the room pulling away ... and the sensations also stopped.
Suddenly, it came to me, that this black haired man was the same one I saw standing at a pulpit some years ago with the Jewish Star of David on the front of it. He was standing against the wall behind his son who was at the glass window between me and him, and I looked into his son's eyes , which were also black - like I could see into his soul, and I sad, 'OH, MY GOD, OH, MY GOD, OH MY GOD.'
This black haired man was that same man, only now I was in the same room with him, and the woman in the black dress was his wife.
And she was the same one I saw at the ranch earlier today when she went out to the cabin to meditate, and I followed her out there to see if she had something to teach me.
**************************
12-12-13 DREAM - I was living in what seemed a normal house, next door to my sister.
My sister had a little girl and for some reason sent her over to my house to eat breakfast.
For breakfast, since I didn't have any kid food, I had to order it from a restaurant, and I just ordered a bowl of cereal - which must have been oatmeal.
The little girl had never had oatmeal before apparently and didn't know how to eat it, so we had to teach her how to use a spoon.
The little girl then took the bowl of cereal into the living room and sat down on the floor to eat it.
When the young restaurant lady was ready to leave, I asked her how much the bill was, and she said $5.00.
The woman then said she had to go out herself later, and when I opened my wallet, I had a $5 stamp in it and a $5 bill.
I asked her which one she preferred and she decided she wanted the $5 stamp because it was worth more than the $5 bill.
I said, "Are you sure you want the stamp instead of the $5 bill. You can't spend the stamp - BUT she said, "It's worth more."
***************************
12-15-13 VISION: I was meditating - asking spirit for any new ideas for me, and I had a vision of Jimmy, standing out in the snow by a ski hill, talking to a much shorter dark haired woman.
Jimmy had his hands in his jacket pockets, very relaxed, and the woman was facing him, looking up at him. She was wearing a white ski jacket with colored stripes on a diagonal on the back sleeve seams that go up and around the sleeves on the back of the jacket. I would call the color of the stripes lavender ... they were having a very nice conversation, and Jimmy's face was so relaxed - stress free - enjoying his conversation with her.
He really needs to get out in the country and go meet this woman. :-)
I see love in the air developing there. :-)
******************************
12-16-13 - DREAM - I was working on a computer, either copying or downloading a strange picture language. I had to separate a group of picture letters into a more coherent list of picture letters. I did this for quite some time, thinking they were Hebrew words or letters, but it wasn't real Hebrew - it was something before that - or from the ETs.
I had that dream twice. Upon discussion later, it was not hieroglyphics the pictures were not recognizable figures, they were more like strange star bursts - but not like stars either - but strange configurations and each one was different.
On 12-17-13 - I found these similar letters on an album cover published in Japanese.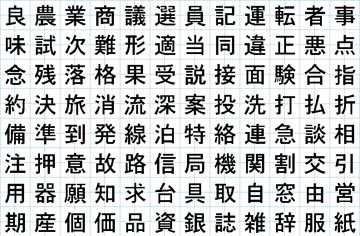 Now the question is, why was I working on a Japanese page?
http://www.omniglot.com/writing/japanese_kanji.htm
*******************************
12-16-13 - DREAM - I was at home, probably in Wisconsin. I woke up in the morning and my right leg was very black - blacker than black, all the way up to the knee. I knew something was wrong, but I didn't know what, and I wanted to look on the internet to figure out what was going on with my right leg. The left leg was fine. Unfortunately, I couldn't locate the computer I needed to use.
Just then, a woman came out of a bedroom on the left and I recognized her as a relative of a guy I dated - probably his mother or maybe his wife. She and I hadn't gotten along, but I owed her an apology for something I had said or done, and we ended up hugging, and then I went back to find the correct computer I could use to find out what was wrong with my black leg.
en.wikipedia.org/wiki/Blackleg -
Blackleg or black-legged may refer to: Anything with a black-colored leg · Appaloosa tribe;Blackleg labour (or strikebreaking); Card sharp; Operation Blackleg, ...
****************************
12-16-13 - 10:15 p.m. DREAM - I don't know who I was,, but I was the wife of a military man who was laying injured in a hospital bed. He must be have been of a high rank, and he had several visitors in his room.
The general in charge of what was going on, asked me to give my husband a message because they didn't want to sound an alarm by having all the ranking generals going in to see my husband and tell him what was about to happen.
So, they told me to whisper to my husband what the plan was, "Tell your husband that we are going in with 12 sorties, but we can't go in until midnight."
So, I went into his room and whispered the message into his ear, and immediately left the room.
On the way out, I looked out the window at the horizon. It was just after sundown, and I could see a large dark blue cloud coming over the horizon from the east.
http://en.wikipedia.org/wiki/British_air_services_in_the_Falklands_War
*****************************
12-17-13 - 3:30 a.m. DREAM - This dream may be related to the above dream as it seemed to be in the same hospital room, but from a different corner of the room. I seemed to have the identical dream four times.
For a time, I was sitting on the floor of the room with a little girl who was learning to knit with some pink yarn and I was helping her do it so she wouldn't make a mistake with her stitches.
But then, from the vantage point of the right hand corner of the room, looking across the bed (not certain if there was a man in the bed or not) a dark something brushed across the bottom of the bed 12 times, but the same dark something brushed across the bed in the same direction 15 times.
After this dark something brushed across the bed, I looked crosswise across the room and saw a huge spider web with a Daddy Long leg spider hunkered down in the center of it about 4 to 5 feet above the ground and it had been there quite a long time. I was surprised to see the spider web hanging there considering this dark something had crossed the room so many times and it didn't disturb the spider web.
I woke up the last time with the music "somebody to love' playing in my head. It was very pleasant to hear considering I had had a very ridiculous discussion with a voice in my head with a spirit who said this relationship was not going to work out, and I was arguing with the voice in my head, saying, "We aren't having a relationship, merely some friendly playtime, and I was not making demands the voice accused me of, I was merely making suggestions - not demands. We ended the argument in the truce and apologizes in both directions.
*****************************
12-18-13 - DREAM - I was out in the country with my family, and we were told by 'higher up people' that our vacation was over and it was time to get back to work.

My husband (Jim) was out fishing with a bow and arrow. He was a good shot and always brought back nice sized fish.

(this could also represent the end of the age of Pisces)

I had to separate the clothing and towels and washcloths in the dresser drawers. That was hard because our towels and wash clothes looked exactly the same as the hosts.

We got back in town just in time for the pear harvest.

The trees were very short (less than 3 feet tall and had multiple full size green pears on them.

We had new neighbors who had moved in recently and they admired my garden very much, so I showed the wife how to water the garden. She didn't know how to hook up the water hose so I showed her how to do it. She was anxious to learn to garden as well.

http://www.greatdreams.com/blog-2013-3/dee-blog597.html

****************************
12-19-13 - DREAM - I was apparently working on a web page about security safety for others to follow the steps.

I've had this dream a number of times but every time I try to read it, it starts to fade away and I can never read it.

Does that mean that I don't need to read it, or that I need to look it up. I'll go for the latter to be on the safe side.

I updated my BASIC page: http://www.greatdreams.com/basic.htm

***************************

12-19-13 - 11:30 p.m. LUCID DREAM - I went through the entire earth changes process word by word like the ticking of a slow clock - perhaps one word per every 5 seconds, which lasted from 9:30 p.m. to 11:30 p.m. - I saw the physical clock with my eyes open at both times, and the LUCID dream took at least that long. The words were not all straight like these, some of them had to flip or tumble on the way down as they were read, though I cannot say I could remember any of the words now, they were perfectly readable in the dream.

Joe did the math and he said that would be 1440 words.

**************************
12-20-13 - DREAM - I was looking at the window and a man by the name of Colonel - a war preacher went by singing a war song.

12-20-13 - DREAM - I was standing by the back door looking out at the driveway and a big black car backed into the driveway and stopped... I turned t o yell at Joe about the car and I was trying to yell out loud and couldn't say anything.

SEE: http://www.greatdreams.com/blog-2013-3/dee-blog611.html
*****************************
12-20-13 - DREAM - I was in the country somewhere in a house. The bedroom was the only room I saw, so it might have been a cabin.

Two men came in whose job it was to create a pond for the property. I was supposed to choose which one I was going to sleep with.

One of the guys who I recognized as my old neighbor Glenn took off his work clothes and beneath it he looked like he was wearing a beaver dam of small thin, sharp sticks.
I immediately chose the other guy who was going to sleep naked, and not wear a beaver outfit.

There was another woman there as well, who I should know but don't. A smaller blonde woman. I guess she was also going to sleep in the same bed and me, with was a really large WIDE bed.

I woke up before anything happened at all.


From the same mouth come blessing and cursing. My brothers, these things ought not to be so. Does a spring pour forth from the same opening both fresh and salt water? Can a fig tree, my brothers, bear olives, or a grapevine produce figs? Neither can a salt pond yield fresh water.


***********************
12-20-13 - 11:30 p.m. DREAM - I was with man number two in this dream from the dream above of the pond. In this case, the man built a beautiful structure of dark red brick and was beautiful to behold. It did not yet have water in it though.

I wish I could remember more of this dream, but that is all I recall.

http://www.greatdreams.com/blog-2013-3/dee-blog617.html

***************************
12-21-13 - DREAM - I was in a very large basement garage, under a very large building.

I was with Joe and were going through some little treasures we had.

There was a telephone between us and it rang in my left ear apparently, and I grabbed the phone before Joe could get it, and put the phone to my ear.

A VERY LOUD voice came into my ear and it sounded like my friend RA, but the voice was so loud, I assumed it the GOD RA, and he said very loudly, "Tell Joe not to abuse his sisters."

I knew that Joe didn't have any sisters so I knew that RA had to be wrong.

I hung up the phone and Joe and I went back to sorting our little treasures.

I had an envelope with many loose stamps in it, and handed them over to one of my sons who was then sitting in front of us. (I don't know which son it was as I didn't recognize him - just knew he was my son.)

I then heard a loud vehicle coming from the left and knew I would be in the way, so I jumped up to move quickly and then I saw a young couple off to the right on motorcycles racing back and forth - The man was Rick who is on the Bold & The Beautiful show and his new wife on the show who is ___________.

I still needed to get out of the way of the vehicle that was coming from the left, so I and my son rushed to the stairway door to go upstairs, away from the destruction the vehicle was as going to cause in the basement garage.

**************************

12-21-13 - NAP DREAM. Joe and I were in our car on a two lane road, following closely behind a light blue box truck, that also had light blue tires , which caught my attention and I saw that his right front tire was going flat - in fact it was already bulging out on the sides, it was so flattened.

The driver was having a problem steering the truck with that flattening tire, and I told Joe not to drive so close behind him because the truck was dangerously close to driving off the side of the road. But Joe wouldn't slow down, he was acting more like he was going to pass the truck instead, which was also dangerous because the driver could lose control of his truck just as we were passing him.

The truck was even now weaving back and forth from the flattening tire, and Joe was just going to pass the truck, when we came to a hill and instead of slowing down, the truck went even faster down the hill and Joe sped up to keep up with the truck, and the truck weaved even worse, and it looked like the truck was going to flip over sideways off the left side of the road, and just as it looked like it was going to flip - the truck vanished.
I yelled to Joe, "what happened to the truck, what happened to the truck' and Joe just laughed - like a cackle and I saw nothing - I didn't actually see the truck flip over the side of the road, it just vanished.
I started yelling - Joe! STOP!
I figured if the truck flipped over the side of the road, the driver would be either injured or dead, but Joe just drove faster now because the road was clear ahead of us and it didn't matter how fast or slow he drove.

After the dream was over, I told Joe about the dream and told him he had better stay away from blue trucks in the near future and he assured me he would do that, considering the last dream I had about a white box truck - he ended up driving into the ditch to avoid hitting the truck the pulled right out in front of him. He won't forget that time either.
****************************
12-22-13 - DREAM - I was in a long narrow room somewhere like a restaurant or something.

My family had called in three psychiatrists to have my mind examined because I kept dreaming about the future and they were worried about me.

I saw that all three psychiatrists were priests dressed in black suits and instead of asking me questions, they just talked to the family about me. The priests never came near me to ask myself anything.

That troubled me so I decided to ask them questions instead and I walked up to each one individually, and one said he wanted to get home and watch the Green Bay Packers, so I started talking about football because I'm a die-hard Green Bay Packer fan, and he was so intrigued with my knowledge about football, he forgot why he was even there and he left to go watch the game at home.

I did that with each priest/psychiatrist and won them over to my side. They didn't see anything wrong with me at all.

******************************
12-23-13 - DREAM I'm on a date with Rick (from The Bold and the Beautiful TV show) The restaurant where we were going to eat dinner is closed so we go into a grocery store along the street. There is no food in it at all on the shelves, but there is a long line of people in there and in the secondary room some guys are playing a game of pool on one table in the center.

On the side table, is sitting my old psychiatrist friend Cary Loose (who ran our UFO abductee group. I wave to her and she waves back, but Rick shows her a slab of red meat he has that has a slice in it in the center. (The word monomid comes into my mind)

That was our whole encounter with her and we leave again without saying a word.

I go home then and give an even larger slab of meat to the cat and dog who fight over it because it's really fatty and they love that meat.

I remember the word monomid and look it up. It's a type of nonabsorbable suture for surgery that veterinary doctors use.


medrepexpress.com/store/sutures/suturesethilon.htm

30+ items - CP Medical "Monomid" Non-Absorbable Nylon Monofilament ...

| | | |
| --- | --- | --- |
| 660B | 660G | 6-0, Needle FS-3. Length 18", 12/Box |
| 661B | 661G | 5-0, Needle FS-2. Length 18", 12/Box |

I now wonder why I needed to know that.

***************************

12-24-13 DREAM I was downloading pictures of Jesus onto my computer screen. There was about 6 inches between each picture on down the screen with no text. Then the pictures turned into white geometrical shapes - very simple ones and I realized I couldn't save them.

I woke up, went to the bathroom and then back to bed and dreamt the same thing, except my neighbor Glenn was there and he said he had done the same thing and people saw it and started naming funeral parlors after him.

I continued to download the pictures of Jesus onto the screen and when I went to save them, I realized I was on my cell phone and couldn't save them.

***************************

12-25-13 - DREAM - I was in the back seat of a dark blue car - laying down for some reason. It evidently had been a long ride and we were way out in nowhere land and had stopped at a restaurant and the driver of my car got out and went somewhere and left me in the car alone.

There wasn't a house in sight anywhere that I could see, but there was the restaurant off in the distance at the other end of this parking lot with absolutely no cars but the one I was in.

A cop car stopped along side the road and dumped out a young man who they had picked up for fighting. I hoped he wasn't going to try to get into my car, and my biggest problem was, I didn't have a driver's license to drive in this state wherever I was.

I decided to get out of the car and when I did I discovered that behind me was a large store - rather like a Walmart, so I decided to go in there and try to cool off because it was really hot and dry outside. There was almost nobody in this huge store either - I saw maybe a total of four people in it and those were the clerks.

I decided to buy a pack of needles but that fabric department was in the basement level of the store.

At the end of the store by the stairway there was a counter where they sold soda's or something, and one of the girls went with me down the stairs because there were no clerks downstairs at all because there were no customers down there at all. I said to the clerk. It's really hot. She said, "You get used to it!"

On the way, I decided to stop and go to the bathroom, and she decided to do the same thing.

I asked her to wait a minute outside the door so she didn't have to see my bare butt sitting on the toilet and she did.

She was about as tall as me - we could have passed for sisters we were so much alike.

I probably would have liked to have a conversation with her, but I woke up and had to go to the bathroom for real.

*****************************
12-25-13 - DREAM - I really don't remember a dream at all, but it seemed I was in a dual reality - when I looked out the window, I was looking out the upper kitchen window in my New Berlin house, but when I turned around, I was looking in the same window looking at the parlor scene at the black piano I used to play in the 16th St. house I grew up in.

Again I turned and was looking out the window in New Berlin, turned around and was looking in the window at the black piano.

I kept turning back and forth, out the window in New Berlin, in the window at the black piano at 16th St.

I asked the question, "Why am I seeing this duality scene?"

I looked out the window in New Berlin, then when I turned again to look in the window towards the black piano, I saw a big blue face of my Mother with a blue bullet hole in the middle of her face with blue streaks in every direction coming from the hole, and to the left was some text with the title 'BIND'.

Instantly then knowing that a demon was causing this nightmare, I said, "I BIND THE DEMON WHICH IS CAUSING THIS DREAM. I BIND THE DEMON WHICH IS CAUSING THIS DREAM. I BIND THE DEMON WHICH IS CAUSING THIS DREAM."

SEE: http://www.greatdreams.com/blog-2013-3/dee-blog616.html

********************************

12-25-13 - NAP DREAM - We were having another electrical problem today, similar to yesterday's even though we swapped electrical circuits and electronics. I was so afraid of a fire starting in the walls of the house because of a short, I started shutting off various appliances like heaters and then lamps and finally the TV, and then decided since I couldn't even turn on the lamp to read by I lay my head down to take a nap.

In the DREAM - I was somewhere - like my New Berlin house, but it seemed to be California.

My son Tom had gone upstate to get a job and there was a problem with housing and I thought I could solve it myself.

Tom's employer called our house to have a discussion about the situation and instead of identifying myself as 'me', I said I was my sister Diane.

The woman on the other end of the phone said she was coming to our house to have a conversation with 'me' and since I was pretending to be Diane, I told her I would give 'me' the message.

As soon as I got off the phone, I decided that neither 'me' nor Diane would be there, and I would pretend to be my cousin Dorothy instead.

A little while later, I heard some people talking in the basement, so I tiptoed down the stairs, and there was a small woman - (really an actress from TV 'Chloe) from the Young and Restless TV show, and she was having a conversation with a man (don't know if it was Tom or not) and they were discussing who the best 'picker' was.

I knew that 'me' was the picker she was talking down on and going to suggest that 'her' sister was the better picker.

I didn't want to admit that 'me', Diane, and Dorothy were actually the same person, I decided to go outside and do my job as the dandelion picker in the yard.

While I was out there, I could hear what sounded like tiny little kittens mewing, and the sound drove me crazy until I finally decided to go find out what was going on and where those kittens were because the sound just didn't stop.

So, I went to the house that was more like an apartment hallway and the sound was louder, so I opened the next door and discovered that Chloe's cat was in love with my cat, and they didn't want to be apart, so we didn't have a human issue, we had a cat issue. If we just let the cats be together, all our problems would be solved.

NOTE: This doesn't make any sense at all, but there you have it.
*********************
12-26-13 - DREAM - DON'T YOU HATE IT WHEN DREAMS GIVE YOU BAD NEWS?

I was evidently on a farm or ranch and I and a female friend went into the barn where the men usually went, and there was a pair of men's pants laying on a rough looking round wood table.

I picked them up and saw that the waistband on them said 28. I saw a mud spot on the left pant leg and my friend said, "He must have gone to Big Bear."

I decided I would hold the waistband up on myself, and when I did, there was at least an inch on each side that wouldn't reach - telling me that my waist must be at least 30.

I said to my friend, "This tells me I have to go on a diet." and put the pants back down on the table.


12-26-13 - DREAM 2 I was at the same farm or ranch, standing at the same wooden table with the same woman as the previous dream.

This time there were five pair of pants on the table and one of the pants had wrinkles on the knees - it was a cotton pair of thinner cloth than the others. The were white or cream color background with brown plaid lines on them.

While I was looking at the pants, I got a phone call from the father of the man whose pants these were.

I don't remember answering a phone, and I don't remember seeing a phone, so it must have been a voice in my head speaking.

The man said, "Tell my son he must have been down on his knees and he needs to get those pants pressed before he wears them again.

I responded, "Okay!"

and the dream ended.

****************************
12-27-13 - DREAM - It seemed that all night I was downloading the names of songs with long names (about 16 or more letters) and then I came to text in that same language. They were English looking letters, but not English words. I thought they were Hebrew songs, but they weren't Hebrew letters.

So I really don't know what they were. The only word I could recognize was 'bo' but there was at least a 16 letter word after it.
*******************************
12-27-13 - VISION - I closed my eyes and saw a book open. The picture on the page appeared to be St. Peter as Pope. At least that was my impression of it. The page turned over and the book closed.

I then went into a dream where I was on a road somewhere and three boys came along, apparently learning disabled in some way, and the middle boy had really long hair that came down over his eyes a bit.

I went up to the boys to see if I could help them, and we talked about their hair, which was very nice but way too long. The boys then left, and I had a conversation with a woman who was looking at my own hair and talked about changing the style of it, but when it looked good, there was no hair in the back at all, which was strange, so when I combed it so I had hair in the back, I didn't have any hair in the front.

I then went to a school that seemed to be like my own elementary school on 20th St.

I went into the front door and up the stairs, and it was normal, but coming down, the stairs did not go the same way and I ended up in the basement where a beautiful tall blonde woman came out of one of the doors and started singing very loudly. It sounded very good to me, but she didn't like the sound of her own voice, and turned away to keep practicing.

I then tried to figure out how the stairs to upstairs could look the same in one direction, but coming down, it was more like a hospital or spa with bathing pools where the stairs should be.

I finally just left the building because I couldn't figure it out and woke up.

******************************
12-27-13 - SERIES OF VISIONS FOLLOWING WATCHING THE 20/20 PROGRAM ABOUT DOWNTON ABBEY IN SCOTLAND.

ROI HILMAR - HE WAS A LITTLE BLONDE BOY - VERY CUTE

ALFRED HELMSMAN

BY DEC 9, 2014 -
DECEMBER 31, 2014 AT THE OUTSIDE

A VOICE WITH A BRITISH ACCENT SAID: "THAT LUCENT ONE - THAT'S REALLY GOING ! THAT ONE!"



NOTES



orthodoxengland.org.uk/pdf/servs/Alfred.pdf

O divinely crowned Alfred, helmsman of the English faithful and protector of the flock of Christ, thou didst receive thy sceptre from God as the sign of salvation for.






PAGES I'VE ALREADY DONE ON LUCENT
www.greatdreams.com/grace/126/142phase.html

Dec 30, 2003 ... Quantum phase for data storage was first proposed by Lov Grover at Lucent Technologies Bell Laboratories (Murray Hill, N.J.) in 1997.

Robert C. Gunn, PhD, Arbor, Michigan, is a an NSA clinical psychologist involved in the human and Constitutional rights violations of Mind Control. He has ...

www.greatdreams.com/internet.htm

The hit list includes NetVision, Israel's largest Internet service provider; Amman's alwababa.com, the Arab world's largest ISP; Lucent Technologies, which has ...

RESEARCH

orthodoxengland.org.uk/pdf/servs/Alfred.pdf

O divinely crowned Alfred, helmsman of the English faithful and protector of the flock of Christ, thou didst receive thy sceptre from God as the sign of salvation for.
THERE ARE NO PEOPLE NAMED ROI HILMAR

ROI BY ITSELF MEANS 'THE KING'

ROI ALSO MEANS RETURN ON INVESTMENT

ROI IS ALSO A JEWISH COMMUNITY

HILMAR BY ITSELF CAN BE ANY NUMBER OF COMPANIES, STREETS, ROADS, ETC.

FUTURE DATES

THESE DATES CAN BE A PREDICTION OF SOMETHING GOING TO HAPPEN THAT I DON'T KNOW ABOUT YET OR CORRELATED TO SOMETHING I JUST WROTE ABOUT RECENTLY - REGARDING THE END TIMES CALENDAR.

www.wm.edu/offices/hr/documents/.../HR%20Deadlines%202014.pdf

Dec 13, 2013 ... December 9, 2014. December 10 – December 24, 2014. December 31, 2014. December 19, 2014. December 25 - January 9, 2015. January 16 ..

www.vercalendario.info/en/moon/finland-9-december-2014.html

Phase of the moon

Events on Tuesday December 9, 2014 - What's On in London ...

all the rest of over 2 million sites are dates of deadlines for meetings, classes, tests, commission dates, etc for a myriad of companies, schools, cities, states, governments. etc.

Dee

OK Dee,




getting some hits here:




I think your dream means: This is it, the End of #linear# : : Time is Here ==> now 3.14 pi

Pi sPIral "spiral" consciousness is here, end of linear time




changing of the guard (see Denise Le Fay's last article) the escorting of the neg/reptilians out of this timeline is now in process




this is paralleling my dream of the Professor of Anthopology in His Clean Kitchen in Alaska (snow white clean pristine)

I lived in St. Peter's rectory in Sitka Alaska, Sitka means New Archangel in Russian, it used to be the old capital of Alaska while still part of Russia before annexed to the US in 1912




Downton Abbey, it's been in the space here as well,




Throne of Peter, check out prophecy of St. Malachi, the 112th pope is "Peter"

Francis I believe (and others too) to be this Pope, it has to do with his coat of arms, check wiki on this




internet: check out Jaron Lanier's article on GalacticFreePress, I'll cc: you too




ummm




very interesting,




love to you, daph xoxo


******************************
12-28-13 - GROWING POTATOES AND GOING TO A WEDDING

I was probably llving in Wisconsin, but the land is not familiar to me - its a farm somewhere.

My job during the day was to grow potatoes on this land, and I needed to water the potatoes we were growing by hand with a hose.

As luck would have it, a big truck came through the farm and drove over a very long wooden board that was over the hose, and crushed both the board and the hose, so all I had for water was a small trickle and it wasn't enough water to take care of all the potato rows that had to be watered every day.

So, the workman, who was someone I worked with elsewhere in real life (a young guy) had to go to the hardware store and get a new board and a new hose so I could do my job adequately.

Meanwhile, I had to get ready to go to the wedding downtown Milwaukee with my cousin Shirley and another cousin - probably Judy.

Shirley told me that the wedding ceremny was not the most important part of the wedding - the parties were after the wedding - the next day.

So, what I put on was grey sweat pants (I wear those a lot anyway) and a shirt (almost like a maternity shirt) that had a grey background with tiny red and yellow flowers all over it.

I admired myself in the mirror because my breasts were large and stuck out like a young woman.

I don't recall seeing the wedding itself, but apparently my sons were also going to the wedding, and they had to get some tools together for some reason, and my husband, who was not going to the wedding got the tools for my sons. Each one had to have a tool, and he set them on the stairs for them, he didn't have them all ready yet, but I saw a hammer and a chisel, and some measuring tools.

Down in the kitchen, I saw that we had seven sinks, and there were potatoes in each sink that we hadn't eaten yet and three sinks that were empty - apparently we had a separate sink for each day of the week and the meal food were set out in each sink at the beginning of the week to keep track of what we had eaten and were going to eat that way.

There were still potatoes in 4 sinks and three sinks were emptied and clean, so we had already eaten potatoes for three days this week.

On the calendar, the week starts on Sunday, so apparently the wedding was on Thursday.

(I actually had the dream on a Saturday)
***********************
12-29-13 DREAM - I was sitting on the floor in the livingroom of my house with three other people - not sure if there was a man there or not, but we were planning to go on vacation.

In order to plan the vacation, we each had a large size magazine with an equal number of pages in each one, and we played a game with them - such as - turn over 4 pages and tear out the page on the right hand side, and we would each do that and toss the page onto a pile. For some reason there was confetti all over the floor. Maybe it was New Year's Eve, but nobody mentioned it.

After that page was ripped out, then one of the other people would tell the others how many page to turn forward or back and to rip out the left or the right hand page and toss it onto the pile of paper.

I have to assume that when we got down to the last page, that's where we would go on vacation. Evidently this was a travel magazine of some sort and our magazines were identical so we would each choose the same place.

We were making such a mess on the floor, we got tired of the game and I woke up because I didn't think this game was working anyway.

We never did decide where to go on vacation either.
*************************

12-29-13 - DREAM - I was manager of a very large 8 story apartment building somewhere.

I had gone upstairs to see one of my tenants who was a psychic or something, with a white book that was about Love. I wanted to know something about some topic in the book and she wanted to look over the book before telling me anything and she had another client at the moment, so I let her keep the book, and started admiring her kittens and dogs she had and left her with her client.

I went down the hallway and started walking down the stairs that were carpeted in dark green with little roses all over it.

While I was doing that, I saw Lee Chin descending the stairs below me with a blonde woman who had been looking for me.

I called down the stairs and told Lee that I was there, and Lee and the woman waited for me, and the woman introduced herself as an actress and she wanted me to play a part in her movie. (At this point I assumed I was in California and the movie was going to be made in Los Angeles or Hollywood.)

I told the woman what the movie was about, and she said that my part was to play the Queen of the Galactic something or other - she talked so fast, I didn't catch quite what the Galactic thing was, and I told her she should tell me more about the story line.

By then, we were down in the lobby and she gladly started to talk dramatically about the story line which was about love and that I was to be the Queen, and as she twirled a few times going across the lobby to the far end where a huge tree was growing by the large glass windows at the other end, she started to rise up into the tree.

I thought she was either crucifying herself on the tree, but then she became part of the tree and vanished into the tree, and I just stood there with my mouth hanging open in awe.

http://en.wikipedia.org/wiki/Emmanuelle,_Queen_of_the_Galaxy

QUEEN BEATRIX http://galacticconnection.com/dutch-queen-beatrix-abdicates-in-favour-of-son/

Since my lineage is Dutch from the 1800's who knows?

GALACTIC QUEEN AMIDATA http://galactic-voyage.com/Light%20Side-Characters-Queen%20Apailana.htm

QUEEN LEIA ? http://www.trendhunter.com/trends/star-wars-bohemian-rhapsody

Princess Leia Organa

also known as

Princess Leia Organa of Alderaan

and later

Leia Organa Solo,
http://en.wikipedia.org/wiki/Princess_Leia

****************************

12-29-13 DREAM - My husband and I were driving down a street towards a school where they were having a school concert.

The street was too narrow to drive past a couple of large trucks so he parked at the curb in front of the trucks.

I got out of the car and walked past the trucks to wehre the school children were sitting on the lawn on both sides of the sidewalk.

The children appeared to be in about thihrd or 4th grades and were all dressed in black shorts for boys and black skirts for girls and they all wore white short sleeved shirts. They all looked very nice.

They sang several songs, none of which I remember.

I then walked back to where the car had been parked, but it wasn't there.

I had left my purse in the car so I didn't even have a quarter to catch a bus back home.

So, I stood there on the sidewalk waiting for my husband to return, thinking maybe he had just driven around the block to see where I was.

I waited a long time and he didn't return.

After a bit, a tall, dapper man came out ofo the houose to see if I was all right.

He was dressed like a professor, with dark dress pants, a long sleeve white shirt with a long sleeved sweater over it, which was the same color maroon the car was that my husband was driving.

He asked me if I was okay and whether I needed anything.

I said, "No!" and told him why I was standing there.

He said I was welcome to sit on his steps to wait for my husband, took my hand and walked me to the steps, and gave me a kiss on the forehead.

I sat down on the steps and he went back into the house.

After a few moments, the man came back out of the house and came down the steps and sat next to me, but one step up, so I was sitting on the same stair where his knees were.

He was now wearing light blue shorts and a white short sleeved shirt.

I couldn't help but notice his knees and for some reason looked to see if he had any scars on his knees and there weren't any.

*********************************
12-31-13 - Last night, there was a television program on about the female brain - it was the story about how the program was made and then the program itself played. At the same time I dreamt about it.

I remember having seen that program before and found it amusing - this time I found it extremely annoying and exasperating for some reason. Maybe that was because I was trying to sleep.

********************************
12-31-13 - I was sitting in my meditation chair, eyes closed, and I started thinking ' up the nose with a little rubber hose '. That went through my mind a couple of times and I slipped into a little dream, where I was walking down the hallway in a hospital, and on the right side, down by the floor was a square slot in the wall, and I could see the light was on inside that room and a piece of paper was laying on the floor - about 4 x 4 inches square. All of a sudden I couldn't breathe, and forced myself awake, gasping for air. I thought I was going to die.
*******************************






DEES DREAMS AND VISIONS
http://www.greatdreams.com/deepage.htm