updated 11-15-99

GREATDREAMS NEWS

1999 HURRICANE SEASON

WHAT YOU SHOULD DO WHEN A HURRICANE WARNING COMES

11-15-99 - HURRICANE LENNY HEADS FOR PUERTO RICO

10-18-99 - HURRICANE JOSE

HURRICANE FLOYD RESPONSE AND RECOVERY SITE

HURRICANE IRENE
10-14-99

HARVEY IN ATLANTIC
Beats Gert to Florida
just heavy rain
9-21-99

HILARY IN PACIFIC
Expected to weaken
just heavy rain

9-20-99

HURRICANE HILARY

Hurricane Hilary Forms off Pacific

Sunday, September 20, 1999; 9:33 p.m. EDT

MEXICO CITY (AP) -- Hilary, the sixth hurricane of the season, made its debut Sunday off the Pacific coast of the southwestern Mexican state of Baja California, but was expected to weaken over the next day.

The National Hurricane Center in Miami upgraded Hilary from a tropical storm about when it developed maximum-sustained winds of 75 mph, the minimum strength necessary to be named a hurricane.

At 5 p.m. EDT, Hilary was located about 275 miles south-southwest of the southern tip of Baja California and was traveling north-northwest at about 12 mph, the Hurricane Center reported. The hurricane was expected to continue in that direction and gradually lose intensity over the next 12 to 24 hours.

~~~~~~~~~~~~~~~~~

9-17-99 - HURRICANE GERT
misses US completely

~~~~~~~~~~~~~~~~~~~~~

9-10-99 - HURRICANE FLOYD

~~~~~~~~~~~~~~~

9-6-99 - HURRICANE DENNIS


SEE HUGE HURRICANE CINDY IN THE ATLANTIC OCEAN

CINDY DIED OUT IN THE OCEAN WITHOUT TOUCHING LAND

EMILY DIED OUT IN THE OCEAN WITHOUT TOUCHING LAND

8-23-99 - HURRICANE BRET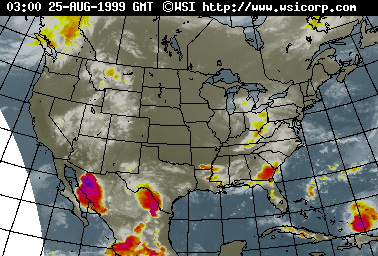 August 20, 1999
BRET IS HEADED FOR THE EAST COAST OF MEXICO
.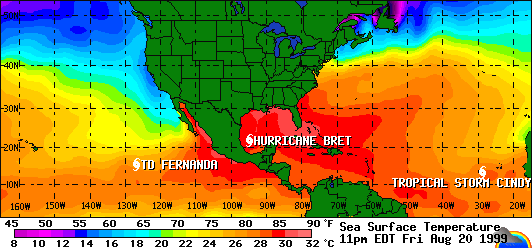 .
.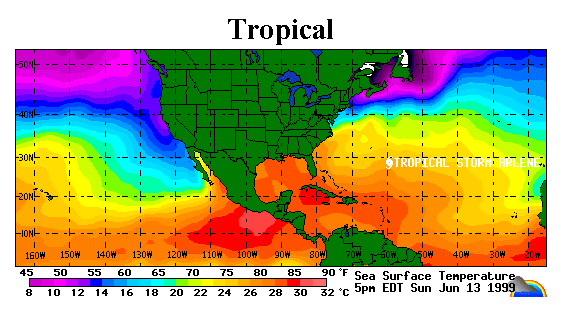 6-13-99 - VISION - I was seeing a map of the Eastern half of the United States. The states were divided into their proper lines and each state was portrayed as a different color.
A woman was standing on the side where the Atlantic Ocean would be. I could see her arm and hand as she pointed to the states of Norther Florida, South Carolina, and North Carolina.
See said, "And over here, we have a big storm coming."
by Dee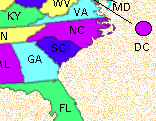 Disclaimer!!!
This is not necessarily the one predicted:
Hurricane #1 - 1999 ---Arlene progress chart
North Carolina State University Atmospheric Sciences
6-27-99
Lady Dee,
I too dreamed of your hurricane . It looks as though we are in for a really big one . It looks like Oct . to me is when we may see the storm .
Love you ,
Lady Bee
Watch this space for further developments