USURPER TO THE THRONE OF ENGLAND
WHO IS IT?
THE VISION AND THE REALITY
by Dee Finney
updated 12-20-2002
1-13-01 - VISION - I saw two dark brown horses,
each pawing the ground with the opposite foot,
one with the left hoof and one with the right hoof.
They were standing between two trees close
together with a large lavender bush blooming in
front of the horses between the two trees.

I was told that a man was usurping the throne
of England.
This is a dream of a friend of mine, but the dream is about me and my dream.
12-20-2002 - DREAM - I was talking with Dee and she told me that she had a dream message
that said, "Royalty is dead. The Dynasty is ended." Dee didn't want to write the dream
down because it was so vague and she couldn't figure out exactly what it meant.
I went home then and told my husband about Dee's dream. While I was doing that, we turned
on the TV and the news came on with a special alert that Prince Charles had been assassinated.
He had been in some kind of accident, which wasn't really an accident.
The news scene went over to where Queen Elizabeth was laying a Memorial wreath on an
important grave and a man ran up to her and whispered in her ear the news about Prince
Charles. Queen Elizabeth started to shake and then fell over dead on the grave - dead of a
heart attack.
Great Britain was in an uproar to have two royal deaths in the same day. Both of them were
so beloved to the countries involved and people were beside themselves with grief. There was
talk in the media that the country couldn't afford two royal funerals at the same time.
I went to visit Dee and we discussed the dream. I said, "Oh my God Dee, your dream came
true."
Dee was shocked at the news. Dee said, "But the dream isn't really come true, because there
is still William and Harry so the dynasty will be carried on through them. But maybe it will
come true because William doesn't want to be King and if Harry becomes King and he isn't
related by blood as people say, that would end the Dynasty."

I answered, "You know that neither William OR Harry is related to Prince Charles by blood,
so no matter which one becomes King, the Dynasty is dead."

More dreams and visions are at the bottom of this page about the English royalty, which
came prior to these.
In the past, kings and queens had great power in Britain. Today the monarch (king or queen) in Britain has little power but is still highly respected. He or she serves as a figurehead and a symbol of unity for people in Britain and the Commonwealth.
The monarch's role in British politics is part of the unwritten British constitution. As a constitutional monarch, the king or queen is head of state. He or she reigns (holds office) with the aid and agreement of an elected Parliament. The Parliament provides the government.
The monarch's duties are now mainly ceremonial. But a king or queen still has several important rights. For example, if a prime minister resigns, the monarch has the prerogative (right) to name his or her successor.
THE RECENT AND CURRENT REIGNING THRONE
The House of Hanover
The Protestant House of Hanover took over the British throne at the invitation of the British Parliament. The feeling of the people was strongly against a Roman Catholic monarch. For this reason, two attempts to bring back the Stuarts failed in 1715 and 1745. Neither James Edward Stuart, the Old Pretender, nor his son Charles Edward, the Young Pretender, would give up their Catholic religion.
Although the Hanoverian kings ruled over Hanover as well as over Britain, the governments of the two countries were kept separate. However, the countries did have a common foreign policy.
The rise of Cabinet government. The first Hanoverian, George I, was a man of strong autocratic character. He was a capable soldier who had fought against France in the War of the Spanish Succession (1701-1714). He had definite views, especially about foreign policy.
When George I came to the throne, he was 54, and he spoke no English. The Whigs, who had helped to bring about the Protestant succession to the throne, formed all the king's governments. Sir Robert Walpole, the Whig leader, was the king's chief minister.
At first, George presided over the meetings of the Cabinet Council. The Prince of Wales, later to be George II, understood English and attended these meetings, translating for his father. But George I quarreled with his son and excluded him from the council. Without an interpreter, George was in difficulty. Soon, he ceased to attend meetings, thereby promoting the development of Cabinet government.
George II, who became king in 1727, lacked his father's strength of character. But he was a brave and competent soldier. In 1743, at Dettingen in Bavaria, George II was the last English king to lead his army into battle. George was influenced by his wife, Queen Caroline of Ansbach, though he was not faithful to her. Queen Caroline died in 1737.
Frederick, the son of George and Caroline, died before his father did. Therefore, Frederick's son, George, became king when George II died in 1760. George III realized that immense powers still remained with the monarchy. Less Hanoverian in outlook than his predecessors, George III was proud to be English and took an active interest in politics. In the early years of his reign, Britain enjoyed prosperity. It had won the Seven Years' War (1756-1763) against France and had acquired much of India and Canada. But when Britain's American Colonies rebelled in 1775, the colonists blamed George for his government's policies and branded him as a tyrant. In 1782, with the American Colonies lost, George replaced his incompetent Prime Minister, Lord North, with William Pitt the Younger.
In 1765, George III had a bout of what seemed like madness. During the next 23 years, he had periods of apparent insanity. Many experts now believe that George was suffering from a rare disease called porphyria, which made him emotionally unbalanced. In 1788, he had to be put in a straitjacket. For another 23 years, Britain was almost without a king as it fought a long war with revolutionary and Napoleonic France. George's eldest son, Prince George--whom he distrusted--did not become regent until 1811. This year marked the beginning of a colorful period of British history known as the Regency.
Prince George was 58 years old when he succeeded to the throne on the death of his father in 1820. George IV had spent most of his life in the pursuit of pleasure. He took only a small interest in government. His private life was scandalous. But George was a man of taste and commissioned many public works.
George was succeeded in 1830 by his brother William. William IV was nearly 65 when he became king. He was unconventional, good-hearted, and energetic, but a timid ruler. He reluctantly accepted the reform of Parliament in 1832. William died in 1837.
The Victorian Age. Victoria was 18 years old when she succeeded her uncle, William IV. Her father, Edward, Duke of Kent, was a younger son of George III. He died in 1820. Her mother, the Duchess of Kent, was a German princess, Victoria of Saxe-Coburg.
Victoria inherited a throne that had lost power, dignity, and prestige. Through the years, she restored the dignity of the monarchy, but its power declined steadily. The monarchy became principally a symbol of the unity of the British Empire. Victoria and her successors came to accept that the chief role of the monarch was ceremonial rather than political.
Victoria's first prime minister, Lord Melbourne, coached her in the duties of monarchy. She proved to be a strong-minded, conscientious, hard-working, and dutiful queen. Her other tutor in statecraft was her cousin, Prince Albert of Saxe-Coburg-Gotha, whom she married in 1840. Albert was a cultured man, interested both in the arts--notably music and painting--and the sciences. Victoria was devoted to Albert and, in 1857, made him Prince Consort. They had nine children.
Albert died in 1861. After his death, Victoria tried to withdraw into seclusion, though she assumed the title of empress of India in 1877. Towards the end of Victoria's reign, people took a more romantic view of the monarchy and of the "Great White Queen" who ruled over so many lands. They celebrated with real enthusiasm Victoria's Golden Jubilee (50 years' reign) of 1887 and Diamond Jubilee (60 years' reign) of 1897.
Victoria had not been able to inherit the electorate of Hanover as long as a male relative was still living. Thus, the English link with Hanover had been broken in 1837, when an uncle of Victoria's succeeded William IV there. When Victoria married Albert, she took his surname of Saxe-Coburg and began a new royal house, of which her son Edward was the first monarch.
The Houses of Saxe-Coburg and Windsor
The years of change. Victoria was a strict mother. Her son, Edward VII, who succeeded her in 1901 at the age of 60, reacted against the restraints of his early upbringing. He loved food and drink, the company of women, horse racing and gambling, and the theater. But he had political awareness and helped toward the signing of the Entente Cordiale, the Anglo-French alliance.
Edward's younger son, George V, succeeded him in 1910. The death of George's elder brother, the Duke of Clarence, in 1892 placed George in the line of succession after his father and ended his naval career. George married Clarence's fiancee, Princess Mary (popularly called May) of Teck, later Queen Mary. During World War I (1914-1918), George V changed the name of the royal family from Saxe-Coburg to Windsor. The name Saxe-Coburg was German, and Britain was at war with Germany.
In political matters, George V usually tried to be a conciliator. During the crisis of 1931, for example, when the Labour government resigned during a time of economic depression, George invited Ramsay MacDonald to continue as prime minister of a "national government" supported by Conservatives and Liberals.
In 1932, George began the custom of broadcasting to his people on Christmas Day each year. George celebrated his Silver Jubilee (25 years' reign) in 1935. He died in 1936.
The modern monarchs. People in 1936 had high hopes for George's successor, the charming and good-looking Edward VIII. As Prince of Wales, Edward had shown himself to have up-to-date and democratic views, to be deeply sympathetic toward the unemployed, and to be somewhat more modern in his approach to the monarchy. But his refusal to reverse his decision to marry Wallis Simpson, an American divorcee, led ultimately to his abdication (giving up the throne). He was succeeded by his younger brother, Prince Albert, Duke of York. In coming to the throne, Prince Albert took the title of George VI.
During World War II (1939-1945), George fulfilled his duties conscientiously, and people much admired his conduct during the air raids on London. George and his queen, Elizabeth, were popular because of their modesty and devotion to duty.
George VI died in 1952, leaving the throne to his elder daughter, Elizabeth. Queen Elizabeth II, aided by her husband, Prince Philip, Duke of Edinburgh, has contributed to the process of making the constitutional monarchy more democratic. In 1977, Elizabeth celebrated her Silver Jubilee.
The Kings and Queens of England from A - Z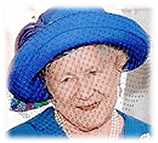 Queen-consort of Great Britain, born in St Paul's Walden Bury, Hertfordshire, SE England, UK. She was born August 4th, 1900. In the year 2000, she turned 100 years old. Her father became 14th Earl of Strathmore in 1904. Much of her childhood was spent at Glamis Castle in Scotland, where she helped the nursing staff in World War 1.
In 1920 she met the Duke of York, the second son of George V; they were married in April 1923. Princess Elizabeth (later Queen Elizabeth II) was born in 1926 and Princess Margaret in 1930. After her husband came to the throne as King George VI in 1936, she scored striking personal success in royal visits to Paris (1938) and to Canada and the USA (1939). She was with the king when Buckingham Palace was bombed in 1940, travelling with him to visit heavily damaged towns throughout the war.
After George VI's death (1952), the Queen Mother continued to undertake public duties, flying thousands of miles each year and becoming a widely loved figure. In 1978 she became Lord Warden of the Cinque Ports, the first woman to hold the office.
The Queen Mother (Queen Mum) passed away on March 30, 2002, six weeks after the death of her daughter Princess Margaret. She was 101 years old.
Britain's Queen Elizabeth declared a period of royal mourning for Princess Margaret, her younger sister, who died at age 71, on February 10, 2002.

Princess Margaret died "peacefully in her sleep" at 6:30 a.m. Saturday (1:30 a.m. ET) after suffering a stroke,
Buckingham Palace announced. Her children, Lord Linley, 40, and Lady Sarah Chatto, 37, were at her side.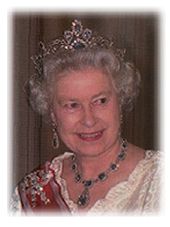 Elizabeth II - Elizabeth Alexandra Mary Windsor -born 17 Bruton Street, London W1, 21 April 1926. Elder daughter of George VI, Ascended throne 1952. Married Philip Mountbatten, RN, formerly Prince Philip of Schleswig-Holstein-Sonderburg-Gluckburg (1947). Had three sons and one daughter.
Queen of the United Kingdom and head of the Commonwealth, born in London, England on April 21, 1926, the first child of The Duke and Duchess of York, later King George VI and Queen Elizabeth. Christened Elizabeth Alexandra Mary, she became Princess Elizabeth in 1936 when her father succeeded to the throne. She is said to be in robust health.
Does Queen Elizabeth sit on the Throne of David?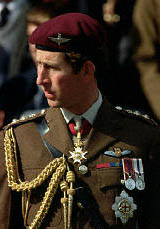 Prince Charles Philip Arthur George was born on November 14, 1948 at Buckingham Palace. He was the first child of Princess Elizabeth, the daughter of King George VI, and her husband Philip, the Duke of Edinburgh. His parents went on to have three more children - Princess Anne, Prince Andrew, and Prince Edward.
In 1952 King George died and Prince Charles's mother became Queen Elizabeth II. Prince Charles was now the heir apparent to the throne. He also became the Duke of Cornwall, a title held by the sovereign's eldest son since 1337. In the Scottish Peerage he became Duke of Rothesay, Earl of Carrick, Baron Renfrew, Lord of the Isles, and Prince and Great Steward of Scotland. In 1958 he was created Prince of Wales and Earl of Chester. His formal investiture as Prince of Wales took place at Caernarvon Castle on July 1, 1969.
Prince Charles - the Anti-christ?
Marriage and Divorce
Prince Charles met Lady Diana Spencer in 1977 while he was dating her older sister, Sarah. He liked Diana immediately, and in 1980 they began seeing each other frequently. Prince Charles was in his early thirties, and felt pressured by his family and the media to find a wife. He had resumed his relationship with Camilla, but she was still married. At last Prince Charles decided that he should marry 19-year old Lady Diana.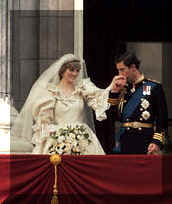 The wedding took place on July 29, 1981 in St Paul's Cathedral and was watched by 750 million people worldwide.
They had two sons, Prince William and Prince Harry, before divorcing in 1996.
Photo- 1982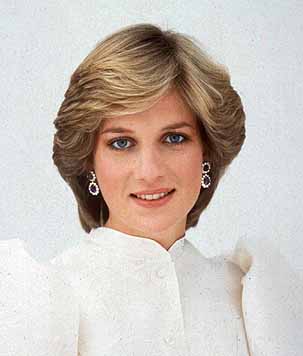 Princess Diana died in a car crash Aug. 31, 1997.
Prince Charles the Eco-King - connected to Al Gore through Armand Hammer (now deceased)
Prince Charles Astrological Chart If you look at the physical birth time chart, you will see Leo rising. Charles does not have the physique of the Lion of the Zodiac. He hasn't the breadth nor depth of chest to house Leo, nor does he have the squared rectangular, sometimes big boned body in general. Also his face and head are not of the Leo genre. Many would want the future King of England to be a Leo rising with the Sun conjunct the fifth house cusp(from the fourth). It would certainly seem more "kingly". There is only one small problem. That Leo rising chart will not give these results.
Vedic Astrology Predicts Prince Charles to become King. Around 2003 to 2006 AD, Prince Charles is expected to be the King of England.
Another Charles usurped - Charles II - 1660
Prince Charles Edward Stuart (Bonnie Prince Charlie) 1720 - 1788
The "Young Pretender". Born in the Palazzo Muti in Rome, grandson of King James VII of Scotland (James II of England), who was exiled by William of Orange.
25-Oct-2000
Prince Charles wants monarchy open to Catholics
Details have been released of a private conversation in which Britain's Prince of Wales expressed his desire to see the Church of England disestablished as the state church, and the possibility of a Catholic monarch.
Details have been released of a private conversation in which Britain's Prince of Wales expressed his desire to see the Church of England disestablished as the state church, and the possibility of a Catholic monarch.
The Daily Telegraph has published details of the conversation which took place five years ago with Liberal Democrat leader Paddy Ashdown, then leader of the Opposition Tony Blair, and Chief Rabbi Jonathan Sacks.
The paper says Ashdown's diary records the Prince asking Sacks: "Are you making an argument for disestablishment?" Mr Ashdown intervened: "Yes, of course, he is and he's right." Mr Ashdown then records: "Charles looked at me, smiled broadly and said, 'I really can't think why we can't have Catholics on the throne'."
A St James's Palace spokesman said on Monday night: "Obviously it was a private conversation and sounds to me as if it was a quiet aside. But the Prince has always had a strong sense of the country being for all faiths."
NOTE: There is a law against Catholics becoming the Monarch of England. King Arthur was convinced that Catholics should be allowed to be rulers of England. He became involved in a war over this idea. Both King Arthur and his son Mordred were killed in the battle. King Arthur database.
The real King Arthur's father, King Aedan mac Gabran of Scots, became Pendragon by virtue of the fact that he was Prince Brychan's grandson. In this line Aedan's mother, Lleuan of Brecknock, was descended from Joseph of Arimathea. There was never an Uther Pendragon, even though he was much later grafted into English charts of the era. The name 'Uther Pendragon' was invented in the 12th century by the romancer Geoffrey of Monmouth (later Bishop of St. Asaph). The Gealic word 'uther' (or uthir) is simply an adjective meaning 'terrible'. There was only ever one Arthur born to a Pendragon - he was Arthur mac Aedan of Dalriada. (from p.192 of 'Bloodline of the Holy Grail - the Hidden lineage of Jesus Revealed', by Laurence Gardner)
P 202 - Mordred and the Celtic Church - It is important to note that King Aedan was a Celtic Church Christian of the Sacred Kindred of St. Columba. Indeed, the Dalriadans were generally associated with the Sacred Kindred, which was distinctly grounded in the Nazarene tradition, but incorporated some customary Druidic ritual.
Arthur, however, became obsessed with Roman Christianity, to the extent that he began to regard his Guletic cavalry as a Holy army. This disposition led to considerable disturbance within the Celtic church - Arther was, afterall, destined to be the next King of Scots. The elders were particularly worried that he might try to inaugurate a Romanized kingdom in Dalrida, and it was on this account that Arthur made an enemy of his own son Modred, who was Archpriest of the Sacred Kindred. Modred was an associate of the Saxon king Cerdic of Elmet (the West Riding of Yorkshire), and Cerdic was allied to Aethelfrith of Bernicia. It was not difficult therefore to persuade Modred to oppose his father on the battlefield, and to ally himself with the Angles in his bid to save the scots kingdom from losing its ancient Druidic heritage. (603 BCE) (This was the battle of Camlanna, the Camlanna disaster, which was said to have opened the door to the final conquest of Britain by the Anglo-Saxons. The Anglo-Saxons are from Germany.
Arthur, age 44, and his son Modred both died in the battle. King Aedan died within 5 years of the battle.
15 January 1999
Bishops plan multi-faith coronation for Charles
THE PRINCE OF WALES will be crowned King in a multi-faith inauguration ceremony rather than the 1,000-year-old Christian coronation service, under plans being drawn up by Church of England leaders.
By RACHEL SYLVESTER Political Editor
Anglican bishops are privately discussing changes to the ritual, including the involvement of other religious leaders, rewriting the coronation oath and dropping the eucharist when the next monarch succeeds to the throne.
The plan - which will call into question the role of the monarch as Supreme Governor of the Church of England - is on the agenda of a consultation group on church-state relations, involving Dr David Hope, the Archbishop of York, which has been meeting in Sheffield for almost a year.
Advisers to the Queen and Prince of Wales have been informally consulted and believe that reform of the coronation ceremony is inevitable. Dr George Carey, the Archbishop of Canterbury, is also understood to agree that the crowning of the next monarch cannot take the same form as the last coronation in 1953 when Queen Elizabeth pledged to "preserve inviolably the settlement of the Church of England".
The debate is part of a wide-ranging discussion of "establishment" which is likely to lead to a significant loosening of the link between church and state over the next few years. The Government will this week announce that the future role of the bishops in Parliament will be part of the remit of the royal commission on Lords reform.
However, senior clergymen are focusing their attention on the coronation service, which dates back to 973. Dr David Jenkins, the former Bishop of Durham, has been commissioned by the Sheffield group to write a paper on the future of the ceremony. In an essay, published in The Independent on Sunday today, he argues that the next reign should be instituted "not by a coronation but by an inauguration or installation". It should be "a secular ceremony to which contributions were made from traditions of all faiths", he said.
The Sheffield committee, which has already had three meetings about the changing nature of the religious establishment, will discuss the issue in the coming weeks.
There is now widespread support for reform of the coronation ceremony in the Church of England. One insider said it would be an "abomination" in a multicultural society for the Church of England to retain exclusivity over the ceremony.
The Bishop of Oxford, the Right Rev Richard Harries, said that other religious leaders "need to be much more than guests, they need to be clearly at the centre of things".
The Prince of Wales has made clear that he wants to be the "defender of faith" rather than "defender of the faith" when he succeeds to the throne. He is understood to believe that introducing a multi-faith coronation or inauguration ceremony would be a central part of that shift.
1998
Prince William

September 29, 2000
Prince Charles and his son Prince William
Charles and Diana's son William (Wills) (Prince William Arthur Philip Louis Windsor) ,was born on June 21, 1982. He is second in line for the throne of England. He will become King after the death of Prince Charles ... or if Prince Charles is passed over for some reason. After graduating from St Andrews, Prince William will probably be expected to enter the military. (When William was younger it was reported that he did not wish to follow family tradition and join the Royal Navy. However, his uncle, Earl Spencer, stated in 1999 that William does want to go into the armed forces. William was a member of the Combined Cadet Force at Eton.) William plans to attend St. Andrews University in Scotland next year, after a year off to travel and do good service, and has said he will pursue an art history degree. William, who turned 18 in June, 2000. is old enough to ascend the throne if called on. Many have begun to doubt that Prince Charles, his father, will ever ascend the throne, given the robust health of Queen Elizabeth.
Prince William starts at the University in September, 2001.
William's Astrological Birth Chart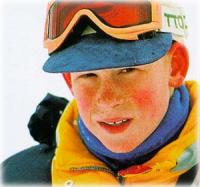 Their second child, Henry (Harry), was born on September 15, 1984.
Harry's Astrological Birth Chart
.
Prince Charles and Princess of Wales had a troubled relationship. Charles did not understand Diana's emotional nature or her struggle with bulimia. Throughout his marriage he continued his affair with Camilla Parker-Bowles, a situation Princess Diana refused to accept. On December 9, 1992 the Prime Minister announced that the Prince and Princess of Wales would separate. They were divorced in August of 1996. Princess Diana was killed in a car accident one year later.
…."Princess Diana and her soon-to-be husband, Dodi Fayed, were fatally injured in the Pont de l'Alma tunnel. The site is ancient, dating back to the time of the Merovingian kings (ca. 500 - 751 A.D.), and before. In pre-Christian times, the Pont de l'Alma was a pagan sacrificial site. Note that in the pagan connotation, at least, sacrifice is not to be confused with murder: the sacrificial victim had to be a willing participant."


Was Princess Diana assassinated?
updated 12-15-2002 -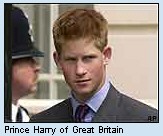 LONDON (Dec 15, 2002) - Prince Harry, the teenage son of the late Princess Diana, has been warned of a plot to steal some of his hair in a bid to obtain a sample of his DNA genetic makeup, a Sunday newspaper reported.
Britain's Sunday Times said police had been alerted after the private secretary of Prince Charles, Harry's father and the heir to the throne, received a letter from a former police officer's lawyer detailing the plans.
Neither the police nor Prince Charles's staff would comment on the matter. Scientists can carry out DNA tests on minute samples of hair, skin or saliva to establish a blood relationship between two individuals.
Harry, 18 and famous for his unruly shock of red hair, is the younger of Diana's two sons with her former husband Charles. He has become as much of a heart-throb with teenage girls as his blond older brother Prince William.
Diana, who died in a 1997 Paris car crash, and Charles divorced after revelations of adultery on both sides -- he with Camilla Parker Bowles and she with former British army officer James Hewitt.
In September, Hewitt categorically denied in a newspaper interview that he was Harry's real father in a bid to dispel long-standing rumours.
"I have been aware for a while that the issue of Harry's paternity has been a major talking point. There really is no possibility whatsoever that I am Harry's father," he told the Sunday Mirror, adding that his affair with Diana had begun when Harry was a toddler.
The Sunday Times, citing unnamed sources close to St James's Palace, Prince Charles's London residence, said the letter claimed that a media organisation had hired a private detective to obtain some of Harry's hair.
One part of the plan was to engineer an encounter between Harry, who is still at school at Eton, and an attractive young woman, who would pluck some hair from his head, the paper said.
The hair-snatching plot is the latest in a series of bizarre stories about the royal family to make headlines in recent weeks.
The collapse of the theft trial of Diana's former butler Paul Burrell led to a flood of embarrassing allegations that have tarnished Queen Elizabeth's Golden Jubilee year.
During the trial, the court was told that Diana kept Hewitt's signet ring in a locked box in her sitting room and that she had taped allegations of gay rape involving two royal servants.
12/14/02 20:19 ET
Copyright 2002 Reuters Limited. All rights reserved.
.
After his divorce Prince Charles made his relationship with Camilla Parker-Bowles public, and it was rumored that he intended to marry her. But the outpouring of grief at Princess Diana's death made it seem less likely that the public would accept Camilla as the wife of their future king. Camilla Parker Bowles Determined to marry Prince Charles
The Coat of Arms for Prince Charles
Prince William (18) - Grandson of the Queen, 2nd in line to the throne of England, future King of England. Modern society outlook : don't call him HRH until he starts official duties.

Queen Elizabeth's Second Son: Prince Andrew
Prince Andrew and Sarah Ferguson, then both 26, married on July 23, 1986, at Westminster Abbey. Andrew was made a royal duke, the Duke of York, and his wife became Her Royal Highness the Duchess of York.
They had two daughters, Princess Beatrice and Princess Eugenie, before divorcing in 1992.
May 4, 2000: The Duke and Duchess of York, now aged 40, married in July 1986 but formally separated in June 1993. The relationship had been irretrievably damaged in March 1992 after it was widely reported that the Duchess was involved in a relationship with Steve Wyatt, a Texan businessman. She was later photographed in tabloid newspapers in a romantic encounter with her financial adviser, John Bryan.
Today the couple are again living together at Sunninghill, their former home in Berkshire, with their daughters, Beatrice, 11, and 10-year-old Eugenie. The Duke believes the arrangement is working well for the children. 'We are not just doing it for the children,' he says. 'We are doing it for our own benefit too.'
The Duke of York is Patron to over 90 organisations including; Fight for Sight, The Hearing Research Trust, The Jubilee Sailing Trust and The Royal Aero Club. Has recently taken on the Patronage of the Royal Golf Clubs.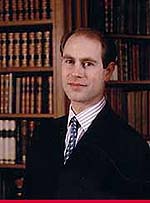 Queen Elizabeth's Third Son: Prince Edward Anthony Richard Louis WINDSOR - Duke of Edinborough, seventh in line for the throne.
Birth 10 MAR 1964, Buckingham Palace, London, England
Christening 2 MAY 1964
Christened: Edward Antony Richard Louis. The family name, Mountbatten-Windsor was made by decree of Elizabeth II. a.k.a.: Prince Edward, Duke of Kent II. Edward is 6 feet tall.
Three years as a Second Lieutenant in the Royal Marines. In March 1989, The Queen appointed Prince Edward a Commander of the Royal Victorian Order. Then Prince Edward moved into theatre production through the Theatre Division and Sir Andrew Lloyd Webber's Really Useful Company. Later formed Ardent Productions Ltd, a TV productions company.
Patron of several theatrical organisations including; National Youth Music Theatre, National Youth Orchestra of Scotland, City of Birmingham Symphony Orchestra and Chorus. Sports that the Prince enjoys include; horse riding, sailing and badminton.
Prince Edward Married on June 19, 1999 Prince Edward married the Countess of Wessex, the former Sophie Rhys-Jones -Upon marriage, they were created the Earl and Countess of Wessex. They will reside at Bagshot Park.
It was also decided, with the couple's agreement, that any children they might have should not be given the style His or Her Royal Highness, but would have courtesy titles as sons or daughters of an earl.

Queen Elizabeth's Daughter - Princess Anne Elizabeth Alice Louise Mountbatten-Windsor. The least popular of the Royal Family, Anne is 5'6 1/2" tall. She is an avid horsewoman - The Princess Royal, only daughter of The Queen and The Duke of Edinburgh, was born at Clarence House, in August 1950. when her mother was Princess Elizabeth heir to the throne. Received the title Princess Royal from the Queen in June 1987. She has refused all other titles offered.
Does a lot of work for the Save the Children Fund for which she has been President since 1970. The Princess is President or Patron of 222 organisations.
Married Captain Mark Phillips in Westminster Abbey in November 1973.
Four months after their marriage an unsuccessful attempt was made to abduct the Princess as she and Captain Phillips were being driven along the Mall towards Buckingham Palace. The Princess was unhurt although her personal protection officer was shot and wounded during the attack. Her marriage to Captain Phillips was dissolved in April 1992, on December 12th 1992 The Princess Royal married Captain Timothy Lawrence in Scotland. The Princess's first child ( Peter Phillips ) was born on 15th November 1977, her second child Zara was born on 15th May 1981. The family live at Gatcombe Park in Gloucestershire.
It appears that it has been rather common practice for the throne of England to be usurped by people who weren't in the line of succession.
England and Scotland in the 16th Century
A Child's History of England - thru 1798
The founder of the Scottish Blue family in North America was Malcolm Blue of North Knapdale, Kintyre, Argyllshire, Scotland. He emigrated to America in 1747 or 1748 in order to escape persecution. Malcolm Blue had espoused the cause of the Stuarts and supported the claim of Bonnie Prince Charlie to the throne. The Prince's forces were defeated disastrously at the Battle of Culloden in 1746 and his supporters had to flee for their lives. Many of these migrated to America, entering through the ports of Philadelphia and Wilmington, North Carolina.
~~~~~~~~~~~~~~~~~~~
5-16-2001 -
Hi Dee,
In South Africa in the Knysna area - there is the grave of George Rex - an interesting twist to the usurper theory - and (I'm speaking under correction here) - but I vaguely remember the Queen visiting his grave on her last visit to SA.
You can read more at http://www.cix.co.uk/~nrgreenway/kg/doc_grex.htm or at Google search under George Rex.
Namaste -
Frida.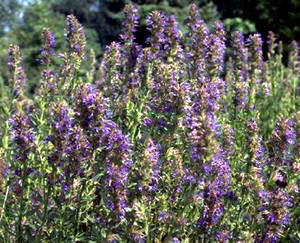 LAVENDER
G/P/E: Masculine, Mercury, Air.
Magical attributes: Sleep, long life, peace, wishes, protection, love, purification.
Lavender is derived from the Latin "lavare" which means "to wash" and that is just what the Romans did with lavender.
Uses: Has strong antiseptic qualities. Mild infusions (3 tablespoons to 6 cups of water) make a good sedative, headache treatment, and digestive aid. Used in oil or tincture form to heal cuts, burns or scalds,bites. Thisalso acts as a tonic and may be used for colds, chills, and the flu. Lavendar is an excellent aromatic, usually mixing well with other floral scents. An ingredient in the Purification bath sachet, also used in purification incenses. It is thrown onto the Midsummer fires by Witches as a sacrifice to the ancient gods. Lavender is a frequent addition to healing sachets,especially bath mixtures, and is added to incenses to cause sleep. Lavendar is a great antibiotic, antidepressant, sedative and detoxifer. Stimulates the immune system.
In Ireland, English lavendar is a traditional herb often used in the bouquet.
Lavendar is a symbol of luck
Lavendar Oil was used as a stimulant and a flavoring.
LAVENDER'S BLUE LYRICS
Lavender's blue, diddle diddle
Lavender's green,
When I am king, diddle diddle
You shall be queen.
Lavender's green, diddle diddle
Lavender's blue,
You must love me, diddle diddle
'Cause I love you.
Down in the vale, diddle diddle
Where flowers grow,
And the birds sing, diddle diddle
All in a row.
A brisk young man, diddle diddle
Met with a maid,
And laid her down, diddle diddle
Under the shade.
There they did play, diddle diddle
And kiss and court.
All the fine day, diddle diddle
Making good sport.
I've heard them say, diddle diddle
Since I came hither
That you and I, diddle diddle
Might lie together.
Therefore be kind, diddle diddle
While here we lie,
And you will love, diddle diddle
My dog and I.
For you and I, diddle diddle
Now all are one,
And we will lie, diddle diddle
No more alone.
Lavender's blue, diddle diddle
Lavender's green,
Let me be king, diddle diddle
You be the queen.
Lavender's green, diddle diddle
Lavender's blue,
You must love me, diddle diddle
'Cause I love you.
,
11-9-97 - DREAM - I was walking down a street. On the other side of the street, a woman and a man entered a house across the street while I was seeing 4 and 20 birds laying in the street. They were all dead by the curb, laid out in 3 rows.
The man told her to step up into the house. When they came back out, she stepped out onto a big white platform on top of a big white car. She was all upset and yelled at the man, "You told me to step down." The man came over to me and asked me if I had heard him tell her to step down. I said, "No! I didn't hear you tell her to step down."
NOTE: I feel that this is a prophecy about Queen Elizabeth stepping down from her throne.
~~~~~~~~~~~~~~~~~~~
6-18-98 - DREAM - I was seeing a web page that was like the sky - light blue with clouds on it. There was a page of poetry that was called "Canon" type. It was supposedly written by or about LADY OLIVER C_____ . (The name was there but I couldn't remember it.) I saw her picture...a pretty woman. The name under the picture was OLIVER. (I had been studying King Arthur and the Holy Grail and it had something to do with that.) (Would this be Lady Oliver Cromwell?) (He fought in England's parliament about the Catholic religion in England)
With Cromwell's death, the Commonwealth floundered and the monarchy was restored only two years later.
"When Commons was purged out of existence by a military force of its own creation, the country learned a profound, if bitter, Lesson: Parliament could no more exist without the crown than the crown without Parliament. The ancient constitution had never been King and Parliament but King in Parliament; when one element of that mystical nion was destroyed, the other ultimately perished."
~~~~~~~~~~~~~~~~~~~~~~~
11-2-98 - VISION - 'KEEPING UP MY BOOK OF THE KING"
11-2-98 - VISION - 'COINS OF THE REVOLUTION' I saw many coins. They were not all round.
~~~~~~~~~~~~~~~~~~~~~~
11-17-98 - VISION - Someone sang, "Going to see the King." Someone said, "Time to take it to new people!"
~~~~~~~~~~~~~~~~~~~~~~~
8-4-99 - DREAM - I spent a long time working on a web page with 1089 statements on it. The page was called, 'THE NEW KING COMETH'. I got all the statements lined up, then went back to click on the links to see if I could could figure out who the New King might be. I couldn't determine who it was.
Then I had a vision of myself standing in the livingroom looking at Joe sitting at his computer. His computer screen was flashing a beautiful blue color (a hue of blue halfway between sky blue and dark blue)
8-12-99 - VISIONS - (This was a set of visions)
A black rectangle
A horse race
A Kingship name - (unremembered)
A list
A rivalry contest
A second black rectangle
.
Dead Prince's Ghost 4/27/01
4/27/2001 (Bryon Smith)
To: dream-l@dream-link.org (Dream List)

I was standing in a large building with a monk or priest looking man dressed in a long robe and he was talking with a man who's age I would have guessed to be in his 20's or 30's it was hard to tell his age. He was dressed in royal attire and might have been a prince or even a king. The man had strong British features and a large nose but throughout the dream I did not receive any information to indicate what nationality he really was. I only know he was of a royal order from somewhere.

His clothing was mostly white but had a great deal of stitching decorating it. The shirt and pants were so well blended with decorations they almost appeared to be a one piece attire.

Now this princely person was talking to the monk looking man and I was just standing there listening. He said he was searching for his body because someone had done something that concerned him and his body was a key factor in the situation. As he was talking he mentioned a statue of himself and when he did I looked to the right of where he was and there appeared a statue of him in living color that looked just like him seated on something. My mouth dropped when I saw it because it honestly looked like two of him there. The statue was elevated up on a platform that was taller than anything in the immediate area. I said something to him about the statue and how much like him that it looked and as I gazed back toward the statue it turned its head and looked right at me for a moment then turned back to its former position. I jumped back and said "It's alive" and he said "of course it looks like me, I created it there for you to see." No
sooner had he said this than the image vanished.

The very life like ghost then insisted that the monk/priest show him his body that he wanted to make sure that it was all right and secure where it was hidden. I followed them into a really huge basement of the building and we walked along a path between mountains of ancient to very old items that were being kept in this place. Some of the paths were not straight with the walls either and some of them ran diagonal across the room. This place was a virtual maze of passageways and the room was large enough that a person might get lost in it.

Finally we came to a narrower passage way where a wooden beam not quite as large as a rail road tie was hanging from a chain suspended from the ceiling about 7-10 feet above our heads. The chain ran across the high ceiling back in the direction we had come, from the North I believe and out of sight. The monk like man said we had to pull that beam down to release the mechanism holding the hidden doorway. One of us would have to climb up there and take hold of the beam. As we pondered on this for a moment there came a great earthquake and things started falling all around us. I looked up at the beam and it was being pulled quickly toward the ceiling. The sound of the chain links passing through the hoops on the ceiling made a loud clicking sound.

We ran trying to find a safe place and I climbed up as high as I could get on some of the things stacked in this place trying to find some place to be on top rather than on the bottom. This thing I climbed up on was made of some type of dark polished wood and was quite tall, perhaps 15 or 20 feet tall I think and had a flat table like surface on top. In fact they looked like legs for some larger object. There were smaller things placed around on the top of these things that made me have to hunt for a place to sit. One of them had two glass cups or glasses filled with gunpowder. I knew this had some special meaning perhaps a war symbol. The other, the one I ended up seated upon had a stack of metal balls like ball bearings. Some of them were quite bright while others were darker in color. As I searched them out I found there were a hand full of them that were transparent like glass. These were all the same size and appeared to be about an inch in diameter. As I pondered on these things the earthquake subsided and I looked around and wondered where the monk like man and the
ghost had vanished to. The last I knew of them they were passing northward from the center passages of the room. As I watched several other monk like men came down from upstairs and were checking to see if everything and everyone was all right. They appeared to be assessing the damage.
EOD

This dream appears to be a prophetic warning dream.

The people who were mentioned in this dream but not seen either hold this dead prince in very high regard or very low regard because it concerned him that his "body" was not disturbed.

We see the body was hidden in what appeared to be the basement of a huge church building. What does this mean ? For one thing it means there's a secret involved in this dream situation. This prince may be highly loved by some and very much hated by others. If so then who is he ? This has powerful religious tones to it when I think about it.

What is the symbol of a beam hanging over our heads by a chain ? It was a handle waiting to be pulled. I feel strong supernatural significance in this symbol.

This hanging handle triggers a hidden doorway that revels the "body" of the prince/king in its hidden location.

This body could really be that of a dead person who was highly favored or worshiped. It could also represent a "body of people" who were a kind of secret society who were followers of this dead prince.

What about all these old treasures ? The Catholic church is the only church that I can think of who would have such a huge place filled with artifacts. Remember though this is a dream and in a dream "things" and information and events can also appear as object symbols. Like the two glasses of gunpowder. They were not very large, just average size glasses that would hold about a cup full of something. Gunpowder though is a symbol of potentially explosive situation, even a symbol of war.

What are the ball bearing looking things for ? I have a dozen things on my mind right now and I'm drawing a blank unable to even speculate on what a stack of ball bearings would symbolize unless it would be the nature of the situation being very delicate. Ever try to stack ball bearings ? Even if you could one slight move and they will all fall down. Why didn't this earthquake topple them ? Because I was suppose to see them in this formation in this dream.

I have a feeling there's more dreams to come about what ever this dream is talking about. I also believe that I'm not the only one who's being informed of these things. Other people must hold other parts of this puzzle.

…Bryon
O==I==========--==========I==O


Royal Links
The British Monarchy
Unofficial Royal Family pages
The Royal Network
Marivi's Royalty page
Publications on the Monarchy
Canadian Monarchist ONLINE
The Queen's Visit 1997
Princess Diana Page
Princess Di: Memorial gallery
Princess Di: Tragedy in photos
The Stolen Child of Edward III and Wallace Simpson
The Dream Connection to the Eclipse of Aug. 11, 1999
RELATED LINKS
PROOF OF KING ARTHUR'S EXISTENCE?
DREAMS, VISIONS, PROPHECY AND COINCIDENCES ABOUT PRINCESS DIANA
DREAMS AND VISIONS OF THE HOLY GRAIL AND THE SECOND COMING OF CHRIST
Fear not: I am the first and the last:
I am He that lives, and was dead;
and behold, I am alive for evermore. Amen;
and have the keys of hell and of death.
Revelation 1:17, 18
ECLIPSE 1999 - THE FINAL QUEST FOR THE HOLY GRAIL
The Symbolism and Spiritual Significance of the Number Three
DREAMS OF THE GREAT EARTHCHANGES
MAIN INDEX