OFFICIALS SAY 100,000 KILLED IN EARTHQUAKE IN INDIA
30,000 BODIES FOUND SO FAR- AS OF 2-3-01
SOME VILLIAGES NOT EVEN INVESTIGATED 2-15-01
FINAL DEATH TOLL WILL PROBABLY NEVER BE KNOWN
100,000 VICTIMS STILL LIKELY
IS THERE MORE TO THESE QUAKES THAN MEETS THE EYE?
1/26/2001 - 03:16:41 UTC 23.40N 70.32E Depth: 23.6 km 7.7Ms
INDIA65 miles (110 km) NNE of Jamnagar, India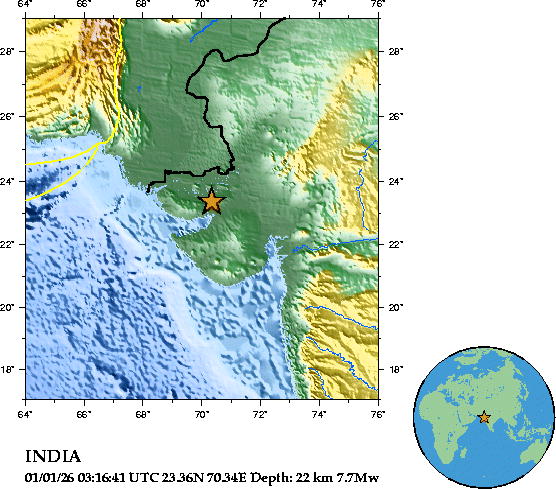 click on the seismograph to see the rest of the details
The Number 26 and Earthquakes
Date: 1/29/2001
From: jmason4557@aol.com
Reply-to: earthchanges@yahoogroups.com
Hello EarthChangers.
On January 14 Dee had a dream about knitting (http://www.greatdreams.com/26.htm). This involved the numbers 26 and 1 and the word, "camera."
Later, Dee and I discussed the dream. We know, of course, that 26 was a significant number to the ancient Mayans. It was possibly suggested by the "Grid" crop formation, as we reported in one of our articles (http://www.greatdreams.com/strng.htm).
Also, our English alphabet has 26 letters.
The precession related to the Zodiac Ages is about 26,000 years in length.
The Mayans also used multiples like 13, 26, 52, 260, etc. 52 years was a Mayan century. It is said that they believed the world could end when a century concluded.
A regular deck of cards has 4 suits of 13 cards each, for a total of 52. The regular deck of cards may have come from the more ancient Tarot, which was apparently originated by the Egyptians.
I spoke with Dee about a "coincidence." Several years ago, I saw a Television show about the Great Houdini. Near the end of the program, the narrator reported that Houdini was born 26 years before the turn of the century, and died 26 years after the turn of the century. Magicians, he pointed out, use decks of 52 cards. As usual, I thought of the possible symbolism of Houdini. I thought perhaps it was how he escaped from being bound. This seems to be a theme about mankind . . . that we are spiritually enslaved, or bound. The Bible has a few verses about this.
Not long after I saw the television program, I received a letter from Paul Rydeen, along with a magazine in which he had an article. I read the article which was about the symbolic Tarot card association with Lovecrafts's "White Ship" story. I happened to notice a staple between the pages, and realized the article was in the center of the magazine. I then noticed the start of the story was on page 26. I checked and found that the magazine had 52 pages including the front and back covers. All the pages were included in the numbering. I thought it was a meaningful "coincidence," as related to Houdini and the cards.
Last Friday a thought popped into my mind. The recent 7.9 earthquake in India happened on January 26, the day of the 52nd Republic Day parade. I wondered if Dee's dream of "26" was related to the event. A small earthquake happened in Ohio 13 minutes prior to the one in India. A magnitude 7.8 earthquake took place in Central America on January 13. See: http://wwwneic.cr.usgs.gov/neis/bulletin/mag7.html
There was also a small earthquake in Greece 21 minutes after the Indian quake. The number 21 is associated with the penultimate number of the Hebrew alphabet, symbolically related to the Trident and the Holy Spirit.
The Indian Republic Day parade route along Raj Path is 13 kilometers long.
Yesterday a reader of our website sent an e-mail informing us that the earthquake in India was exactly on the main path of the August 11, 1999, solar eclipse. At least two other major earthquakes took place along the solar eclipse path. One was on August 17, 1999, in Turkey. The other was in 1990 in Iran.
Perhaps there is a "freedom" or "liberty" symbolism involved in the events.
The nation of India's Republic day celebrates their freedom from Great Britain.
Houdini was known for escaping bonding.
Dee had a dream about "Lady Liberty" this morning (http://www.greatdreams.com/freedom.htm). This seems to carry a more deep spiritual meaning. Various verses in the Bible suggest this, such as:
Isaiah 61:1 - "The Spirit of the Lord GOD [is] upon Me, Because the LORD has anointed Me To preach good tidings to the poor; He has sent Me to heal the brokenhearted, To proclaim liberty to the captives, And the opening of the prison to [those who are] bound;
Galatians 5:1 - Stand fast therefore in the liberty by which Christ has made us free, and do not be entangled again with a yoke of bondage.
Romans 8:21 - because the creation itself also will be delivered from the bondage of corruption into the glorious liberty of the children of God.
James 1:25 - But he who looks into the perfect law of liberty and continues [in it,] and is not a forgetful hearer but a doer of the work, this one will be blessed in what he does.
I have pasted some extra notes on this subject below, for those interested.
Regards,
Joe Mason
--------
The divine Name Jehovah Elohim, we should note that, in Hebrew, Jehovah adds to 26, the number of letters in the english alphabet and the value of GOD in the LUX code. In the NOX code, the Holy Word of Tantrick Buddhism, OM, as well as the Lost Word of the Master Masons as MABN, or ABMN, also add to 26. The Hebrew transliterations of these two secret Words possess the same value as our Word of the Law, Thelema, 93.
------
DETAILS OF THE 11 Aug 99 ECLIPSE
Compare maps -
path of the 11 Aug 99 eclipse over Western India
http://sunearth.gsfc.nasa.gov/eclipse/TSE1999/TSE1999Map/TSE1999Map9.jpg
Total path of 11 Aug 99 eclipse: http://www.greatdreams.com/frmap99.gif
Map of Western India showing location of 1-26-2001 earthquake
http://neic.usgs.gov/neis/bulletin/010126031641.HTML
-----
Compare coordinates:
Table 7. Mapping Coordinates for the Umbral Path,
Total Solar Eclipse of 1999 August 11
http://umbra.nascom.nasa.gov/eclipse/990811/tables/table_7.html
Longitude Latitude of limits
070°00.0´E 23°54.88´N 23°07.13´N 23°30.87´N
071°00.0´E 23°29.62´N 22°42.94´N 23°06.15´N
http://neic.usgs.gov/neis/bulletin/010126031641.HTML
January 26, 2001 earthquake in Western India:
23.40N 70.32E
------
EQ in India, Greece (and a little one in Ohio, USA!?)
Date: 1/26/2001
From: Chris
Major EQ on Indian subcontinent...
http://www.cnn.com/2001/WORLD/asiapcf/south/01/26/india.quake.04/index.html
... took place on "Republic Day" which is like their Independence Day I guess.
Do we have any people on the list with eye-witness reports, family members in the area, etc?
Indian Quake struck at 0316 GMT on 1/26/2001 (they are a day ahead of us)
And one in Greece -
http://www.cnn.com/2001/WORLD/europe/01/26/greece.quake/index.html
.. it was an undersea quake, with a preliminary magnitude of 4.1, occurred on Friday at 5:37 a.m. (0337 GMT) off Patras, about 180 kilometres (115 miles) west of Athens, the Athens Geodynamic Institute said. That's only 20 minutes after the Indian quake in 'real' GMT time.
And a minor earthquake in OHIO USA(!)...
http://www.cnn.com/2001/US/01/26/ohio.quake/index.html
What's up? It's only a day past a new moon - but could that be it?
I checked the space environment plots...
http://www.sec.noaa.gov/today.html
... and there was a very unsettled period for the 24 hours leading up to the quakes, and a few X-ray spikes indicating solar flares right around the time of the quakes, just after 0 Hrs UT Jan 26, but the effects of a flare or CME normally take hours to reach earth, and in this case the other space environment indicators (protons, electrons) do NOT show any unusually high levels. Fluctuations yes. But I can not conclude there is a space/earth connection related to these events.
Take good care and be well,
Chris M in DC
------
CNN.com - Hundreds feared dead in India quake - January 26, 2001
http://www.cnn.com/virtual/editions/europe/2000/roof/change.pop/frameset.exclude.html
NEW DELHI, India -- Hundreds of people are dead in India after one of the worst earthquakes in half a century struck the country as it was celebrating Republic Day.
Republic Day continues
The quake did not disrupt Republic Day celebrations,
which took place in India's capital, New Delhi, amid
the tightest security in years, and following threats from
Pakistan-based Muslim separatists against India's top
leadership.
The tremor hit just before the parade, where thousands of
police and soldiers were on alert against a terrorist attack.
Republic Day, marks India's transition to a democratic
republic after independence from Britain in 1947.
The quake, which hit as India was marking the 51st anniversary of its transition to a republic, was described as having a magnitude of 7.9 and a depth of 23.6 kilometers, according to the U.S. National Earthquake Information Center.
It struck at 8:46 a.m. Indian time (0316 GMT). The epicenter was the Rann of Kutch, a desert plateau in western India near the border with Pakistan.
CAN QUAKES BE PREDICTED?
Subj: Terrific Article Man Predicted India Quake
Date: 2/3/2001
From: russ.michael@vpn.at (Russ MICHAEL)
Posted by Irene at February 02, 2001
Posting:
Can earthquakes be predicted? Scientists and seismologists the world over say it is impossible. Eighty-year-old P N Nair, though, believes he has developed a scientific method that can predict both the general time frame and the location of an impending earthquake.
Though science may dismiss him, thousands of Kutch residents will now find it difficult to forget him. Earlier, when he predicted a devastating earthquake would hit Gujarat by the end of January, people pooh-poohed him. Then, when he published his forecast in the Gujarat daily, Kutch Mitra, on January 8, the experts dismissed it. Nair even tried his best to impress on the Gujarat government the seriousness of his findings, but the authorities ignored his warnings.
Which is why, today, Nair is a frustrated man. Though he is distraught that most of his friends and neighbours in Gandhidham have perished, he is relieved that his wife, two daughters, son and their children are safe; that his house there has escaped with only a few minor cracks. But, as he prepares to leave for Gandhidham where he has been living for the past 51 years, Nair is a hero among hundreds of villagers in the hilly area of Poonjar in Kerala's Kottayam district. The reason: when he landed there on January 24 to study the frequent tremors in Kerala's central districts, Nair predicted a major earthquake would hit Gujarat within seven days.
K N Ramachandran, in whose house Nair made the prediction, is yet to recover from the shock of finding out his guest was right. "On the evening of January 24, Nair said he could sense thunderous sound from within the earth. He then explained to me and others in the village that an earthquake would soon hit Gujarat. When that disaster actually happened on Republic Day, we were awestruck." Ramachandran is a retired deputy director of education in Kerala.
Nair denies any premonition about impending earthquakes. He adds that -- unlike what people are beginning to attribute to him -- he does not have any divine powers. "It is all scientific," he insists. "I can predict earthquakes scientifically. But I am sad that the authorities and the so-called seismological experts are unwilling to listen to me."
When and how did earthquakes begin to fascinate him so much that he made it the focus of his life? Nair, who then worked for the Military Engineering Services, was transferred from Kerala to Kandla in 1949. Seven years later, an earthquake measuring seven on the Richter Scale hit Gujarat, killing over a hundred people and displacing hundreds. "I was a victim of the earthquake that hit Kutch in 1956," he says. "I was wounded and our home was partially damaged. It was then that I resolved I would study earthquakes."
He began at night, standing barefoot on the land outside his house. And he would feel a sound, which he compares to that of a gunshot. Occasionally, he would even feel an electric shock go through his body. He read extensively on sound waves and the earth's movements. He researched the entire Kutch area. And then, in 1974, he announced what he called the Nair Effect Magnetic Field Theory. "There is a momentary lightening and thunder effect below the earth's crust when its plates collide. This produces a magnetic field, whose properties are different from the earth's geomagnetic field.
"The earth's crust is formed of plates. When these plates collide, the electrons move and a process of ionization takes place, aided by the high temperature below the earth's crust. The electrons start moving almost 40 days prior to an earthquake. Due to the frequent collision of plates in an earthquake prone area, the amount of electrons emitted increases steadily as does the temperature under the ground. The emitted electrons form of a magnetic field in the area surrounding the plate. Finally, a force is experienced on the earth's surface -- we call it an earthquake."
Nair says the traditional tectonic theory accepted by seismologists has many holes. "It does not explain the gap between the accumulation of pressure under the ground and the actual earthquake. Seismologists do not know what happens between these two processes. My theory fills this gap; it explains how a magnetic process takes place both inside and outside the earth before an earthquake actually happens."
Nair claims that, seven days before an earthquake hits a region, one can scientifically spot the following indicators: A humming effect follows most sounds; swaying shock-waves; the rumbling sound of vehicles or falling objects; the audibility of distant sounds; echoes in the horizon; khar-khar sounds on the roads and flashes of light that move from right to left on television sets. Thunder-like sounds emanating from within the earth are the final signal that an earthquake is near.
But how do these indicators help Nair decide the location of an earthquake? "The direction of these sounds can be scaled, depending upon their strength and force. Let me try to explain with a rough example. If you felt that these sounds were coming from, say one kilometre away, it is certain the earthquake would hit some 1,500 kilometers away."
How does he measure these sounds? Nair has created an harmonium-like instrument, powered by four batteries, that can feel the signals of an impending earthquake.
So how many earthquakes has he predicted? "Many," says Nair, opening a diary in which he has listed the times and the places of the earthquakes he has predicted. He said that, sitting in Kutch which was 3,000 kilometres away, he predicted the earthquake that hit Iran and Iraq two days before it happened. The quake registered five on the Richter Scale. He says he also predicted the 1992 Tokyo earthquake three days before it happened.
In the seventies, Nair wrote to then prime minister Indira Gandhi about his ability to predict earthquakes. She forwarded his request to the Indian Meteorological Department and other earthquake research centres. "But I did not get any response from them. Everyone thinks I am a prankster. If the government spends half the money it wastes on the countless number of scientists and seismologists who do no work across the country, I can develop a world-class research centre for earthquakes in India." But neither the government nor the experts have approved his theory.
Nair, though, has the support of the people of Kerala. In 1993, during one of his visits to the state, Nair said Kerala was earthquake-prone. On December 2, 2000, he predicted an earthquake would hit the state; the prediction was dismissed by the people of Kerala. On December 12 - just 10 days after Nair's prediction - an earthquake measuring 5.2 on the Richter Scale hit Kerala for the first time.
Since then, the Malayalam vernacular press has dubbed him Earthquake chettan (brother). In the last two months, Nair has held three press conferences. He has addressed a number of public meetings where he answers people's queries on earthquakes. He has received a handful of invitations from various cultural societies to talk about earthquake predictions. Nair, though, is preparing to return to Gandhidham. To take stock of the earthquake's aftermath. And to spread his theory about the future shocks that we can expect from the planet we call home.
THE CHARLOTTE KING EFFECT - BIOLOGICAL EARTHQUAKE PREDICTION
EARTHQUAKE PREDICTION FROM DYNAMIC WORLD
1st Syzygy Earthquake Prediction Board
Prime Minister Vajpayee visited the India Gate Friday morning, before embarking on the 52nd Republic Day parade, a 13-kilometre route along Raj Path, a tree-lined avenue which cuts an elegant swathe through the center of the city.
-
Republic Day, marking India's transition to a democratic republic after independence from Britain in 1947, is often marred by violence in the bitterly disputed Himalayan territory of Kashmir and the country's insurgency-torn northeastern states.
----------
http://neic.usgs.gov/neis/bulletin/010126031641.HTML
Earthquake Bulletin
01/01/26 03:16:41 UTC 23.40N 70.32E Depth: 23.6 km 7.9Ms
SOUTHERN INDIA
65 miles (110 km) NNE of Jamnagar, India
-
The following is a release by the United States Geological Survey, National Earthquake Information Center: A major earthquake occurred IN GUJARAT, INDIA about 65 miles (110 km) north-northeast of Jamnagar, India or about 180 miles (290 km) southeast of Hyderabad, Pakistan at 8:16 PM MST today, Jan 25, 2001 (Jan 26 at 8:46 AM local time in India). A PRELIMINARY MAGNITUDE OF 7.9 WAS COMPUTED FOR THIS EARTHQUAKE. The magnitude and location may change slightly as additional data are received from other seismograph stations. According to preliminary reports, some buildings collapsed in the state of Gujarat. The earthquake was felt at Mumbai (Bombay) and Delhi, as well as Karachi and Peshawar, Pakistan and in parts of Nepal.
On June 16, 1819 an earthquake in this same general area killed 1500-2000 people.
----------
http://www.cnn.com/2001/WORLD/europe/01/26/greece.quake/index.html
Earthquake shakes Greece
January 26, 2001
Web posted at: 5:14 AM EST (1014 GMT)
PATRAS, Greece -- A moderate earthquake has rocked parts of south-western Greece, but there are no reports of damage or injuries.
The undersea quake, with a preliminary magnitude of 4.1, occurred on Friday at 5:37 a.m. (0337 GMT) off Patras, about 180 kilometres (115 miles) west of Athens, the Athens Geodynamic Institute said.
-------
http://neic.usgs.gov/neis/bulletin/010126030319.HTML
Earthquake Bulletin
01/01/26 03:03:19 UTC 41.99N 80.83W Depth: 5.0 km 4.2Lg OHIO
10 miles (10 km) NNW of Ashtabula, Ohio
-------
August 11, 1999 solar eclipse path over Turkey:
http://sunearth.gsfc.nasa.gov/eclipse/TSE1999/TSE1999Map/T99Fig12.jpg
http://sunearth.gsfc.nasa.gov/eclipse/TSE1999/TSE1999Map/T99Fig11.jpg
http://wwwneic.cr.usgs.gov/neis/bulletin/1999_stats.html
August 17, 1999 earthquake in Turkey
Time UTC Latitude Longitude Magnitude
00:01:39.13 40.748 29.864 7.4
The August 17, 1999, Kocaeli, Turkey, earthquake Maps
http://rccg03.usc.edu/RecentEQ/Turkey/Maps.htm
--------
Significant Earthquakes 1990
http://wwwneic.cr.usgs.gov/neis/eqlists/sig_1990.html
JUN 20, 1990
UTC TIME LAT LON DEP
21:00:09.9 36.957 49.409 19 D 6.4 7.7 1.2 352 WESTERN IRAN. Ms 7.7
(BRK), 7.4 (PAS). Estimated 40,000 to 50,000 people killed, more than 60,000 injured, 400,000 or more homeless and extensive damage and landslides in the Rasht-Qazvin-Zanjan area, Iran. Nearly all buildings were destroyed in the Rudbar-Manjil area. Substantial damage occurred as far away as Khalkhal and Now Shahr and slight damage occurred at Tehran.
Felt in most of northwestern Iran, including Arak, Bakhtaran and Tabriz. Slight damage also occurred in southern Azerbaijan, USSR. Felt (VII) at Astra and Lenkoran; (VI) at Dzhibrail, Lerik, Mossony and Yardyshny; (III) at Baku, USSR. Complex event.
------
Note:
Ohio quake: 03:03:19 UTC
India Quake: 03:16:41 UTC
Greek Quake: 0337 GMT
316 - 303 = 13
337 - 316 = 21
337 - 303 = 34
Revelation 6:12
And I beheld when (the angel) had opened the sixth seal,
and, lo, there was a great earthquake, and the sun became
black as sackcloth of hair, and the moon became as blood.
Quatrain 1.84
The Moon obscured in great gloom,
Her brother becomes the colour of blood...
Quatrain 3.5
...after the eclipse of the two great luminaries,
Which will occur between April and March:
O what a loss!
Quatrain 4.30
More than eleven months the Moon will not want the Sun,
Both augmented then lowered in degree...and so low placed...
According to the base 7 system, the time that appears likeliest for this cataclysmic event to occur is July 2001. However, Nostradamus says it will happen in March/April. If the year is correct, then we should expect the earthquake of the sixth seal to happen in March/April 2001. This also concurs with the year Edgar Cayce believed the largest series of earthshocks and other natural disasters, begun in 1998, would arrive at their terrifying climax: 2001. According to Quatrain 4.30, the sun and moon will be obscured by a thick veil of ash and dust in earth's upper atmosphere for eleven months. This indicates that an age of darkness will begin in March 2001 and end in February 2002.
There is no reason to believe that the geological apocalypse known as the "opening of the sixth seal" will occur all in the space of one day, one week, or even one month (although the trigger will likely be a singular event). Horrendous earth changes will doubtlessly continue for some years to follow.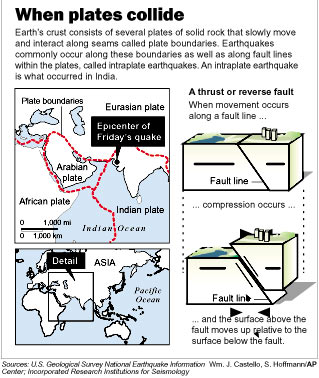 Situation In India
Date: 2/14/2001
From: Michael Mandeville [SMTP:mwm@aa.net]
Monday, February 05, 2001 2:30 PM
Subject: Situation In India For Worse Than US Media Reports
PHOENIX FIVE EARTH CHANGE BULLETINS
February 15 , 2001 by MW Mandeville
ITEM(S):Mahesh Send Commiques From India: earthquake relief pleas It is possible that the 7.8 quake in India may be seen in retrospect as the beginning of the tribulation phase. Certainly parts of India are in tribulation. I was criticised about being too alarmist about the impact of five 7.8 quakes, about which I suggested that the functioning of civil society and government of a nation like India might collapse.
Consider now the dispatches below from Indian sources. Several million people are stranded alongside the roads looking at cities where most of the buildings which are still standing have cracks and sags in them. No one wants to return to their homes. Scores of provincial towns of 20,000 to 30,000 population were also flattened and apparantly the casuality figures have not even begun to be tabulated from all of these sources. Milllions of people are gridlocked and are threatened by starvation and thirst and the international news media is erronously reporting that the government has casualty esitmates and that they have more aid at the airports than they need.
We can see how valuable the professional news media is going to be. What a crock of crap. CNN is fully as incompetent as ABC. I think that if you multiplied this by five times, striking New Dehli as well, you would not find anybody in India nor in the international media who could tell you a straight story. Under such circumstances, millions of people would begin to die two weeks after the quakes from hunger and thirst.
This particular quake may best be thought of as a New Moon Earth Perihelion double-whammy vortex quake on the X Wave low. We are going to be seeing some triple whammies and even a sixfold vortex whammy later on this year.
Dear Michael,
Thought you might be interested in this. I would like to talk to you soon.
Love, Mahesh
> Dear All,
> I am Shyam Parekh, Senior News Correspondent with the Times of India, Ahmedabad (Gujarat) India, specializing in environment. I am writing this with an express purpose to update you all about the situation here and seek your help - information wise. As you all must have known, my state has been ravaged by an earthquake which measured 7.9 on the Richter scale and was the biggest since the one we had experienced in 1819. There have been as many as 200 tremors since the quake hit us, stunning everyone of us. A day after the quake I managed to reach to a place called Bhachau which is a taluka (a district division) headquarter. I could not believe my eyes that while all the government aid, international rescue teams, armed forces, international media and TV personnel focused on the district headquarter called Bhuj (the district is called Kutchh), there was absolutely no aid, I repeat there was absolutely no help from outside the town here after 35 hours of the devastation. As a result some 10,000 residents of this town which had a > population of 35,000 have perished from what I estimate and what the surviving locals told me. There 'were' 72 smaller towns and villages around Bhachau with a population of 1.5 to two lakhs (0.2 million). All these villages have perished, repeat they have perished. Not a single man-made structure has survived the quake. As entire villages and towns have disappeared under debris and the administrative people from the village too have gone underneath nobody is there tell what is the real damage. Though the government has not accepted, the death-toll in Kutchh district alone will cross one lakh or more. I am talking about only one taluka called Bhachau, which is the worst hit. There are dozens more around it and nobody knows what is the situation there as the state government, the Centre and the administration have focussed on the city of Bhuj, which had a population of nearly 2.5 lakhs and where nearly 20,000 have died.
I request you all to spread the word that the devastation is complete here, many many more times than what is seen on the TV or read in the newspapers. So if your countries/organization are sending rescue teams and aid please ask them to focus more on places from where there are no reports. Just look at the map and find out Kutchh district in the Westernmost tip of India and things will be clear. If teams are coming here ask them to go fully equipped for themselves with food, water etc.
There are decaying corpses everywhere and no rescue work is needed. Lots of medical attention including psychological treatment will be necessary, as those who survived and have seen their relatives getting buried and tortured under rubble for 36 hours before they died have become quite strange.
I will request one more help from you all, its please send me as much information on earth-quake as much you can, particularly about seismic activity in this region as we have only very sketchy information. We would like details about possibility of recurrences, how to repair the buildings multi-storied in Ahmedabad which have developed cracks and faults as about two million people in Ahmedabad alone and some five million in Gujarat, are on roads as they are not allowed to stay in shattered buildings. Please let me know very URGENTLY about the repairing and restructuring of buildings to make them livable.
My contact:
Shyam Parekh,
Senior News Correspondent,
The Times of India,
AHMEDABAD.
Phone: 91-79-6585778 / 6582151-5 / 6582886
Fax: 91-79-6583758
e-mail: shyam_parekh@hotmail.com
Cellular: 98250-22968
*************************************************
Rory Cox
Communications Coordinator
Pacific Environment
1440 Broadway, Suite 306
Oakland, CA 94612
Ph: 510/251-8800 x302
www.pacificenvironment.org
Satyachetana Ashram-India wrote:
OM NAMO BHAGAVATE
January 28, 2001
Blessed Souls,
We ask that you please disperse this message to anyone you can think of who might be likely to respond. If those in the Los Angeles area wish, they may give their donation to Nancy McMillan, who will put it in an envelope which Nancy Huff can bring when she comes.
If anyone cannot find a way to remit funds to either of our centers, please join in the meditation and add your heartfelt prayer for the relief of all victims of this huge disaster.
May the radiance of your soul's prayer relieve the darkness of the suffering in Gujrat.
Love and Blessings,
Soumya
Best Wishes,
Michael Wells Mandeville, The Hills of Arizona USA
"Return of the Phoenix" at http://www.aa.net/~mwm/phoenix/phoenix.htm
To order the Return of the Phoenix, go to
http://www.aa.net/~mwm/catalog/trilogyforms/ordertrilogy.htm
To check the latest status of the Earth's Axis, go to:
http://home.earthlink.net/~polarmotion/polar_motion_monitor.htm
To connect to the Phoenix Five Psychic Monitor, go to:
http://home.earthlink.net/~polarmotion/psyche/phoenix5_psychic_monitor.htm
Monday February 5, 2001
India Struggles with Quake Relief, Rescue Hope Dim
Indian Defense Minister Visits Quake Site - (Reuters)
By Scott McDonald
BHUJ, India (Reuters) - India wrestled on Tuesday to feed the living and retrieve the dead 11 days after a violent earthquake, with hopes of finding further survivors fading fast.
The rescue of a brother and sister brought a brief moment of joy on Monday, but residents described their survival as a miracle and they did not expect to find more people alive.
The tremor measuring 7.9 on the Richter scale is estimated to have killed at least 30,000 people in India's western state of Gujarat. It has also made hundreds of thousands homeless.
The middle-aged pair were pulled to safety from the ruins of their collapsed apartment block as the army was getting ready to bring in bulldozers to raze the building.
They cheated death after the January 26 quake because they were trapped in a kitchen where they had water and dry rations.
Water also was crucial in the survival of the previous person to have emerged alive from wreckage -- a teenager pulled from a well on Saturday near the flattened town of Bachchau.
The boy, Arjun Bhai, had run into a shed by his village well during the earthquake and neighbors said the tremor had pushed the shed into the well. His neighbors discovered him when they saw stones flying out of the well.
The sheer magnitude of the disaster and the hundreds of bodies still lying under the debris led some Indian officials to say that the real death toll would never be known.
Defense Minister George Fernandes has said the toll from the quake, which hit India on the day it was celebrating its anniversary of becoming a Republic, could reach 100,000.
The state government of Gujarat has given the official death toll as some 30,000, though other estimates, including those of the Red Cross, put the figure nearer 50,000.
The quake struck so violently that it smashed hundreds of villages in the coastal marshlands of Kutch and toppled high-rise buildings in the cities.
It even jolted underground water flows, turning fresh water wells salty and pushing up sweet water in places where none had existed before.
Survivors
The Indian government launched its biggest disaster relief operation and aid was flowing in from several countries. But the overwhelming number of people affected and bureaucratic hurdles have caused several relief bottlenecks.
``Out of 600 affected villages around Bhuj, some have not been visited. I do not know the exact number but there is a need to access these villages,'' Didier J. Cherpitel, chief executive officer of the International Federation of Red Cross and Red Crescent Societies, told reporters in New Delhi on Monday.
Relief teams at the quake site said some survivors were so desperate to resume their lives they were entering their half-crumbled homes at great risk to their lives.
``People are still living in places where I wouldn't even send my team because they are so dangerous. Thousands of people are living in such places,'' said Colin Deiner, leader of the South African Urban Search and Rescue Team in the town of Bhuj.
But Mukesh Shah was one of many who risked their lives to get back to normal.
``When it's time to die, it's time to die. Death is written by God,'' he said, when asked why he had reopened his small grocery store in a damaged multi-story building in Bhuj.
``I come from an upper middle class family and we lost everything. I would rather be dead than beg on the street.''
Funds Needed
Estimates of how much it would cost to rebuild the shattered parts of Gujarat, India's second-most industrialized state, vary with the state government pegging it 100 billion rupees ($2.15 billion) and an industry association putting it much higher.
Havlor Fossum Lauritzsen, who heads the Red Cross operation in Gujarat, said the quake was a bigger disaster than the tremor that ravaged Turkey in 1999.
``In terms of natural disasters...it is compared with Turkey, even bigger than Turkey,'' he said.
The Red Cross would seek 27 million Swiss Francs ($16 million) as part of a larger appeal for the next 12 months, he said. ``In the coming year we'll look at an appeal of a very, very approximate figure of 80 million Swiss Francs.''
The Indian government has sought assistance of $1.5 billion from the World Bank (news - web sites) and the Asian Development Bank.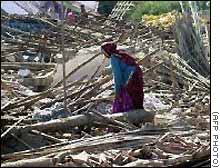 Toll estimates rise as quake rescuers depart
A woman searches among the rubble in hope of finding survivors
January 31, 2001
Anything between 20,000 and 100,000 dead
BHUJ, India (CNN) -- The Red Cross, one of many groups trying to cope with the enormity of the India earthquake, now estimates that the death toll could rise to at least 50,000.
Efforts were turning from rescue to relief to deal with the fast-growing need for food, clothing and shelter among survivors in the disaster zone that is the western state of Gujarat.
There are an estimated 200,000 people homeless. Overseas aid continues to pour in amid growing concerns about lawlessness and looting.
In the rubble, demolition crews began to tear down buildings Wednesday as hopes of finding more survivors slipped away. Rescue teams made their last rounds with trained dogs and seismographs before departing.
Total damage in the aftermath of Friday's 7.9 magnitude quake has been estimated at up to $5.5 billion.
Anything between 20,000 and 100,000 dead
State officials have counted 7,162 bodies, with 28,830 injured. Officials have said the death toll may be 20,000 and the nation's defense minister says it could rise to 100,000.
The latest estimate from the Red Cross falls between those figures.
"Fifty thousand is very realistic," Robert James McKerrow, the leader of the International Committe for the Red Cross delegation for South Asia, told the Star News Television channel.
"One-hundred thousand I would have difficulty supporting at the moment," he said.
As the scale of Friday's disaster continues to defy precise figures, authorities have become increasingly concerned about feeding and housing the living. An attempt to hijack relief trucks has also raised the spectre of anarchy.
Aid flown in from around the world
Emergency workers say rescue efforts, as well as aid for survivors, have yet to reach many parts of the earthquake-ravaged area around Bhuj, the closest town to the quake's epicentre.
"Even within the town there are pockets that haven't got any relief," said Usha Nath of Kutch Navnirman Abhiyan, an Indian volunteer group that is trying to coordinate the distribution of emergency aid.
"And outside Bhuj, the relief is only going to areas on the main road."
Rescuers make a final effort to find survivors beneath concrete slabs
A U.N. World Food Program flight with 41 tons of cargo, including health kits and generators, left for India on Tuesday. Another flight was to leave on Thursday.
Aftershocks jolted the quake zone early Wednesday, raising fears that the buildings still standing could topple. Special trains for people fleeing the region were scheduled to depart Ahmedabad on Wednesday afternoon.
Food not getting through
On Tuesday near Bhuj, nearly 100 Indians from an outlying village lined a road to try to intercept relief trucks carrying emergency supplies. Many complained of not having food or water since Friday.
The villagers were attacked by Indian military officials, said CNN's Satinder Bindra, who watched the scene unfold.
"When people come out in search of food, the police scare them away," one villager told CNN. "They fire at us, beat us with sticks and call us thieves. All this while people are dying."
And at least one warehouse was looted, with 500 bags of grain reported taken.
"No one here has anything to eat. People are in trouble," another man told CNN. "We are begging the government to give us food, and if we don't get food people will start killing each other."
"It was terrible, terrible"
Among the latest survivors were Nalinibehn Kumbhare and her 15-month-old son, Keyur, who were pulled from a ruined apartment building in Ahmedabad on Tuesday just as engineers prepared to bulldoze it.
"The baby kept crying and crying, then he'd fall asleep from exhaustion. I couldn't even breast feed him, since I couldn't move," Nalinibehn said of her ordeal, her voice breaking. "It was terrible, terrible."
In Bhuj, rescue workers roamed the ruins early Wednesday in a last-ditch search for the cries of survivors still pinned under the rubble.
"We're just going through the area with sniffer dogs one more time before turning it over to the army to bulldoze," said Mike Thomas, team leader of the British search and rescue mission.
At the same time, trucks moved into town carrying large cranes and bulldozers. Wood was piled high along the sides of the roads in anticipation of further funeral pyres as the heavy machinery uncovered yet more dead. At the Bhuj airport, workers put bodies into coffins on the runway, presumably for transport to other parts of India.
The focus moved firmly Wednesday to the needs of survivors. Kenzo Oshima, U.N. undersecretary-general for humanitarian affairs, told a news conference Tuesday in New York that about 200,000 people were now homeless.
A U.N. disaster assessment team is working with the Indian government in Ahmedabad and Bhuj to coordinate international assistance teams, he said.
"There has been generous outpouring . . . but the magnitude of this disaster will require the attention and support of the international community even long after the immediate crisis abates," Oshima said.
The Associated Press contributed to this report.
---
21:39 Friday 26 January 2001
The most powerful earthquake to strike India in 50 years has killed at least 2,063 people.
Police have released the figure, which is more than double the number which was previously thought to be the death toll.
The 7.9 magnitude quake in western Gujarat state, close to the border with Pakistan, shook high-rise towers 600 miles away in the capital, New Delhi.
The quake was also felt in the mountains of Nepal, some 1,000 miles from the epicentre, and in coastal Bangladesh, a distance of about 1,200 miles.
The 2,063 deaths in India have been recorded in Gujarat state. Ten people have died in Pakistan when two houses collapsed. Authorities in India say 3,200 people have been injured.
No damage or injuries have been reported in the rest of India, although many people say they had felt dizzy because of the earthquake's lengthy rolling movement.
The epicentre was near Bhuj, a desert town of 150,000 people in Gujarat. Over 90% of houses in Bhuj were damaged, said Cabinet minister Pramod Mahajan. Around 1,400 people in Bhuj district have been killed.
The quake did no damage to the two 220-megawatt nuclear plants in Gujarat, authorities said. But gas pipelines, most power supply stations, phone lines and water service have been knocked out across the arid state, which is prone to drought.
In Ahmedabad, a centre of India's textile industry, as many as 50 multi-storey buildings have crumbled. Hundreds of people have besieged the fire station asking for help to dig out their relatives, said fire chief Rajesh Bhat.
"This is an emergency. We are facing a riotous crowd," Mr Bhat said. "A fear psychosis is developing in the city. People have fled their homes and are taking refuge in open fields."
Corpses have been piled up on the verandah of the NS Hospital, while patients overflowing into the hallways are wailing with broken limbs and bleeding wounds. The Press Trust of India says 70 people have died awaiting treatment.
Bruised and bleeding bodies are being laid in rows, covered with blankets as relatives sit by mourning.
---
Massive earthquake kills thousands in India

By Simon K.C. Li and John-Thor Dahlburg / Los Angeles Times
NEW DELHI -- India's mightiest earthquake in half a century tore at the subcontinent's entire midriff Friday, felling buildings, entombing victims in the rubble of buildings and killing thousands of people.

Press Trust of India reported that 2,500 people had died in the huge temblor in the country's west, most of them in the old walled city of Bhuj, near the epicenter. It did not give a source for its figures, but other media gave estimates of the number of dead ranging from 2,000 to 5,000.

The earthquake, calculated at a magnitude 7.9 by the U.S. Geological Survey, was felt as far away as Bangladesh, 1,200 miles distant astride the Bay of Bengal. (Indian Government spokesman Pramod Mahajan, citing a preliminary measurement from the Indian Meteorological Institute, gave the strength of Friday's quake at 6.9.)

In the capital, New Delhi, 600 miles from the epicenter, high rises swayed. Office workers in Bombay, Madras and Calcutta, India's other major metropolises, also reported feeling buildings shudder.

The country's western neighbor, Pakistan, was shaken lethally as well, with at least eight people reported killed when their houses collapsed in the southern province of Sindh.

The first tremors were felt at 8:46 a.m. on Republic Day, the annual holiday marking the 1950 adoption of the Indian constitution. In New Delhi, the grandstands set up for the yearly military parade quivered, but the parade went on as planned.

About 70 children and some of their teachers were believed to have been buried alive under the debris of their school in Ahmedabad. Inside a college that crashed to earth, 19 engineering students were thought to lie entombed.

As night fell on Ahmedabad, thousands of people huddled on sidewalks without shelter, warming themselves with bonfires as the temperatures dropped to the mid-40s. Rescue workers laboring under the harsh beams of searchlights clawed with naked hands at the rubble, seeking both survivors and bodies.

Rescuers hauled victims in blood-soaked clothing from the ruins of crumbled buildings in Ahmedabad, known for its textile industry.

Firefighters worked with buzzing chain saws and drills. As a bulldozer toiled to clear away mangled masonry and twisted metal, people stood by, mute and dazed.

Hospitals in the city overflowed by afternoon, with some of the injured, who suffered broken limbs and flesh wounds, screaming and wailing. At N.S. Hospital, the veranda was stacked with corpses.

In Bhuj, a desert town of 150,000 near the Pakistani border, aerial photographs showed that 10 percent of the buildings had been destroyed and all others had been damaged, officials said. The quake severed the town's communications with the outside world, and officials worried that loss of life there would prove tremendous.

Electricity was restored to most of Gujarat state shortly after the quake but not in Bhuj.

Prime Minister Atal Behari Vajpayee held an emergency meeting of the Cabinet and urged rescue workers to go on a war footing to deal with the consequences of the most powerful quake to hit India since 1950. He called on his 1 billion fellow citizens "to rally together at this time of national calamity." Soldiers were reportedly on their way to join the rescue operation.

Indian Home Minister L.K. Advani, who toured some of the devastated areas of Gujarat, said Indian authorities were airlifting 10,000 tents, 10,000 tons of grain, 20 doctors and surgeons and communications and seismology experts to the state. The air force also announced that it had landed two helicopters at its base in Bhuj.

India's government made no immediate request for international assistance, although some foreign leaders, including President Bush, promptly offered aid. Vajpayee said the needs were still being assessed.

Three times in the past decade alone, earthquakes greater than magnitude 6 have rocked population centers in northern and central India, which is one of world's most seismically active regions. In 1993, as many as 10,000 people were killed when a magnitude-6 quake struck Maharashtra state.

Friday's 7.9 quake was the region's most intense since 1950, when a magnitude-8.6 temblor struck India, according to the U.S. Geological Survey's National Earthquake Information Center.

That 1950 quake was one of the most powerful of the past 100 years, surpassed only by half a dozen mammoth temblors of magnitude 9 or more in Alaska, Russia, Ecuador and Chile.

India's Meteorological Department said the quake's epicenter was situated 13 miles northeast of Bhuj, in the sparsely populated Rann of Kutch, on the border with Pakistan.

The economic consequences of the natural disaster might prove enormous. Gujarat, the native state of revered Indian patriot Mohandas K. Gandhi, is a center of Indian agriculture and textile and chemical manufacturing.

"The whole state has been affected. Communications have been disrupted all over the state," said Pandya, the state official.

~~~~~~~~~~~~~~~~~~
Indian Quake Toll Rises to 8,000 - TV
By Kamil Zaheer
01/27/01
PACHCHAO, India (Reuters) - The most powerful earthquake to convulse India in half a century has killed 8,000 people and the toll was rising, with thousands of victims trapped under buildings, Star Television and officials said on Saturday.
Rescue workers battled to pull people from the debris while officials announced an ever-increasing number of dead as reports came in from remote towns near the epicenter of the quake, which hit the western state of Gujarat on Friday.
The U.S. Geological Survey said it measured 7.9 on the Richter scale.
An officer at the police control room in Ahmedabad, Gujarat's commercial center, said the final death toll could be above 10,000.
Worst hit was Bhuj, a coastal town of some 150,000 people near the Pakistan border and about 12 miles from the epicenter.
Along the cracked roads leading to Bhuj, collapsed houses and buildings dominated the landscape. In Pachchao, a once prosperous town of 40,000 people 42 miles from Bhuj, about 90 percent of the buildings had collapsed.
"There is nothing left between the sky and the earth any more. Everything has been demolished," said Dawood Ismail Siddhi.
Injured people and affected families were sleeping in the open in the villages along the road as army convoys including ambulances and water tankers moved in large numbers toward Bhuj.
Survivors pushed handcarts carrying their injured relatives, desperately seeking medical help. The many temples that dot the countryside were either damaged or had collapsed. In every village, people wandered stunned, saying that all was lost.
Television reporters, giving the first news from Bhuj since the earthquake severed its communication links, reported widespread devastation and said up to 6,000 were feared dead there alone.
Among them were more than 100 air force personnel at an air base and in surrounding civilian areas, an official said.
In Ahmedabad, rescue workers and survivors clawed away at the rubble, passing chunks of concrete and bricks alone a line.
But in many places it was too late. Rescue workers spoke of voices which had gone silent in the night, as they carried on the grim task of pulling dead bodies from the rubble.
Star News Television said that around 30 children were still trapped under the rubble of a collapsed school.
RESIDENTS BLAME ILLEGAL BUILDING CONSTRUCTION
Many Ahmedabad residents expressed anger that recently constructed buildings had been built illegally, flouting regulations meant to limit the risk of collapse in this earthquake-prone zone.
"This building is only three or four years old, they only got permission for three stories but it had four stories and a basement," said Abhay Rajput, as workers pulled yet another dead body from the rubble.
Rescue operations began quickly in bigger cities like Ahmedabad, a prosperous textile and gold trading town of some five million people.
But in the remote towns near the epicenter of the quake, in the marshy district of Kutch, many were still waiting for help.
In Pakistan, at least eight people were killed and many injured in the southern province of Sindh.
The quake hit with terrifying intensity on Friday as many people were at home preparing to celebrate Republic Day, the anniversary of India's transition to a republic in 1950.
The Indian army and air force swung into a massive rescue effort, flying in satellite telecommunications equipment to restore Gujarat's links with the rest of the country.
Hospital officials said it was becoming steadily more difficult to cope with the torrent of patients and corpses.
"This was probably one of the worst experiences I have ever had -- you could call it the longest day," said Anil Chadha, superintendent of Ahmedabad's Civil Hospital.
"The worst part was looking at those 50-odd bodies that arrived in one big gush."
Many people had died of asphyxia or were trampled in stampedes, doctors said.
The state's vital oil installations escaped unscathed but operations at Kandla, India's busiest port, were hit.
OFFERS OF HELP FROM OVERSEAS
Indian Prime Minister Atal Behari Vajpayee appealed to relief workers to help quake victims on a war-footing, and offers of help flowed in from several countries as well as from U.N. Secretary-General Kofi Annan.
Pakistan military ruler General Pervez Musharraf, setting aside differences with nuclear rival India over the disputed state of Kashmir, sent a message of sympathy to Vajpayee.
"The government and people of Pakistan share the grief of the bereaved families," he said.
It was the world's second major quake of the year. On January 13, a quake measuring 7.6 on the Richter scale killed at least 700 people in El Salvador and left 10 percent of its population homeless. A quake measuring 7.6 on the Richter scale killed more than 2,400 people in Taiwan in 1999.
Copyright 2000 Reuters Limited.
---
DISSENTING OPINION
Experts say recent worldwide quakes not related
Rescuers strive to find survivors after Friday's deadly earthquake in India.
January 26, 2001
DENVER (Reuters) -- Is the earth coming apart at its geological seams?
With thousands feared dead after a powerful earthquake struck India on Friday, another that earlier devastated El Salvador, a tremor off Kyushu Island, Japan, and even a minor quake in Ohio late on Thursday and a minor quake recently in New York City, people start wondering.
Relax. "These earthquakes are not related," said Waverly Person, director of the Earthquake Information Center in Golden, Colorado, which tracks earthquakes worldwide.
"We locate about 50 quakes every day. But you only hear about them if people are killed or if they're felt very strongly in the United States," Person said, rushing from one media interview to another.
The center was established in Washington in 1966 and has been working out of Golden since 1973. It tracks earthquakes worldwide and often provides the first news of a tremor. Phone banks started lighting up at the center, operated by the U.S. Geological Service, before dawn on Friday with news that the worst earthquake in 50 years had hit India.
The tremor has killed more than 1,800 people, and officials in India said the final toll may be much higher.
The quake was measured at 7.9 on the Richter scale by the earthquake center.
The most murderous recorded quake in history killed an estimated 830,000 people in Shaanxi, central China, on February 2, 1556.
Events ranking about 4.5 or greater -- of which there may be several thousand every year -- are strong enough to be recorded by sensitive instruments all over the world.
Person said there is no reason to believe the quake that rocked El Salvador on January 13 also triggered events that led to Friday's earthquake in the Indian sub-continent.
The quakes occurred on separate tectonic plates and a quake on one does not set up a domino effect in another.
According to records, about 18 major quakes -- measuring between 7.0 and 7.9 on the Richter scale and one great quake, measuring 8.0 and above -- can be expected each year. Many of these, however, may strike uninhabited parts of the world.
But does it make life scarier for people living in quake zones?
"What it does is bring forth awareness in places like California and Alaska. It brings it up in their mind," Person said. "But they're not more afraid."
Copyright 2001 Reuters. All rights reserved.
DREAMS OF THE GREAT EARTHCHANGES
MAIN INDEX