t r u t h o u t | Republican Convention Coverage
By Marc Ash

Sunday 28 August 2004
4:19PM

Reporting from the great lawn at Central Park in NYC.

Despite the refusal of the city of NY to cooperate, thousands of peaceful anti war, anti Bush demonstrators are gathering.

The city has apparently relented and will not move to block the assembly.

They are chanting, "peace train now!"
---
t r u t h o u t | Republican Convention Coverage
By William Rivers Pitt
Sunday 28 August 2004
3:45PM
We are taking a short break here in the shadow of the Obelisk, just off to the side of the Great Lawn in Central Park. We have been here for an hour to watch what develops. The Mayor's office told the protest organizers they could not use the park, and the protest organizers told the Mayor's office to find the nearest pile of sand and pound it.
Flyers were handed out all along the main march route, telling people to come here to the Lawn. And come they have, by the thousands. The police, who could have (and yet might) made this a messy, frightening affair, have apparently decided to act as though this is just another day in the park.
The people keep coming. This is, after all, their park.
---
t r u t h o u t | Republican Convention Coverage
By Scott Galindez
Sunday 28 August 2004
3:45PM
The People Have Spoken
With one loud united voice hundreds of thousands of peaceful protesters have said no to war and no to Bush. For the last 3 and a half hours an endless sea of people have passed by Madison Square Garden. The march has been spirited, diverse and without any reports of violence.
United for Peace organizer Leslie Cagen announced at an impromptu press conference that the numbers have exceeded their expectations. Jesse Jackson led the crowd in a chant of "Remember in November" There are giant puppets and thousands of drummers. We are now heading to Central Park where thousands have already gathered to reclaim the park.
---
t r u t h o u t | Republican Convention Coverage
By William Rivers Pitt
Sunday 28 August 2004
12:15PM
The march has begun, and it is absolutely gigantic. The crowd is winding its way past MSG right now to a cacophany of whistles, drums and chants. Pro-Bush protesters are yowling "USA! USA!" At the passing marchers, but are being utterly overwhelmed by an avalanche of responding noise. It is a sea of humanity here.
One thing I have noticed: the protesters scattered through the city today and yesterday have been flying the anti-Bush flag with pride...shirts, signs, buttons, anything to make sure people know exactly where they stand. I have also seen many people who are delegates or conventioneers for the GOP confab. They wear nothing, nothing at all, that might tip you off about who they are. I did see one woman at Ground Zero yesterday with a Bush/Cheney sticker on her handbag. When she reached the protesters peacefully ringing their bells, she covered the sticker with her hand.
---
t r u t h o u t | Republican Convention Coverage
By William Rivers Pitt
Sunday 28 August 2004
11:00AM
I just returned from St. Paul's Chapel across from Ground Zero. St. Paul's is the oldest continuous use building on the island of Manhattan, and was the church that was amazingly spared from the destruction of 9/11.
In the days after the attack, it became a rallying point for rescue workers who were frantically searching for their fallen comrades, and for ordinary New Yorkers trying to come to grips with what had happened.
It stands now as a testament to the durability of human nature, and as a reminder that not everything has changed.
---
t r u t h o u t | Republican Convention Coverage
By Scott Galindez
Sunday 29 August 2004
10:09AM
United for Peace is holding a press conference between 22nd and 23rd on 7th Avenue.
Michael Moore is here, Danny Glover, Robert Greenwald, Charles Rangle, Tom Hayden, Jesse Jackson and many others.
Fernando Soto opened the event speaking of the son he lost in Iraq. Kelly Doherty, an Iraq war vet, followed talking about her experiences during the war.
Michael Moore is now addressing the media. He announced that he is happy that George Bush has only a few months left. He also encouraged people to not give the Bloomberg what he wants: Chaos. Moore called on everyone to show that we the majority can hold a peaceful and safe march...
---
t r u t h o u t | Republican Convention Coverage
By Scott Galindez
Sunday 29 August 2004
9:45AM
Two Worlds Collide
Over a quarter of a million people are expected to gather for a march against war and the Bush Administration today. This historic event will take place in the backdrop of thousands of Republicans arriving in New York for the Republican Convention.
Today's events will include a procession of 1,000 flag draped coffins in remembrance of the troops lost in Iraq. There will be a youth march leaving Columbus Circle and joining the larger march at on 7th Avenue for a mass march passed Madison Square Garden. The march will end at Union Square where many marchers will on their own proceeded to Central Park which could be the first major confrontation between protesters and the police... t r u t h o u t will bring you reports throughout the day... stay tuned...
---
t r u t h o u t | Republican Convention Coverage
By William Rivers Pitt
Sunday 29 August 2004
9:00AM
Getting the team here ready to roll out, wrestling with technology, and Dr. Pepper for breakfast. These are a few of my favorite things.
The march begins at noon down near 14th Avenue, but the crowd is going to start stacking up soon. My first mission is to get our credentials squared away, and then we will be off to the races.
Wouldn't you like to be a Pepper, too?
---
t r u t h o u t | Republican Convention Coverage
By William Rivers Pitt
Saturday 28 August 2004
6:15PM
Coming into this town always requires an epic mental adjustment for me. It's a lotta town, and the psychic weight of it all always scrambles me at first.
Add to the mix thousands and thousands of protesters, scads of Republicans with fear in their eyes, and a cop every seven feet, and you have a unique atmosphere, even for this joint.
Tomorrow we will cover the large march past Madison Square Garden. The big question: Will the people take Central Park? Will the cops let them?
There are a number of fuses laying around, looking for a match. The march tomorrow, and the Central Park controversy, is but one.
Stay tuned.
---
t r u t h o u t | Republican Convention Coverage
By William Rivers Pitt
Saturday 28 August 2004
5:30PM
We have secured an elevated view of Ground Zero. It is a horrible scar even three years later. WTC7 and the old Telephone Building are still badly damaged and wrapped in scaffolding.
Several thousand people have gathered here and are preparing to completely surround the site. The ceremony about to take place is a 'Ring-Out' to commemorate those who died here, and to commemorate all who have died by violence since. Each protester has a bell, and the streets will soon resonate with a mournful ringing.
---
t r u t h o u t | Republican Convention Coverage
By William Rivers Pitt
Saturday 28 August 2004
4:45PM
The t r u t h o u t crew is currently ensconsed in a cab that, if it accelerates any more, will begin to go back in time. We are on our way to Ground Zero for a ceremony to commemorate the lost. Watch this space for updates.
---
t r u t h o u t | Republican Convention Coverage
By William Rivers Pitt
Saturday 28 August 2004
12:50PM
Off the train, through the cop gauntlet in the station, and into a taxi faster than I've ever found one. Seventh Avenue is festooned with steel barricades, and I can count 50 police cruisers without even trying. Despite all that, the traffic is your standard New York volume for a Saturday. The Avenue of the Americas, where the march to commemorate the anniversary of the Iraq invasion took place, looks as though nothing really special is happening.
---
t r u t h o u t | Republican Convention Coverage
By Scott Galindez
Saturday 28 August 2004
1:05PM
New York... New York
The t r u t h o u t crew is arriving in New York. We are setting up our command center and preparing to head to Ground Zero, where we will launch our video coverage this evening.
Karl Rove thought two years ago that having the Republican Convention here would be a way for them to exploit the images 9/11, but the people will make sure that doesn't happen. Tonight, thousands of people will encircle Ground Zero and ring bells in remembrance to those who sacrificed their lives on that morning that will forever be etched in our minds.
We must not allow George Bush to claim ground zero for the hawks and use it to continue to justify war. As the members of Peaceful Tomorrows remind us, not all of the victims of 9/11 would have wanted us to get revenge in their name.
The Neo-cons have used 9/11 to justify their policy of pre-emptive war. Tonight this hallowed ground must be re-claimed for peace...
---
t r u t h o u t | Republican Convention Coverage
Peace Activists Launch "Peaceful NY Police" Program with Buttons, Discounts
Saturday 28 August 2004
7:51AM
CODEPINK: Women for Peace matches Mayor Bloomberg's incentive program
Peaceful police officers will receive smiles and positive responses from RNC protesters, as well as discounts at several New York City stores, if they pledge to remain peaceful during demonstrations that are planned during the Republican National Convention. CODEPINK: Women for Peace obtained the discounts and designed the "peaceful New York police buttons" in an effort similar to the "peaceful political activist" program that was launched by Mayor Bloomberg last week.
"Ours is not a fight with the police; it's a deeply felt opposition to the Bush administration's policies," said Andrea Buffa of CODEPINK, who was arrested last week during an attempted banner hang during Mayor Bloomberg's press conference "welcoming" peaceful protesters to New York. "We thought we could ease the tension before the demonstrations begin by asking New York police officers to help us exercise our First Amendment rights by remaining peaceful during the protests."
Police officers who choose to wear the buttons can receive discounts from such businesses as ABC Homes and Carpets (20 % off); Axis Gallery (10 % of art work); The Culture Project (50 % off on any performance); Angelica's Kitchen (5 % off on meals); and screenings of the movie "Uncovered" at the Angelica Theater (10 % off).
CODEPINK: Women for Peace began in October 2002 as an effort by women to stop the war on Iraq, and in a short time has become a vibrant presence in the peace and social justice community. The group is know for its clever and witty actions, like handing pink slips to Secretary of Defense Donald Rumsfeld and other prominent administration officials to "fire" them for dragging the country into war and economic hardship. Since its inception, thousands of women have been inspired by CODEPINK to go to Washington to protest the war with Iraq and start CODEPINK chapters in their own cities.
CODEPINK plans to hold frequent protests before the Republican National Convention. In the coming days, CODEPINK is sponsoring a "Women Against War" event to be held at the historic Riverside Church on Saturday, August 28 as well as a women's rally and march that will join with the massive United for Peace and Justice anti-war march on Sunday, August 29. On Tuesday, August 31, they are co-sponsoring a "Shut-up-a-thon" outside Fox News.
---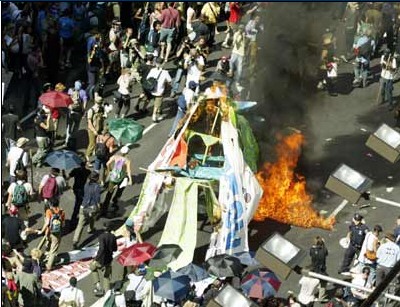 A Dragon Figure set on Fire
Police blame it on alledged anarchists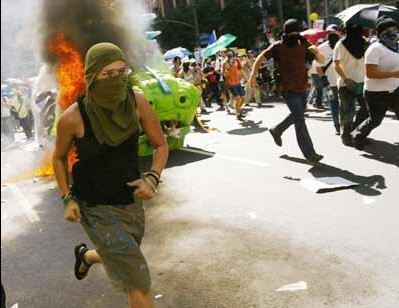 New York alledged anarchists! The masks give it away?
Alledged anarchists were arrested and taken away!
t r u t h o u t | Republican Convention Coverage
By Marc Ash
Friday 27 August 2004
8:53PM
Despite the hysterical headlines spewed forth by New York's tabloid newspapers, the city is calm, and not in any immediate danger of being taken over by anarchists. Manhattan seems orderly and poised to host the Republicans and their critics in stride.
The eyes of the world are on New York now, and New York appears up to the challenge.
Reporting from the Big Apple, Marc Ash, TO.
---
t r u t h o u t | Republican Convention Coverage
By William Rivers Pitt
Saturday 28 August 2004
For Those About to Rock...
t r u t h o u t | Perspective
"I have never read anything that comes anywhere close to explaining the shock and intensity I felt at that convention... and although I was right in the middle of it the whole time, I have never been able to write about it myself. For two weeks afterwards, back in Colorado, I couldn't even talk about it without starting to cry... Every time I go to Chicago I come away with scars."

- Hunter S. Thompson, on the 1968 Chicago convention, 'Fear and Loathing on the Campaign Trail'
The Big Apple is going to be crowded this week. 50,000 Republican conventioneers are about to run headlong into somewhere between 250,000 and 500,000 protesters. Salting the mix will be somewhere in the area of 10,000 New York City police, New York State police, FBI agents, Secret Service agents, SWAT teams and attack dogs.
Two years ago, it might have been considered a good idea for the Republicans to come to New York for their convention. The Iraq invasion was still a product yet to be marketed, whistleblowers like Joe Wilson and Richard Clarke hadn't yet stepped to their microphones, and some of the hard truths about what really happened on September 11 hadn't yet filtered down to the streets. Flush from their victories in the 2002 midterms, the Republicans saw New York as a perfect place to strut their stuff.
Funny how things change.
Republican conventioneers are flowing into New York today, and they are scared. The level of hysteria being pumped into the equation would be funny if it were not so combustible. Bernadette Malone, former editorial page director for the New Hampshire Union Leader, warned GOP delegates that, "Next week, people who hate Republicans plan to release swarms of mice in New York City to terrorize delegates to the National Republican Convention. Republican-haters plan on dressing up as RNC volunteers, and giving false directions to little blue hair ladies from Kansas, sending them into the sectors of New York City that are unfit for human habitation. They plan on throwing pies and Lord knows what else at Republican visitors to the city. Prostitutes with AIDS plan to seduce Republican visitors, and discourage the use of condoms."
Yes, she was serious.
Mice, pies, bad directions and AIDS notwithstanding, the Republican conventioneers actually do have a lot to be concerned about. They are showing up for a party to celebrate the worst Presidential administration in recent and extended memory, and they are going to try to convince the American people that four more years of the same are just what the doctor ordered. Hundreds of thousands of people will be spending the week reminding them of how bad things are.
This is where things might get sticky.
The daily newspapers in New York have been going out of their way to inspire a public crunch between the protesters and the police. Any violence will make for increased newspaper sales, and never mind the ethics of trying to instigate a brawl. Shot through the coverage are dire warnings of 'anarchists' coming to burn the joint down. These black-clad fellows, we've been told, are the ones who went berserk in Seattle in 1999, and in Philadelphia for the last Republican convention in 2000.
Laura Flanders of Air America Radio, however, offers a different perspective: "As the Kerry Swift boat story tells us, being blamed isn't the same as being guilty. Want to know who started the violence in Seattle? Ask the media who covered the protests early on. From-the-scene reports showed that it was the police who locked down the city, used chemical weapons on penned-in crowds, and fired rubber bullets at nonviolent demonstrators, even at bystanders and families trying to flee. According to a long ACLU report on the matter the Seattle police bullied local residents and shoppers, made hundreds of improper arrests, and committed widespread acts of brutality."
"Turn to Philadelphia," continued Flanders, "and were protestors accused? Yes. But convicted? Mostly not. In fact, the enormous majority of the cases brought against activists were dismissed, in no small part because of the revelations about undercover police tactics that came out in court. Legal documents revealed that in violation of Philadelphia law, the police infiltrated protest groups, spied on organizers, instructed city housing officers to shut down buildings on specious pretexts, police provocateurs provoked violence. Federal, state and local police, it turned out, were working together with the Secret Service, and the basis for at least one group of search warrants was a report produced by a extremist right wing think tank, the Maldon Institute. One targeted demonstrator, arrested while walking down the street, made history when he became the first American ever accused, but not convicted, of brandishing a cellphone with intent to commit a crime. Bail was set at $1 million. All of this, it should be said, was long before the PATRIOT ACT."
Anyone with an appreciation of political history knows the bedlam outside the Democratic convention in Chicago back in 1968 did more to elect Richard Nixon than any other ten factors combined. Despite the fact that what took place was a hard-core police riot, the American people saw the Democratic party come unglued on national television.
If things get out of control in New York this week, we may again be talking about police officials who went into a hate frenzy and started gassing and clubbing with impunity. This won't matter to the tone-deaf media; when the smoke clears and the blood gets hosed off the sidewalk, the headlines will again be about Democrats flipping out in an orgy of violence.
Any of the protesters in New York this week who are dedicated to the removal of George W. Bush from office should bear the potential headlines in mind. Protests are political actions, but when they go wrong, they become marvelous rallying posters for the very people who inspired the protests in the first place.
Will there be anarchists in New York this week? Probably. Will some of them try to start a brawl with the cops? Probably; there are going to be knuckleheads in any large crowd, and who can forget the picture of the black-clad bozo kicking in the window of a Nike store in Seattle with a Nike-clad foot.
Will there be people in the crowd who draw their paychecks from the FBI, the New York police department, or right-wing organizations? Count on it. If no protester starts a fight this week, bet on some outside agitator trying to get something going in order to smear the whole works.
Large groups of people tend to act like herd animals when trouble starts. It is the nature of things. The best thing any individual protester can do is to be aware of their surroundings, understand that any violence will play right into the hands of Karl Rove, and call any cop they meet "Sir." History is about to be made in New York. Hopefully, it will be a positive story of action, democracy and peaceful resistance.
I'll be there with you, cameraman in tow.
---
t r u t h o u t | Republican Convention Coverage
United for Peace and Justice
Friday 27 August 2004
2:20PM
United for Peace and Justice Statement on Central Park
Friday 27 August 2004
We all know that large numbers of people are planning to go to Central Park's Great Lawn on Sunday, despite - or because of - the court's ruling that we may not hold a rally there.
United for Peace and Justice emphatically supports the right of people to peacefully assemble in Central Park.
We are committed to having a safe, legal protest march, that anyone and everyone can attend - kids, seniors, immigrants, people with disabilities. We therefore are NOT leading our march to Central Park, and we ask everyone who plans to participate in our march to respect our desire for a safe and legal event, and not to organize breakaway marches from it to the Park.
To those who wish both to march with us and to assert their right to assemble in Central Park on Sunday, we ask that you follow our march to the end, disperse peacefully at Union Square, and then make your own way to the Great Lawn.
For additional information go to: unitedforpeace.org.